Planning a UK adventure and researching the best places to visit in Scotland?
If you're planning on visiting Scotland, but you aren't sure where to go and what to add to your bucket list, this post will take you through all the best places to visit in Scotland.
Scotland is an insane addition to a UK road trip if you happen to be planning one. Once you've explored the likes of England, Wales and Northern Ireland, make sure you finish it off with a trip to Scotland. With these best places to visit in Scotland, you could say you'd be saving the best for last. See my guide to planning a Scotland road trip here.
Travellers tend to give the UK a hard time for its rainfall but where there's rain, there are lush greens. Add in the stunning mountainous terrain that Scotland is home to (I'm sure this already responsible for luring you into a Scotland trip) and you have incredibly diverse landscapes to fill your trip with.
From the iconic cities of Glasgow and Edinburgh to the many Areas of Outstanding Beauty and national parks, Scotland really holds its own when it comes to choosing a European holiday and is a country to definitely include if you're already planning to visit England. Scotland has something to offer everyone and in this post, I'm going to do my very best to tempt you into choosing it as your next destination.
I know it's certainly the first place I'll be taking my camper van now that it's converted! See my van conversion on YouTube here.
Other travel guides and blog posts that you may enjoy:
The best places to visit in Scotland…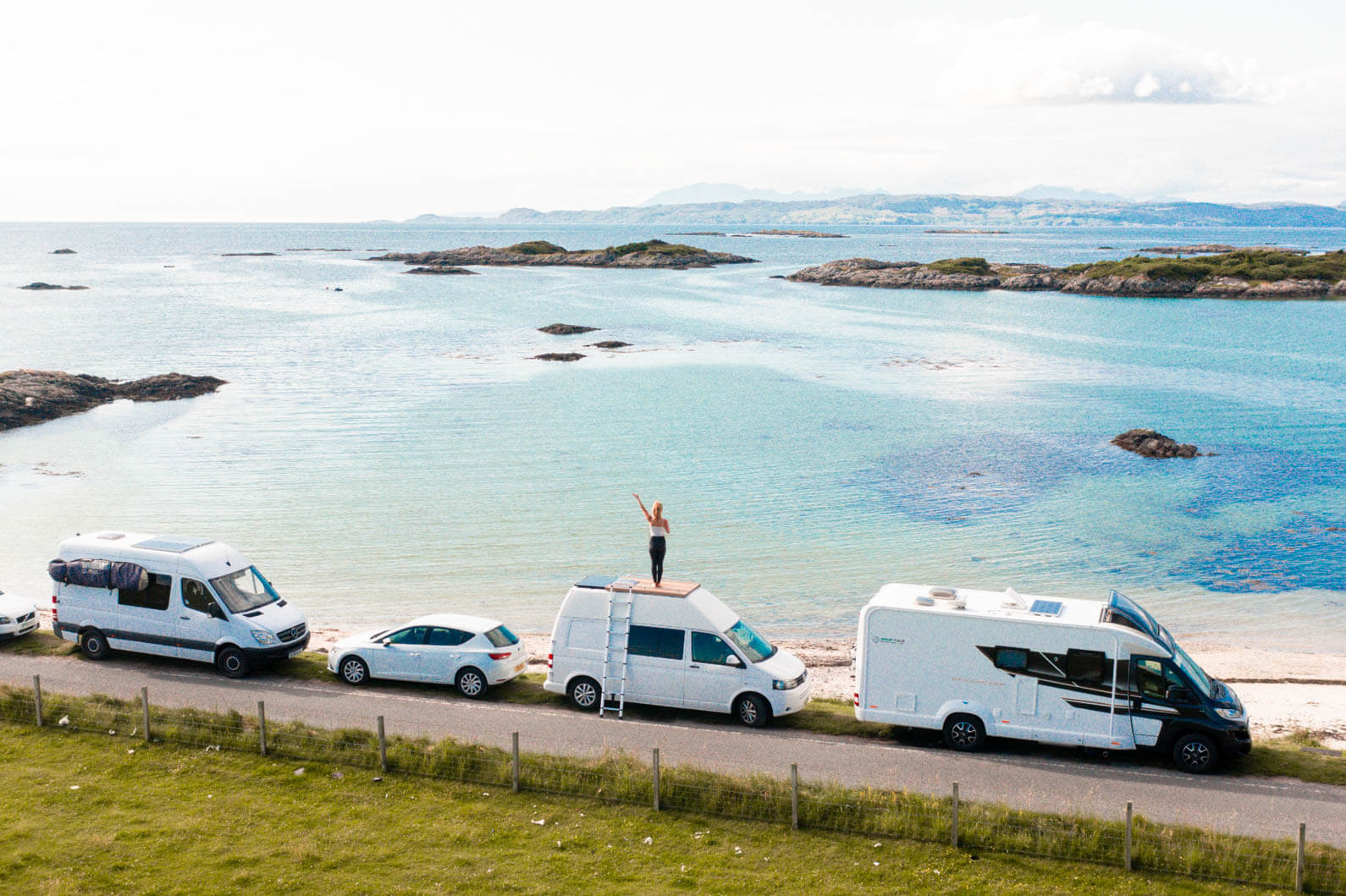 Firstly…
Where is Scotland?
Scotland is a country within the United Kindom and it covers the top third of the island. See the picture on the left. It's weird to think of the UK as an island as there are no tropical palm trees haha but… it is one. Scotland shares a 154km border with England and you can enter Scotland by car from London in as little as 7 hours (it's approx 400 miles).
Granted it's not the shortest drive in the world if you live/ start your trip in the southern regions of the UK but there are plenty of incredible destinations in the UK that you could stop off at along the way as you travel north.
Why not go on a road trip to Scotland and extend your trip beyond the northern quarters? If that's already your plan, I've popped some useful blog posts below for you…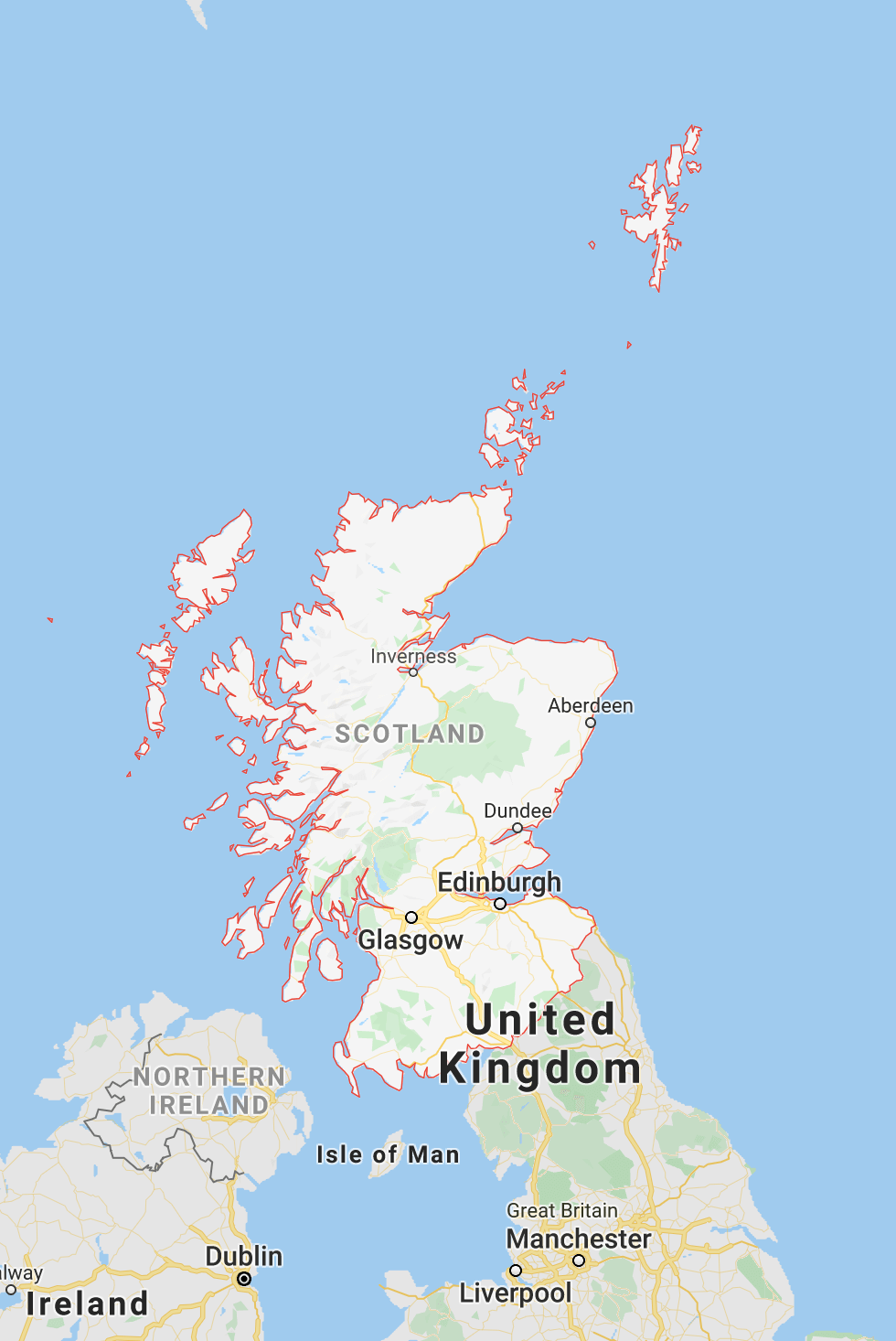 1. Edinburgh
Located in southeastern Scotland is the hilly capital of Scotland and the famous city of Edinburgh. Many come to this gorgeous city to explore the medieval Old Town and Edinburgh Castle (home to Scotland's crown jewels) whilst others visit the many museums on offer and tuck into the gorgeous little shops. Edinburgh is definitely up there in the best places to visit in Scotland. Don't miss the hike up to Arthur's Seat (an extinct volcano and the main peak of the group of hills in Edinburgh) which form most of Holyrood Park.
2. Isle of Skye
Also known as Skye, this is the largest island in the Inner Hebrides archipelago on the North West coast of Scotland – connected by bridge. Skye is known for its rugged landscapes, picturesque fishing villages and medieval castles. Most will use Portree as a base for exploring the island. Br sure not to miss the Mealt Waterfall and Kilt Rock, swimming in the Fairy Pools in Glen Brittle, a walk up to the Old Man of Storr (the large pillar of rock that dominates the skyline) and Dunvegan Castle. Look out for otters!
3. Loch Ness
Did you grow up with the tales of Nessie? Or was it just me? If you recall the famous Loch Ness monster appearing in your childhood then this is exactly where the monster is said to live. Loch Ness is a large, deep, freshwater loch in the Scottish Highlands extending for approximately 37 kilometres southwest of Inverness. Be sure to check out the Loch Ness viewpoint, Urquhart Castle and Falls of Foyers whilst in the area!
4. Scottish Highlands
It wouldn't be a complete list of the best places to visit in Scotland if I didn't mention The Scottish Highlands would it? The Scottish Highlands, by far, covers the largest region in Scotland taking up over 10,000 sq miles. This famous mountainous region that covers the northwest of Scotland with Loch Ness at the centre of it is somewhere you absolutely cannot take a trip to Scotland without seeing. It's where you'll find the tallest mountain in Scotland (if hiking is your thing) and it's where you'll find road trips like Scotland's answer to route 66, the famous NC500.
Some places to consider checking out in the Scottish Highlands:
Loch Ness
Urquhart Castle
Ben Nevis (tallest mountain in Scotland)
Take the West Highland Line across the Glenfinnan Viaduct (the Harry Potter one!)
River Ness
Fort George
The Jacobite train journey
Glencoe.
Steall Waterfall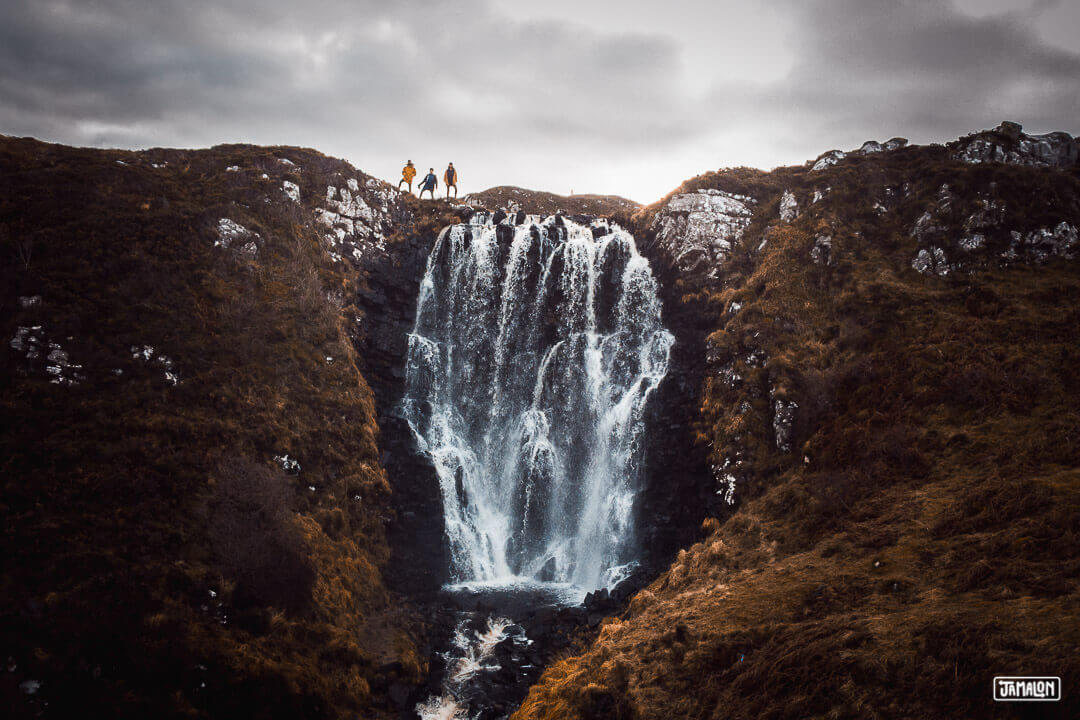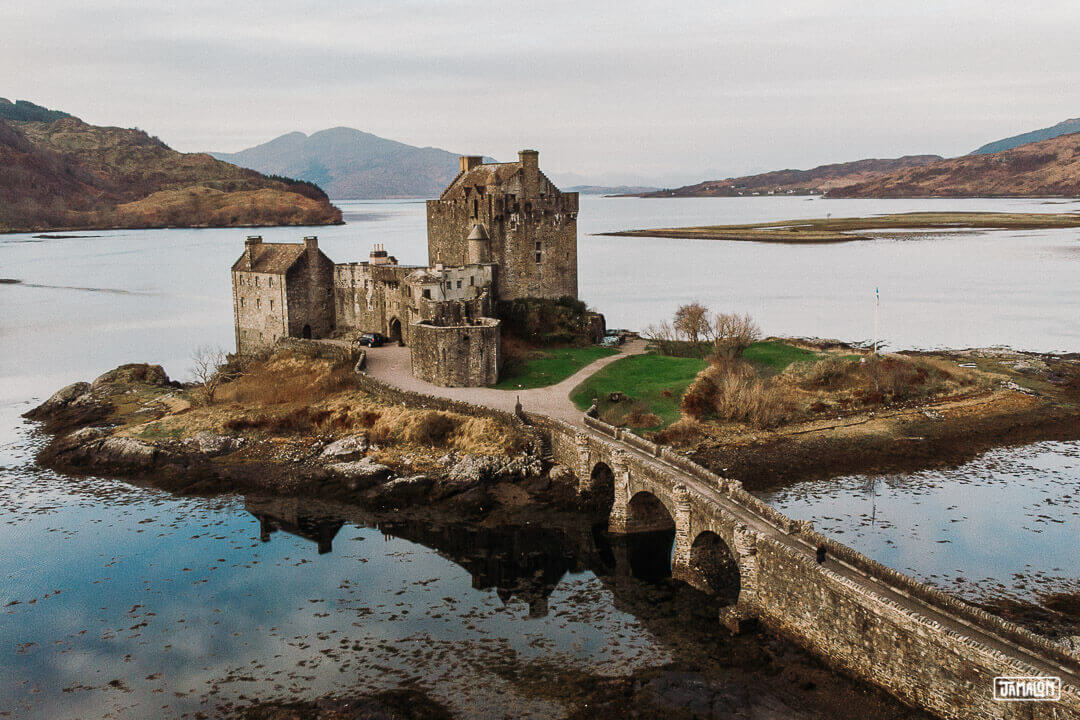 5. Glasgow
Glasgow is a port city (and Scotland's largest) on the River Clyde in Scotland's western Lowlands. Standing currently as the UK's fourth-largest city after London, Birmingham and Leeds, this Scottish city is famous for its Victorian architecture, modern art and glorious shopping… among many other attractions.
Don't miss checking out the stunning Glasgow University, the West Ends bars and restaurants, the shops and… a visit to see the Highland cows!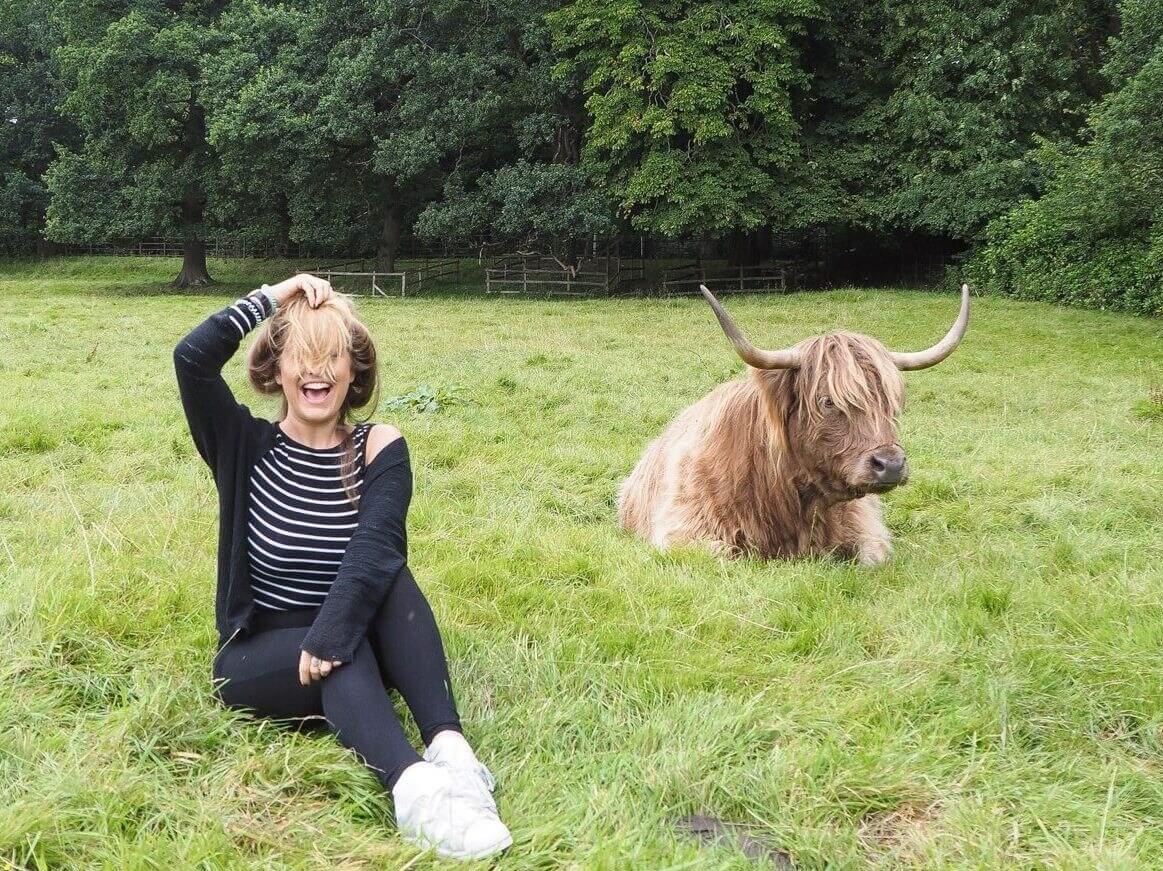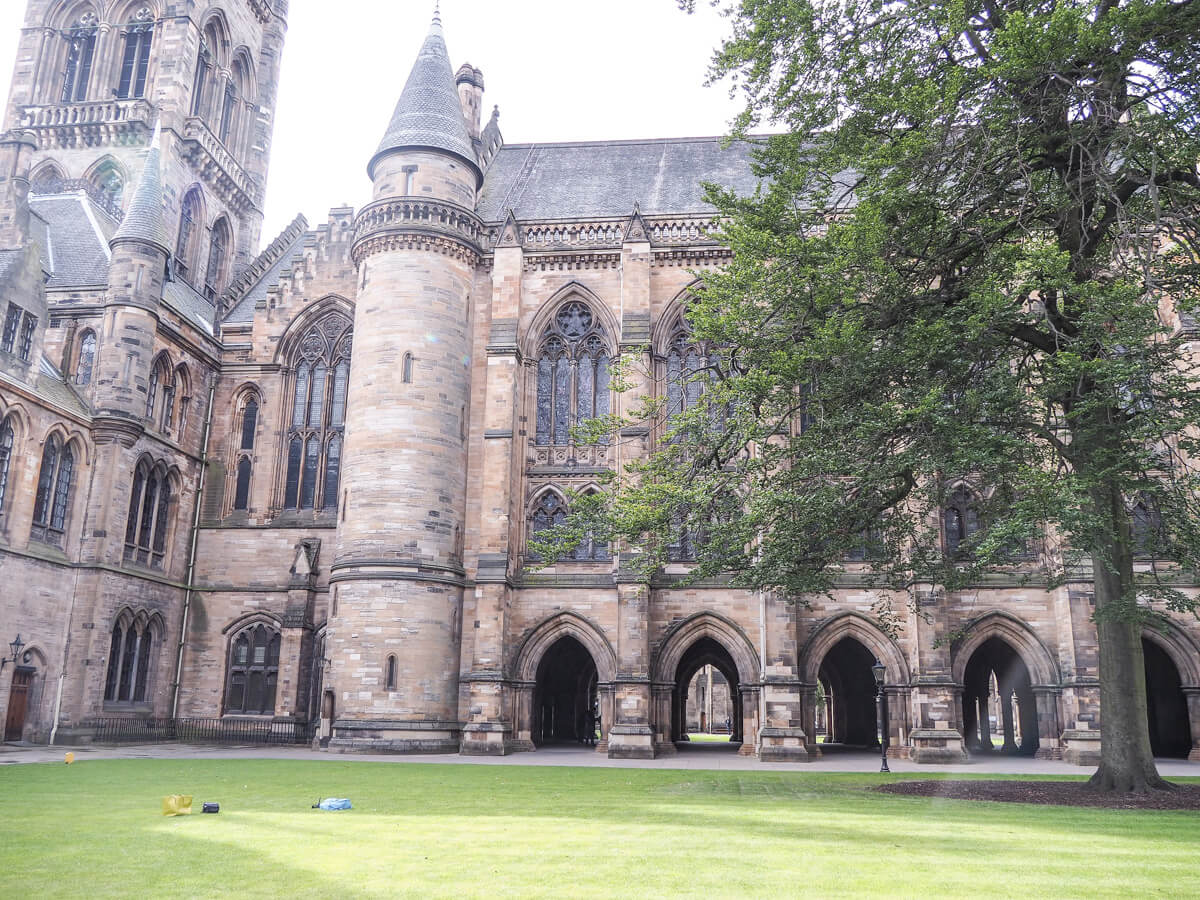 6. St. Andrews
St. Andrews is a seaside town northeast of Edinburgh, on Scotland's east coast. St.Andrews is one for the golf lovers out there. This is where you'll want to come for golf courses, including the famous Old Course, with the landmark Swilcan Bridge at the 18th hole. Then there's the British Golf Museum where you can dive into the history of U.K. golf.
Be sure not to miss the ruins of St. Andrews Castle and University of St. Andrews!
7. Aberdeen
This ancient city that skirts the edge of the northeast coast of Scotland is just a couple of hours north and east of central Scotland. Aberdeen is a cosmopolitan city by the sea with a rich maritime history. Aberdeen is famous for its granite so take time to admire the sparkling granite buildings and dig into the culture and… of course the beach.
8. Loch Lomond and The Trossachs
Loch Lomond is a lake in southern Scotland and forms part of the Loch Lomond and The Trossachs National Park, one of the two National parks in Scotland alongside Cairngorms National Park. Loch Lomond and The Trossachs National Park is an expanse of mountains, water and countryside, good for walking, climbing, cycling and sailing adventures when in Scotland. Let this be your chance to get hands-on with water activity, even if it's just a day cruise!
Be sure to check out The Duke's Pass Scenic Drive, the views from atop of Conic Hill over Loch Lomond (see below) and consider camping out on the lakefront itself in one of the many campsites and holiday grounds!
See my complete guide to Loch Lomond and the Trossachs National Park, Scotland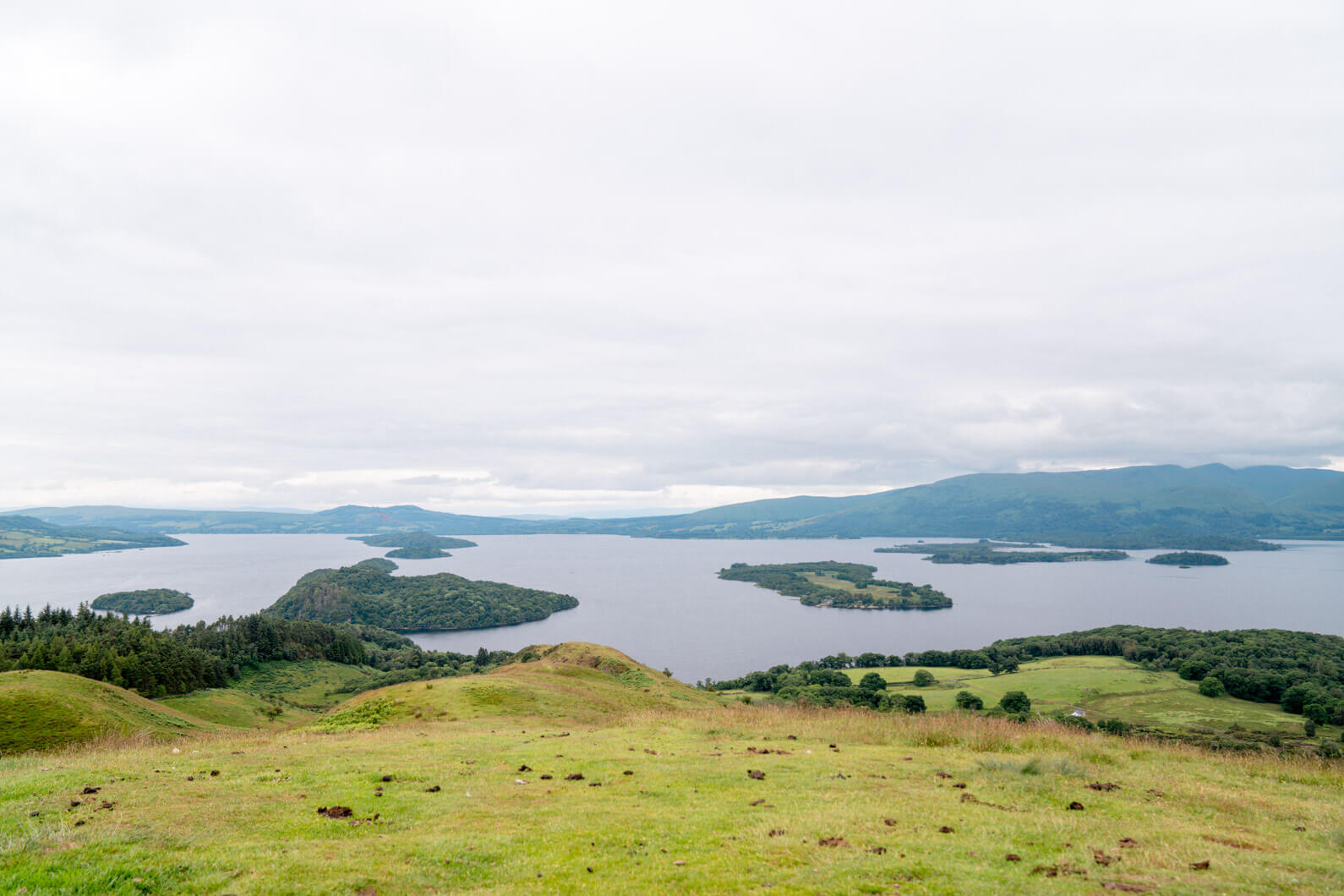 9. Dundee
Dundee is an hour and a half's drive north-east of Edinburgh and Glasgow and is home to the V&A Dundee, Scotland's first design museum. Dundee has recently been named as one of Lonely Planet's 'Best in Europe 2018' destinations and it's easy to see why with its culturally rich offerings, historic waterfront, eclectic music and creative offerings. Dundee is a waterfront location beside the River Tay and makes for a great stop on your Scotland adventure!
10. Fort William
Fort William is a town in the western Scottish Highlands, on the shores of Loch Linnhe. Fort William is a popular stop-off en route to a Ben Nevis adventure. Known as a gateway to Ben Nevis (the U.K.'s highest peak) and home to Steall Falls, Fort William is a great town to add to your Scotland adventure.
The nearby Nevis Range Mountain Resort has ski runs and forest trails for those a little more active and for those that prefer to pitch up with a drink – take the short drive to Ben Nevis Distillery. You can also jump on board the Jacobite Steam Train from Fort William to Mallaig and experience the legendary West Highland Line (as featured in Harry Potter). This 84-mile round trip is described as one of the greatest railway journeys in the world and crosses the Glenfinnan Viaduct. You know the scene!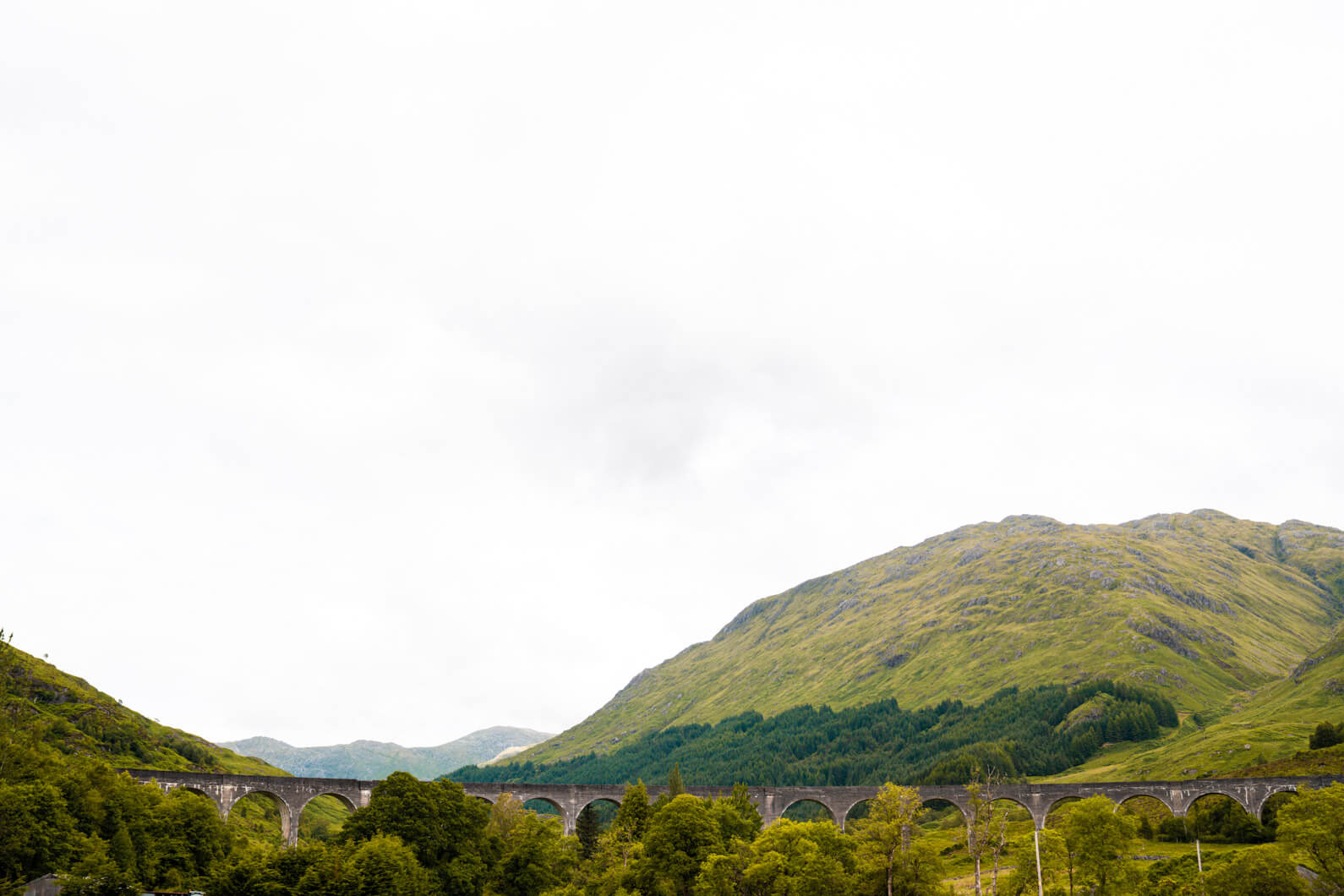 11. Ben Nevis
Ben Nevis is the highest mountain in, not only Scotland but in the British Isles, with a summit of 1,345 metres above sea level. Ben Nevis stands at the western end of the Grampian Mountains (part of the Scottish Highlands) and the closest town is Fort William (see number 10). This was always going to make it to the best places to visit in Scotland because it's one of the most popular tourist attractions… even if you skip the hike and just take a photo!
I've climbed Wales' highest peak, Snowdon and I've climbed Englands' highest peak, Scafell… Ben Nevis, you're up next!
12. Cairngorms National Park
The Cairngorms National Park, in the heart of the Scottish Highlands, is the largest of the two national parks in Scotland and is located north of Loch Lomond and just south of Inverness. The Cairngorms National Park has everything from castles to distilleries and offers a wealth of adventure, think watersports, snowsports, wildlife watching, and some incredible walking and cycling routes.
Whether you're looking for a boujee experience or a rough and ready adventure, Cairngorms has got you covered! For example, check out this peaceful retreat cabin on Airbnb! Use this link for £34 off your first booking!
13. North Coast 500
Given, this isn't a place but an itinerary. How could I do a Scotland blog post without including it?
Incase for some crazy reason you haven't heard of the The North Coast 500 (NC500). This 500-mile route is Scotland's answer to the legendary Route 66 and is one of the most beautiful coastal touring routes in the world. The route follows the main roads along the coastal edges of the North Highlands and combines ancient castles with glistening sandy beaches and spell-binding heritage. The North Coast 500 has gained popularity for good reason, though in the summer months you may be joined by a few friends!
My friends recently took on the adventure of the NC500 during the winter month of January and documented the entire thing in a cinematic, hilarious, YouTube series. If you're thinking to do this route, the Jamalon series will seriously inspire you and get you ready for your Scotland adventure…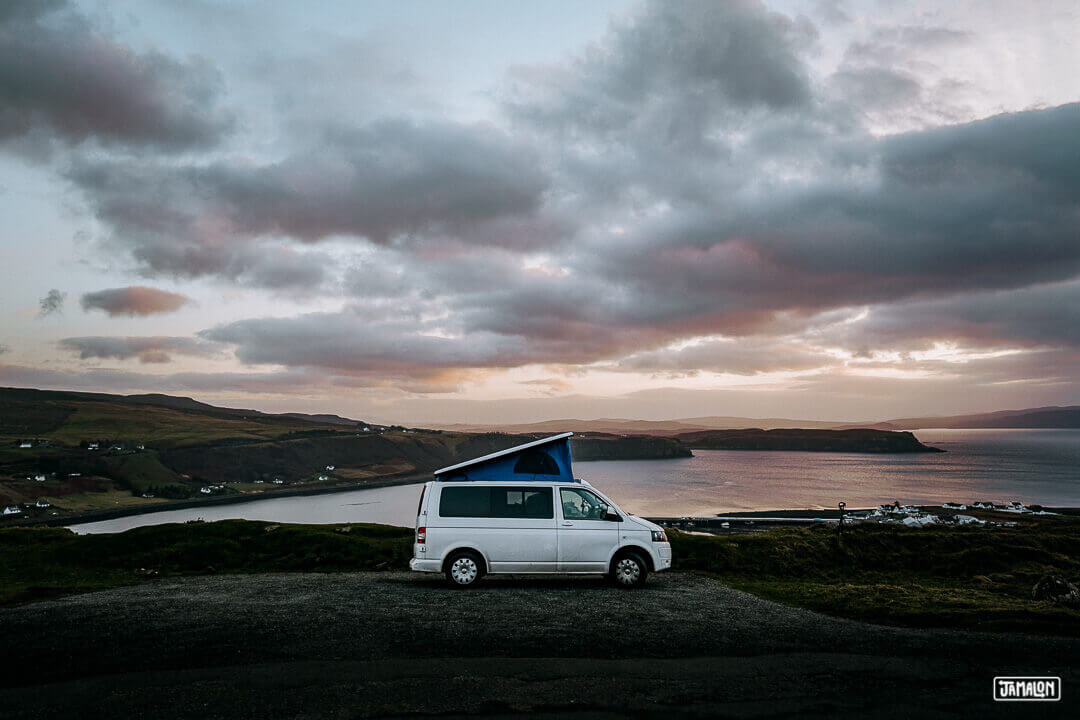 14. Shetland Islands
Shetland, also called the Shetland Islands and formerly Zetland, is a subarctic archipelago in the Northern Isles of Scotland, between Great Britain, the Faroe Islands and Norway. These 15 inhabited islands are located right above mainland Scotland and are accessible by plane or by ferry from Aberdeen and Orkney.
There are so many beautiful things to do on these islands with many stunning walks, beaches and wildlife to encounter. Take a look at Sumburgh Head Lighthouse, Fair Isle, Noss National Nature Reserve, Mavis Grind and St Ninian's Isle to name a few. Keep an eye out for the seals!
15. Orkney Islands
The Orkney Islands are another archipelago off the northeastern coast of Scotland, below The Shetlands. I actually visited a couple of years ago whilst working with Vodaphone to investigate the decline in seals that was occurring. It felt a little similar to driving in Iceland in that it felt like it was just you and the earth between destinations, passing through only very small quaint villages along the way. There's something magic about these islands and if you're in the North anyway consider the 90-minute crossing operated by NorthLink Ferries from Scrabster (near Thurso) on the north coast of Scotland.
You get to sail past the Old Man of Hoy and the UK's highest vertical sea cliffs at St John's Head before landing in Orkney's second-most-populous town, Stromness. Alternatively, you can fly!
16. Traigh beach and golf course
If you're on a road trip and find yourself in Fort William, perhaps you've accomplished the hike up Ben Nevis… I highly recommend kicking back and relaxing on the gorgeous white sands of the west coast. About a 60-minute drive from Fort William, passing the famous Glenfinnan Viaduct on the way, you'll find the beaches of Camusdarach, Arisaig and Traigh.
Think white sands, clear waters and views across the Isle of Skye and Isle of Eigg.
Tip: Parking can be very limited, particularly in the summer months. Keep driving along the beaches until you find a space. We had intended to visit Arisaig but there were no spaces so we kept on driving and found Traigh Beach! All the beaches are stunning. Also, if you're into golf, there's a golf course right on the water here in Traigh!