Thinking of travelling to Iceland but worried about how much it's going to set you back and whether you can afford it? Looking for ways to save money in Iceland? You're in the right place.
I can confirm that my 5-day road trip travelling in Iceland was not the cheapest adventure I've ever been on, but it was one hell of an adventure. In my opinion, it's worth every penny you save for it but of course, you don't want to spend money for the sake of it.
In this blog post, i am going to take you through all the ways to save money in Iceland, top tips for saving money in Iceland and ways you can keep your Iceland trip cost to a minimum!
If you've been with me a while you'll know that I love a bargain. I don't usually go for the luxurious option and in doing so, you can afford more adventure time!
Happy days. More adventure is what we all want right? Agreed.
Why is Iceland expensive?
Iceland is expensive for a few reasons.
It's an island, so they have to pay a lot to import goods.
The cost of hiring is high in Iceland, so they charge more for products to counteract this.
Certain taxes are particularly high, for example on alcohol and fuel.
The currency (Icelandic krona (ISK)) is generally very strong. When the economy isn't doing so well, prices tend to drop, so keep an eye on this before you go!
To be honest, yes it's an expensive destination, but for good reason. It's so well preserved and so beautiful. It's mind blowing how Iceland even exists as it does and as long as you know beforehand, you can save for it!
Of course though, if there's a way to cut corners and save money. I'll find it.
How to save money when travelling to Iceland…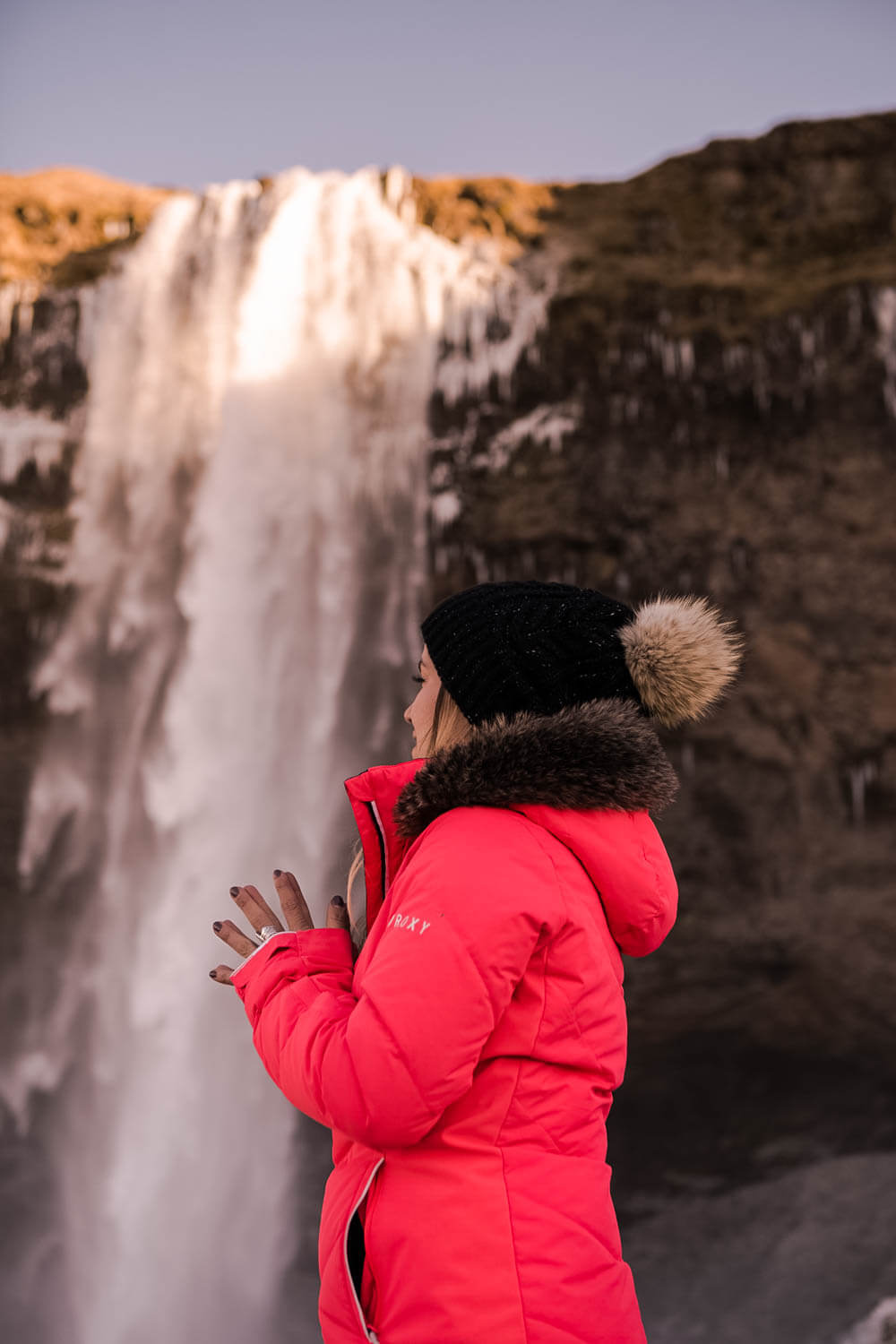 1. Plan a comprehensive budget and know how much you can expect to pay for things when travelling in Iceland.
The rumours are indeed true. Iceland is certainly not cheap. Petrol is expensive, eating out is expensive and so is alcohol (relevant information for a road trip, gotta toast a glass under the stars). Food shopping wasn't bad, as with any country you just have to suss out what's good value before you start emptying everything into your basket!
I made notes of a few different things we paid for during our travels in Iceland throughout this post to give you an idea of costs…
I've left these in ISK so that if the currency gets weaker or stronger, you still have a good idea about what things cost. Check out how these prices convert to your local currency here.
The best way to save money in Iceland is to really think about everything you want to do and plan accordingly, so that you don't get caught out paying for something at the last minute that you didn't think of! The best thing to do is to be prepared.
2. Travel off-season.
Iceland is most expensive from June to August, during high season. If you can travel in shoulder season (May or September) or completely off season, you'll definitely save some money! Keep in mind that the warmer months are better for driving and seeing wildlife, but the winter has its own fun such as seeing the Northern Lights!
3. Keep an eye out for flight deals.
You can get really good flight deals from the UK to Iceland with IcelandAir, Iceland's budget airline! If you can be flexible with dates, you're sure to pick up a bargain.
Top tip: If you're flying between the USA or Canada and Europe, you often fly via Iceland as it's the shortest route. IcelandAir don't charge extra if you want to stop in Reykjavik for a few days, so take advantage of the layover and explore!
4. Camp at designated campsites.
Camping is by far the cheapest accommodation in Iceland. We paid 1000-2500ISK per person per night at campsites in Iceland, plus an overnight tax of 333 ISK per vehicle/tent per night.
Camping illegally (i.e. not at a designated campsite) can result in huge fines (up to 100,000ISK!). Don't risk it!
6. If you'd rather not camp, couchsurf, stay in a hostel or an Airbnb rather than a hotel.
Couchsurfing is free, and it's a great way of meeting local people too! Check it out here.
Accommodation prices in Iceland:
3,000ISK per night for a bed in a shared dorm room in a basic hostel
8,500ISK per night for private guesthouse room with shared bathroom
12,000ISK per night for a budget hotel or guesthouse
7. Book accommodation in Iceland in advance.
Accommodation (hotels and hostels) can book up really quickly in Iceland, and last minute bookings tend to be really expensive. Book in advance and you'll definitely save some money in Iceland.
A lot of campsites don't accept bookings in advance, but it's a good idea to check in and pitch up early afternoon to guarantee a spot where you want to stay!
8. Consider using public transport.
Using public transport in Iceland can be a lot cheaper than renting a car or a campervan.
Transport costs in Iceland:
3,200-5,500ISK per day for a car (depending on if you get a small car or a 4×4)
9,000ISK per day for a small campervan
All rentals come with mandatory, basic insurance (basic CDW). It's 2,000-2,500ISK per day to upgrade the insurance to also cover things like physical damage, driving off road, etc.
Petrol: average 225ISK per litre/900ISK per gallon
Top tip: some petrol stations have discount cards that can get you money off fuel and the items in the shop!
Public transport:

A one-way regular adult bus ticket in Reykjavík: 460ISK (you can save money with a bus pass if you're going to use it regularly).
In Akureyri, the local city buses are free.
Long-distance bus ticket prices depend on location and time of year, for example, Reykjavík to Akureyri will be 8,000-11,000ISK.
Hop-on-hop-off bus passports: from 12,900ISK. Check out routes and prices here.
If you do choose to rent a car, make sure you research your options to get the best deal, and only hire the car for the days that you'll actually be using it!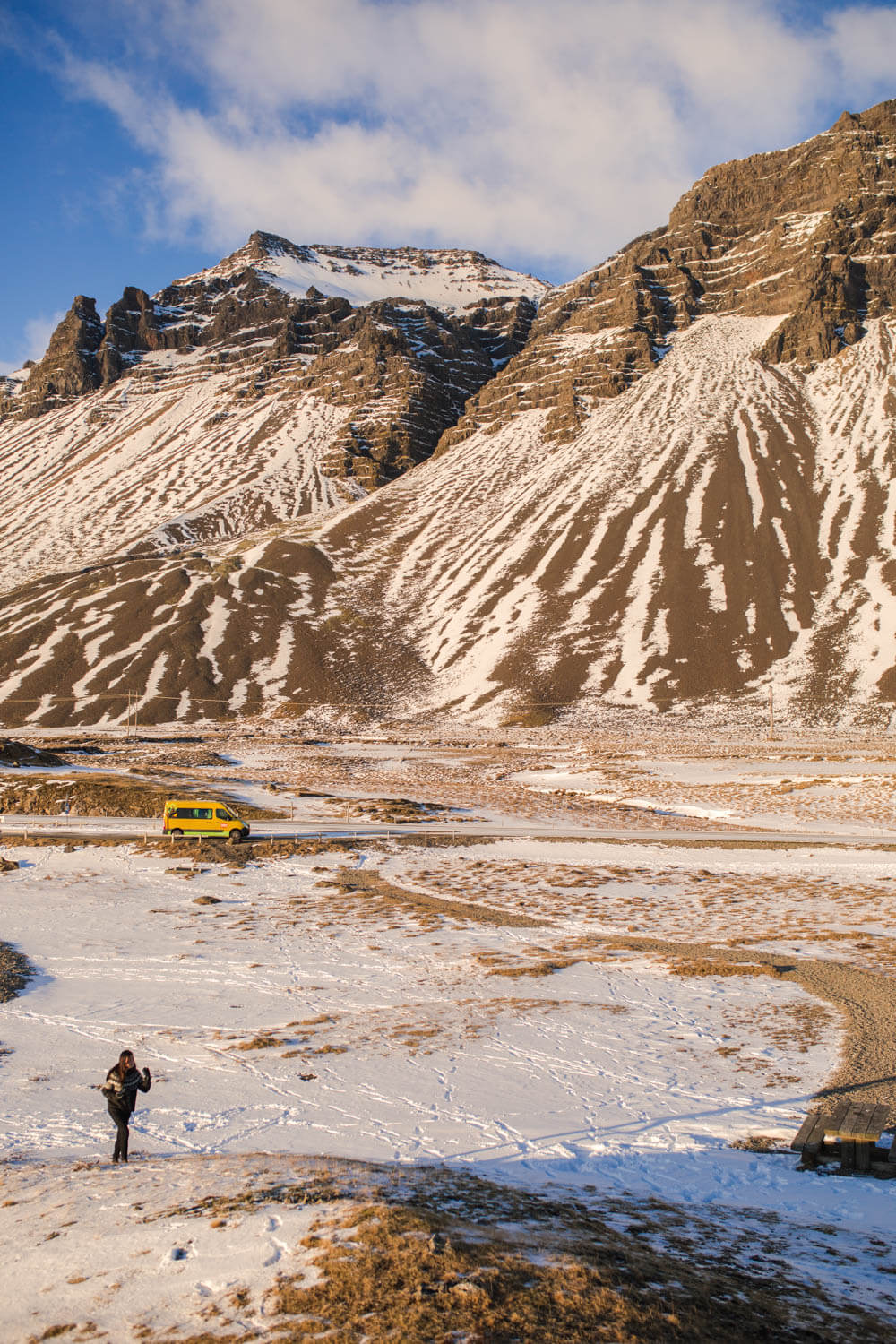 9. Consider hitchhiking or carpooling.
There are lots of different opinions on hitchhiking, but Iceland is one of the safest places to do it. Don't let it be your only transport option, but it's worth a shot!
Alternatively, check at your hostel if there's someone who's driving to your destination who might want you to chip in for the petrol, or, if you're the driver, there might be someone you can pick up in return for some petrol money!
10. Travel in a group.
Don't get me wrong, I love solo travel, but it's always cheaper to travel in a group and split transport and accommodation costs with other people.
11. Pack well.
Don't overpack, or you'll spend a lot on luggage, but don't under pack either, or you'll be spending money on items you can get at home much cheaper! Think about all the activities you'll be doing and the weather conditions for that time of year, and pack accordingly.
You can save money when travelling to Iceland when packing in advance and making sure you have everything you need ahead of your trip!
12. Don't eat out.
Okay this is a big one. How to save money when travelling to Iceland? Don't eat out every day. It adds up big time.
Do a supermarket shop and swap meals out for meals on the camp stove. Do a supermarket shop (I spent 5,000 ISK and got meals and snacks for 4 days!). Supermarkets are so much cheaper than eating out or convenience stores! Seriously!
Supermarket prices in Iceland:
Loaf of bread: 350 ISK
Bananas (1kg): 250 ISK
Rice (1kg): 350 ISK
Chicken (1kg): 2000 ISK
Meals out in Reykjavik
Burritos at a food market: 1400ISK
Hot dog from a stand: 450 ISK
12-inch subway: 1000 ISK
Burger: 1750 ISK
Soup: 1200-1800 ISK
Main dish at a local restaurant: up to 10,000ISK
Coffee in a cafe: 450-550 ISK
13. Take a reusable water bottle and coffee cup.
Save money when travelling through Iceland by bringing a reuseable bottle and filling it up with water for free. The glacial water is insane. Don't pay for water! Shop my reusable water bottle here.
Same with tea and coffee. Grab some tea and coffee from the supermarket and make your own – you'll save money and help the environment by saving on single-use plastic! Shop my reusable coffee cup here.
14. If you want to drink, bring a bottle of spirit with you or buy one in duty free at the airport on the way.
It would be even cheaper not to drink, but if you want to drink and save money in Iceland, bringing alcohol with you will save you a bomb!
Cost of alcohol in Iceland:
Bottle of wine: up to 4,000 ISK.
1500ISK was the cheapest bottle I could find (if you aren't fussy), they average around 2400 ISK. You can also pay around 4000ISK+ for a bag/box/sack/cask/goon.
Cans of beer: 200-400ISK each.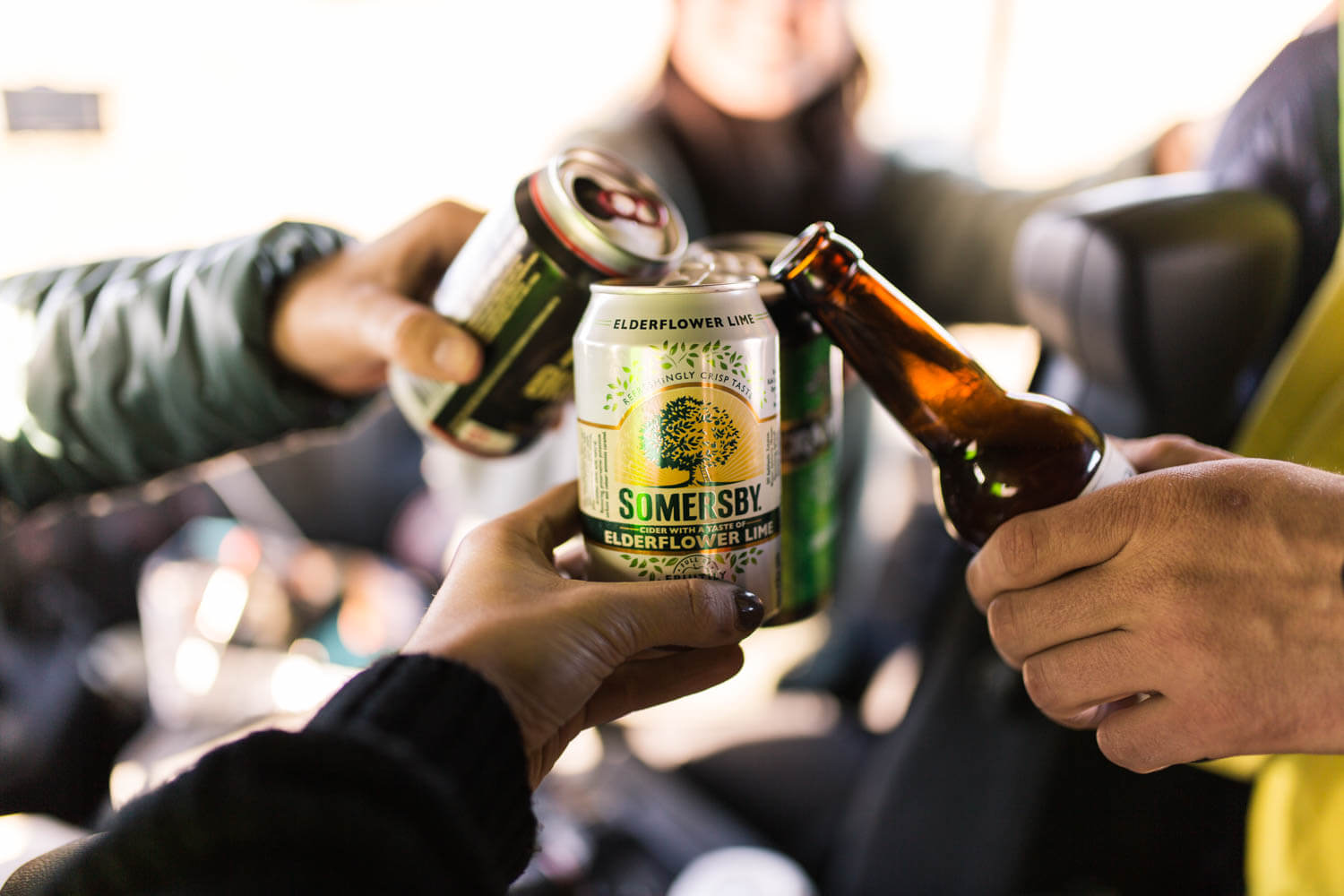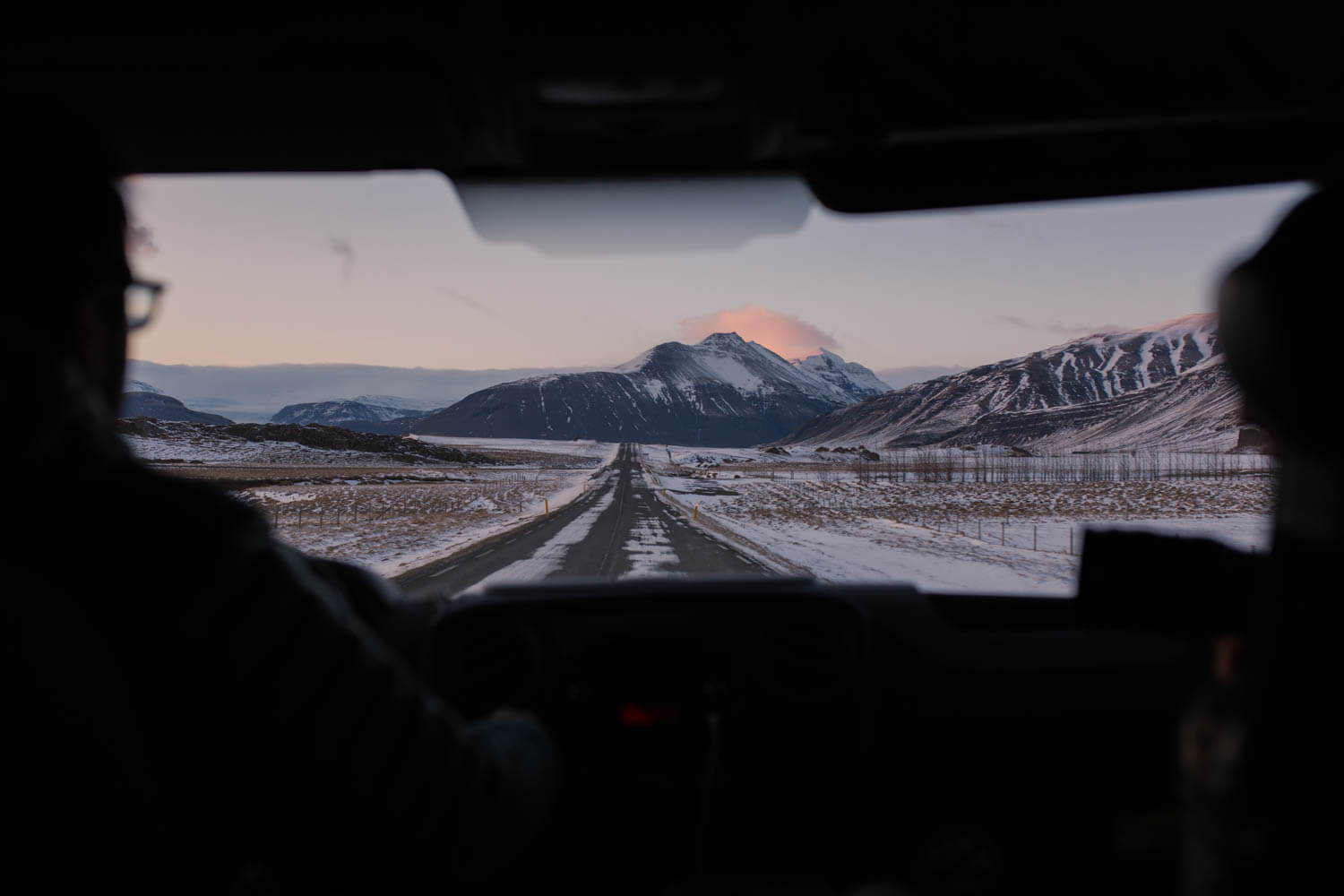 15. Take part in free tours and activities, to save money for the expensive tours you really want to do.
Lots of things in Iceland are expensive, but not everything is. There are some free and cheap things to do in Iceland, including:
Visiting some public attractions such as waterfalls, beaches, gardens, public art installations, churches, monuments, geysers, and lava fields.
In Reykjavík, take a "free" walking tour (donations are expected), visit the Hallgrímskirkja, the Hlemmur Food Hall, the botanic garden, the Öskjuhlíð, and the weekend Kolaportið flea market.
Outdoor activities such as hiking, swimming, snowshoeing, scenic drives, searching for the Northern Lights, birdwatching, climbing, biking, or picnicking tend to be free or inexpensive.
Some hotels include free on-site hot tub and spa access, swimming pools, binoculars you can borrow for birdwatching, or free bike or canoe rentals in your stay. Choose wisely!
Thermal pools are free or very cheap. The Nauthólsvík beach and hot pool in Reykjavík is free in summer, and small hot pools and public city pools throughout Iceland are also free or very cheap.
Free museum days, festivals, concerts, or other local events that may be taking place during your trip.
Prices for popular paid tours & activities:
Museums: 800-3000ISK
Lava museum: 2990ISK
Kerið Crator: 400ISK
1-hour puffin watching boat tour from Reykjavik: 5000ISK
Full-day Golden Circle sightseeing bus tour: 10,000ISK
2-hour snorkeling trip: 15,000ISK
Ice cave tour: 20,000ISK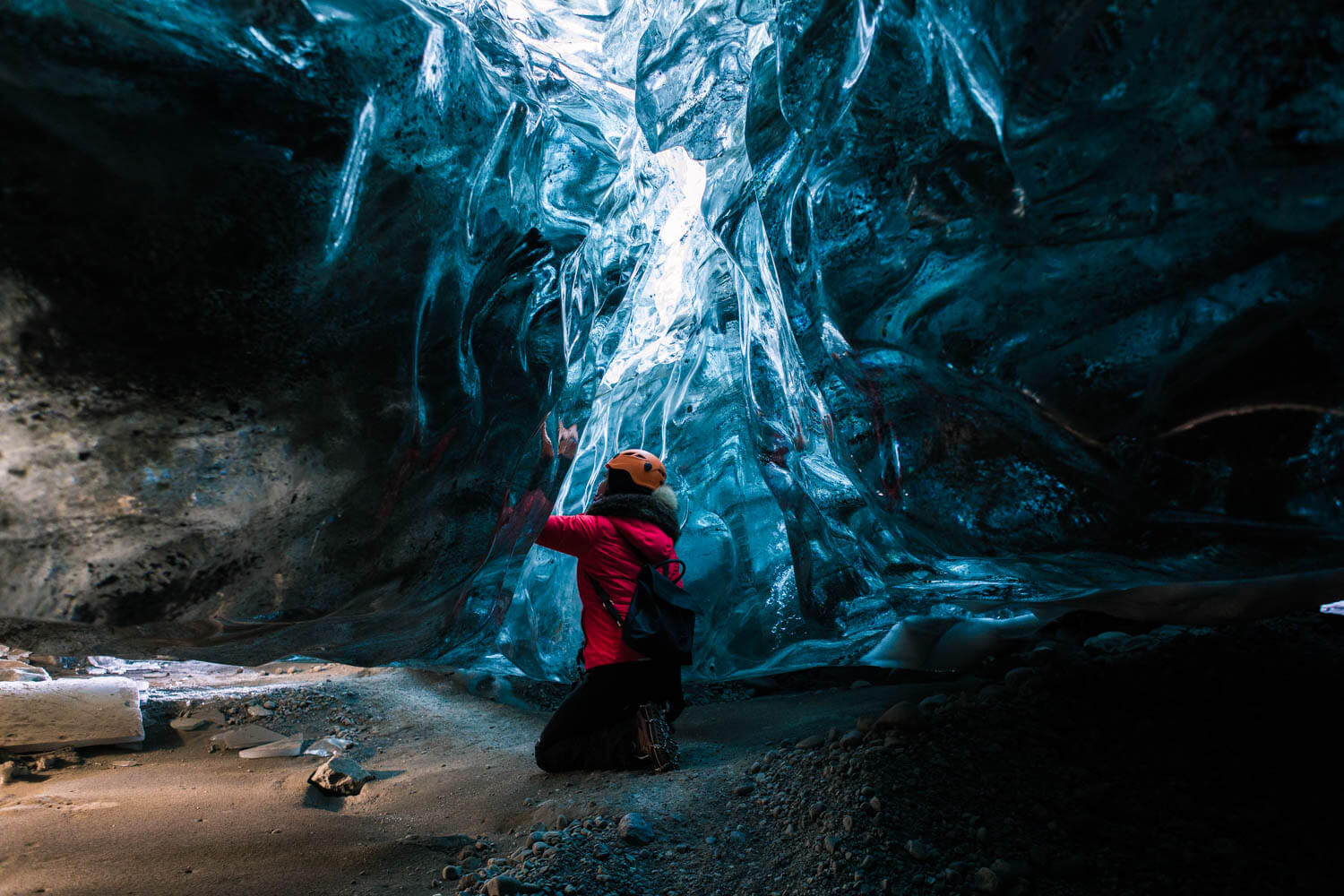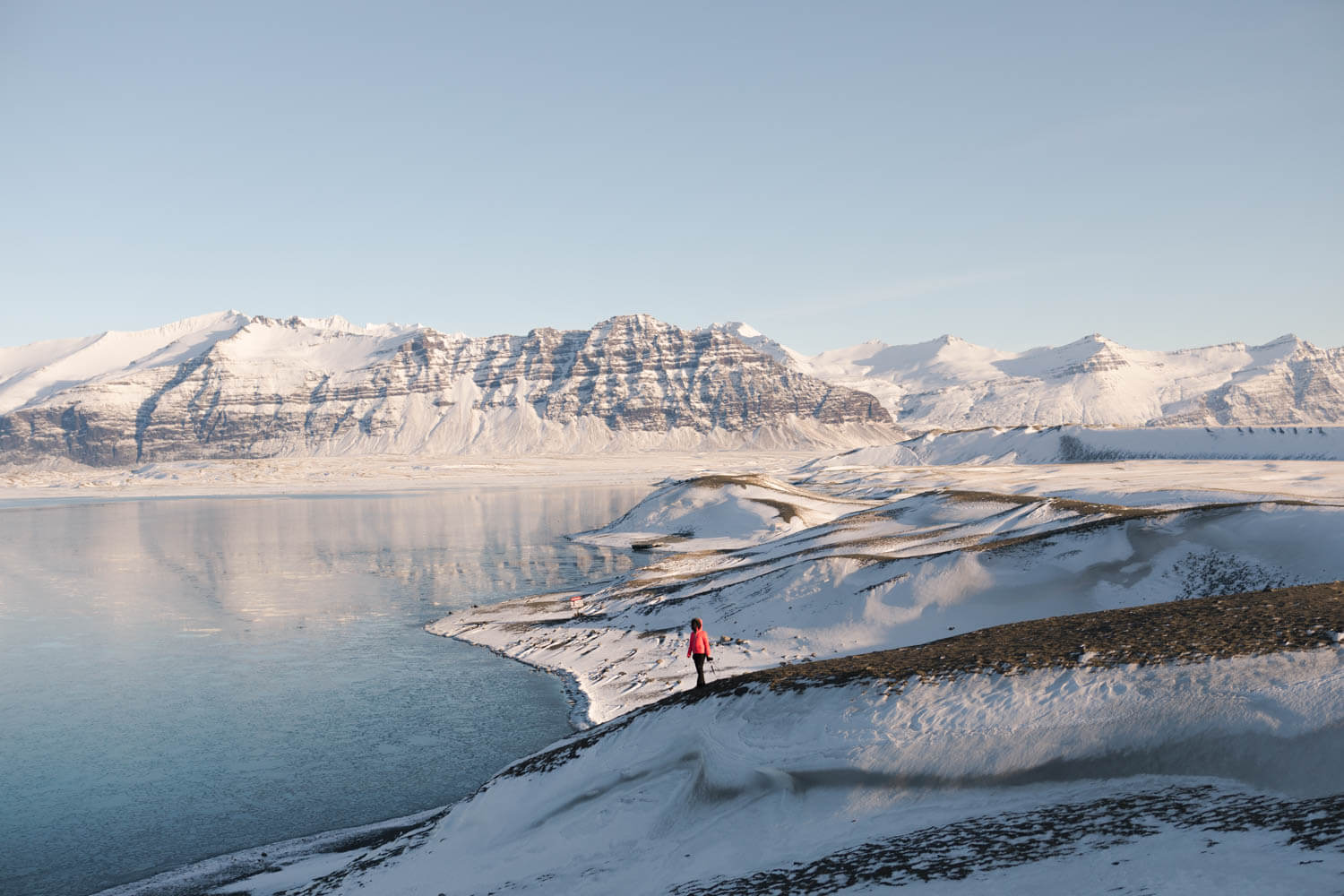 16. Get discount cards and join discount schemes.
There are lots of ways to save money in Iceland on attractions, fuel and accommodation, and one of them is getting a discount card!
Extra top tips for travelling in Iceland…
Take Monopoly Deal and UNO.
Get yourself a pack of Monopoly Deal and/or UNO cards. If you're anything like me, I'm useless at card games. These are fun, stimulating and easy to team up with some alcohol!
Allow time in your itinerary for weather adversity.
One night we had planned to drive 4 hours to sleep at the Glacier Lagoon in preparation for a sunrise Glacier Tour but a snowstorm had the visibility reduce to nothing. For safety we pulled over and instead got up at 4am to drive the remaining distance. Weather can be crazy here so try and account for that.
Download the 'weather app'.
This will keep you up to date with weather warnings and predictions! For more apps you should download for your travels, check out this post.
Chia seeds are really cheap.
I don't know why but they are! I stocked up and bought some home.
Iceland is the home of Skyr! They have all the flavours and it's perfect for a road trip snack.
Pick up an Icelandic wool jumper.
These staple jumpers, made from Iópa wool, are known for their longevity but also their warm, breathable and showerproof qualities! My friends were adamant on picking one up to take home as it's one of the cheaper places to get your hands on one!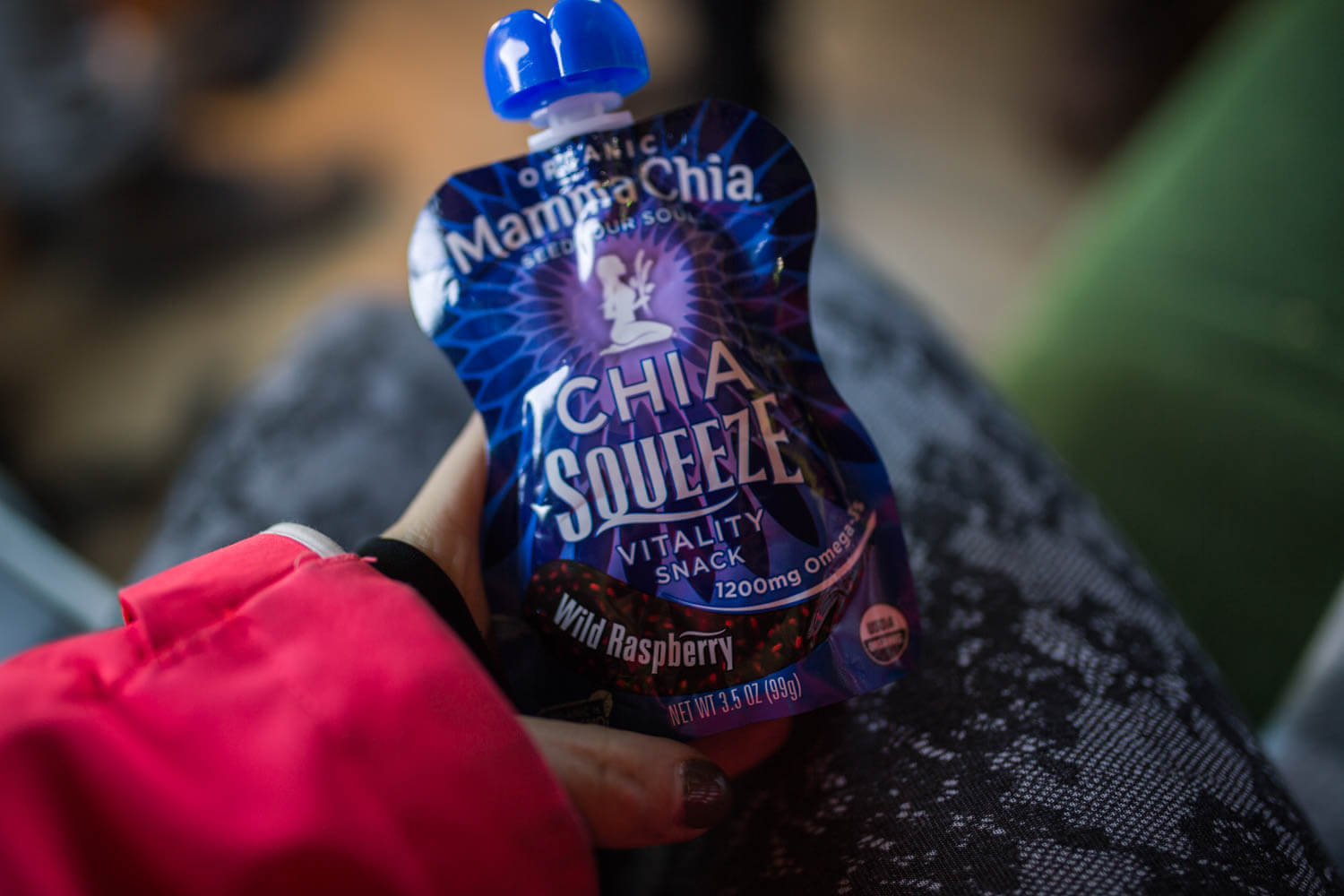 Watch my Iceland road trip come to life here…
Have you been to Iceland?
What are your top money saving tips for Iceland? I'd love to know!
Love as always and happy adventuring,
Did you find this post helpful? I'd love you to share it for me.
I can't do this without you.
Pin and save this blog post for later…