I hadn't planned to visit San Cristobal de las Casas when I booked my trip to Mexico, which blows my mind because it ended up being my highlight of travelling through Mexico. I only ended up in this gorgeous highland town because travelling from Puerto Escondido to Lake Atitlan in Guatemala was a lot easier and cheaper by bus and it required a stopover here in San Cristobal.
The only word I have to describe my time in San Cristobal, or San Cris as some would call it, is magic. San Cristobal de las Casas is a very special place rooted in Mayan culture and encompassed with mountain air, sitting at 2200m in the Chiapas highlands. You know that feeling when you arrive somewhere and you can't quite put your finger on why, but it feels really special? There's a warmth in the air here in San Cristobal (from both the sunshine and the people) and the energy wraps itself around you, almost instantly. There's a feeling of arriving home.
Maybe it was the maze of colourful streets that you happily lose yourself in, all adorned with different scents and smells. Maybe it was the integration of locals and travellers, coming together as one. Maybe it was the way the highlands and lush greens surrounding this Southern Mexico town gave an exquisite backdrop to every street you walked down. Or maybe it was the number of run-down VW combis roaming the streets and transporting you to a heaven you didn't know existed.
So rich in culture and guaranteed to capture your heart, San Cristobal de las Casas is absolutely somewhere you must visit in Mexico.
I cannot wait to share this San Cristobal travel guide with you. Even if you're heading to Mexico and set on enjoying the beaches, cenotes and surf, may I highly recommend that you spend at least a couple of days exploring inland Mexico and through the likes of San Cristobal de las Casas and the Chiapas region.
In this San Cristobal travel guide, I am going to share with you the best things to do in San Cristobal, the best places to visit in San Cristobal, the best places to eat in San Cristobal and the best day trips from San Cristobal.
Other travel guides on the blog that you may find useful: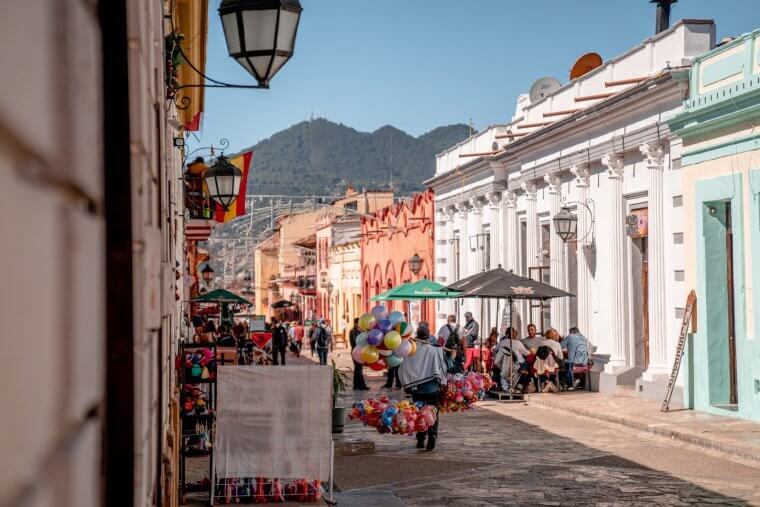 Where is San Cristobal de las Casas? How to get to San Cristobal de las Casas?

San Cristobal de las Casas is considered the cultural capital of Chiapas and is the southernmost Mexican state that borders Guatemala.
Because of San Cristobal de las Casas close proximity to the border with Guatemala, it's a popular starting point for travellers entering Mexico from Central America and it's also a popular last stop (like it was mine!) for those leaving Mexico, to travel Central America via bus.
There are many companies that organise travel to and from San Cristobal de las Casas. Here are a few ways to arrive in San Cristobal:
Arriving in San Cristobal from Puerto Escondido via bus
We checked buses and booked our transport through Check my Bus. The bus journey is around 13 hours and arrives at the Central Bus Station in San Cristobal which is within walking distance from the centre of town. Tickets are around 700-1000 pesos depending on which class you book and which time. There are a few departures a day. If you're looking to head from San Cristobal back to the coast, there are departures heading back also.
A guide to Puerto Escondido, Mexico
Arriving in San Cristobal from Guatemala
I've not taken this journey but I've taken the journey from San Cristobal to Guatemala (the opposite way), which I believe would turn out very similar. I booked with Magic Travel (message Yuli on WhatsApp to arrange +502 5955 4001) and it cost 1200 pesos. This journey was around 14 hours and I was dropped off at my preferred destination on Lake Atitlan (Panajachel area). This time takes into account the border control, switching of buses when you reach the border and a couple of toilet/food stops.
There's also the option to fly into San Cristobal.
The nearest airport is Tuxtla (TGZ) which is about an hour and 20 minutes drive away from San Cristobal. Taxis are around 900 mex pesos which isn't cheap but if you can share a ride and split the cost – win!
Now that you know how to get to San Cristobal, it's time to find somewhere to stay and discover the best things to do in San Cristobal!


Where to stay in San Cristobal de las Casas?

My adventures in San Cristobal were very last minute and occurred at the busiest time of the year (New Year). Due to availability during the high season at such a last minute, I had to hop around a little bit between accommodations. They were all pretty close though and in the centre of the town so not too bad at all.
My accommodation recommendations for San Cristobal de las Casas:
Casa Ohana (my favourite!)
Ohana means family and that sums up this gorgeous eco-house in San Cristobal. Our room was one of a few in a shared house but I'd like to call it a sanctuary. More like a retreat space. Filled with gorgeous moments and details from all over the world, a kitchen made for cooking with lots of essentials, tea, coffee, spices. There are living areas with fireplaces and my favourite? A rooftop overlooking the whole town with a fireplace, hammock, table and chairs and fairy lights. I'd go back in a heartbeat! Joelle, the host, was incredible too. Faultless stay! Pictured below
Book your stay here.
Single room at Casa San Cristobal
I grabbed this room last minute as a spot next to the central bus station where I was getting the bus from. It was perfect. Very reasonably priced, clean, with kitchen and walking distance to town. The host was extremely accommodating. Perfect place to rest.
Book your stay here.
– Berlin61
Another great value, basic but wonderful stay. The rooms were super cool in temperature, clean and the perfect location for exploring the town.
Book your stay here.
If you find this San Cristobal de las Casas travel guide useful, I'd love for you to share it with your friends!


Example prices in San Cristobal de las Casas:

(As of January 2022)
Cocktail = between 60 and 120 pesos (depending where you go)

Local main meal = 70-90 pesos

Restaurant main meal = 100-250 pesos

Scooter 1 day rental = 300-400 pesos (you can negotiate for longer rentals)

Coffee = 45 pesos

Burrito / lunch – 85-120 pesos

Cold coconut (coco frios) – 30-50 pesos

Yoga class 100-150 pesos

Smoothie – 45-70 pesos

Taco 35-70 peso
Top tip: Accommodation prices literally double/triple over Christmas and New Year.
Let me know in the comments if there are any other example prices you'd like from me in this San Cristobal de las Casas travel guide.
Other tips for San Cristobal de las Casas:

Laundry at Lavanderia la burbuja
I did 3kg and paid 50 mex pesos plus an extra 20 for same day return!


My favourite places to eat in San Cristobal de las Casas:

Frontera coffee –

The best coffee in town. That I had anyway! Banana bread and coffee morning!

Te Quiero Verde – Vegan friendly. Amazing for juices and wholesome dishes. HIGHLY recommend the pesto pasta pictured below.
La Punto – for pizza and sangria. There's an upstairs with a balcony that looks over one of the busier streets. Perfect for lunch and people watching. The food is amazing! High recommend the vegetarian calzone.
Roots artesanal bakery – I cannot tell you how much I love this place. The smell, the taste, the design. Grab a tray and stack it with all your favourite baked goods. Pizza, bread, cakes, pastries. I'd go back to San Cristobal just for this place!
Jangala – Get a gorgeous cup of Ceremonial Cacao here!
Carajillo Coffee – also great coffee. Can purchase beans here too.
See more of my favourite spots in San Cristobal on my Mexico Google Map Legend.


Best things to do in San Cristobal de las Casas: A San Cristobal de las Casas travel guide

1. Walk up to Iglesia de San Cristóbalito at sunrise
You'll notice these steps up to this little red and white church on your wanderings around San Cristobal and one of the best things to do in San Cristobal is to walk up to it at sunrise as the sun begins to peek over the mountains in front of you.
Located between the neighbourhoods of La Merced and San Antonio, you'll find the stairway that ascends to the Iglesia El Cerrito. This temple, also known as San Cristobalito, was built by Fray Juan de Ordoñez at the end of the 18th century.
When I walked up at sunrise there were many people utilising the time before the heat of the sun rises to run the steps. An idea perhaps, to combine your morning workout with a taste of the local history. At the top, you're rewarded with views across San Cristobal.
Note: If you're visiting on July 25, the hill lights up with rockets, music, food, visitors and faithful who venerate the image of this saint.
2. Take the free walking tour of San Cristobal
Learn about the cultural and historical heritage of San Cristobal and how the beautiful place came to be as it is today on one of these daily free walking tours. These tours run every single day in both English (10am and 5pm) and Spanish (10am).
Yes you heard correct, FREE! One of the best ways to see the city and one of the best things to do in San Cristobal if you're on a budget!
Meeting point: The wooden cross in front of the cathedral. People will begin to gather – you don't miss it!
Cost: FREE (but bring cash to tip the tour guide as you wish!)
3. Wander and get lost in the gorgeous streets
Okay, this is my best thing to do in San Cristobal.
Honestly, I could do this (and did do this many times) all day long in San Cristobal. Head out of your accommodation with no destination in sight, stopping at any cafes and artesenal bakeries that capture your senses as you wander by.
Wandering through the colourful maze of streets in San Cristobal is a very sensual experience. Even if it's all you do during your time in San Cristobal, you'll feel you have well and truly witnessed the magic here.
4. Pick up all the freshly baked goods at Roots Artisan Bakery
I mentioned this place earlier in my best things to eat and drink in San Cristobal section, however, I feel as though it's an outing in itself and deserves a space here.
Roots is an artisanal bakery located in the centre of the town and you may be lured in by the smell alone and stumble upon it by accident. It's pretty much always busy but they are baking in-store and there's more than enough fresh bakes to go around.
Grab a tray inside and stack it with all your favourite baked goods. Pizza, bread, cakes, pastries. I'd go back to San Cristobal just for this place!
5. Drink cacao and read your book at Jangala
Serving up cacao that has been sourced straight from the nearby jungle in Chiapas, this is one of many chances to drink medicine of the land here in San Cristobal.
This was my favourite spot though. A small cafe serving divine cacao. The perfect place to read your book.
6. Pick up some locally made items at the amazing Santo Domingo market
I actually came across the Santo Domingo market during the free walking tour of San Cristobal and then came back the next day to really spend some time wandering around it.
There's so much to see and as you can tell by the photo below, the colours are so beautiful!
Now I've come to realise that visiting Santo Domingo market is one of the best things to do in San Cristobal. There are enough stalls to keep your going for a whole afternoon so have some lunch and then wander through the gorgeous weaved creations, crystals, jewellery and clothes infused with the local Mayan touch.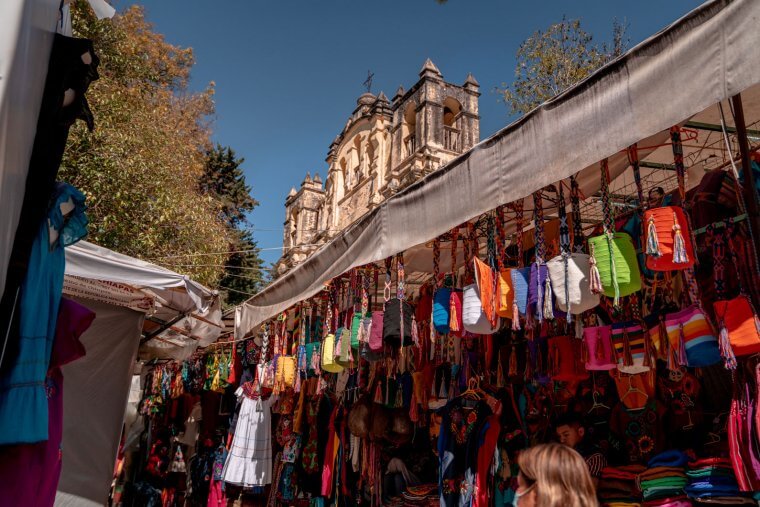 7. Hike up to El Mirador Don Lauro for views across the town
Looking out from San Cristobal at such lush greenery, mountains and alpine land in the surrounding landscape, I knew there must be a hike or two to tuck into. After some research online I found this hike up to El Mirador on the sacred mountain of Cerro Don Lauro. We completed it on New Year's Day and absolutely loved it. One of the best things to do in San Cristobal, if you're an active traveller.
The hike requires a 10-15 minute taxi outside of town to access the start point.
From there it's about a 30-45 minute (depending on your pace and ability) uphill incline to the lookout. Bring your lunch, some water and your camera!
For the exact starting point of the hike, check our my Mexico Google Map legend. You'll see all my favourite and helpful locations in San Cristobal pinned conveniently onto a map for you!
I didn't actually get around to taking a yoga class whilst I was in San Cristobal but if you're meandering around cafes and restaurants (particularly the health-conscious type) keep an eye out for the noticeboards and leaflets stuck to the doors. I saw so many well-being immersions and workshops that i'd have loved to take part in had I had the time!
9. Enjoy a rooftop sunset at your accommodation or restaurant
Many of the establishments, both accommodation and restaurants have access to a rooftop overlooking the gorgeous San Cristobal. If you stumble across one, pin it and go back for sunset.
A glass of wine, sunset and views across this magical little town cannot be beaten.
10. Eat from one of the street vendors
And sometimes eating crepes just tastes that much better eating it from a street vendor.
It's almost a shame sometimes to eat inside a restaurant when the streets are so gorgeous here in San Cristobal.
Try it. One evening grab some food or a crepe from one of the street vendors. Not only is it cheaper and tasty but you can choose a stunning doorway of your choice to watch the world go by from as you tuck in.
11. Take a day trip to explore Chiapas
Taking a day trip from San Cristobal to Chiapas was one of my favourite adventures in Mexico!
There are so many different and epic day trips to choose from when hiring a car / booking a tour out of San Cristobal. For us it was between visiting the El Chiflon waterfalls south of San Cris and heading north to the Sumidero Canyon.
We chose to head south as our Airbnb host recommended it as a self-drive option. It's important to take local knowledge and advice when it comes to driving around Mexico as some places and times to drive are definitely safer than others.
We drove in daylight, stopped overnight in Comitan and explored to two days either side.
As you can see in the pictures below, El Chiflon waterfalls are gorgeous. As you enter you pay I think, 50 pesos each for entry and I'll be honest, I thought we were entering a horrendous waterpark-like tourist trap. We got wristbands, there were overpriced vendors and there were queues at the lookouts for taking photos. However, what I will say is that the further you hike up (there are multiple waterfalls to visit) the more people drop off and the paths become quieter.
We spent about an hour swimming in the cool waterfall pools, admiring the luscious surroundings and basking in the afternoon sunshine. El Chiflon was glorious.
And… if you have time (we enjoyed the waterfalls too much) you should consider visiting Cenote de Chukumaltik.
The best day trips from San Cristobal de las Casas:
El Arcotete

– a beautiful ecological park located in the hills, just outside of San Cristobal

Discover San Juan Chamula

– (around 6miles from San Cristobal) This is the principal town of the Tzotzils and like neighbouring Zinacantan, the Chamulas also are very private people. They do not tolerate well people taking pictures of them or their temples.

Zinacantán

– Like Chamula, Aldama and San Andrés Larráinzar, Zinacantán is predominately inhabited by indigenous people of Tzotzil Maya descent.

Huitepec Ecological Reserve

– About 4km northwest from San Cristobal centre on the main road to Chamula, this reserve is an ancient volcano covered in cloud forest. Perfect hiking adventures!
If you're considering a day trip from San Cristobal then there are many organised tours advertised in the town centre that will guide you impeccably and make sure you are seeing the most beautiful spots, with respect and at a lower cost than venturing out alone!
Is there anything else you'd add to this San Cristobal de las Casas travel guide?
What, in your opinion, are the best things to do in San Cristobal de las Casas? Anything you'd add?
Love as always and happy adventuring,


Did you find this post helpful? I'd love you to share it for me.
Pin and save this blog post for later…