Mexico is an incredible destination for all types of travellers. Many travellers are drawn to the Yucatan Coast, also known as the Mexican Caribbean, to the likes of Cancun, Playa del Carmen and Tulum. While these places are well-known and popular, they have become too crowded, touristy and expensive. Further up the coast from Cancun, you will still find a hidden gem that is often overlooked: Holbox Island.
Holbox has grown in popularity over the last 8 years but has been able to remain relatively untouched by mass tourism which is a breath of fresh air on this coast! So if you're looking for a more low-key, relaxed atmosphere, this is the place for you.
Holbox's laid-back vibe and stunning scenery draw all types of travellers to its shores. Whether you're looking for a laid-back beach vacation, a chance to explore the area's abundant wildlife, or an opportunity to experience local culture and cuisine, Holbox is somewhere you'll want to visit.
Holbox is the perfect one-stop destination for those wishing to experience the Yucatan coast if you had to pick one place. Still, it is a highlight in any Yucatan backpacking or road trip adventure. It's also possible to visit as a day trip from Cancun or a day trip from Tulum if you choose to stay in either.
I've twice to Holbox in the past 4 years, and it has a special place in my heart and is by far the best destination on the Yucatan coast. In this Holbox travel guide, I've put together everything you need to know for a trip to this paradisic island on the Yucatan coast of Mexico. We'll cover the best things to do in Holbox, the best time to visit Holbox, where to stay in Holbox and the best places to eat in Holbox.
Other travel guides on the blog that you may find useful: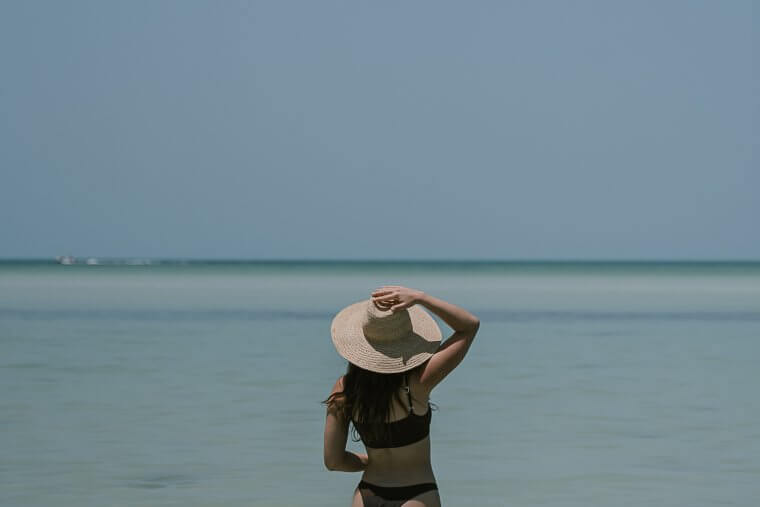 But first, when is the best time to visit Holbox?
Holbox's climate doesn't vary much all year round when it comes to its temperature (average around 25C), but it does have a rainy and dry season. The best time to go to Holbox is in the dry season months, between December and April. The most popular months to visit Holbox are March and April as this is when the temperatures are still under 30C and also coincides with Spring Break and Easter holidays (which, if you're not into crowded places, I would advise avoiding these dates at all costs).
The best time to head to Holbox and the Yucatan coast, in my humble opinion, is between late Jan and early March. The weather is just slightly cooler (still reaching 27C), it's much less humid, and it won't be crowded!


Holbox is an island, so it's only accessible by boat. But first, you need to get to where the ferry leaves, a small fishing village called Chiquilla.
The best (and cheapest) way to get to Holbox is to take an ADO bus from Cancun main bus station. The journey to Chiquilla takes around 3hr 15mins. You can find ticket prices and bus options via the ADO website. Tickets cost around $118-130 pesos (£5-6.5). Buses run daily from terminals 2 and 3.
Once in Chiquilla, you'll need to take a 20mins ferry to Holbox. Two ferry companies run boats across the canal: Holbox Express and 9 Hermanos. The difference between them is their branding and their timetable. Tickets cost $150 pesos (£6.20) for both companies. Tickets can only be bought once in Chiquilla. The minute you get off the bus, the company with the next ferry to leave will be shouting at you to get a ticket at their stand and show you where to board the ferry.
No cars are allowed in Holbox (apart from authorised businesses and public services), so golf buggies and bicycles will be your go-to mode of transport when staying in Holbox.
Bicycles are available for rent for $35 pesos an hour (£1 per hour), and there are also half-day and full-day rental options. There are many bike rental places to choose from, all based in the town centre:
Bikes Holbox

— C. Carito 2, y Sierra, 77310 Holbox, Q.R., Mexico
Sea Bikes Holbox — Porfirio diaz, C. Canane, 77310 Holbox, Q.R., Mexico
Bikeland Holbox — C. Palomino entre Porfirio Díaz y Jerónimo de Aguilar, 77310 Holbox, Q.R., Mexico
However, bike rental might be included depending on what accommodation you book in Holbox (like it was with the Airbnb we stayed in!). So when booking accommodation, enquire about bike rental.
The second most popular way of getting around Holbox is with the golf buggies! Naturally, this is the fastest and most comfortable way to get around, but it is also the most expensive. Golf buggies are available for hire for a minimum of 2 hours, but the most popular options are half-day and full-day hires. The companies below are the most recommended for golf buggy hire:
Rentadora El Cachorro

— Calle Palomino y Calle Gerónimo de Aguilar, 77310 Holbox
Rentadora Monkeys — Calle Tiburón Ballena, 77310 Holbox
Prices across all of these are pretty similar across all rentadoras:
$300 pesos for 2hrs
$1500-1800 pesos for a half-day hire
$2300-2500 pesos for a full-day hire.
I'd recommend only hiring the golf cart on the days you want to explore the island extremities (like Punta Cocos) or have a bit of a beach-hopping day. Otherwise, stick to bikes or your trusty old feet!


Holbox is a small island, but when it comes to where to stay in Holbox, you can split it into three main areas:
the town centre
the luxury hotel strip
the strip between the town centre and punta de cocos
Each area has its own vibe, so if you're deciding where to stay in Holbox, I'd figure out what it is you're looking for during your stay: is it peace and quiet? is it ease and luxury? Is it affordability and access?
The town centre is the best area for affordability and access. This is where travellers will find most of the budget accommodation options like:
If luxury and ease are more your style, then the hotel strip at playa Holbox is where you'll find a number of all-inclusive and luxury hotels, like:
And if you're looking for somewhere in-between, like a comfortable Airbnb or a boutique hotel, there are a few options:


Best places to eat in Holbox
After visiting Holbox twice, I've compiled a list of the best places to eat on the islands, as no Holbox travel guide could be complete without it!
For breakfast:
For lunch:
For Dinner:
Now that you know where to stay in Holbox, the best time to visit Holbox, and where to eat in Holbox, it's time to fill the rest of this Holbox travel guide with all the rest of the adventures in your Holbox itinerary.


The best things to do in Holbox: A complete Holbox Mexico travel guide
1. Relax and unwind at the beach
Holbox is a beach-lying destination, so being a beach bum is a must. Head to Playa Holbox or Punta Cocos, grab a sunlounger, soak in that vitamin D, and take a dip for some vitamin sea.
2. Watch the sunset from anywhere, but preferably from Punta Cocos
Holbox is on the west coast of Mexico, with gorgeous sunset views right over the ocean. Take a sunset stroll at Holbox beach, or grab a drink at Spirit Holbox rooftop bar or head over to Punta Cocos to watch the sunset unfold over the Caribbean sea.
3. Swim with the whale sharks
Holbox is known for being one of Mexico's best spots to swim with whale sharks. The season for this is usually June-September, so if you're visiting Holbox during those months, take a day trip out to Isla Contoy and swim with these gentle giants. This is definitely a highlight in this Holbox travel guide!
4. Walk on water at Punta Mosquito
Punta Mosquito is a narrow sandbar that lies just off the coast of Holbox and is one of the island's most beautiful places to visit. The sandbar links North and South Holbox and is known as "walking on water", due to its shallow waters. Take a book, a camera, and a large sunhat, and you'll have everything you need.
5. Rent a bike or a golf buggy to explore the island
As mentioned earlier in the blog, the best way to get around the island is by bike or by golf buggy, and this is honestly one of the best things to do in Holbox. Take a day to make your way along the different parts of the island and have fun with it!
6. Take a kayaking tour through Yum Balam Nature Reserve
One of the best ways to explore Holbox is by water, so why not take a kayaking tour through Yum Balam Nature Reserve?
Head out for an early morning tour and explore the mangroves, spotting wildlife like flamingos, pelicans, frigate birds and more. This is a must-do for those looking for a little adventure during their stay in Holbox.
7. Admire Holbox street art
The streets of Holbox are filled with stunning street art created by local artists that bring to life the beauty of the Caribbean sea.
8. Volunteer as a dog walker
One of the best things to do in Holbox is to take a shelter dog for his or her daily walk. Refugio Animal Holbox is a local charity that takes care of dogs, cats, and any other stray animals on the island.
The Refugio allows tourists, and anyone else for that matter, to take the stray dogs out for their walk and is the perfect thing to do at sunrise for an early morning walk.
9. Take at dip in Yalahau Cenote
Yalahau Cenote is a freshwater spring located on the north side of Holbox, and while it may not be as grand as other cenotes in Mexico, Yalahau Cenote still has its own charm. With crystal-clear water and white sandy beaches, this place is ideal for taking a dip and spending the afternoon.
10. See the bioluminescence in the ocean
On a moonless night, take a boat ride out to sea and witness one of nature's most spectacular shows – bioluminescence in the ocean. This phenomenon is caused by tiny organisms called dinoflagellates that light up when disturbed. This is a sight not to be missed and one of the best things to do in Holbox. This is seasonal, so if you want to experience this phenomenon, you'll need to plan your trip between the months of May and October.


A 3-day Itinerary for Holbox
Take a stroll along Playa Holbox and take in some of their signature sights: the colourful hammocks, the street art and the colourful Holbox sign. After getting acquainted with the beach, head into town to grab a bite. Just head to Calle Tiburon Ballena and take your pick.
Either spend the rest of the afternoon soaking up some sun by the beach at one of the beach bars and restaurants like Mawimbi, Kuka Bar or Las Hamacas, or rent a bike and take the afternoon to explore the beach surroundings of Playa Holbox and Punta Mosquitos.
Catch your first sunset at playa Holbox with a drink in hand at Mandarina restaurant. Mandarina would be an excellent choice for dinner too, but if you're looking for a particular vibe or cuisine, just scroll back up to this blog's 'where to eat in Holbox' section and take your pick!
*If visiting during whale shark season, beach time could also be swapped for a whale shark swimming tour!
Start the day early with a sunrise tour kayaking through the mangroves. The Mangroves in Yum Balam Nature Reserve can be found on the south side of Holbox, and it's an absolutely stunning place to explore: from spotting wildlife like flamingos, pelicans, tiger rays and even crocodiles. The tour takes around 3hrs and leaves about an hour before sunrise.
After your tour, head over to the town for a well-earned breakfast! El Cafecito or Painopol are two great options, the former being more affordable.
As you're already in town, take the opportunity to explore the local street art. From El Cafecito walk along Calle Pedro Joaquin Codwell, and you'll start to spot a large number of murals on your way to Calle Esmedregal. Holboxeno has the full list of locations of all the murals in Holbox. You can read about it here.
While on your street art walk, make sure to check out some of the shops in and around the town centre. There are some great places to buy beach, resort wear, and arts and crafts.
Have lunch somewhere in town as the rest of the afternoon will be spent on the other side of the island, towards Punta Cocos! How you decide to get there will be completely up to you, either by bike or on a golf buggy. Budget-wise, bikes are more affordable; however, driving a golf buggy across the island sounds much more fun if you're anything like me. Hop into one of the golf buggy rental shops listed above (El Cachorro or Monkeys) and opt for a half-day hire.
As Punta Cocos only has hammocks and nowhere else on the beach to escape the sun, I advise taking your golf buggy to a beach bar along the coast between the town centre and Punta Cocos. A good option is Maruva Beach Club.
When there are about 2hrs left for sunset, hop back into your golf buggy and drive to Punta Cocos. Once at Punta Cocos, take a walk down to the very end of the beach and enjoy this pristine paradise and just wait to let the sunset unfold.
To wrap up a long glorious day, freshen up and get dressed for a drink at one of Holbox's trendiest bars: LUUMA bar.
*If visiting during the bioluminescence season, day two would be a good day to embark on the bioluminescence night tour!
The perfect final morning in Holbox would be to head to Le Jardin at 8 am (their opening time), have a delicious breakfast filled with baked goods and then go for a walk with one of the dogs from the animal shelter, known as Refugio Animal, which is just around the corner from Le Jardin.
Take a pup or two for their daily walk along the beach and hang out with the other shelter animals for a bit. This is genuinely a highlight of many travellers who visit Holbox. All the animals are excited, and the volunteers are grateful for the help.
The next and final tour in this Holbox itinerary is the Three Islands Tour. The three islands tour is one of the best things to do in Holbox. The tour takes you to Isla Pasión, Isla de la Plata and El Estero, passing by some of Holbox's most beautiful beach coves. Along the way, you'll have a chance to spot wildlife like sea turtles, manatees and dolphins (if you're lucky). Most tours last about 3hrs, so make sure you leave enough time to catch the ferry off the island!
And there you have it… the complete Holbox travel guide! I hope you enjoyed reading this Holbox Travel Guide and that it inspired you to visit this paradisic island. I've tried to make this itinerary as easy and diverse as possible, but there is only so much you can do in three days, so if you don't think it's enough time, I would recommend adding an extra day or two to your trip.
Is there anything else you'd add to this Holbox travel guide?
What are your top things to do in Holbox? Anything you'd add to this Holbox travel guide and itinerary?
Love as always and happy adventuring,


Did you find this post helpful? I'd love you to share it for me.
Pin and save this blog post for later…