Okay, prepare to add a new country to your bucket list. By the end of this Lake Atitlan travel guide, you will be booking your flights to Guatemala or at least beginning to save for your Guatemala adventure.
In this Lake Atitlan travel guide, I'll be sharing the best things to do in Lake Atitlan, what each town can offer in terms of experiences and where to spend your time on the lake.
Lake Atitlan in particular has been an important Mayan spiritual centre for more than 2,000 years now and is considered by many as the 'womb' of the earth. Lake Atitlan is widely believed to be a portal to the sacred underworld and for that reason, it's a very special land to visit.
Before I travelled to Guatemala, I had no idea just how rich in culture and vibrant this land is. My time in Lake Atitlan was wonderfully thick with ancient wisdom and knowledge and it was such an honour to meet with the people that are carrying the legacy of the Mayan rituals and way of life here.
My 4-week trip, living on Lake Atitlan, turned into a 2-month trip and by the end of this Lake Atitlan travel guide, you'll understand why.
Located in southwestern Guatemala and in the central highlands at about 5128 feet (1563 metres) above sea level, you'll find Lake Atitlan with its iconic volcanic skyline, visible from almost any of the 12 towns that sit on its shores.
Lake Atitlan is around a 3-hour drive from the International airport and around 2.5 hours from Antigua, the country's former capital.
Though in this Lake Atitlan travel guide I'll be focusing on the lake activities available, I spent every other weekend during my time on the lake exploring another spot on the best things to do and see in Guatemala bucket list so be sure to check out my adventures. We even went and did the big Acatenango volcano hike to get up close and personal with active volcano Fuego!
Blog posts you might find useful include…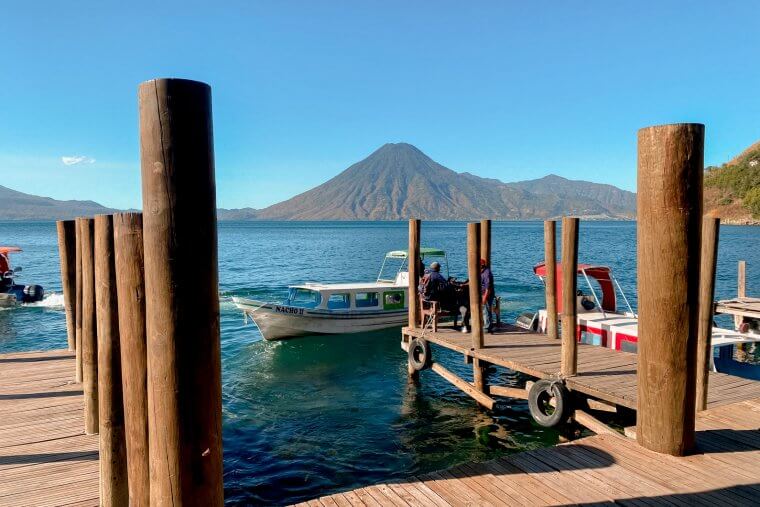 Top tips for visiting Lake Atitlan:
Prices for boats to get around the lake.
To hop from one village to the next, you'll hop on these boats (pictured above) and pay in cash to ride. There's a price for locals, a price for gringos and a price for tourists (though they aren't stated anywhere). Chances are, if you have a backpack or look like a tourist, you'll be charged a higher rate. I'm only talking an extra £1 or something but once you've taken them a few times you'll come to realise the 'fair price' and you'll just carry the exact cash to pay it. Some of the boat drivers will try and take advantage. It's not the money, it's the principal. Just be aware!
Always carry cash for payments!
This is for the whole of Guatemala, not just Lake Atitlan. There's one ATM in San Marcos (see the exact location pinned on our Guatemala Google Map Legend) but it often goes out / runs out of cash. There are others in Panajachel and Santa Cruz but as a rule of thumb, get out extra and always have cash!
This is where to find out about events, workshops, immersions. This is the place to sell things, to buy things, to ask for advice. It's a very active group and is the backbone of the community!
Last boat going towards Pana is 5.30pm
Keep an eye on the last boat times as once the public boats are finished, you'll be needing to get a private boat or a taxi! A lot more expensive.
Last boats from Pana to the towns around the lake is 7.30.
Boats are a little later coming from Panajachel. So if you're arriving into Panajachel for your time in Lake Atitlan, which most do, you'll have a little more time to play with.
Book your transport around Guatemala with Magic Travel
You can take shuttles from Pana to Antigua, Guatemala airport, El Paredon and many other places with Magic Travel. Contact and book with Yuli on WhatsApp – +502 5955 4001.
Don't drink the tap water and wash your fresh produce with filtered water!
Get some of the local Rosa De Jamaica flowers (at any of the markets) and boil them with cinnamon to make a gorgeous hot tea that also has anti-parasitical properties, should you get ill from any contaminated water during your stay.


The best things to do in Lake Atitlan, Guatemala
1. Head out on the water for a unique perspective
Whilst visiting Lake Atitlan (one of the best things to do in Guatemala), one of the most beautiful ways to experience it is by getting out for a morning on the water. A SUP experience is a unique adventure and a way to see Lake Atitlan from a new perspective.
We went with SUP Atitlan who provide guided, private paddleboard adventures for beginners and experienced paddlers, so no matter whether you've SUPed before or not, you're sure to have fun! They have experience navigating the lake and they understand best how the weather works in this unique microclimate (all SUP adventures happen in the morning because there is afternoon wind every day on the lake!).
See where they are located and all our other favourite spots in Guatemala on our Guatemala Google Map Legend.
For a once-in-a-lifetime experience of the lake with SUP Atitlan, view more and book here.
Note: They don't rent paddleboards, so you'll want to book a tour if you're going to add this to your Guatemala bucket list!
2. Go for brunch in San Marcos
San Marcos is well-known as the 'hippy' 'well-being' town on the lake. It is here in San Marcos that you will find all of the gorgeous Vegan, Vegetarian and conscious eateries… all lined up and awaiting your arrival into the dock.
There's truly an abundance of good places to eat and drink so you won't be stuck for choice but two of my favourite spots were:
Nectar cafe – the pancakes are the BEST in town and the Nectar coffee is amazing too.
Emporium – the vegan brunch plates (pictured below) are incredible.
See all my favourite places to eat, drink and brunch on our Guatemala Google Map Legend.
3. Sign up for a workshop / dance / immersion in San Marcos
One of the best things to do in Lake Atitlan in my opinion is to immerse yourself in one of the incredible workshops, retreats, offerings or immersions on offer around the lake. They tend to all be in the San Marcos / Tzununa region (the conscious community areas) and honestly, there is something for everyone.
Whether it's the Fungi Academy, a voice activation workshop, an ecstatic dance, an Ayurvedic consultation or TaiChi – there is so much wisdom to indulge in here from practitioners that have studied all over the world.
As I mentioned in the top tips for Lake Atitlan, the best place to find out about these immersions is on the Facebook page or on the noticeboards in San Marcos itself.
You can see the exact location of the noticeboards and centres I went to on our Guatemala Google Map Legend.
4. Go to a dance in Tzunana at Gaia
One of the most popular places to dance and immerse yourself in the FREE LOVE BABY vibes on the lake is at Gaia Dance Temple. This is also where the New Year's festival, Embodiment, is held. Gaia is a gorgeous outdoor venue located in Tzununa, just get a boat to the dock and there will be tuk-tuks awaiting your arrival to take you up to the venue!
Whilst I was there a brand new restaurant called Vida opened up. An authentic Ayurveda experience and opportunity to dive into the wisdom of this conscious cuisine.
5. Explore the vibrant lake town of San Juan
San Juan is the 'arty' town on the lake. It's the town that formed the first weaving cooperative on the lake in order to market the gorgeous crafts and products handmade by local to the arriving tourists. Other towns soon followed suit but San Juan is where it all began.
This makes San Juan the perfect place to do a traditional weaving class, the perfect place to wander for some handmade souvenirs and, as you can see by the photos, just a stunning place to spend the day or afternoon.
I recommend:
doing a coffee plantation tour or enjoying a cup one of the local cafes
supporting the local cooperatives and making your souvenir purchases here
taking the hike up to the observation deck for views over the lake
Most online Lake Atitlan travel guides will tell you that San Pedro is the most popular place to stay around the lake. I'd agree it is very touristy is the place most people head to, particularly if you're looking for the backpacker hostel vibe experience.
San Pedro is a great base if you're looking to immerse yourself in the centre of the tourism and to find boozy social events.
San Pedro is also a great place to:
enrol in a Spanish school
head out on a coffee plantation tour,
Take the famous Sunrise Hike tour to Rostro Maya (Indian nose head)
Conquer Volcan San Pedro for epic views over the lake (4-5 hour round trip)
Explore the street art
7. Visit the markets of Santiago
Just a 25-minute boat from Panajachel, Santiago is one of the busiest Mayan towns on the lake with over 70,000 inhabitants.
Some of the best things to do in Santiago include:
Visit a weaving coop
Visit Iglesia Parroquial Santiago Apostol
Pay a tour guide to show you around for a local experience
Cafe Rafa in Santiago serves up some fun lattes!
Top tip: Visit the Yoga Forest for a retreat or immersion. So many people recommended it as one of the best things to do in Lake Atitlan.
8. Explore the hustle of Panajachel
Panajachel or 'Pana' as locals abbreviate it, is the entry point for many people arriving at Lake Atitlan. It's where you'll arrive if you're arriving at Lake Atitlan from the airport or from overland travel from El Salvador or Mexico.
It's a busy hub with lots to do but I wouldn't say it's a popular place to book accommodation. Not if you're looking for a tranquil experience.
There's a Selina hostel right near the dock which is a great place to stay if you do or if you miss the public boats when you arrive and need somewhere to rest your head.
Pana is a great place to stock up at the supermarkets, book tours, go to the pharmacy etc. It's the busiest town on the lake.
9. Cerro Tzanjujil Nature Reserve
Cerro Tzanjujil nature Reserve is a great place to retreat from the sometimes overwhelming energy of San Marcos La Laguna. Located just a 5-minute walk from San Marcos this oasis is perfect to take your journal, swimmers and music to kick back and relax for the afternoon. You can access the water, you can do the cliff jump if you're feeling energetic, you can witness Mayan ceremonies, hike or simply find a nook to relax in for some alone time.
It's 20Q entry for tourists and the park closes at 4PM, i think, daily.
10. Hike Indian Nose at sunrise
While Indian Nose is considered a worthwhile hike and boasts insane views across Lake Atitlan at any time, it is particularly special to hike this ridge at sunrise. There is no skyline quite like that here on Lake Atitlan and the Indian Nose Hike is one of the best ways to see it.
There are two ways to complete the Indian Nose Hike:
1) Via a steep, 1-hour climb from San Juan with a tour guide. (A tour guide is recommended for this one because of the unfortunate targeting of locals on this hike. There have been reports of aggresive encounters that have occured with unaccompanied hikers. Support the local tour companies and just don't take the risk.)
2) You can also hire a guide and tuk-tuk to drive you around past Santa Clara to a different trailhead, from where it is just a short 10-minute walk to the viewpoint.
Either way, you'll need to be based on one of the nearby towns, where the early tours will start from at around 5am.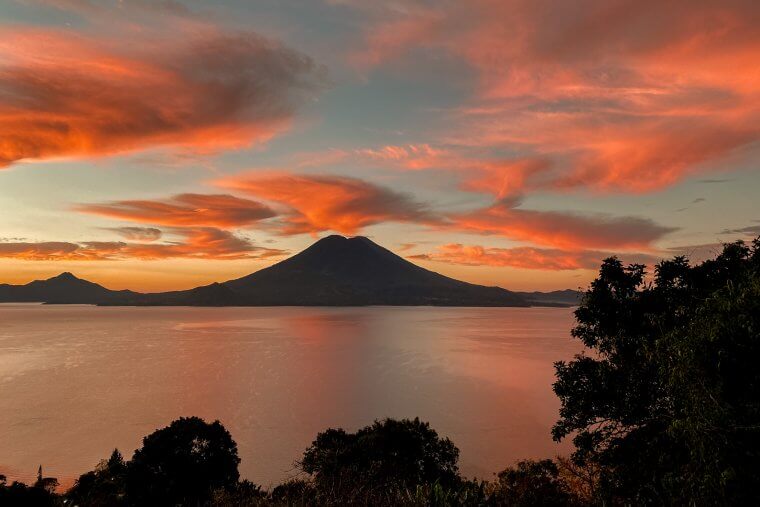 11. Drink cacao over hanging the lake at La Casa Del Mundo
This insanely gorgeous hotel is a recommendation if you are looking for a resort to stay on but also if you are looking for a brunch spot.
La Casa del Mundo is a multi-level complex on the cliff edge of Lake Atitlan. It's definitely one of the best places to stay on Lake Atitlan, if you have the budget to book it.
Otherwise, though, you can turn up and enjoy the restaurant, the views and the beverages. They open at 7 am and they do a wonderful cup of ceremonial cacao.
To get there, take the boat to the private dock they have and walked up to the restaurant from the lake. It's located between San Marcos and Jaibalito.
12. Book on to your yoga teacher training
Lake Atitlan is a well-known destination for those on their journey of awakening to come and immerse in training programmes and workshops. Among an array of offerings, you'll discover that there are many retreat centres offering Yoga Training programmes. If Yoga Teacher Training has always been on your list of things to do, Lake Atitlan is the dreamiest place to do it.
I've heard The Yoga Forest is a wonderful spot!
13. Visit the Cacao farms
Chances are you'll find yourself enjoying a mug of cacao at some point whilst in Lake Atitlan. This is one of the best places in the world to try it because some of the best tasting cacao (IMO) is sourced locally.
One of the places you can get behind the scenes with cacao is with Cacao Source. See their offerings here.
Cacao's flavour varies based on the region, climate, and soil in which it grows. Cacao Source offers you the opportunity to explore the jungle by choosing the origin of your medicine food. We only distribute criollo cacao hybrids cultivated in farmer-owned lands.
Each batch of cacao is carefully fermented, dried, and toasted. The artisan processing of the seeds allows an extraordinarily high-quality control. Hand peeling allows our women's collectives to ensure that each bean is in the perfect state. – Cacao source
14. Make your own medicine drum with a local!
This is a very niche activity but I had to mention it!
I'd had my eye on some medicine drums whilst back in the UK and they were all very expensive 1. because they are handmade and 2. because they are then all imported from central/south America!
Just before I left Lake Atitlan I managed to find a local guy Juan, who came to meet us at a local cafe and together we made our own medicine drums for use in breathwork ceremonies! We paid 450Q which is £45!
Contact Juan on +502 5626 2956
15. Relax, book a massage - enjoy the zen!
One of the best things to do on Lake Atitlan is to treat yourself to a massage on the lake. There are so many gorgeous spots and spas with insane views and I say, treat yourself!
The sound of the water as you breathe into your body and absorb the tranquil grounding energy of the lake? Heaven on earth!
Trips to take from Lake Atitlan:
Chichicastenango – 1.5 hour drive
Acatenango volcano hike – start in Antigua
Where are your favourite spots on Lake Atitlan?
What, in your opinion are the best things to do in Lake Atitlan, Guatemala? Anything you'd add?
Love as always and happy adventuring,


Did you find this post helpful? I'd love you to share it for me.
Pin and save this blog post for later…