Are you planning on going backpacking in Guatemala? Or perhaps you're planning a wellness and hiking holiday and are looking to get some inspiration and direction as to the best things to do in Guatemala?
Well, my friend, this is the blog post for you! In this post, I am going to share some of the best things to do in Guatemala with you, some of which I have done and some that are still high on my Guatemala bucket list.
Guatemala is home to such a variety of landscapes, and there are so many things to do in Guatemala to suit every taste. From volcano hikes such as the Acatenango and Fuego hike, to dense jungles, surfing in El Paredon, sightseeing in Antigua, as we as exploring the world famous UNESCO world heritage sites and all the small towns of Lake Atitlan… you're not going to be short of places to visit in Guatemala by the time you get to the end of this Guatemala bucket list!
Get your pen and paper at the ready, by the end of this post you're going to know the best things to do in Guatemala, the best places to visit in Guatemala and the best adventures to add to your Guatemala bucket list.
Blog posts you might find useful include…


The best things to do and see in Guatemala
1. Hike Acatenango and watch Fuego erupt
The Acatenango volcano hike is on almost everyone's Guatemala bucket list, and for good reason! The pictures say it all. This has got to be one of the best hikes I have ever done.
This is a challenging overnight hike, which will put you through your paces mentally as well as physically, but it's so worth it for the views of Fuego. Volcán Acatenago stands at 3,975m tall.
Note that you can do it as a day hike, but you'll probably miss Fuego erupting, which is definitely one of the best things to do in Guatemala. Find out more about the Acatenango volcano hike here.
2. Visit Guatemala's biggest market - Chichicastenago Market
Speaking of markets in Guatemala, this is one that you absolutely cannot miss. About 2 hours from Xela or 1.5 hours from Lake Atitlan you'll find the largest Indigenous market in Guatemala (and in Central America) – Chichicastenango Market.
Diving into the Mayan culture and adventuring through this colourful explosion of a market is a truly unique experience and one of the best things to do in Guatemala. Last week I got to experience it through Original Travel with a local, experienced tour guide and it is now hands down one of my Guatemala highlights. I forgot how amazing it is to explore with a guide… but my guide Felix reminded me. The richness added from absorbing the wisdom of someone that knows the Mayan rituals and history so thoroughly, means you get to connect with Guatemala and their colourful culture on a much deeper level.
With this 2-day Original Travel experience I:
witnessed the market being set up the night before
dined at the best local restaurants, chosen by the guide
experienced a traditional Mayan ceremony blessing with the Mayan Pope – Tata Chuan
Had a morning tour of all that the Chichicastenango market has to offer
Walked up and through the pine forest for a bird's eye view of the market town and famous colourful cemetery
Explored and tried on the indigenous masks and costumes used in special celebrations
Had a bilingual guide which allowed me to connect deeper with the locals and immerse myself in their wisdom and way of life.
Explore all of Original Travels Guatemala experiences and holidays here.
Note: Chichicastenango Market is only open on Thursdays and Sundays. Arrive early, keep your bag closed and spend a few hours here wandering around the outdoor market, trying local food, buying fresh produce, and marvelling at the Mayan woven handicrafts.
3. Stand up paddleboard on Lake Atitlan
If you're planning your trip already, visiting Lake Atitlan must already be on your list of best things to do in Guatemala. Why not up the ante, and take on a unique adventure and see Lake Atitlan from a new perspective with SUP Atitlan.
SUP Atitlan provide guided, private paddleboard adventures for beginners and experienced paddlers, so no matter whether you've SUPed before or not, you're sure to have fun! They have experience navigating the lake and they understand best how the weather works in this unique microclimate (all SUP adventures happen in the morning because there is afternoon wind every day on the lake!).
For a once-in-a-lifetime experience of the lake with SUP Atitlan, view more and book here.
Note: They don't rent paddleboards, so you'll want to book a tour if you're going to add this to your Guatemala bucket list!
4. Bathe in the pools at Semuc Champey
If visiting the jungle is up there on your list of fun things to do in Gautemala, you cannot miss Semuc Champey.
Semuc Champey is a series of natural pools filled with crystal clear water, hidden deep in the jungle. Not only is it absolutely stuning to look at, but it's absolutely glorious to swim in!
Getting to Semuc Champey isn't easy as it's in a super remote location, but don't let that put you off. There's a shuttle bus from most of the popular places to visit in Guatemala, but be warned that this takes up to 8 hours, and the roads aren't great! The closest town to Semuc Champey is Lanquín, which is where the shuttle bus is likely to drop you off. You can either stay here for the night and then make your way to the pools in the morning (there's a public bus), or there is also accommodation nearer the pools.
For 50Q, you can enter Semuc Champey, hike up to the viewpoint and then swim to your heart's content in the pools. For 75Q, you can also swim in the nearby caves! Note that there are also guided tours which include the lakes, caves, and even river tubing on the river Cahabón!
5. Spend a few days exploring Antigua
Antigua is more than likely the starting point of your adventure, and spending a few days sightseeing here is one of the best things to do in Guatemala! Antigua was the capital of colonial Guatemala, but the capital because Guatemala City in 1773 after a huge earthquake. You can still see some of the pre-earthquake architecture when you visit, such as the Ruins of the Church of Candelaria, the Ruins of Santa Rosa, and Capuchins Monastery!
If you're looking at learning more about Guatemala's colonial past, make sure that you don't miss Santa Catarina Arch, Iglesia de la Merced, and Cerro De La Cruz, a stunning hilltop viewpoint. Other fun things to do in Antigua include shopping at the local market, visiting the Chocolate Museum, taking a picnic to Central Park, and getting lost in the backstreets of this stunning city.
6. Go surfing in El Paredon
Guatemala's culture, hiking, cities and jungles are amazing, but the coast is stunning too, and especially good for surfing! El Paredon, on the Pacific Coast, has got to be one of the best places to visit in Guatemala if you're looking for a relaxed beach holiday.
To get to El Paredon, you can get a chicken bus (see number 9 on this list of best things to do in Guatemala if you have no idea what I'm talking about!) or a direct shuttle. Soaking up the sun and enjoying the surf in El Paredon has got to be on your Guatemala bucket list. If you've never surfed before, try some lessons here, and make sure you don't miss that Pacific Ocean sunset!
If you time your visit to Guatemala between June and November you can watch the baby turtles hatch on the beach in El Paredon and head for the sea – magical!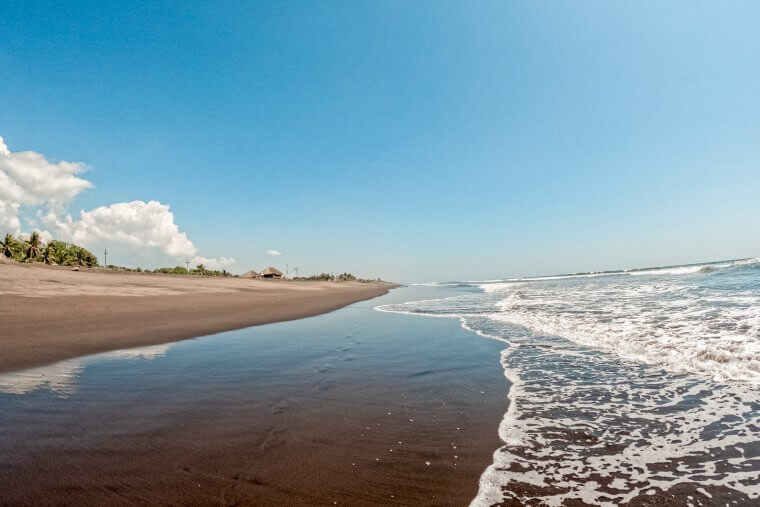 7. Visit the Mayan Ruins of Tikal
One of the top things to do in Guatemala is marvelling at the Mayan ruins of Tikal. It's another remote location that's not easy to get to (the closest town is Flores, which is still an hour away), but well worth it if you want to tick off this must-do from your Guatemala bucket list.
Like other Mayan ruins, such as Chichen Itza in Mexico, expect spectacular ancient architecture and a fascinating history. However, you won't get the crowds here. Despite being a UNESCO World Heritage site since 1979, the Mayan ruins in Guatemala just don't get the same crowds as the ones in Mexico!
You'll learn more if you book a tour with a guide, but if you're travelling in Guatemala on a budget, you can visit without a guide too. It's 150Q to enter, and the ruins are open from 6am-6pm.
Wherever you are in Guatemala, you'll find knowing even a little Spanish will help you get by and connect with the locals.
There are classes everywhere in Guatemala, and they're fairly cheap!
Another way to learn Spanish on the road is to download the Duolingo app – it definitely helped me! See more useful travel apps here.
Some basic phrases to get you started…
Hola = Hello
Adiós = Goodbye
Por favor = Please
Gracias = Thank you
Lo siento = Sorry
Sí = Yes
No = No
Disculpe = Excuse me
¿Dónde está …. ? = Where is …. ?
Yo no comprendo = I do not understand
¿Habla inglés? = Do you speak English?
Quisiera … = I would like…
¿Cuánto cuesta? = How much does it cost?
9. Ride in a "chicken bus"
Riding in a chicken bus has got to be one of the most unique things to do in Guatemala! Chicken buses are a popular mode of transport with the locals here, and also the cheapest way to travel.
Chicken buses are old, recycled, repainted American school buses that are now used as local transport in Guatemala. They are cheap, but not comfortable; there's no maximum capacity, and the buses stop anywhere and everywhere, so it can take a while to get to your destination. Nonetheless, a unique and budget-friendly experience if you're travelling in Guatemala!
10. Hike another of Guatemala's volcanoes
I've already mentioned hiking Acatenango as one of the best things to do in Guatemala, but did you know that there are 37 volcanoes in Guatemala, three of which are active?! Guatemala is on the edge of two tectonic plates, so there's no shortage of awesome volcano hikes and stunning scenery here!
Popular volcano hikes in Guatemala include:
Volcán Acatenango. See our guide to the Acatenango hike here.
Volcán Tajumulco (the highest volcano in Central America)
Volcán Pacaya (day hike, but must be done with a guide as it's still active!)
Volcán San Pedro (day hike through the jungle)
11. Find your zen and indulge in the spiritual offerings in San Marcos, Lake Atitlan
San Marcos La Laguna is known for being one of Guatemala's most spiritual villages. There are lots of little villages on Lake Atitlan, and this is just one of them. It's the wellness centre of Guatemala, full of yoga retreats, holistic healing centres and new age workshops, as well as excellent restaurants, good value hotels and beautiful lakeside areas. If you're loooking to improve your wellness, visiting San Marcos is one of the best things to do in Guatemala for you.
12. Hike Rostro Maya at sunrise
Known as Rostro Maya (which means Mayan Face) in the local Mayan dialect, but commonly called Indian Nose (less politically correct), if you're looking for beautiful places to visit in Guatemala with stunning views, this is the one. Here you'll get a stunning lookout over Lake Atitlan, with views of up to 5 volcanoes. If you're lucky, you might even see Fuego puffing smoke!
13. Visit a cacao farm and bring back some ceremonial cacao
A cacao farm tour is definitely one of the best things to do in Guatemala! The origins of chocolate are so closely linked with Mayan chocolate that visiting a cacao farm in Central America has got to be on your bucket list. Guatemala is one of the best places in the world to learn about the history, culture, and tradition of cacao and chocolate, from seed to purchase.
14. Spend some time meandering through local markets
Visiting the local markets in Guatemala has been one of the highlights of my trip. Depending on where you are, you'll find everything from locally grown fruit and vegetables, colourful flowers, Mayan woven goods, artwork, and pottery. As well as taking a weekly trip to the market to buy your food, I'd recommend getting souvenirs from the markets as one of the best things to do in Guatemala!
15. Learn about Mayan culture in Xela (Quetzaltenango)
Xela, Guatemala's second biggest city, is one of the best places to visit in Guatemala if you want to experience Mayan culture. Quetzaltenango is the town's colonial Spanish name, but Xela is its Mayan name, and that's what locals call it (pronounced "Shay-lah.").
Some of the best things to do in Xela include visiting the churches, which really allow you to see how present the Catholic faith is in Guatemala. Some of the best churches to visit include the famous Quetzaltenango Cathedral and the colourful San Andres Xecul, which is just a short bus ride out of town. To experience the culture here, I'd also recommend visiting the traditional markets, trying the local cuisine, and practising your Spanish!
In terms of nature near Xela, there are lots of things to do here, such as visiting Fuentes Georginas, the hot sulfur springs, or exploring Lake Chicabal, a huge crater lake. And, if there's any chance you're looking for a second volcano hike in Guatemala, Xela is the perfect place to start your hike up Volcán Tajumulco!
16. Try the local Guatemalan food e.g. Pepián
Food is an essential part of the culture wherever you travel, and Guatemala is no exception! Guatemalan cuisine is unique in that is has a mix of Mayan, Spanish, Mexican and Caribbean influences. One of the best things to do in Guatemala is trying some of the best local dishes, such as:
Pepian (chicken stew)
Rellenitos (fried plantain pudding)
Tostadas (fried, topped tortilla)
Champurradas (big biscuit to go with coffee)
Gallo en Chicha (sweet and sour rooster stew)
Chuchitos (corn dough stuffed with tomato sauce and chicken)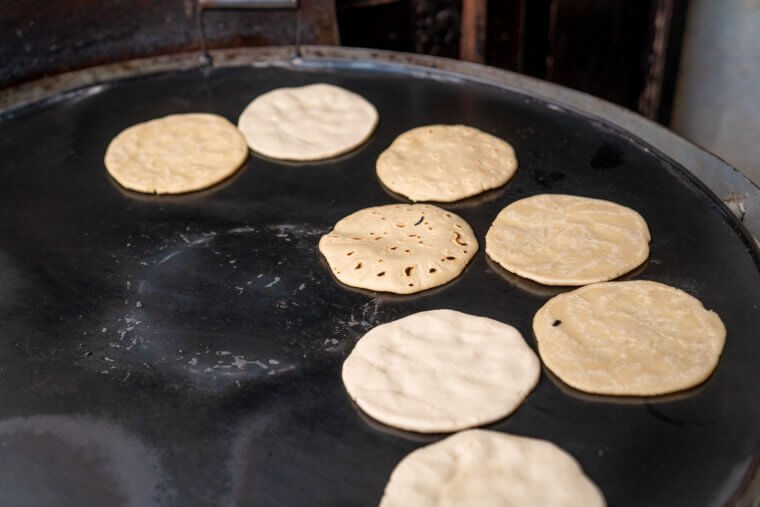 17. Go caving by candlelight in Lanquín
If you're planning a once-in-a-lifetime adventure, one of the best things to do in Guatemala is to visit the bat caves in Lanquin. It's really close to Semuc Champey so you could visit these at the same time. As part of the cave tour, you get to see all the bats flying around you – cool!
18. Explore Rio Dulce National Park
One of the best things to do in Guatemala if you love nature is to explore Rio Dulce National Park. Rio Dulce ("Sweet River") is a river in eastern Guatemala that starts near Livingston and runs inland. Surrounded by dense jungle, here you can explore the wilderness, take a boat ride, enjoy the natural hot springs of Finca Paraiso, and visit De San Felipe, as well as hiking, kayaking, swimming and more.
19. Give back to the local community
It's very eay when you're travelling to get caught up in what you want to do, how you want to do it, without a second thought to the locals around you. The local people in Guatemala are some of the nicest I have met, and giving back to the local community in an appropriate way is definitely one of the best things to do in Guatemala, whether you're only on a short trip or you're visiting for a longer time like I did.
Support locals in Guatemala by:
visiting the markets and buying local produce, woven Mayan handicrafts and more
tipping the guides when you do expeditions and tours
keep your eye out for ways to help in the community (without overstepping), especially if you're staying somewhere for longer and you get to know the locals
Be aware of voluntourism as this doesn't always beneift local communities in the best way.
20. Party (or just relax) in San Pedro on Lake Atitlan
Another one of the towns on Lake Atitlan, San Pedro is popular with people who are travelling on a budget in Guatemala. Guatemala's backpacker central is full of cheap accommodation, good restaurants, Spanish schools, and plenty of nightlife.
Even if you don't want to party, there are plnety of fun things to do in San Pedro, such as touring a coffee plantation, shopping at the local markets, hiking Volcan San Pedro, finding the local street art, and using it as a base to explore more of the towns on Lake Atitlan.


In your opinion, what are the best things to do in Guatemala?
Where are your favourite places to visit in Guatemala? Anything you'd add to this Guatemala bucket list?
Love as always and happy adventuring…
Did you find this post helpful? I'd love you to share it for me.
Pin and save this blog post for later…