Rottnest Island, or simply 'rotto' to the locals, is an island paradise just off the coast of Perth in Western Australia. This little sleepy island is home to a thriving nature reserve with stunning aquamarine beaches and the friendliest locals you will ever meet: the friendly neighbourhood marsupial, the quokka. If you're looking for the best things to do in Perth, best things to do on Rottnest Island or you're planning a day trip to Rottnest Island, this is the post for you.
This casual laid-back island is jam-packed full of natural beauty to explore and is one of the best places to visit in Australia for travellers looking to experience the wild and wonderful side of Western Australia. Boasting 63 beaches and 20 bays, this is the perfect destination to spend your days snorkeling the designated snorkel trails, or kicking back and relaxing beachside. Whether you are looking to jump on a bike to cruise around the island, go bushwalking or explore the thriving marine life, there are so many fun things to do on Rottnest Island. This island has a little something for everyone.
If Rotto is on your Australia bucket list and you are looking for fun things to do on Rottnest Island, wondering when is the best time to visit Rottnest Island and if you can do Rottnest Island in a day – we have you covered with this guide to the best things to do on Rottnest Island! Let's dive in.
Other travel guides you might find useful…


When's the best time to visit Rottnest Island?
The weather in Australia's southwest is unlike any other region in Western Australia. According to the local Aboriginal culture, instead of your ordinary summer, autumn, winter, spring – this region has six varying seasons that range from hot and dry to cold and wet and everything in between.
The original inhabitants of this land were nomadic hunters who followed this six season calendar to navigate the varied weather and wildlife patterns, and when you visit you will see why! While you may not be hunting, planning around this traditional seasonal calendar is the best way to get an accurate representation of the weather during different months of the year so you know what to pack, and when to plan your adventure to experience the top things to do on Rottnest Island.
It is also worthwhile checking out Western Australia's nature's calendar to see what natural events and attractions occur at different times of the year, such as whale watching, seals and sea lions, manta rays and so on.
Looking for more things to do in Western Australia? Check out this blog post.
When it comes to best time to visit Rottnest Island, there really is no 'right' time – only preferences. If you are dreaming of a summery snorkel filled adventure, I would recommend travelling here in February-March when the weather is warm and the water is inviting, but the deep heat of summer has started to dissipate. However, if you don't mind the cooler water termperatures, October-November is a great time to catch a glimpse of the 'humpback highway' migration and the wildflowers in bloom.


Can you do Rottnest Island in a day?
Absolutely! Rottnest Island in a day is completely doable. I biked around the entire island in under 6 hours – albeit I did this very quickly, but it's definitely possible to experience all the beauty this island has to offer with a day trip to Rottnest Island.
Regardless of how long you have to visit, a day trip to Rottnest Island is easily one of the best things to do in Perth. However, if I were to do this again I would recommend allowing a full 8 hours to experience it, as I did find myself rushing towards the end of the day to make the ferry home.


How to get to and around Rottnest Island...
Seven thousand years ago Rotto was connected to the mainland, but over time it has separated to become itss own little city retreat. Now with around 19km of ocean between Rottnest and the mainland, it is only accessible by ferry (or air) from Perth.
You can easily catch a ferry from Fremantle across to Rottnest Island for the day for around $73 per person return, with the option to add bike hire for an additional $22. These ferries travel back and forth every few hours, but you ordinarily have to book ahead of time to ensure you get a spot.
If you want to get the most out of a day trip to Rottnest Island, I recommend travelling over on a morning ferry and booking your return on the latest ferry (usually around 4pm), so you have plenty of time to explore. If you can, I would also recommend renting a bike for the day. This is one of the best way to get around on a Rottnest Island day trip (not to mention the most fun!) and one of the best things to do in Perth.
Top tip: If you are planning on biking around the island, I recommend picking up your rental from a shop on the island or including it as part of your ferry fare. The ride over can get a little choppy, and so it can be a little nerve wracking seeing your personal bike sway side to side – eek!


The best things to do on Rottnest Island...
Whether you are planning a day trip to Rottnest Island or looking to stay a little longer, these are the top things to do on Rottnest Island.
1. Cycle around the island
Rottnest Island is only 11km long and 4.5km wide, making it very bike friendly. With so many little bays and beaches to explore, a bike really is the best way to get around on a day trip to Rottnest Island.
There are three main biking routes around Rottnest Island of varied lengths, depending on what you want to see. Ride 1 and 2 are the smallest and explore the east side of the island, around the major settlement (where the ferry arrives). These are great if you want to spend your day exploring the local marine life or relaxing on the beach. These range between 4-10km and can take up to 3-4 hours to ride.
The longest biking trail is ride 3, which is a 22km circuit that spans the entire island. This is listed as a 3-4 hour ride, but i would allow more time to stop and explore everything on the way. Personally this took me around six, including stops at Cathedral Rocks and to see a quokka in the wild.
It is mostly flat and easy terrain but after the 22km your legs will be feeling it! This is the only bike route that gives you access to the west end and all the beauty tucked away in this corner of the island. This is definitely one of the best things to do on Rottnest Island to experience it all.
Biking not the right option for you? No worries! There are also 'hop-on-hop-off" style buses available.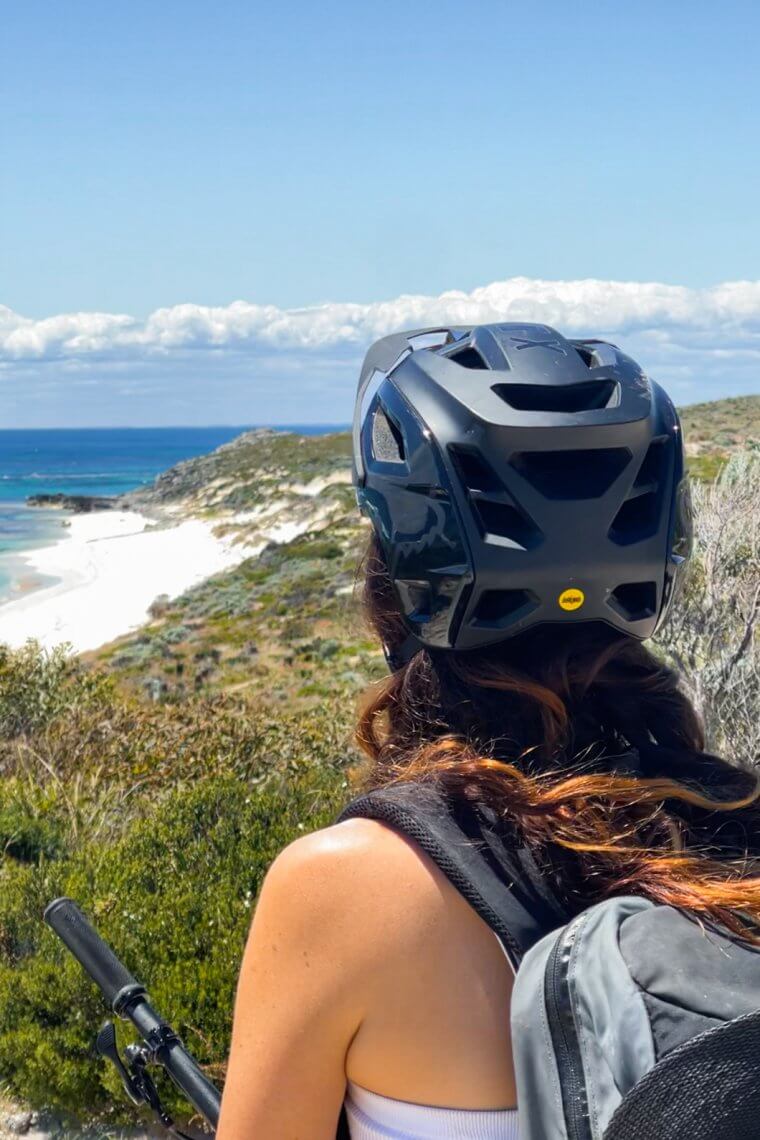 One of the best things to do on Rottnest Island is to keep an eye out for quokkas! You may have seen these smiley little creatures, best identified by their toothey grins in the classic Rottnest Island selfie shot. These little marsupials are roughly the size of a domestic cat and can only be found in this region of Western Australia.
Quokkas can be found in large numbers in the main township on the island once you get off the ferry. So you won't have to venture far to find one!
It is worth noting that although these little creatures roam around during the daylight hours, quokkas are mainly nocturnal animals. They have only started becoming more active in the daylight due to availability of food from tourists. As such, these little guys can be a bit mischievous and are wont hesitate to have a nibble of your food. So if you're heading to the island to capture the Western Australia bucket list selfie, just be mindful to not perpetuate this by feeding them. They are only found in this one corner of the world, we want to keep them safe.
Looking for a wild encounter with a quokka? These beautiful creatures can also be found in plenty of wild and beautiful places throughout the island. If you are bike riding around the island, keep your eyes peeled on the sides of the road – you're bound to spot a few. These quokkas are a little more shy and less food orientated, so it's worthwhile adventuring to see them in their natural habitat. Seeing their little smiles is an absolute must-do for any Australia bucket list and is one of the best things to do on Rottnest Island for good reason!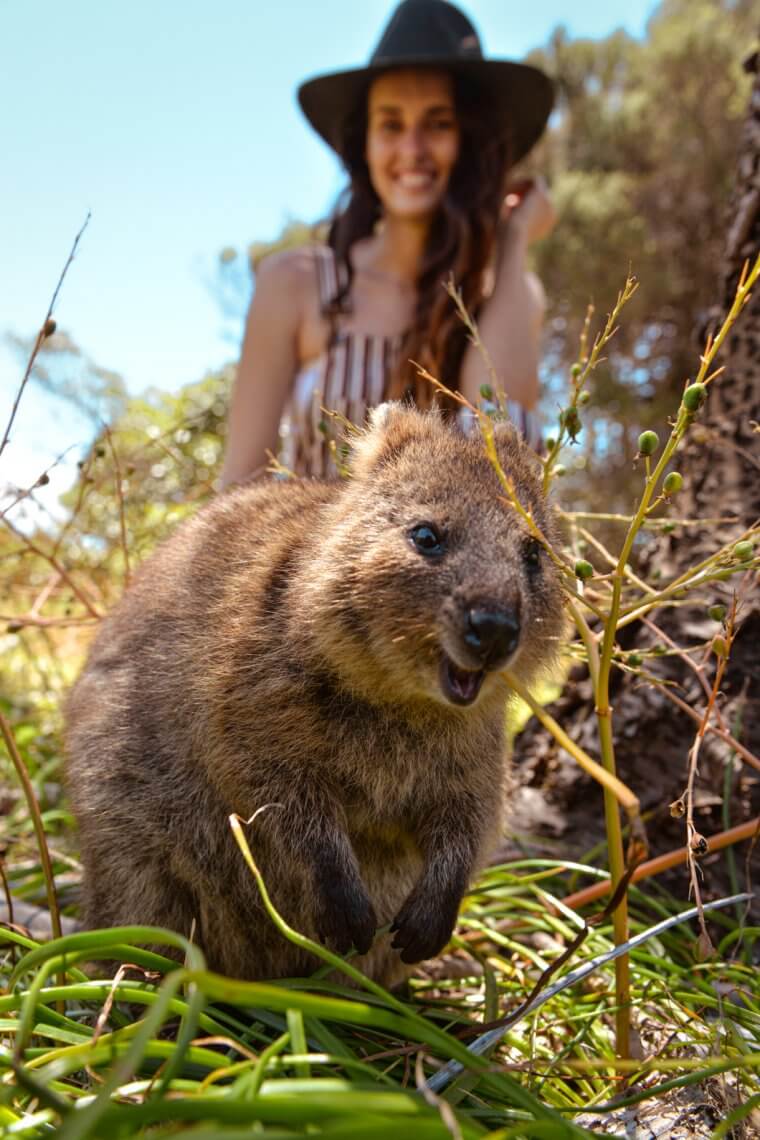 3. Explore the snorkel trails
Rottnest Island is a snorkeller's dream (but really!) and should definitely be on the list if you are looking for fun things to do on Rottnest Island. When I arrived, I couldn't stop saying "wow" everytime we turned another corner to see another beach or bay. The water here is the kind of sparkling blue that just makes you want to dive right in no matter the temperature.
Some of the top snorkel-friendly spots include The Basin, Parakeet Bay and Little Armstrong Bay, but I would recommend heading out to Little Salmon Bay and Parker Point. These are where the 'snorkel trails' can be found which feature a series of info panels to learn about the sea life around you.
4. Visit the seals in the West End
When you arrive in the West End on Rottnest Island, don't miss the chance to see the seals from the Cathedral Rocks Viewing Platform. This is the perfect viewing platform to see the long nosed Fur Seal colony in their natural environment, and one of the best things to do on Rottnest Island, but it can be easy to miss if you don't know what you're looking for.
As you make your way toward Cape Vlamingh and Fish Hook Bay, there will be a path that leads down to the viewing platform. This path to Cathedral Rocks is partially concealed by the scrub. It is right across from Lexi's on Rotto cafe – so in a pinch the cafe owner will help point you in the right direction!
5. Learn about the true Wadjemup Bidi
Wadjemup Bidi is the traditional name for this island paradise held by the local aboriginal people. If you are interested in learning about cultural and spiritual significance of the island, join an immersive Aboriginal tour. There are also a range of Aboriginal educational areas dotted around the island if you are curious to learn more!
6. Swim, relax or paddle on the beach
Whether you choose to bike or ride the shuttle, a day trip to Rottnest Island wouldn't be complete without a stop at one of the beautiful beaches. Hiring a kayak or stand up paddle board is a great idea if you're looking for fun things to do on Rottnest Island. Otherwise, just kick back and relax on one of the (many!) beaches, and soak up the beauty of this island.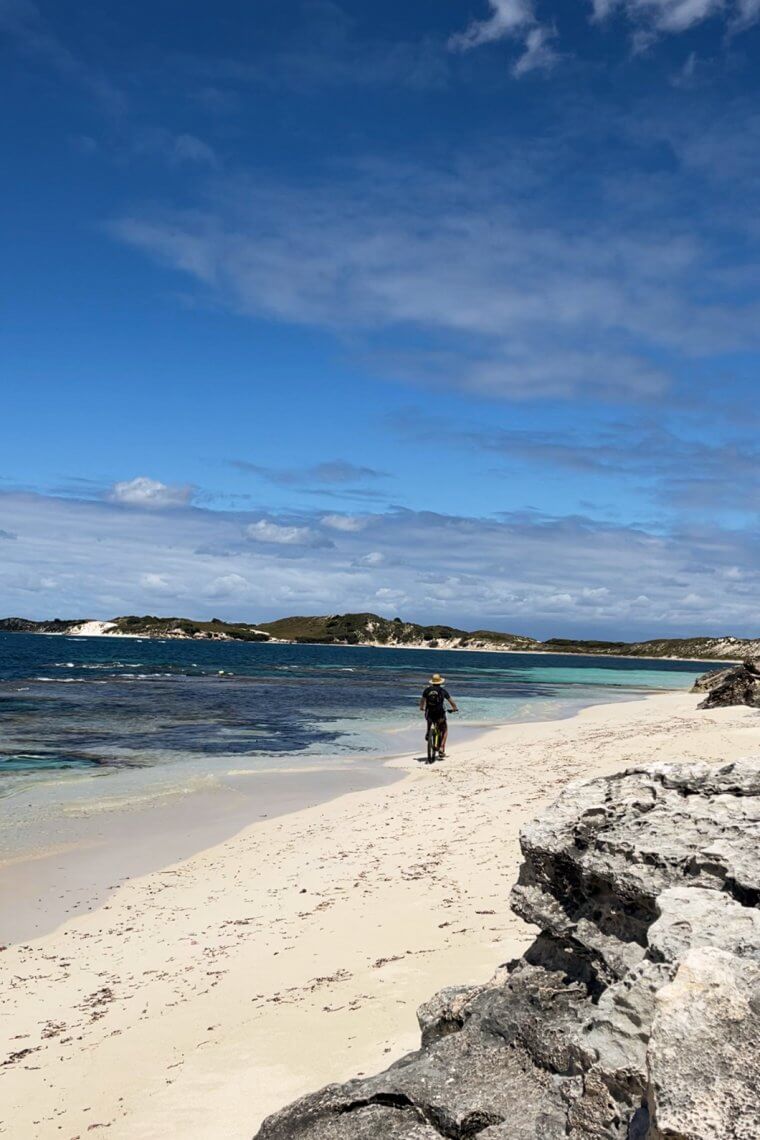 7. Grab a coffee from Lexi's on Rotto
There are plenty of places to grab a bite to eat and coffee on the island, but nothing quite beats a coffee at Lexi's on Rotto. This little pink caravan coffee house is located in the West End and is the perfect place to kick back and relax.
Lounge in their beautiful resort-style lounge chairs for a bit before beginning the journey back to the main settlement on the other side of the island. Easily one of the top things to do on Rottnest Island!
8. Visit Wadjemup Lighthouse
This lighthouse is located at the highest point of Rotto, and is the fourth tallest lighthouse is Australia. While the lighthouse itself is closed to visitors, it offers spectacular views of Perth city in the distance, so is worth the detour! The walk up here is definitely one of the best things to do on Rottnest Island.
The humpback migration is one of the most majestic and miraculous natural events to experience in Western Australia. With over 35,000 whales making their way through these waters it is one of the best things to do in Australia – and Rotto is one of the best places to do it! If you are planning a day trip to Rottnest Island in these months, don't miss the chance to go whale watching. There are plenty of whale watching tours to choose from that will give you a front row seat to this natural highway spectacle.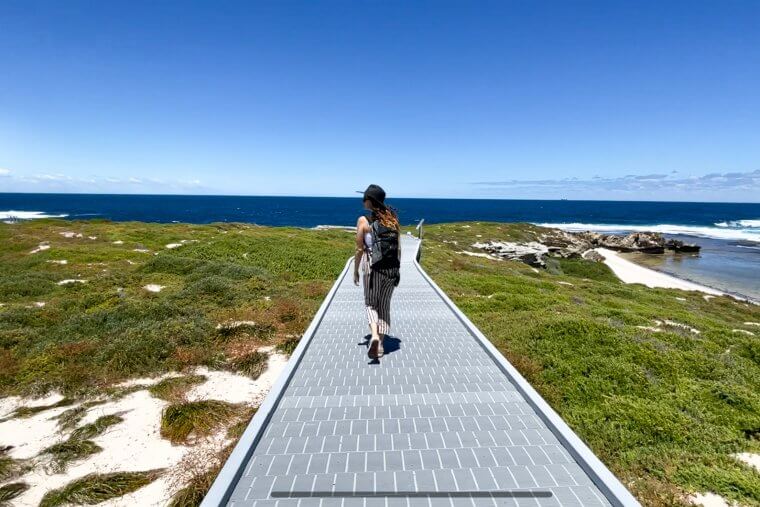 What are your favourite fun things to do on Rottnest Island?
What would you do on a day trip to Rottnest Island? Anything you'd add to this Western Australia travel guide?
Love as always and happy adventuring…
Did you find this post helpful? I'd love you to share it for me.
Pin and save this blog post for later…