The Dolomites are an absolute must-see for anyone with even a passing interest in mountain hiking and exploration. The Dolomites, or "Pale Mountains," are a fantastic place to enjoy the great outdoors, whether you're visiting in the summer to go hiking, mountain biking, or rock climbing, or in the winter to go skiing.
Being an avid outdoorsman, I knew that the Dolomites would be the perfect place to spend two weeks backpacking during the camping season. As much as I enjoyed my time here, there were a few things I wish I had known before coming.
In this guide to backpacking The Dolomites, I will share all my top tips, advice and best places to stay and explore during your time there. If you're looking for tips on hiking in the Dolomites this is a great travel guide to read in preparation for your trip!
Keep reading, and I'll give you some advice gleaned from my own experience that should help you have an even more enjoyable time than I did.


A Guide to Backpacking The Dolomites
The Dolomites: A Guide to Getting There
The Dolomites are reachable from a number of different airports. Fly to Venice, which is 160 kilometres away, or Munich, which is located in Germany. These are the primary worldwide terminals located close to the Dolomites. There are also smaller airports in Italy that you can fly to (Innsbruck, Verona, and Treviso). From there, you can take a bus to the neighbouring communities of Brunico, Dobbiace, San Candido, and Cortina.
Northeastern Italy is home to the stunningly beautiful and historically significant Dolomite mountain range. As a result, your choice of transportation will largely depend on your intended lodging in the area as well as your financial capabilities.
If you can't or won't take a plane, the next best modes of transportation are trains and buses. I travelled by Flixbus from Munich to Bolzano and then took the train from Bolzano to Dobbiaco the following day. After arriving in Dobbiaco, I took advantage of the bus service that ran every 30 minutes to take me to my campsite. Since I was beginning my trip from Amsterdam, this was the most cost-effective choice.
If you find yourself in Bolzano while passing through Italy, you should definitely check out Lago di Monticolo. Even though my Airbnb host highly recommended it, I simply did not have time to go. It's rumoured to be a picturesque lake in the middle of the woods, frequented by locals during the warm months.


When is the best time of year for Backpacking In The Dolomites?
You can go to the Dolomites all year round, but some seasons are best for specific activities. If you're looking for tips on hiking in the Dolomites, checking the weather is a great one! Check below what each season offers and make a choice based on your preferences.
Summer
All mountain refuges are available for use in the summer, making it the ideal time for overnight treks from one rifugio to another. Additionally, you'll be able to make the most of your trip by actively engaging in various pursuits, thanks to the sunny forecast. This is the most popular and, by default, the best time to visit the Dolomites.
Fall
If you want to avoid the crowds and see the larch trees in all their yellow glory, then you should go hiking in the fall. After the sun has set, the rocks will be a gorgeous shade of pink, the shadows will be longer, and the sky will be a warm golden orange—the perfect setting for some stunning photographs.
Spring
The spring season is peaceful and beautiful because fewer people are around and the trees are slowly regaining their vitality. As the snow gradually melts, you will be able to see the world-famous limestone for yourself. After the long winter, the Ferratas reopen, allowing climbers, cyclists, and hikers to enjoy the outdoors once more.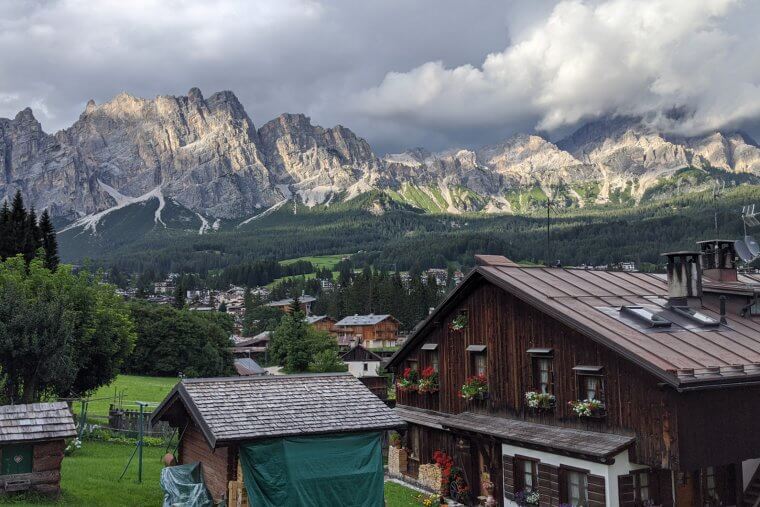 Accommodations For Backpackers In The Dolomites
How much time will I need for my backpacking trip into the mountains and where should I go on this side of the Alps? These are probably questions that many people have asked themselves, specifically if you're here looking for tips on hiking in the Dolomites.
Those unfamiliar with Italy may have trouble deciding where to start their journey, as the country offers something for every type of traveller. It all comes down to whether or not a person is interested in challenging themselves physically by hiking through expansive landscapes with breathtaking views.
The best place to stay, or rather, where to begin exploring the Dolomites, will depend on your intended itinerary. Find out if the cars are available and decide if you want to go on a day trip or a longer backpacking trip.
Making a reservation at the hotel or other lodging of your choice in advance is always recommended. The Dolomites are a popular summer vacation spot, so lodging options like hotels, Airbnbs, and campgrounds tend to fill up quickly and remain at capacity through the month of August.
However, in the Dolomites, the vast majority of campsites are first-come, first-served. Because of this, they aren't flexible about accepting reservations far in advance, which can be frustrating if you like to have things organized in advance.
When I finally arrived in Bolzano, I started making calls to campgrounds to see if any of them had availability the following night. It took some time, but I was able to secure a reservation for the following day, despite it being high season.
Whatever your preference, consider these top picks for places to stay:
The town of Cortina d'Ampezzo, also known as the "pearl of the Dolomites," is an excellent starting point for hikers heading into the Dolomites. It's in close proximity to some of Italy's most popular tourist destinations, including the Lago di Braies, Croda do Lago, Lake Misurina, Lake Sorapis, Cinque Torri, and Tre Cime di Lavaredo. In addition, there are many things to do in Cortina besides skiing, such as shopping, dining, and attending cultural, sporting, and folkloric events.
This city is also home to Campeggio Dolomiti, the campground that accommodated my reservation request. It seems to me that the city was designed with tourists in mind. Because of this, you can shop at any number of outdoor speciality stores that stock popular names in gear like North Face and Patagonia. Make sure to plan ahead and buy any necessary camping gear if you're strapped for cash. If you need to stock up on groceries, the two inexpensive supermarkets in the area should suffice.
You can get some amazing views of the Latemar and Rosengarten peaks in the Dolomites from the Val d'Ega area. Some of Italy's finest hiking tours begin here, and you can even stay the night atop a mountain at a rifugio for some unique Ferrata adventure lodging.
During the summer, visitors can explore the region's seven villages via car or above-ground train; for a more extreme experience, they can take an overland train from Bolzano into South Tyrol, which will take them through this picturesque region, which never seems crowded despite the abundance of exciting activities available here.
Ata Badia, located in South Tyrol between Mount Sassonger and the Sella Group, provides an excellent preview of the Dolomite Alps before you set out to explore them. In addition, the Pizes de Cir Mountains encompass multiple communities that are linked together by convenient bus and footpath networks. Places to stay that are both affordable and comfortable include Corvara and La Villa village.
As you prepare to explore the Dolomite Alps, South Tyrol's Val Gardena is the ideal place to relax before your trip. There are a number of day hike trails, as well as cable cars and chairlifts, that depart from this location. Selva di Val Gardena, Santa Cristina, and Ortisei are the most well-liked local communities because of the quality lodgings they provide.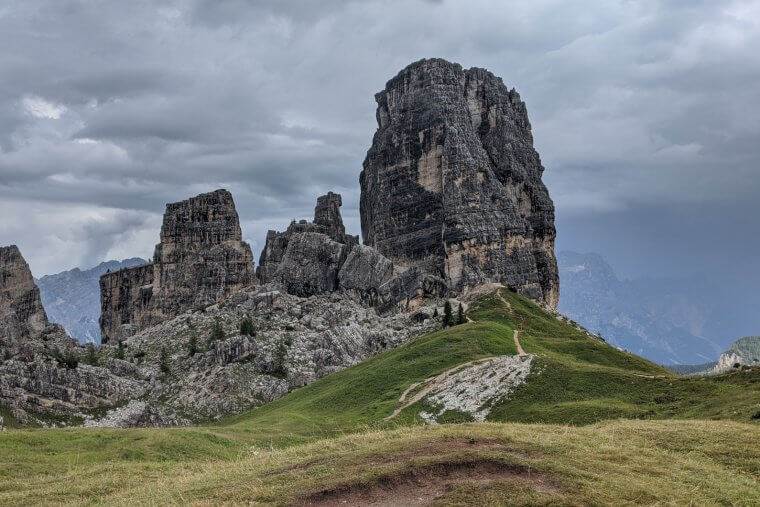 The Best Things To Do In The Dolomites
The Dolomites are a fantastic travel destination for hikers, climbers, and other outdoor enthusiasts. Lots of fun things to do exist, but here are a few of my favourites:
Hike moderate distances during the day and spend the night in a B&B or hotel. Day hikes allow you to get some exercise in the mountains and then return to civilization for a hearty meal and a good night's sleep. If you're already there, all you have to do to find the best hiking trails to suit your needs is visit the tourist information center or rely on hiking apps such as Komoot.
2. Spend time in rustic mountain huts while hiking
Even when it's dark, the best way to feel connected to the natural world is to spend the night in a rifugio, which is the Italian word for a mountain hut. The Dolomites are home to some of the world's finest rifugios, which feature full dining and lodging facilities. If you decide to go this route, make sure to pack a light daypack with essentials like toiletries and snacks.
3. Mountain hut-to-hut hiking
Hiking from one mountain hut to another is a good option if you want to go on a trip that lasts more than a day. You can explore multiple towns by walking from rifugio to rifugio and back. The Alta via 1 route is recommended for first-time visitors.
There is no need to worry about being unable to fully appreciate the Dolomites because of a lack of fitness. Shorter hikes coupled with gondola rides are a good alternative for those who are unable to take on longer treks. Using this method, you can spend less time traveling between different rifugios for the night without sacrificing comfort. From there, you can either walk or get driven back to your camp.
Remember that the last gondola down leaves around 4 o'clock, so plan accordingly. I didn't check the gondola's operating hours before taking the ride up the mountain for hiking, so I ended up having to hike back down.
5. Do a mountain bike tour
The Dolomites, as mentioned before, are a mountainous area. Therefore, if you want to see and do as much as possible in the Dolomites, exploring them on a mountain bike is the way to go.
Visit a bike rental shop if you are hesitant about your level of fitness or your destination choice. As a result of doing so, I was recommended a fantastic tour that perfectly matched my preferences in terms of length, difficulty, and other factors. The electric mountain bike I eventually rented made the ride much more enjoyable, so I think that's what you'll end up with.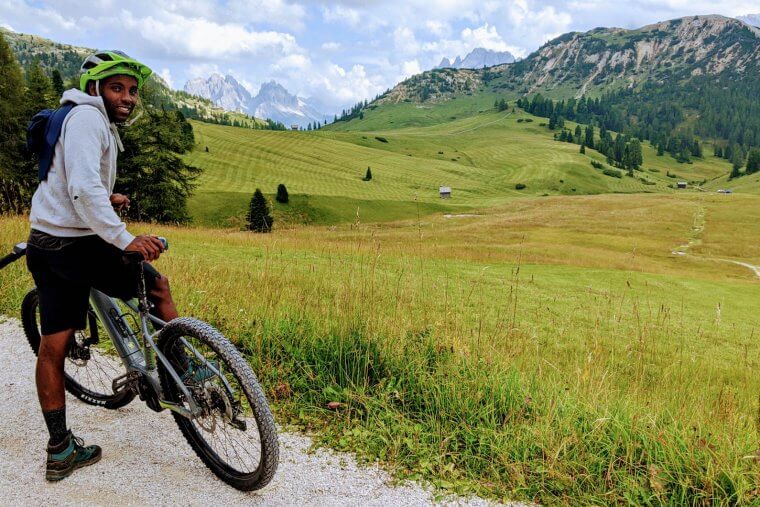 Tips For Packing for the Dolomites
When backpacking, it's better to bring only the necessities rather than everything you own. Carrying only the bare minimum while still allowing for a comfortable hike will help. Putting safety and usability first is essential.
Specifically, you'll need to have:
Extensive, premium backpack: Invest in a tough, all-weather bag that can take a beating and still carry all your necessities.
Portable, lightweight daypack: Day hikes necessitate a compact, lightweight backpack to hold essentials like food and medical supplies. Don't bother bringing the big one along—just leave it at the lodge or campsite.
Shoes suitable for hiking, climbing, or lounging
Waterproof gear: It's best to be prepared for any weather in the Dolomites by packing windproof pants and a jacket.
Protective headwear
First aid kit
Headlamp
Powerbank
Sleeping bag: It still gets quite chilly at night, even in the summer. Not bringing mine was a practical choice because it was cumbersome and bulky. The first night I slept with just a thin blanket, but by the second night, I knew I needed to invest in a proper emergency blanket. Even though it made a lot of noise whenever I got up to use the restroom or move around during the night, it did its job and kept me warm for the remainder of my stay.
Ultralight

tent or hammock



A Camping knife
Garments that you can't live without (briefs, T-shirts, hiking socks, sweater, light shorts, hiking pants, and ideally thermal layers
Guidelines For Personal Security
As a final piece of advice, make sure you take measures to protect your safety while you're out there. In order to avoid harm, please follow these guidelines:
Unless you're on a guided hike, you should go with a friend.
Make sure someone knows where you are and when you plan to return by leaving a note.
Remember to drink plenty of water on your hikes.
You should always carry a cell phone with emergency contacts programmed into it (including the hotel, rifugio, and tour operator where you plan to stay).
Keep a steady pace and stop for rest periods frequently.
Watch out for tumbling rocks!
Stock up on munchies for the breaks between mountain lodges.
Conclusion?
Following the aforementioned advice will ensure that your time in the Dolomites is a memorable one. Select a time of year in which you feel most at ease. You should go in the summer if you don't mind a lot of other people being there.
Otherwise, the seasons of autumn and spring may be the most conducive to quiet time alone. Make arrangements for lodging and activities, and remember to prioritize your safety.


Any tips you'd add to this Guide to Backpacking The Dolomites?
Love as always and happy adventuring…

Did you find this post helpful? I'd love you to share it for me.
Pin and save this blog post for later…