The more and more I'm getting into blogging, the more and more i read other blogs.
You may have noticed I love me some food and I also love trying out new hotspots in London.
Someone that never fails to inspire me is Elsa Messi, the voice behind The London Sinner Blog.

And on this occasion she had inspired me to head to
'The Pig Idea' down at Trafalgar Square.
The Pig Idea – Trafalgar Square, London
What was it all about?
So basically, the team behind this have been rearing 8 pigs over the last 7 months to be served up to us as part of dishes cooked by some of the UK's best restaurants and chefs.
You can read more about the campaign here.
It was a 4 hour event and we arrived 2 hours in, by which time there was only a few bits left. Luckily we got to try some yummy pork belly pizza, but we were slight disappointed in missing out on everything else.
(This is what happens when free food is on offer!).
So we had some time to waste.
We were heading to the 02 to watch Bruno Mars in the evening but it was still only 4pm…
I'm gunna be honest and say I was dragged to the Natural History Museum…
History isn't my thing, i really wouldn't say geography is either hence why museums are never at the top of my to-do list, but in we went… (free of course).
Apparently it's good cause you can see cool things like this…
It was at some point near to staring at these skeletons that I had a flash back from my childhood.
THE BIG BLUE WHALE.
I just knew it was here. After climbing to the second level of the museum and around the sides I started to doubt my childhood memory but googled re instilled my confidence and told me, no, it is here.
Wahooooo!
I never thought the sight of a whale figurine would excite me so much!
But it is life size and it is pretty cool, even if I am 20.
We then went upstairs and read some super cool facts about Whales as you can see…
And then sat down on the balcony and imagined what characteristics all the animals would have if they were real…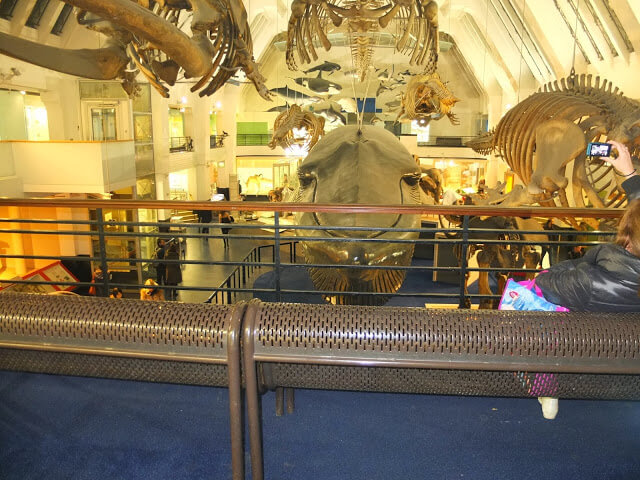 After travelling South East Asia earlier this year I can now say I've seen and ridden on a real elephant (check the blog post out here)… but i'm still yet to see a giraffe in real life! Or a rhino, or a… whats that other thing?!
Before we knew it it was 5.30pm and we switched out of our childlike mentalities and headed out into the cold!
How pretty does it look outside 🙂
As you head down from the museum entrance and to the nearest tube (South Kensington) you pass the annual festivites that hang out in front of the museum…
If you still haven't booked anything festive and missed my recent blog post check out my 'festive things to do in London this Christmas' here 🙂
Ice skating at the Natural History museum was on this list…
I can't wait to go for my festive ice skate this year, although I don't know whether I'm more looking forward to the ice skating or snuggling up and watching everyone else fall over like this couple here… (free entertainment)!
We stopped off at Waterloo to catch up with an old friend, grabbed a Wasabi (my fav on the go food!) and then headed on the Jubilee Line to The 02 Arena!
Wasabi @ London Waterloo
Bruno Bruno Mars.
He's got it all, I swear.
The band and the man himself were filled with bundles of energy and had the whole arena singing and dancing the whole night.
Bruno Mars @ The 02
Another lovely day in London!
So if you have an hour or two to kill, the Natural History Museum is actually worth a visit for some facts, a laugh or for the hot chocolate waiting for you outside 🙂
Mollie xoxo
P.s. Stay tuned for some christmas baking ideas!
P.p.s. Please do come and join me on…