Come September, the warmth of the summer starts to fade here in London. The nights start to draw in faster and the winter months begin to descend. Sounds sad, hey? But as the autumn leaves fall to the ground and the crisp mornings perk us up, there's only one thing on everyone's mind… Christmas.
Christmas is the most magical time of the year in London. I've spent a few Christmases abroad, but absolutely nowhere does festivities like we do in England. So, if you're planning to spend a winter in London… you're in for a treat because Christmas is a three-month celebration here. Check out my list of Christmassy things to do in London here.
Winter in London, for me, starts at the beginning of November and lasts through til February, so this guide is going to accommodate for helping you plan a trip during those months.
Winter in London: A complete travel guide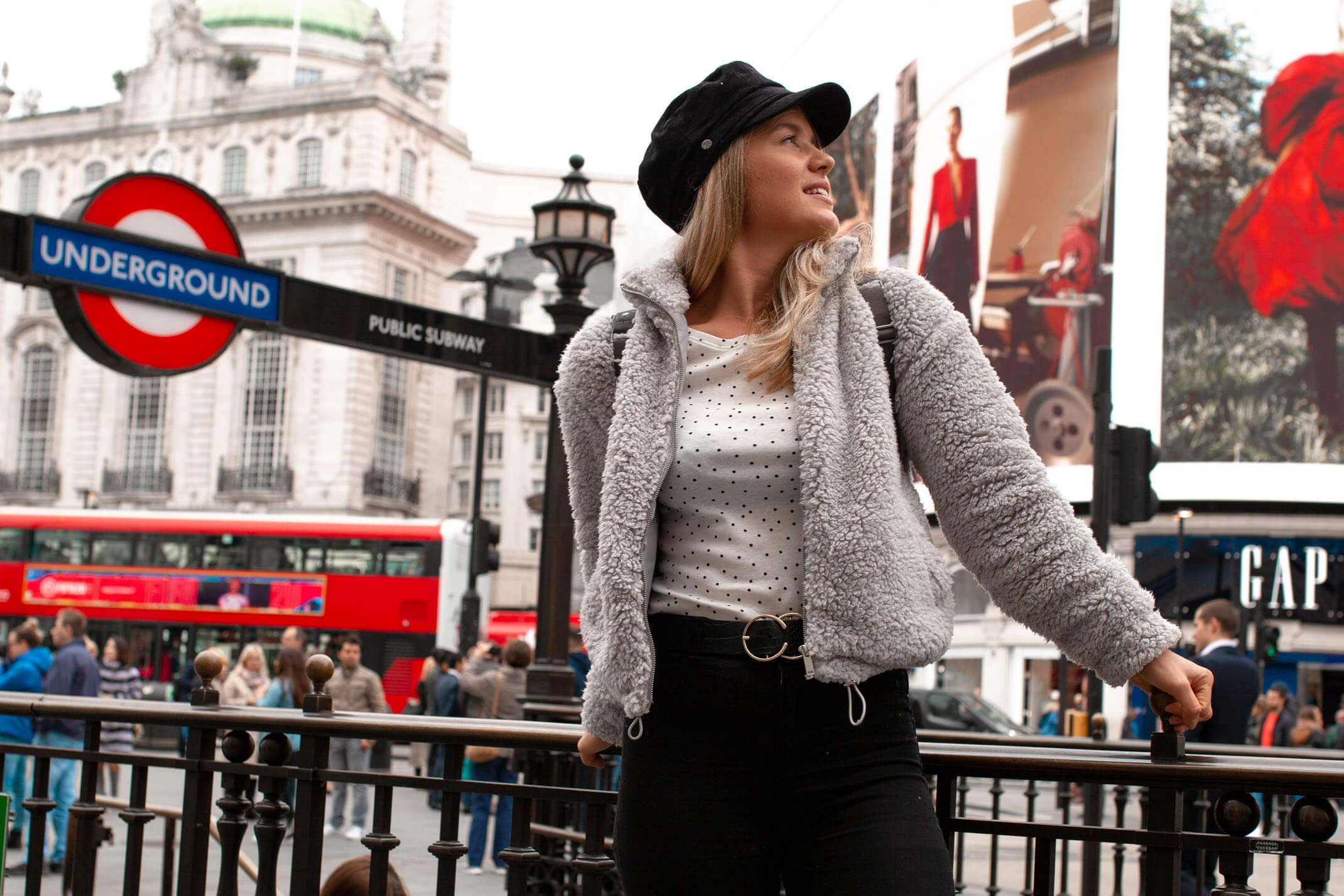 The weather during winter in London…
Unpredicatable as ever. Honestly, pack for rain, pack for shine, pack for snow and pack for grey cloudy days. We can have it all!
The key is to bring layers, definitely bring a winter coat and bring some comfy boots or shoes because there's too much to explore to be standing still.
Getting around London…
The transport system, although busy and annoyingly claustrophobic during peak times (you want to avoid 7-9am and 5-7pm), is pretty extensive and makes all areas of London accessible and easy to navigate.
You have:
A network of 11 underground tube lines that provide rapid and frequent services as far out as Essex and Hertfordshire (way out of London). So, if you're staying in London or reasonably close to it, your best way to get around will likely be with an Oyster card – those blue credit card sized cards that you tap in and tap out when getting on and off tubes, buses and trains in London. You can also use contactless payment when using the London Underground.
The underground and buses will carry you across most of London and then beyond that there's an extensive network of trains that will take you all across the country. The are a few main train stations that people use to commute and travel across England from including: London Waterloo, London Paddington, London Liverpool Street, London Victoria and London Kings Cross.
Download The Trainline app to check train times, plan your train journeys and to book your tickets.
There's an incredible network of bus routes (673, I believe) that operate in and around London. The big red buses are so iconic so even if you don't use them to get from A to B – make sure you hop on for the experience. Often travelling via bus can take a bit longer than the tube but on a bus you get the views of London as you travel. When using the buses you simply tap on when you get on board using your Oyster card or contactless card and that's it. No need to tap off, you get charged a single fare. No cash is accepted!
If you have time to explore at leisure then walking in London is a dream and the perfect way to add some steps into your day. In fact, places like Covent Garden, Soho and Piccadilly Circus are much easier and quicker to walk between than getting the tube. You'll save pennies too! Check out the London walk you must do in London here.
They'd both kill me for putting them next to each other but it's no news that Uber have taken over as the taxi service in London. If you're looking for a private ride either flag down an iconic London cab (they're everywhere) or download the Uber app and get a cheap service right from your phone.
Use code 1l08a for a discount off of your first Uber ride.
Thames Clippers river bus service
Possibly my new favourite way to see and get around London. I recently hopped on board the Thames Clippers and was extremely delighted by the interior of the boat, the spacious comfy leather seating and the views on board. There's a cafe on board serving up coffee (the good stuff), alcoholic drinks, all the teas and even food (including vegan options). They had soya milk on board and mulled wine for winter. So impressed. To use the service you can tap on with your Oyster or contactless card and transport yourself across London via the Thames with all the iconic views of the city's landmarks, e.g. Westminster, the London Eye, Tower Bridge and more.
See the Thames Clippers routes available here.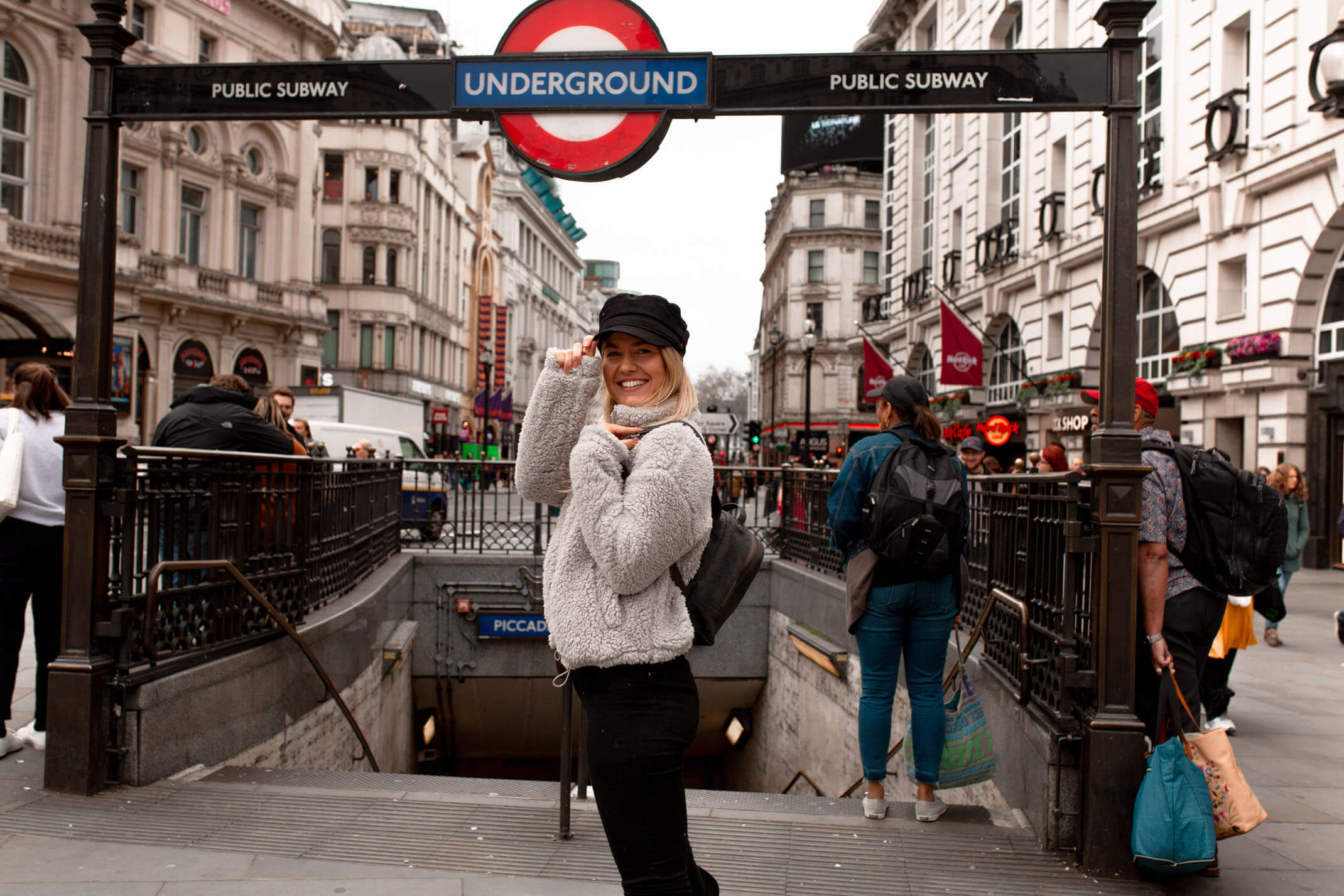 Things you must do during winter in London…
Go ice skating at one of the many stunning venues in London
Ice skating rinks are usually open from mid Nov – mid Jan. Wrap up in your fluffy coats and hats and head to one of the below venues.
Dip out of the cold and explore one of London's many museums
There's the British Museum, the National Gallery, the Museum of London and the Natural History Museum. There's also the Science Museum, the National Portrait Gallery, the V&A and the Tate Modern. One thing we are not short of is museums! What's more, entry to many of them is completely free – check the website before you go.
I recently went to the Jack The Ripper Museum in London and did their daily 3pm walking tour around Whitechapel – the area in which the murders happened back in the 1880's. It was really interesting!
Explore the markets, beer tents and festivities at Winter Wonderland in Hyde Park
It's touristy, yes, but for good reason. For the festive period in London, this iconic London park is transformed into the ultimate Winter Wonderland. Think Bavarian market stalls, an ice rinks, beer tents, helter-skelter rides, hot food, mulled wine and more! It's the go-to place for a festive drink with friends during winter in London!
Head to a Christmas market.
There are so many across London from Winterville in South West London, Covent Garden in Central, Southbank's Christmas market and your usual thriving pockets like Camden and Borough Market.
See my 15 markets you should visit in London here.
Grab some tickets to a West End show.
A dreamy evening in London for any local or tourist is tucking into dinner before sitting down for an evening at the theatre. It never quite loses it's charm and it makes for a perfect date night in London.
Book in for afternoon tea.
Quintessentially English and it makes for a dreamy afternoon post-shopping, skating or walking. Indulge in one of these 18-afternoon tea hotspots in London and try the clotted cream, jammy scone delights for yourself! Question is, jam or cream first?
Enjoy the Christmas lights.
Wander the shops beneath the plethora of lights that line Oxford Street and Regent Street during winter in London, or simply grab a hot chocolate and take a stroll through central London. Honestly, the lights will guide you. They are everywhere and absolutely magical!
Go for cocktails at Harrods or Selfridges.
Harrods and Selfridges are two other iconic locations in London that are transformed come Christmas. There are many places to grab a drink or a bite to eat in these multi-story stores, and there's no way you'll escape the Christmas spirit in there!
This sparkling after-dark light trail is ridiculously popular and sells out every year. If you're planning your trip and would love a stunning wander through the gardens lit up in the most creative and sparkly way possible. Get your tickets for Christmas at Kew in advance.
Short for pantomime, this stage production is a musical comedy designed for family entertainment. Pantomimes take over most theatres across England during the Christmas and New Year season. I've been going since I was tiny; they are so worth going to! So much fun.
London is an iconic place to see in the New Year. Get down there early though; it's a popular place to be!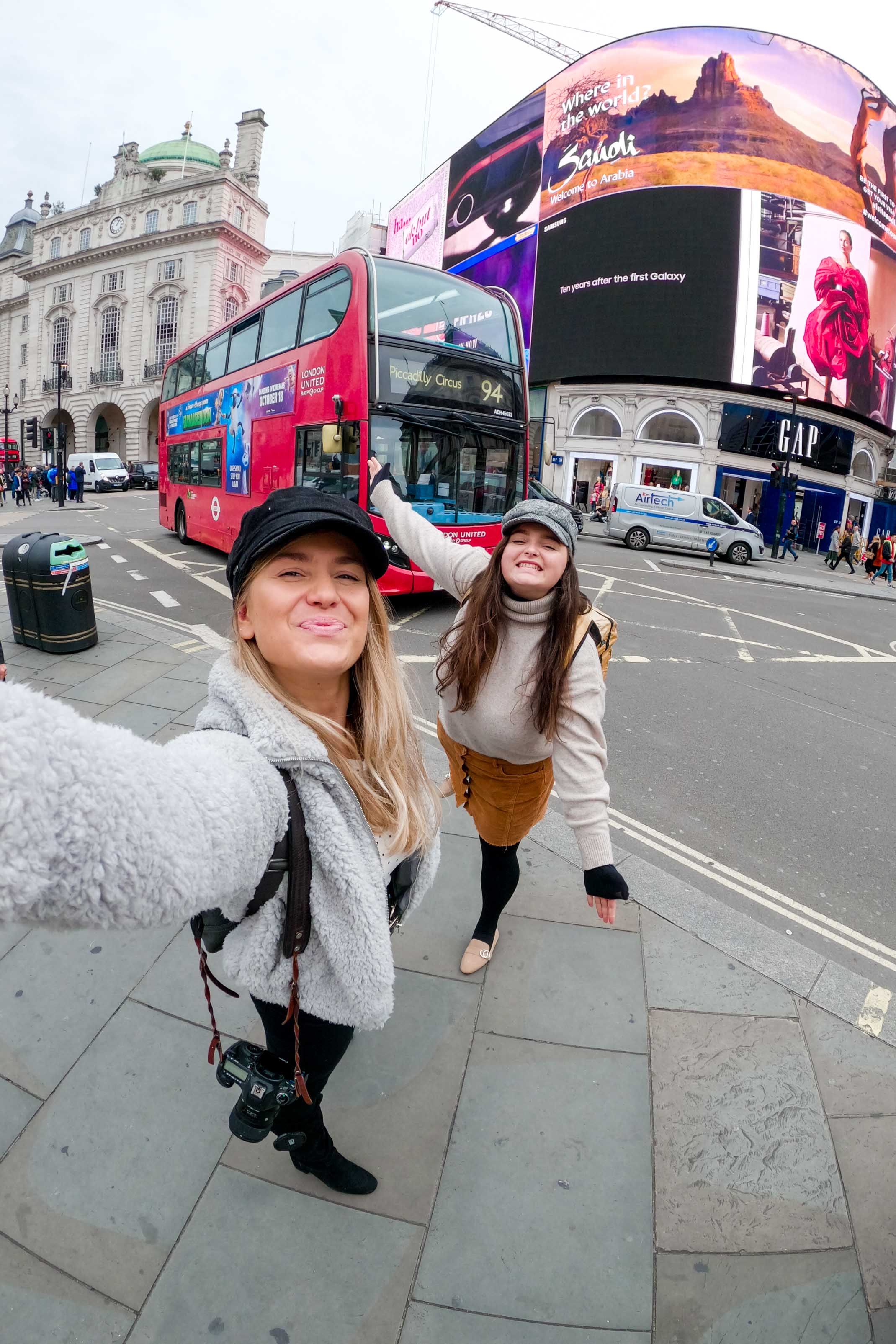 Exciting events going on to plan your trip around…
Have you been to London during winter?
What were your favourite things to do? I'd love to know!
Love as always and happy adventuring,
Did you find this post helpful? I'd love you to share it for me.
I can't do this without you.
Pin and save this blog post for later…