Great news: you're going to London! Not so great news… you're not planning on being here in London for long, are you?
First Tip: Extend your visit for as long as you can.
This iconic city, the one that I get to call home, is and has everything one could possibly wish for in a city. And that's not me being biased.
London boasts everything from stunning parks, legendary landmarks, an electric club scene, endless restaurants, skyline views, quirky bars, pop ups and the latest crazes of workout classes to hippie neighbourhoods, iconic film sets and everything in between.
Admittedly there are a few things we need to work on here in London. One being the sweaty, crazy, over packed tubes at rush hour and, yes, a little extra sunshine wouldn't go a miss either.
But it's a beautiful city whatever the weather, and you are going to love it.
Considering your time in London is limited, I assume you won't want to be spending much time admiring the four walls around your chosen place of rest. Particularly not when you have the likes of Big Ben and Hyde Park on your door step.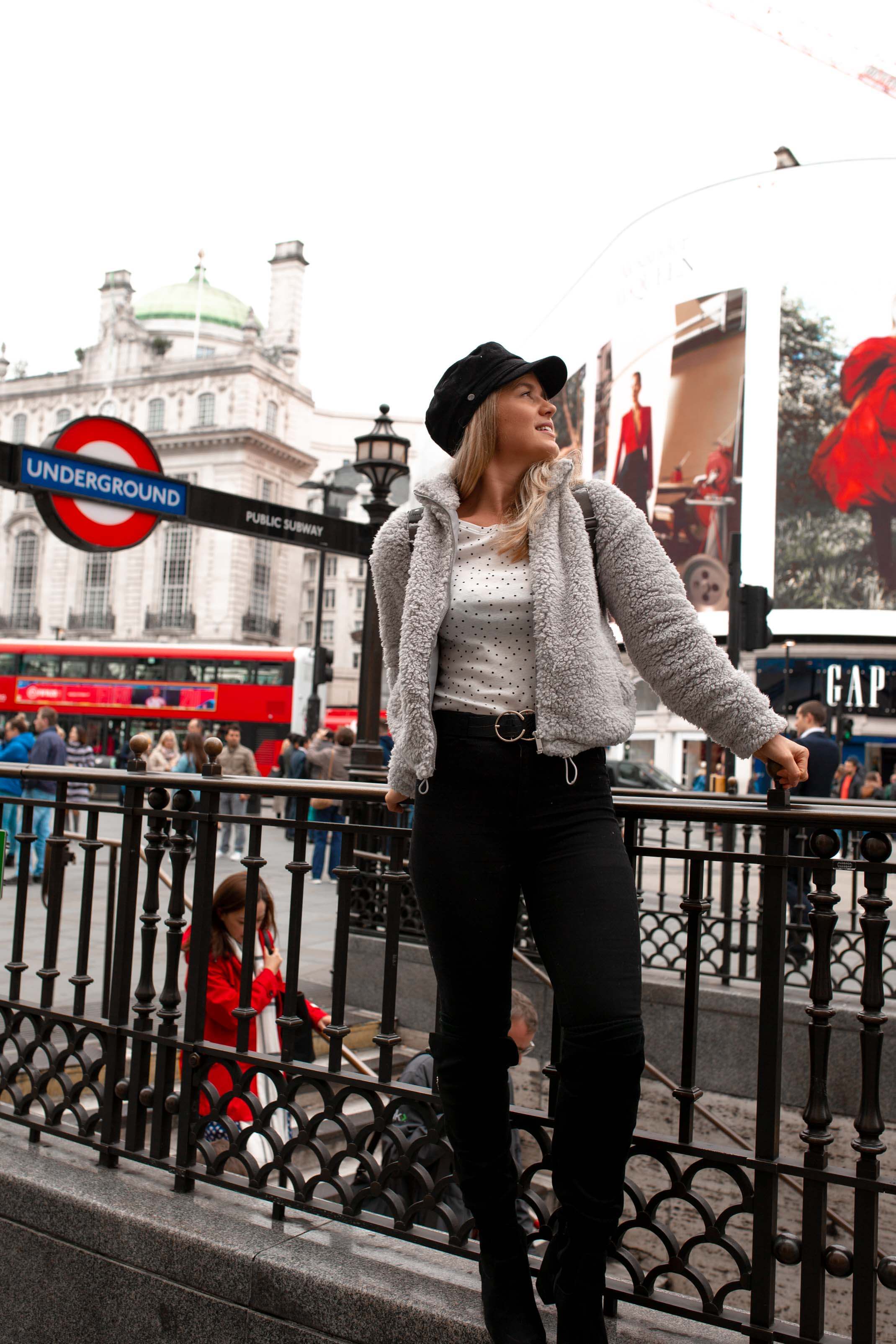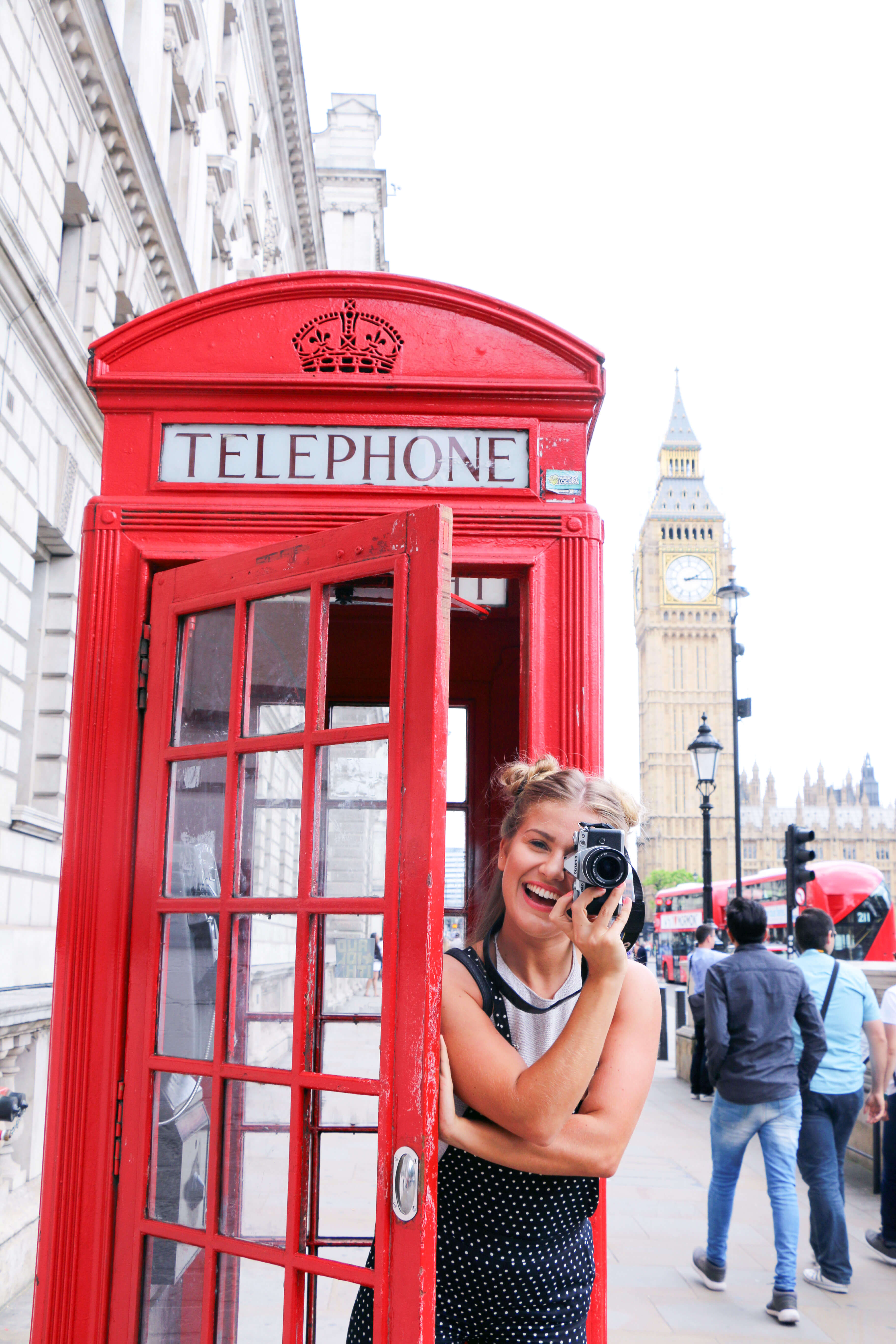 And with that in mind…
Here is my complete 48 hour guide to London!
Accommodation
I would personally say 'go cheap' to save the sky high costs you can easily inflict upon yourself in London. After all, if you have any sense, you'll only be resting your head there, so there's no point paying out all that money when your going to be out and about.
Staying central in London is obviously ideal for reduced journey times (so do it if you have unlimited budget), but it will be expensive and you can expect to be paying £150-290 for a nice hotel room.
There are obviously ways to do it cheaper than this…
Check out Homestay.com and stay with a family for a fraction of hotel prices. I've just had my first experience, saved SO much money and well… it was faultless! Check out the details of my experience here.
Stay just outside of central (e.g. North London or South London). Just be sure to look out for nearby tube or bus access when making your booking.
Backpack it and stay in a London hostel for around £30 a night. View hostels here.
Check out lastminute.com or laterooms.com.
Look for deals on booking.com and expedia.com.
Try couchsurfing. Not only can you get a free (or very cheap) place to sleep for the night, but it's also a community of people that want to hang out and explore!
Getting around London
London gets a lot of stick for its transport, and rightly so at times.
But at the end of the day, it is a heavily populated city and chaos is caused mainly as these people commute to and from their jobs. Roads will block up, tubes will pack up and trains will fill up… ALL pretty much to maximum capacity.
Compared to other cities globally, transport in London doesn't come cheap either.
But it is what it is, and it shouldn't put you off coming at all. You just have to be smart about it and work out the loopholes. I've got you.
To increase your chances of receiving a smile from someone, to reduce delays and to not get stuck in an underground sauna…
AVOID travelling in London betweem 7.30am-9.30am and 5-7pm. Rush hour is not pleasant for anyone!
In terms of transport, you have loads of options in London…
The London Underground
This iconic infrastructure runs underground all over London from 6am – 12pm and the Victoria, Central, Piccadilly, Jubilee and Northern lines run 24 hours on Fridays and Saturday.
When using the underground you should definitely buy an oyster card from any ticket desk for £5 for reduced fares. You can hand the card back at the end of your trip and get it refunded at any help desk or some machines. You can also use your contactless card the same way as an Oyster Card.
If you'd prefer not to have an Oyster card, you can get a day travel card, but these waste paper and work out more expensive!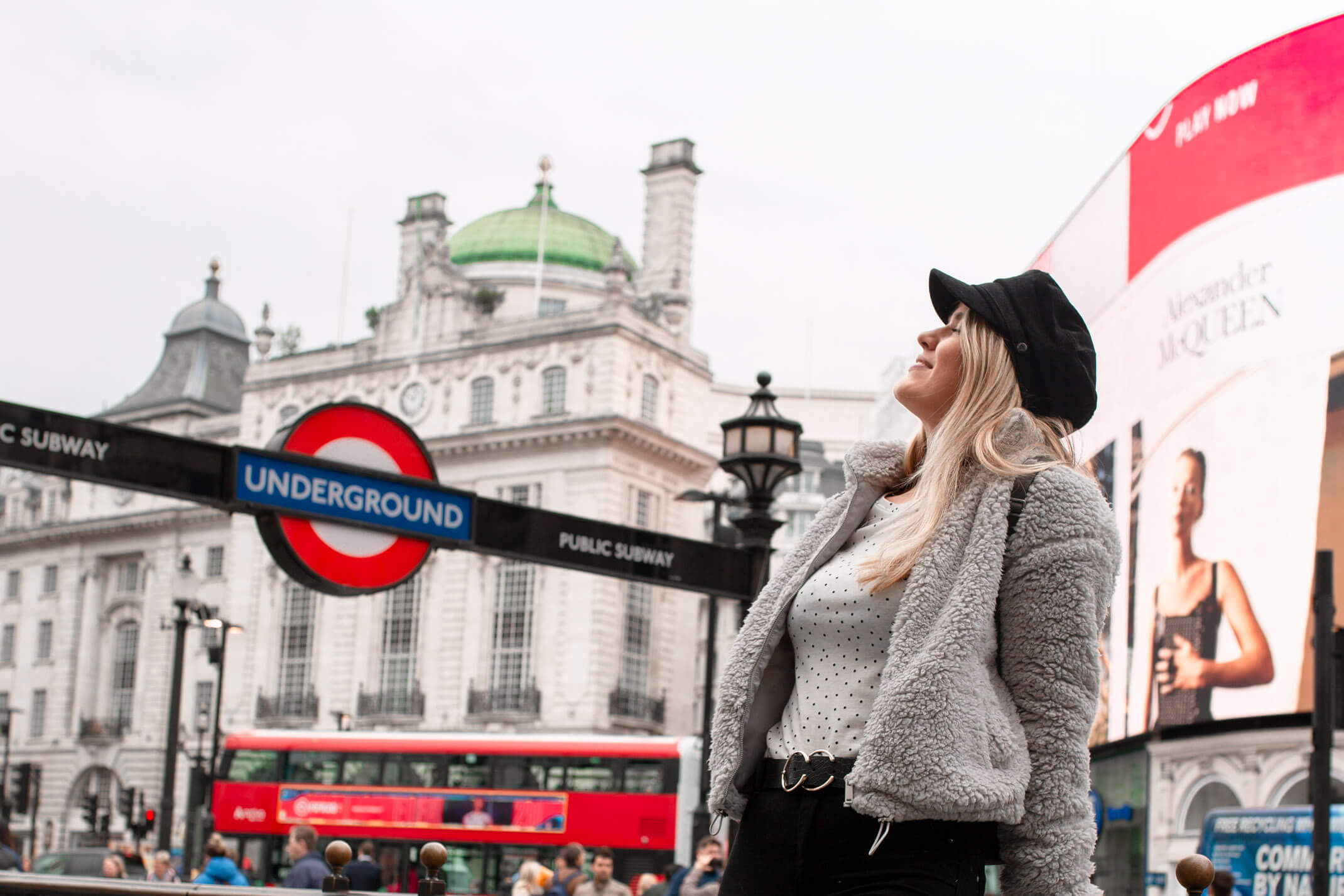 Black Cabs
Black Cabs are so iconic and despite the high prices compared to Uber, buses and tubes, it's a unique and iconic London experience and one you should do at least once for the thrill of it. You'll see them all over London, so simply flag one down and hop on in!
Uber
The revolution that has taken over the world and one that means we can now get around at a very affordable price. There are on going debates about the safety of Uber, due to the low training and entry barriers compared to the Black Cabbies but, fortunately, I've only had positive experiences. Download the Uber app onto your phone and enjoy cheap, instant, cardless transport!
Santander Cycles
Starting as low as £2, download the app (or use a contactless card at the cycle docking station machine), and cycle round this beautiful city! With docking stations everywhere, it's a great way to do short journeys.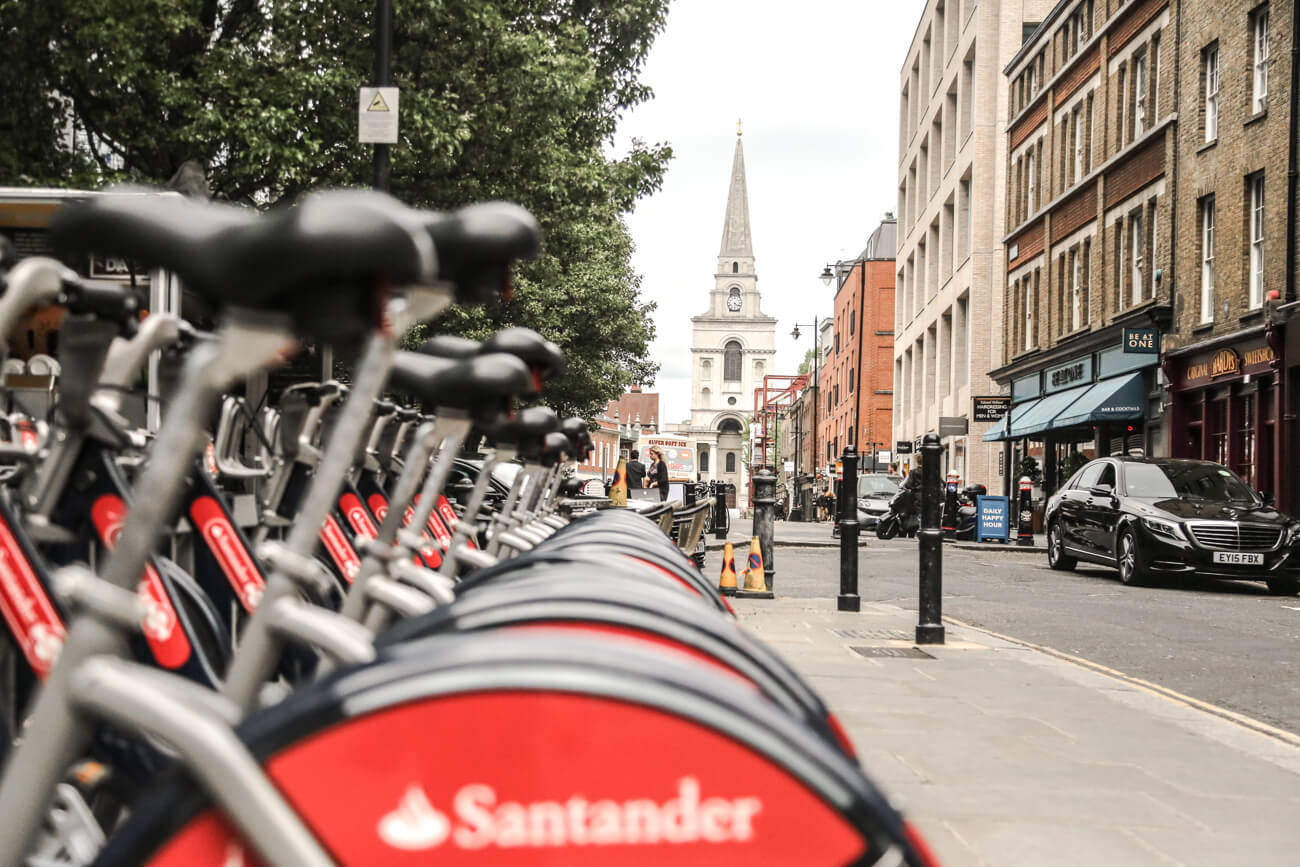 Walk
A lot of the time it is quicker and more pleasant to walk around the city (Check CityMapper for your best route option). Taxi drivers and cyclists are ruthless, though, so watch out for them + be careful crossing the roads.
Red Buses
I personally LOVE buses. In comparison to the underground I just love the fact you can actually see the city as you travel around it. You can often get to more specific destinations with buses that tubes can't. You can also use your Oyster card or contactless card on the bus!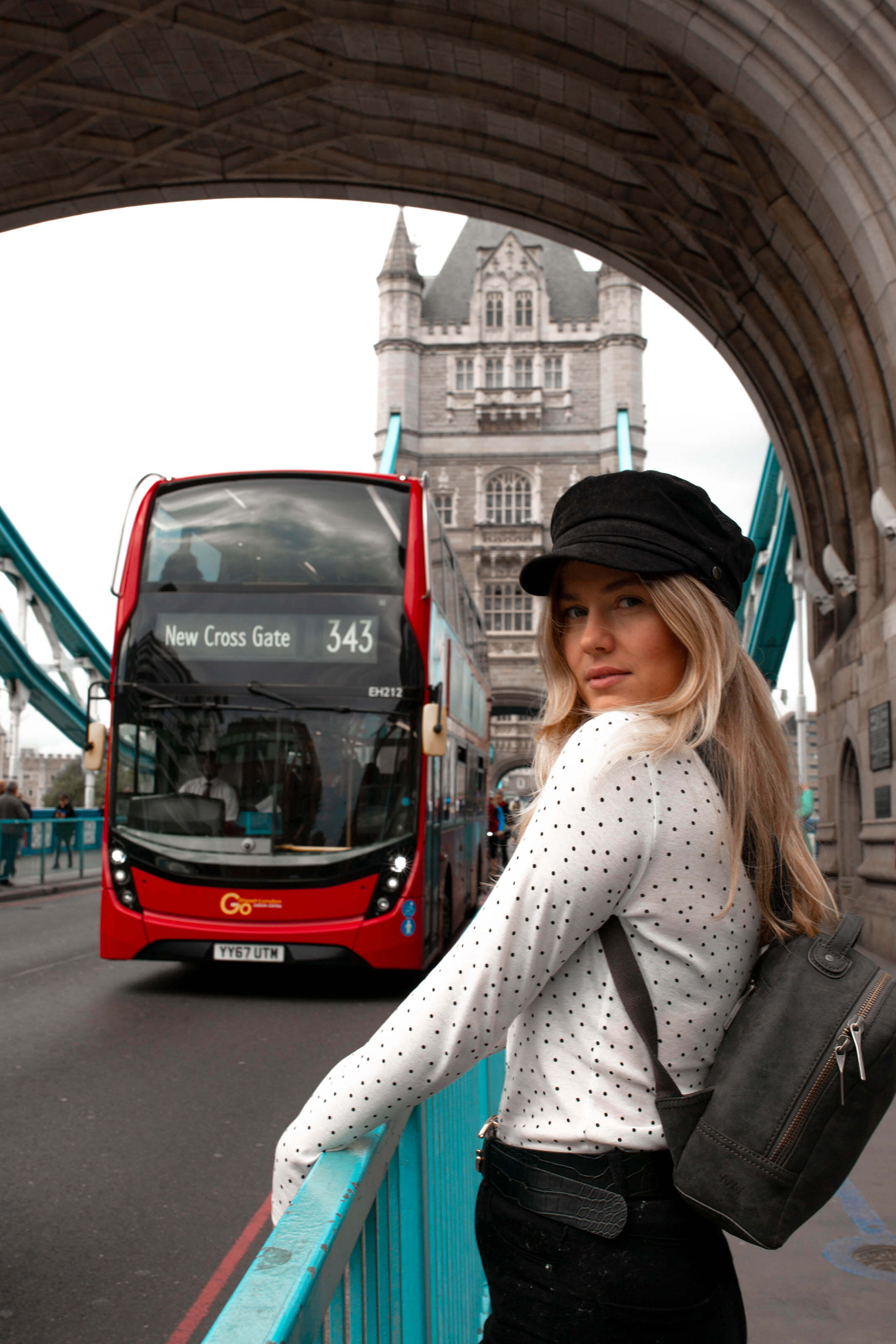 Trains / Overground
If you're travelling on the outskirts of London there are trains that can often take you quicker or further than the tube. You can also take the train out of London to major airports, e.g. Trains from Victoria will take you to Gatwick in 30 minutes.
Note: You can use your Oyster card on the overground within the city zones, but not further out to the airports.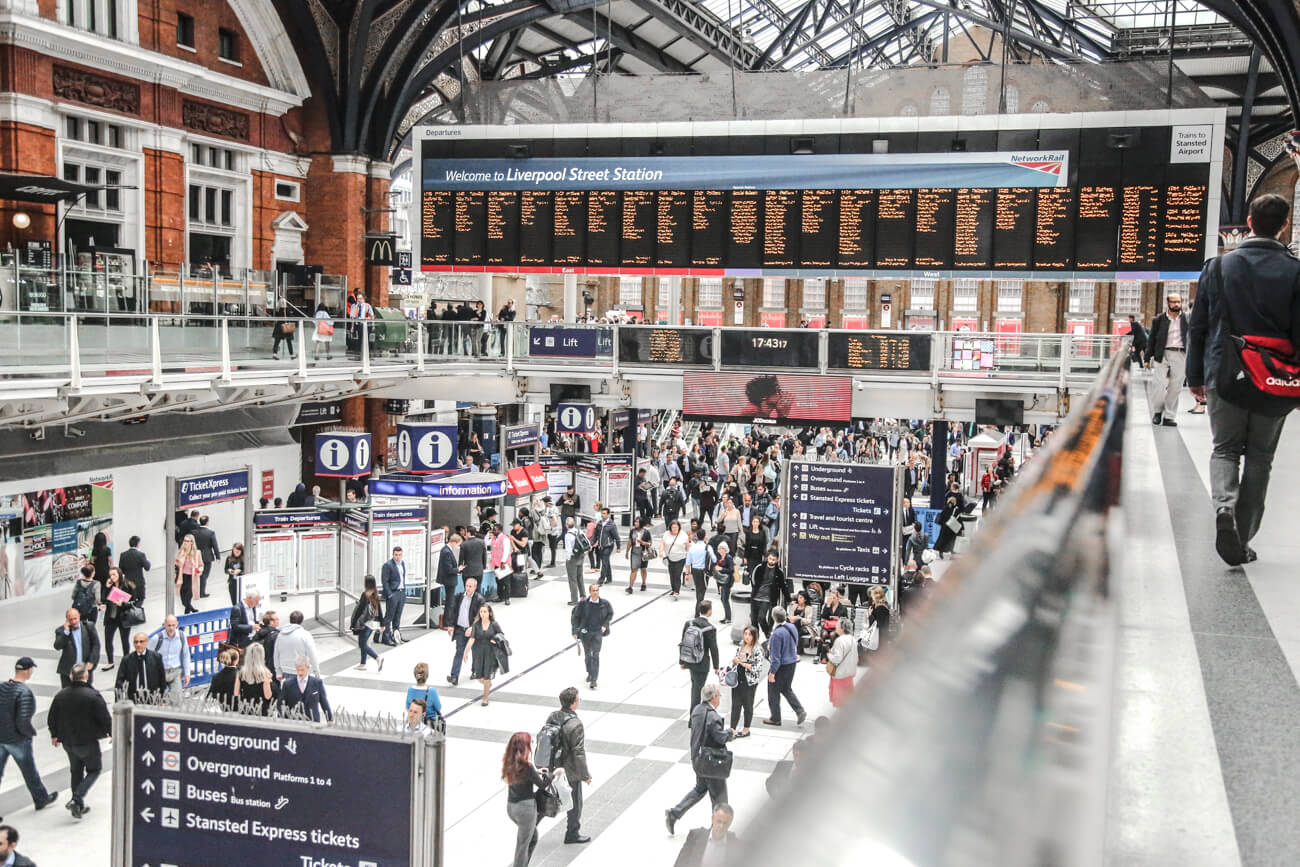 With the congestion charges, traffic and chaos that come with this big city, I don't recommend driving around London. But, if for any reason you drive to Central London, you can download 'JustPark' for cheap parking options. Park up and then walk or use transport.
And the big question…
What should you do with your time in London?
If it's your first time then I would allocate one day to do the touristy stuff and get those long sought after iconic snaps. I would then choose another couple of areas to uncover for day two.
Here are some options…
Day one
Do my favourite walk – 'The walk you should not miss when you come to London'. Check out the post for full route details here.
On this walk you will witness a massive handful of the major landmarks, see them up close and personal, and cross off a fair few of your bucket list London photos.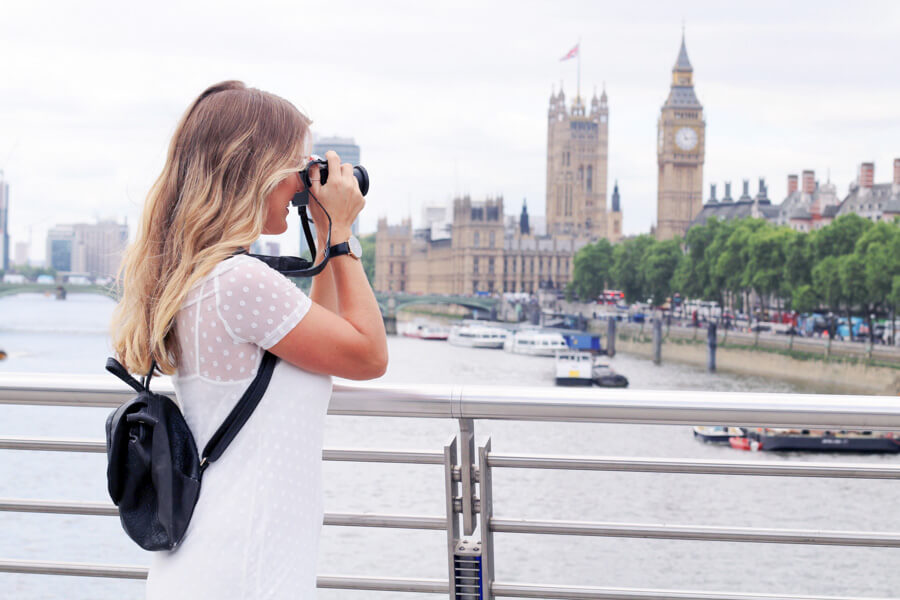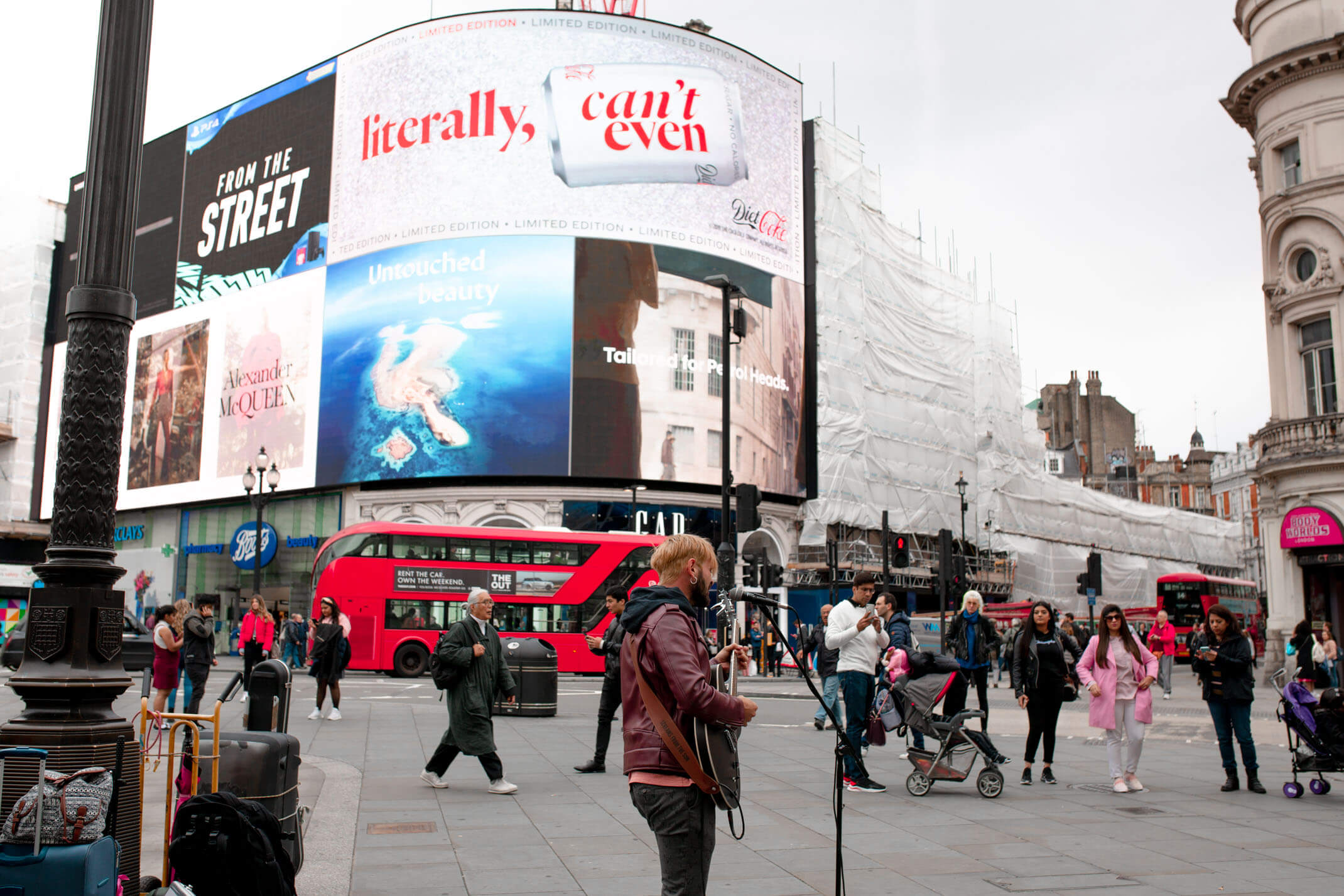 This walk can take anything from 2 – 5 hours depending how fast you walk and whether you stop for food, drinks and wanderings along the way.
If you get up early and finish the route by early afternoon, consider the following additions:
Watch a show in the West End
Go for afternoon tea. (The Ritz, The Savoy, The Sanderson, The Sofitel, and BB Bakery are some of my favourites!).
Go shopping in Soho, Regent Street and Bond Street and refuel with a coffee and cake in one of the many gorgeous cafes. See my coffee and cake guide to Soho here.
Watch a comedy show and have a drink in Leicester Square.
Day two
As previously mentioned, you cannot possibly cover London in a year, let alone the two days you have. For your second day, choose a neighbourhood (or two) to explore. My favourites include…
Shoreditch
This hippie, artsy, alternative corner of London (despite its growing affluence) remains one of the coolest, grittiest and genuine neighbourhoods in London. This is where I'll head for a gorgeous market stroll, brunch location or cocktail evening. Liverpool Street and Brick Lane are within easy access for two additional flip side experiences.
My Shoreditch bucket list for you:
Breakfast at Andina.
Old Spitalfields Market & Columbia Fields (flower market every Sunday).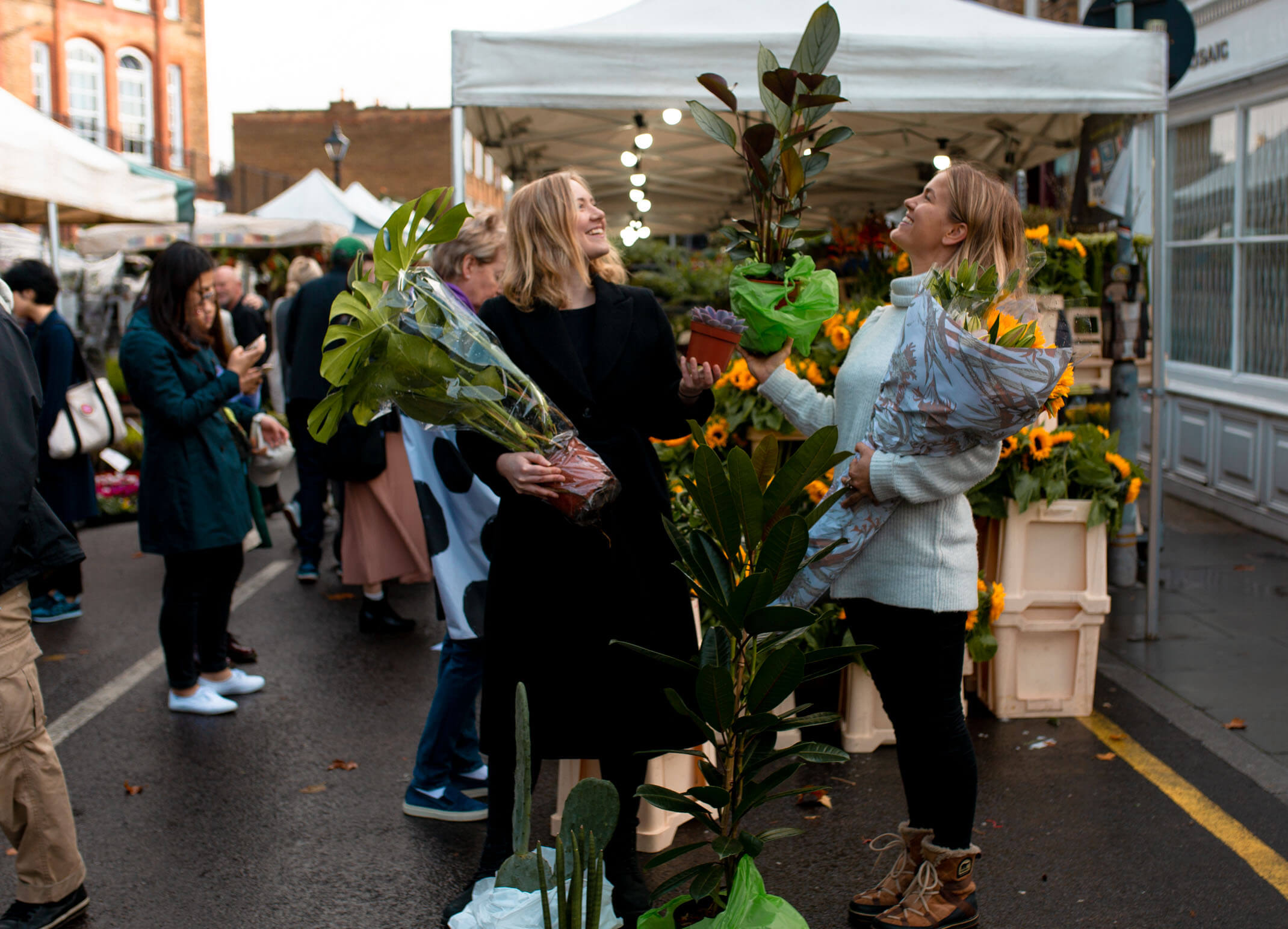 Camden
The land of free living. Or the closest you'll get to such in London. Residents and visitors both express themselves through every artistic way possible, be it through food, clothing, piercings, tattoos, street art, busking, clothing stalls or photography. I love it. Every time I go to Camden I encounter randomness, friendly souls and interesting sights, amongst some of the best food, drink and music in the city.
My Camden bucket list for you:
Head to the legendary Stables market.
Eat your heart out with delicious food from all over the world at Kerb Market. See my experience here.
Catch a gig or event at XOYO venue.
Dance the night away at Proud.
Hop on a river boat down the canal.
Walk along and eat lunch on Regent's Canal.
Eat your heart out in the one and only Cereal Killer Cafe.
Indulge in Afternoon Tea in the hidden cafe in the Market Library.
Check out my complete guide to Camden here.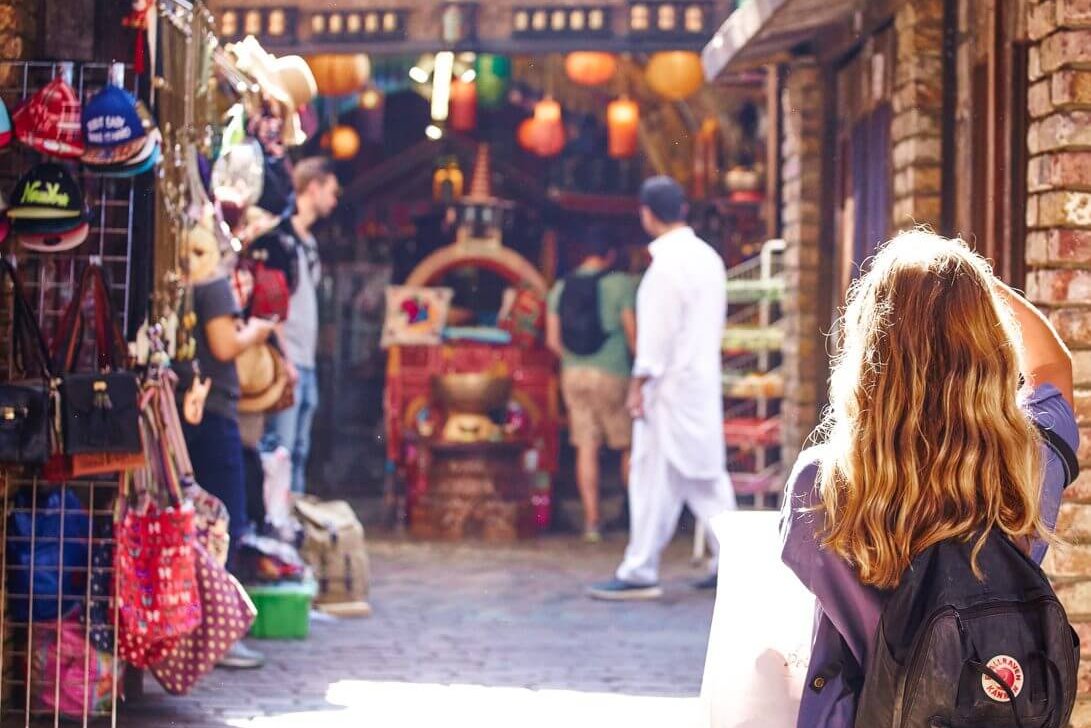 Notting Hill
Notting Hill is more than just the location for the 1999 classes staring Julia Roberts and Hugh Grant. Its streets are lined with dreamy, wish-list townhouses, gorgeous boutique shops, cocktail bars and brunch spots. Notting Hill is also home to the biggest street festival in Europe and hosts one of the most popular markets in London which blows up on Fridays and Saturdays.
My Notting Hill bucket list for you:
Portobello Road Market.
Go on a 'Notting Hill' film tour.
Take a picture with the pastel lined houses.
Shop in the gorgeous boutiques.
Have lunch at Daylesford Organic.
Attend Notting Hill Carnival (August Bank Holiday).
Catch a film at the Electric Cinema.
Dinner at West Thirty Six. See my review here.
London Bridge & Borough
Head to the top of The Shard for some of the best views over London. See my post here.
Munch your way around Borough Market. See my post here.
Browse the gorgeous shops in Hayes Galleria.
Hop on a Thames River Boat Cruise.
Hire Santander Cycles and ride across Tower Bridge and the Embankment. See my post here.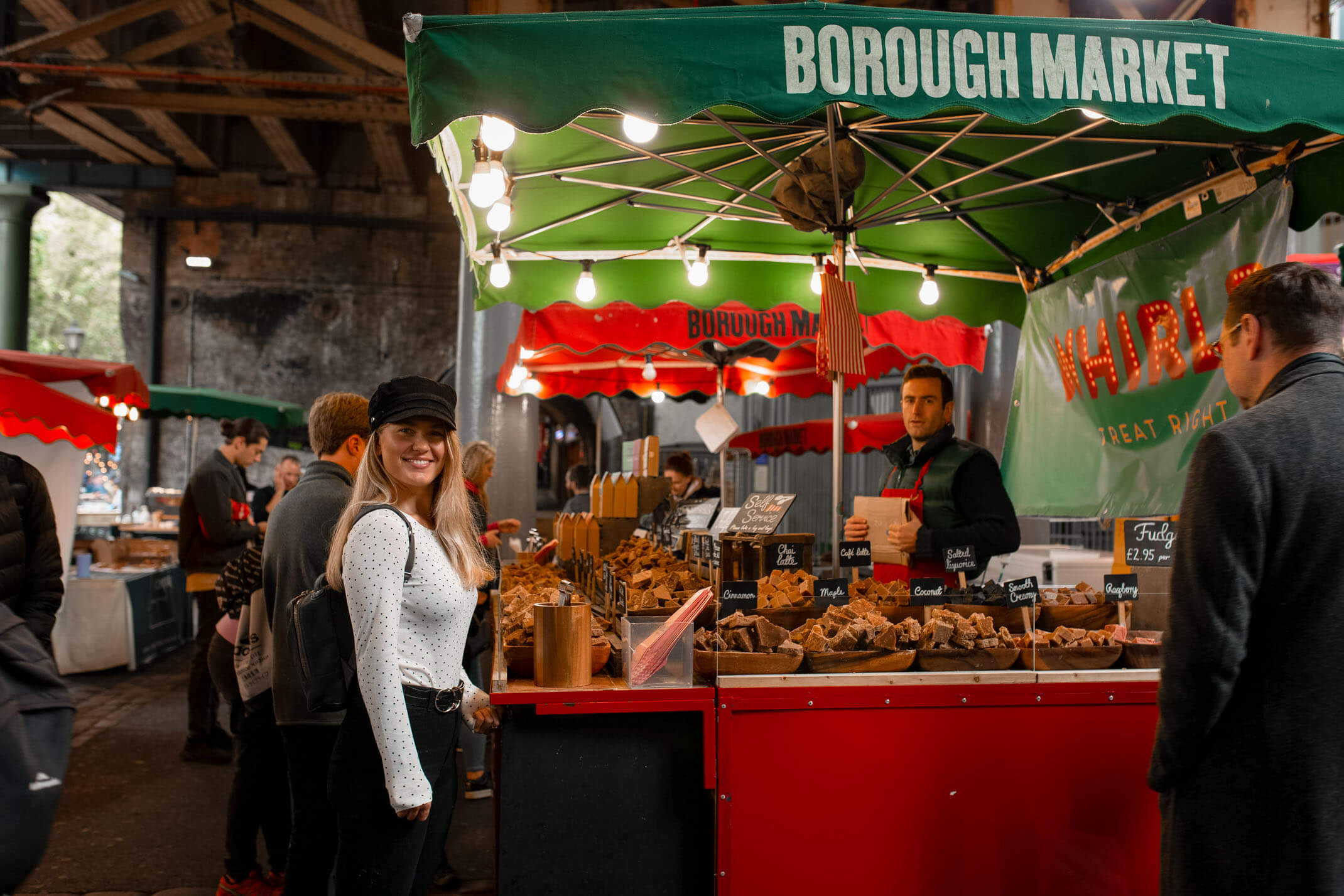 Covent Garden + Trafalgar Square
Watch the Street Entertainers in the square.
Grab a macaroon and cup of English Breakfast tea at La Duree.
Watch a show at the opera house.
Sip on a cocktail looking over Trafalgar Square at Vista Rooftop Bar. (Book ahead!)
Sit by Nelsons column and the fountains in the Square.
Walk along the strand and enjoy fine dining at The Savoy.
Hyde Park
If the sun's out, this is the place to be! Lounge by the lake and take down a picnic and a few drinks to share with your friends.
Soho
The food centre of London and home to many of the West End theatres, this neighbourhood covering one square mile is easily explored en foot. You have an abundance of shopsand nightlife to hand, with the popular likes of Bond Street, China Town, Piccadilly Circus and Covent Garden within walking distance.
My Soho bucket list for you: