Hanoi is a popular place to begin a Vietnamese adventure, with an international airport just half an hour drive from the centre, and transport links to airports and destinations all the way down the country.
For us, Hanoi was the final destination on our backpacking adventure navigating south to north of Vietnam and we loved it!
Hanoi is also a popular place to book onto trips in the north of Vietnam and a perfect place to depart from for trips to the likes of Mai Chau, Sa Pa, Halong Bay, or Ba Va National Park.
Unfortunately, due to only having 1.5 days to explore the city and all its beauty, I cannot promise to turn Hanoi inside out for you and give you as thorough guide as I would like. But, from the couple of days I did spend there and from the conversations I had with others, I can tell you exactly what I did do and what I would have done had I had more time in Hanoi.
A backpacker's guide to visiting Hanoi…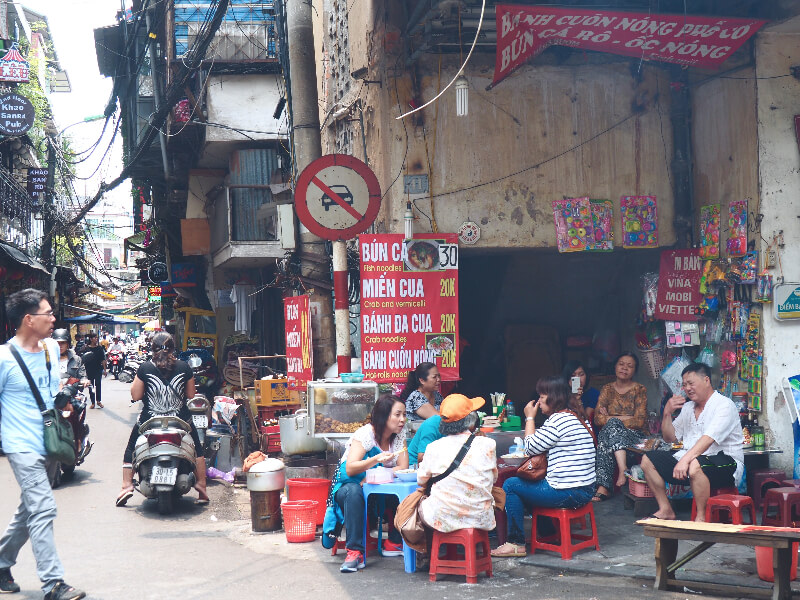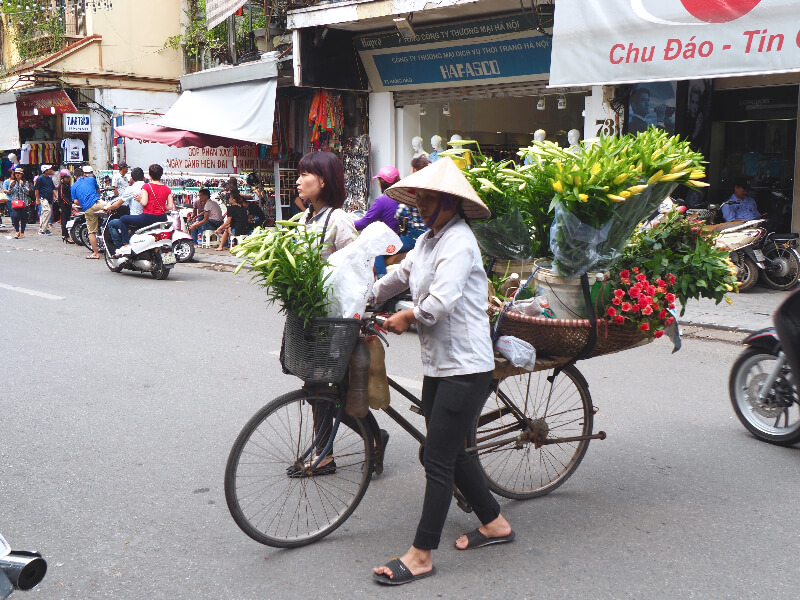 Getting to Hanoi…
Hanoi's main airport is Noi Bai International Airport, 45 km from the city centre, easily accessible from multiple international destinations!
Check flights on SkyScanner here.
If you're looking to arrive by train the main city train station is Ga Hà Nội, which is great for connections to other cities in Vietnam and South East Asia.
Getting from the airport to Hanoi city centre…
From the airport you have a few options:
Shuttle bus – The journey is 40,000 VND & takes 40-60 minutes. Two companies run shuttles – Vietnamese Airlines & VietJet.
City bus – Numbers 7 & 17 head towards the city centre, but check your route! They are cheaper (around 10,000 VND) but take longer (1h 15m).
Taxi – The most expensive option, at 325000-500000 VND depending on the company you choose and where you need to go. You can buy a 'taxi coupon' outside the terminal for 350000 VND to use with two particular companies, or you can choose a different company and pay after the journey.
Getting around Hanoi…
There are quite a few options for getting around Hanoi – it's a very compact city, full of transport. Popular options include:
Taxi
Motorcycle taxi (Xe Om)
Cyclo (about 20000 VND for an hour)
Bus (5000-10000 VND a ticket)
Be aware when you're crossing the road in Hanoi! Here in the capital of Vietnam, you will very quickly become accustomed to dodging, weaving and escaping the tracks of motorbike riders and their horns. Bikes loaded with items 5 times larger than the driver transporting them will pass you by, as you pass street food stands on every street corner with tables and chairs 5 times smaller than you are used to at home (in Europe, anyway).
Accommodation in Hanoi…
We stayed at Downtown Vietnam Backpacker Hostel (180,000VND for a bed in girls' dorm) located in the Old Quarter (Hoan Kiem District), an area of the city considered to be the business hub and the most popular with tourists. Check out my review here.
When we got in a taxi from Hanoi train station (when I nearly knocked myself out on a taxi boot) we actually asked to be dropped at Hanoi Backpackers The Original, as it's voted one of the best hostels in the world. But, our taxi driver had other ideas and instead dropped us at the sister hostel Downtown, which we actually turned out to love. So much so, we never felt the need to explore The Original (but I've heard it's amazing!)
Other hostels I've heard are good include:
Hanoi Rocks Hostel
Hanoi Party Backpacker Hostel
Funky Jungle Hostel
Box Hotel (not a party hostel but still in Old Quarter)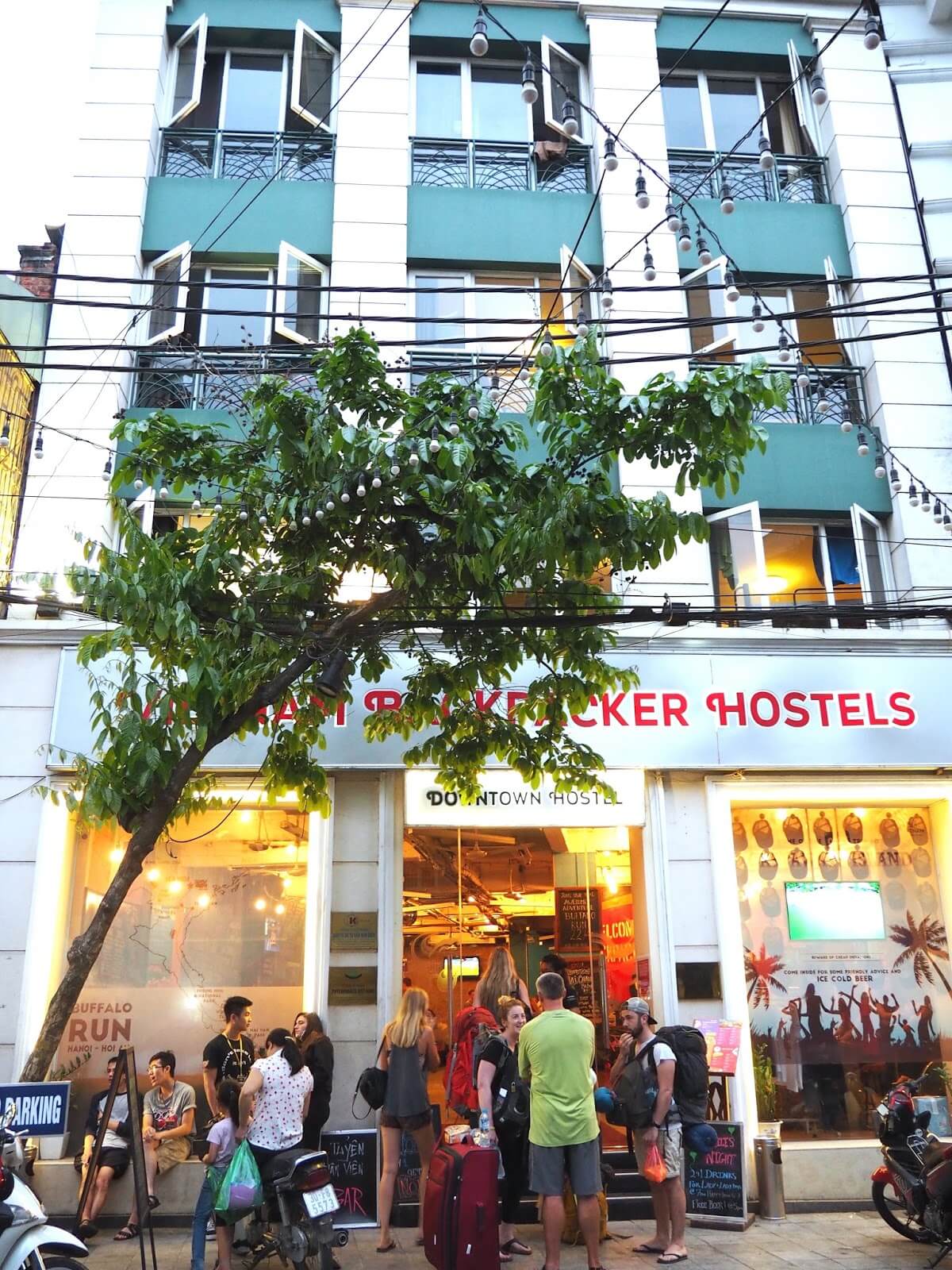 My top 30 things to do in Hanoi…
1. Get a shellac mani / pedi for a fraction of the price you'd pay back home.
At Orchid Nail & Spa I paid 360000 VND (£11) for the treatment, compared to the £70 I'd usually pay at home!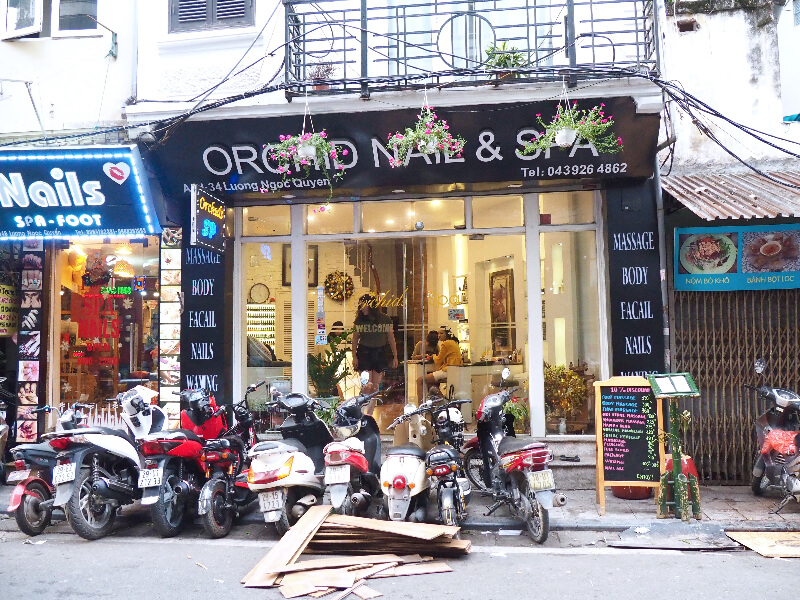 2. Go on a free walking tour of the city.
Hanoi Free Walking Tours offer full and half day tours of the Vietnamese capital. Although the tour is free, you are expected to give a donation to the guide if you think they did a good job.
3. Explore the themed backstreets of the Old Quarters.
Packed with French-colonial architecture and Buddhist temples, look up and take in the beauty in this jam-packed city. The streets are themed and named after the old businesses that used to or still run there, such as Herbal Medicine Street, Sugar Street and Dried Fish Street! The history in this part of the city goes back over 1,000 years.
Don't miss two spectacular buildings: St Joseph's Cathedral & The Ancient House.
4. Learn about Ho Chi Minh at the Mausoleum.
The revolutionary leader played a big part in creating modern Vietnam. Entry is free, too.
5. Eat the local street food.
6. Take a street food tour.
7. Enjoy sunset at a rooftop bar.
One for a treat yo'self night if you're on a backpacking budget, but the night skyline is amazing and well worth the extra pennies!
8. Take a Vietnamese cooking class.
9. Shop til you drop at Dong Xuan Market.
10. Visit the oldest pagoda in Hanoi, Tran Quoc.
Free entry and the lake is stunning at sunset!
11. Marvel at the 4km long mosaic wall.
12. Visit One Pillar Pagoda.
13. Visit the Temple of Literature.
14. Visit the Vietnamese Women's Museum.
Get a brief insight into the history of Women and traditions here in Vietnam. It's an easy to follow museum with plenty of character and a great way to understand the history of the city you are immersed in.
Open 0800-1630, Tuesday-Sunday. Entrance fee 30,000 VND.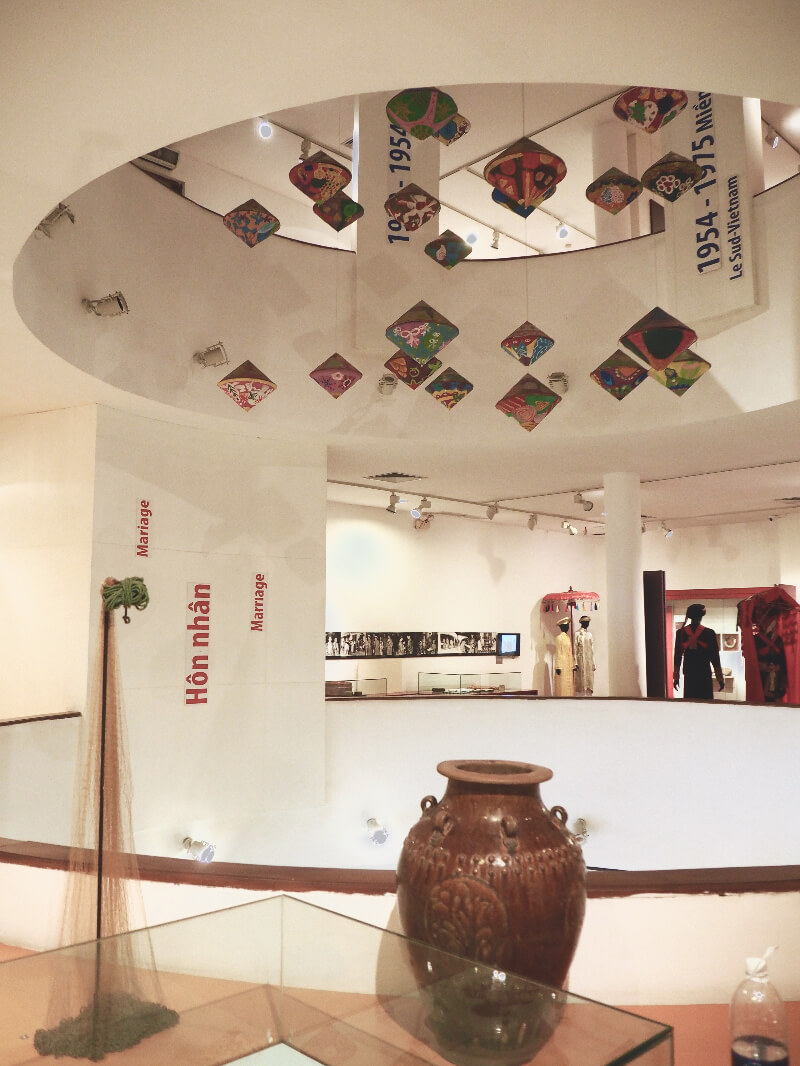 15. Enjoy the collaboration of different communities within Vietnam at the Museum of Ethnology.
Admission: 40,000 VND.
17. Try an Egg Nog Latte at Giang Cafe, where they were first invented.
See the full menu here.
18. Visit Ngoc Son pagoda.
19. Enjoy Bia Hoi with the locals.
This street beer is produced without preservatives, meaning it has to be consumed on the day and is only found in Hanoi and the surrounding area!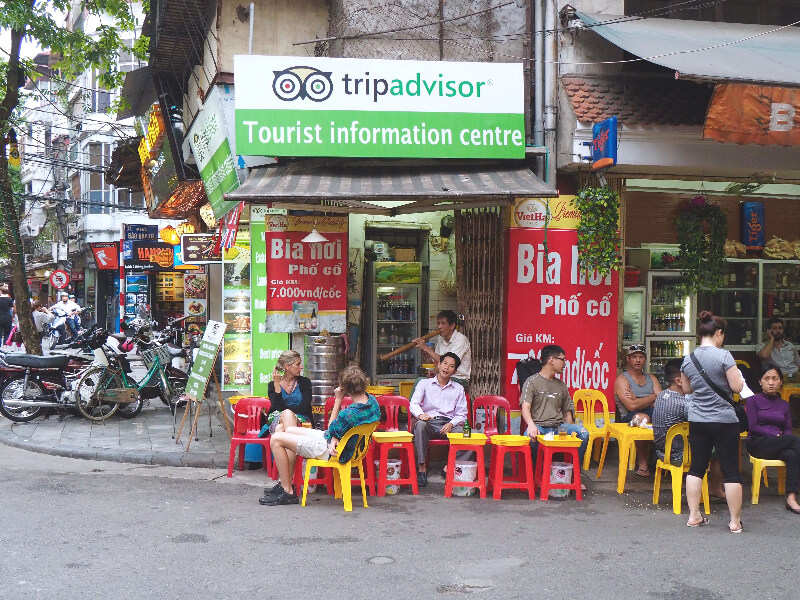 20. Spend a couple of days breathing the fresh air in the nearby mountain village of Mai Chau.
21. Take a trip to Halong Bay.
I went on the Castaway tour through Vietnam Backpackers which was an epic party trip!
22. Do a ceramic workshop in the village of Bat Trang and take your pottery home.
23. Try Pho.
A very simple dish lined with a hot broth and filled with rice noodles and your choice of chicken, seafood or beef amongst an array of garnishes. Vietnam hosts a lot of rice, pasta and bread based dishes so I loved the lightness of this dish and often had it for breakfast!
25. Watch a Thang Long Water Puppet show.
Get tickets to watch this traditional art form here.
27. People watch with a Vietnamese coffee or smoothie from a stand.
If you don't want added sugar in your smoothie then tell them – they may automatically add it!
28. Say hello to the sacred tortoises at Hoan Kiem Lake.
Hoan Kiem Lake is a surprisingly tranquil spot sat right in the centre of the madness. Here you can walk around or enjoy a peaceful lunch or coffee overlooking Jade Island and the gorgeous pagoda it is home to in the middle of the lake.
We went to Cafe Thûy Ta where we had some yummy Vietnamese coffees but I also heard Avalon Cafe Lounge is another fab spot that has an elevated view over the lake!
29. Peruse all the street stalls looking for souvenirs as you go from place to place.
30. Get caught up in the hubbub that is Ta Hien.
Ta Hien, a street in the Old Quarter, seemed to always be buzzing with people and is a perfect place to go to dine on some traditional dishes whilst still being in the centre of the action.
The restaurants, from what I saw, served pretty similar menus. In fact they might all even work together because our dishes seemed to be flying in from all directions! Be sure to try the popular Hot Pot: you're given a plate of raw meats and vegetables alongside a hot plate and sauce and you sit and cook it yourself to taste.