Volunteering in an elephant sanctuary was at the top of my bucket list for months, and during my backpacking trip to Thailand, I got to achieve my dream. Looking back now, it was definitely one of my most favourite travel memories.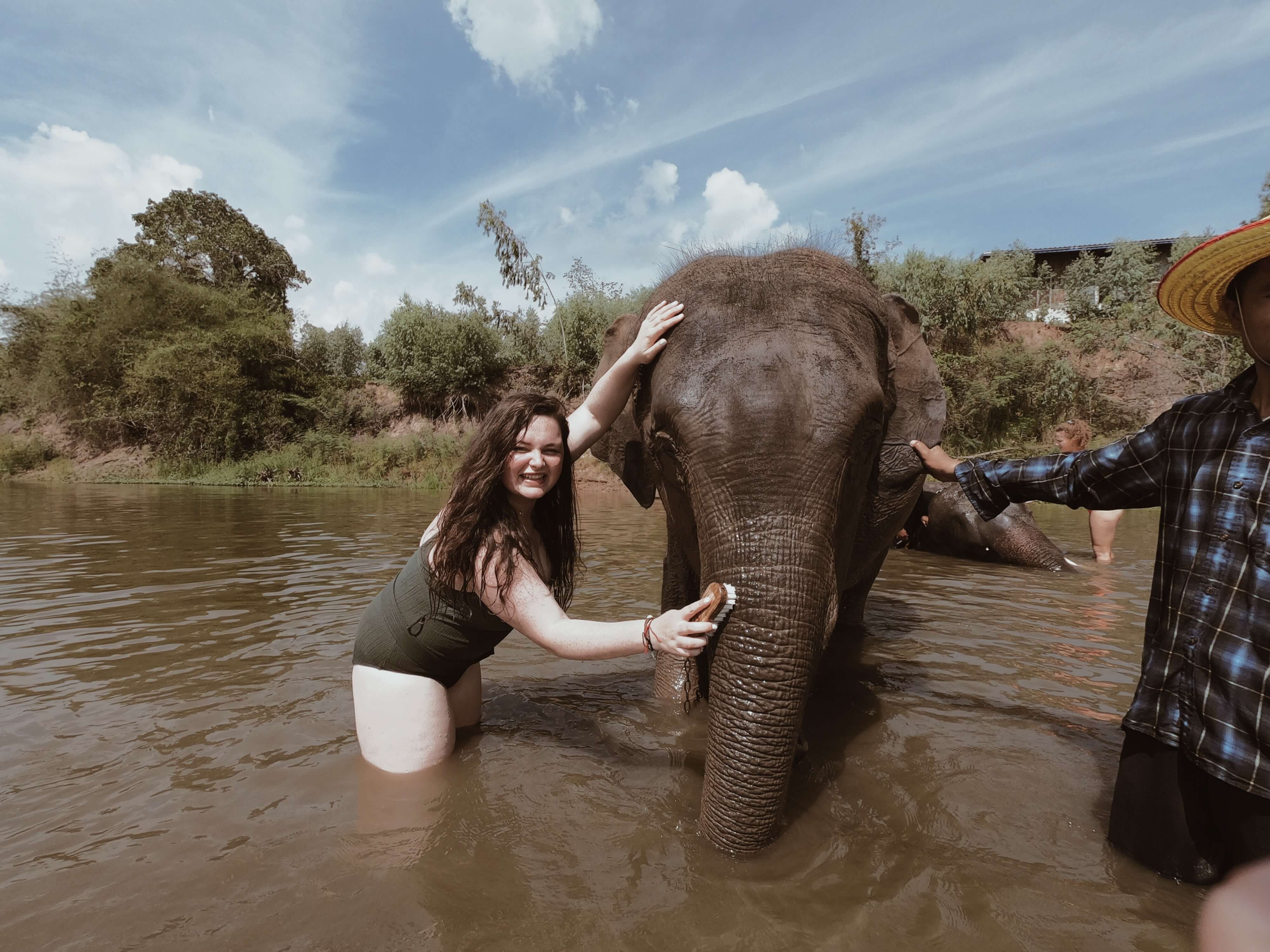 A bit of background on the elephant industry…
The "elephant riding" industry has been part of a lot of discussions over the last few years due to the increasing awareness of what really goes on behind the scenes. For many travellers, elephant riding and getting that perfect snap was at the top of their bucket list. However, this is a huge ethical issue due to the conditions and mistreatment of these elephants.
In Asia, a mahout (or in Thailand a kwan chang) is a (usually male) elephant owner, trainer and keeper. If the family buys an elephant, it costs approximately £48,000 initially, and then £480+ a month to care for the elephant. More often than not, elephants families go through the family business and a young boy will be assigned to a young elephant. As they both get older, they create a bond with the elephant, by caring for, tending to and training it for its whole life.
With the rise of tourism, traditional mahouts began to change. Now, often they just work in badly paid shift patterns for an elephant riding centre, rather than having a special bond with their elephant. With little income, they are often encouraged to work many, many hours with their elephant, in bad conditions. Many mahouts have been taught to use harsh training methods, with hooks and chains.
The boom in tourism has caused problems for both the elephants and the mahouts.
During my month backpacking through Thailand, I wanted to find a way that I could interact with these elephants in a more natural and positive way.
Instead of riding and exploiting elephants, many people are now joining elephant sanctuaries or elephant rehabilitation centres to help nurture and provide support to both the elephant community and the local community, both of which require help and support to thrive. These elephant sanctuaries are also able to work with the mahouts, showing them alternatives to the harsh ways of living with their elephants that they have become accustomed to.
I found a programme that entails a week of living with elephants that have been rescued from the tourism industry. I felt this was the perfect thing to do to give back to these gorgeous animals and their community, and still get that ultimate elephant experience.
What can you do to make a difference?
Firstly, educate your friends and family on the truth about elephant riding and help them make better choices.
Secondly, volunteer at an elephant sanctuary and witness these beautiful creatures in their natural habitat enjoying their peaceful life.
How do you volunteer at an elephant sanctuary?
You can choose to go to a sanctuary independently, or you can go as part of a programme. I did the latter.
The company I chose was Xtreme Gap Year, and I went on the 'Xtreme Thailand Experience X' month long experience which included this elephant experience. If you'd rather just go straight to Surin, you can complete the 'Thailand ethical elephant project' separately. The trip includes accommodation, all the activities and three meals per day.
If you'd rather go to a different sanctuary, or not through a tour operator…
How do you choose an ethical elephant sanctuary?
There are so many different elephant sanctuaries in Thailand and it can be overwhelming to try and choose one that claims to be ethical, when in reality they are not. Here are some tips how to select an ethical place to visit:
Do the sanctuaries allow unethical rides, or use bull hooks and chains? This is a clear sign they are not ethical.
Always read reviews online on websites like TripAdvisor, blogs, and comments on Facebook pages
Check out more sustainable tourism tips here.
Ethical elephant sanctuaries in Thailand (based on research in July 2019):
Mr Lee's homestay (where I was)
My 1-week itinerary spent volunteering in an elephant sanctuary in Surin, Thailand…
Where is Surin?
Ban Tahit (where my elephant sanctuary was) is a village about 45 minutes from Surin, one of the northeastern provinces of Thailand. It lies close to the Cambodian border and is about a 6-hour drive from Bangkok.. Nicknamed the "elephant land", Surin is home to thousands of elephants. I was so shocked (in a good way) when were driving through the province. In nearly every back yard, there was an elephant. The majority of the locals in Surin owned and cared for an elephant as a pet, and it was so surreal to see.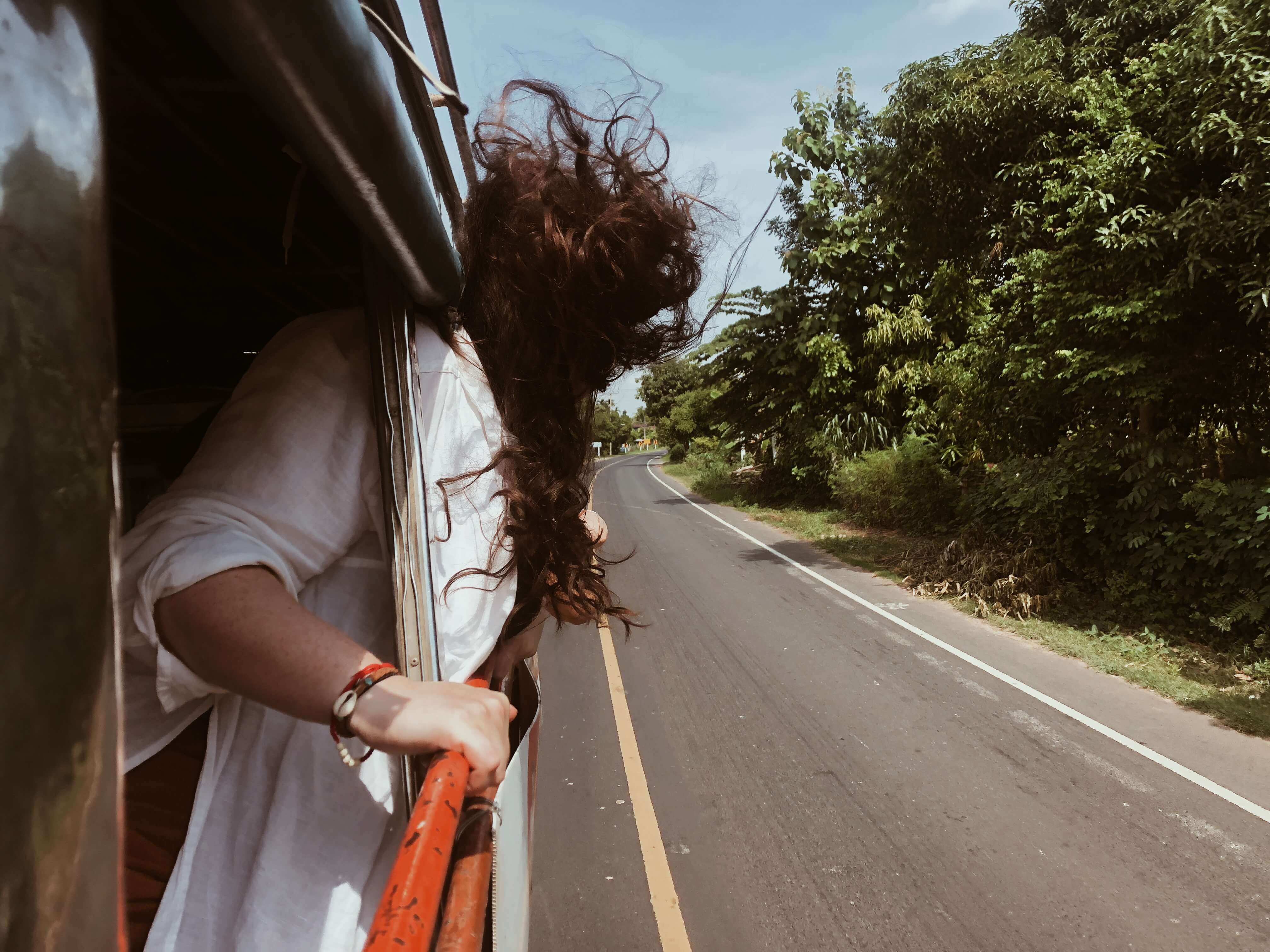 Day 1: Arriving at the elephant sanctuary and harvesting crops
After a chilled journey from Bangkok to Surin, the open aired truck brought us through the old and shattered roads of Surin cemented with footprints of all these beautiful creatures, children playing in the rice fields and every passer-by giving their biggest wave and smile. I already felt welcomed. You can really tell that the local villagers appreciate the help for both their elephants and village.
We arrived at our homestay and were welcomed with big hugs from the owners and their work crew.
Meet Mr. Lee: our homestay owner, host and mahout to one of the elephants!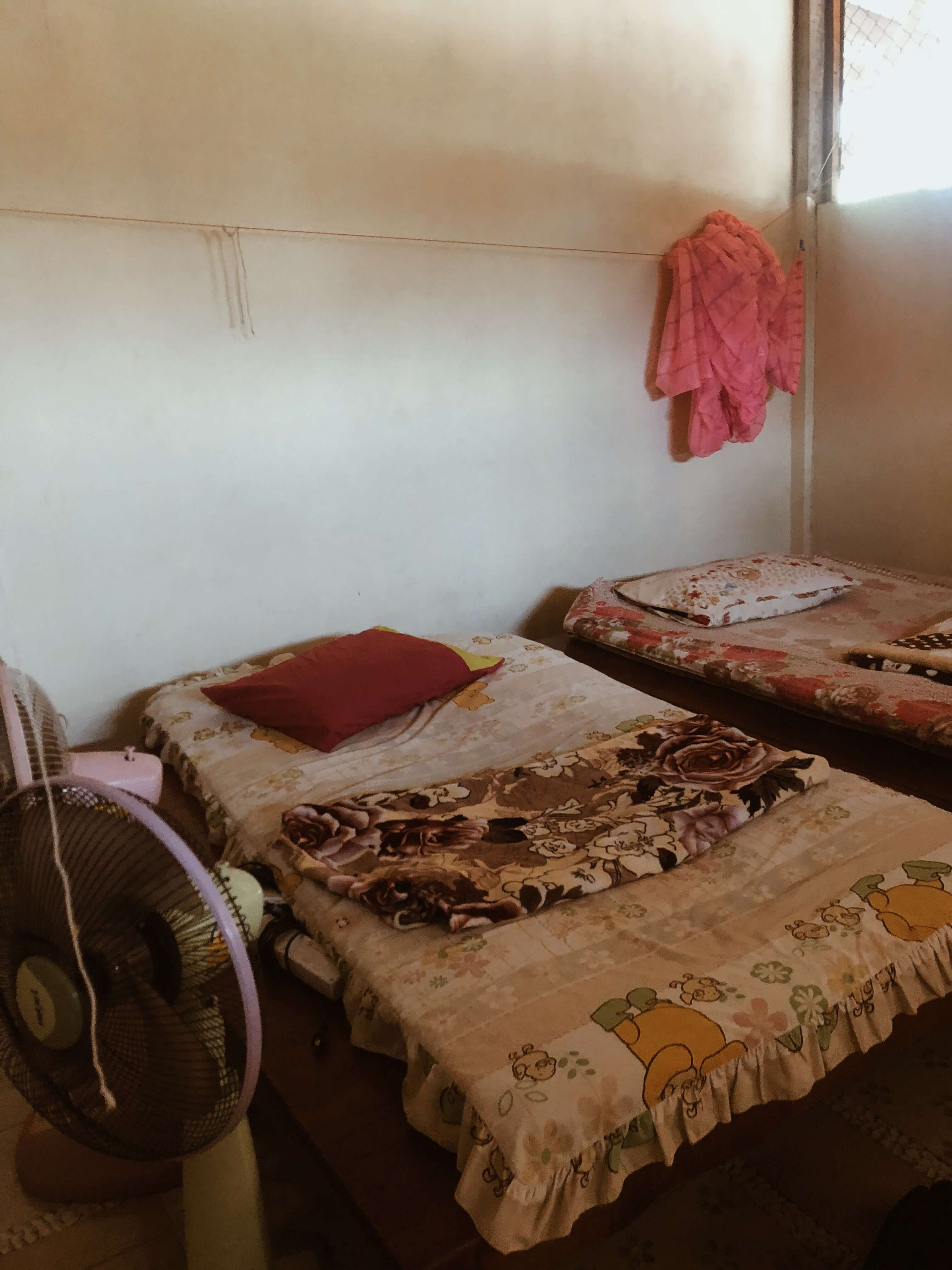 Mr. Lee showed us our rooms and, I was right not to expect a 5 star room… or a 4 star room. It was specified as a homestay, and a homestay is what we got. The rooms consist of 3-4 people per room, with a mattress, fan and mosquito net per person.
Pretty simple, and it's definitely a week that you leave your love for comfort at home!
I did a little exploring and looked out my bedroom window see Mr. Lee's elephant, Bw-ong-in. It was my first time experiencing an elephant up close and personal, and I will never forget it.
I was completely ready to immerse myself in the most hands-on experience I'd ever encountered.
After seeing our rooms, we met the other staff that would be looking after us during our stay, and Mr. Lee discussed the weekly agenda and what to expect.
First on the list was gathering sugarcane and banana crops from a nearby town to feed the elephants. I#ve always been one for getting my hands dirty and diving into whatever work needs to be done, so I was excited to help out!
We spent the hour cutting, chopping and lifting the sugarcane and banana leaves into the back of the truck, pulling together as a team and getting through the task pretty quickly. We loaded the truck, jumped on top of the crops and headed back to the village where we then fed the elephants the freshly harvested crops. You could tell they were SUPER happy to see us with all the yummy goods.
As the sun set, we were invited to enter the kitchen to give a helping hand and learn some new Thai cooking skills. The evening was then ours to kick back and relax in the hammocks, grab a beer from the local shop or spend the evening getting to know our new friends!
Day 2: Bath day!
My favourite day by far, and you'll see why! We jumped out of bed early and hopped back into the truck. Today was BATH DAY for our new friends. As a group we made our way to a huge lake, walking side by side with the elephants. The sense of calmness and the feeling of nurture was indescribable. You could tell the elephants put so much trust into their mahouts and volunteers. We were handed brushes and jumped into the lake.
The second the elephants touched the water they became really excitable, squirting water and playing roly poly. Their happiness radiated onto you and it was easy to see they were having a really good time.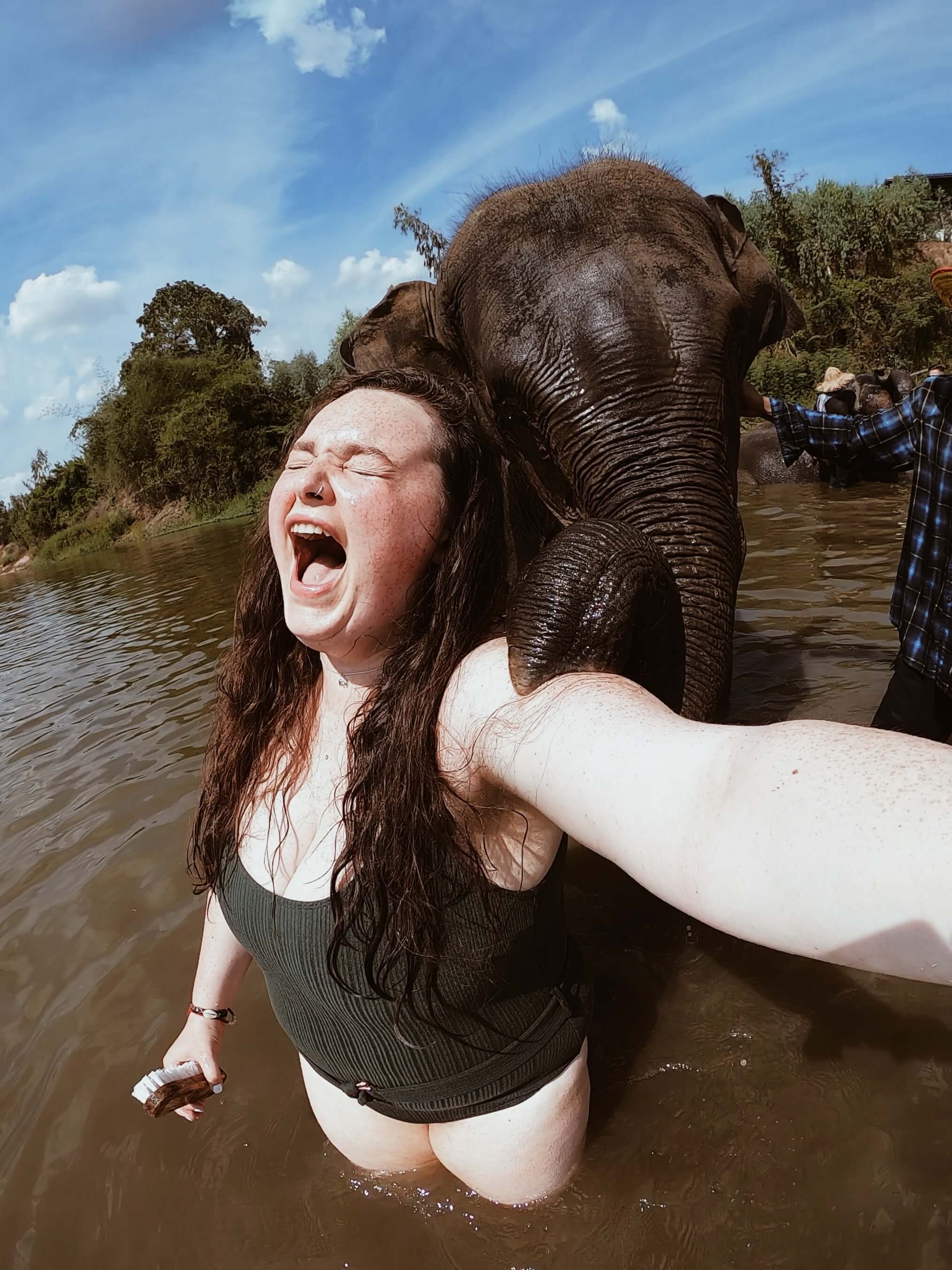 Day 3 & 4: Planting sugarcane with the villagers
We had an early start with a big breakfast because we had a big work day ahead. It's important that the village continues to harvest old sugarcane crops and banana leaves as a type of fertilizer for new crops to grow. It was our job to fill the truck and drop the crops into one of the fields from the project. With regular breaks and lots of water we spent the day harvesting sugarcane crops and replanting sugarcane, ready for new crops to grow. It was definitely a workout, but I found a new appreciation for how hard these villagers work to maintain enough food for their elephants.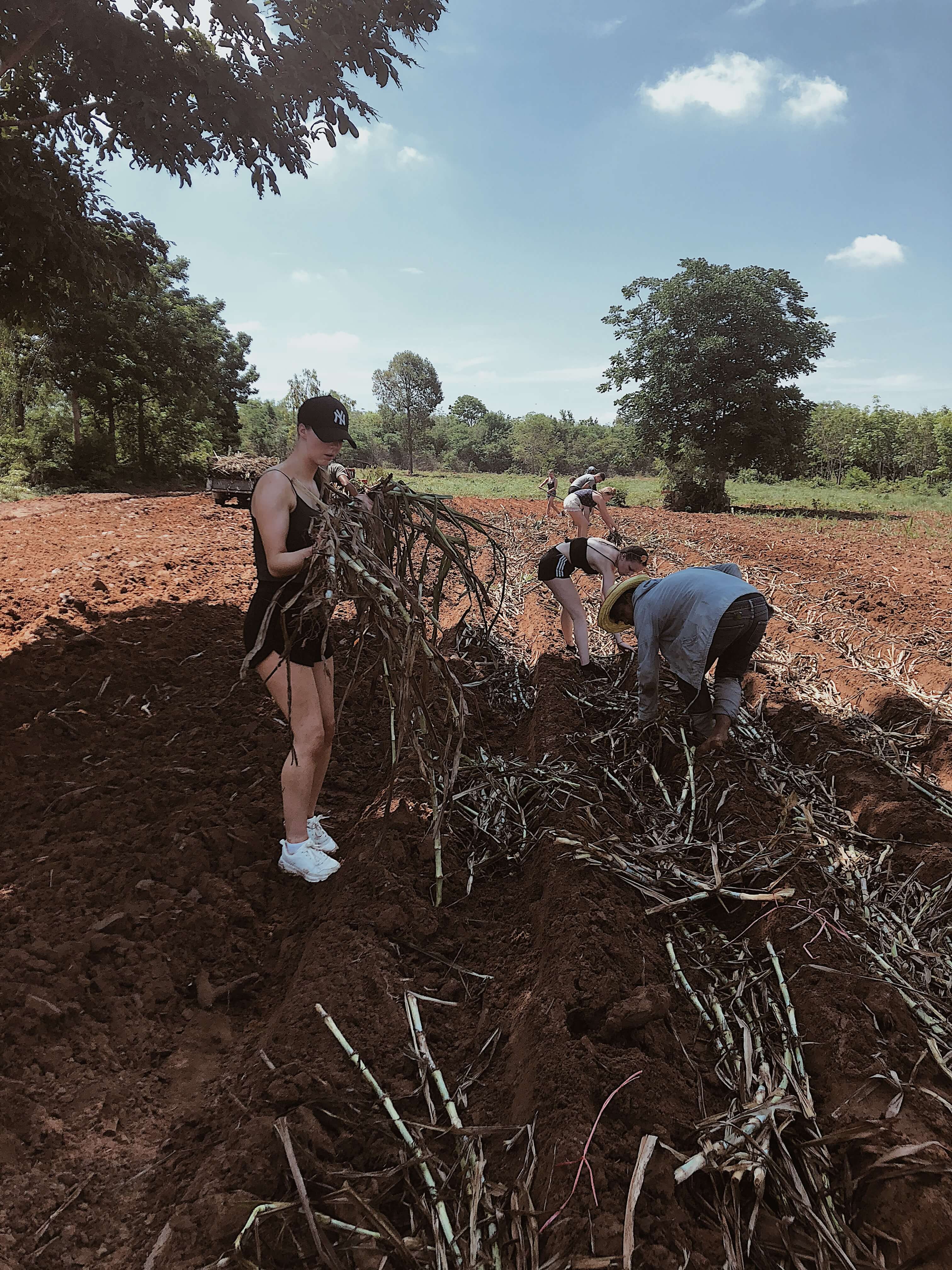 Day 5: Elephant poo paper day!
Yes, you read that right. We had to ask Mr.Lee to repeat himself a few more times just to make sure we heard him correctly, too.
The villagers have found a way to use their elephants' poo to create souvenirs and gifts that contribute 100% to elephant conservation projects. We really had to see it to believe it, but turns out the concept is a lot more fun than you think!
We spent the morning with the elephants cleaning out their homes and shovelling their poop into the back of the truck. I made the silly mistake of wearing white shorts that day. Let's just say I don't own any white shorts at the moment.
The process of making elephant poo paper began by standing in the poo to drain it. We then removed all the moisture, followed by bleaching to sterilize it. We hung it out to dry and voilà – elephant poo paper!
Day 6: Saying goodbye and a monk ceromonial street party!
We were lucky enough to experience one of the most authentic and craziest street parties I have ever witnessed. In Thailand it's often tradition that males will become ordained as a monk. The village invited us to take part in the ceremony which involved lots of dancing, hugs and drinks!
It was definitely an experience I will never forget!
I left Surin with a full heart and a very appreciative perspective on how the villagers love and respect their elephants. Going from only seeing elephants in a controlled space like a zoo, to seeing them roam free with their loved ones through the streets of Surin, really opened my eyes to how elephants should live. The village of Ban Tahit invited us into their home with open arms, teaching us not only how to care for the elephants, but how to make noodles from bamboo, how to tell your favourite stories well, and general life lesson on how to be a good human.
Have you volunteered in an elephant sanctuary?
Or at another organisation in Thailand? What did you do? I'd love to know!
Stay tuned for more of Robyn's adventures in Thailand!
Love as always + happy adventuring,
Did you find this post helpful? I'd love you to share it for me.
I can't do this without you.
Pin and save this blog post for later…