Thailand was the very first destination I ever landed in as an adventurer.
Straight out of my A levels and with just a backpack carrying the essentials, I landed in Bangkok for a 9 week backpacking experience. I was 19 and hadn't the faintest about the journey I was embarking on. 6 years later I've lost count of the amount of adventures i've been on and travel has changed and shaped my life beyond my wildest dreams. Thailand will always hold a very special place in my heart.
Anyway, the knowledge I have of Thailand is without a doubt out of date now so when my girl Robyn (works behind the scenes with me on Where's Mollie?) came back from her Thai adventure – I kindly asked to pick her brains so that we could create some fresh travel guides for you…
I remember the exact moment I decided that I was going to pack my things, book a flight and unravel one of the most beautiful places in the world: Thailand.
It was going to be my first time travelling to Asia and honestly, I had no idea where to start. The second I decided that I wanted to go for a month, the next question I had was, "How much money will I need?"
I had 6 months before my adventure to figure out my budget, work hard and start saving.
Nobody wants that anxious and unnerving feeling of running out of money while travelling so preparation is key.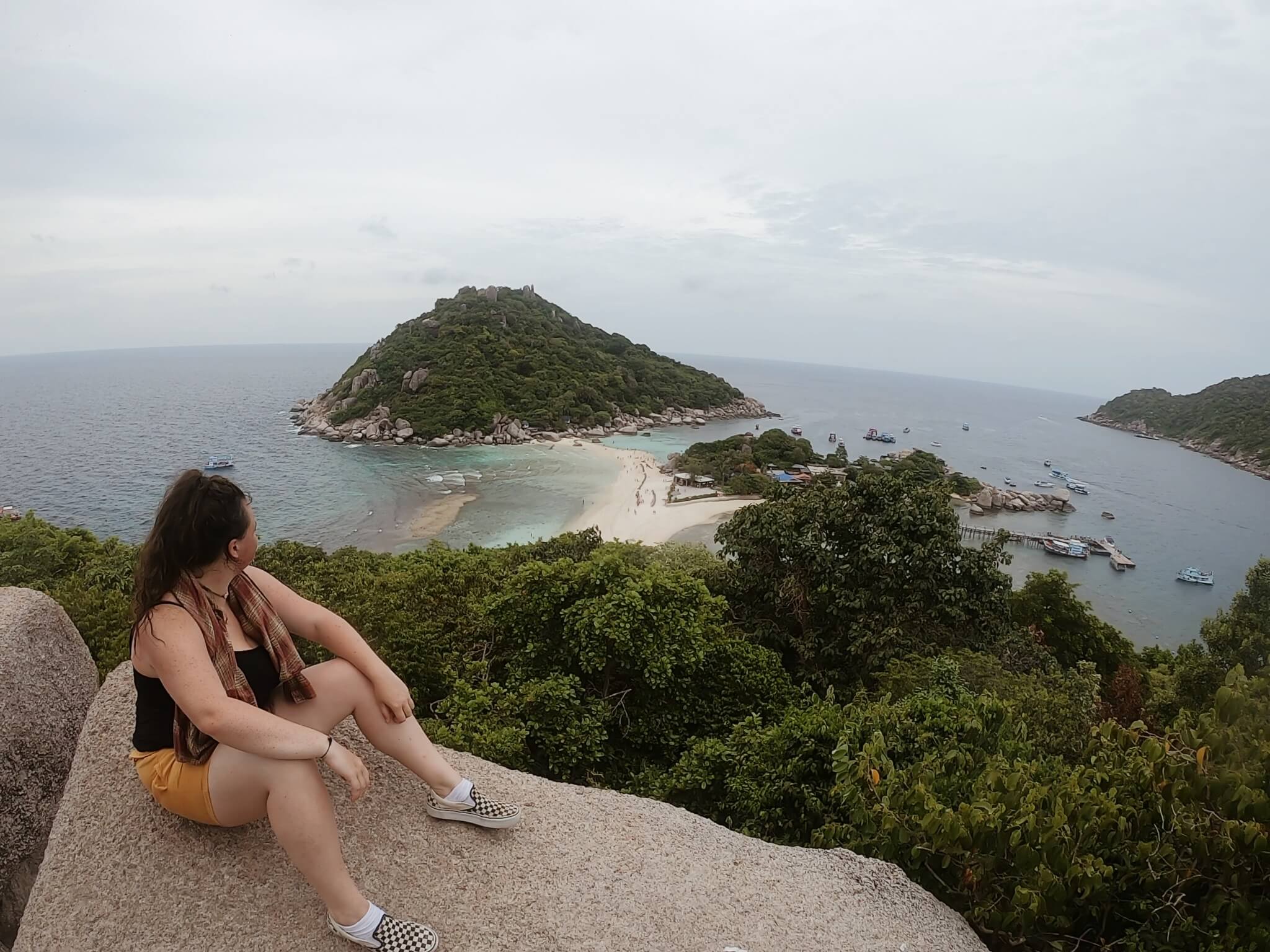 Your budget for travelling Thailand is completely dependent on you. You have to decide what type of traveller you want to be.
Will you be living in luxury or kicking back in hostels? Can you eat Thai street food for a month or would you rather indulge on western style food?
All these answers will result in how much you spend.
Basic Facts
Currency: Thai Baht (100 Thai Baht = approximately £2.60)
High tourist season = November to March
Things to consider in your budget
Your drinking and smoking habits

Whether you enjoy local cuisine or western food

What kind of activities do you enjoy? (e.g. beach day vs adrenaline junkie)

What kind of accommodation do you like? (e.g. hostels vs hotels)

Will you fly internally or take overnight trains?

The time of year you will travel (peak tourist season, or can you be flexible with your dates if you're willing to risk the weather?)
Where do you want to go in Thailand? (key tourist spots vs cheaper places off the beaten track)
Are you happy organising your trip yourself, or would you prefer a tour?
How much should I budget to travel in Thailand for a month?
Let's take a little look at what I spent during my time in Thailand and the average costs of flights, insurance and activities, to give you a better idea of what your Thai adventure could look like…
(These are the average costs that can act as a guideline. Costs will vary depending on the individual and time of travel)
Before you travel
Flights:
Dublin to Bangkok return – £446
On average, expect to pay £400-£600 for UK return flights you're booking at least a few months in advance.
Insurance:
One month annual gold insurance – £50.00
For a month's travel insurance for an individual in Thailand, you can pay anywhere from £20 to £200+ depending on what you want or need in your insurance package.
Medical Jabs:
3 travel injections – £66.00
The usual recommendations for injections are for Typhoid, Hepatitis A and Tetanus. You could also consider getting injections for Hepatitis B, Rabies, Cholera and Meningitis if you're staying in Thailand for a long time or going into more rural areas. Consult your doctor for more information.
Visa:
Free for 30 days.
If you want to stay longer, a single entry 3-month tourist visa is £25 and a multiple entry 3-month tourist visa is £125.
Communication during your travels
Once you arrive at Suvarnabhumi airport there are plenty of options to buy a sim card with internet data. I always recommend doing this, because:
You can't guarantee having free WiFi everywhere

It works out much cheaper than using your data from your local mobile (outside Europe),

It makes it very easy to get in touch with home if you need to share some exciting news, if you get a bit homesick, or if something happens and you need to contact someone in an emergency.
One month unlimited data plus sim card – £22 (840 THB)
Costs of individual travel:
Transport
Taxis & Tuk Tuks:
Taxi from the airport to Bangkok city: £12 (460 THB)

Different taxi / tuk tuk rides- £20 (700 THB)
Taxis: Download the app "GRAB" and pop in your location. It instantly gives you a set price. A single 30 minute ride can cost less than £3-£5. If you decide to flag down a taxi make sure they set the meter during the ride. Without the meter some taxi drivers will try and charge extortionate prices for short journeys.
Tuk Tuks: You will see them everywhere in Bangkok. Learn to negotiate with them and prices can be kept pretty low.
Internal flights:
Flight from Koh Samui to Bangkok- £100 (3800 THB)
I booked a last minute flight which increased the prices.
Trains:
1st class overnight train from Bangkok to Chiang Mai (meal, A/C) – £32 (1250 THB)

3rd class overnight train from Bangkok to Chiang Mai- £8-£10 (250-80 THB)
Buses:
Overnight bus and boat transfers from Bangkok to the islands: £34 (1300 THB)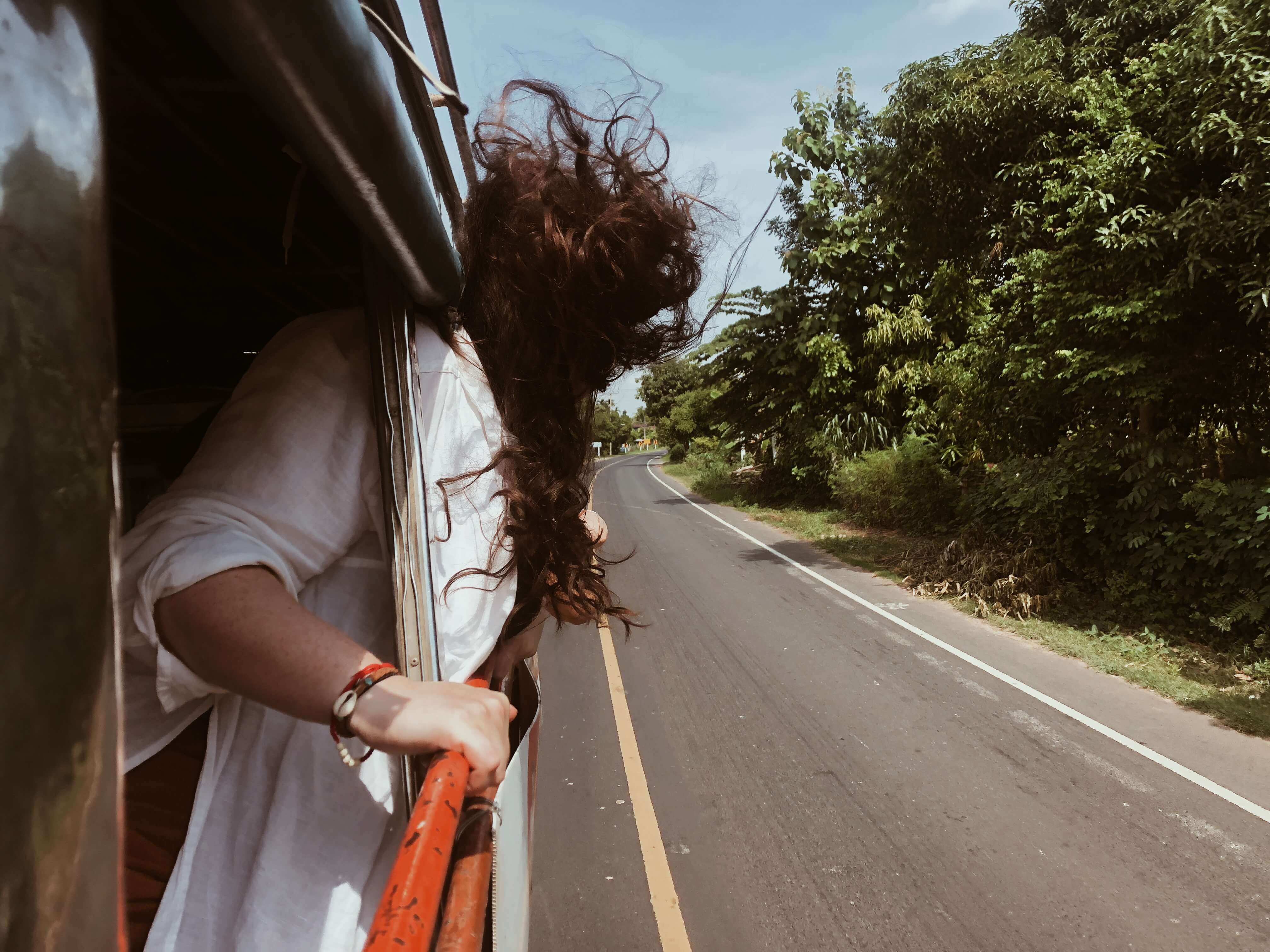 Accommodation
The great thing about Thailand is that there is something for everyone. From cheaper than cheap hostels to luxury resorts, there is always something to fit your budget.
Bed in a hostel: £4-£8 per night (150 – 300 THB)

Basic guesthouse double room with fan: £7-£11 per night (260 – 420 THB)

Basic guesthouse double room with air-con: £11-£15 per night (420 – 570 THB)

Luxury hotel room with fridge, private bathroom etc.: £30 -£60 per night (1115- 2290 THB)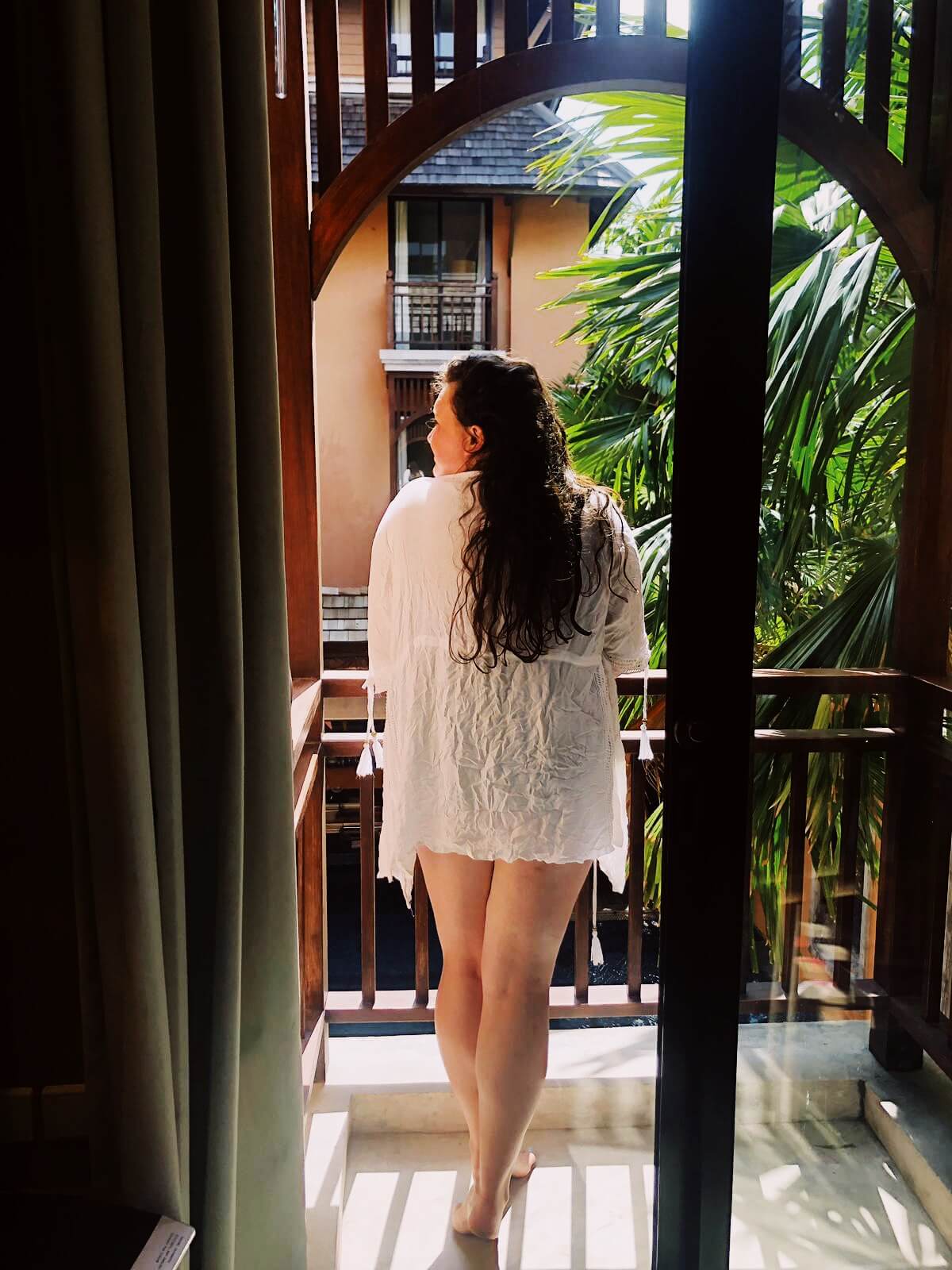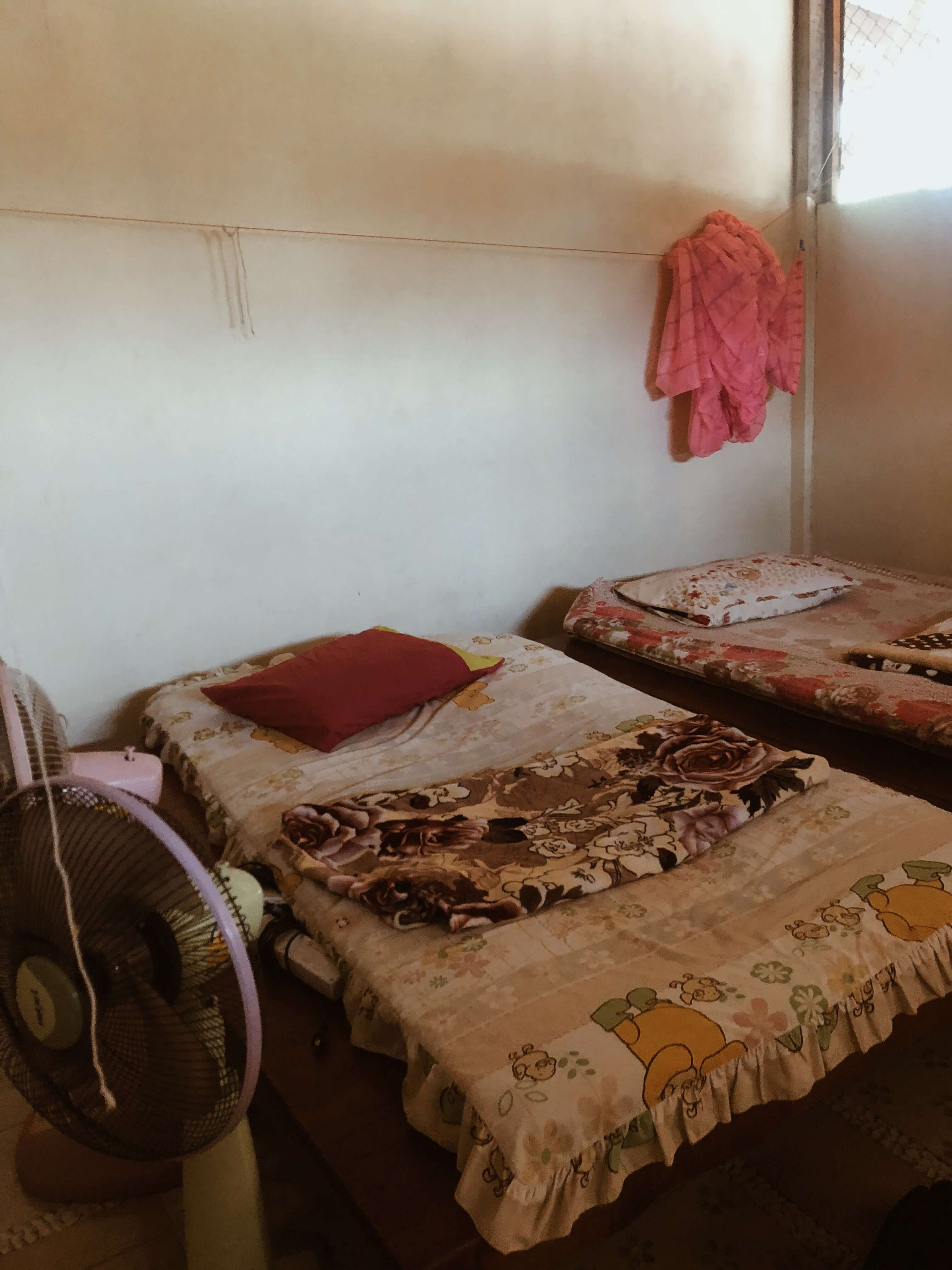 Activities
Bike rental per day: £3 ( 115 THB)

Jeep rental per day: £30 (1115 THB) – Great for groups of 5!

Paddle boarding in Koh Tao: £6 (230 THB)

PADI certificate training: £280 (11,000 THB)

Overnight stay at an elephant sanctuary: £100 – £130 pound (5,000 THB)

Full moon party ticket plus drinks: entry into the party £2.62 (100 THB), Drinks: £9 per bucket (350 THB)

Thai cooking class: £25 (1000 THB)

3 hour cycle tour of Bangkok: £24 (900 THB)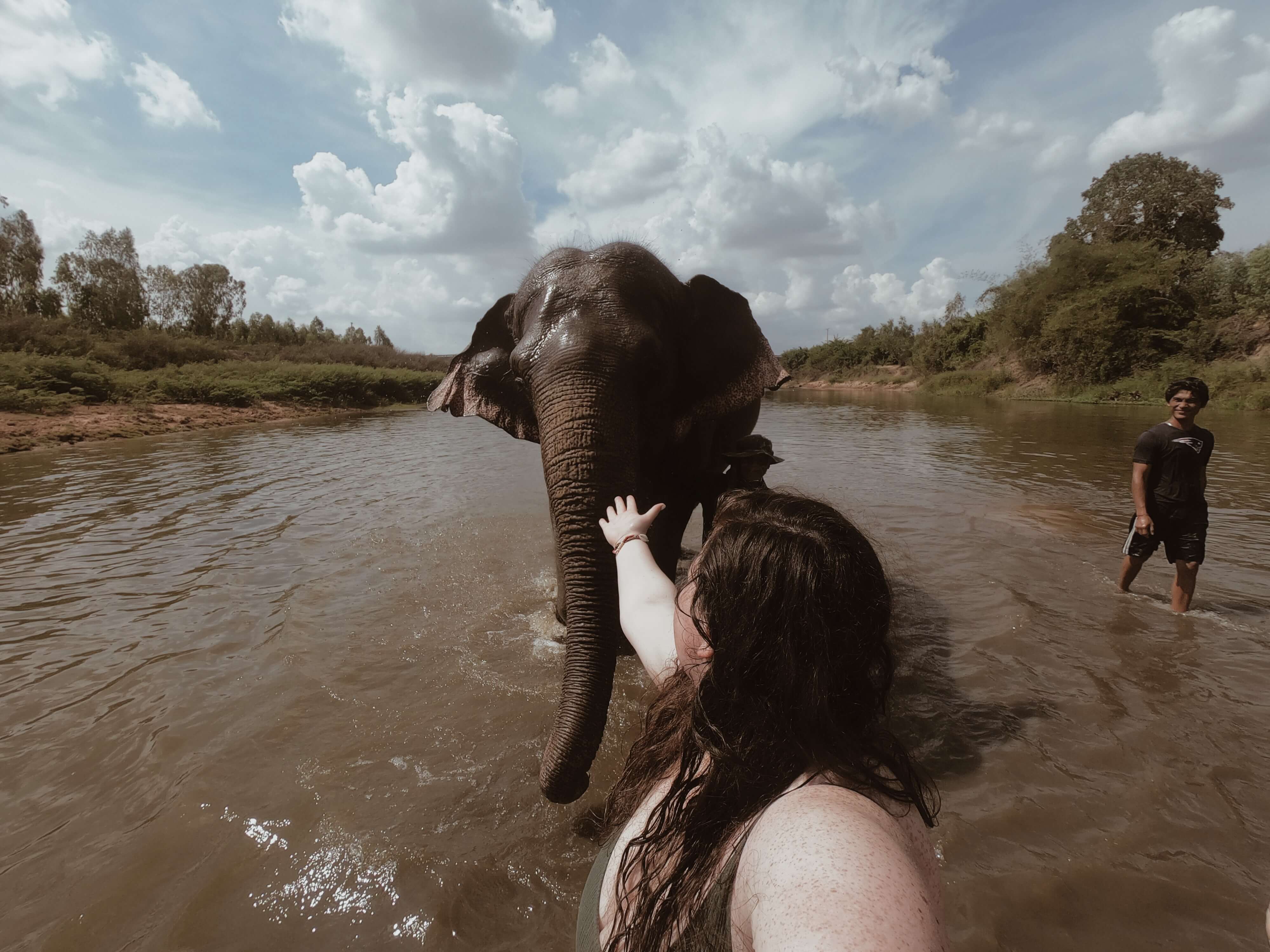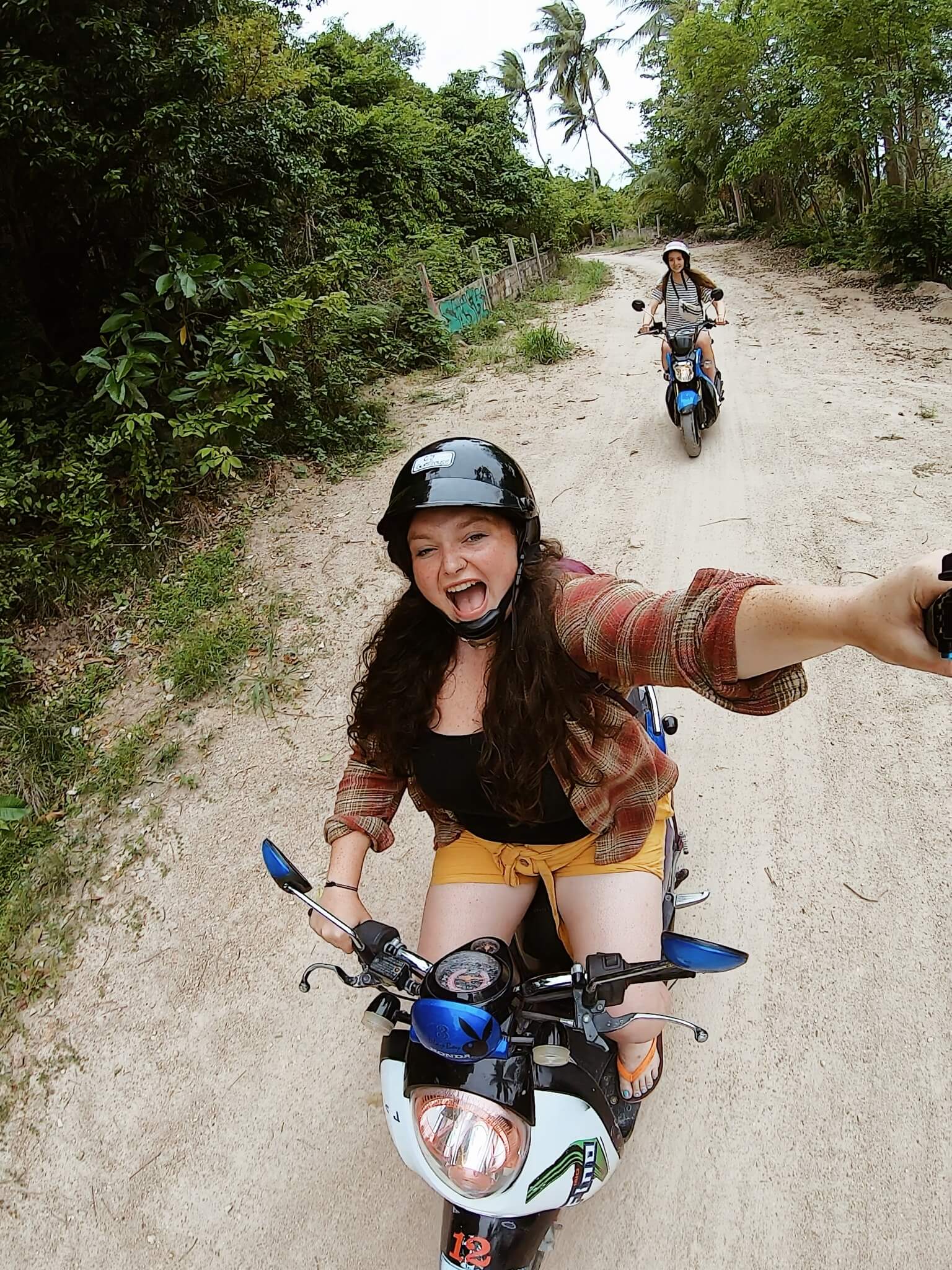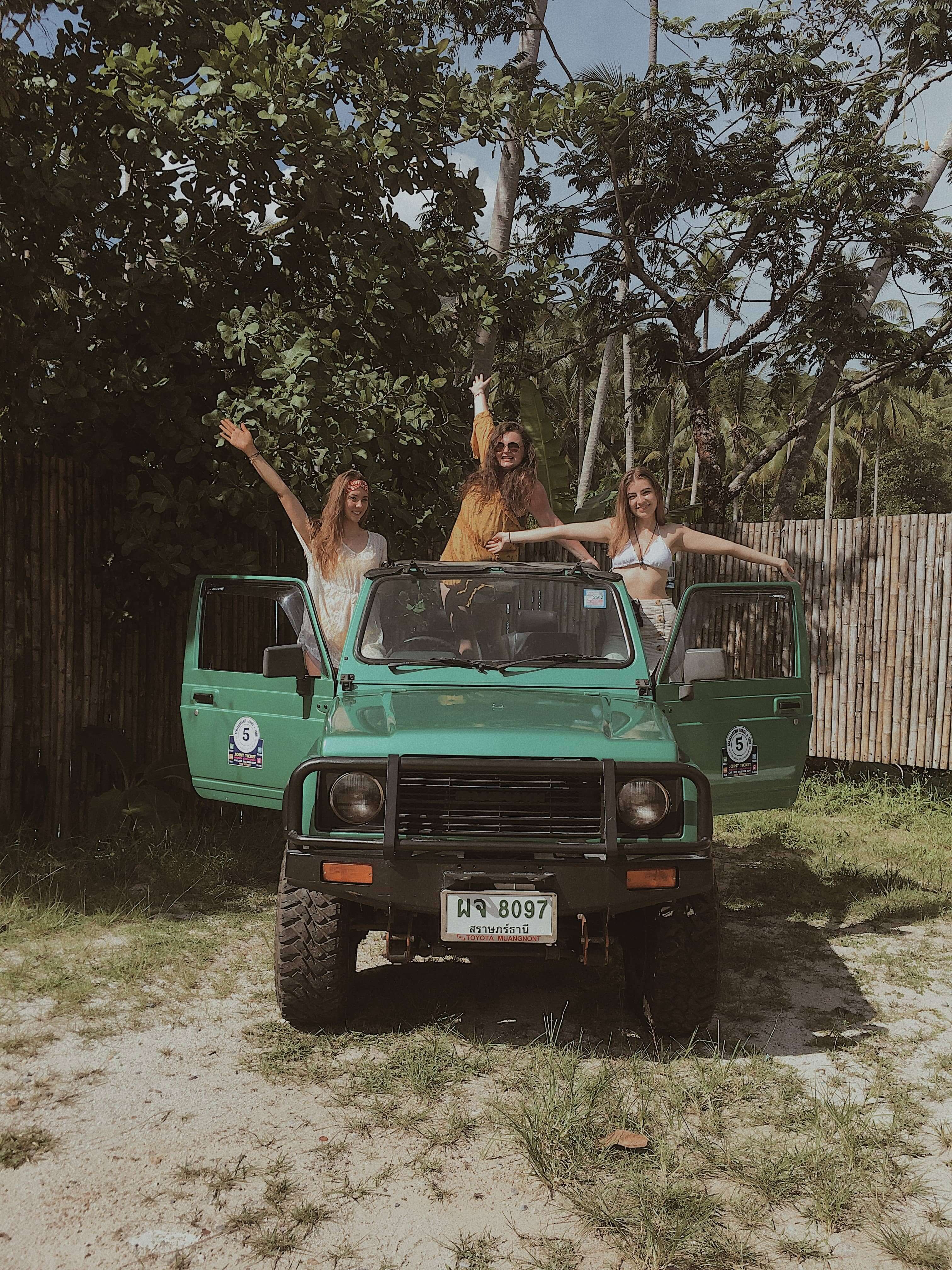 Food & drink
Once again your food and alcohol costs depend entirely on your preferences. I am a massive foodie so I indulged on eating out every single day, and ended up spending most of my money on food and alcohol.
I do not regret a single Pad Thai.
Alcohol:
I was pretty surprised at how expensive alcohol was in Thailand. If you do enjoy a drink or 10, then keep that in mind when planning your budget. If your budget is tight then I would stay away from alcohol.
A large local beer: £2.80 (100 THB)

One bucket (usually shots + mixer): £6-10 (220-500 THB)

Cocktail: £5-£8 (190 – 300 THB)
Food:
Stick to street food and Thai food. This will ensure to keep your budget low. If you don't fancy local food, there are western style restaurants, but these come with a price.
Street food: £1.30-£3 (50-150 THB) per meal

Western food: £5-£7 (200-300 THB) per meal
I would budget approximately £5 per day if you stick with street food and £10+ per day if you eat western food.
Group tour costs:
During my research before I booked my trip, I found a company called Xtreme Gap Year who ran a month long group tour called "The Thailand X experience". I really liked their itinerary and all the things included.
What I spent during my month in Thailand on a group tour:
Monthly Group tour : £1,540

Spending money: £800

Flights: £446
Overall cost incl. flights ≈ £2,800
Yes, at first it did seem like A LOT of money but when I looked into it, the price was pretty incredible for what was included. My spending money included eating out 2-3 times daily (both western and Thai), lots of different activities, e.g bike hire, and many nights out.
What's included in the group tour?
Meet & greet at the airport plus transfer from Bangkok to the hostel

27 nights accommodation, including guest houses, homestays, hostels and hotels

Breakfast during the first 2 weeks

All transfers between stays

Bangkok boat experience and city tour

Bangkok city temple tour

Jungle trekking in Khao Yai National park

Erwan waterfall hike

Kanchanaburi kayaking and adventure day

Paddle boarding in Koh Tao

PADI certificate training in Koh Tao

5-day stay in an elephant sanctuary – read more about my experience here.

Full moon party ticket entry

Overnight bus/boat transfer from Bangkok to Koh Phangan

Day tour from Koh Tao to Koh Nang Yuan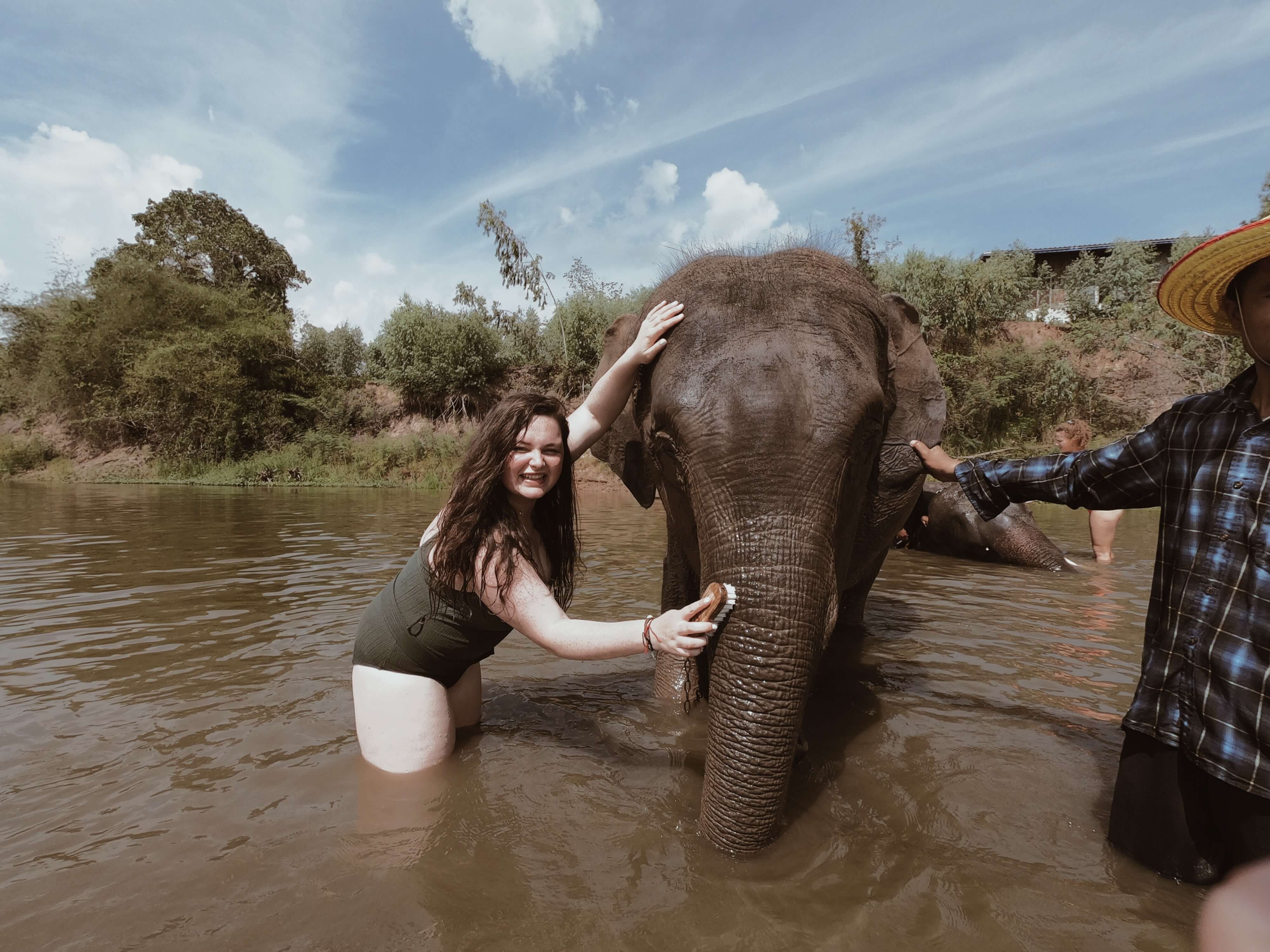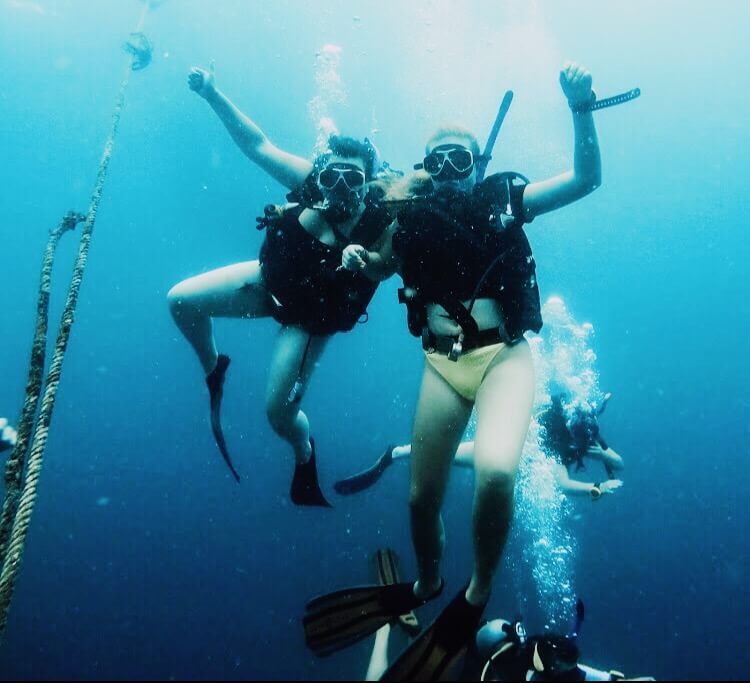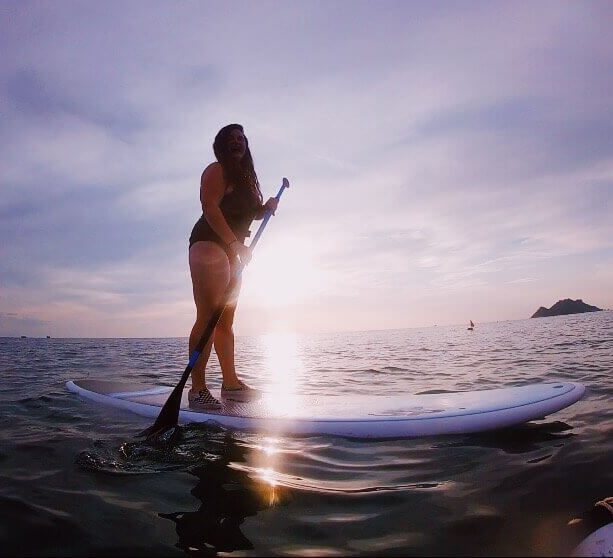 Final thoughts…
At the end of the day it is very hard to figure out how much money to budget for such a big trip like this. But, it is better to overestimate than run out of money. Personally, I really enjoyed the group tour and for my first time travelling Asia I do think it paid off. Plus it gave me the opportunity to see places and embark on many different adventures that I wouldn't have thought of myself.
I hope this post has inspired you to start saving for your next trip to Thailand!
Have you been to Thailand?
What are your top budgeting tips? I'd love to know!
Love as always + happy adventuring,
Did you find this post helpful? I'd love you to share it for me.
I can't do this without you.
Pin and save this blog post for later…