Another quick, cheap weekend away in Europe. You can't blame me though, can you? Adventure possibilities in Europe, particularly if this is the corner of the world you call home, are just too tempting to pass up. Short flight times, easy road trips, cheap competitive prices… it makes a weekend away so exciting and easy on the wallet. This time I chose Tallinn in Estonia to be our destination as I located some cheap flights, the journey was short and I'd heard only good things.
If you're planning a trip to Tallinn Estonia, this is your 48-hour travel guide. Are you ready?
A 48-hour guide to visiting Tallinn, Estonia
As soon as we arrived in Tallinn (Estonia's capital right on the Baltic Sea), the cobbled streets and quaint architecture made us feel like we had stepped straight into a fairy tale. The city, to this day, has a stunning medieval vibe and it's easy to forget what year it actually is. We stayed 2 nights and I think that was perfect, especially in the freezing, February weather. Though February was a cold month in Tallinn, I would still recommend going at this time as everything looks so pretty in the snow. If I were to return, I'd like to go for the Christmas markets and maybe as a dual-trip with Helsinki as it's very close to get to by boat.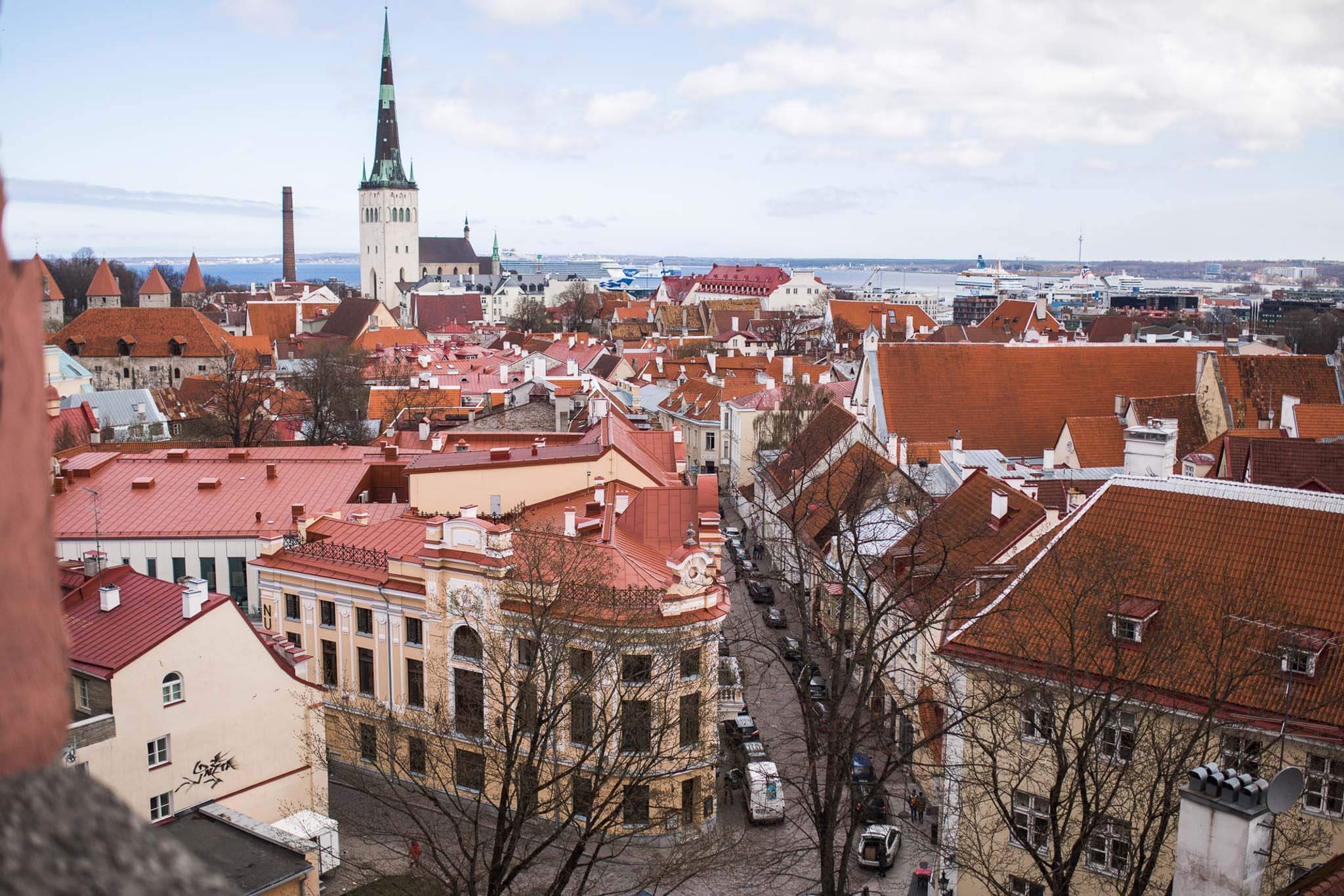 Getting to Tallinn, Estonia
From the UK there are plenty of flights flying directly into Tallinn with Ryanair, Easyjet and Wizzair usually being the cheapest.
The flight time is just 2 hours 45 minutes from the UK making Tallinn perfect for a quick city break or a great place to start when visiting The Baltics.
When you arrive to Tallinn airport, transport to the city couldn't be easier. Just hop on a tram and you will be in the city within 25 minutes. Or an Uber or local taxi costs about €5 at time of writing.
Once you get to the centre and begin exploring, everything is within walking distance so there's no need to get a daily or weekly transport pass unless you are planning to visit areas outside of the city.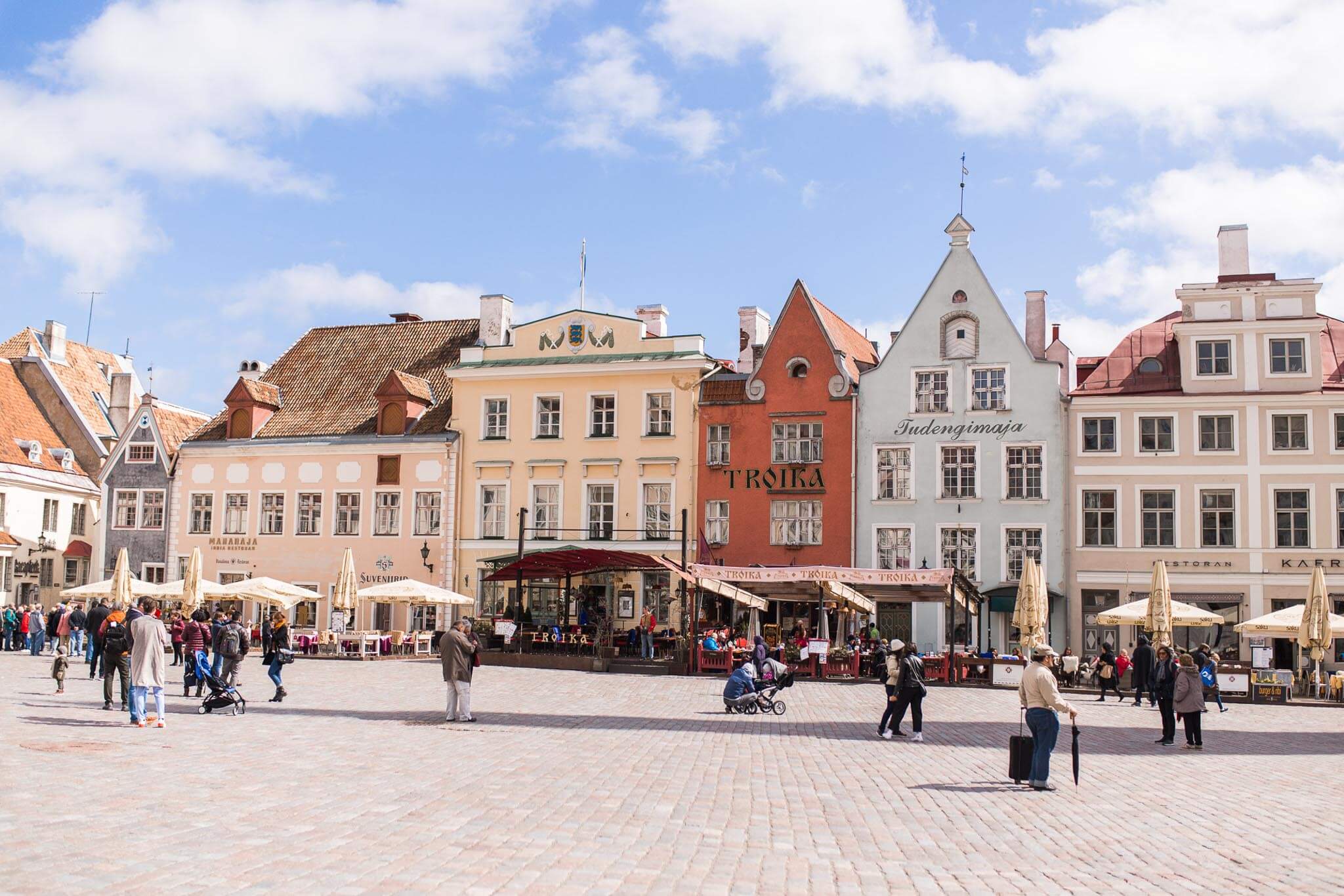 Accommodation in Tallinn Estonia:
We chose to stay at Old House Apartments based on recommendations and we were not disappointed. The room we stayed in had a sauna and open fire which is just what you need when it's -5 outside! The staff were super helpful and friendly and the apartment had everything we needed, we even stayed in one night to cook which was very cosy.
For a cheaper option, Red Emperor Hostel is great, location wise and has everything you would need for a quick trip away.
Places to eat and drink whilst in Tallinn Estonia
Everywhere we went this weekend we were impressed with so I've listed all the places I visited on my short trip and why it was amazing so you can take your pick…
Olde Hansa – Probably the most popular restaurant and features on most blogs about Tallinn, but for good reason. The place has a real medieval atmosphere with rustic food and huge portions, local ale is served in clay mugs and the only light comes from the candles on the tables and around the hall. We only went for lunch but saw a few people getting the medieval feast which consisted of around 20 different sharing dishes and looked absolutely delicious!
Peppersack – Go for the sword fights, stay for the food! Sword fights are every evening at 8pm, we'd already eaten when we arrived so just had drinks but seriously regretted it as everything looked and smelt amazing.
Secret Garden Club – This restaurant/bar/club sticks out from the rest of the city as it is very modern and sleek, the food is a mix of traditional and modern. I opted for soup in a bread bowl which was fantastic.
Draakon

– An authentic medieval pub, staff are in character, feels a bit like you are in a cosy cave, they have a very small traditional menu and I very much doubt they take card payments.

Beer house – Everywhere we go we always seem to end up in a German beer house! This place did not disappoint with live music, dancing, beer tasting and great sausages!
Labor – A very strange little bar we stumbled across where all drinks are served in test tubes, good for something a bit different and a bit of a boogie at the end of a night.
The Oak House Cigar Lounge – I have no idea how we ended up here! But my partner loved it. Hundreds of different types of cigars and whiskey (don't worry they do wine too) in a small lounge with a members club feel.
Epic coffee – Located in the old town with all the herbal blends and nut milks. They do matcha too!
The times we had lookout over Tallin – Pop 'Kohtuotsa viewing platform' into your Google Maps
Telliskivi creative city
F-Honne restaurant in Telliskivi – Order the Pumpkin and chickpea falafel with rocket-quinoa salad and cashew cream (G,L,V)
They had mulled wine everywhere!
Coffee / lunch at one of the main restaurants in the Town Hall Square (the main square pictured below with all the pretty coloured buildings)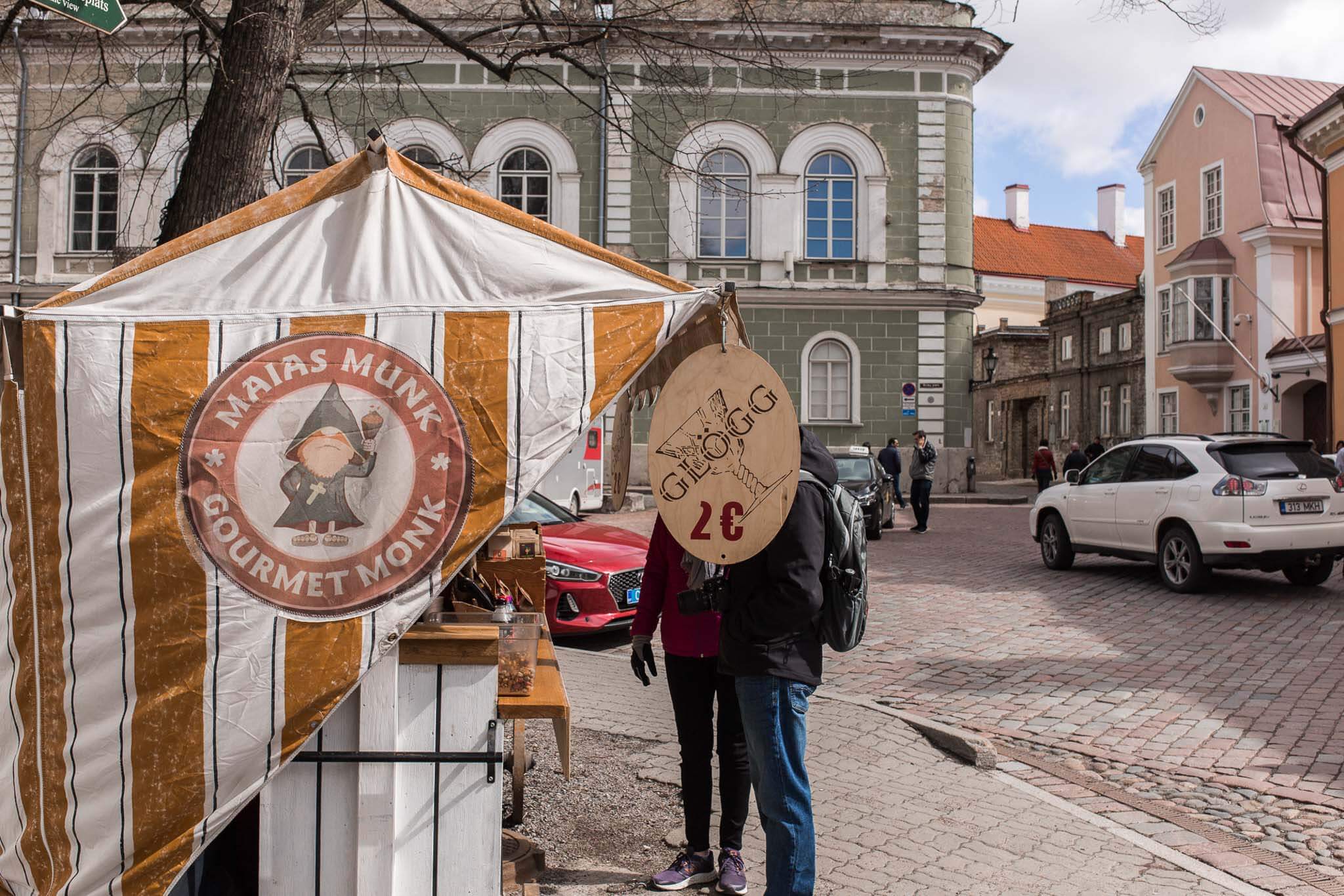 The best things to do in Tallinn Estonia
A free walking tour where the guides are in character and show you the history of the small town in the lower part of the city. The tour ended with medieval shots of pepper liquor which was not the best thing I've tasted but a very authentic experience. Make sure you wrap up warm and tip the guides as they are fantastic!
There are 3 main viewpoints looking out over the city in the upper part of town…
2. Kohtuotsa lookout was my favourite but definitely the busiest
You can look out and see the iconic pastel colours of the rooftops. It's located on the northern side of Toompea hill. Basically just follow the crowds and you will find it!
3. The next is Patkuli viewing platform
From here, you can see the ocean and out to the Gulf of Finland.
4. Finally, the Danish King Gardens
These are definitely quieter. There are some quite scary looking statues dotted around which always made me jump when I found a new one. Apparently these light up at night but I'm not sure I'd want to wait around to find out!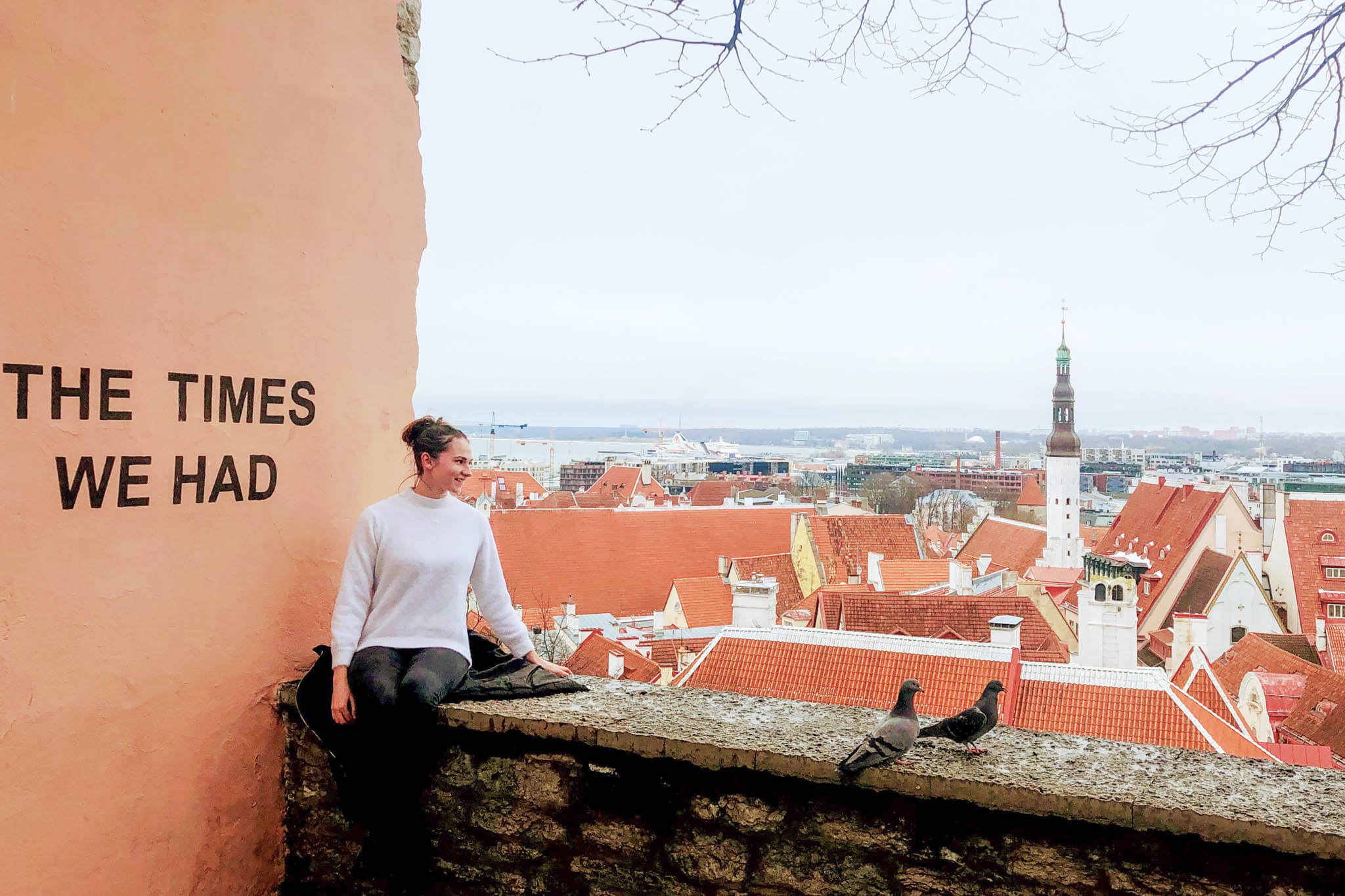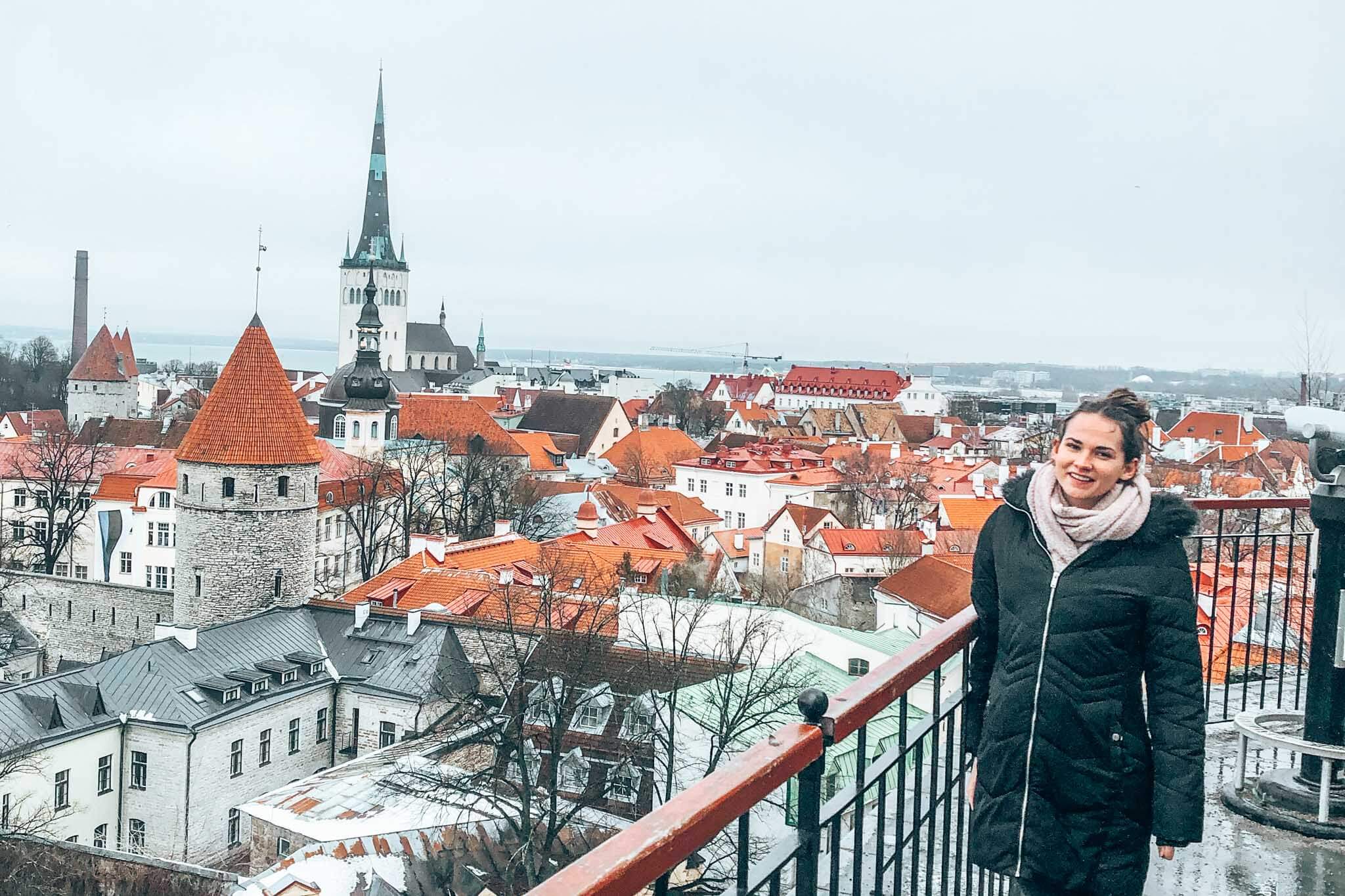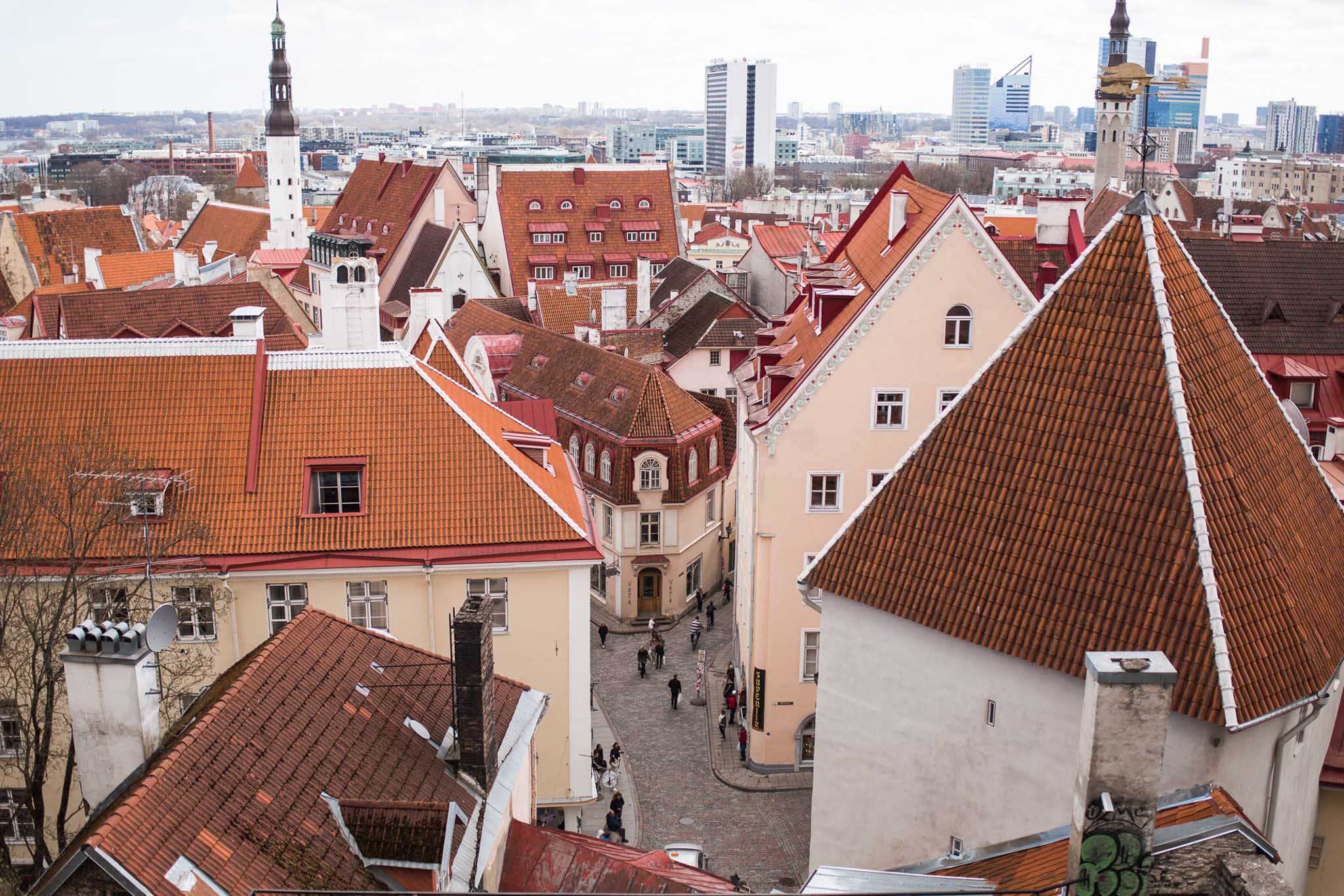 5. Walk 15 minutes out of town to the industrial art centre of Telliskivi for lunch
We had the dreamiest of lunch at F-Honne here. If you're anything like me and love a menu filled with avocado, houmous and vegetarian goodness then you will love this place. It's like something plucked straight out of Shoreditch (London) and best of all? It was so reasonably priced. My meal (see below) was £8!
6. Aleksander Nevski Katedraali
You can't miss a visit to see this Russian Orthodox Church, built-in 1900 and named after the Russian hero who defeated the Teutonic Knights in the thirteenth century.
7. Tallinna Raekoja Plats
This is the main square which has served as a marketplace since the eleventh century and sits in the centre of the Old Town. It's a gorgeous meeting place, spot for coffee in Tallinn or to enjoy a lunch Al Fresco.
8. The Old Town
You literally cannot visit without seeing the Old Town in Tallinn Estonia. This is where the majority of the earlier points are located. The old town is home to ridiculously photogenic 14th- and 15th-century architecture with its medieval walls, cobblestone streets and medieval dining options. Take some time to wander around, explore and see it from above at one of the earlier viewpoints mentioned.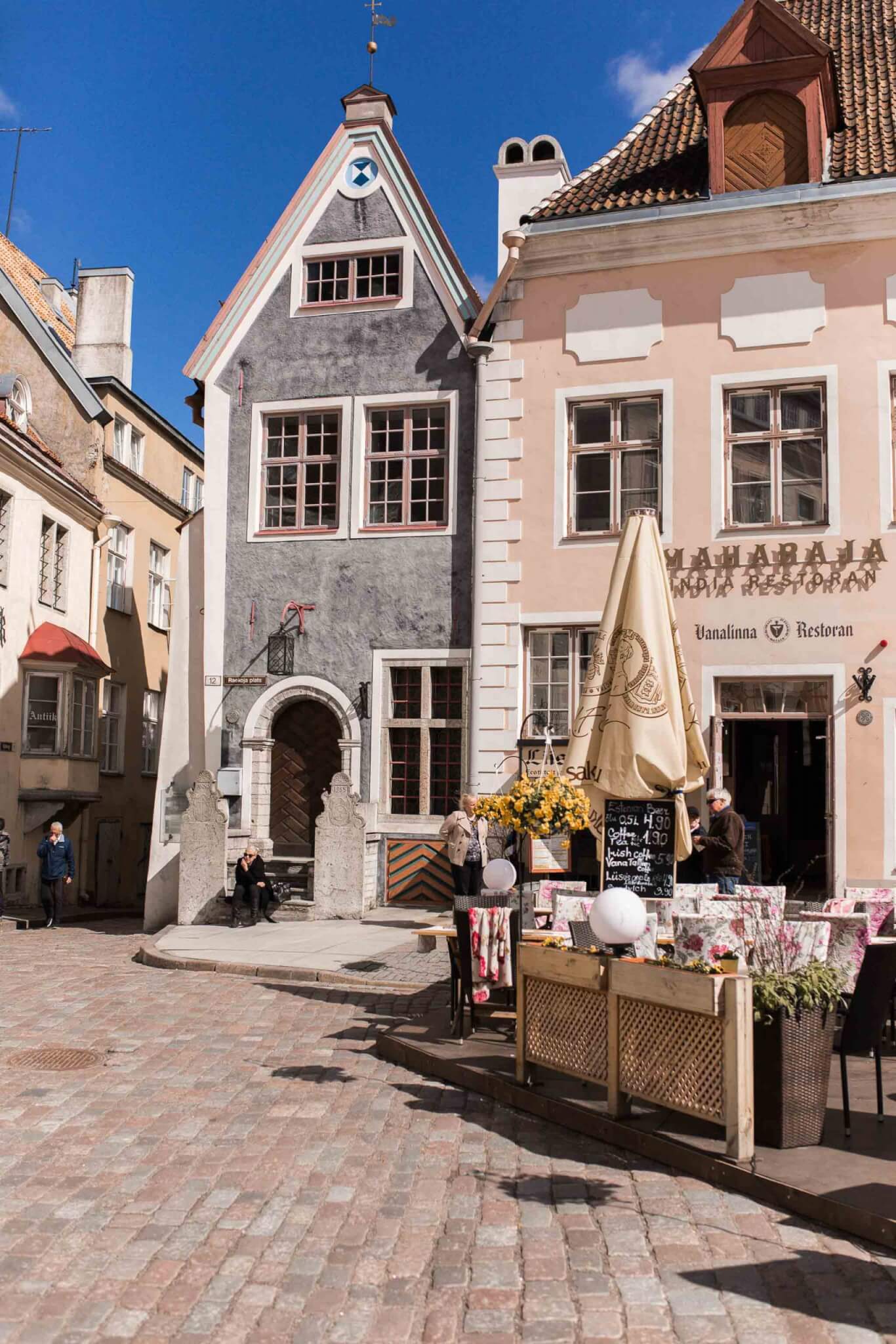 Other things you can do in Tallinn Estonia include:
ice skating

Christmas markets (obviously seasonal)

the open-air museum which is about 10 minutes outside the city

St Olaf's Church (which is incredibly small considering it used to be the tallest building in the world)
Top tips for visiting Tallinn Estonia
It's not as cheap as everyone makes out – prices have been on the rise in recent years and in any of the main areas you are still likely to pay around 5 euro a beer.
Bring a small backpack for a weekend trip – if you have ever flown with Wizz Air you will know hand luggage isn't included!! Every time we fly with them we watch as passengers kick-off at airline staff, hold everyone up and then finally pay the fees. Personally I think you can just bring a small backpack for a weekend trip but if you want to bring luggage, it works out cheaper to book Wizz Air priority which allows you to bring a small suitcase on board.
Bring lots of layers! I know I have already mentioned, but it is freezing in February,
Try to visit at Christmas if you can, it looks beautiful!
Tie your visit into an Eastern Europe trip so look into tagging on a second destination if you have longer than a weekend.
Bring good walking shoes – most of what you will be doing involves walking, steps and hills.
Although it's not somewhere I would stay for weeks, it's definitely more than a day trip. If you are coming from Helsinki or similar make sure you stay overnight as that's when the city really comes alive!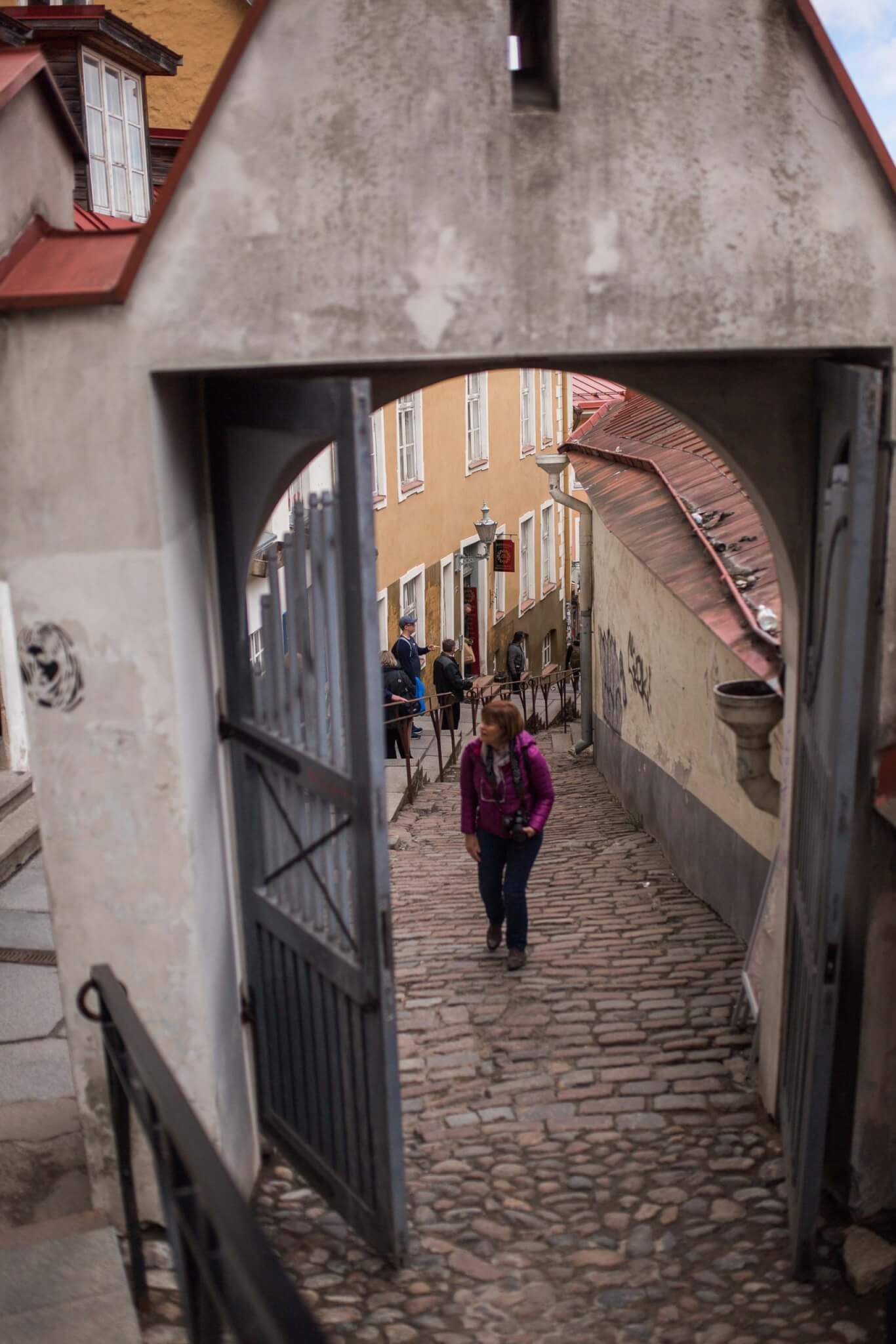 Have you been to Tallinn Estonia?
What were your favourite spots? We'd love to know!?
Love Katie from Travels By Katie
You can see more of Katie's adventures on her Instagram here.
Did you find this post helpful? I'd love you to share it for me.
I can't do this without you.
Pin and save this blog post for later…