If you're planning a trip to the beautiful Dubai and you're on the lookout for what to do in Dubai, you've come to the right place. In this post, I'll outline everything you need to know, along with some of the very best things to do in Dubai and best places to visit in Dubai.
It goes without saying that Dubai is one of the most unique cities in the world. If you're looking for a holiday destination with year-round good weather, amazing architecture, historical sites, as well as a buzzing night life, Dubai is the place for you. Many people say that Dubai is overrated, but there's something magnetic about it that attracts over 15 million tourists each year.
Dubai is the most populated city in the UAE, and the capital of the Emirate of Dubai. What used to be a small fishing village has grown into a thriving metropolis, home to the tallest building in the world, the Burj Kalifa, as well as many more top things to do. Not only that, but it's nestled on the Arabian Peninsula, with the vast desert on one side and the stunning Persian Gulf on the other. There really are so many awesome places to visit in Dubai and on the outskirts of the city; it really will exceed your expectations.
You may have heard a million and one opinions about Dubai and they are likely all true, but I have lived here for almost two years and it's a unique experience that I will never regret. If you're thinking of moving to Dubai or working in Dubai, check out this blog post.
Below is a list of the best things to do in Dubai that I think are unmissable: from the infamous Burj Khalifa and Dubai Mall, to the lesser known but equally beautiful locations and experiences. Get comfy and start building your Dubai bucket list!
Other travel guides you might find useful…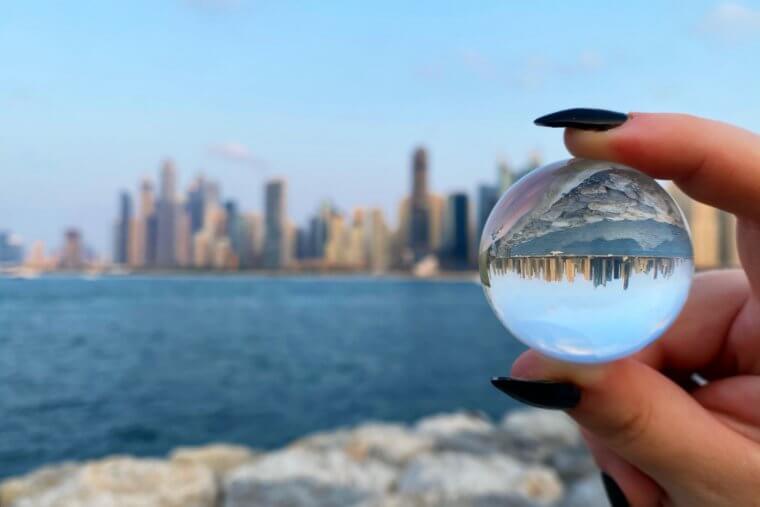 Transport in Dubai: How to get around Dubai...
Dubai is a super huge bustling metropolis; think NYC but hotter. However, thankfully, there is heaps of choice when it comes to getting around Dubai!
Taxis in Dubai
It seems there is a ratio of 3 taxis to 1 human here! Taxis in Dubai run 24/7, but the surcharge skyrockets to double/triple at times which can be an unfortunate surprise after a late night.
Hop on/Hop off tour
You can get 24, 48 and 72-hour passes. They aren't the cheapest way to see Dubai (2-day passes start from 245 United Arab Emirates Dirham (AED)). They run between 10am and 5.30pm.
Metro
The metro runs for 75km through the center of Dubai across two lines. Tickets are reasonable and vary depending on time on board and location, but just pick up a NOL card from any vendor to save at least 25% off the fare (we like a saving, especially in a city like Dubai). They run between 5am and 1am.
Like we have established, Dubai is large! My humble suggestion is that you chooseone area to start at and work your way going either up or down the coastline of the crystal clear Arabian Gulf so that you have a good chance of doing more of the best things to do in Dubai!
Where to stay in Dubai...
If you're wondering where to stay in Dubai, you can choose accommodation by what type of 'vibe' you are looking for.
If you are looking to stay in a location that is popping at the seams with European travellers, head for the Dubai Marina.
If you are looking to save money and stay somewhere that is authentically Dubai, you should look for something around Deira or Al Fahidi area.
If you want to wake up with a view of the ocean, look at The Palm Jumeirah, La Mer or Kite Beach area.
If you want a view of the tallest building in the world, pop yourself in a highrise in the Downtown or DIFC area (note that these areas are more expensive).


Now let's get to the good stuff… here are some of the best things to do in Dubai.
The best things to do in Dubai...
1. Take photos of some of the amazing street art.
As we said earlier, some of the best things to do in Dubai are better known than others… did you know that Dubai has some really great street art?! Two of the best places places to visit in Dubai for street art are…
JBR 'The Walk': Some of the best graffiti and street art in Dubai is here! Once you've had a wander and taken some photos, you can also pay to access the pool at one of the many hotels along that stretch of the beach.
La Mer: this is my personal favourite spot for graffiti and street art in Dubai. It was cleverly designed by LIMAH and it's the picture perfect for Instagram backdrops.
2. Kick back and relax on the beach.
If you're looking for the best places to visit in Dubai, with stunning blue water and fine white sand, you can't miss the beaches here. The beaches might be man made, but they're well maintained and always clean. A lot of the beaches are private beaches and connected to hotels and resorts, but there are lots of public beaches in Dubai too! Two of my favourite beaches in Dubai are…
JBR Beach: Never mind just getting in the water… there are very few places where you can swim in front of the newest landmark in Dubai, the world's tallest observation wheel and ride a camel on the sand for just 50 AED!
Kite Beach: This is the beach to head to if you enjoy water sports such as kayaking, paddle boarding, wind surfing and kite surfing! You can also try your hand at beach volleyball and make some new friends.
3. Activate all your senses at a souk.
A souk is an Arab market or bazaar, where you can find everything from spices to precious metals. They are located all over the city and one of the best things to do in Dubai is to explore a few of them! Some of my favourite souks in Dubai include…
Souk Madinat: This is a beautiful little souk with quirky knick knacks and a few statement experiences such as the TODA art museum. It's known for its great food options (they have over 25 restaurants in the building) and definitely less overwhelming than the souks that are in the old Dubai area.
Souk al Bahar: Located in Downtown Dubai, this hub is the perfect place to grab a bite to eat after you've been shopping and taken in the view of the Burj Kalifa.
Spice Souk: The Spice Souk activates all the senses in the best possible way. It smells great, vendors from multiple stalls are trying to sell you the same product, you can barter, and it's loud and vibrant. I used to be quite nervous going there because it was overwhelming with all of the people vying for your attention but if you go there with confidence it's a really fun experience. This is the best place to pick up all of the knick knacks that your heart desires for a really good price.
Gold Souk: This is located right next to the Spice Souk, so kill two birds with one stone! The jewellery here is mesmerising, and even if you're not interested in buying gold, visiting this gold market should still be on your Dubai bucket list.
4. Visit the Burj al Arab
One of Dubai's most iconic buildings, the easiest way to visit inside is by having a reservation for a cafe or restaurant, or booking a guided tour. If you don't want to go inside, make sure you go to the beach right next to it to get the classic Burj photo for the 'gram.
5. Go shopping at the famous Dubai Mall.
Known for being one of the largest shopping malls in the world, if you're looking for fun things to do in Dubai, here you can shop until your heart's content and your legs are screaming at you to stop. It's also close to the Burj Kalifa and the Dubai Fountains, making for the perfect day out!
6. Go to the top of the Burj Kalifa, the tallest building in the world.
Perhaps the top thing to do in Dubai and on every Dubai bucket list is going to the top of the Burj Kalifa and taking in the view. At 456m or 125 floors above sea level, here you get 360 views across the Arabian Peninsula. Tickets start at 370 AED and the whole experience takes around 90 minutes. Book your Burj Kalifa experience here.
7. Hit the town in DIFC's Gate Village.
Gate Village, in the DIFC area, is an art and commercial hub which is one of the best places to visit in Dubai for architecture, retail, and a good night out!
8. Grab coffee and go for a walk in the city.
One of the best things to do in Dubai is to soak up the city vibes with a coffee in hand! With world-class architecture and sea views, make sure that you carve out some down time in your Dubai itinerary to meander around town. Some of the best places to visit in Dubai include:
Business Bay: it's a lovely area to go for a walk along the water and there are plenty of cafes along the way as well.
City Walk: another lively area with street art, cafes and shops to visit after you have taken a walk.
9. Take a picture in 'The Frame' in Zabeel Park
The Frame is one of the best places to visit in Dubai. The Frame has its own world record and shows a really unique view of both glitzy glam Dubai and a more traditional pre Khalifa city. And to top it off, you're be treated to panoramic views of Dubai from here too. Tickets will set you back just 50 AED. There are some galleries at the top and it makes for some unique photo opportunities as well.
10. Explore the historical Al Fahidi district
Al Fahidi is a gorgeous historical area that in my opinion shouldn't be missed off anyone's Dubai bucket list! Even better, you get to take an Abra (a traditional Arabic transport boat) across the river for 1 AED to get there! It's a bit of a walk down river after you get off the boat but well worthwhile. From the twisting and winding alleyways to the traditional wind towers and the Al Fahidi Fort, Al Fahidi is an insight into what life in Old Dubai was like. Once you get there take your time to slowly explore and soak in the atmosphere in one of the best places to visit in Dubai.
11. Sample local culture at the Arabian Tea House
While you're in the Al Fahidi district, you must visit the Arabian Tea House. One of the best things to do in Dubai is to try one of the 150 types of tea on offer, enjoy some super cheap food, and soak up the authentic atmosphere and fantastic service from the staff.
12. Get snaps for the 'gram at Dubai Miracle Garden.
With millions of flowers in bloom, visiting the world's largest natural flower garden has got to be on your Dubai bucket list! Between the heart arch and the flower covered buildings, there are plenty of attractions to be enjoyed and photos to be taken!
13. Visit the Dubai Desert Conservation Reserve - the UAE's first National Park.
The Dubai Desert Conservation Reserve is a huge, protected area of Arabian desert that takes up almost 5% of Dubai's total land area. One of the best things to do in Dubai, and at the top of almost everyone's Dubai bucket list, is visiting the desert here. Because it's a National Park, you'll need to visit on an approved tour, but it's worth every penny. Whether you choose to do an overnight Bedouin Camp, go dune bashing in SUVs, try a desert safari or camel trek, or simply go on a day trip to admire the nature and wildlife, this is a must-do when you visit Dubai.
14. Watch the Dubai Fountains.
The Dubai Fountain is one of the best things to see in Dubai! The tallest fountain in the world, located in the Burj Lake, offers a captivating water and light experience (set to music) every 30 minutes from 6pm, daily. It's a once in a lifetime thing to watch!


What are your favourite things to do in Dubai?
Where are your favourite places to visit in Dubai? Anything you'd add to this Dubai travel guide?
Love as always and happy adventuring…
Did you find this post helpful? I'd love you to share it for me.
Pin and save this blog post for later…