A Western Australia road trip has got to be on your bucket list when planning your time in Australia. The East Coast is incredible but the West Coast is a whole other level.
If anyone knows about Western Australia (also commonly referred to as WA) road trips it's me. Incase we haven't met before, I'm Sammy, owner and operator of RatPack Travel based in Byron Bay.
From personal experience and from helping to plan hundreds of backpackers and holidaymakers travel to Australia & New Zealand every year, it's safe to say I know the best places to visit in Western Australia, the best places to hire a camper in Western Australia and everything in between. Your in luck, this is pretty much a complete guide when planning your road trip to Western Australia.
I just recently booked the campervan for @wheresmollie as she took on a 2 week wild road trip adventure through the contrasting landscapes of Western Australia. If you've seen the content, you'll most likely be here wondering how on earth you can get your hands on an adventure like that for yourself…
In this Western Australia travel guide I will guide you through:
how to get to WA to start your road trip
the best places to visit on your Western Australia road trip
the best place to book your camper / motorhome for your Western Australia road trip
how long you should road trip Western Australia for
where to pick up your campervan in Western Australia
what time of year to road trip Western Australia
Prices for road tripping Western Australia
Let's get started shall we? Here are my places You Cannot Miss on Your Western Australia Road Trip and a complete guide to planning your Western Australia road trip…
Other travel guides you might find useful…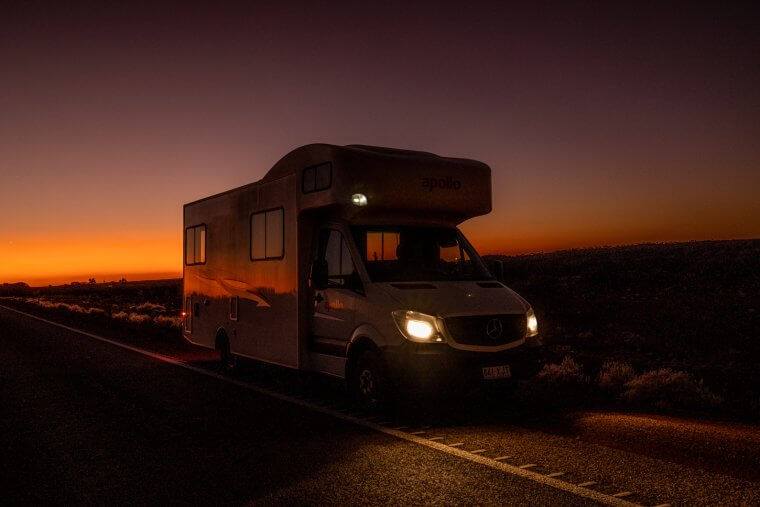 Where is Western Australia? How do you get there?
WA as the name suggests is the most Westerly state in Australia. Perth is the capital city of Western Australia and is where you'll most likely fly into.
If you are travelling long haul it would be advisable to maybe shake off the jet lag here in Perth for a day or two before hitting the road and kick-starting the trip. There's plenty to do in Perth.
What time of year should you road trip in Western Australia?
May to August are the wettest months of the year with the dry season from September to April. Dry season has an average temperature of 25°C, dry season may seem more appealing but temperates can soar and if you're planning to travel inland to the likes of Karijini National Park, it can be dangerously hot.
Pay attention to weather forecasts and dress, drink and act accordingly – the heat is no joke in Australia. Neither are the UV rays!
Top Tip: There are LOTS of freedom camping spots on the West Coast so find a park in the evening that backs on to the beach to get the sea breeze.
How long should I road trip WA for?
We at RatPack Travel always suggest 4 weeks starting in Perth and travelling as far North as Karijini National Park and then looping down as far as Margaret river before finishing in Perth.
The road trip can be done in 21 days (3 weeks), but 4 weeks or longer (if you plan a more leisurely trip) is PERFECT. Here's an example map that I sent to Mollie when suggesting a few epic spots.
NOTE: Mollie was a little short on time (2 weeks) so only went North of Perth, for those that have a little longer I'd definitely recommend heading South too – it's a hard call if you have to choose between North and South!
Where to pick up your campervan / motorhome in Western Australia...
When it comes to campervan hire, Perth is the best option. A Perth pick up and drop off is always best as the only other location in WA is Broome. However, the companies that operate in Broome are few and far between so, therefore, charge a HUGE premium which is why when hiring a campervan in Perth, looping back to Perth, is the BEST option for your Western Australia road trip.
We at RatPack Travel have you covered when it comes to getting the best deal on your campervan rental from Perth. We have contracts with EVERY reputable company.
Simply submit your dates here and we will do the hard work for you. We'll compare the rates and send you back the best-rated and most affordable options for the trip!


How much does a campervan or motorhome cost in Western Australia?
This is by far the most common question we get. It completely depends on:
What style of campervan you would like…
For example travelling in a 2 seater 2 sleeper will be cheaper than a luxurious Motorhome. A Hi Top style camper will be in between.
Rough Rates: A campervan in September 2023 picking up from Perth for a 4-week duration is between $50 – $99 AUD. SUPER cheap when you compare the alternative modes of transport ie travelling by bus and staying in accommodation each evening.
Top tip: one of the reasons why we are massive campervan advocates is because you can be VERY spontaneous when it comes to staying in a campervan! If you travel with buses and accommodation you have to be VERY structured.
How far in advance you book the camper
Like most travel bookings the more planned you are the cheaper it will be, at RatPack we get early bird rates released to us for advanced booking regularly so we can let you know the cheapest company to go with once we establish what style you are looking for
Travelling in peak season periods is more expensive than the winter months. However there is great all year round weather in the majority of Australia, so get in touch and we'll give you advice to help you decide!
Top tip: If you know you are coming on a working holiday visa and have an extensive amount of time then you can let us know the period of time that you wish to travel for and we can hook you up with our knowledge on what the best options will be dependent on the destinations you wish to travel!
If you need help with your travels you can get in touch with the RatPack Travel team here.
Why Western Australia is an epic road trip location...
Think beautiful untouched beaches, red sand, epic sunsets, HUGE national parks and coral reefs that will blow your mind than a Western Australia road trip ticks all the boxes!
Once you pick up the campervan you can hit the open road and you won't be short of epic spots. WA is also home to some of the best freedom bush camps in Oz so if an off-grid roadie is what you want then your Western Australia road trip will deliver!


Here are some top places you should consider visiting on your Western Australia road trip...
Fremantle has an epic music scene, from here you can grab a passenger ferry over to Rottnest Island, where you can hire a bike for the day. The island is home of the Quokka, probably the cutest fluffy animal on the planet! These little marsupials are roughly the size of a domestic cat and can only be found in this region of Western Australia.
Here there are also awesome coves to snorkel so pack your snorkel and mask, take some lunch and go on an island adventure!
The capital city of Western Australia, with beautiful beaches, parks and a vibrant cultural scene. I wouldn't suggest staying in the city once you pick up the camper but maybe a few days at the end once the camper has been dropped off to take in the city vibe.
3. Swim with the sea lions at Jurien Bay
One of the top rated (and for good reason) experiences on the whole of the West Coast of Australia.
Where else in the world can you take a short boat ride to swim with the seal lions in their natural habitat paradise? These 'Sea Dawgs' and the seal pups are playful and will loop around in somersaults as you snorkel in front of them. You can book onto a morning or afternoon trip from Jurien Bay.
4. Visit the Pink Lake (Hutt Lagoon)
Hutt Lagoon is that famous bright pink lake you've seen on Instagram. I wasn't expecting much but it's actually pretty pink and impressive!
The lagoon is separated from the ocean by a thin strip of land. It's a truly unique place that has an access road looping around it. Find yourself a bush camp and kick back here for a day or two to enjoy the view!
A beach where bottlenose dolphins come right up to the beach in front of your feet.
The dolphins here are wild and come in daily. The staff here at Monkey Mia feed the dolphins a small amount of fish so they remain wild but come in for their daily snack!
Located in the north-west of the state, you can swim here with whale sharks (August to September) and manta rays.
If you travel outside of whale season no worries as the coral reef and marine life is incredible. Book yourself onto an ocean adventure and let Western Australia blow you away!
An otherworldly landscape of limestone pillars located in the Nambung National Park. These rock formations are truly unique to this national park. It's well worth a trip!
8. Karijini National Park
This is the second largest national park in Western Australia. Here you'll find gorges, waterfalls, swimming holes and EPIC look outs. It's like being teleported back to the dinosaur era… Jurassic Park vibes!
Amazing surf, wineries & good eateries galore. For those foodies out there Margaret River is a top spot. Hire a surfboard and get in the white wash or for those accomplished surfers out there ensure you back your surf quiver as you can score some nice ones in this famous surf town!
Booking your Western Australia road trip with RatPack Travel...
Whether you want a small 2 seater 2 sleeper or a large 6 person motorhome myself and the RatPack Travel team can help you hire a campervan. We have contracts with EVERY camper company. Once we have your dates and locations we can compare the online market and get back to you with the best rated and most affordable options.
Our service is about as personalised as it gets and we're stoked to have gained more 5* reviews that any other Aussie travel agent.
Once you submit your dates you can send us a WhatsApp or Facebook DM and we'll walk you through the process.
We also offer all our customers a FREE courtesy call, as it's always easier to explain the options over a quick 5 minute call and of course it gives you the opportunity to ask any questions you may have about the camper options or destination in general.
We book ALL locations across both Australia and New Zealand so if you are saving the West Coast for another trip we can help with your East Coast & or your New Zealand trip. Feel free to click the link here and leave your travel details.
Myself and the team at RatPack travel look forward to hearing from you!


What's on your Western Australia bucket list?
What would you do on a road trip to Western Australia? Anything you'd add to this Western Australia travel guide?
Love as always and happy adventuring…
Did you find this post helpful? I'd love you to share it for me.
Pin and save this blog post for later…