My senses were immediately awakened when we stepped out of the tuk tuk, arriving to Galle from Ahangama. All I'd been told about Galle prior to us arriving here was that it was the nearest town to where we were staying on the Southern beaches and that it was a 20 minute tuktuk down the coast. I had no idea what to expect. We headed through the enchanting Galle Fort walls to find somewhere for a quick coffee before we were due to be picked up for a day experience with a local guide and bookmarked this as where we were coming back to enjoy sunset.
Upon our return return later that evening we took the walk around the fort walls and dove into the mystery. Turns out Galle is an incredibly vibrant cultural hub with a history dating back to the late 16th Century when Galle Fort was first conquered by the Portuguese. Galle was then taken over by the Dutch in the 17th century and for over 200 years it was Sri Lanka's main spice trading port. Yes there are lots of cool spice shops here – the perfect souvenir!
Oblivious to a lot of the details we now know of Galles history, we wandered around, totally charmed and with huge curiosity. We could feel the depths of the history and the richness of the stories that lived here.
If it's not to wander the maze of streets within the Galle fort, lined with renovated Dutch colonial housing, to wander through the hustle and bustle of the city streets, stalls filled with handcrafted goods or to watch a game of cricket in one of the worlds most beautiful Cricket Stadiums here, let it be to enjoy the sunshine on the Lighthouse Beach or watch the local youths construct a game of cricket with their mates on any patch of grass they can locate.
If you're looking for a travel guide for Galle, the best things to do in Galle, the best places to eat in Galle – you're in the right place! In this Galle Fort travel guide I am going to shaee with you some cool spots to check out, some awesome day trips around the city of Galle and the best things to no miss on your trip to Galle!
Get your notepads at the ready, let's dive into this gorgeous Sri Lankan hotspot!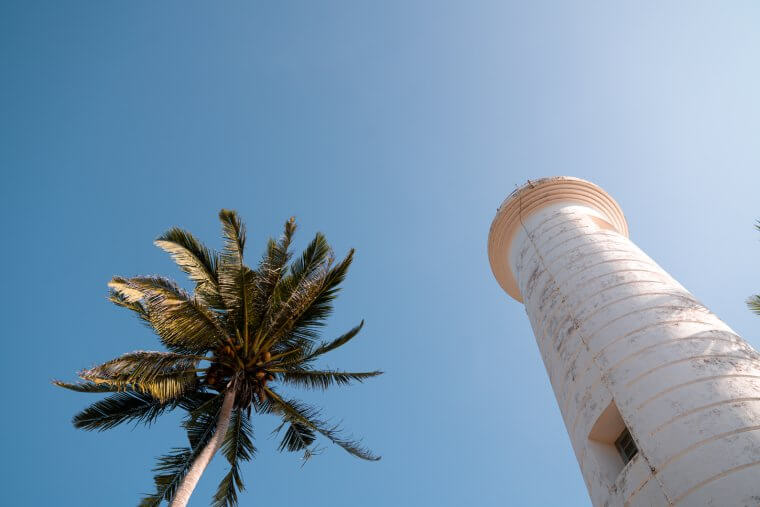 The Best Things To Do In Galle, Sri Lanka
1. Walk around the Fort wall at sunset
One of the best things to do in Galle is, without a doubt, check out the Galle Fort and take a walk around the Fort wall. If you can time your walk with the morning light or evening light – it's stunning AND you'll avoid the midday heat which will be most preffered during the hotter months in Sri Lanka.
The walk is around 2km if you complete it but of course you can dip in and out, stopping to try local street vendor offerings, meander through the shops and even eat lunch overlooking the Indian ocean.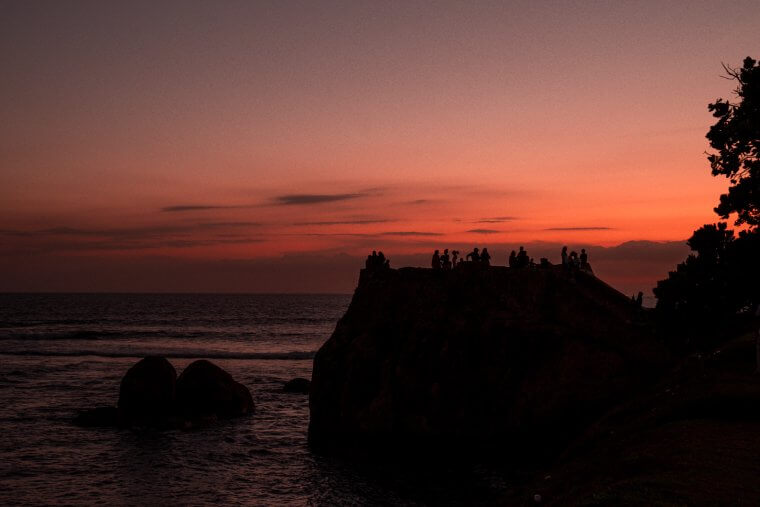 2. Spend a day exploring the fort
Whether walking the Galle Fort walls and learning about the history that is held here between the walls is your thing or not, I highly predict the charming streets of the town that sits within the walls with capture you.
There are so many beautiful cafes, shops, spas and places. to watch the world go by, a day or afternoon in the fort is well worth adding to your Galle / Sri Lanka bucket list.
Check out the Sri Lanka Google Map legend for all our favourite spots, cafes and shops in the fort!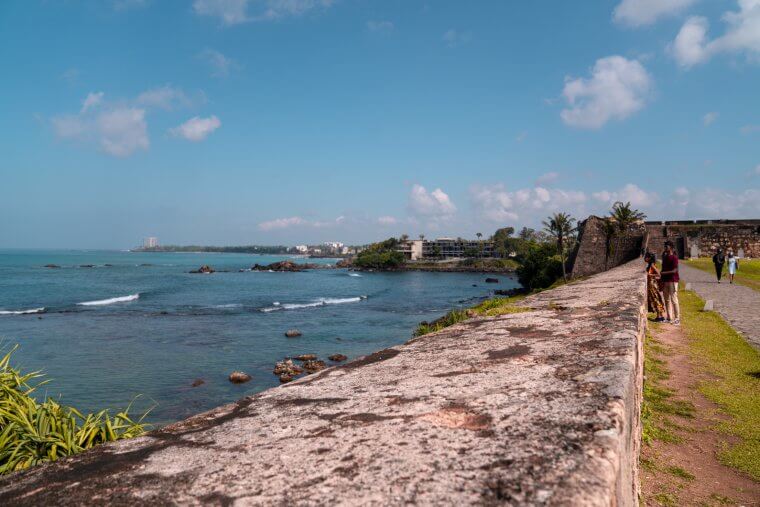 3. Get a delicious ice cream from Isle of gelato
Holy smokes! This ice cream was amazing! I went for a cashew, coconut and salted caramel vegan tub and wowee!
You may well find that if you spend a day in Galle that you seek a little relief from the midday heat. If you're looking for that relief to be sweet, Isle of Gelato is in my opinion the best ice cream in Galle!
It's located in the streets within the Galle Fort and there's indoor and outdoor seating. If it's busy (it usually is!) then take a tub or a cone away and go enjoy it on the Lighthouse Beach or on the Fort walls!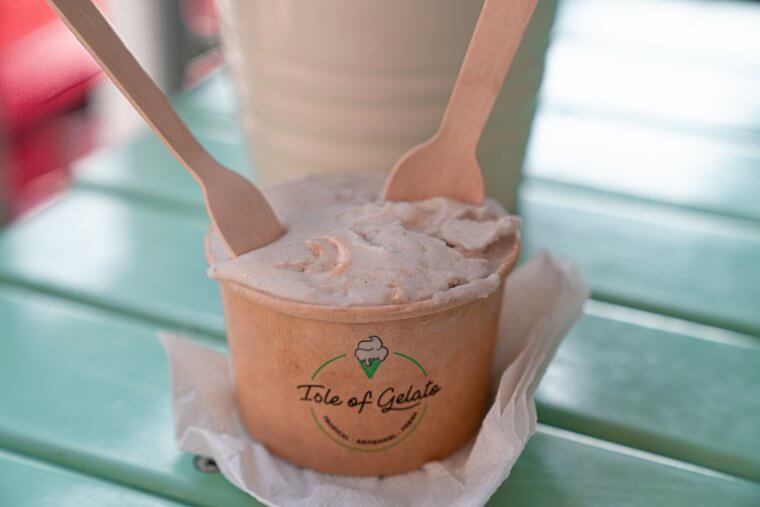 4. Do a local cooking class
This was one of our favourite experiences in Sri Lanka! One of the best things about travelling in Sri Lanka is the incredible local cuisine and the way the olocals use their spices to create vibrant, flavoursome curries and dahls is so unique.
We booked a hands-on cooking experience in the traditional setting of a wattle and daub mud hut which begun with heading to a local fruit and veg stall to choose the tropical produce that caught our eye the most. I love how many awesome varieties and types of veg grow in the tropics – I hardly recognised any of them!
Then we were taken to meet our chef in a small rural village located on the banks of the Kapu Ela river where we had our the cooking class. We cooked Sri Lankan dishes such as brinjal pahi (deep fried and caramelized aubergine), pol sambola (coconut and chili sambol) , gotukola sambola (Indian pennywart salad), parippu (lentil dhal) and ratu alla hodi (beetroot curry).
A Sri Lankan cooking class is such a fun way to bring a piece of Sri Lanka home with you.
We organised our experience with Original Travel. If you're looking for an organised tour filled with unique local experiences like this one, i'd highly recommend looking at their Sri Lanka travel itineraries.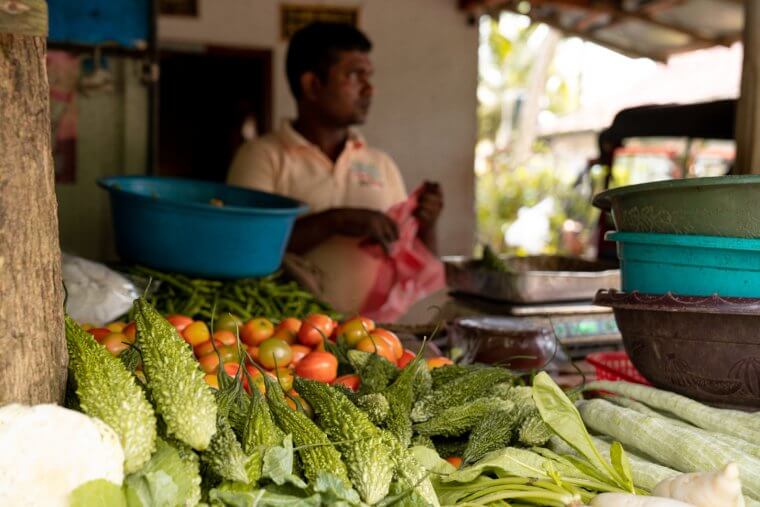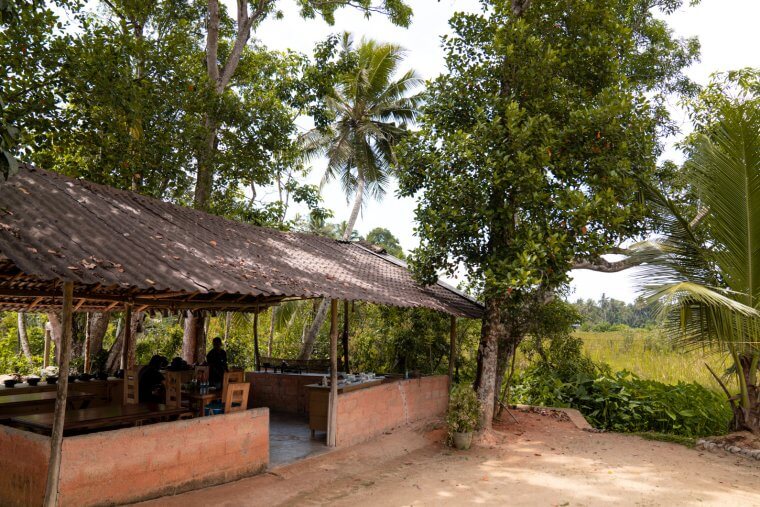 5. Take an eco river tour for wildlife spotting
Another awesome experience we had organised for us was the 'Bikes Boats and Bites' 3 hour tour with Original Travel.
To begin, we hopped in a tuktuk just 15 minutes from Galle to the start where we met our guide and jumped on a motor boat down the Kapu Ela River. We passed along river banks, through canals, under bridges and by local village hamlets as we ventured into the Sri Lankan countryside.
We saw many water monitors clinging to low branches whilst others zipped across the water. Some were so big we mistook them for crocs, which can also be found in these waters!
We stopped to smell samples from the cinnamon plantations and our guide narrated the abundance of birds and animals that passed by.
It was a truly beautiful experience and a very peaceful one as the boats have to have a license on this river and only a couple are granted per day which keeps the wildlife and flora and fauna thriving.
Watch out for the Blue Water Lilly – the national flower of Sri Lanka!
If you choose to do the Original Travel tour, you will continue on to a coconut husk farm and then bike down through the local villages to end at a mud hut for lunch and refreshments! Such a wholesome activity and one of the best things to do in Galle if you're looking for a day tour!.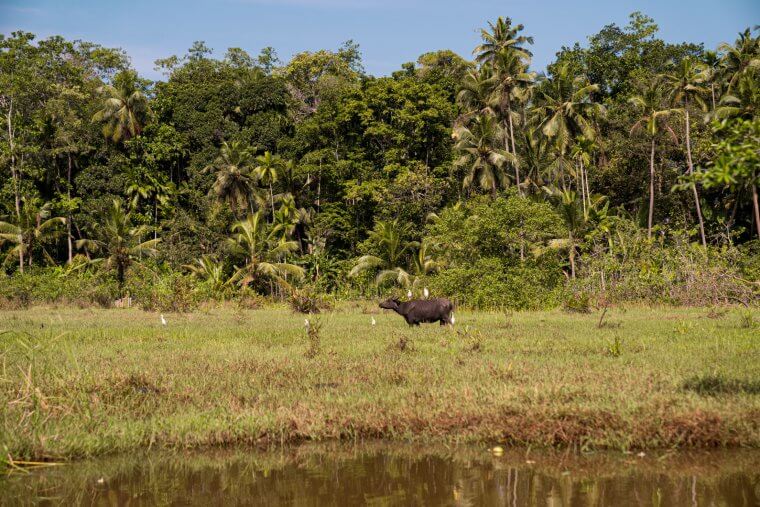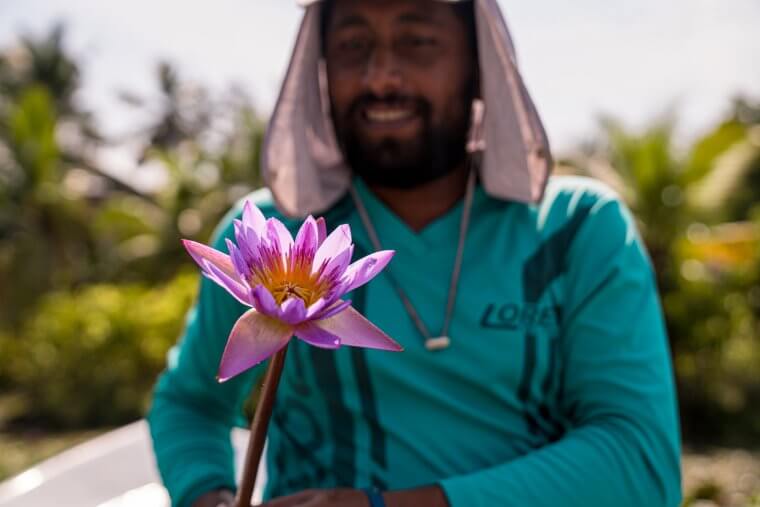 6. Visit the local villages and coconut husk farms
This was actually one of my favourite moments in Sri Lanka, probably because of how much I love jute rope and how much I love the aesthetic when used in interior design.
Coconut husk farms are where the magic happens and where the coconut husk is dried out, and twisted into jute! It was so mindful to watch the locals operate the machines and it honestly gave me a new appreciation for the labour that goes into this globally loved natural rope.
I cannot remember exactly the location of this one but it was 10 minutes outside of Galle. The key to finding local factories and craft stalls is to find a friendly tuktuk driver that speaks English (most do) and pay him to take you around for a few hours to see what's beyond the main streets.
If you're limited on time when visiting Galle, one of the best things to do in Galle is actually just wander the streets and pick up your favourite locally crafted finds and pieces. Whether thats a palm leaf beach bag, some locally mined jewellery, locally tailored clothes or coconut derived pieces for your home… I guarantee you'll find at least a few things to fill your suitcase with!
7. Purchase some fabric from one of the shops in Galle
If you've checked out our Sri Lanka Google map legend, you'll have noticed some pinned locations where local seamstresses will quite literally tailor any item you want! They are so incredibly talented and if you're looking to take up this fantastic (and very affordable) service in Sri Lanka all it requires is for you to choose a design and then purchase your material of choice.
Here in Galle is where you'll find the 3-5 floored stores, filled to the brim with all colours of linen, cotton, elastine and more!
8. Visit the worlds most beautiful cricket stadium
One of the best things to do in Galle is to witness a cricket match at Galle International Stadium, located right in the heart of this vibrant city. The stadium was established in 1876 and has a capacity of 35,000 spectators.
The views it boasts of the Indian Ocean and of Galle Fort give it one of the most unique and stunning backdrops of any cricket stadium in the world!
Keep an eye out too, we spotted lots of locals passing time with their friends playing cricket on patches of grass around the city!
You can tell how passionate the Sri Lankan people are about cricket – it's beautiful to witness.
9. Relax on the Lighthouse Beach
If you're looking to dip out of the midday heat when wandering through Galle town or Galle fort, look no further than the Lighthouse Beach.
This little picture-perfect slice of beach right beneath the Galle Lighthouse is perfect for a dip in the ocean and a rest under the shade of the trees.
Watch ships pass through the harbour and locals playing in the clear shallow waters – it's a great little reset from the hustle and bustle of the city centre.
Note: There is a section of water marked out that is protected and away from the reefs and rocks. Be careful if you're venturing outside of it.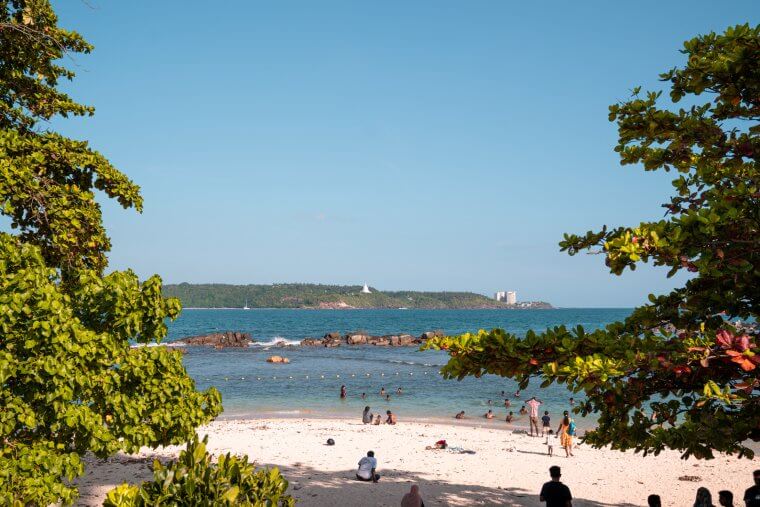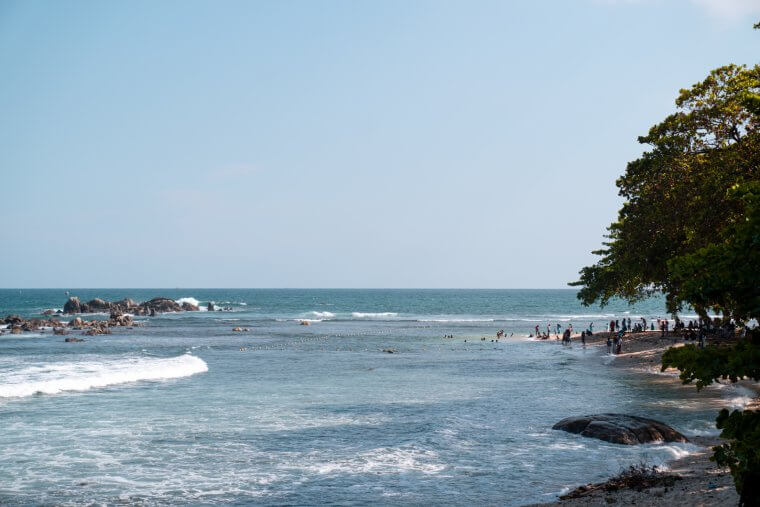 10. Eat a locals dinners at Lucky Fort
Our favourite dining experiences in Sri Lanka were always the local ones!
This local restaurant is tucked away down one of the gorgeous Colonial Dutch streets and seats both indoor and outdoor. It's run by a local family and we enjoyed our meal in the courtyard.
Most people were going for the 3850rph (£7 ish) set option for two which is a selection of 10 curries and so we followed suit! It was amazing! Highly recommend.
I noticed that they offered cooking classes here too which I can imagine are as good as their curries! Check out their cooking classes here.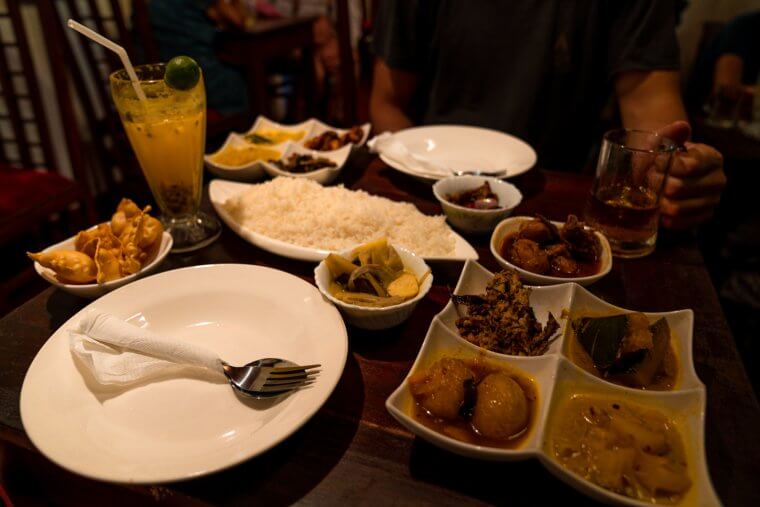 What are your favourite things to do in Galle?
Where are the best places to visit in Sri Lanka? Anything you'd add to this Sri Lanka bucket list?
Love as always and happy adventuring…
Did you find this post helpful? I'd love you to share it for me.
Pin and save this blog post for later…