If you're planning a holiday to Sri Lanka, but aren't sure of what the best things to do are, then look no further. In this post, you'll find all of the very best things to do in Sri Lanka as well as the most unique experiences and of course the places to visit in Sri Lanka.
This beautiful island is hands down one of my favourite countries in the world. After visiting Sri Lanka in 2018 and 2019, I fell in love with the culture, the food and the absolutely stunning coastline. It remains my number one recommendation for this year and I'm going to share with you all of the best places to visit in Sri Lanka.
Sri Lanka, known as the pearl of the Indian Ocean, is as magical as it sounds. Don't be discouraged by its relatively small size. This paradise island has so much to offer for travellers of all types, even for a full 1-week Sri Lanka itinerary. Whether you're an avid surfer, beach bummer, hiker, animal lover or tea enthusiast (the rolling hills of the Highlands are some of the most extensive tea plantations in the world!), you're going to tick a lot off of your Sri Lanka bucket list.
Sri Lanka is a destination you can visit all year round. Even though it's considered a small island, it has two distinct monsoon seasons in separate parts of the island so choosing where to visit in Sri Lanka can depend on the time of year. The best season to explore the southern coast and highland areas is November to March. If you want to visit the east coast for a surf break, the best time is usually May to September.
In this blog post, I will run you through where to visit in Sri Lanka and compile a list of the top things to do in Sri Lanka to inspire you to choose it as your next destination. Consider this blog post your ultimate Sri Lanka travel guide!
It's safe to say there are so many unique things to do in Sri Lanka. From surfing along the southern coast in Hiriketiya, Weligama and Mirrissa; to safari tours in Udawalawe National Park; riding the open-door trains through tea plantations; and feeling on top of the world at Diyaluma Falls in Ella.
So if you're still deciding on where to visit in Sri Lanka, keep reading as I'll be sharing my personal favourites, along with a list of the best places to visit in Sri Lanka. Let's get started!
Here are 16 places, experiences and adventures you can't miss in Sri Lanka!
Other travel guides you might find useful…


The best things to do in Sri Lanka...
1. Hike to Adam's Peak, the highest point in Sri Lanka
Let's start BIG shall we… one of the top things to do in Sri Lanka is hiking up to Adam's Peak, the highest point on the island!
This hike, made up of 6,000 steps, is popular amongst both travellers and locals, with the latter knowing it by a different name – Sri Prada, which translates to sacred footsteps. For many this hike is seen as a short Pilgrimage, as the summit, which sits at 2,243m in the sky, is believed to be where Adam took his first step on earth after leaving the Garden of Eden.
The hike can take between 2-4hrs depending on how strong your legs are, but it definitely is one of the best things to do in Sri Lanka. However…. You could opt for the easier option…
2. Hike to Little Adam's Peak for sunset
If climbing up thousands of steps really isn't your cup of tea, then you can always take the easier route to Little Adam's Peak.
This is a popular one for sunrise and sunset, with the route taking you through lush tea plantations, and along the valley edge before summiting with an incredible view of Ella and the endless green hills below. Take some dog biscuits to feed the pups who live up there, and you'll have a friend for life.
Not yet convinced this is one of the best things to do in Sri Lanka? Well if the views and the dogs aren't tickling those taste buds, then how about lunch at a 5* resort with panoramic views, on the way down? Getting closer to being one of the best things to do in Sri Lanka? 98 Acre resort appears like an oasis for weary walkers, and it's restaurant balcony offers the most incredible 360 views of the mountains. It's a little higher than the halfway point to Little Adam's Peak, so you might as well go all the way right? Anyway, have a coconut water on me.
3. Book onto a surf and yoga experience
Undoubtedly, one of the best things to do in Sri Lanka is to jump into the ocean and go surfing. The waves here are perfect for beginners. Warm, mellow and often you'll be in the water with the turtles too! Sri Lanka is a perfect location to begin your surfing journey.
Because of the idyllic surf conditions in Sri Lanka, many surf and yoga camps have popped up to provide travellers with the instructors, equipment and knowledge to build their confidence in the water.
I recently did a half-week experience with Soul and Surf yoga in Ahangama and can highly recommend them. The food, the instructors, the vibes and the location… all a solid 10.
There are different options available when you book with Soul and Surf as they have two locations and both will provide you with a different experience…
There's the Soul and Surf boutique B&B right on the beachfront at Ahangama Bay, a gorgeous little cove in town. This is the more flexible option with a 2-night minimum. You pay for bed and breakfast and can add anything else on (surf lessons, massages, lunch dinner etc)
or
You can upgrade for the more luxurious, all-inclusive offering at Tekanda lodge, located just 10 minutes inland up in the treetops where everything is lined up for you and you really immerse into the schedule with other fellow guests.
I opted for the treetops which was an exclusive, retreat-style experience. Meals, transport to and from the beach, surf lessons, yoga and snacks were all included and because of the set itinerary you really felt like you were part of a family (with the others staying too!).
Take a look at the typical day itinerary here.
I particularly loved the surf analysis after each surf lesson to reflect on your technique. The surf instructors would break down your videos and give you tips on how to improve in the next session. This is so invaluable when you're learning to surf, as it can all happen so quickly in the water and it can be hard to pinpoint what you did/didn't do!
I loved our afternoon yoga sessions to stretch out and nourish the body after surfing and I loved that one night during our stay dinner was served in front of a Surf Movie!
I truly loved my experience with Soul and Surf in Sri Lanka and would stay again in a heartbeat… that's if I don't stop by to their Portugal / India locations first.
4. Take a surfing lesson in Sri Lanka
Sri Lanka has become a popular surfing destination for beginners and experienced surfers alike! The fact that it has two monsoon seasons at different parts of the coast means almost guaranteed surf all year round.
The most popular surfing beaches are:
Hiriketiya Bay (South Coast)
Weligama (South Coast)
Ahangama (South Coast)
Arugam Bay (East Coast)
All these beaches have surf rentals and surf schools dotted along the bay and many hotels offer free surfboard rentals for their guests. Or you can book a surf & yoga retreat, like Soul & Surf mentioned previously.
Some of the most popular surf retreats in Sri Lanka are:
Salt Pelican in Hiriketiya Bay
La Point in Ahangama
Dreamsea in Ahangama
Soul & Surf in Ahangama
Layback in Weligama
Surf Camp Arugam Bay in Arugam Bay
5. Spot the elephants & leopards on safari
When you first think of Sri Lanka, you probably wouldn't envisage it as a safari destination, but it can actually be one of the top things to do in Sri Lanka if you choose the right park.
Sri Lanka has 22 national parks and plenty of safaris to choose from, but the ones that are really worth visiting are:
Udawalawe National Park
Kaudulla National Park
Wilpattu National Park
Udawalawe National Park is in the centre of Sri Lanka, while Wilpattu and Kaudulla are located in the north. Not all parks have leopards, but in my experience it's best to avoid the parks like Yala who claim to have the highest concentration of leopards. In Yala the guides have a complete disregard for the wildlife, with their obsession to show you a leopard… for three seconds before it runs away from their speeding vehicle. In Udawalawe, Kaudulla and Wilpattu you'll have a much better experience.
Either way, safari in Sri Lanka should be on your bucket list and you can use 'Get your guide' is a great platform to find the best safari tours or guides. A 3-hour safari tour can range from 5000 LKR – 11000 LKR (£18.50 – £40) per person.
We were lucky enough to see a leopard but it was too fast for a photo op!
6. Visit the eighth wonder of the world: Sigiriya
Sigiriya is the number one tourist attraction in Sri Lanka, and therefore earns it's places in this Sri Lanka travel guide. Known as the Lion Rock and heart of Sri Lanka, this towering plateau stretching 200m above the jungle was home to an ancient kingdom before it was claimed as a Buddhist monastery until the 14th century and now lies in ruin as a UNESCO World Heritage Site.
To visit Sigiriya, you'll have to take a tuk-tuk to the park entrance, and you can either opt for a guided tour with a local guide or simply pay the $30 entry fee and explore the ancient fortress yourself. It shouldn't take you longer than 3 hours to visit the whole heritage site, including climbing up and down the 1200 steps to the top. It's worth it, I promise. At the top of this fortress, you'll walk through an abandoned kingdom in the sky.
Exploring Sigiriya Rock is one of the most unique things to do in Sri Lanka; after all, it is the eighth wonder of the world.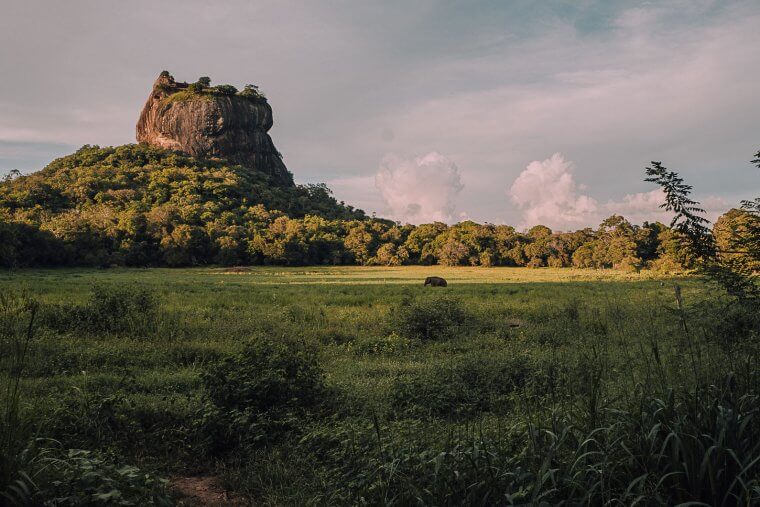 7. Watch the sunrise from Pidurangala
Pidurangala rock is much less famous than Sigiriya, but once word got out that it offered the best 360 views of the region, including of Sigiriya itself, it quickly became one the top places to visit in Sri Lanka.
Watching the sunrise at Pidurangala should absolutely be at the top of your Sri Lanka bucket list as it for me it offered one of the most memorable experiences I've ever had and certainly one of the most unique things to do in Sri Lanka.
Those who want to experience Pidurangala at sunrise need to get to the hike entrance located at the Royal Cave temple, at least 50 mins before sunrise. After paying 500LKR (£2.50) it's a short, yet steep 30 min hike to the top of the rock, where all that's left to do is sit down and wait for the light show you're about to witness.
For the light chasers like me, head up Pidurangala for sunrise and Sigiriya for sunset.
8. Hire a tuk-tuk and take a road trip down the coast!
Ever wanted to take a road trip in a tuk-tuk? Well, in Sri Lanka, you can!
As the most popular mode of transport, some companies had the brilliant idea of allowing tourists to hire tuk-tuks so they could drive themselves on a Sri Lankan road trip! The island is fairly small, after all.
I wouldn't recommend a tuk-tuk for the entire island however, since you'd struggle to reach the highlands of Ella and Nuwara and you'd miss the unforgettable Kandy to Ella train – truly one of the most unique experiences in Sri Lanka. So the best route in your tuk-tuk would be to explore the beaches of the island's southern coast, before heading northeast toward Arugam bay and leaving your tuk-tuk there.
The driving distance between the beaches is fairly short, and the road runs along the shoreline, so you get to admire the glimmering ocean and coconut trees all the way. Despite the noise and the breezy journey, it's still one of the top things to do in Sri Lanka.
To hire a tuk-tuk, you need to have a valid driving licence and take a test beforehand. I've heard it's a straightforward test, so it's doubtful you'll fail! Hiring your own tuk-tuk for a road trip is definitely one of the most unique things to do in Sri Lanka!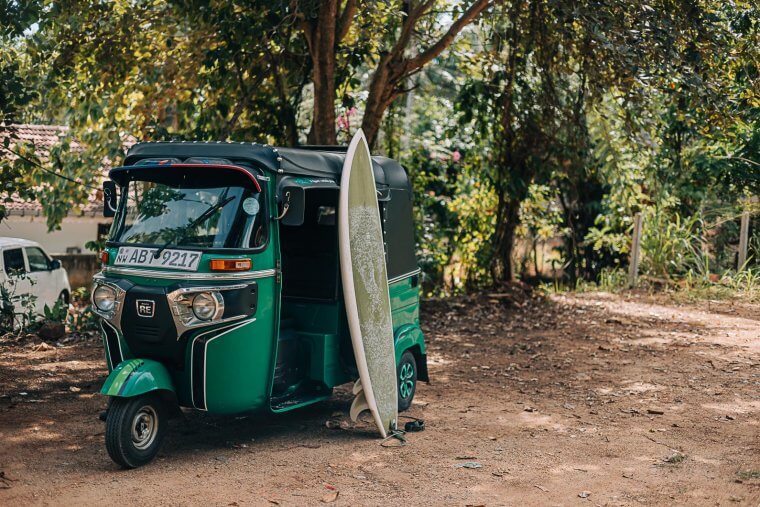 9. Ride the famous blue train from Kandy to Ella
Riding the train from Kandy to Ella (or vice versa) is a BIG highlight and such a memorable experience. It is absolutely one of the best things to do in Sri Lanka.
Before I continue, I think it's important to make you aware that not all the trains that run on this line are blue; some are red. I know quite a few travellers were met with disappointment when they boarded a red train, but unless you're that attached to riding a blue train, the red train is just the same! The whole point of the trip is the experience and scenic views.
But for those who do want to ride the blue train, here are the train times specific to the blue trains:
From Kandy: 08:47am*
From Ella (to Badulla): 15:15pm* and 17:28pm*
This 7-hour train ride is one of the most scenic train rides in the world — and it can cost as little as 175 LKR (about £1) if you opt for a third-class seat. Yes, £1 for the best train ride in the world; it's a no brainer, right?!
Don't be fooled by the tiered system. Third class may be the cheapest option, but it's also the best if you want that iconic hanging off the train show. The only downside is that third class is busier and the seats are essentially wooden benches. I opted for second class, which in my opinion is the best of both worlds and still offered the opportunity to dangle my feet off the side while taking in the incredible, ever-changing view.
Due to its popularity and the lack of alternative travel, the train can book up fast so try and secure seats a few days before you travel. Tickets can be booked via a tour operator or directly through the Sri Lankan Railways website. You don't want to miss one of the top things to do in Sri Lanka!
Check out our 1-week itinerary for Sri Lanka here, which includes this train ride!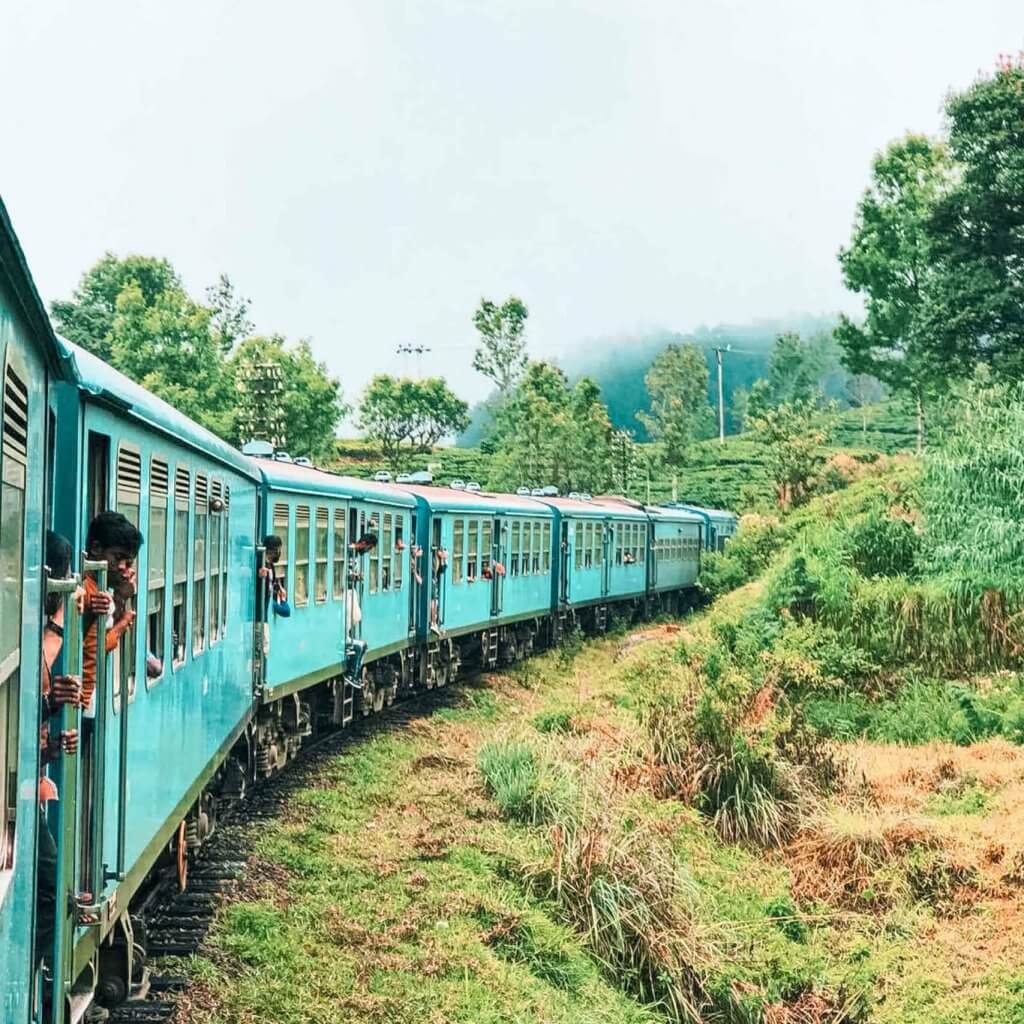 10. Explore the ancient city of Polonnaruwa
If you're looking for where to visit in Sri Lanka to learn more about the ancient culture and history of Sri Lanka, then you'll want to add Polonnaruwa to your Sri Lanka bucket list.
Polonnaruwa is one of the three stops in the cultural triangle of Sri Lanka, along with Anuradhapura and Dambulla (the closest town to Sigiriya).
This ancient city, which used to be the capital of Sri Lanka, is now a large archaeological site made up of ruins, temples, and museums that take you through the city's history and Sri Lankan culture.
The park has an entrance fee of 4500 LK and you can visit in three ways: on foot, by bike, or in a tuk-tuk. I decided to do it with a tuk-tuk as there's quite a lot of ground to cover, and my driver could share more about the history of each site. The tour can take anywhere between 2-4hrs, it will depend on how many places you visit and how long you spend ambling around the ancient structures.
If you do choose to explore the site on your own, here are some of my favourite spots to visit:
Kiri Vehera
Ran Kot Vehera
Siva Devale No. 2
Satmahal Prasada
Vatage
If you want to take the tour in a tuk-tuk, then I would advise you to speak to your hotel, and they'll be able to find a driver for you. The guide and travel to and from your hotel shouldn't cost you more than 6000 LKR. So the total you'll spend for this trip is around 10,500 LKR (£38) – bargain!
If you're staying in the region of Dambulla, then on your way back from your tour, keep an eye out for wild elephants! I was lucky to come across this guy placed perfectly with a backdrop of Sigiriya.
11. Go chasing waterfalls at Diyaluma Falls
If you're looking for ideas on where to visit in Sri Lanka, then make sure you don't miss Diyaluma Falls in Ella!
Diyaluma Falls is the second tallest waterfall in Sri Lanka and is famous for its infinity pools at the top. Yes, you read that right – a natural infinity pool that sits on top of a waterfall and 220m high!
Diyaluma Falls is a trendy insta-famous spot, but only to those up for the mission to get there! You'll need to take a 2hr tuk-tuk ride from Ella to reach the village of Poongalla and then hike another 30 mins to reach the upper section of Diyaluma Falls.
Once at the top, you'll get to bathe in the infinity pools and soak up the spectacular views of the verdant forests that shape the Sri Lankan highlands.
A word of caution – the infinity pools are only safe to swim in during the dry season as the waters become far too powerful in the monsoon season! Whatever the weather, Diyaluma Falls is one of the best places to visit and isn't a place you want to miss on your trip.
12. Watch the sunset from Galle Fort
If you're a sunset lover and want to catch one of the best sunsets in Sri Lanka, then you're going to want to add Galle to your Sri Lanka bucket list.
The sunset is visible from any point of the fort, but for the absolute best view, head to Triton Basiton. Pretty much all of the synset in Sri Lanka are memorable but there's always something a little about the one from Galle Fort. Whatever it is, it's claimed its spot as one of the best places to visit in Sri Lanka.
13. Find the picture-perfect spot of the Nine Arch Bridge in Ella
One of the biggest tourist attractions in Ella is the Nine Arch Bridge. This Viaduct is the Glenfinnan of Sri Lanka (find out more about the infamous Glenfinnan Viaduct with the Hogwarts Express in this Scotland blog post), and it sits hidden in the middle of one of Ella's lush green valleys.
You can explore the bridge from all angles, including on it… in the middle of the train tracks. However the best photography spots are from the tea plantations below or the hills above.
As a photographer, I'm always looking for the best angle and there are none better than the Asanka Cafe's balcony. This makeshift cafe clings to the hill just above the Nine Arch Bridge, offering the perfect shot as the train crosses over. Keep a lookout for the leeches though and try not to slide down the muddy hill afterward… as my boyfriend so gracefully did.
Despite the leeches, the Nine Arch Bridge is one of the best places to visit in Sri Lanka and should be high up on your Sri Lanka bucket list!
14. Go on a tea plantation tour
If you're still looking for ideas on where to visit in Sri Lanka, then check out Nuwara Eliya! Sri Lanka is the land of tea, specifically Ceylon tea, and there are thousands of acres spread across the highlands filled with some of the largest tea plantation estates in the country.
Tea plantation tours range from 2 hours to 2 days. The two-day tours are often trekking tours, so you can visit some of the most remote parts of the region and get first-hand experience of what it's like to be a tea picker. and understand how some of the best tea in the world is made.
If you want to know how some of the best tea in the world is made, then this has got to be one of the top things to do in Sri Lanka.
15. Get lost on the train tracks of Ella
If you haven't noticed yet by the sheer number of mentions Ella has in this blog post, Ella is one of the best places to visit in Sri Lanka. It has so many things to do, and one of the unique ones is walking on the old overgrown train tracks. Lots of the hiking trails you can take in this region will likely involve walking along the train tracks, and it's such a cool (and, let's be honest, instagrammable) experience. You know the drill, get it on your Sri Lanka bucket list for it!
16. Take a sunset swing at Dalawella
Speaking of instagrammable spots, this blog post wouldn't be complete without the most famed Instagram spot in Sri Lanka: the swing at Dalawella!
It's pretty self-explanatory. There's a giant rope attached to a hanging coconut tree, and you hang on a swing while watching a banging sunset. If you're by the coast, be sure to stop by Dalawella to take a swing, as this is one of the top things to do in Sri Lanka!
And that's it! I hope you enjoyed my Sri Lanka travel guide and have added all your favourite things to do to your Sri Lanka bucket list!
17. Attend a wellness retreat
Sri Lanka is believed to be what Bali was like back in the day, and much like Bali, it's become a hub for wellness retreats, the most popular being Ayurvedic focused.
Ayurveda is a holistic healing science that seeks to balance and harmonise the energies and imbalances in your body. The most famous ayurvedic treatment is Panchakarma which cleanses the body of toxins and restores and rejuvenates your system. Many retreats offer specific packages, like Panchakarma, but you can also make a tailored package based on what you want to experience. Ayurvedic treatments include massage therapy, herbal remedies, yoga, and meditation practises.
I recently enjoyed a 3-night stay at Sen Wellness, an ayurvedic retreat in Tangalle near Hiriketiya. My daily schedule consisted of x2 yoga sessions, one in the morning, one in the afternoon, a meditative walk along the beach, x3 ayurvedic meals, 3 daily treatments and a lovely flower bath. I can confidently say I left that retreat feeling incredibly rejuvenated, relaxed and energised. It was the most nourishing mid-way treat to recharge our batteries during our travels in Sri Lanka! See more and book your stay here.
Surely this has to be one of the best things to do in Sri Lanka?


What are your favourite things to do in Sri Lanka?
Where are the best places to visit in Sri Lanka? Anything you'd add to this Sri Lanka bucket list?
Love as always and happy adventuring…
Did you find this post helpful? I'd love you to share it for me.
Pin and save this blog post for later…