Situated on India's southwest coast, and often referred to as 'God's own country', Kerala is such a sensational place and one of India's most picturesque states. With its scenic backwaters, magnificent mountains, tea plantations, rolling hills and deep valleys, Kerala is the perfect place to enjoy a 1-week itinerary escape the crowds and enjoy wildlife, nature and lovely beaches.
After a busy month of exploring the fantastic, yet exhausting, states of Delhi and Rajasthan, I was certainly ready to immerse and re-energise myself in nature amongst the enchanting beauty of the Keralan landscape. I had the most wonderful time here, and I hope you also have an incredible trip and cover some amazing places with this 1-week Kerala itinerary.
Here's the perfect 1-week itinerary for Kerala, India…
How to get to Kerala:
This itinerary begins in Kochi as this is where the major airport is located in Kerala.
You can also travel to Kerala from within India by train and the easiest routes are from Delhi and Mumbai, however, they are usually very crowded, so you should book in advance, and if you want to avoid the crowds, book a higher class ticket.
It is also possible to get to Kerala from within India by bus. There are many buses that travel through the night from many major cities which will take you to Kerala.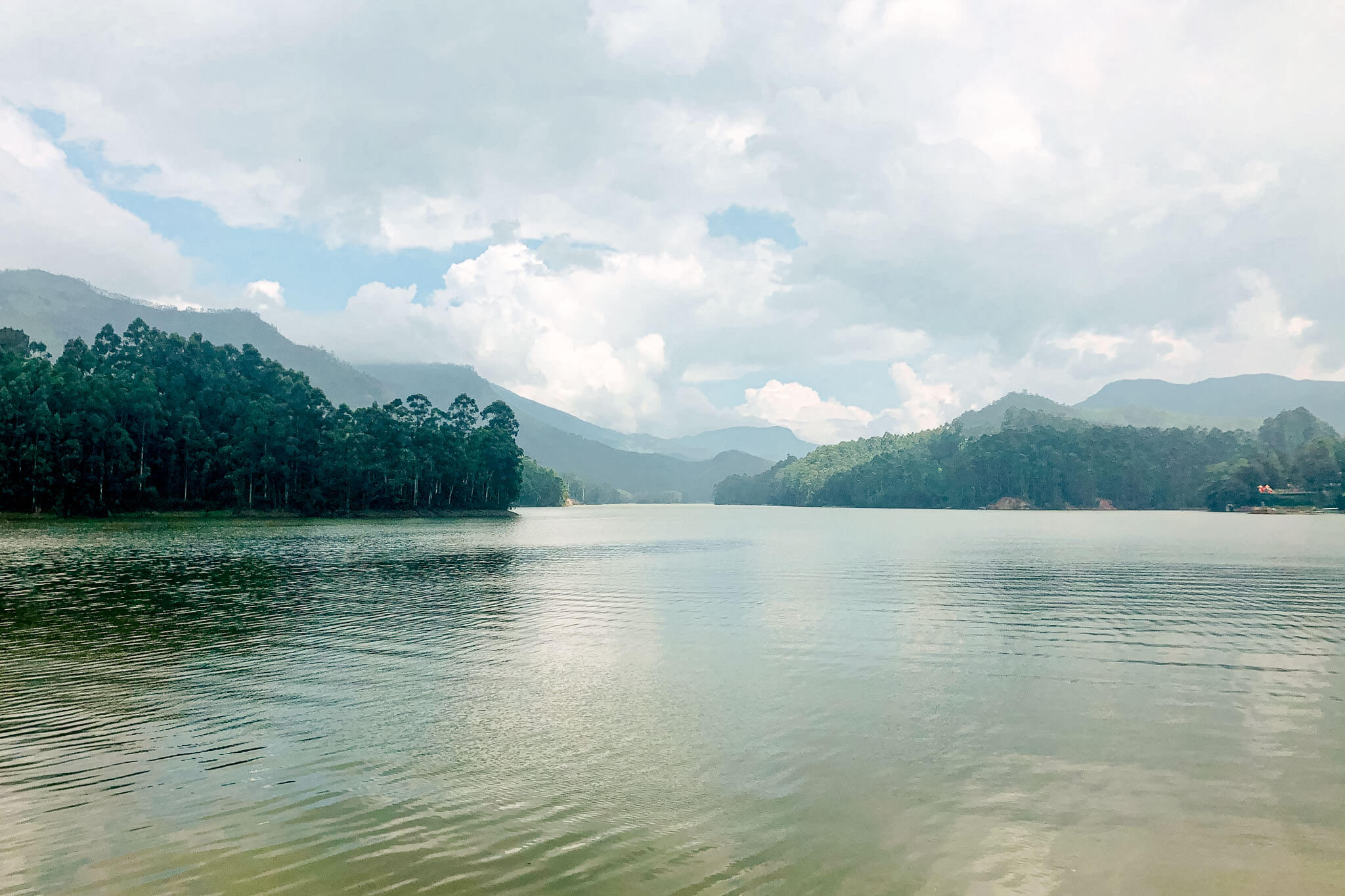 The best time to travel to Kerala
September through to March is usually the best time to visit. If you can, avoid the heat and humidity in April and May and the monsoon season from June to September.
Getting around Kerala:
It is very easy to travel around Kerala. You can get buses without booking in advance and can also travel by train, which is a little more expensive, but can be more comfortable in the higher-class carriages.
Travelling around Kerala by bus was an experience I thoroughly enjoyed, however, it might not be for everyone. The buses can sometimes get quite busy and the journeys are long. So, if you prefer, and budget allows, you can arrange taxis and drivers, or, where possible, take the train.
Top tips for taking the bus in Kerala:
Speak to your accommodation/guest house about your onward travel plans and ask them to guide you on bus timings, routes and how to get to the bus station. You can also message or call the hotel/guesthouse you are heading to and they can help with arrangements once you get to the bus stations in your destination.

The station masters and the bus conductors are very helpful. Head straight to the 'station master' office when you arrive at the bus station and they will point you in the right direction. Then, when you are on the bus, the conductor is your best friend! Whenever I took a bus in India I would let the conductor know where I was heading to and they would tell me exactly when I needed to get off.

Always be sure to confirm bus timings because they can change. Timings you see online are often useful to give you an idea of what might be possible, but double-check with your accommodation/guest house – they can call up the bus station and confirm for you.

The signs will likely be in Malayalam which has a different script. Taking photos of the destination name and showing it to someone who can help you and using it as a reference can be very useful.
All the places on this Kerala itinerary are easily reached by bus!
My 1-week Kerala itinerary…
The trip starts in Kochi and ends in Varkala. I've included a Google Map, pinning the route for this Kerala itinerary for you!
Day 1 in Fort Kochi
Accommodation: I stayed at Treebo Trend The Qasr. This was a lovely, modern hotel, but the location was a little far from the sights. I'd recommend staying on Fort Kochi itself instead as it is the historic centre where all the sights are. I've heard great things about Homested Homestay and Secret Garden, a Boutique Hotel.
Fort Kochi is a delightful, coastal area which is known for its British, Portuguese and Dutch colonial architecture. You can easily wander around on foot, exploring its alleyways and discovering charming little places as you walk around.
Depending on when you arrive in Kochi, I'd recommend you either spend 1 or 2 nights. If you have less time to play with, plan to land early in the day and spend just 1 night as Fort Kochi is small and you can see a lot in 24 hours. You can get a bus from the airport to Fort Kochi and these run regularly, take around 1h 30m and cost about 100 – 150 rupees. Alternatively, you can arrange for a taxi to collect you, which could be quicker and more convenient, but will cost around 1,200 rupees.
The best things to do and see whilst in Fort Kochi…
Check out the Chinese fishing nets.
One of the most striking features in Fort Kochi are the Chinese fishing nets that rise up out of the sea, first constructed in the 1400s. They are still in use today, particularly in the monsoon season.
The remarkable view of the nets and their interesting history definitely makes them worth checking out. However, I would note that it is important to manage your expectations. They are a bit of a tourist trap, and there is little mention online about the large volume of litter that surrounds the nets. I just strolled past, admired them and snapped some photos before moving on, which I think was the best way to appreciate them.
Explore Jew Town and the Paradesi Synagogue.
Exploring Jew Town is a must. At its height in the 1950s, there were around 250 Jews in the Fort Kochi population. There are now just a handful, but their heritage remains and you can visit the Paradesi Synagogue, built in 1568. 'Paradesi' translates to 'foreigner' in many Indian languages. Antiques are displayed in the synagogue, including scrolls of the Torah enclosed in gold and silver, as well as gifts of gold crowns from the Kings of Kochi.
Visit the Mattancherry Palace.
The Mattancherry Palace was built in the 1500s by the Portuguese and presented to the Raja of Kochi. It was refurbished by the Dutch in the 1600s. The Palace contains portraits of Maharajas, period furniture, mythical paintings and royal palanquins (portable beds/couches on poles, usually carried by porters or animals).
Take a stroll along Princess Street.
This is the place to look around for mementos, grab some food and maybe enjoy browsing in some charming book stores!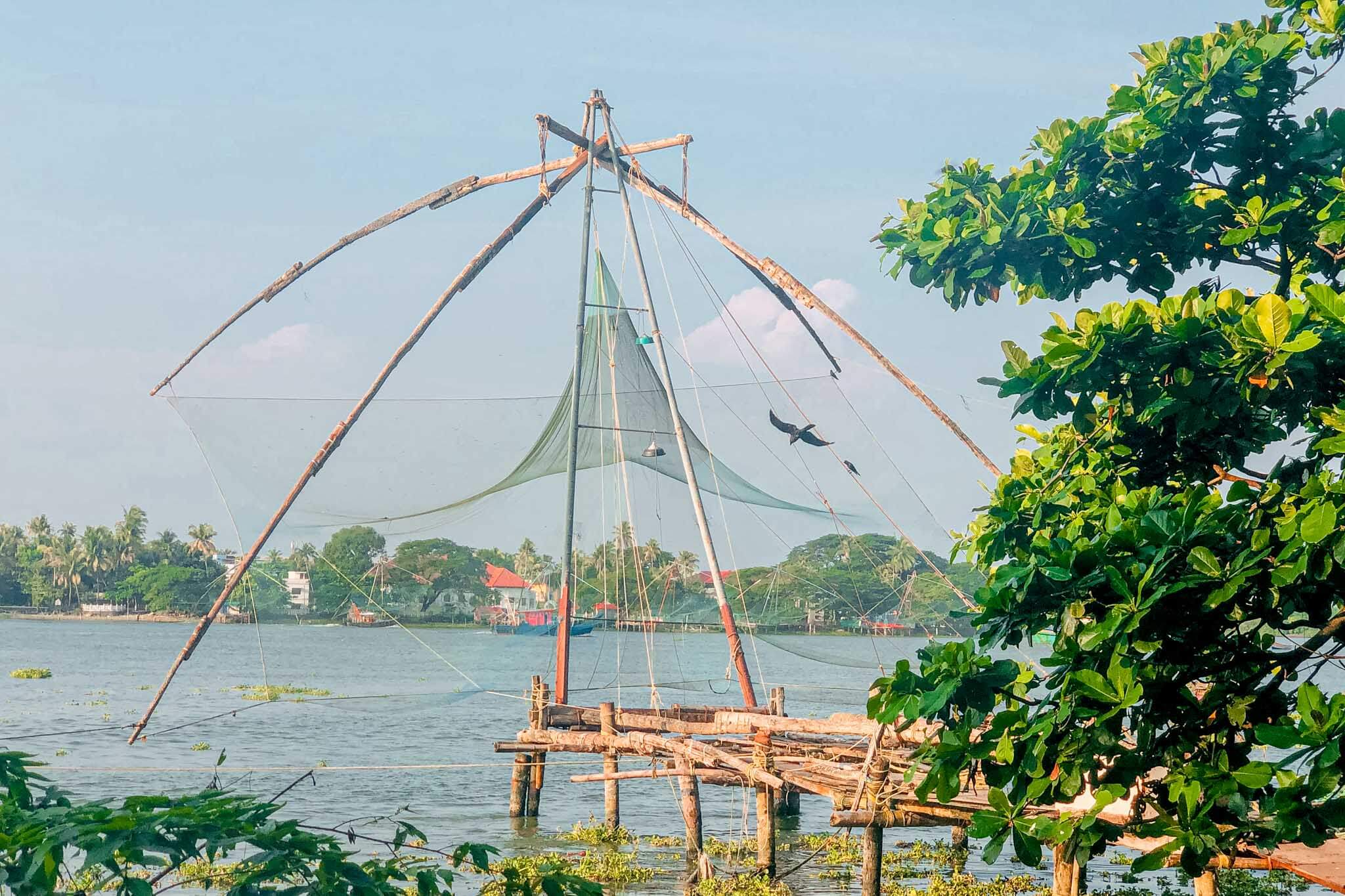 Days 2-4 in Munnar (3 days)
Accommodation: I stayed in Chithirapuram Palace. This was a fabulous hotel, but felt more like a homestay! The room was beautiful and the hotel also arranged great tours for very reasonable prices.
Munnar refers to both the small hill town and the surrounding area more generally. It doesn't matter too much where your accommodation is, as your hotel or guesthouse will usually arrange a driver and a guide to get you around, so you won't be disadvantaged by staying out of town.
Munnar, situated on the western mountains of Kerala, is a delight for nature-lovers with its picturesque meandering hills and views of tea plantations and stunning green vegetation for miles.
To get to Munnar from Fort Kochi, you'll need to take a taxi or the bus as there is no train route. If getting the bus, you may need to take the local bus from Fort Kochi to a more central bus station in Kochi town. It'll take about 2-3 hours and should cost around 100 rupees. Once you get to Munnar, if you are staying outside the main town, like I was, you'll likely need to grab a rickshaw to take you the last few miles to your guesthouse.
The best things to do in Munnar:
Mattupetty Dam is an impressive sight. It was built into the mountains of Kerala in the Idukki District to conserve water for hydroelectricity.
Visit a tea plantation and factory.
The scenery of Munnar is full of tea, which, as a tea-lover, I was very happy about! Plantations belonging to several large private tea estates decorate the hills and support the livelihoods of many in the area. You can book tours from your accommodation which include transport, a factory visit, a plantation walk, and tea-tasting.
Take a trek through the tea plantations and mountains.
There are a few different mountain treks on offer in Munnar. I did the Meesapulimala trek, which is around 4-6 hours of walking and the trail leads through gorgeous tea plantations and ends with a wonderful mountain top view above the clouds. If you want to wake up early, you can also do the Phantom Head hike, which is shorter but tougher, and reach the peak in time for sunrise.
It is a requirement to get a guide to walk through the tea plantations. I had a fabulous guide called Jeevan. If you'd also like to book with him, he can be contacted on +91 82814 79612.
Spice gardens are located a short drive outside Munnar. Here, you can learn about plants such as pepper, turmeric, and ginger and how they are used in Ayurvedic medicine to treat and prevent a wide array of ailments.
Be prepared for a bit of a hard sell after your visit. In the end I succumbed and purchased lemongrass oil and used it obsessively over the next 6 months to keep those pesky mosquitoes away.
Watch the Kalari Kshethra martial arts performance.
Kalari Kshethra is the martial art of Kerala and the skilled, exciting performances are a must-see.
Watch the Kerala Kathakali dance performance.
Kathakali is one of the main styles of classical dance in Kerala. Performed as a story by extravagantly-dressed performers, it is an entertaining insight into local culture and art forms. The performance I saw had a great comedy element too.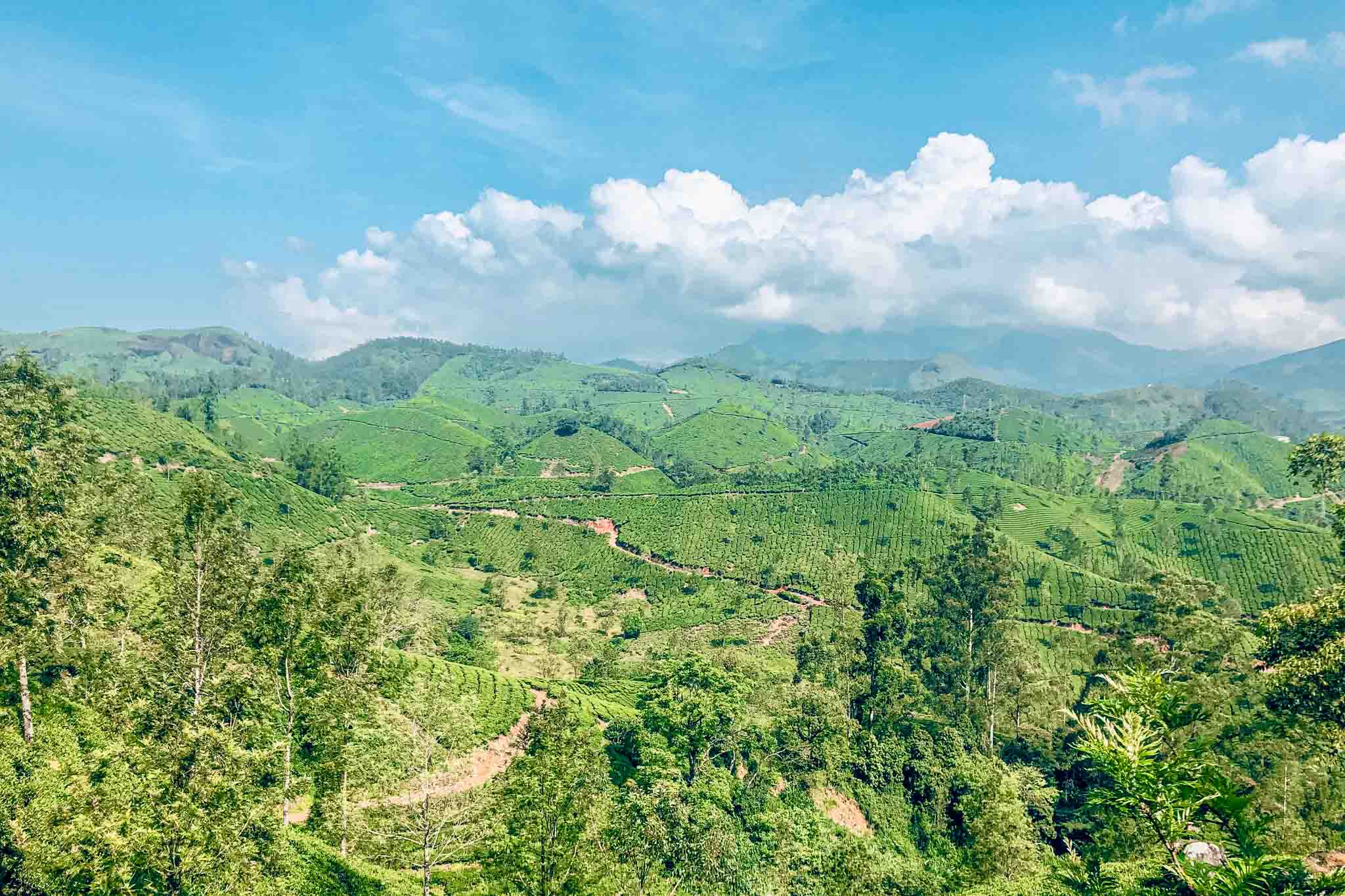 Day 5 in Alleppey
Accommodation: I stayed overnight on a houseboat with Soma Houseboats. The service was fantastic and the food absolutely delicious. The whole experience was amazing value for money and I'd highly recommend it. To avoid disappointment, it's best to inspect any boat before making a final agreement. If you want to book ahead, make sure to go with a company that has good reviews.
The best way to travel from Munnar to Alleppey is by bus or car. Direct buses are available but are not very frequent. You can take a bus to Ernakulam (Kochi) which should run every 40 minutes. From Ernakulam take another bus to Alleppey (I took the more modern air-conditioned bus, which cost 500 rupees).
Travelling by houseboat is such a relaxing treat, and one you must include in your Kerala itinerary! The first houseboats were constructed in around 3,000 BC. They were used to transport passengers and merchandise, such as spices and rice but now are mostly a tourist attraction.
You'll usually board at around noon and begin a journey exploring the stunning network of winding waterways of Kerala. You'll glide past villages, palm trees, fields, churches, temples and more.
After about an hour or two of wandering the backwaters, the boat will dock somewhere pretty for lunch. Most houseboat experiences include an on-board chef, which adds an amazing culinary treat to the experience. I must say, the food was mouth-wateringly good.
The boat docks overnight and departs shortly after sunrise (whilst passengers enjoy a hearty breakfast!) to make its way back to Alleppey for around 9am.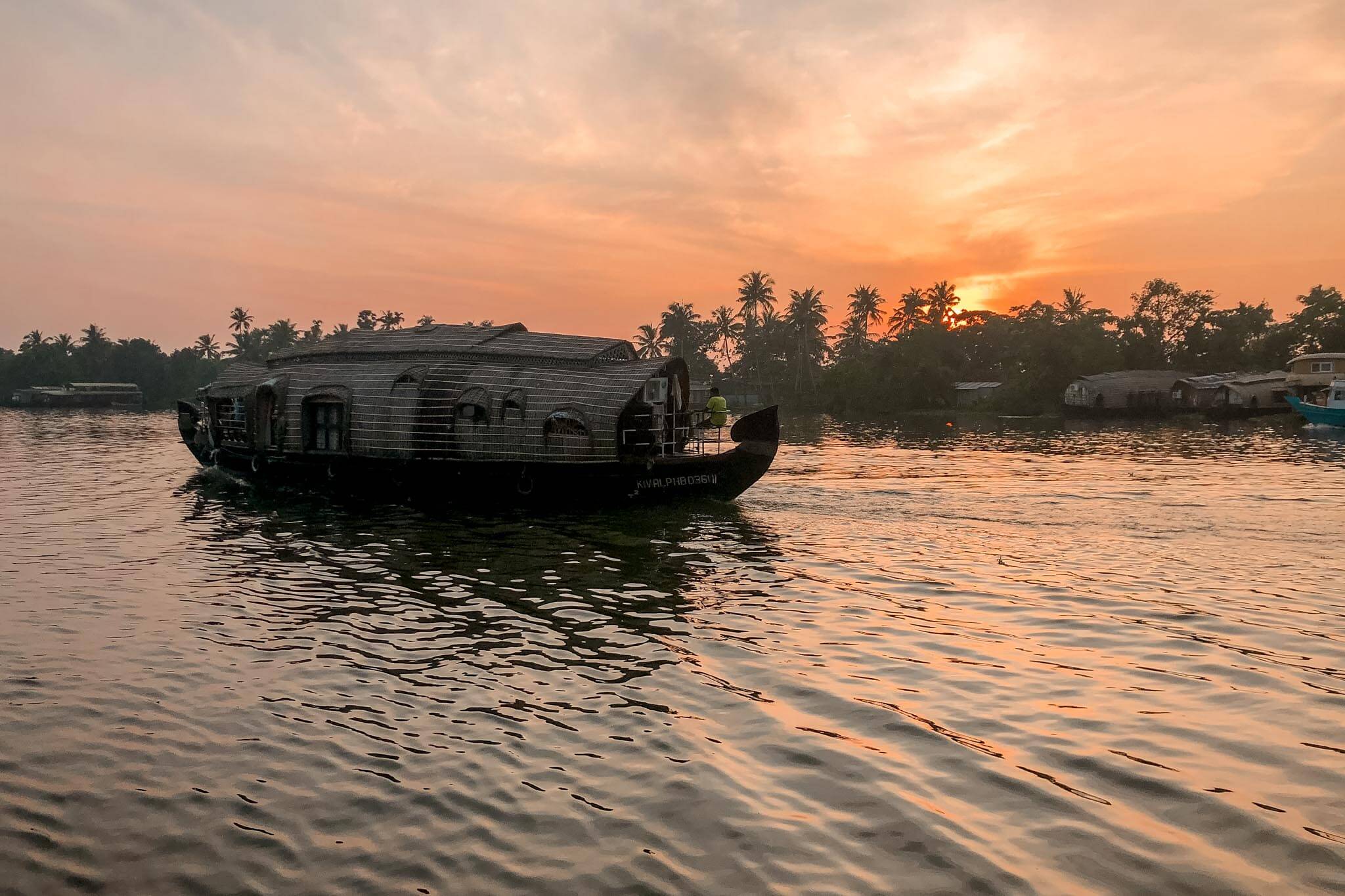 Days 6-7 in Varkala (2 days)
Accommodation: I stayed at Kshetra Ayurveda & Yoga Retreat. The location was great, about a 10-minute walk from the cliff and beach. The hosts were very welcoming and the grounds were beautiful.
I LOVE Varkala. It is truly a dream for the soul. The small town is located at the top of a cliff overlooking the Arabian Sea. It has great places to eat, yoga studios, water sports, boutique shops and the beautiful Varkala beach. Its laid back atmosphere makes it the perfect place to chill out.
To get from Alleppey to Varkala you can take a taxi, train or bus:
The taxi will take around 3 hours and costs around 3,500 rupees.

You can take the train from Alleppey station to Varkala station every 4 hours which takes 2-2.5 hours. Book in advance if you want higher class seats (general class can get very crowded). From the train station, you'll need to take a taxi or tuk tuk to your accommodation. Ticket prices start from around 100 rupees.

The bus takes around 4-5 hours.

I told the bus conductor that I wanted to be as close to Varkala beach as possible, so he told me to get off at a point just a 20-minute walk from the accommodation and the beach, which was perfect. Tickets will cost around 100-200 rupees.
The best things to do in Varkala:
Varkala is a joy for yoga lovers. Walking along the cliff you'll find loads of yoga studios with classes at many times of the day. The beautiful settings make for wonderfully rewarding yoga and meditation and I took some fabulous classes with Satwik Yoga.
Enjoy Varkala Beach and Cliff.
My main memory of Varkala beach is stunning red sandstone cliffs, golden sands and beautiful sunsets over the Arabian Sea each evening. Benches, restaurants and cafes are located all along the top of the cliff so you can find a viewpoint, grab a drink or some dinner and enjoy!
Try out some surf/watersports.
The southern cliff in Varkala is a surfer's delight. Surfers of all levels can surf here and there are a number of clubs which offer lessons as well as cool places to chill and hang out. Definitely worth checking out.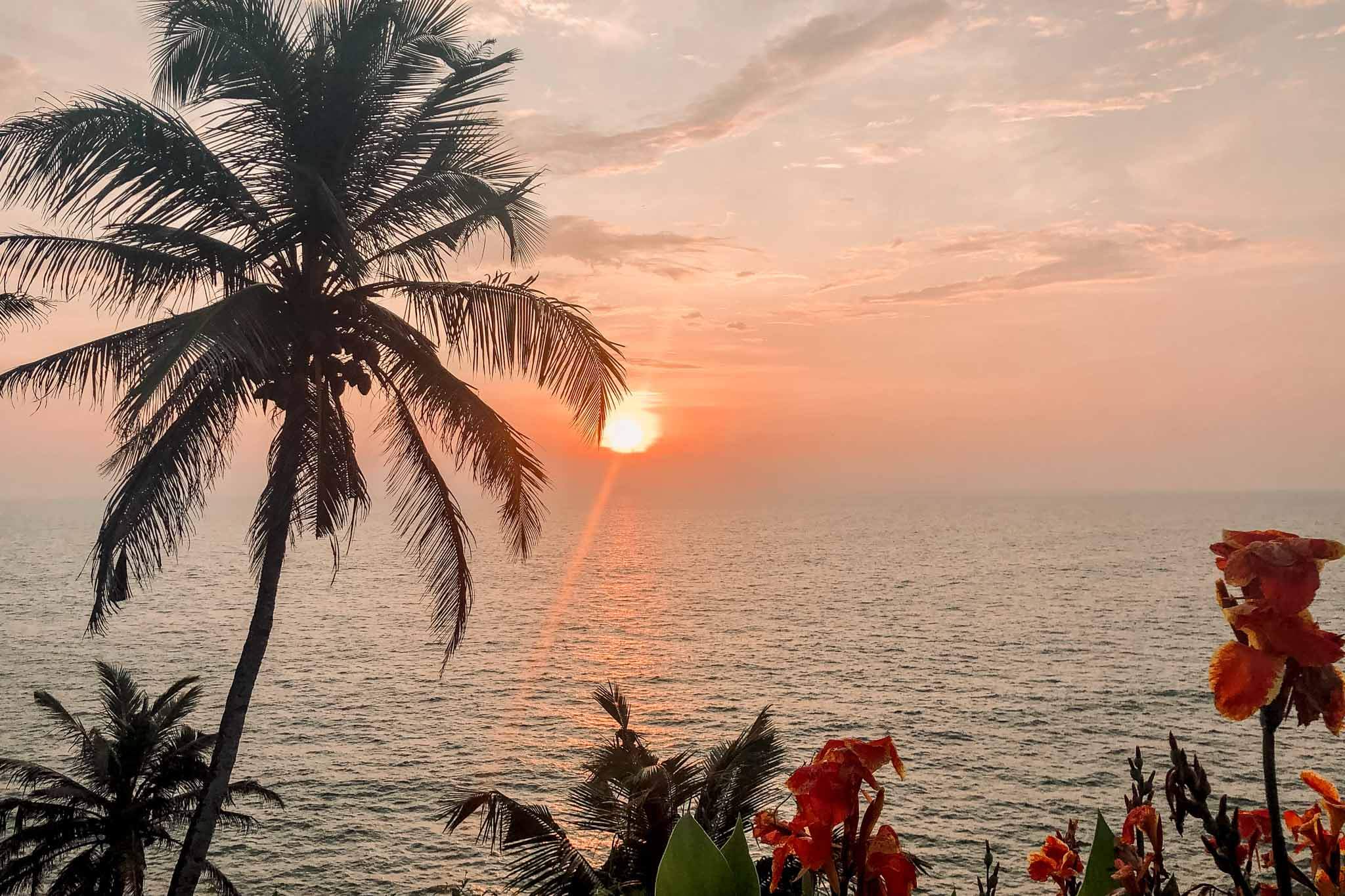 Have you been to Kerala, India?
What would you put on a Kerala itinerary? We'd love to know!
Love Cassie from Those Travel Days
You can see more of Cassie's adventures on her Instagram here.
Did you find this post helpful? I'd love you to share it for me.
I can't do this without you.
Pin and save this blog post for later…