Thailand was the very first place that I travelled fresh out of my A level exams in 2013, just turned 19. It was the trip that kickstarted my wanderlust and those 9 weeks that I spent backpacking around South East Asia will always hold a very special place in my heart.
At the time I hadn't quite mastered the art of travelling, taking photos, writing notes and jotting down tips and tricks for blog posts all at the same time, and now? My knowledge is probably pretty outdated.
Thailand is such a popular destination for first time backpackers due to it's low cost of living, and high delivery of adventure and freedom (partying). From buy one get one free buckets and partying with international backpackers in some of the most gorgeous locations in the world, to elephant sanctuaries, PADI diving certificates and island hopping – it's not hard to see why it's popular.
Even though it's a relatively cheap destination for a backpacker, there are still tips and tricks for saving money and making sure you have the smoothest of rides and so when Where's Mollie contributor and adventurer Robyn came back from her month adventure in Thailand in June, I was ready to pick her brains.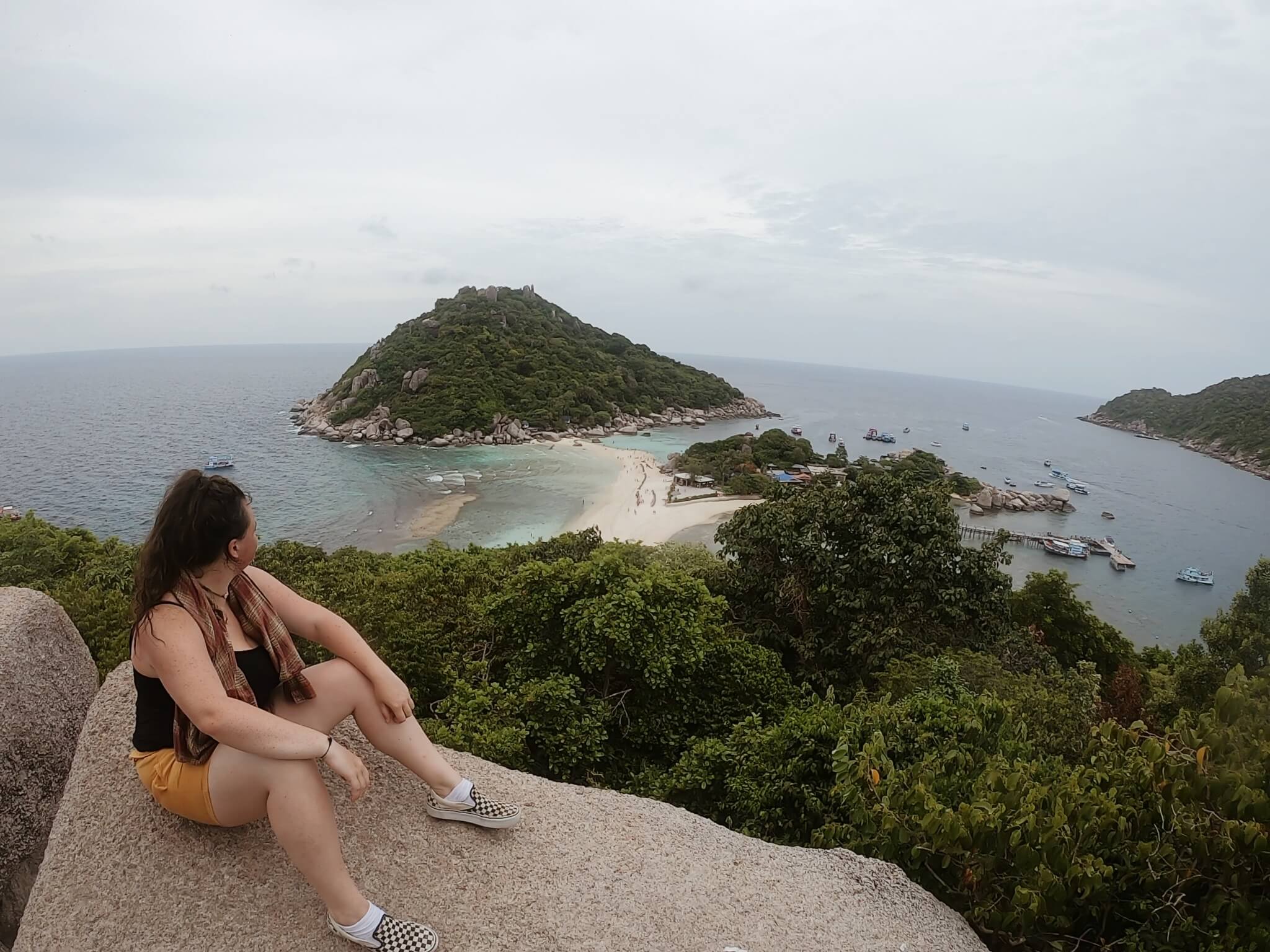 Here are 20 top tips and tricks for travelling in Thailand…
1. Unlock your phone before you go.
It's pretty important to keep your family up-to-date on your location and adventure amidst your travels through Thailand, both for your own safety as well as to share your experiences with them. Gotta keep your friends and Instagram fresh too! If you unlock your phone before you go, you can purchase a Thai SIM card and have internet on the go at a fraction of the cost your home mobile provider would charge you!
I only realized when I rocked up to Suvarnabhumi airport that my phone was still locked to my home network and couldn't purchase a SIM card. Safe to say I spent quite a bit of time asking for the WiFi password at every restaurant. It was very annoying for me – don't make the same mistake!
On that note…
2. Buy a local SIM card.
The next step is buying a SIM card. It's easy to buy a SIM card as soon as you arrive at Suvarnabhumi airport (the largest airport in Bangkok – I'm sure it's similar at other large airports too!) and there are lots of different packages on offer. There is definitely something for everyone (data wise and price wise). If not, it's easy to pick one up in the city.
3. Stock up on insect repellent.
Bugs are pretty bad throughout Thailand and you do not want to spend your time constantly itching. It can get uncomfortable pretty quickly.
Before you leave make sure you stock up on insect repellent containing 10% DEET. I would recommend having at least two bottles with you at all times. One in your large backpack and one in your small carry on bag.
For a good deet-based repellent, try OFF! Deep wood insect repellent. Click here to buy on Amazon.
If you prefer something without deet, try Cutter Lemon Eucalyptus insect repellent. Click here to buy on Amazon.
If you do suffer from bug bites during your time then pop into 7/11 (main convenience store) or any pharmacy to buy Tiger Balm. It is a menthol based gel that provides a cooling sensation when applied to the skin.
4. Bring a reusable water bottle.
It's pretty difficult to travel to Thailand and not purchase plastic water bottles but you can definitely reduce how many bottles you buy if you take a reusable one. When you arrive, buy a big 5L water bottle from 7/11 to keep in your room, which you can use to top up your reusable one. Also, download apps such as 'Refill my bottle' to help you locate different cafes and restaurants that offer safe and free water bottle refills.
5. Don't drink the tap water.
Western tummies aren't as acclimatised as Asian ones, so best to avoid stomach ache!
6. Take a backpack, not a suitcase.
This one is definitely a little debatable and depends entirely on the person. Decide on how long you are travelling for and how many things you would need to bring before buying either a backpack or a suitcase.
Personally, I always bring my backpack as it's easier to carry around (and I can't roll over anyone's toes!).
If you're looking for a durable backpack then you can check out my favourite here.
7. Buy a padlock for your backpack & bumbag.
Just to stay on the safe side, bring a mini padlock to lock your bum bag around your waist securely, and to secure your backpack. Unfortunately, Bangkok and other big cities have become notorious for pick pocketing and so it's better to be safe than sorry!
8. Learn some key phrases in Thai.
Always try and have a mini vocabulary built up when travelling around Thailand. It can be as simple as "hello" or "thank you". The locals really appreciate the effort and you never know when you'll need to speak to someone who doesn't speak much English.
9. Check the weather before booking.
The rainy season in Thailand varies in severity throughout the different provinces, but it's typically from May October. If you intend on backpacking during rainy season, expect quick and heavy monsoons. However, don't be put off the rainy season as the weather is still super hot, just don't forget to pack a light rain jacket!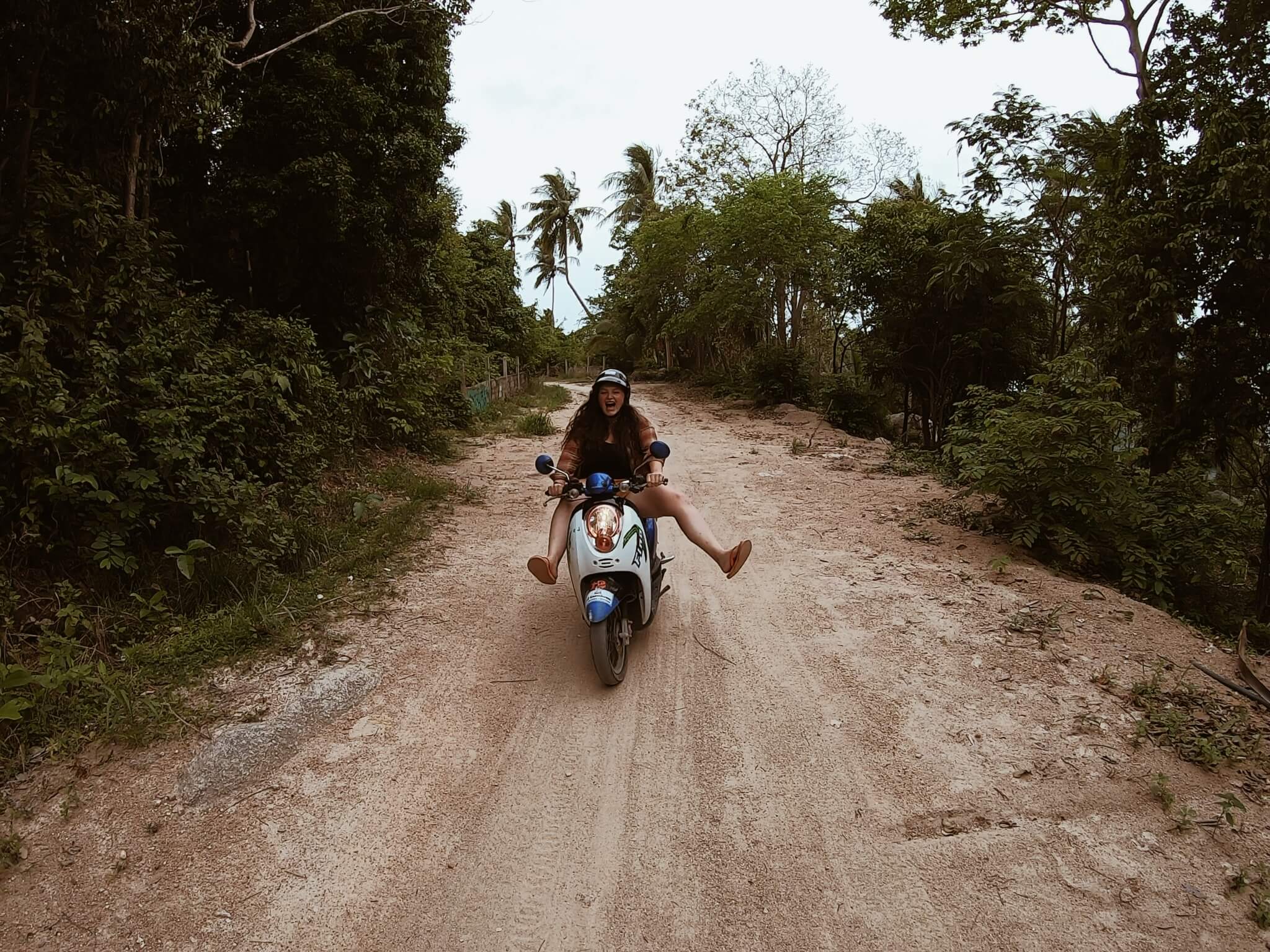 10. Be an ethical tourist.
The "elephant riding" industry has been part of a lot of discussions over the last few years due to the increasing awareness of what really goes on behind the scenes. For many travellers, elephant riding and getting that perfect snap was at the top of their bucket list. However, this is a huge ethical issue due to the conditions and mistreatment of these elephants. Instead of feeding into this kind of tourism, check out some elephant sanctuaries and spend some quality time with these amazing creatures in an environment that is safe for them.
Want to know what it's like spending a week at an elephant sanctuary? Take a little read here.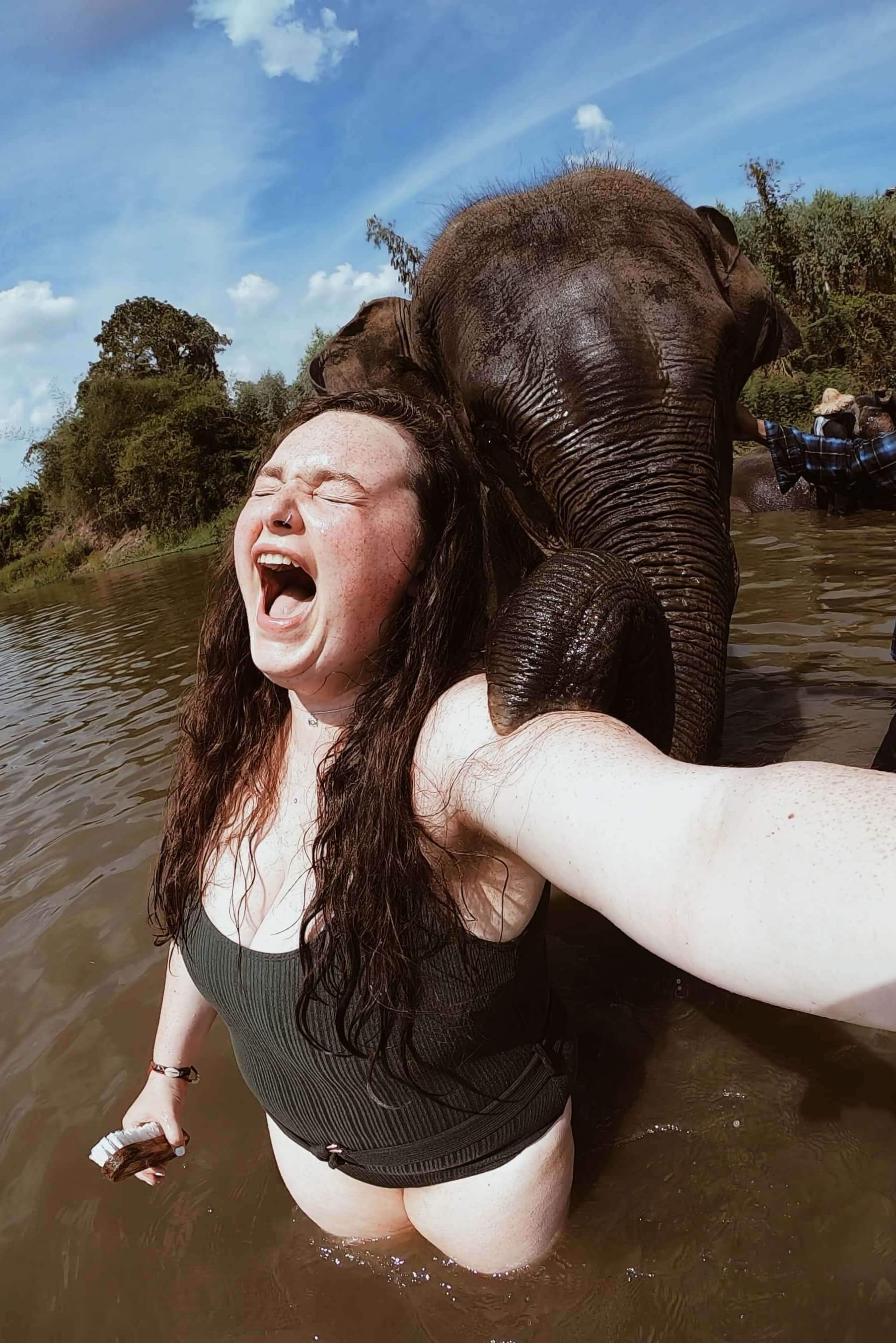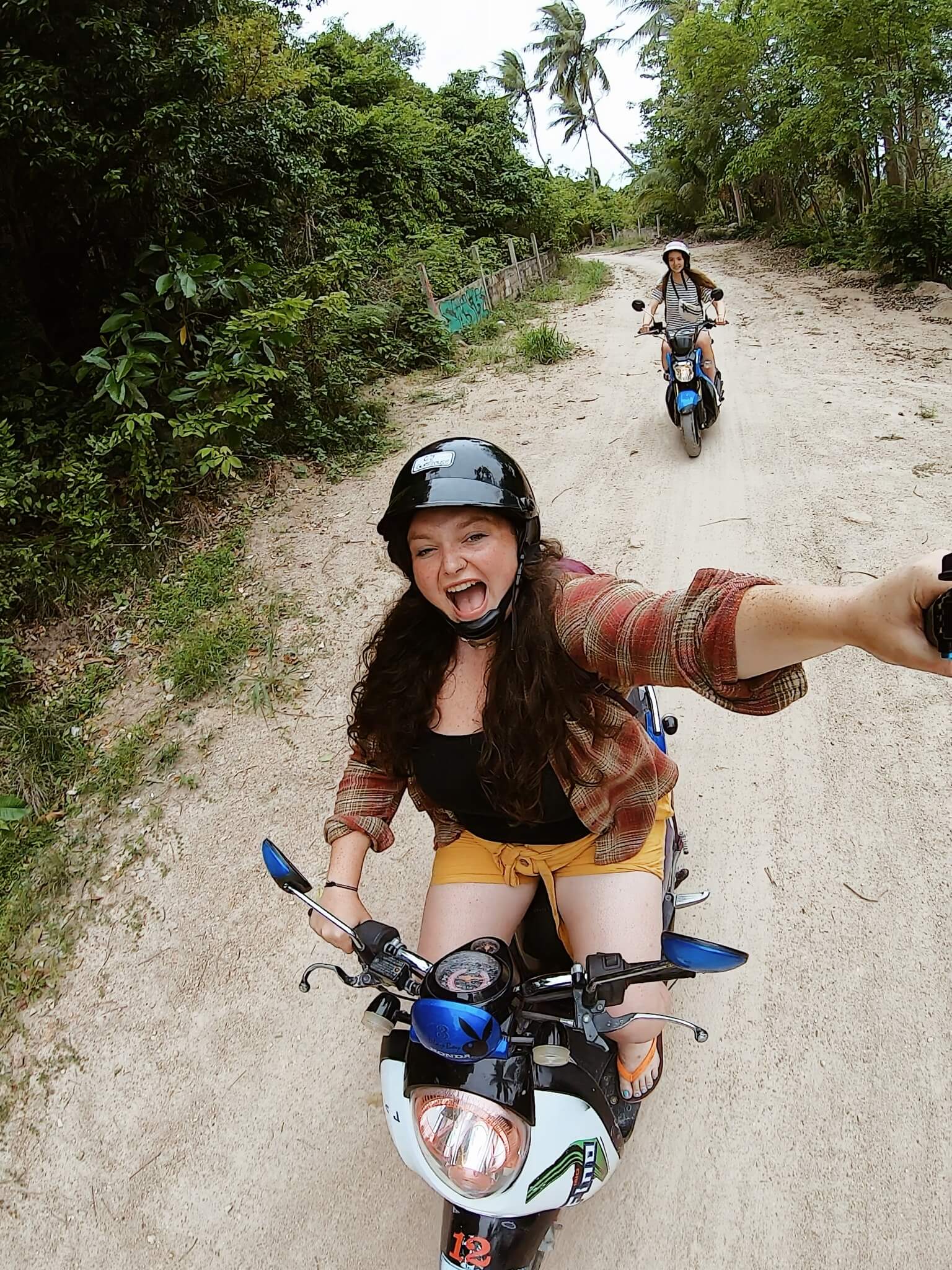 11. Be wary of scams.
Unfortunately, touristy areas are often famous for scamming the tourists that make these places so popular. In Thailand, this is particularly prevalent when it comes to nightclubs and scooter hire.
One of the main highlights during your Thailand adventure might be renting a scooter and exploring the islands. Before you hand over your passport as a deposit take LOTS of pictures and videos of the scooter. This is important so that when your return the scooter, you have proof of whatever marks and scratches were already on the scooter before they try and pin it on you. It's easy to lose out on money due to this scam.
In nightclubs always be aware of your cash and change given back from the bartenders. Some take advantage of drunk people and try to either not give back your change or give back the wrong change and convince you otherwise.
12. Pack good quality trainers or boots for hiking.
If you intend on checking out different national parks, it can be very wet and slippery during the rainy season. If you have the room then pack a pair of boots that have good grip. No room in your bag? Wear them on the plane!
13. Download helpful travel apps.
Technology has its advantages and disadvantages, but it can be a major help when travelling. Check out my full list of helpful apps to have when travelling here, but two of my favourites are:
Maps.me: F

ree, fast and reliable offline maps that give you detailed navigation. Perfect if you can't connect to the internet and need to find your way to dinner!

Currency: It's always hard to get your head around a new currency when you travel somewhere new, but let the app do the hard work for you with the conversions from baht to your home currency!
14. Understand and respect Thai culture.
When you arrive you will notice large and colourful monuments of their kings and queens scattered throughout their country. Under Thailand's law it is illegal to talk ill about the royal family and it results in a lot of trouble.
It is also illegal to take Buddha statues and images out of the country without an export license.
15. Pack suitable clothing for temple visits.
With hundreds of temples scattered throughout Bangkok, you will find yourself diving deep into the Buddhist history of Thailand. One extremely important thing to consider is what you wear during your time exploring the temples. Long sleeves and a skirt or shorts below the knee are a must or entry may be declined. A way round this if it's too hot for longer clothes is to buy a shawl and a sarong that you can whip out your bag. Don't forget to pick up a fan to cool yourself off while inside the temple. Also, some temples may also ask you to remove your shoes.
16. Drug possession and consumption is illegal in Thailand and can result in life imprisonment.
The death penalty is still legal for this too (although less frequent nowadays). Don't take the risk; it really isn't worth it here.
17. Try the street food.
Indulge in some of Thailand's most exotic and tastiest local street food. Whether it be a stall on the side of the road, Thai cooking class or a Bangkok street food tour, you'll have a flavour sensation! Street food is good for your taste buds and your wallet!
18. Book accommodation with air conditioning.
Thailand is hot and humid. If you can, splurge a little bit and treat yourself to some AC in your room. Believe me you will thank yourself after long days out in the sweltering heat. If you can't afford AC, a fan is second best.
19. Be prepared.
Make sure to pack eye masks and ear plugs because the streets can get noisy during the night while you're snuggled up in bed. These are also handy for getting a good night's sleep on the overnight train.
Additionally, pop some hand sanitizer and a packet of pocket tissues into your day bag. You can never be too prepared!
20. Enjoy!
Last and most importantly, embrace the adventure and create endless memories that will make you want to relive it all over again.
Have you been to Thailand?
What are your top tips for travelling there? I'd love to know!
Love as always + happy adventuring,
Did you find this post helpful? I'd love you to share it for me.
I can't do this without you.
Pin and save this blog post for later…