So Christmas party season is once again upon us!
Staff partys, Christmas gatherings and festive meals are in full swing and it's always nice to turn up with something right?
It's a busy time of year so I have created some quick christmas party treats for you to 'whip up' for the next due!
Marsh-melting Snowmen and Oreo Snowmen are on today's agenda and I made them both at the same time in under an hour 🙂
This is all you need for both:
(But I'll go through them separately)…
Marsh-melting Snowmen
All you need is:
Marshmallows, Icing Sugar, Water, Digestive (or similar) Biscuits, Wooden skewers + Writing Icing.
Create a consistency of icing that's 'medium', you want it runny enough to be able to spread easily but not too runny that it lies transparent and most of it ends up on the plate! 🙂
'Glue' (with icing) one marshmallow to each of the digestives.
TIP: Place it close to the edge so you leave room on the biscuit for snowman decoration!
Spoon icing onto the top of the marshmallows and let the snowman 'melt' naturally.
Using the tip of a skewer, encourage the icing around the bisuit where it may not be moving by itself.
Pop them in the fridge for 10 minutes to let the icing set.
Get out your chosen icing colours…
(I got the f
ruity collection
for a couple of pound from Tesco! and then just a black one!)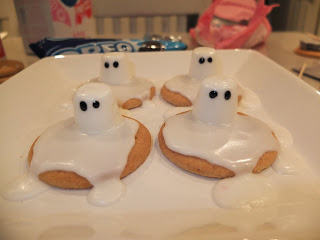 Decorate them however you'd like! Here's what I did 🙂
It's that simple! Done!
You could do them as simple (like mine) or as yummy as you'd like! You could get some Fox's Double Chocolate Cookies (YUM!) and do them on top of those…
Oreo Snowmen
All you need is: Pack of Oreos, Icing Sugar, Water, Writing Icing + Wooden Skewers.
This time the consistency needs to be slightly thicker. Still spreadable, but thicker than for the Marsh-melting snowmen. So if you have left over icing, just add a bit more icing sugar. 🙂
You can cover both sides of the Oreo or, like me, just one side.
Pop them in the fridge for 5 minutes to set.
Then decorate! 🙂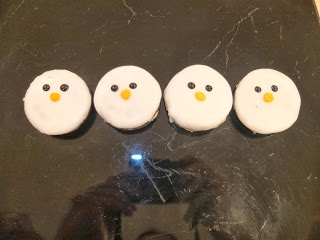 I had some super long skewers, so I cut them in half to make mini ones 🙂
Using the 'pointy' end of the skewer, CAREFULLY slide the tip into the Oreo icing.
TIP: When I say be careful, I mean really really gently otherwise the Oreo crumbles!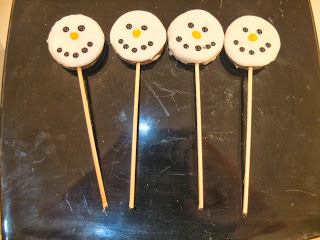 And Voila!
Done and Done!
Very simple, and well, I think very effective!
Why not whip some up and take them to the family on Christmas eve! 🙂
Didn't fancy helping me today ol?
Mollie xoxo
P.s. Stay tuned for 'A day in Camden'!
P.p.s. Please do come and join me on…