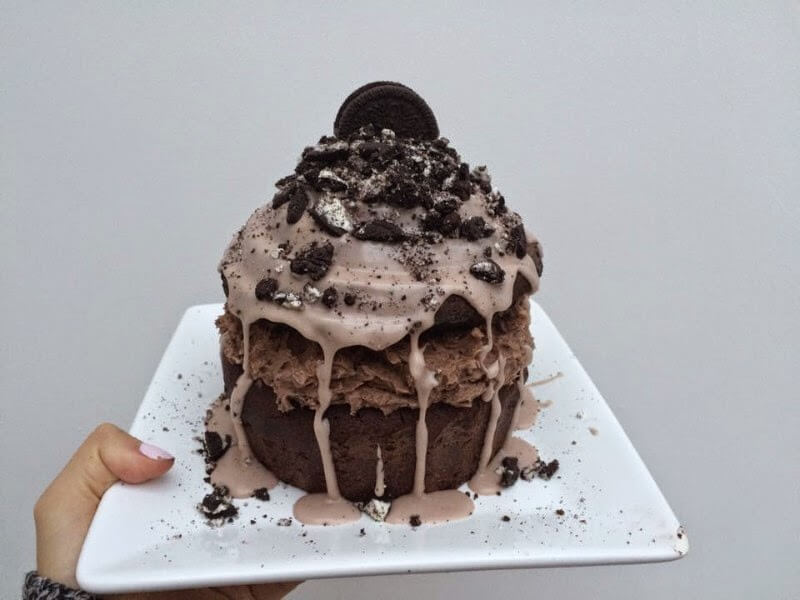 So you may, or may not, have seen this photo i posted on Saturday?
Judging by the reception it got, i think it's safe to say a lot of you have a cake weakness.
If you don't, I congratulate you, because I go completely weak at the knees for a good piece of cake.
On Saturday, one of my friends celebrated her 21st Birthday at
Buddha Bar
in London & every year I will turn up with a cake creation. Last year it was my famous Rocky Road and the year before I did another Giant Cupcake Creation…
So this year, I went all Oreo on it and this is how I did it…
(I usually bake the cake the night before, leave it to completely cool and then ice / decorate the next day).
You will need:
For the Cake:
– 8oz self raising flour
– 8oz Caster Sugar
– 8oz butter (room temp)
– 4 large eggs
– 1 teaspoon baking powder
– 2 Tablespoons cocoa powder
For the Filling:
– Butter + Icing sugar (i never measure… just until it looks / tastes right) + 5 Oreos.
For the Topping:
– Icing Sugar + Water + Cocoa powder + 5 / 6 oreos for decoration.
1. Preheat the oven to 170deg.
Whisk the flour, butter, eggs and sugar together in a bowl until the mixture is throughly mixed, even and drops of the spoon.
2. Add the cocoa powder and mix in.
3. Your mixture is ready!
Split the mixture into the 2 moulds, half in one and half in the other. Place in the centre of the oven and set a timer to check it in 30 minutes.
(Because it's such a large cake, you use a slightly lower heat than you would usually and bake it for longer to make sure it is cooked throughout.)
To Check if it's done: Stick a knife through the centre, if it comes out clean then it's done. If it's still gooey with mixture put the cake back in the oven…
Mine usually takes 30-40 minutes.
4. Take cake out of oven when done, and leave to cool thoroughly on cooling rack before decorating / removing from mould.
(I usually decorate the next day, but if it's cool and you are tight for time then go for it!)
5. In a bowl, it's time to make the filling.
Whisk your desired amount of butter and icing sugar to create a butter icing to your taste.
Then take 5 Oreos and crush them into the butter icing…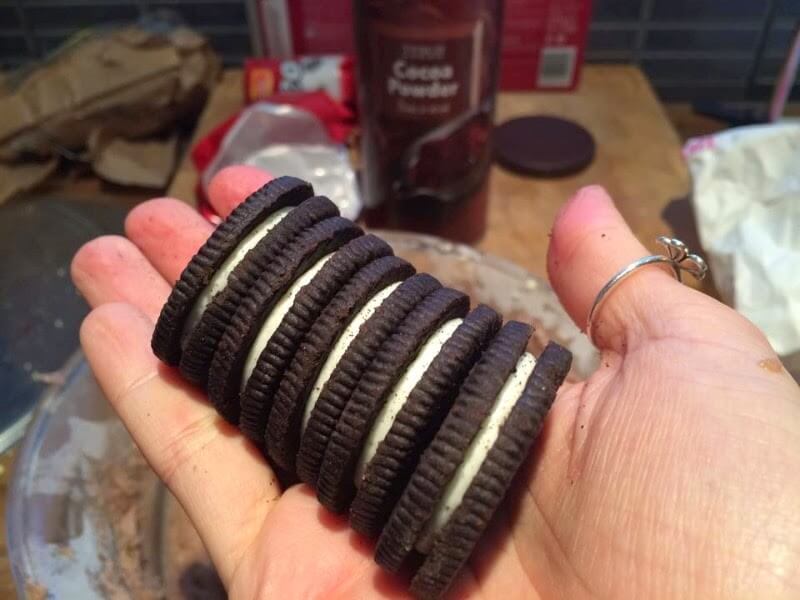 Stir!
6. Use a knife to spread the filling generously on the bottom half of the cupcake before placing / sticking the top half on top of it.
7. In a separate bowl, mix together a bit of icing sugar, water and tiny bit of cocoa powder to create this light chocolate coloured icing.
8. Drizzle in on the top centre of the cake and let it fall naturally down, gently helping it in different directions where necessary.
9. Crush as many Oreos as you like on top of the giant cupcake until your heart's content.
VOILA!
Highly recommended to be served with a cup of tea and good company…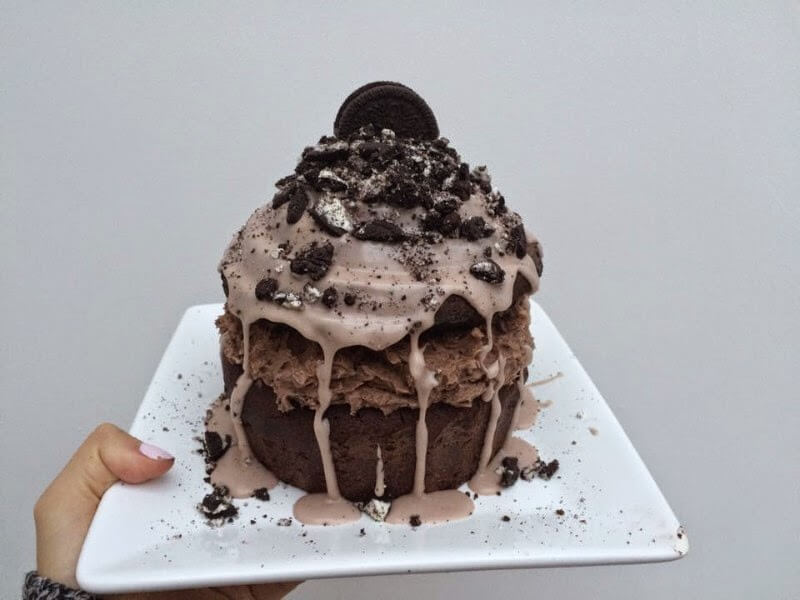 Let me know if you make it!
And make sure to tag me on Instagram/Twitter in any photos if you do! @molliebylett ♡
Thank you for reading, lots of love…