'Where's Mollie next, then? What trips have you got coming up?'
'Albania's next. A week's road trip in Albania.'
'Albania? That's an odd place to go isn't it? What are you going to do there?'
That consistently confused response is exactly why I said yes to joining Oh So! on their first ever road trip through this gorgeous country.
This trip launched in Summer 2018! Book your Oh So! road trip through Albania here.
I also said yes because the above was also my response too, until I did a bit of research.
Be ready to have your mind blown on this one.
Prepare to explore the seemingly undiscovered, the authentic and the ridiculously stunning landscapes that sit modestly here in Albania.
Honestly, I haven't been this excited to discover somewhere in a while…
A little bit about Albania…
Albania sits on Europe's south eastern Balkan peninsula and is met at its coastline with both Adriatic and Ionian waters. With Corfu, the Greek island, just a 30 minute boat from the southern beaches of Albania, and Greece just south of the country, you can get an idea of just how beautiful the water and climate is here. That's before you've explored the Albanian Alps and the many castles and archaeological sites that Albania is home to.

Despite its beauty, Albania is considered one of the most under developed countries in Europe. Admittedly, right now the flight paths and frequencies don't make it the easiest adventure to plan.
From London, I took a 6.10am flight from London Luton direct to Tirana, the capital of Albania.
For those unaware, London Luton is a 1 hour taxi from London (40 miles from my flat in south west) and for a 6.10am flight this made for a 3am pick up. It kind of wipes off your first day unless you are talented enough to fall asleep at 8pm the night before to still get your 7 hours.
Regardless, the journey was smooth and I slept through the flight. Happy days.
Because of the inability to coordinate flight times (10 of us joining for the week were coming from all over the globe), we stayed the first day and night in the capital, Tirana.
DAY 1
First to arrive, Ivana and I checked into Buff Hostel (they actually picked us up from the airport so something to note if you stay here too).
Understandably, we were absolutely knackered after our early start in London, but never ones to turn down food we insisted on a little explore and spot of lunch before we had our afternoon siesta.
When asking Trip Advisor for the best restaurants in the area, the majority were now closed, didn't have websites or just didn't seem too appealing. So, we asked our hostel owners for their recommendations instead and we headed to Muma Bistro, a 15 minute walk away.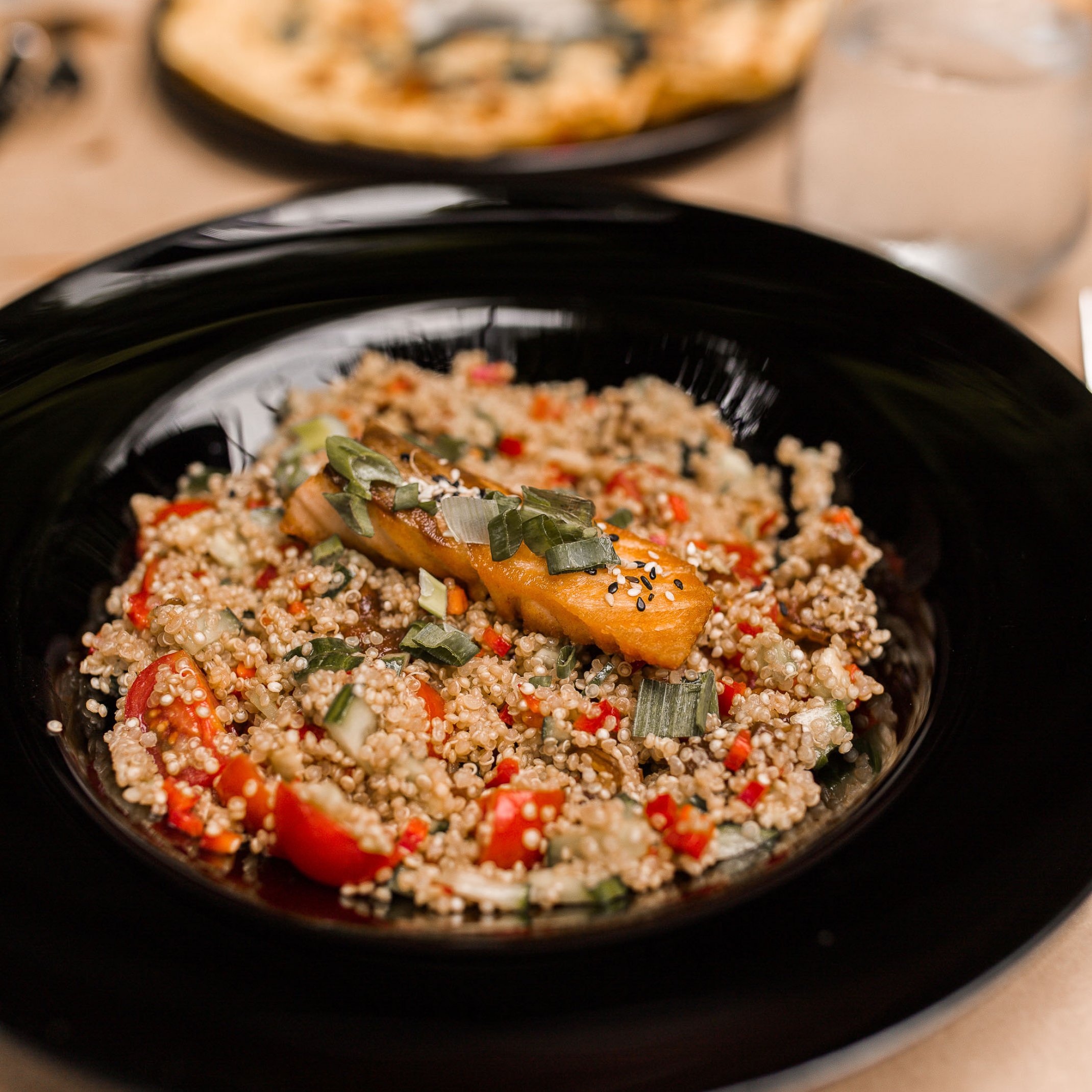 We got the exact nutritious energy boost we were looking for here in the form of fresh fruit and veg juices, followed by salmon and quinoa for me and a Burrata omelette for Ivana. It also looked like they had a pretty good cocktail menu!
A dreamy hotspot worth noting!
My first impressions of Albania here in Tirana were so different to anywhere I've ever been.
They had the non uniformed, free for all road strategies that you find in Bali, streets lined with second hand shoe shops and fruit markets like those in Asia, but the architecture and eateries like those in Europe. It took me a while to process it, but I loved it.
The locals were soft, friendly and seriously inquisitive. It's quite clear tourism isn't prominent here, but that's not to say it isn't welcomed. I felt safe.
Hold up. I completely forgot to mention how cheap it is here. Wow wow.
Our lunch worked out at 1000 Albanian lek (£6.95) followed by a yummy ice cream cone from a beautiful gelateria for just £0.48.
Discovering that my roaming sim (from back home in the UK) didn't cover Albania, I also purchased a SIM card for the week with 6GB of data for 1100 Albanian lek (£7.65).
Bargain.
For dinner we took another recommendation from Matilda and Stavri (the lovely Albanian couple that own Buff Hostel) and headed to their favourite seafood restaurant: Markata E Peshkut.
You could tell by the wine glasses and platters of fish on the tables of the customers that had already sat down that this was a good call. The food was insane.
We stepped inside to select the fish we wanted to dine on, sat back in our outdoor seats and people-watched over the thriving square that this restaurant sits on the corner of.
Albanian elders in suits on bikes, friends with beers watching the World Cup and young children playing.
Never a dull moment.
No sooner had we enjoyed starters of Calamari, octopus, sardines and salad, than a sharing platter arrived, accompanied by seafood risottos, salad and a choice of beer, red wine or white wine.
We split the bill and it came to just £18 each.
Just look at the platter. Enough said.
I slept with a satisfied tummy and a soul very excited to uncover more of this country…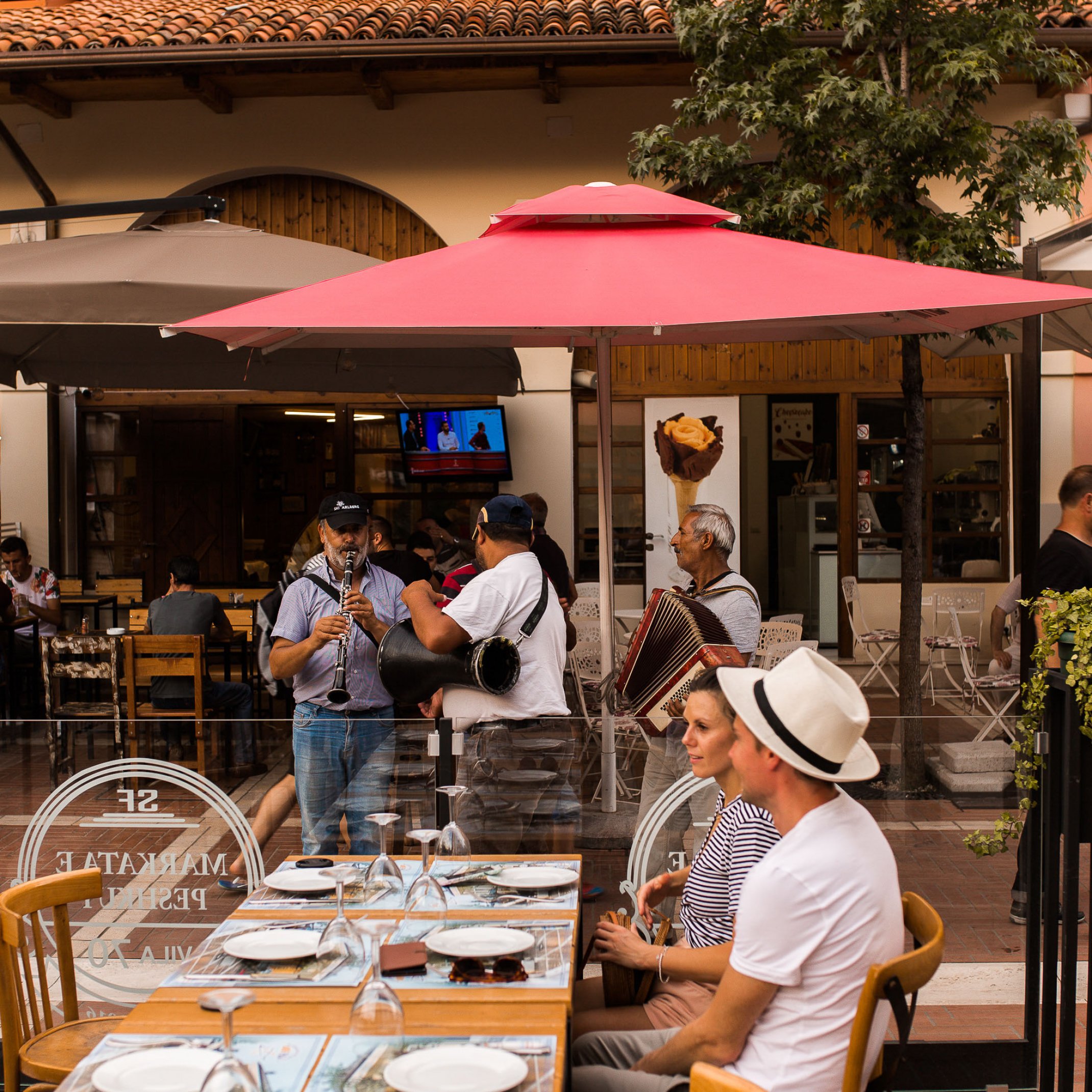 Day 2: Vlore and Llogara National Park
Extremely happy with a sleep of more than 3 hours, we woke in our hostel to a fresh breakfast of cheese, tomatoes, boiled eggs and bread before setting off on our four hour journey toward the coastline.
Now that we had passed through Vlorë, it was time for for one of the most beautiful drives I've ever done. In Europe, anyway.
Welcome to Llogara National Park.
Windows down, music up, hair down…
Have you been to Albania?
What were your favourite spots? I'd love to know!
Love as always + happy adventuring,
Did you find this post helpful? I'd love you to share it for me.
I can't do this without you.
Pin and save this blog post for later…