As part of the Oh So Albania! trip that I was here experiencing (launched in 2019), our group had a two day entry pass to the hottest new festival on the scene, set right here on the Balkan coastline – Kala Festival.
Kala Festival
Running for the first time this year (20th – 27th July 2018) this 7 day extravaganza has taken the untouched Albanian Riviera and enhanced it into the most gorgeous space for you and your friends to discover euphoria.
International acts, sunset dance parties, beach dance floors, ocean front yoga and massages, group BBQs, speed boats to secret gorge locations, fairy lit walkways and jetty filled DJ sets. All this in addition to crystal clear, lukewarm turquoise waters and a 360 combination of mountains, beaches and undiscovered Albanian landscapes.
It's safe to say – there's no festival on the map quite like it.
How do you get to Kala Festival?
The easiest route for arrival into Dhërmi is flying in to Corfu (Greece) – a destination most budget airlines fly to. From there you can then take a boat to Dhërmi (about 3 hours away).
Otherwise, you can fly into into Tirana (the capital of Albania) where you can hire a car and drive to Dhërmi (about 3.5 hours). I have to say this was an incredible drive and would be a great way to extend your adventure to include some mountains. See what your road trip could look like here on my blog post.
If you do decide to fly into Corfu, the festival provide a Kala Boat service which includes drinks, DJs and all of the good vibes for the journey across. See more here.
Okay, so our first night at the festival was awesome. You know how it is, sunset, house music, beach vibes, Aperol Spritz flowing and a desire to be nowhere else but where your sandy feet are placed.
DAY 3
What I really want to tell you about is our second experience at Kala. This was the day we took the €4 speed boat over to Gjipe Beach and experienced Kala's secret location…
It blew my mind.
Let me set the scene…
We pulled up to the shore of Gjipe hyped from thrill of the speed boat, driven by a local speed demon. We jumped off and happily soaked ourselves in the shallow clear waters of the beach. After cooling off from the 30 degree midday sun rays, we walked up the stones as if discovering a new land (movie style-y).
Unlike what I expected, the festival decor wasn't at all overwhelming from the shore. In fact, it was seemingly discreet. The beach still looked undiscovered to the eye. The sense of discovery that I had fallen completely in love with in Albania so far was still present. But, we could hear music in the distance.
Slightly confused and completely suspicious of how Kala were going to pull this one off, we let the sound of the music guide the way. Just through the foliage heading into the gorge we spotted a little shack bar, and to the left, a DJ booth.
The set up on Gjipe Beach was quite possibly the most surreal dance floor setting I've ever popped my dance moves on. I kept finding myself in disbelief. Mountains and blue skies towered above me. John Gomez and Nick The Record sent out the sound waves. Bikinis and iridescent jewels hung from the trees and reflected rainbows across my vision. All this was washed down with a 500 Lek local Kosovan beer.
We danced all day. Gjipe beach had the vibes I live for, the ones I chase. Pure happiness ran circles through my body. Kala delivered the goods.
I really loved that Kala worked with a maximum capacity for this experience. Whilst they could have hosted thousands here, they kept the numbers small, the dancing area spacious and the feeling of really discovering this Albanian paradise four yourself at the forefront of the day.
I hope they don't sell out in the coming years and ruin what made this festival so special.
We will see.
We danced until the last speedboat took guests back to the main festival at 7.30pm. Then, we continued straight on to Tom Misch as he played out the last bit of daylight at Emperor stage (the main outdoor stage). It was glorious and the perfect end to a perfect day.
Calling it a day just before midnight, we jumped in a 10 minute taxi back to our beach huts and crashed the moment our heads hit the pillow.
Day 4
Our two days at Kala had been the perfect addition to our trip. But now it was time to continue and head to the next destination.
We hadn't actually explored the beaches right outside our accommodation here at Altea Beach Lodges yet. Aware of this, we packed up the cars and took a stroll down. You'll see from the pictures in a second why this 'stroll' instantly turned into two hours of rock jumping, local fresh fruit devouring and diving in and out of the turquoise waters.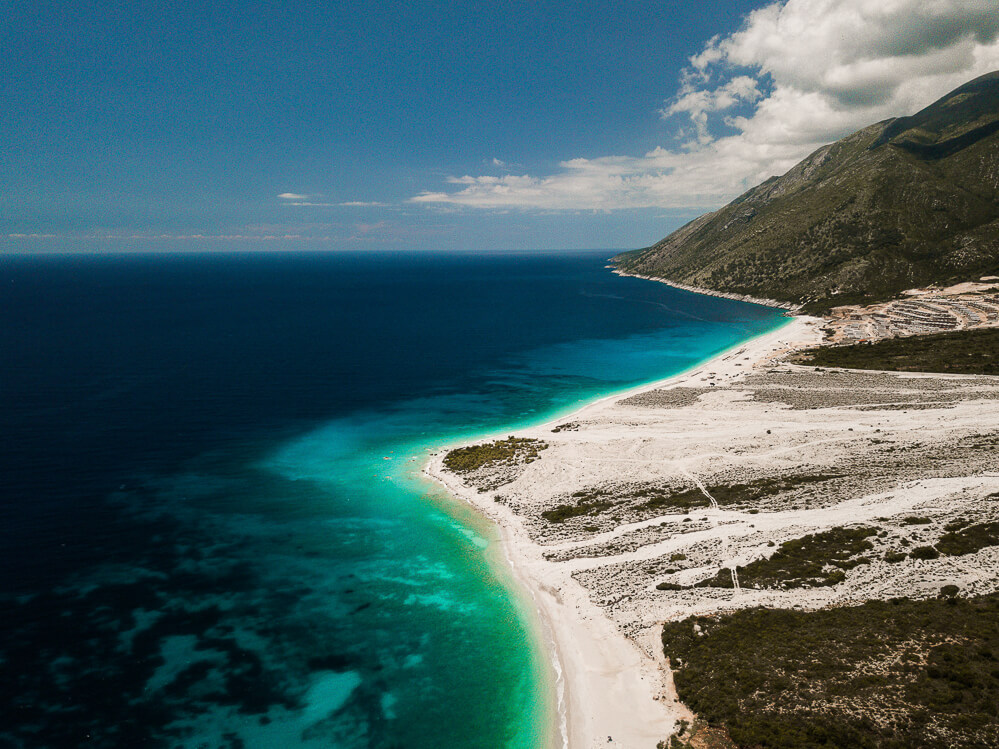 Have you been to Albania?
What were your favourite spots? I'd love to know!
Love as always + happy adventuring,
Did you find this post helpful? I'd love you to share it for me.
I can't do this without you.
Pin and save this blog post for later…