The Whitsundays' swirl is iconic. Just you wait until you see it in the flesh.
There's no photoshop needed whatsoever when it comes to Whitehaven Beach. Whitehaven Beach has every reason to be sat at the top of your bucket list for your adventure in Australia. Check out my east coast Australia bucket list here.
A guide to The Whitsundays
The Whitsundays are a group of 74 islands located just off the Queensland coast. They're home to unbelievable white sandy beaches, crystal clear waters, coral reefs teeming with wildlife and plenty of rainforest hikes and trails.
It's a tropical paradise for travellers and backpackers alike.
Heading out to explore on a sailing tour is an amazing way to see this phenomenon. You'll have access to beaches and reef that are only accessible by boat. Whitehaven Beach is included in all sailing trips so don't worry, there's no chance you're going home without that picture. Let's just say, your instagram feed will be making people at home very jealous.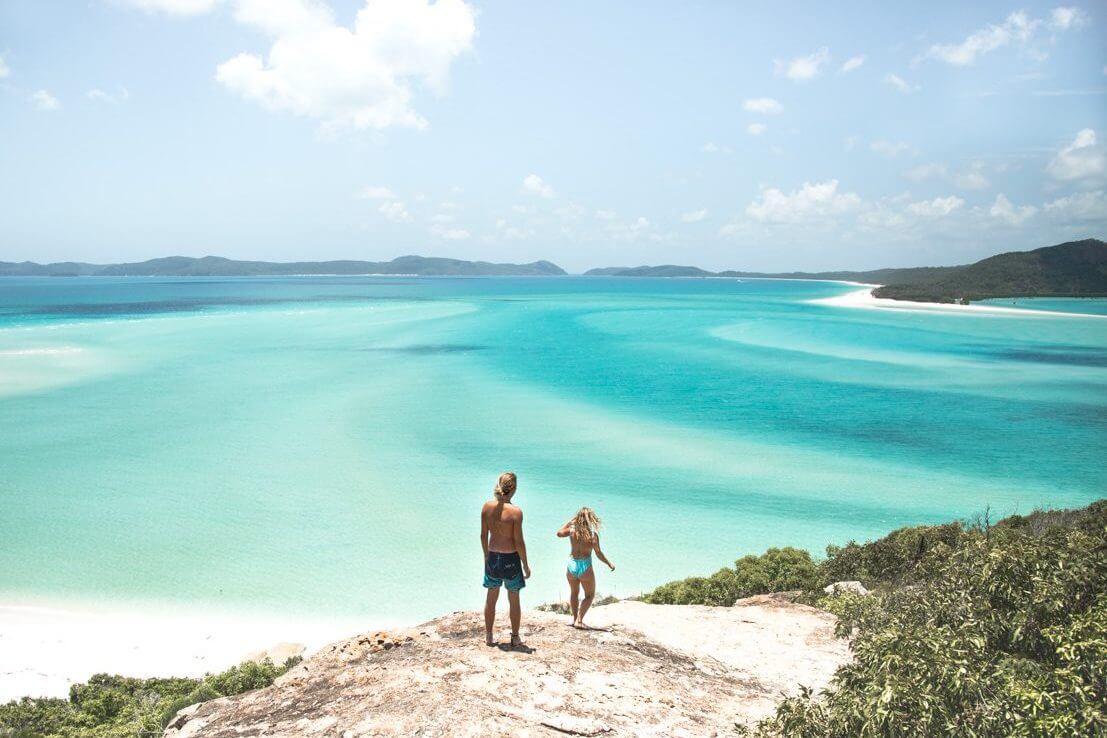 Types of Whitsundays boats available…
There are a few options to consider when it comes to choosing a Whitsundays boat, depending on the vibe you'd like for your experience. There are 3 different styles of boat (and you'll be pleased to know that there is no significant price difference):
Firstly, there are small, chilled backpacker boats with around 18 people on board.

Secondly, there are the larger, tall ship party-boats which have around 55 people on board. Although you will party at night, they still hit the epic spots in the day.

And last but not least, there are the super social backpacker boats. This option dishes up the perfect combination between the two experiences above.
There are also day trips available if you're time down under is limited, but you can't bear the thought of missing out this once in a lifetime location.
Powerplay
The Ultimate Chill Boat
We know that at some point during your trip you are going to need to chill and relax. This option for the Whitsundays is all about just that! This trip caters for those that we like to call 'Flashpackers'. They like the finer things in life, but on a backpacker's budget. Powerplay is an insane catamaran that can fit 18 people, has a jacuzzi on board, the best food and even a photographer to capture the best moments of your Whitsundays sailing trip!
We love the Powerplay as it's the perfect option for the relaxed traveller, couples, the young at heart and those looking for a social but laid back atmosphere. You'll feel a world away from normal life during the trip as you'll be chilling in style in the heated jacuzzi, having delicious food & BBQ cooked for you, having drinks under the stars and visiting some incredible locations such as Whitehaven Beach! Whilst on this trip you'll be able to snorkel the Great Barrier Reef, paddleboard and swim in the crystal clear water.
The Atlantic Clipper
Party your way around the Whitsundays
When backpacking the east coast you'll have plenty of opportunities to party. Trust us, we've experienced the hangovers. Where better to party than on a boat with 55 other backpackers cruising the Whitsundays? The Atlantic Clipper is an absolutely legendary boat. If you are up for a lot of banter, all-day drinking, a hilarious crew, and making unreal memories, this tour is perfect for you!
We guarantee that you will have an epic time on this boat. It's the party boat of the Whitsundays and the perfect option if you like to live on the wild side. We're talking a 12 person hot tub, a fancy dress show by the crew onboard and the opportunity to win the King or Queen of the Clipper! Although you will party at night they still hit the must-see spots in the day, such as Whitehaven beach and hidden snorkel spots. If you choose this option, expect to party hard with a large group.
See my blog post from sailing the Whitsundays on board the Atlantic clipper here.
New Horizon
The super social boat
If you're looking for something that combines chilling and partying, then we recommend the super social boat, the New Horizon. This boat is an awesome tall sailing boat with the perfect balance of party and chilled out vibes, all whilst taking in the incredible views of the Whitsundays. This is the most affordable and popular option out of the Whitsundays boats with around 30 people on board.
You'll have an awesome few days sailing through the Whitsunday islands full of so many activities including snorkelling and paddle boarding. The boat even has a waterslide and a diving board to show off your skills and give Tom Daley a run for his money! You'll see all of the top sites and, of course, a key highlight of the trip is going to the most instagrammable beach in the world, Whitehaven Beach.
This boat is perfect for you if you enjoy having a couple of drinks under the stars at night and you like relaxing in the daytime with a group of social and fun backpackers. You'll be looked after by the professional crew who will cook for you, provide entertainment and tell you all about the beautiful Whitsundays.
If you know what trip you'd like, but you are not sure of the date you'd like just yet, drop my friend Sammy a message at www.ratpacktravel.com and he will make you a personalised calendar based on your dates.
Seen a different Whitsunday trip you like the look of? There are other options that RatPack sell (and that you can use MOLLIE10 on for 10% discount), including day trips, so if you've seen something you prefer drop Sammy at RatPack travel a message and he will sort you out. These were just my recommendations.
Have you been to the Whitsundays?
Which boat did you go on? I'd love to know!
Love as always + happy adventuring,
Did you find this post helpful? I'd love you to share it for me.
I can't do this without you.
Pin and save this blog post for later…