The millennial version of a shepherd's pie. The vegan kind.
Nowadays, host a dinner party for your friends and there's bound to be a vegetarian or vegan in there somewhere. This can be instantly challenging, unless you've got a few winning dishes under your belt. Just like this one.
This recipe is pretty cheap to make, pretty basic to cook and extremely yummy to eat.
It has the desirable inner warmth and satisfaction that comes with a shepherd's or cottage pie but it will cater for all your veggie and vegan lovers!
Here goes…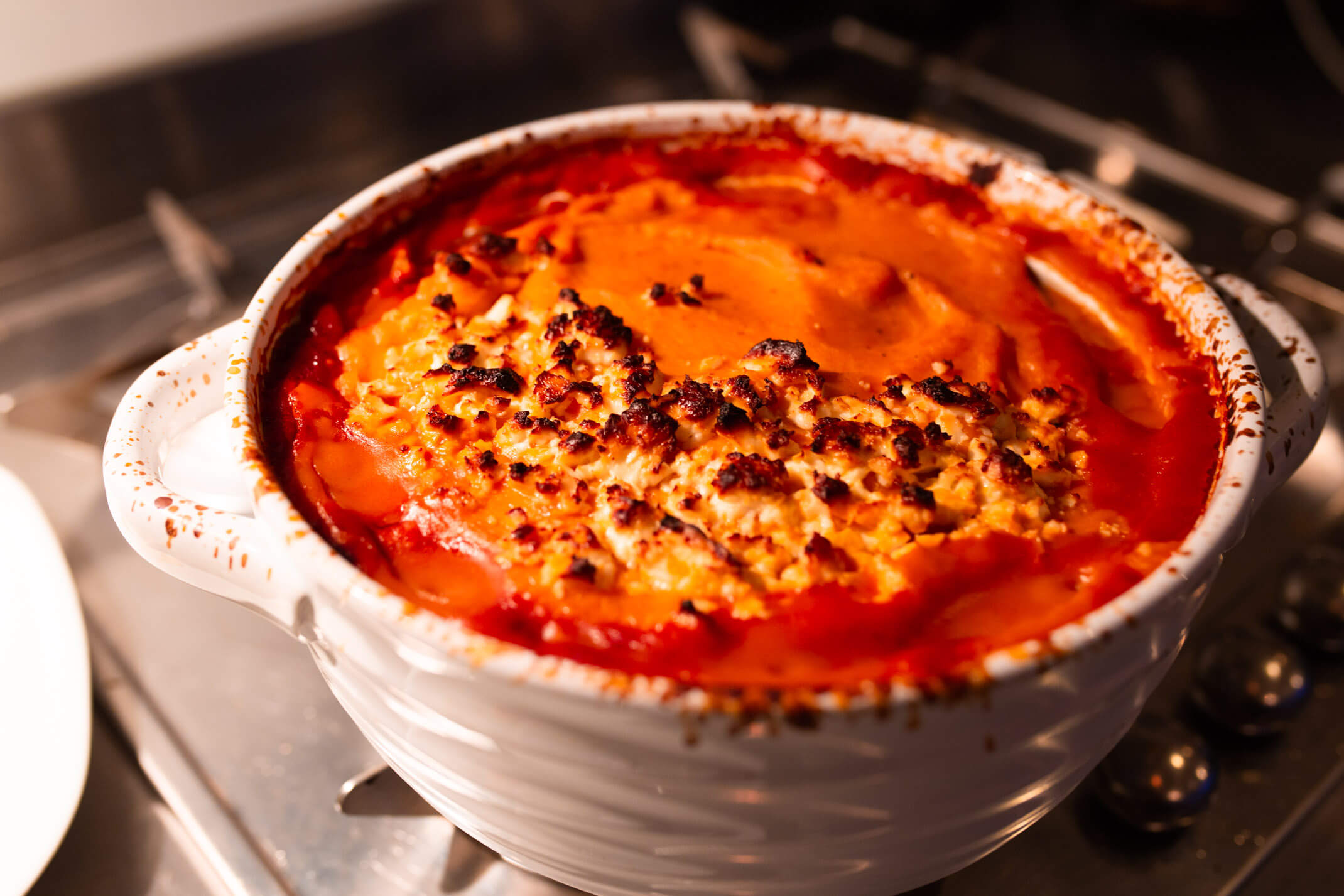 This pie is enough for 4 people to have a decent serving on its own, or 6 people with a side of whatever you fancy, be it salad, chips or garlic bread.
It takes 10 minutes to prepare and about 50 minutes to cook.
Wondering what to cook for your friends at the weekend? This is it.
A Vegan Lentil and Sweet Potato Pie recipe…
Ingredients:
1 red onion
1 chopped leek
1 clove of garlic / garlic powder
1 chopped aubergine (into small dices)
1 chopped yellow pepper
2 tins of lentils
3 tins of chopped tomatoes
squeeze of tomato puree (concentrated tomato)
Olive oil
Soy sauce (use to taste)
Toppings and sides:
Topping the pie with cheese is SO great. Feta if your cooking for veggies, vegan cheese for the vegans!
I served my dinner variation with:
feta cheese on top
hummus on the table
salad on the side
It's completely up to you – get creative!
How to make the vegan lentil and sweet potato pie:
1. Heat your chosen oil in a pan and fry off the chopped red onion for a couple of minutes before adding in the chopped pepper, leeks, aubergine and garlic.
2. Peel and chop the sweet potato into chunks and boil in a separate pan.
2. Once the vegetable mix is just about cooked through (around 10-12 minutes), add the 3 tins of chopped tomatoes, squeeze of tomato puree, and drained lentils into the pan.
3. Reduce the tomato-vegetable mix to a low heat and cook for about 20 minutes.
4. Once soft, remove the sweet potatoes from the heat, drain out the water and mash them by hand or pop them in a food processor.
Tip: Add some butter and or almond milk to the sweet potato mash to make it extra creamy. Season to taste with salt and pepper.
5. Pop the mash to one side and check on the taste of the tomato-lentil mix. Season with salt, pepper and soy sauce to taste.
6. When you're happy with the mix, pop the tomato-vegetable-lentil mix into your baking dish and then top with your sweet potato mash and cheese (if you fancy).
7. Pop in the oven for 30 minutes, turning the heat up for the last 10 minutes to crisp and prepare any sides whilst you wait.
Enjoy!
What's your favourite recipe to bake?
I'd love to know your go-to recipes? So keen to be in the kitchen cooking more!
Love as always + happy adventuring,
Did you find this post helpful? I'd love you to share it for me.
I can't do this without you.
Pin and save this blog post for later…