Something I always appreciate when I come back to London from my travels is the food scene.
Here in London we have an incredibly diverse offering of restaurants, cafes, bars, pop up and brunch spots. There's vegan, gluten free and heavy meat options galore. There are streets dedicated to Lebanese food, Curry houses and date night spots. There's something for everyone, and then some.
Personally, brunch is my favourite meal of the day. Give me grilled halloumi, smashed avocado, perfectly poached eggs and a cup of oat milk coffee any day of the week and I'll be smiling like a cheshire cat.
Given this clear passion I have for brunch, you can bet i've made my way around a fair few London brunch hang outs during my 3 years of living here and this post is all about me sharing those with you.
These brunch spots are located all over London so hopefully it gives you plenty of opportunity to head to one, wherever it is you're living!
A list of the best brunch spots for you to try in London…
1. Megan's, Parsons Green
My favourite dish: The veggie brunch
I seem to have misplaced my brunch photos from this day. I'll go again ASAP to add them in but seriously. I don't know what they do to the mushrooms here but they are worth a visit alone. The menu is a healthy, wholesome one with a mediterranean twist and it's the kind of place you can get your matcha latte fix. Megan's have a few locations now, each of which are incredible instagrammable and have very cosy, delicately decorated interiors. The perfect spot to head with your friends for a weekend brunch.
2. Lantana, Shoreditch
My favourite dish: Courgette bread with an added poached egg
3. Caravan, Bankside
Another incredible Antipodean restaurant in London. Because Australia knows how to do brunch best. See the menu here. Unreal coffee and the most creative menu filled with all those little 'extras' like almond sunflower seed butter, buckwheat and tahini.
My favourite dish: Baked eggs, spiced tomato, pepper and chickpea ragu, rose harissa, greek yoghurt, flatbread, parsley.
4. Dishoom, South Kensington
Dishoom throws a curve ball onto your average brunch set up. This modern Indian cuisine is elegantly presented in its interior and first class in its food. Despite your first impressions of an Indian breakfast (well mine anyway) the choices aren't heavy. They are packed with flavour and make for an outside-the-box brunch. See menu here.
My favourite dish: Soy Keema Per Eedu. It's veggie, but there's a meaty option too! See pictured below.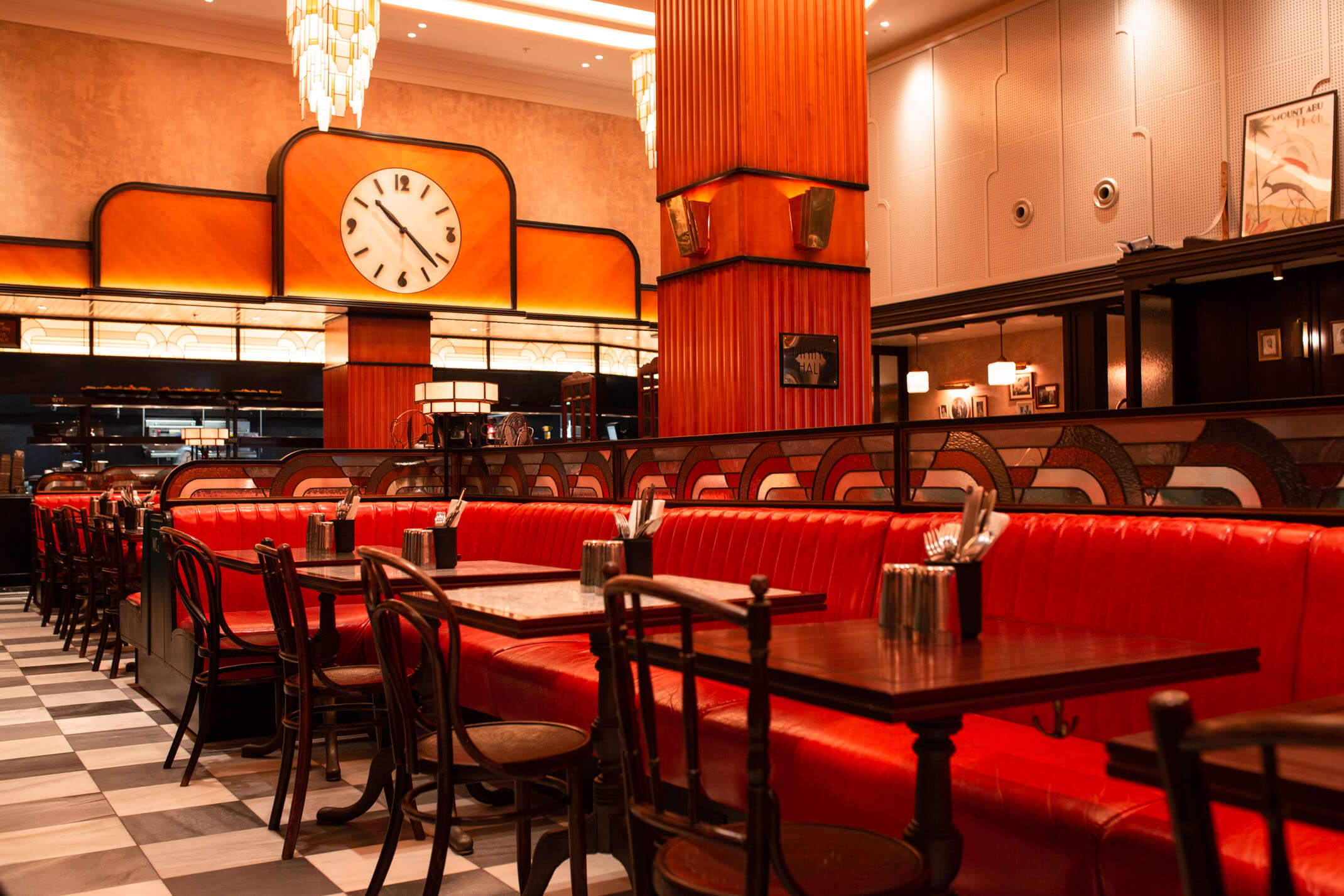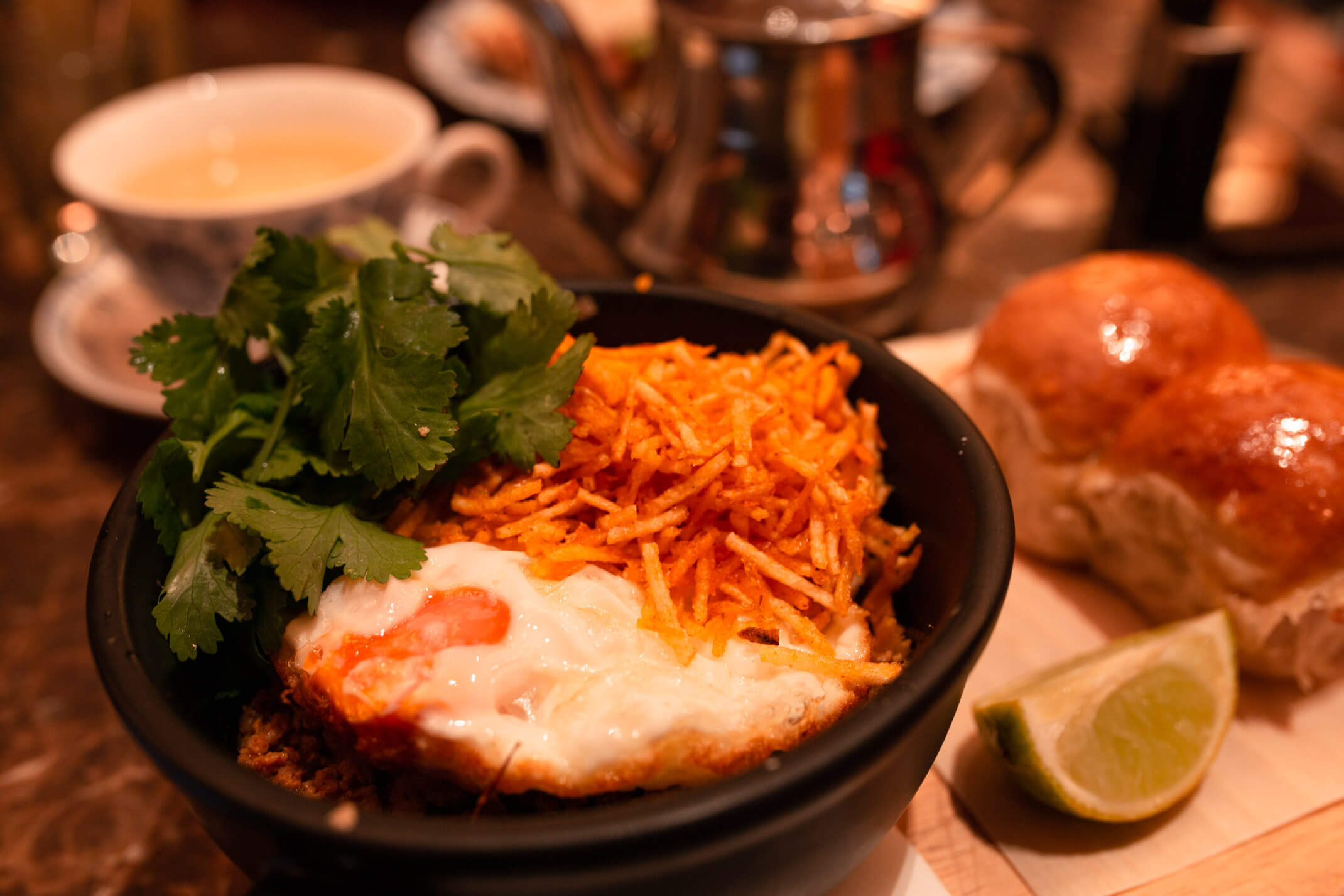 5. Manuka Kitchen, London
An intimate yet very relaxed location filled with fresh daylight in the heart of Fulham. The menu is locally sourced and vibrant in it offerings. We had: crushed avocado, red quinoa, feta, mint on sourdough and shared a Crunchy Pot with Greek yogurt, homemade honey granola, berries & pomegranate.
I loved the little touch of Manuka honey that came with the beetroot latte I ordered. It's all in the detail right? See the menu and website here.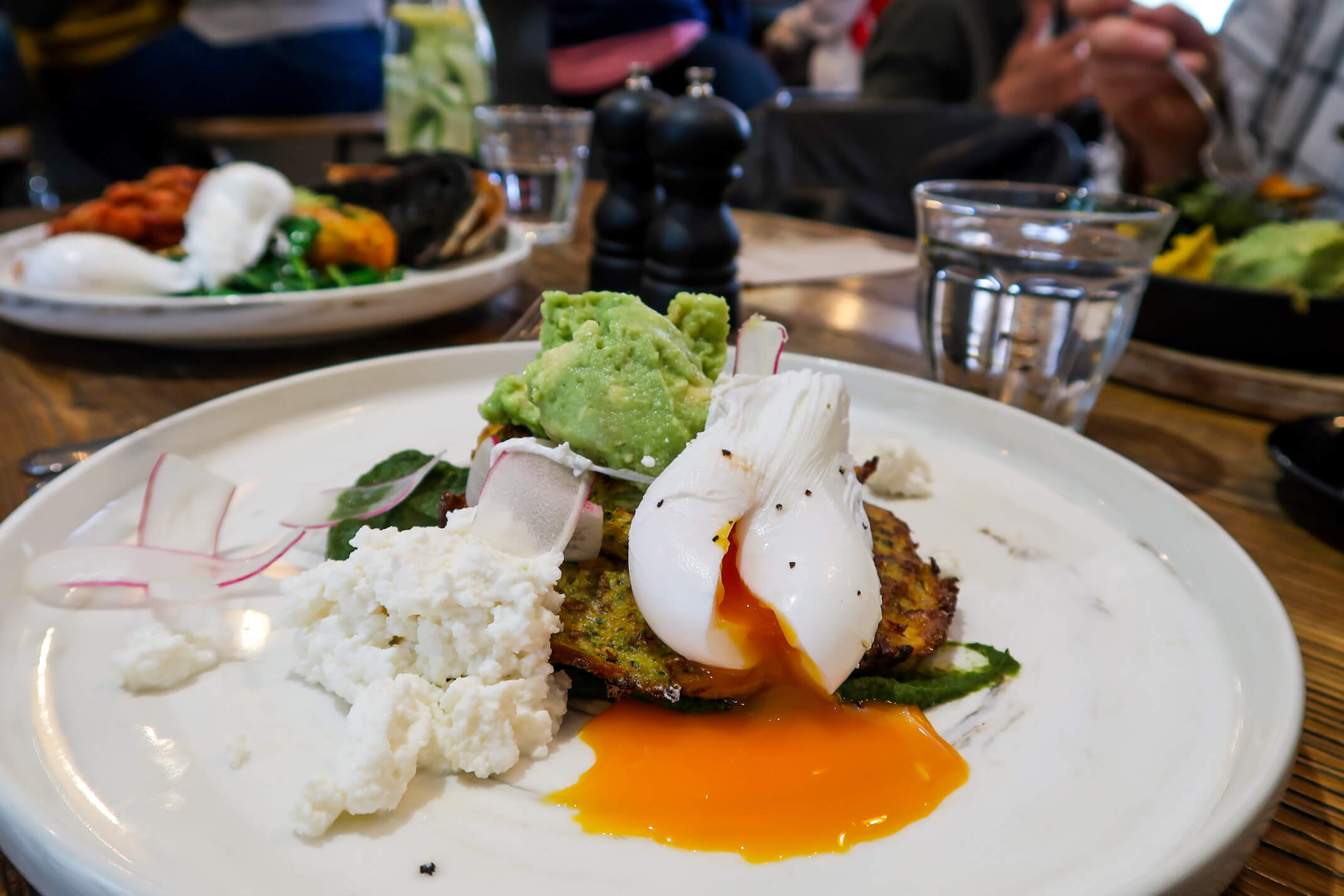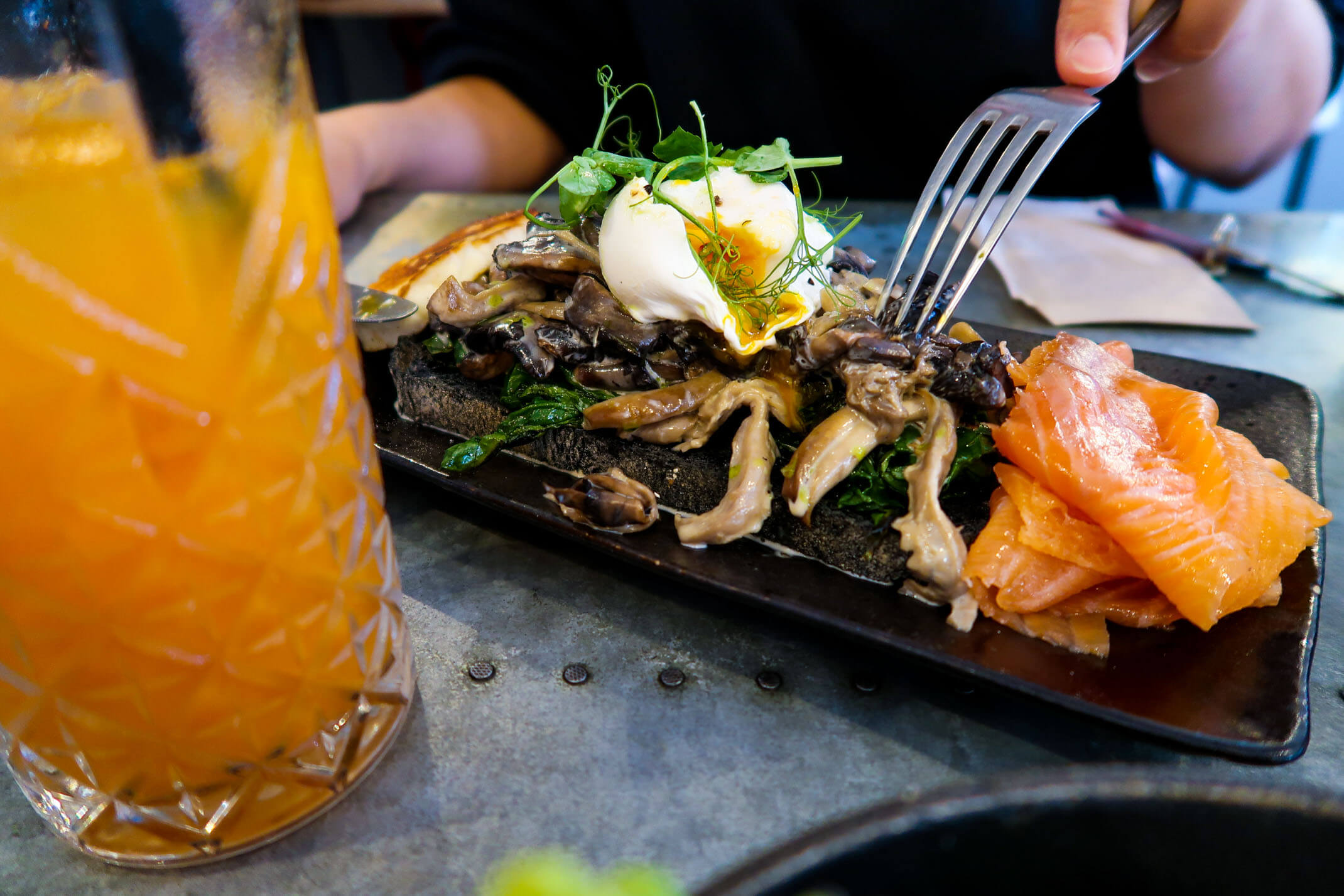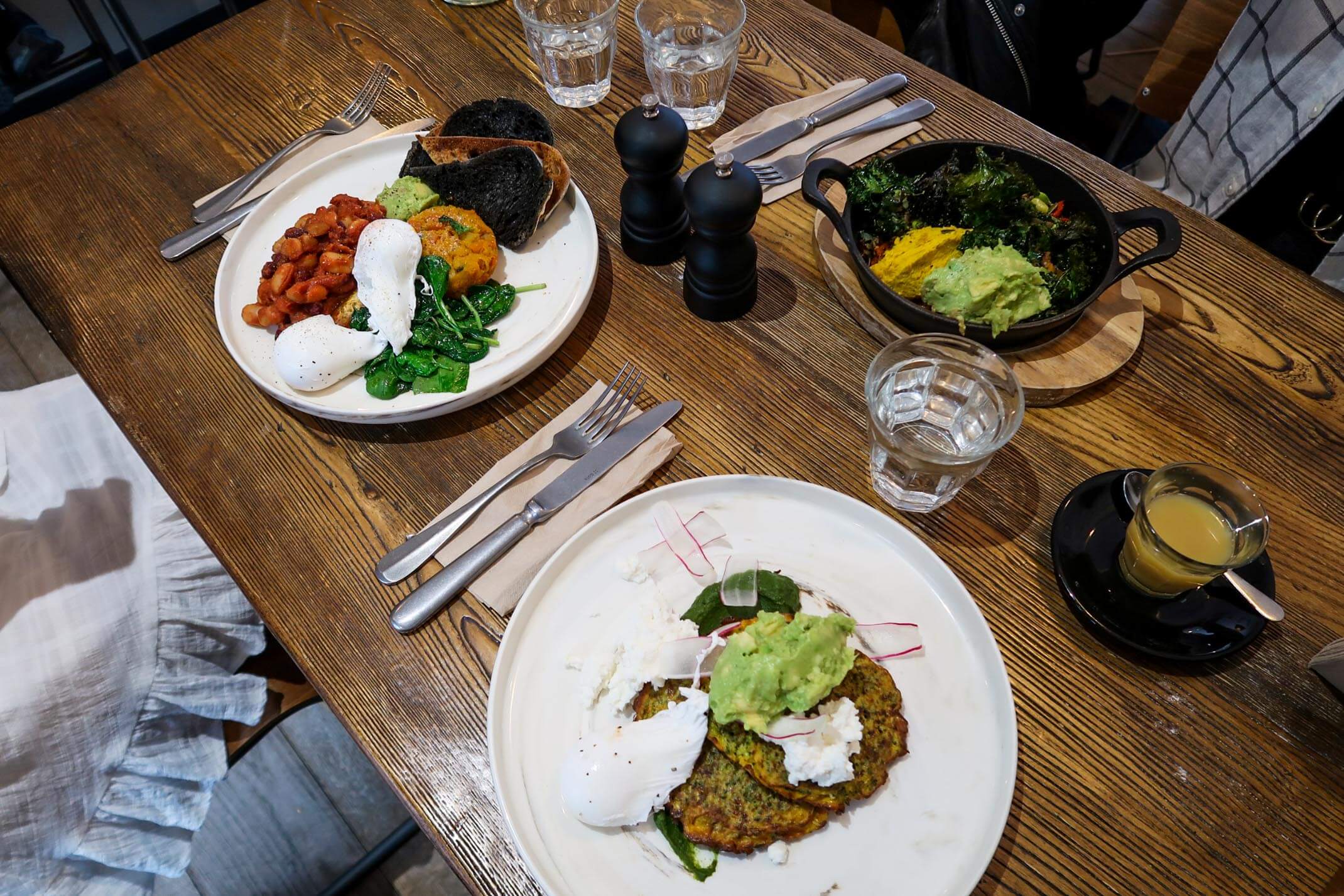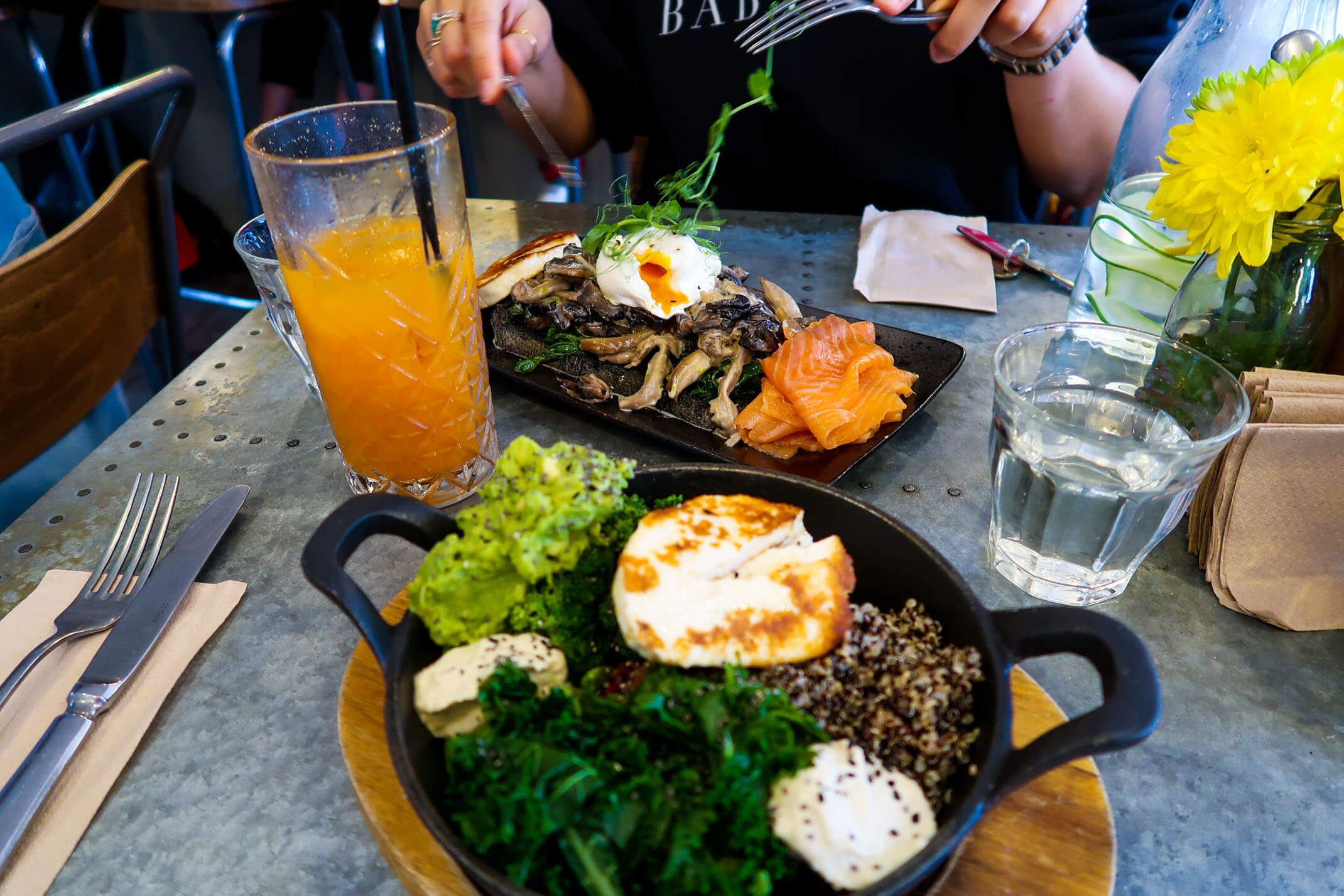 10. Hallie's
I haven't actually been here for years but it's a gorgeous Californian brunch spot with another divine menu for you to feast on (there's honestly no bad locations in this blog post).
My favourite dish? Wild mushrooms on toasted brioche with a poached egg & truffle oil £8.50
See the menu and website here.
11. Tell Your Friends
An epic vegan spot in Parson's Green serving seasonal dishes, comfort foods with a vegan spin and healthy bowls. It's in a gorgeous quiet location, perfect for a lazy weekend brunch with friends.
See the menu and website here.
12. Palm Vaults, Hackney
Location: 411 Mare Street | Hackney | London | E8 1HY
13. Ben's Canteen, Clapham
A very chilled environment, great menu and… they have smashed avocado. That's what you were really wondering, right?
My favourite dish? Smashed Avo, Pink Kraut, Pea Shoots, Poached Egg, Sunflower & Chia Seeds (v)
See the website and menu here.
14. Farm Girl, Notting Hill
I still haven't managed to eat here yet. The time I actually planned to dine there, there was such a big queue to sit down and well, we were just too hungry and couldn't wait 45 minutes! Signs of a great spot at least?
They have other locations in Soho and Chelsea. See the website and menu here.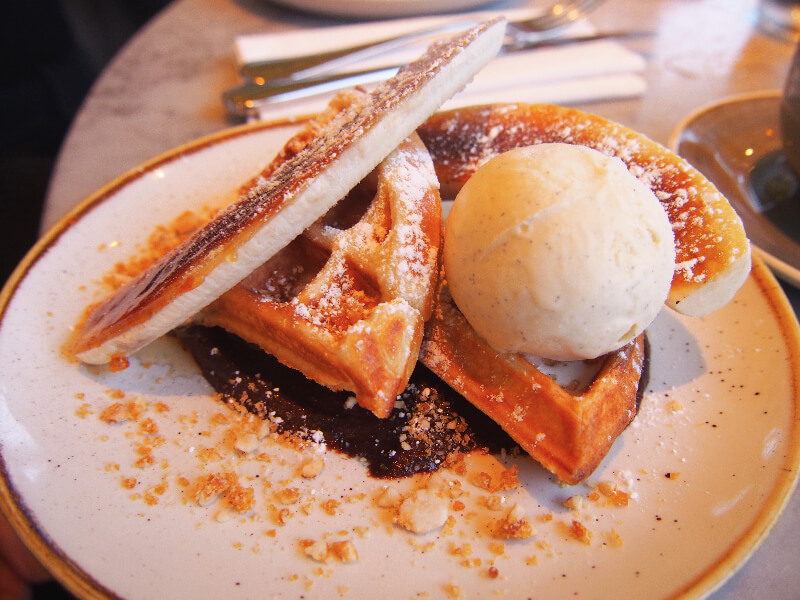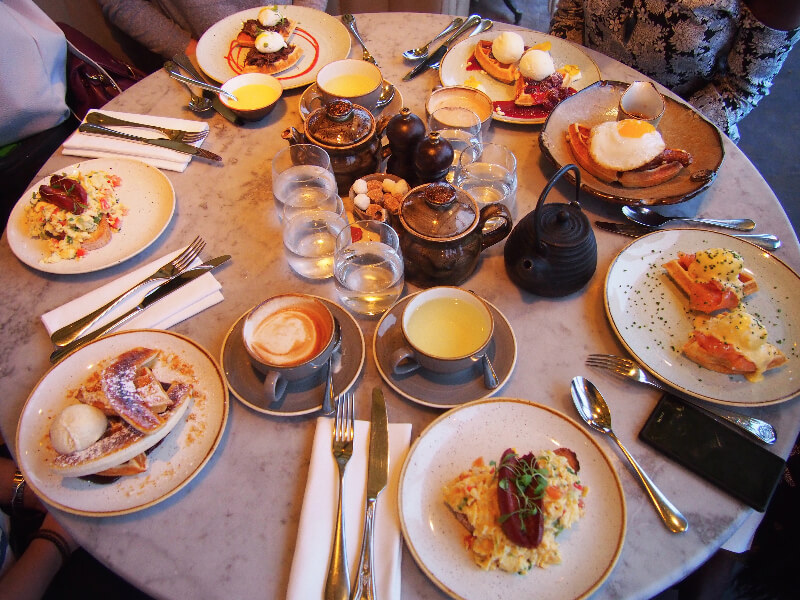 Where's your favourite spot for brunch in London?
BRUNCH FOR THE WIN! I'd love to know!
Love as always + happy adventuring,
Did you find this post helpful? I'd love you to share it for me.
I can't do this without you.
Pin and save this blog post for later…