If you're thinking of backpacking Greece, or specifically backpacking the Cyclades Islands in Greece, you're in the right place! In this backpacker's guide to Greece I'm going to share my favourite things to do in Athens, Mykonos, Paros, Ios, Naxos and Santorini, as well as the best hostels in Greece, restaurants I went to, and top tips for visiting travelling in Greece on a budget!
When your mind first thinks of Greece it usually goes to white buildings, blue roofs and dozens of pink flowers. And while it does have that it also offers; breathtaking landscapes, crystal blue water, marvellous monuments and the tastiest cuisine. While it may not be the normal backpacking destination, the Cyclades Islands are a playground for explorers of all budget types and one of the best places to visit in Greece.
The Cyclades Islands are made up of over 200 islands and are located in the Aegean Sea, south east of mainland Greece. The name "Cyclades" means circular, and refers to the islands forming a circle around the sacred island of Delos. The largest island of the Cyclades is Naxos, but the most populated is Syros. Most of the smaller islands are uninhabited. One of the best things to do in Greece is a sailing holiday around the Greek Islands, or even better, backpacking on the Greek Islands!
My Greek adventure took me to Athens, Mykonos, Paros, Ios, Naxos and Santorini, and each island offered something different to experience. From the history in Athens to the whitewashed buildings and stunning sunsets in Santorini, and from the party vibes in Ios and Mykonos to the green landscapes in Naxos and the hidden gems in Paros… Keep reading for the best things to do on each of these Cyclades Islands, as well as the best things to do in Athens!
Other blog posts you might be interested in...


A backpacker's guide to Greece: top tips for backpacking in Greece...
One of the key things when you are going backpacking in Greece is how to save money. The key is to keep costs low but still have enough money to say yes to spontaneous trips with new friends!
Here are my top tips on how to save money when you're backpacking in Greece:
Transport in Greece…
1. Getting to the Cyclades Islands: Check flight prices carefully
If you're flying to Greece from mainland Europe or the UK, check how much it is to fly directly to an islands. I found flying one way from Santorini was much cheaper than Athens. My flight was €34 whereas going from the mainland would cost €100.
If you know you're travelling to the Cyclades from Athens, it's almost always cheaper to get the ferry across rather than a flight.
Check out flights to and from Greece on Skyscanner here.
2. Getting to the Cyclades Islands: Be flexible with plans and ferry times.
If you aren't on a tight schedule you'll be able to pick cheaper options for buses and ferries. The prices range from €11 – €50.
3. Getting around the Cyclades Islands: Take the bus!
The services are really regular and will take you all over the islands. Depending on the place tickets range from €1.60 – €5.00. Taxis will be available, but significantly more expensive! Using public transport in Greece is often cheaper than a group of you renting a car in most places, especially once you have considered the cost of petrol on top of the rental.
Athens in particular has really good public transport (which is natural, of course, being one of the best capital cities to visit in Europe rather than an island!). Here there is an amazing transport system where you pay for the time rather than the destination so you can use this on trains and buses. It cost €1.20 for 90 minutes.
Check out my guide to Athens here.
The best time of year to visit Greece…
4. Visit in shoulder season.
The best time to visit Greece and the Cyclades Islands are May to the middle of July, or September-October. August is peak season and by far the busiest month in Greece with both tourists and locals. Due to their holiday system a lot of Greeks will take their summer holidays on the surrounding islands, so you'll also come across local tourists in August! .
Choosing accommodation in Greece…
5. Stay in hostels.
Another way to save money when backpacking in Greece is to be conscious of the accommodation you choose. I recommend staying in hostels to cut down costs. In addition to helping you save money, hostels are a great place to make friends while you're backpacking, find activities and get inspired on what to do around the islands. Keep reading for my favourite hostels in Athens, Mykonos, Paros, Ios, Naxos and Santorini.
Top tip: I noticed a lot of the hostels don't have kitchens so it's something to keep an eye on when booking.
See my top tips for your first time staying in a hostel here.
See my top tips for making friends when travelling here.
Food in Greece…
6. Find cheap, good quality, local food!
If you're backpacking in Greece, eating on the cheap can be quite easy when you know what to look for and where to go. Trying all the food has got to be one of the best things to do in Greece, so here are my top three dishes to try when you're backpacking in Greece!
The most famous dish on offer is the Gyros. It ranges from €2.20 – €5.00, depending on where in Greece you are. There is usually a pork and chicken option, with other meats and vegetarian/vegan options becoming increasingly popular. It gets its name from the vertical rotisserie that spins to cook the meat. You can get it wrapped in a pita (the cheapest option for food when you're backpacking in Greece) but also served on a plate. The components of a gyros are the meat (or replacement), tomato, onion, tzazitki sauce (yogurt, garlic and cucumber) and chips wrapped up in or served with a pita. Some places will also add in peppers, lettuce and/or feta cheese! I lived on gyros wraps for most of the time I was backpacking in Greece!
Another affordable dish is the Greek Salad (feta, cucumber, tomato, green peppers, onion and capers dressed with olive oil) and this can range from €5.00 to €9.00. Sometimes it comes on its own and other times with bread; it depends on the restaurant.
One of my favourite things to eat in Greece is the Moussaka (layers of aubergine and potato baked with a tasty ragu and smooth bechamel! This ranges from €8 – €12 (as do most main dishes when you're eating in Greece) and is a really nice traditional dish.
It goes without saying that the cheapest way to eat in Greece is to cook in your hostel kitchen, so as I said above, if that's a priority for you then check the facilities before you book! See more tips for travelling on a budget here.


A backpacker's guide to Greece: My mini guide to the Cyclades Islands...
Best things to do in Athens…
Athens offers you rich culture with many ancient ruins. One of the best things to do in Athens when you are backpacking in Greece is to see them for yourself! When choosing which ticket to purchase I would go for the €30 one. This gives you a 5-day pass into all 7 sites whereas the €20 only offers you the Acropolis. Make sure you get to the Acropolos at 7.45am for an 8am opening to avoid massive queues. It's also good to note in peak season the ruins close at 1pm and reopen at 5pm to stop you walking around in the heat.
For more of the best things to do in Athens, check out this blog post.
Best places to stay in Athens…
– Safestay Hostel Athens, Monastiraki Square (€15 per night). The roof top bar view is what really sets this hostel apart. You get a gorgeous view of the Acropolis and the surrounding areas and a great spot for sunset.
– Bedwave Piraeus Athens (20 mins bus ride from the ferry port) (€12 a night). It is located right next to the beach giving you amazing views from the windows and access from the hostel right to the sand.
Best food in Athens…
The Greek salad at Barbadimos Piraeus Athens also came with free tomato purèe dip and then 80 cents for pitas (€5.50)
Best things to do in Paros…
My favourite island by far was Paros. It's not as well known, but it ticks all the boxes for backpacking in Greece. For a backpacker, Paros has it all! It's basically an affordable version of Mykonos. Everywhere on the island is accessible by bus, ATV or Scooter. There is a little boat for €5 each way that will take you to another island called Anti Paros, which is known for its caves and beautiful beaches.
I recommend making time for the following:
– A day in Anti-Paros the caves cost €5 and go really far down, just remember you need to climb back up! The bus around the island is €6 all day so you can go around to different beaches if you fancy cheaper transport.
– Captain Ben's Boat tour! While this isn't a cheap excursion, it's a worthwhile fun one if you're backpacking in Greece. It's €55 for a day trip (9am – 4.30pm) and includes 5 incredibly beautiful swimming spots, unlimited soft drinks, 5 alcoholic beverages and five ouzo shots! It also includes a beach stop, snacks, floats, snorkels and an inflatable slide you can go down. This was such a good day out and I thought it was good value for money.
– Visit the lovely village of Lefkes, Parikia and the town of Nauosa. These places are full of Greek charm.
– Sit on the harbour or go to Lavadia beach for sunset.
I just got such a great feel for the place. I ended up circling back and going again because I just couldn't get enough.
Best places to stay in Paros…
Paros Backpackers (10 minutes walk from the port) (€27 per night). Now whilst this one is the most expensive, it was also my favourite! I just loved the vibe and the clientele that came to this place. The rooftop bar was such a friendly, welcoming atmosphere. They also had a WhatsApp group for the hostel so you could ask people what they are up to and make plans.
Best food in Paros…
Gyros at Pepes, (€2.60)
Moussaka at Aeoli, right on the waterfront (€8)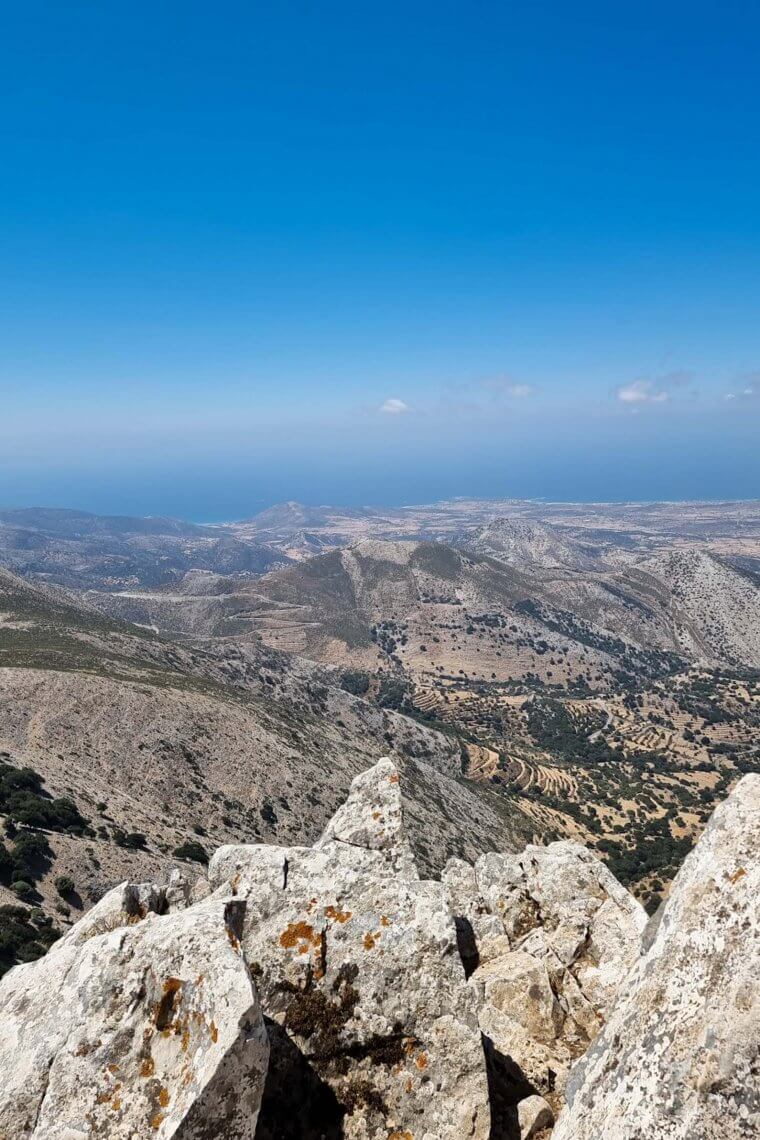 Best things to do in Mykonos…
Mykonos is definitely the glamorous island, it's got tons of cute photo spots and the most beautiful shops. It might not be the most affordable place to go backpacking in Greece, but it is beautiful. Everyone goes to the four windmills for sunset, but I recommend going up to Boni's Windmill instead. This place is much quieter and gives you a beautiful view looking over the island.
Best food in Mykonos…
Gyros at Sakis (€4.50)
Greek salad at Yialos Cafe (€7)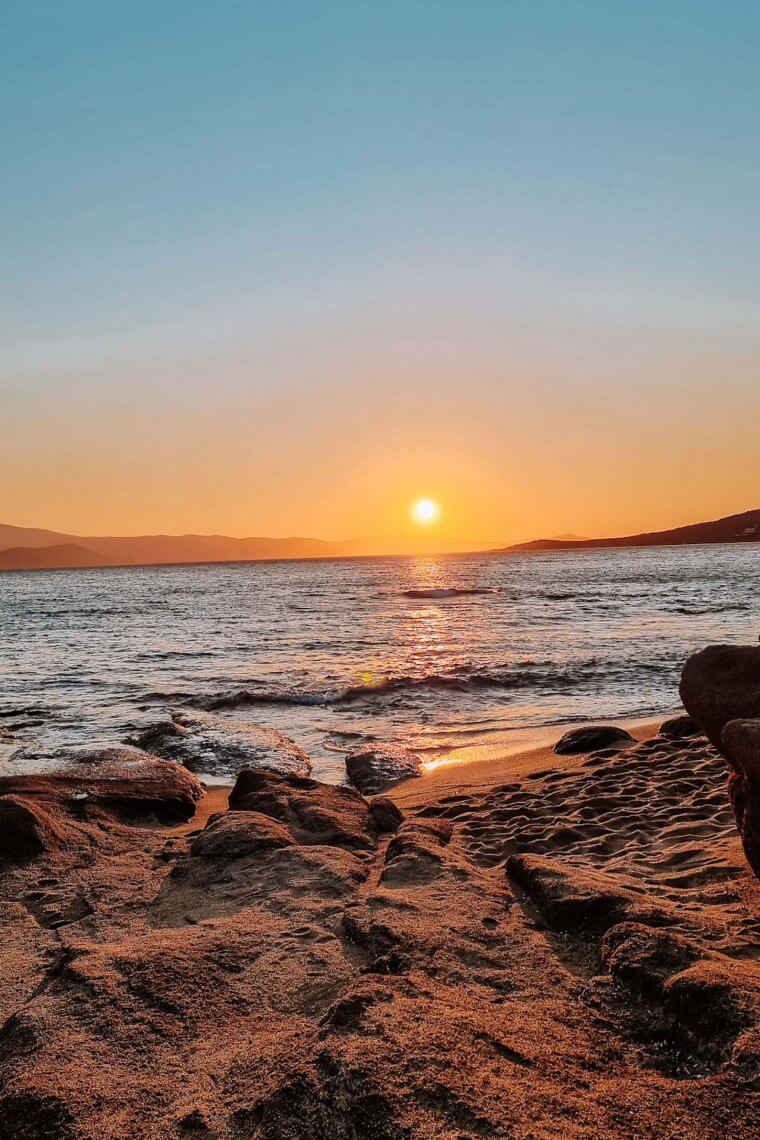 Best things to do in Ios…
If you're backpacking in Greece you should know that Ios is also a party island, so make sure you are ready for a good time! I became a regular at a really cool hang out spot called Karmas. It offers 2 for €10 on frozen daiquiris, has affordable food options (great breakfast!) And has lots of hammocks and pillows to lounge around on. Chora is where the party is, they have lots of incredibly cheap drink deals like 20 shots for €25, cocktails for €5, 3 jagers for €5. After all that partying, it's best to chill on Paralia Milopotas beach, it's very spacious and the Far Out Beach club offers two sunbeds for €10.
Best place to stay in Ios…
Far Out Camping (€9 per night). I stayed in a little shed with 2 beds, a fan and a plug socket. The hostel had 2 pools (the one we called the party pool the other the calm pool) it has good vibes if you like a drink, but it also goes quiet at 10pm which gives you the option of following the party to Chora or getting a good night's sleep. It also has a free shuttle from the ferry port to the hostel.
Best food in Ios…
Best things to do in Naxos…
Naxos is the greenest island and most mountainous out of the bunch – great for a change of scenery if you're backpacking in Greece. I took a hike up Mount Zas and wasn't disappointed! You have the opportunity to climb to the highest point of the Cyclades. The climb is rated difficult, but I think it's a mixture of moderate to hard. The climb is a steady incline and really rocky, towards the top you are scrambling up, but I wouldn't let that put you off. After you walk down, walk another 20 minutes into Filoti for a well deserved lunch.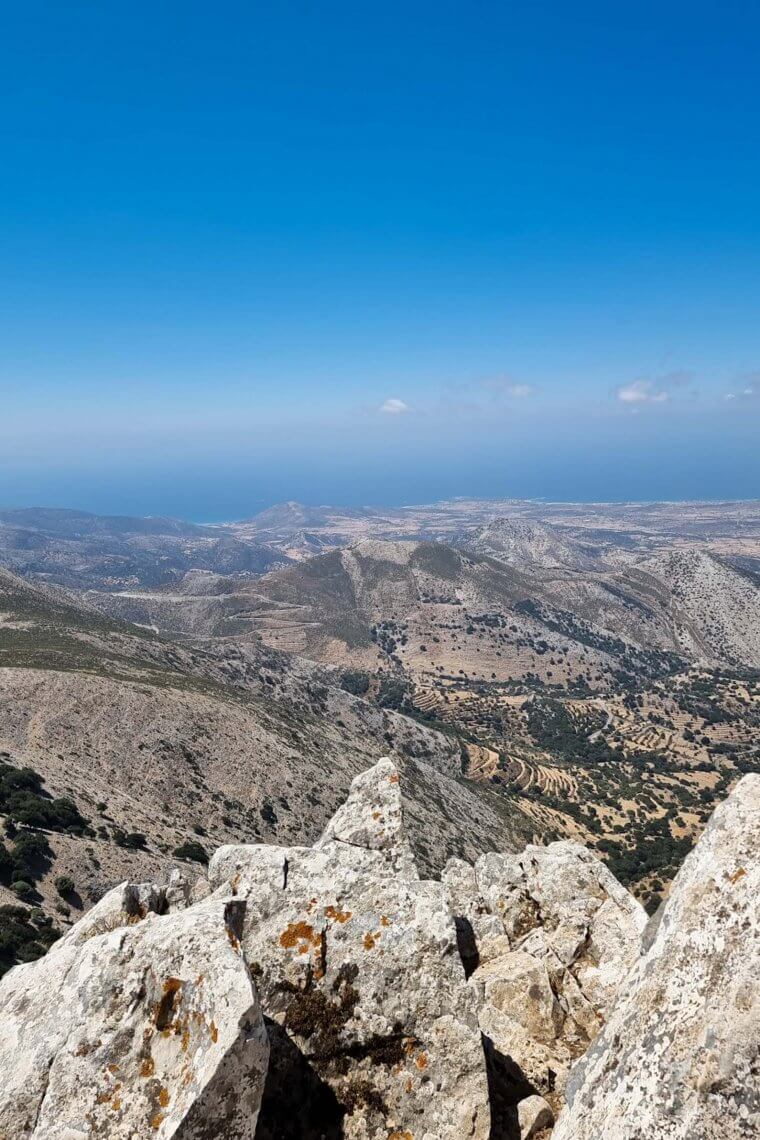 Best things to do in Santorini…
Santorini was my least favourite island because of the crowds but, it is truly beautiful and a must see on your backpacking in Greece bucket list. I spent most of my time in Fira and Imerovigli. In Oia there is a lovely harbour called Amoudi Bay it's best known for its seafood. You have to trek down and then back up 200 steps, but it's worth it for the ocean view. You can ride a donkey back up, but I wouldn't advise it as they are treated poorly.
Best food in Santorini…
Gyros at Yogis, Fira (€2,60).
Greek Salad at Taverna Syrtaki on the waterfront at the bottom of Karavolades stairs (€6.90 and came with free bread!).


Have you got any top tips for backpacking in Greece?
Anything you'd add to this backpacker's guide to Greece?
Love as always and happy adventuring…
Did you find this post helpful? I'd love you to share it for me.
Pin and save this blog post for later…