After years of hanging out on the East Coast Of Australia and never quite making it over to the West Coast (to be fair it isn't exactly close), I promised myself upon my next return, I was going West to explore the landscapes people go so crazy for.
I'd heard 'west is best' more times than I could possibly count and so I finally booked my trip to see what the fuss was about.
Now here I am, I've just got back from that exact trip, an incredible 2-week road trip around Western Australia and I get it. Wow. This coast of Australia is SO incredibly different to the east coast, like incomparable. It's a whole different adventure, like a whole other country.
If you love road trips and want to be blown away by wildlife and surreal landscapes with very few people occupying them… get Western Australia on your bucket list.
See our best things to do in Western Australia here.
If you've been around here a while, you'll know that I am no stranger to Australia, having travelled here 7 times now whilst creating an abundance of Australia travel guides, Australia youtube videos and Australian content for this travel blog.
Today I am excited to finally share inspiration for those of you considering the western coast of Australia, also commonly referred to as WA.
In this blog post, I am going to share with you my top tips for travelling to Western Australia, including all the things I wish I knew beforehand, all the things I figured out along the way and all the advice I have for travelling to Western Australia.
If you're planning a Western Australia adventure this Western Australia travel guide is for you. If you're looking for top tips and want to be as prepared as possible, get your notepad at ready and keep reading…
Other travel guides you might find useful…


Why Western Australia is an epic road trip location?
The dream for a road trip is an open road, vast landscapes, stunning beaches and places to hike, swim and live that off-grid life in the wild. Western Australia is literally all of those things in abundance. Once you get outside of Perth and the main city anyway.
You can see all our top tips and clips from our adventure in the 12 minute Western Australia Youtube video below…


Top tips for travelling Western Australia
1. Take a look at the weather ahead of time and consider the season you're travelling in
Peak season is actually Winter in WA. But don't let 'winter' put you off, it is not cold!
May to August (peak time) are the wettest months of the year in Western Australia with the dry season landing from September to April. Dry season has an average temperature of 25°C, dry season may seem more appealing but temperates can soar very high and if you're planning to travel inland to the likes of Karijini National Park, it can be dangerously hot.
If you're travelling through these hotter months, be careful if you considering doing your road trip with a roof top tent. You'll need to really think about heat in these extreme temperatures. For example whilst we were in Karijini National Park it reached 43degrees.
Basically, pay attention to weather forecasts and dress, drink and act accordingly – Australia's heat is no joke. Neither are the UV rays!
Top Tip: There are LOTS of freedom camping spots on the West Coast so find a park in the evening that backs onto the beach to get the sea breeze.
2. Think about arrival times for the free camp spots
If you travel in off peak / shoulder season like we did, yes it can be hotter but it's also less crowded. This works for your advantage when going for the awesome free camp spots dotted up and down the coast. Why? Many of them aren't bookable, it's a rock up and first come, first served basis.
We never really thought about it and always showed up (sometimes very late at night) to many spaces available.
I can imagine this is not the case during the peak months and so it may be a case of planning your days so that you arrive to your destination / camp spot in the afternoon.
That is, if you want to make the most of some of these epic, free, wild camp spots!
3. Book your non-negotiable trips during peak season
Again, if theres an activity, dive or trip that is an absolute must for you. Book it up in advance during the peak season to ensure that you get on it!
Another advantage to shoulder season is that you can be a little more spontaneous with your itinerary as the trips don't tend to get fully booked in advance. We book 1/2 day in advance for popular trips like Jurien Bay and the Ningaloo reef and we were absolutely fine. We could have probably got in on the day!
4. Book your campervan ahead of time to secure your dates, particularly during peak season
The same thing applies to campervans and more so with campervans. Road tripping in Western Australia and in Australia, in general, is a very very popular way to travel. When you leave bookings until nearer the time you risk there not being availability but also higher prices. It's highly advised to book in advance and pay a deposit if you know your dates!
When it comes to campervan hire locations, Perth is the best option and most popular.
A Perth pick up and drop off is logistically the best as the only other location for pick up in WA is in Broome. The companies that operate in Broome are few and far between so, therefore, charge a HUGE premium. Hiring a campervan in Perth, looping back to Perth, is the BEST option for your Western Australia road trip.
P.s. RatPack Travel has you covered when it comes to getting the best deal on your campervan rental from Perth. They have contracts with EVERY reputable company and will get you the best prices available to choose from.
Simply submit your dates here and they will do the hard work for you.
5. You can't always park up anywhere
On the whole, free camping and finding places to park real cheap are easy in WA. There is so much land!
However, take notice of 'no camping' signs, we missed a couple and had rangers knocking on our door to move on two occasions.
Generally, there are limitations in National Parks like Kalbarri and around Coral Bay. You are likely to get fined and it will also disrupt your sleep which, if you are doing long drives, you won't want!
Research camping restrictions ahead of time to avoid unnecessary fines and early morning wake-ups from the rangers!
This is definitely one of my top tips for travelling Western Australia.
6. Take road trip snacks, download podcasts, playlists and prepare for some epic drives!
The extent to which you will need to prepare for long drives depends on the route you are planning to take and how much ground you are looking to cover in Western Australia.
If you're approaching it like us, as a once-in-a-lifetime trip and wanting to see as much of this incredible coast as possible then you may be stacking up the miles on your Western Australia road trip.
One of my top tips for travelling Western Australia is to prepare snacks, music and podcasts for those long drive! They can get very long!
7. Fill up whenever you see petrol stations, particularly if driving through the outback
Leading on from the last point and particularly if you're heading inland and away from the coast at all on your Western Australia road trip, one of my top tips would be to fill up whenever you see a petrol station.
We would be driving for hours and hours and sometimes without seeing anywhere to fill up. One place you would not want to get stuck and break down is in the outback of Australia!
Take water snacks and fill up your tank to avoid dangerous situations.
8. Take lots of water on your hikes and always your swimmers!
The same applies to fuelling yourself correctly as it does to fuelling your vehicle correctly for a Western Australia road trip.
One of my top tips for travelling to Western Australia is to drink more water than you think. Take more water than you think when hiking/doing activities and always take your swimmers to cool off in the water!
Preparing for the heat is essential in WA.
9. Be careful driving at night or avoid driving in the dark at all
Yes, it can be cooler to drive at dusk / dawn / at night in Western Australia, however when driving at night you have to be very careful about wildlife as this is when they too prefer to come out in the cooler temperatures.
If choosing to drive at night, it is highly recommended to drive slower in case of any wildlife on the road. This could add additional driving time to your trip when taking the slower driving speeds into account.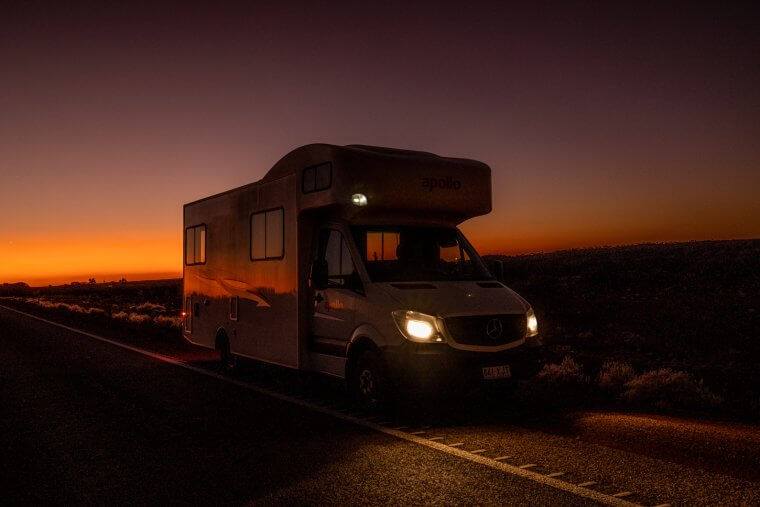 10. Chat to the locals and head to the Visitor Centre for information on whats available in the area
When you arrive at a new destination on your road trip, another top tip for travelling to Western Australia is to talk to the locals and pop into the Visitor centre when you arrive. This will allow you to gain local knowledge and can open up windows for epic opportunities.
We did this when we arrived at Shark Bay reserve and it was why we booked a local Aboriginal evening and a 4X4 private tour of the Francois Peron National Park. These ended up as two of our biggest highlights!
11. Download the Australia Google Map legend below to have all the best spots to hand on your phone!
12. Leave more time than you think for your road trip so that you have time to slow down and enjoy the epic scenery!
If you've watched our Youtube video for Western Australia (scroll back if you missed it!) you'll know that the only thing we would change about your WA road trip would be, to extend it a few more days.
We covered so much ground and saw so many amazing spots but we were kinda non-stop. It would have been lovely to have a few more down days to soak up the very stunning beaches, camp spots and landscapes we came across.
Truly one of the most surreal destinations I've ever had the pleasure of exploring!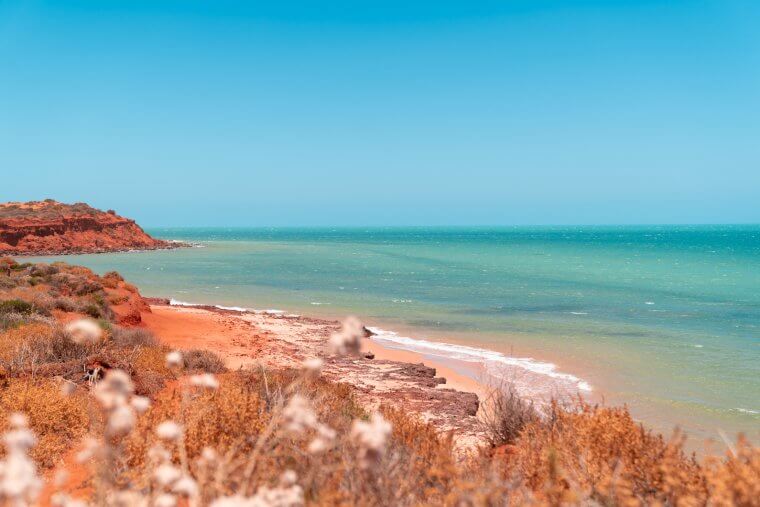 Booking your Western Australia road trip with RatPack Travel...
Whether you want a small 2 seater 2 sleeper or a large 6 person motorhome myself and the RatPack Travel team can help you hire a campervan. We have contracts with EVERY camper company. Once we have your dates and locations we can compare the online market and get back to you with the best rated and most affordable options.
We also offer all our customers a FREE courtesy call, as it's always easier to explain the options over a quick 5 minute call and of course it gives you the opportunity to ask any questions you may have about the camper options or destination in general. Feel free to click the link here and leave your travel details.
Do you have any other tips for someone travelling Western Australia?
What would you do on a road trip to Western Australia? Anything you'd add to this Western Australia travel guide?
Love as always and happy adventuring…
Did you find this post helpful? I'd love you to share it for me.
Pin and save this blog post for later…