I'm not sure what it is at the moment, but the destination on everybody's lips seems to be Croatia? Or maybe it's just me?
Anyhow, my trip to Croatia couldn't have come at a better time. Two weeks ago I got the chance to go and explore what all the fuss was about.
Aside from a quick stop off at Dubrovnik when I danced on a cruise about 5 years ago, this was my first time in Croatia.
It was a press trip to The Yacht Week that had brought me out here, but I decided to come out a bit earlier to extend my exploring.
If you're like me, you love discovering new places and are keen for a more active 'on the go' holiday, then there is only one answer for it, and you are in the right place… road trip!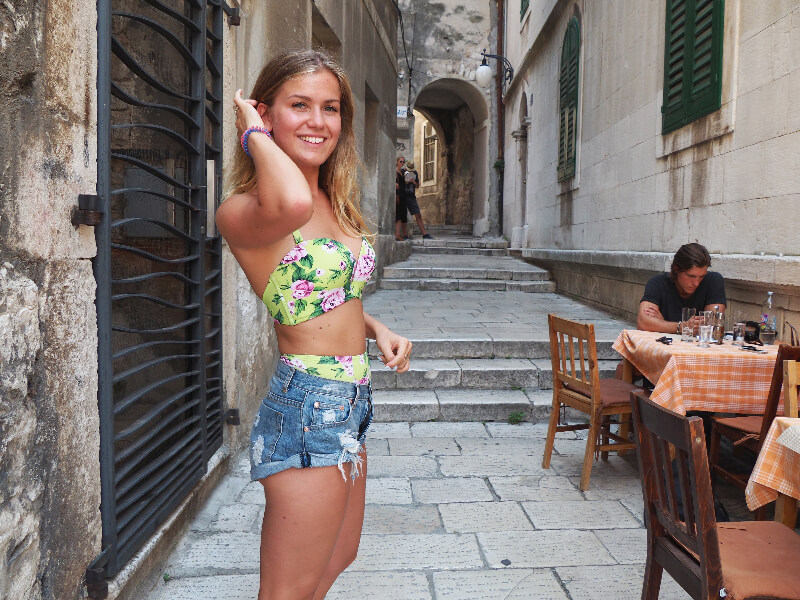 For my adventure I hired a car from Avax in Split for a 1-day road trip. It cost $76 for the day including $13 for a portable WiFi unit (for Google maps), which is pretty cheap, particularly when you split it with your friends.
After road tripping for just a day, I realised how awesome it would be to have a road trip holiday here in Croatia.
I'll show you what we managed to fit into our 1-day road trip, and then later in the post I'll give you some extensions if you fancy making a holiday out of it (which I fully intend to come back and do).
Our road trip route: Split – Stinice – Lozovac (Krka Waterfalls) – Šibenik – Primošten – Split
Road trip in Croatia: a 1-day itinerary…
08:00 Start in Split & pick up the car.
11:00 Arrive at Stinice (1 hour 40 minutes from Split).
When you simply type in Krka National park, this is where Google Maps will bring you. As I'm sure you will be, we were looking for the famous Waterfalls which are in the Lozovac region of Krka National Park so make sure you specify that! Or… take a pleasant detour as we did!
Here at Stinice you can take a trip to the little island of Visovac on the Krka river or embark on an 8.5km epic walk (2-3 hours). Click here for more information. Alternatively, copy us and simply sit by the lake and go for a dip in the river.
11.45 Arrive at Krka Waterfalls, Lozovac (20 minutes from Stinice).
Park up here, buy a ticket (110 Kuna) and hop on the complimentary bus down to the start of the nature trail that will lead you to these gorgeous waterfalls.
It is here you can swim, bathe and relax for as long as you wish.
For more information and photos of Krka National Park you can see my full blog post here.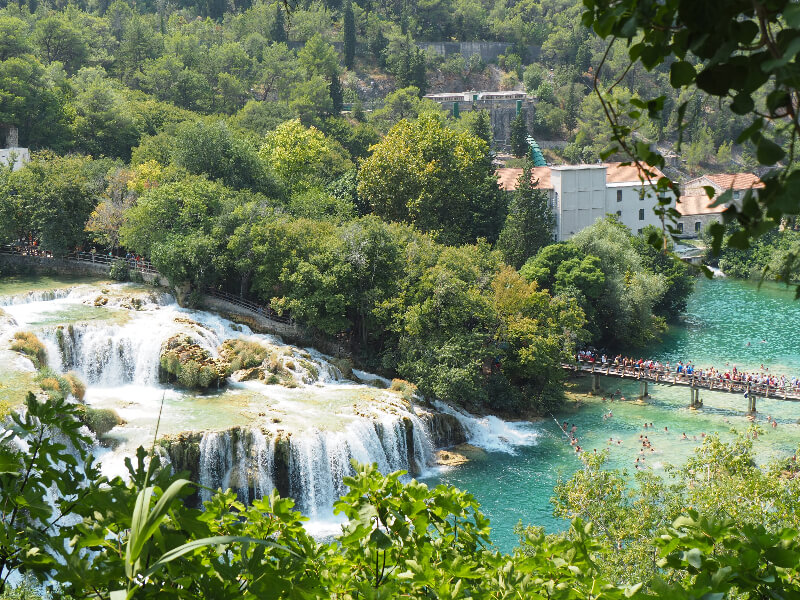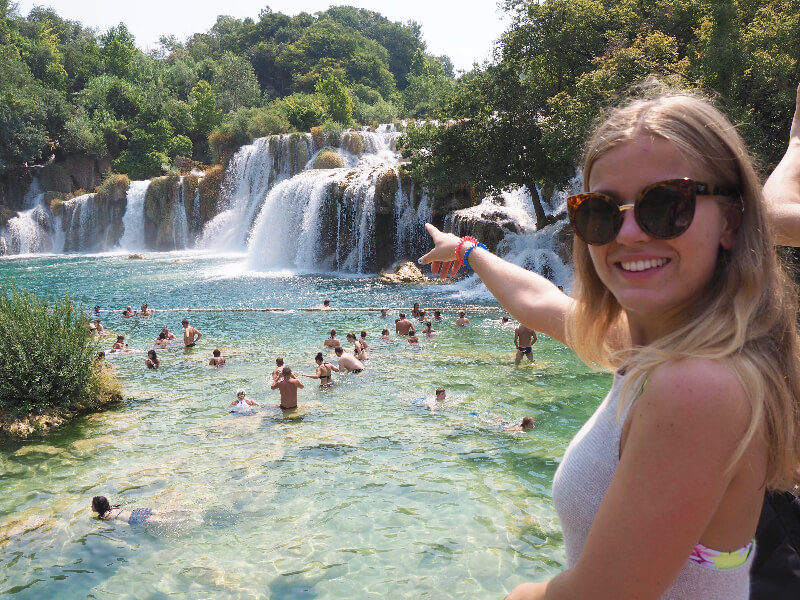 15:00 Arrive at Šibenik (20 minutes from Lozovac).
We arrived in Šibenik ready for a late lunch and browsed the menus along the seafront for somewhere to eat. Adamant to find somewhere non-touristy, with local-approved food (filled with locals), we hopped off the waterfront stretch and into the side streets.
Pleased that we had not settled any earlier, we stumbled across the most beautiful of walkways that felt like we had just walked into some kind of romantic movie set and this gorgeous restaurant: Cafe Jelovnik.
The food was amazing with a very reasonable price and the location was perfect for stepping out of the midday heat and grabbing a bit of shade.
16:30 Drive along coast: Brodarica & Grebaštica.
The roads here in Croatia aren't difficult and there aren't many of them. Heading from Sibenik back down to Split is just one road that hugs the coastline and displays gorgeous views over all the coves and waterfront towns, each more inviting than the one before.
17:30 Primošten
Eventually we gave in to the coastal temptations and pulled into this little town that someone had actually recommended to me on Instagram (@wheresmollie).
Parking was sparse in the centre of the town but we drove a couple of minutes further along the harbour and found a carpark for 2 hours at 6kuna (£0.06 GBP)!
We cooled off with a dip in the ocean and lounged as we dried off in the sun before taking a stroll along Primošten's stoney beach to reach the peninsula. Grabbing some fruit from one of the many stalls along the way, we ascended through the cobbled streets to the top of Primošten, which hosts a gorgeous church and panoramic views over the Adriatic… Dreamy. (The perfect place to grab an ice cream!)
19:45 Split
We arrived back in Split as the sun was setting, just in time to return the car for their 8pm close. We were welcome to bring the car back in the morning (included in the 1-day rental) but we had a Yacht Week party to attend in the evening.
My first introduction, as you can see from the photos above, was absolutely breath taking. I can now completely see why people rate Croatia so highly, even though I have really only just touched on discovering what Croatia has to offer.
I'd love to come back and have a road trip holiday in Croatia. I highly recommend you consider doing the same!
Hire a car, choose your favourite spots, make a rough route plan and stay a night or two in each destination.
Take a boat out from Sibenik to one of these islands:
Take a boat out from Split to one of these islands:
Explore Central Dalmatia:
Head south of the Dalmatian Coast: