As much as my travel roots may come from backpacking and as much as I thrive on the social injection it provides, you cannot deny the total adoration for a soft white linen bed with plumped cushions, bedtime scents and the peace and tranquility of a private blue lagoon. This was just the beginning of the experience my mum and I recently had at Hotel Tugu, a gorgeous hotel located right on Batu Bolong Beach in Canggu, Bali.
Are you ready for the hotel of your Balinese dreams?
The location…
Sitting on the west coast, Canggu seems to be the trendiest place to visit on the tropical island of Bali right now, but at the same time is somewhere that is changing very quickly. A western touch is definitely evident in the boutique shops, organic cafes, hotels and yoga studios that are beginning to grace the streets. Canggu is becoming an increasingly popular choice among surfers heading to the island, and so hiring a surfboard or a sunlounger to admire the waves is a given during your time here.
The experience…
Through every aspect of its existence, Hotel Tugu encompasses Bali's history and loveable traditions. It represents the Bali that people flock to this tropical region to witness, but so often miss due to the increasing tourism and development.
Hotel Tugu is home to one of the largest antique collections in SE Asia, displaying only the finest of pieces throughout the resort, adding both fascinatingly unique detail and depth to the visual experience.
I truly felt like I'd entered the culturally rich escape I'd longed for in Bali when I walked down the candle lit dark wood walkway and into Bale Agung (the main building). Tranquil music seeped gracefully into our ears as my mum and I continued forward, meeting eyes with a particularly distinctive 15ft wooden feature…
We were welcomed in by two lovely Balinese girls who offered us a cold towel (gratified relief from the tropical climate outside) and a welcome beverage of our choice which was shortly presented to us along with our room key.
There are just 21 suites here at Hotel Tugu, all of which are housed in individual buildings, tucked away in lush tropical gardens steps away from the Indian ocean and the magical sunset that displays there every evening.
Our room was like one that you'd plucked out of your finest dreams, and it felt so special to have my mum here to share it with me…
Tugu is definitely the kind of place you'd bring someone you love.
On Thursday nights, one of which actually fell upon our stay, Tugu hosts an evening of tradional Balinese dancing. Hosted within the Bale Agung, you can watch the stunning moves, immaculate costumes and live musicians as they joyfully perform for you. With a cocktail or a meal of your choice from the Balinese Indonesian and Oriential fusion menu, you have the opportunity to dive deeper into the gorgeous Balinese culture.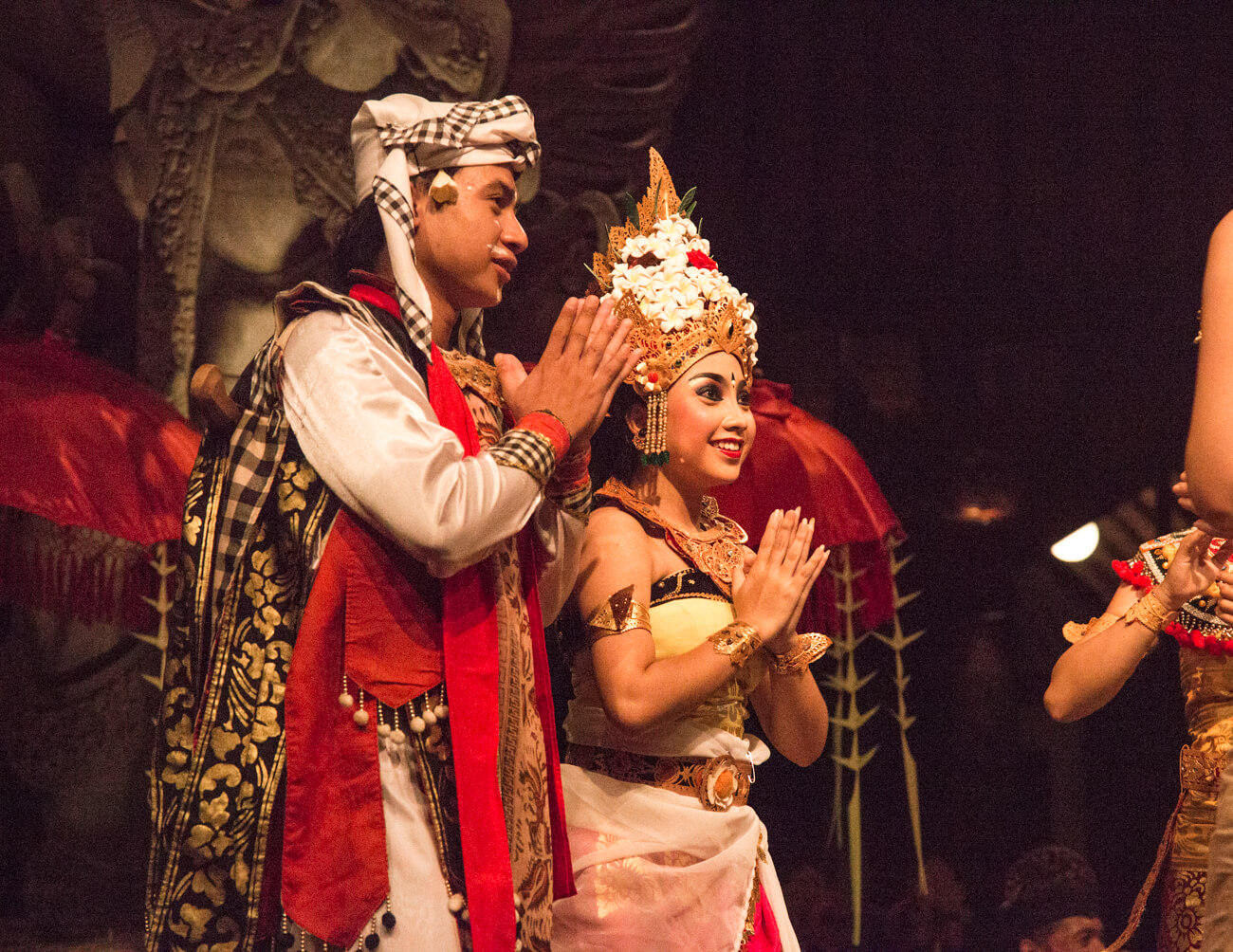 There are also other authentic Balinese experiences on offer at Tugu which, had I had more time, I would have loved to have tried. View the experiences on offer here.
One of my favourite things about Tugu was the personal touches they pride themselves on throughout guests stay. It's these small additions, in my opinion, that make all the difference.
From being able to order and enjoy your breakfast anywhere in the grounds, having complimentary high tea available 4-5.30pm every day and painted leaf place names when you arrive for dinner, right through to the fresh fruit deliveries in the room; we were made to feel special from arrival right through to departure.
Let me give you a couple of examples…
On the last day I was actually really ill (Bali belly from some ice that consisted of local water in a local bar's cocktails) and when my mum went to ask for some medication, the Balinese girls made me a herbal drink that they use for sickness.
When we booked a massage, we were welcomed with the option of a Chakra opening massage whereby, in this beautifully decorated room, we went on to be lulled by the Balinese chants as every inch of our body was released and revitalised. Post massage, true to Balinese tradition, we were individually blessed on the sea view balcony before being guided down to the high tea that awaited our arrival.
I wholly felt that our Tugu experience was authentic, genuine and that we had been adopted into a Balinese family. The Tugu Family. It's these unique moments that make travel, particularly with your loved ones, so very special and memorable.
Tugu wasn't just accomodation, it was an experience.
And as tourism continues to thrive and the country continues to change, places like Hotel Tugu are only going to become more and more precious.
Warning: There is a high risk you will get lost in paradise and have no desire to leave the Tugu grounds. Don't say I didn't warn you…
Should you be interested, Tugu also have 3 other locations in Indonesia: Lombok, Malang and Blitar. Check them all out here.
Have you had a luxury, authentic experience in Bali?
Where did you go? I'd love to know!
Love as always and happy adventuring,
Did you find this post helpful? I'd love you to share it for me.
I can't do this without you.
Pin and save this blog post for later…