Oh, Melbourne. I love a lot of places and I have incredible experiences left, right and centre, but there are not many destinations in which I sit and think, I could see myself here long term. But with Melbourne I did, St. Kilda more specifically.
In this blog post I have put together my favourite things to do in St.Kilda, my top tips and favourite spots so that when you're planning your trip, you know just where to go…
A guide to St. Kilda, Melbourne
Where is St. Kilda?
St. Kilda is a small seafront town located in Melbourne, just outside the city centre. When I told people I was going to use St. Kilda as my base to explore Melbourne from, people suggested otherwise, preferring Fitroy or other city centre locations. I was told St. Kilda was quite far out and that it would require a lot of effort to get into the city itself.
The 25-minute tram that runs so frequently you don't even need to look up the tram times, after the expectation of some kind of 2-hour, 3-change schedule, felt like a breeze.
If, like me, you love the city but after a while it gets a bit too hectic and starts to suffocate you… And if, like me, you absolutely love the beach, but after a while of lying around you need some stimulation and drive to keep you content…
Then you'll love St. Kilda, it's the best of both worlds and seems to have nailed the balance.
Getting to St. Kilda from Melbourne Airport…
Getting from the airport to St. Kilda is super simple. If you're on a budget, are travelling solo or just like to save wherever possible (like I do), then getting the Skybus is your best bet. It cost $18 each way and takes about half an hour – book here or pay on the bus.
Otherwise there are loads of taxis outside the airport for you to jump in.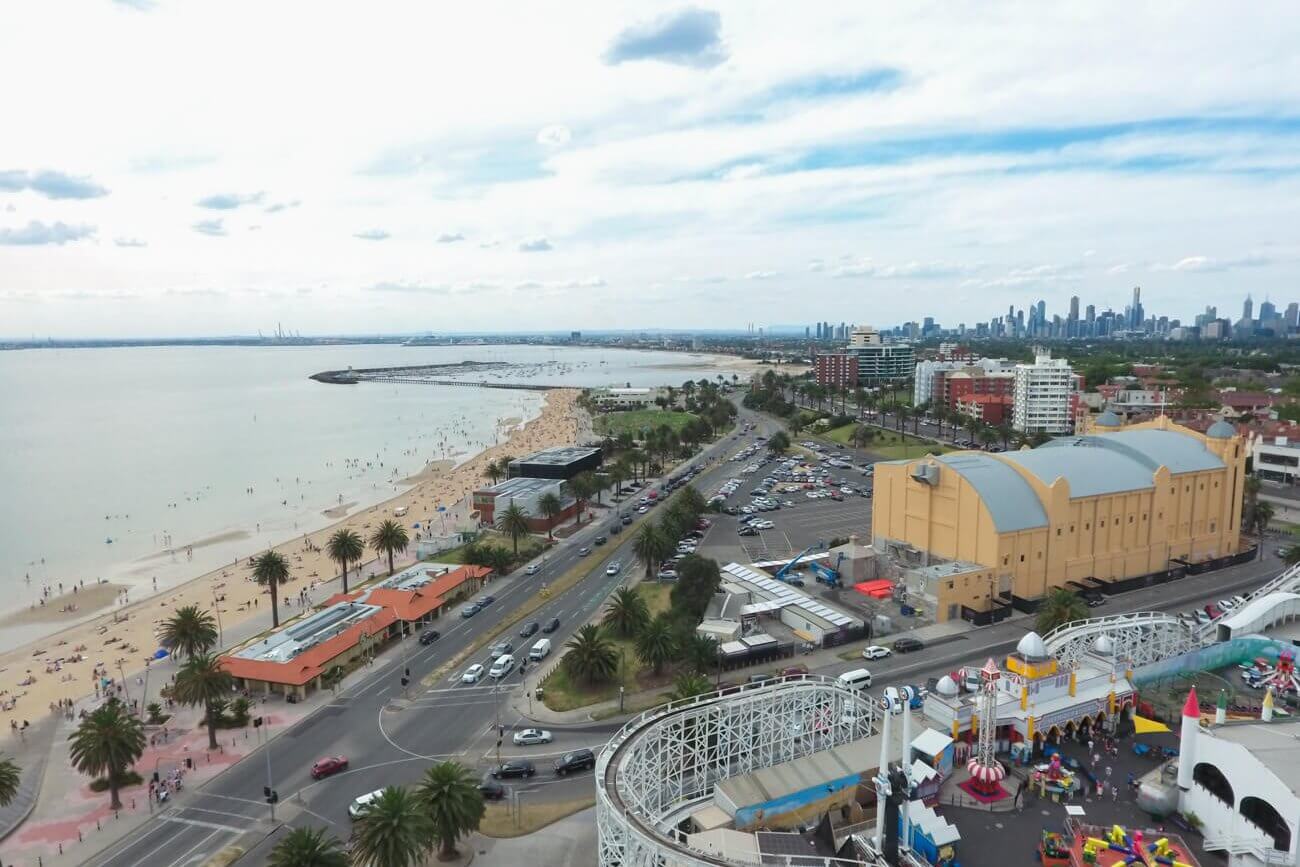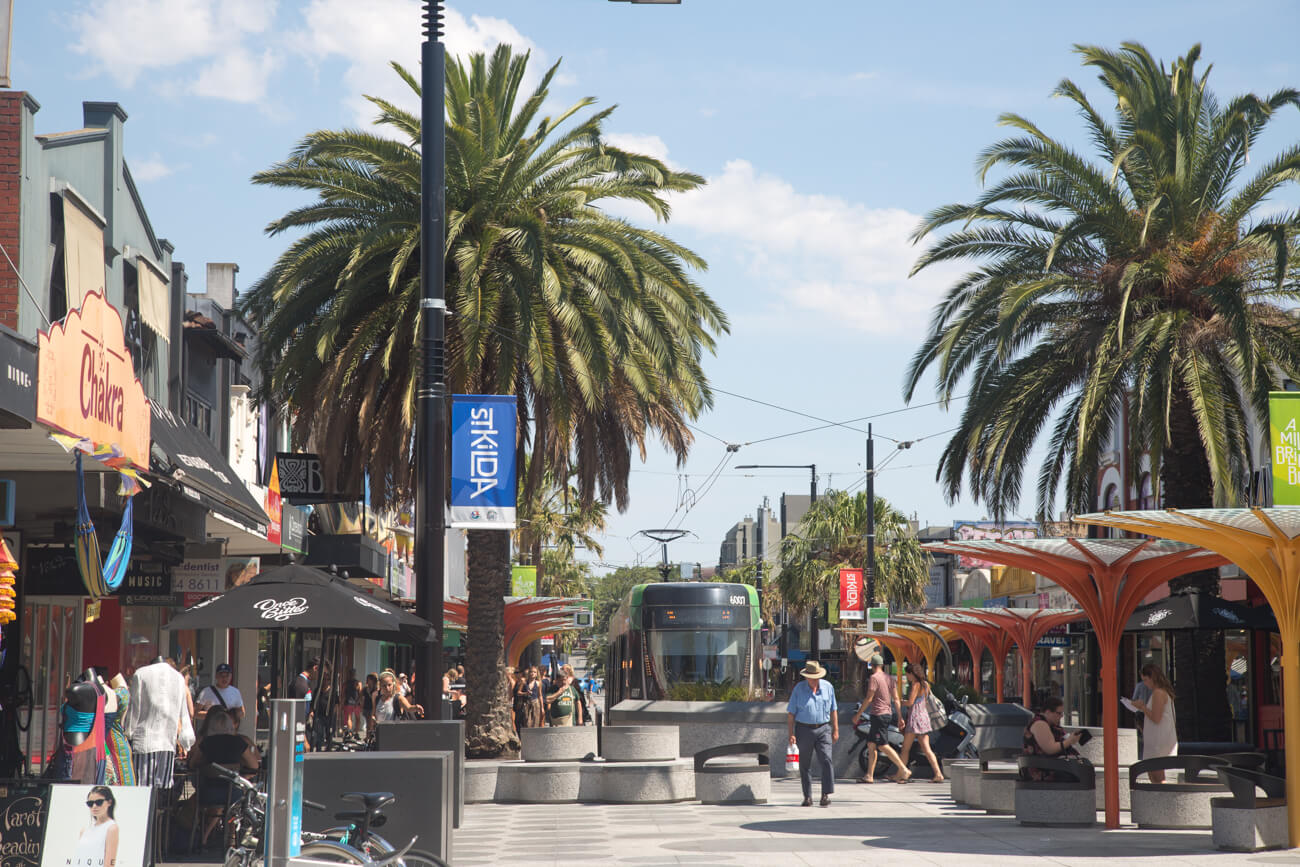 A bit about St. Kilda…
St. Kilda's main stretch is right where the tram pulls in, hosting two parallel lines either side of coffee shops, trendy boutiques, high street stores, supermarkets and restaurants. People seem to always be occupying the outdoor cafe seats, drenched in sunshine whilst catching up over a frothy coffee. And if they aren't, you can guarantee they'll be in their sweats running the length of the promenade or cooling off in the ocean.
The beaches may be man made here in St. Kilda but they are footsteps from the high street, and showcase some of the best sunsets I've ever seen. To top it off, as you lay on the beach, the view is framed by Melbourne's skyline. It's stunning.
Head away from the city and down the coastal path with your bike, your trainers or your skates and you'll find miles upon miles of beaches, clear waters, picnic spots and gorgeous lookouts to enjoy. Then there's discovering St. Kilda's very own Botanical Gardens, enjoying Luna Park come alive by night, listening to the buskers, the Thursday night food and music market and the crazy delicious Matcha Restaurant St. Kilda hosts (my personal favourite).
Yep, a healthy Matcha infused menu of ABSOLUTE DIVING EATING. This restaurant is enough reason alone to move to St.Kilda. And there's plenty more goodness where that comes from; Melbourne is filled with healthy eating cafes and eateries. YAY.
The best things to do in St. Kilda…
1. Watch the penguins from St. Kilda Pier at sunset.
Walk right as you leave St. Kilda and follow the crowd right up to the end of the pier to where there is a penguin sanctuary. It's pretty much a given you will see them about, usually just as the sun sets.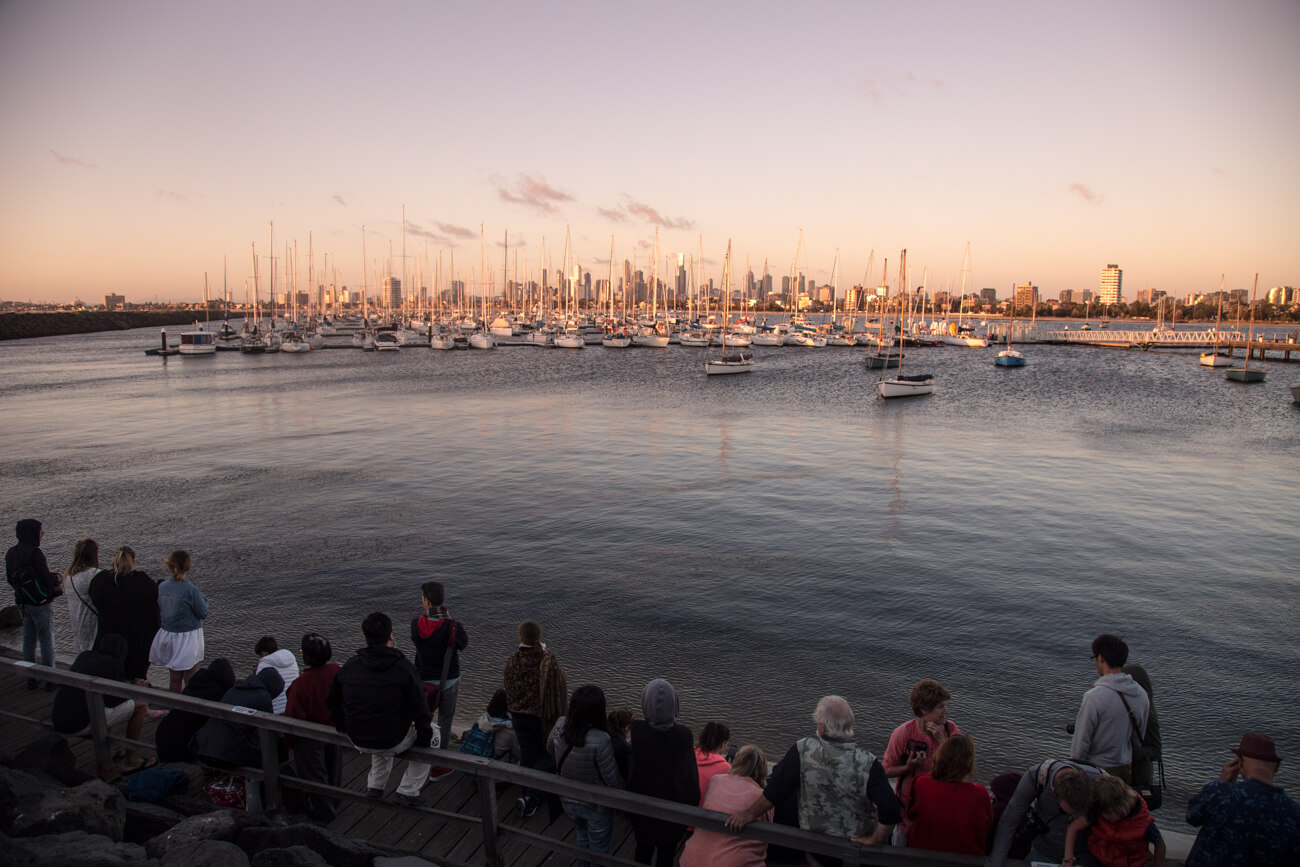 2. Rent a bike and cycle the coastal path.
One of my favourite days in Australia and something I actually enjoyed doing solo for a bit of head space and peace. I rented my bike from St. Kilda cycles and just followed the ocean path. Check out my bike route here!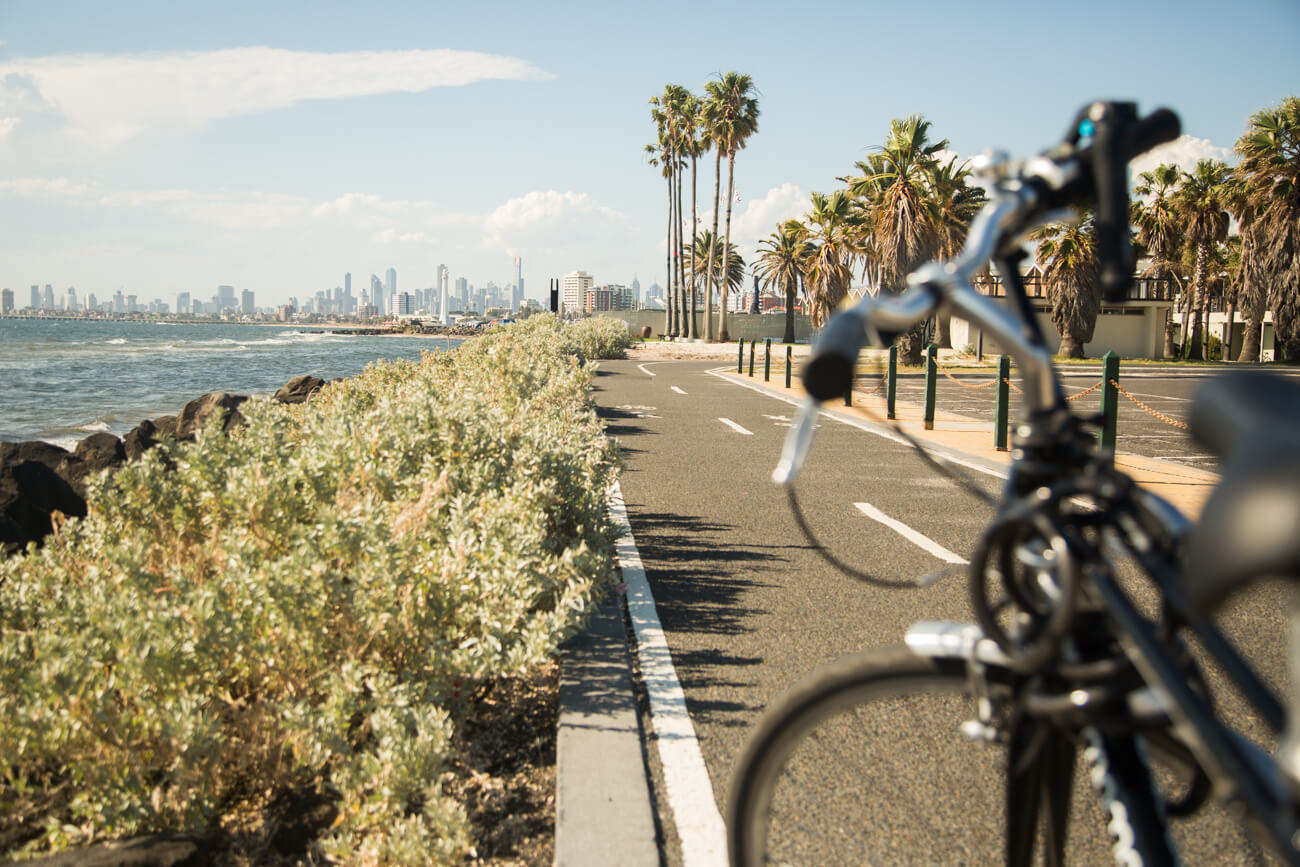 3. Go for dinner or drinks at Republica on the beachfront.
Often hosting live music and situated right on the sea front, Republica is the coolest place to hang out for dinner or for cocktails… any day of the week.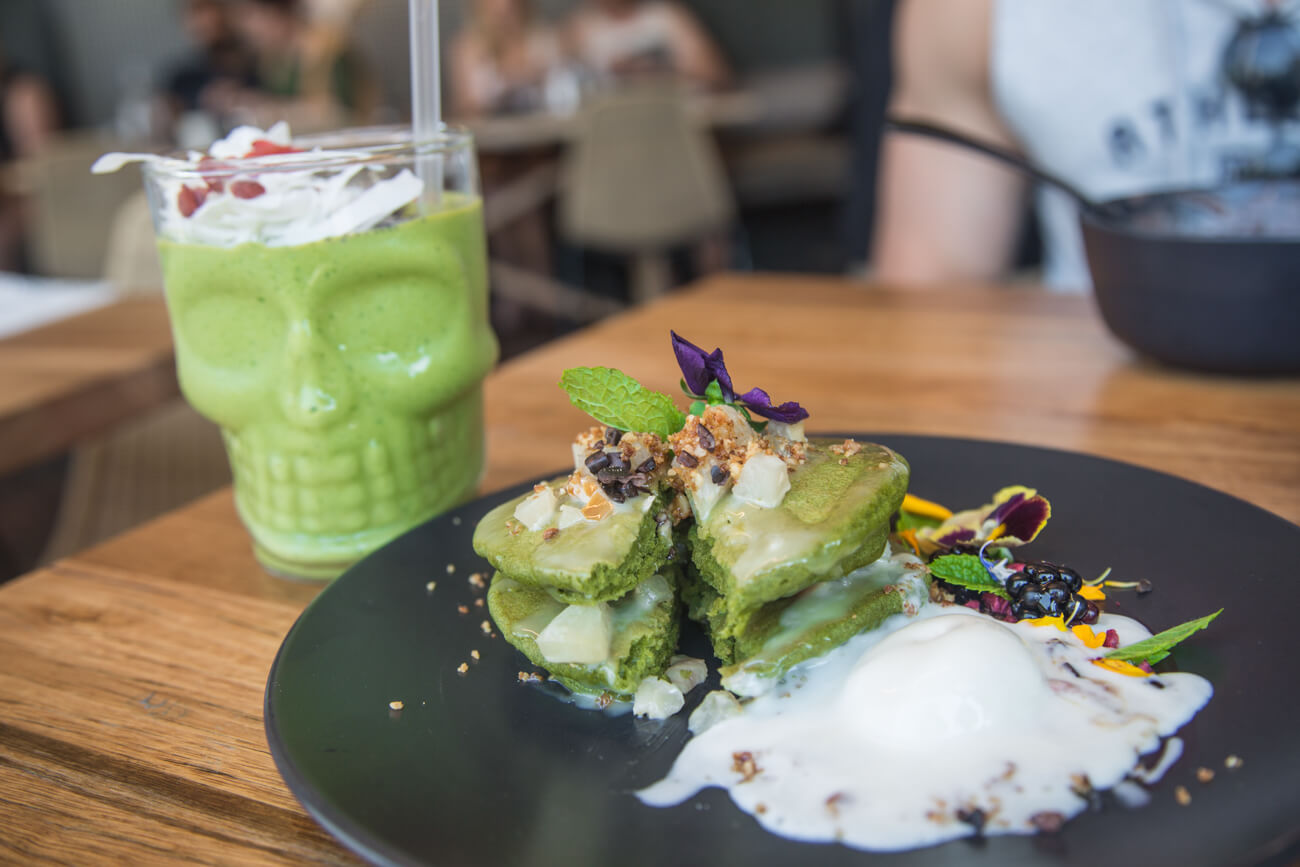 5. Luna park by night.
You can't miss it, the big white complex right by the beach front with a sky high rollercoaster lining the circumference. The rides aren't THAT thrilling, but you gotta get a selfie out the front and well, if you're down for a laugh… A few glasses of wine and an upside downer is always fun. (I never said that).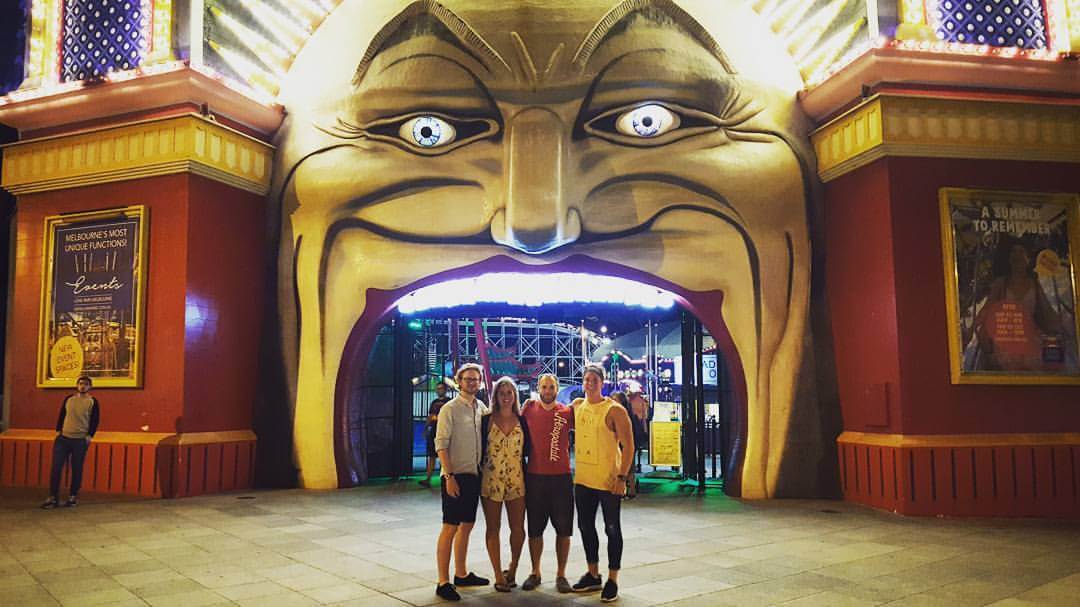 6. Kick back and relax on the beach.
7. Stop and smell the roses in St. Kilda's botanical gardens.
What's more, it's free entry!
8. Catch a show or concert at the Palais Theatre.
9. Dance your socks off at St. Kilda festival.
This festival of community spirit is held every February. For more info, check out the website here.
10. Enjoy the street food at the Thursday night market.
11. Watch the incredible sunset over the city.
12. Join the workout squad on the beachfront.
Okay, there's no legit squad (that I know of) but everyone works out along the front. Be it running, skating, cycling, walking the dog or leading your own little HIIT sequence, you won't feel out of place.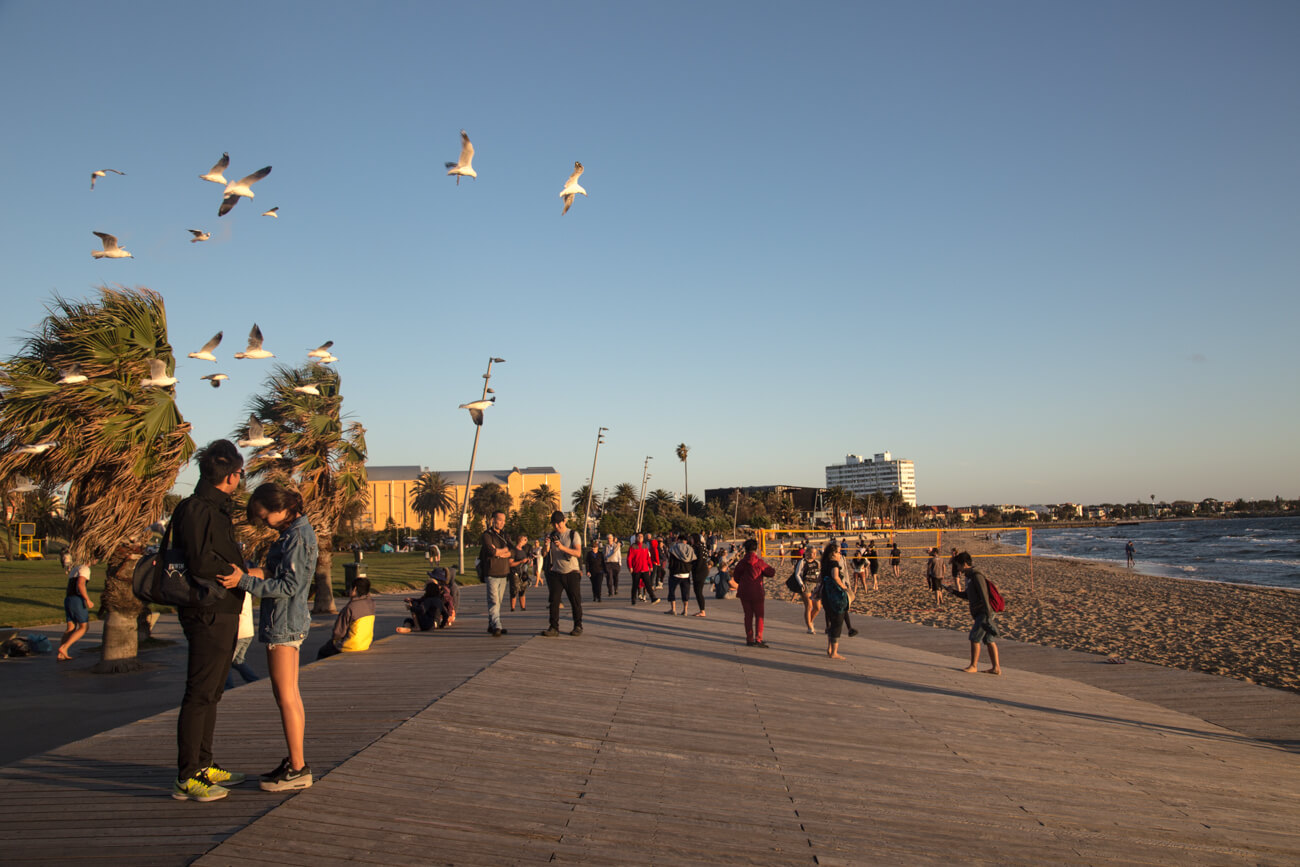 13. Hit up the Sunday Esplanade Market.
14. Go out in Fitzroy.
Near where Nomads hostel is, in the likes of The George, is where you'll find most younguns at the weekend.
15. Enjoy a coffee on Acland Street.
16. Take a picnic to Albert Park.
17. Take a stroll around the 'Veg Out' community gardens, or visit the 'Veg Out' Farmers Market on the first Saturday of the month.
18. Enjoy a 'pay as you feel' meal at Lentil as Anything.
The vegetarian restaurant was one of Australia's first social enterprises, promoting inclusion and fairness. You 'pay' what you think the meal is worth / what you can in money or in time (volunteering).
19. Skydive!
Tandem skydive over Melbourne and St Kilda, with a beach landing – epic!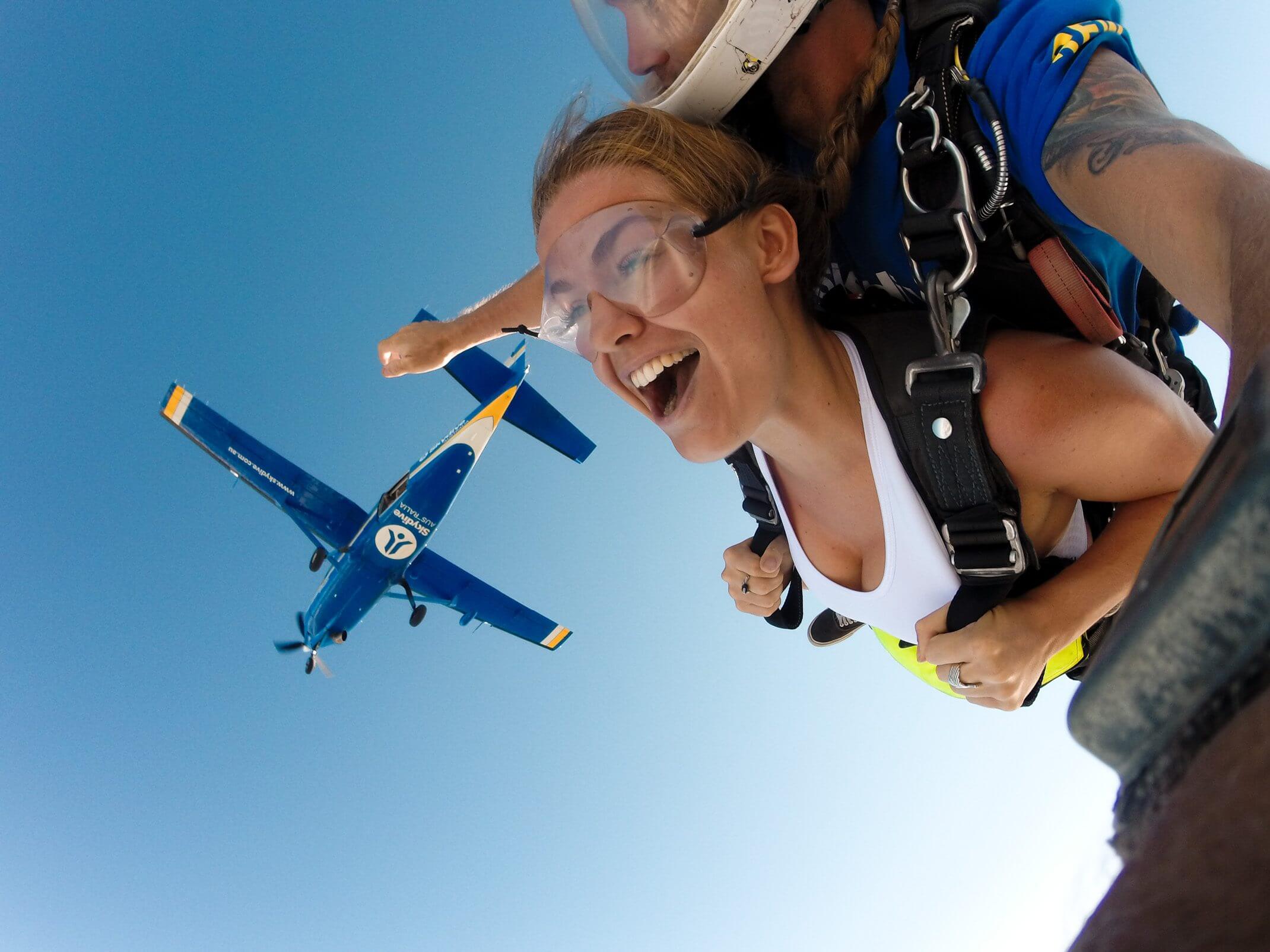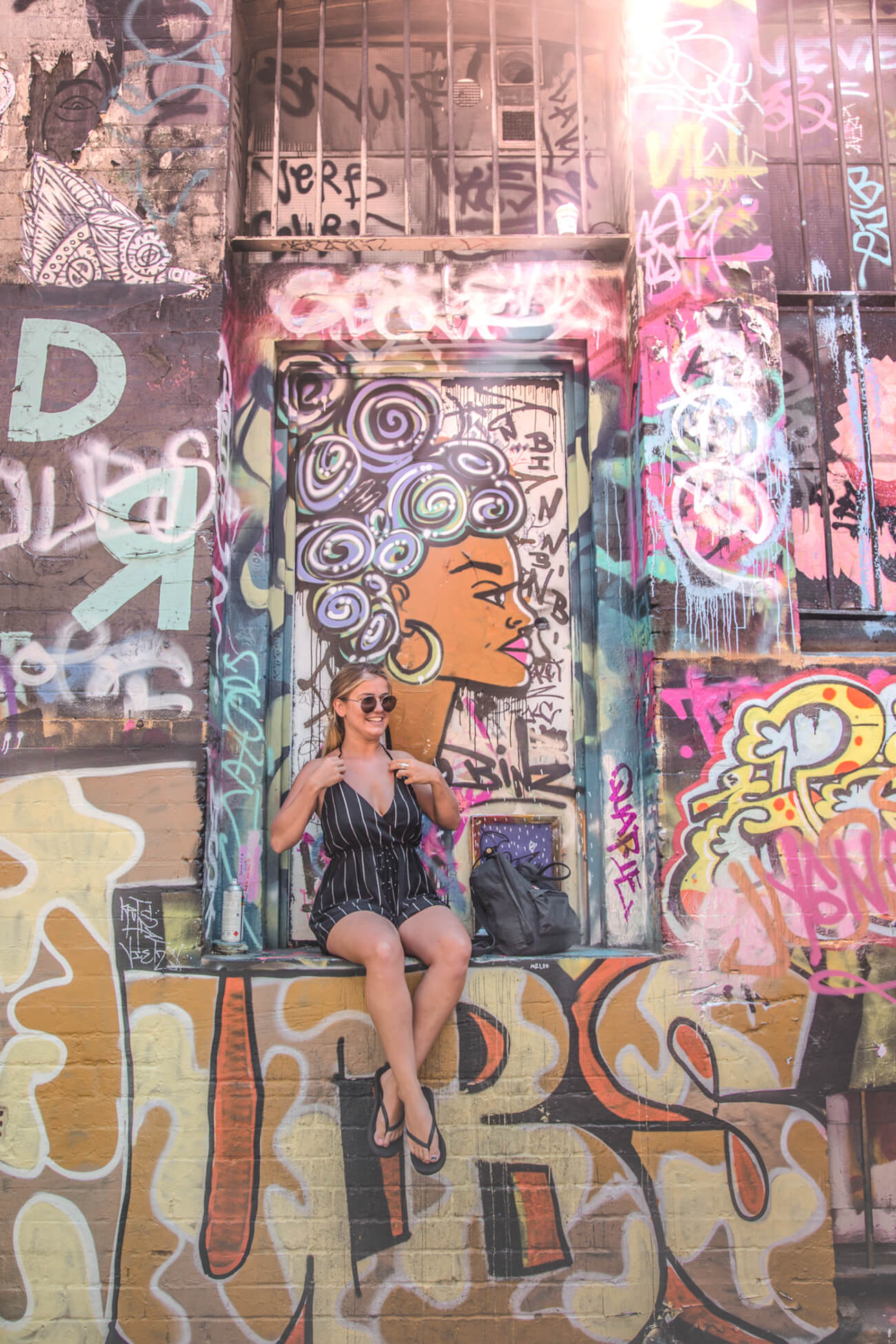 20. Hop on the tram into Melbourne city centre.
St.Kilda is amazing, but head into the city and the options are extended beyond your wildest dreams. Go explore the likes of the Night Market, the art lanes, the coffee shops and the Eureka Sky Tower.
Where to eat and drink in St. Kilda…
Matcha Mylkbar
Lentil as anything
Milk the Cow
Mr. Wolf
Babu Ji
Misery Guts
Miss Jackson
Pontoon
United Kitchen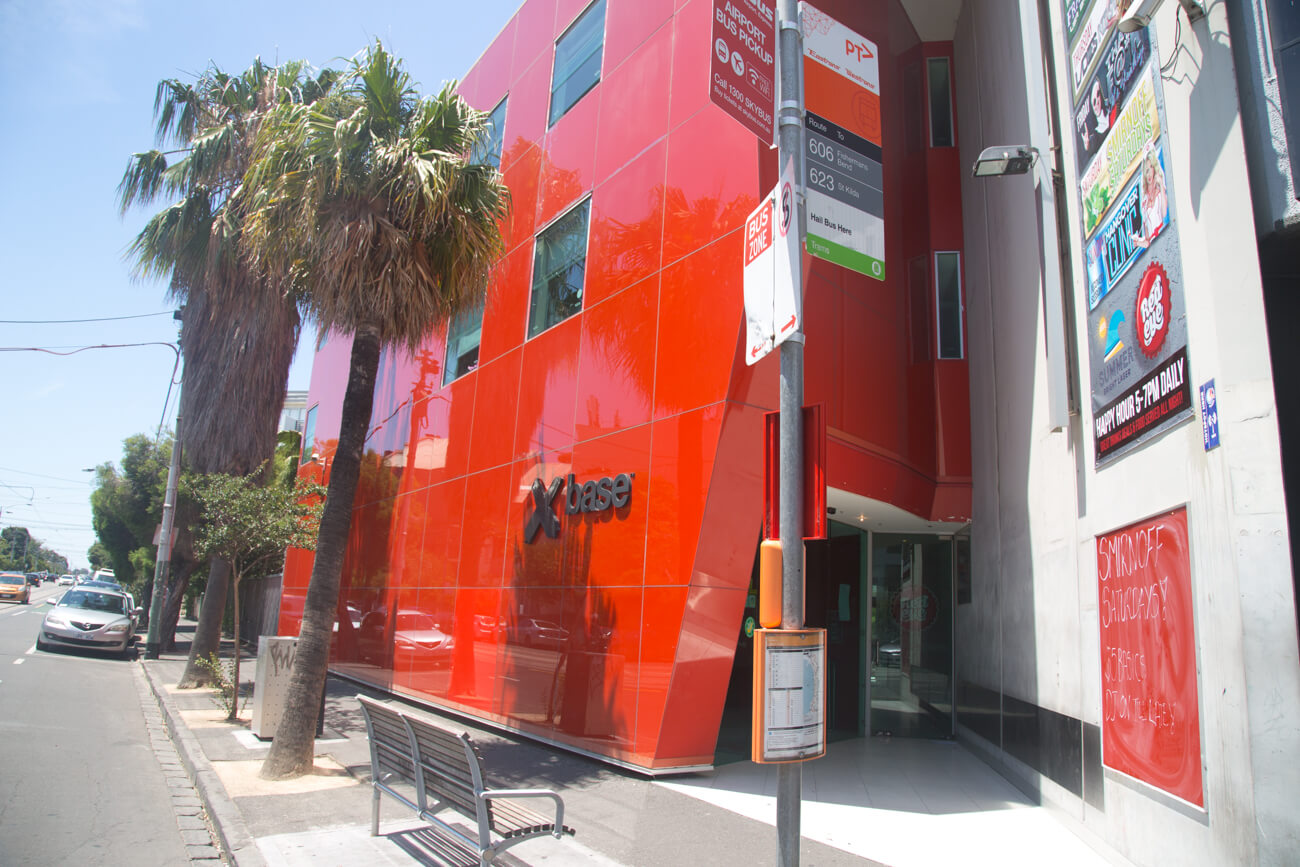 My top tips for visiting St. Kilda…
Download the City Mapper app to navigate the public transport.
You will need a Myki card to travel on the tram (Melbournes main transport system). You can use it like an Oyster, so you will need to buy one and top up as necessary.
The corner shops do $1 coffees that are actually pretty good.
Getting from the airport to St. Kilda is super simple. $18 (each way) Skybus which takes about half an hour – book here.
If you're looking for a great hostel, I stayed in Base and absolutely loved it. Super central, clean, buzzing with atmosphere. Book the hostel here (cheaper to book directly on that link). It's also right next to the airport shuttle bus stop!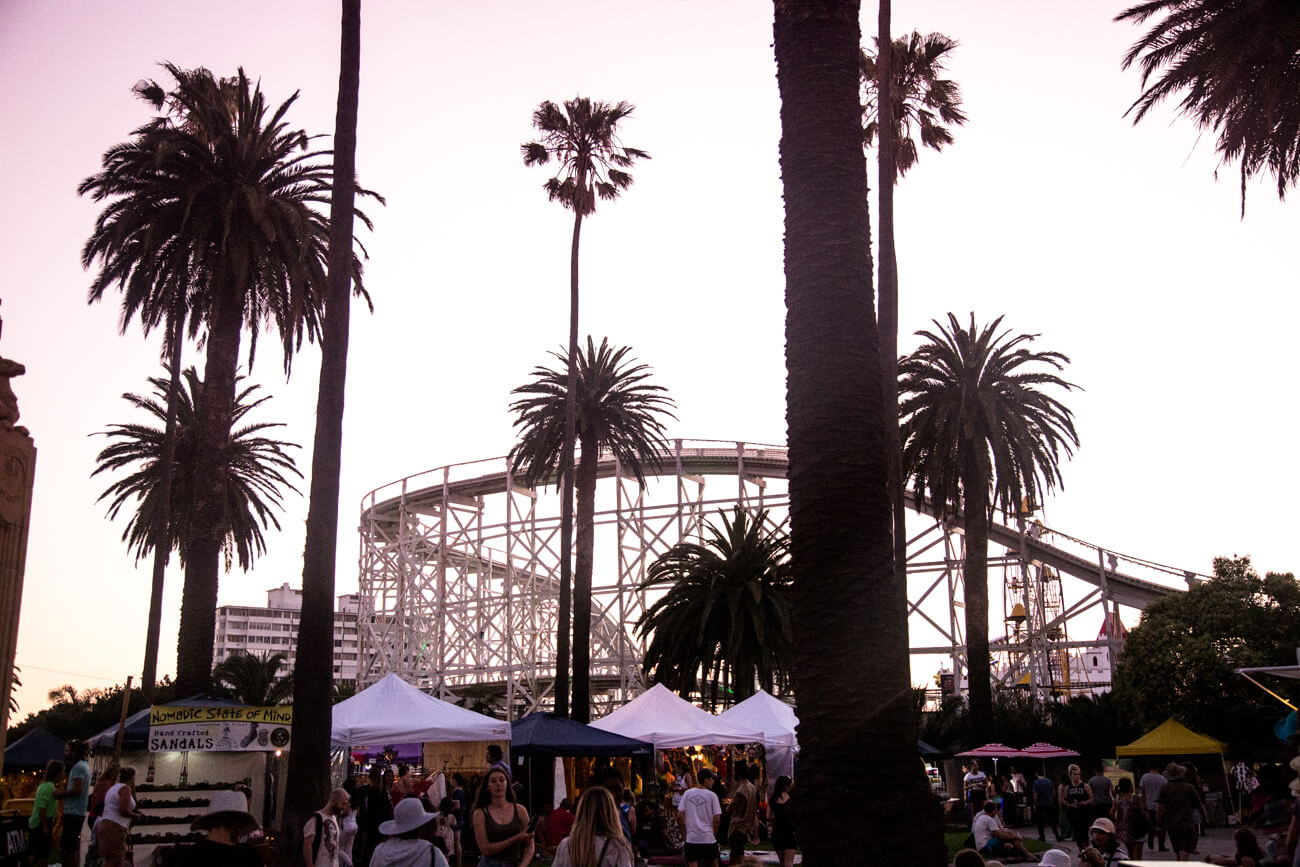 Extend your adventure from Melbourne with…