Chances are, you've landed on this post because you've booked your flights to Australia or you're thinking about going and you're wondering what on earth the best way to get around is when you arrive down under. It's a whopping 3000km from Cairns down to Sydney so you definitely need to think about how you're going to do it. If you're travelling in Australia, whether that's travelling on the East Coast or travelling in Western Australia, and you're looking for top tips or how to plan your transport…
Great news, you're in the right place.
I've travelled Australia on 4 separate occasions now and I've done it Greyhound style, camper van style and group travel style.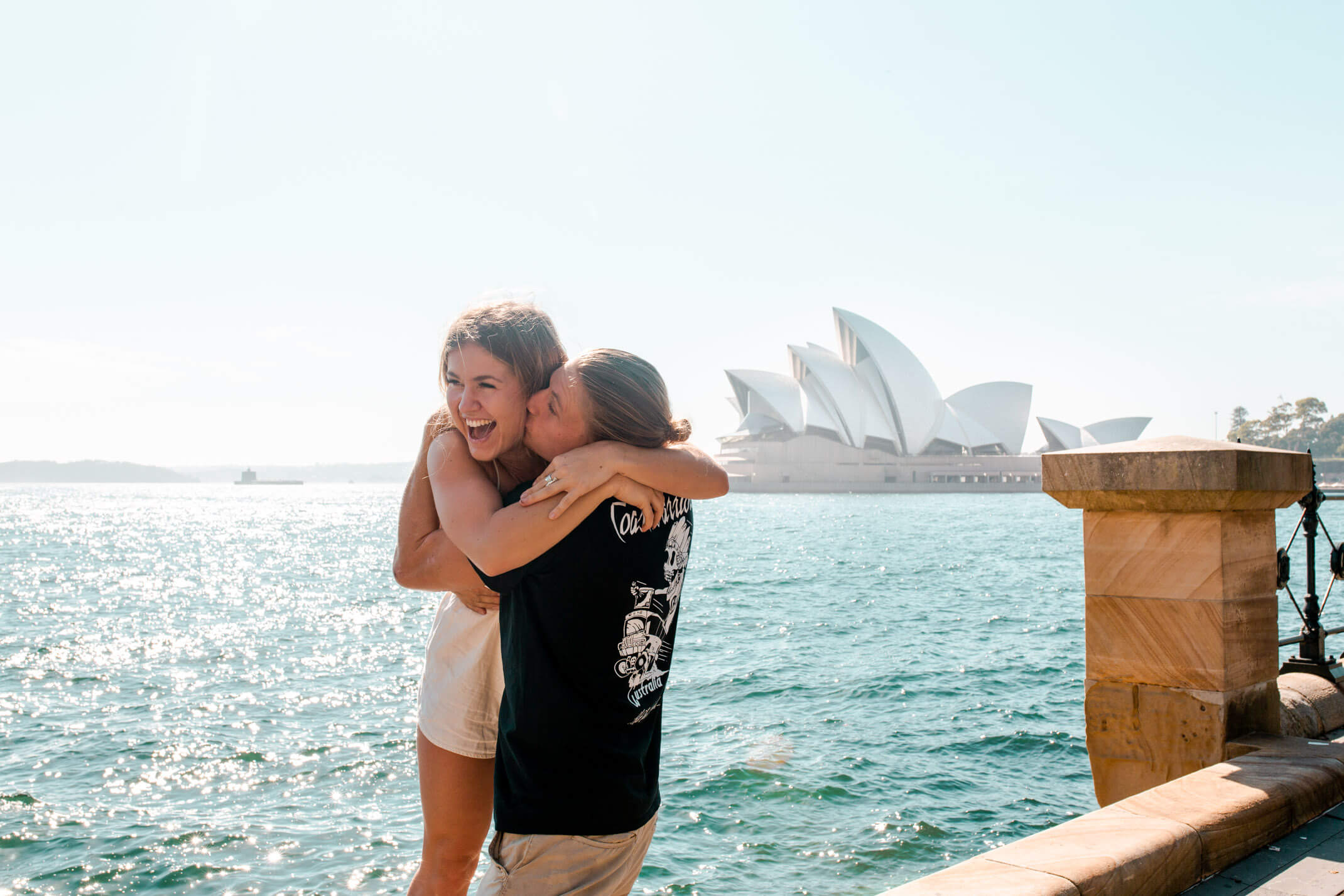 The best way to go travelling in Australia? It depends on your situation. Honestly.
If you're solo travelling in Australia as a first time solo traveller, a group tour could be the best way to meet new people, build your confidence and guarantee those epic vibes.
If you're heading out with a few friends, and looking for top tips for travelling in Australia and planning your transport, getting a camper van in Australia is an incredibly fun way to travel and when you split the cost between you, it's no different to hostels and buses.
If you're a confident traveller and want to make it all up as you go along because you don't even know where to start travelling in Australia, get a bus pass and book hostels as you go. You never know, you may meet friends and pick up a camper along the way too.
Whatever your situation, there's a perfect option for you to go travelling in Australia and we are here to find it. For tips on budgeting for your Australian adventure, read this post.
Other Australia travel guides you may find useful:
I'm handing this one over to Sammy, my wonderful friend that owns RatPack Travel. He lives down under and knows the East Coast like the back of his hand. Any questions – be sure to drop him a message! He will be so happy to help.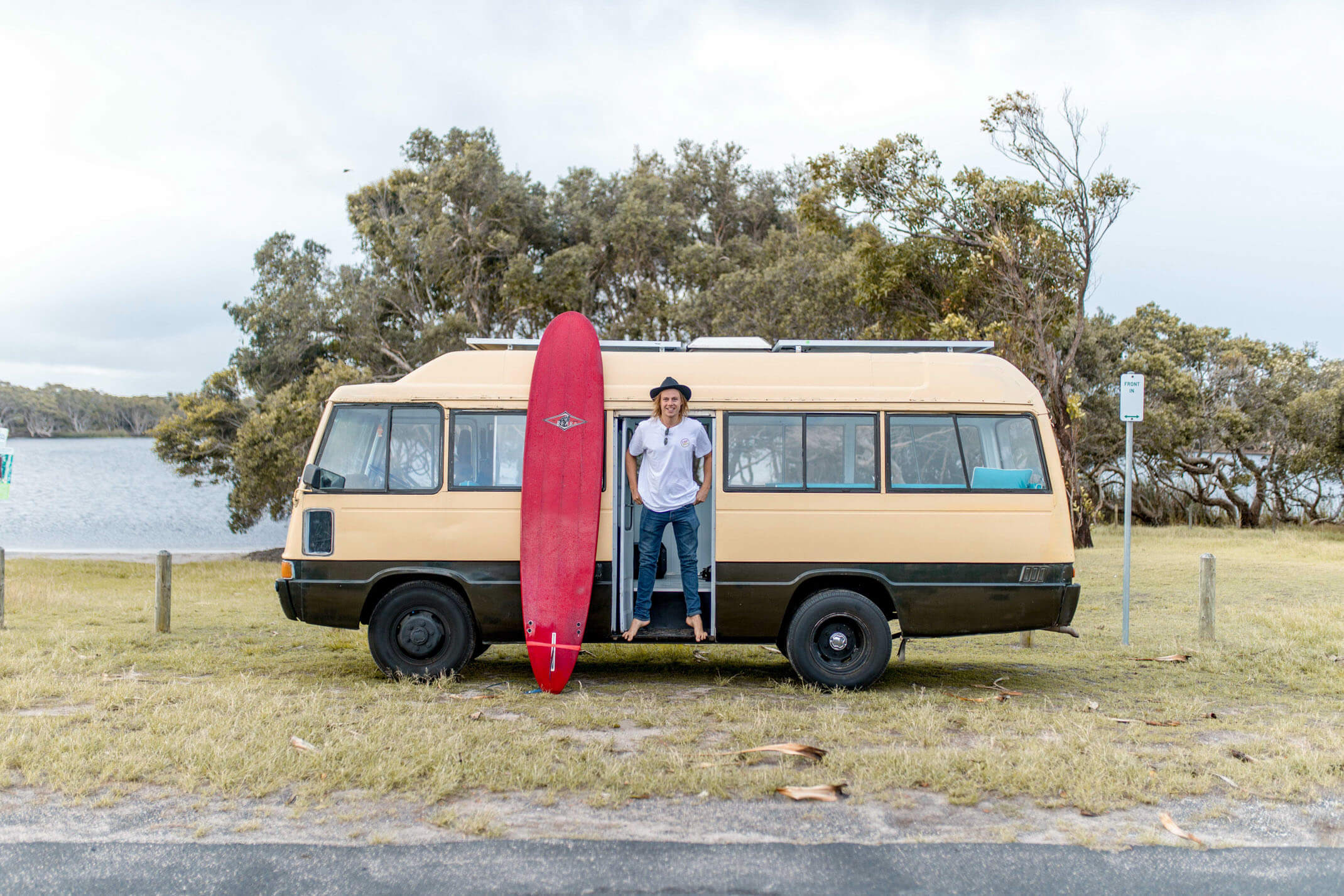 Top tips for travelling in Australia: planning your transport…
Yo!
The East Coast of Oz – you've heard all about it, right? Home to the amazing beaches that make up The Whitsundays, the epic remoteness of Fraser Island, the world famous Great Barrier Reef and so many more epic spots that we just can't get enough of. It's the perfect place for plenty of adventure, especially if you are thinking of going solo travelling in Australia.
But… did you know that from Cairns to Sydney it's a massive 3000km?! Australia is a huge old place and there are plenty of ways to explore it, no matter what type of traveller you are, solo or with mates. We've been there and done it and we're ready to help you with all our top tips for travelling in Australia.
This post will focus on the most popular stretch of coast, the East Coast, which is a natural first option if you're not sure where to go travelling in Australia. But, if you're planning on going further afield, for example travelling in Western Australia, hit me up and we can discuss your options in more detail. Read our East Coast Australia bucket list here.
Let's get down to it…
What are your transport options for travelling the East Coast of Australia and which one should you go for?
Bus pass & accommodation
First up, to let someone else do the driving, travel by bus! Travelling the East Coast by bus is a really affordable and relaxed way to see Australia. This option is perfect if you are solo travelling in Australia or don't have a full driving license. All of the major stops on the East Coast are covered by the bus companies and have bus stops very close to the hostels in each town.
Let's talk dollar, and how much travelling in Australia costs. For this option, you'll need to purchase a 'hop on hop off' bus pass. To do so you simply need to choose a start and an end location… e.g. Start in Sydney & end in Cairns. You'll then need to book your hostels as you go.
Which bus company should you book with?
Travelling in Australia by Greyhound couldn't be easier. They have a range of passes available, all of which can be discounted through the 'MOLLIE10' discount. The stops allow you hit up all the best things to do on the East Coast and there are 2 or 3 departures daily from each location. If you like to travel in comfort, Greyhound is for you as these guys offer free WIFI on-board, air con and USB chargers in each seat. Find out more about travelling with Greyhound here.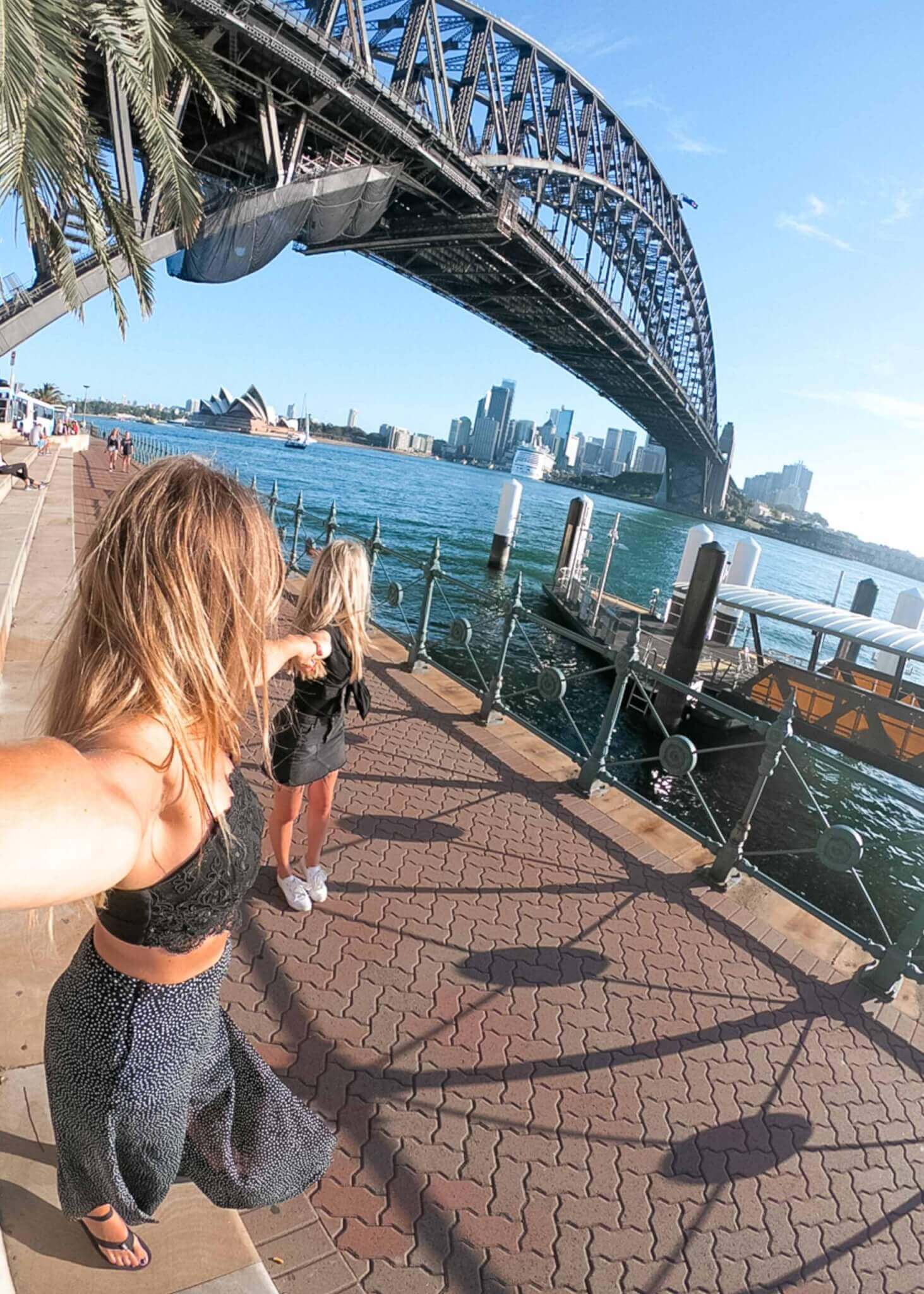 Travelling East Coast Australia with Premier is the way to do it if you are a budget conscious traveller and worried about how much travelling in Australia costs. These guys offer a bus service with no added extras (i.e. no wifi) at a lower price. You'll hit up the same places to visit in Australia, but bear in mind there is only one bus available per day and if you want to visit Agnes Water the bus stop is 20km out of town!
We've got your back every step of the way when it comes to budgeting for travelling in Australia and making your money go as far as possible. Once you have chosen the perfect bus pass to suit your start and end destinations we can put together a free personalised calendar for you with some suggested places to stop along the way.
Want a free personalised calendar?
Click here and we'll create you a free calendar based on your travel dates with epic recommendations for your adventure.
Campervan
Want to go off the beaten track? Travelling in Australia by camper is a great way to see the best places to visit on the East Coast and see some epic spots that you might not have seen otherwise. This option is great if you are a confident driver, are travelling with mates and are flexible with your schedule… and potentially up for getting lost and discovering little hidden gems.
When travelling in Australia by camper there are a few awesome perks. One of course is that your transport becomes your home. That in itself is an epic experience. There are plenty of free camps up the East Coast for you to pitch up for the night! Imagine camping right by the beach and waking up for sunrise… dreamy #RatPackRoadie life right there! Well in Australia that's totally realistic and we can let you know where all the free campsites are! Check out our guide to freedom camping in Australia.
This option costs a little more upfront, but you'll save on accommodation and have a true road trip experience! We recommend grabbing a few mates together, splitting the cost and creating a hit list of all the spots you want to visit and all the best things to do in Australia! Make sure those Spotify playlists are cranking and ready to go!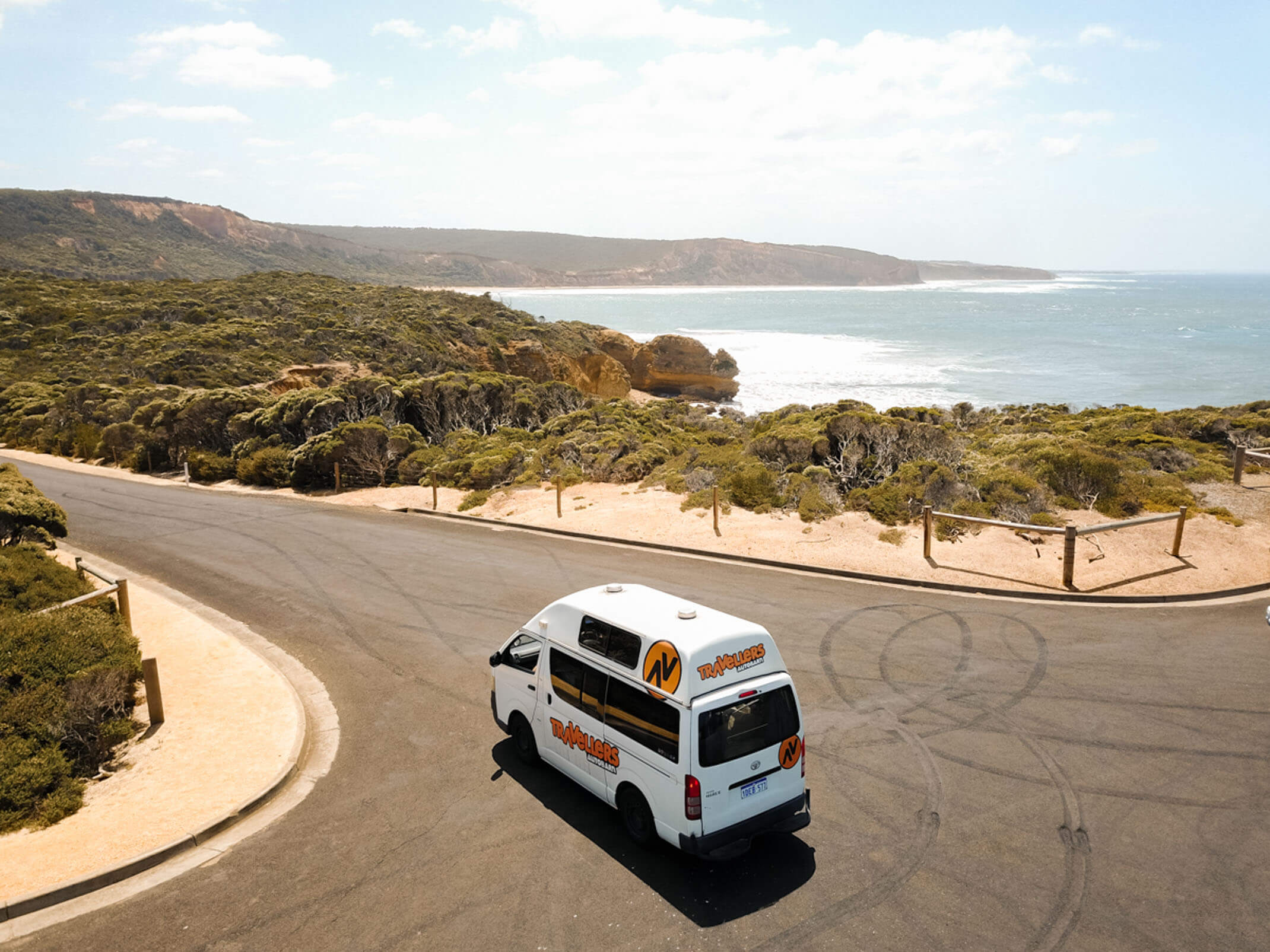 How much will it cost?
At RatPack we offer a unique service! Once we have your start and end location as well as your dates for travelling in Australia, we will compare all the online rates for you. Once we have found the cheapest rate for the van that is best suited to you and your travel mate/s, we then discount the direct price by 10% using the MOLLIE10 promo code.
The important thing to remember is that there is NO significant cost difference between the bus pass and spending money on accommodation each night vs. hiring a camper and then staying in free camps along the way. Check out our guide to budgeting for travelling in Australia here.
Want to book a camper van? Click here and let us know your travel dates and we'll check out all the available campervans based on your dates and campervan style.
Flying
When travelling in Australia, flying between major cities can be super cheap and also save you time. For example, there isn't too much to see between Melbourne and Sydney so many people often opt to take a short domestic flight between these locations. Most people then start their bus pass or camper rental from Sydney up to Cairns.
For those people coming over on a working holiday visa for Australia my advice is always travel for the first few weeks and then look for work. After all, the last thing you want to do is land, start work in a place and then find out there is a destination that is much more suited to your vibe just a few hours up the coast. By travelling first you can scope a few places out and then take advantage of those cheap domestic flights by flying back to your favourite town or city.
Car rental
If you are a flash packer (my terminology for a fancy backpacker) kinda traveller, not worried about how much travelling in Australia costs, and don't fancy the van life then hiring a car can be a great option for travelling in Australia.
Although the actual rental cost is cheaper per day than hiring a camper van, the added expense of paying for accommodation on top often makes it more expensive. The car rental option therefore is probably the most expensive option of the lot.
Get in touch!
Torn between bus pass or renting a camper when travelling in Australia?
Still confused and don't know what you even where to start travelling in Australia?
Hit us up and we'll help you! We are the experts of the East Coast (I've actually travelled all of Australia on one BIG road trip). We will go from start to finish and we can also create you an epic calendar and design you the dream itinerary, just like this one…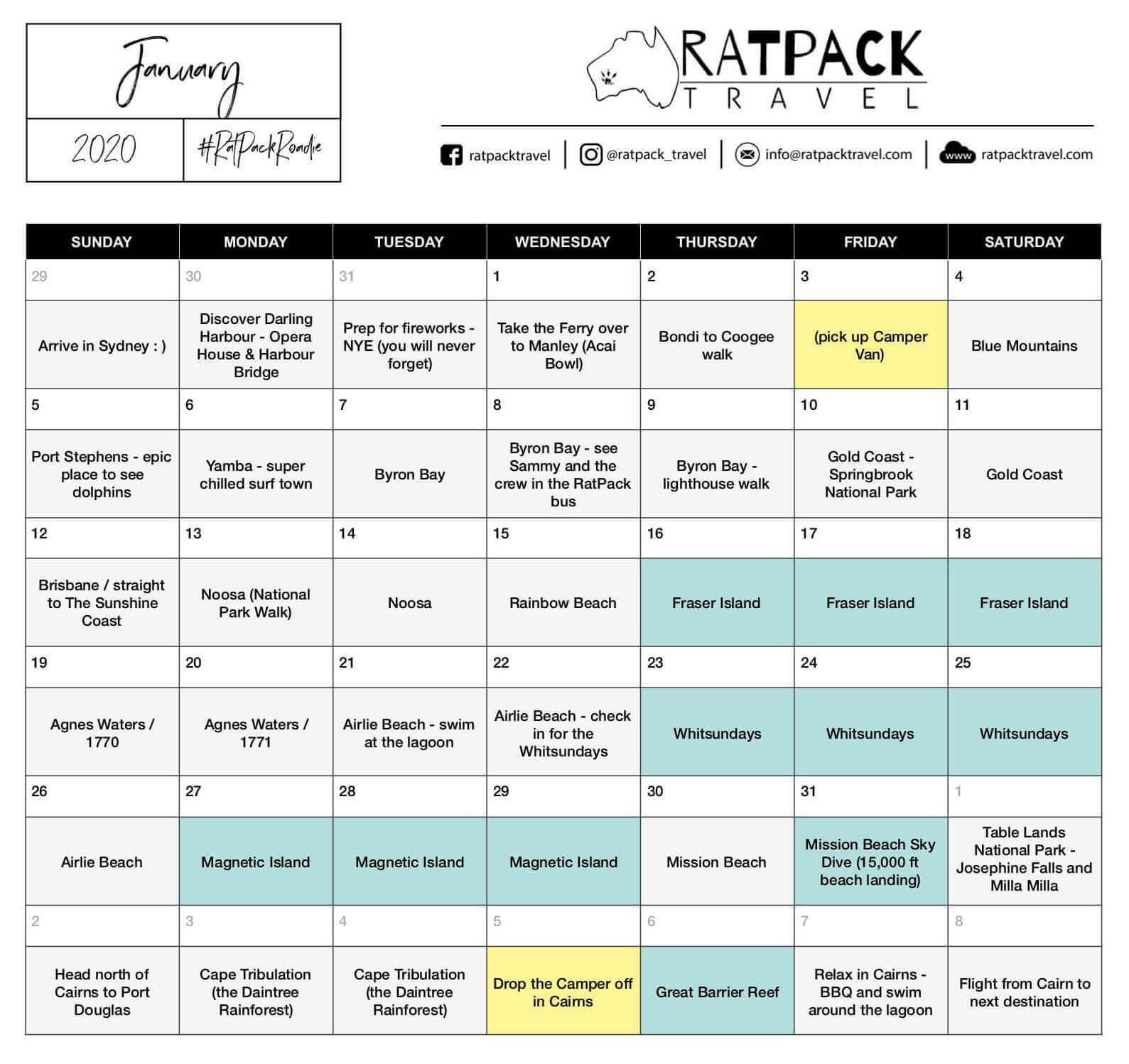 Have you been travelling in Australia?
How did plan your transport for solo travel in Australia? I'd love to know!
Love as always + happy adventuring…
Did you find this post helpful? I'd love you to share it for me.
I can't do this without you.
Pin and save this blog post for later…