As I stepped out on the 'Uluru Discovery' 5-day, 4-night Topdeck tour, I embarked on my first ever experience of the Australian outback.
I was so happy to finally get my hands on an opportunity to travel with Topdeck and to experience one of their tours first hand. They're one of the leading backpacker tour operators, taking 18-30 somethings to incredible destinations all over the world. So, I welcomed the chance to experience a tour operator trip during the early days of Where's Mollie Global Travellers.
I hadn't prioritised a Red Centre adventure on my previous three trips to Australia. Doing so requires an additional 2/3 hour flight from the East Coast and visiting isn't cheap. In fact, the Red Centre, or the Australian outback, is considered one of the most expensive places in Australia because of how remote yet popular the location is.
However, I was also completely clueless prior to this trip as to how stunning the landscapes were.
I can confirm the scenes you set your eyes on are unrivalled when you compare them to the rest of Australia. So, if you're looking to add a bit of diversity to your adventures down under, the Red Centre will certainly cater for that.
Only in the Nevada desert (Burning Man) have I ever experienced sunrises and sunsets quite like these. And trust me, I've seen a fair few!
Here's my experience of the 'Uluru Discovery' Topdeck tour…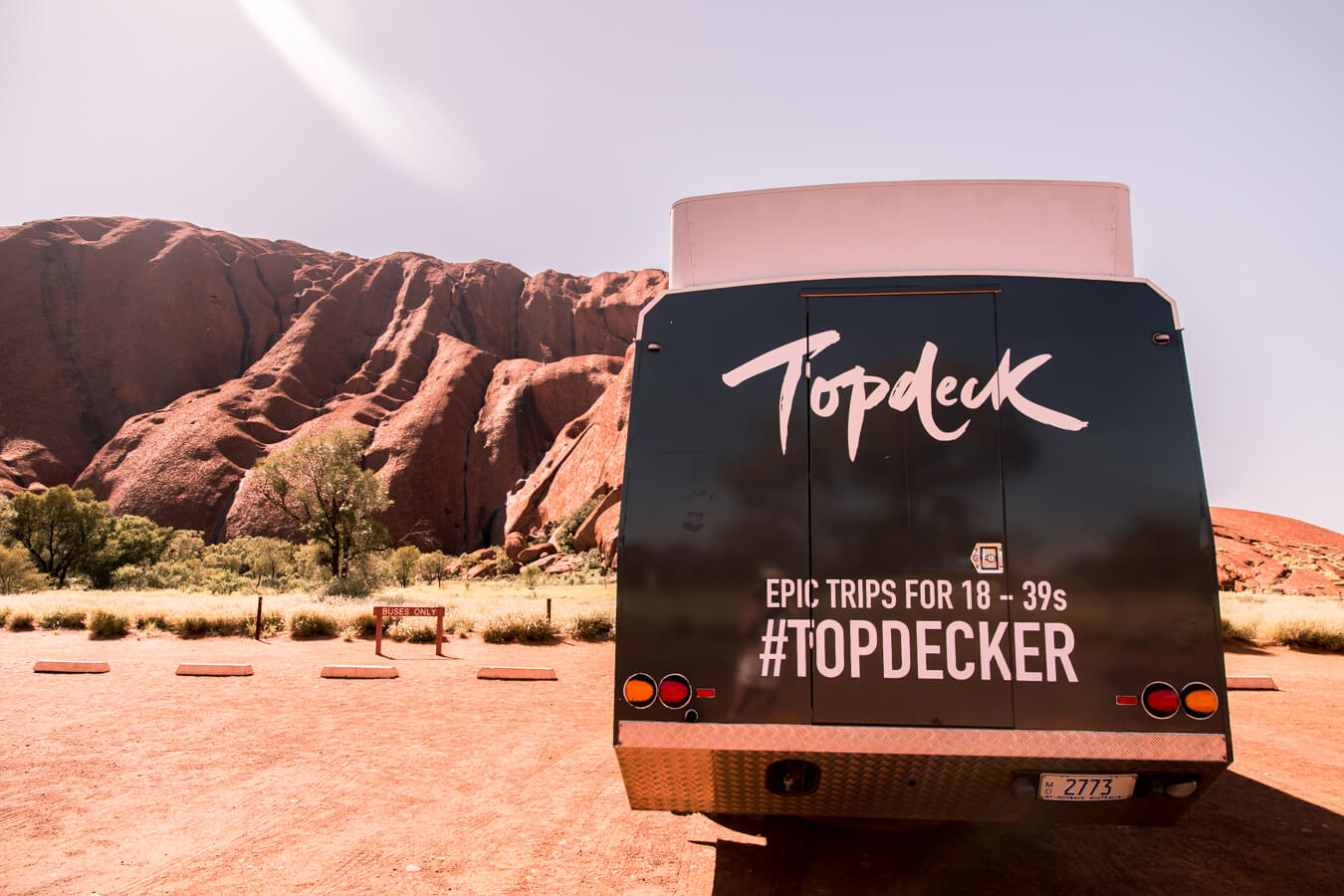 About the Topdeck 'Uluru Discovery' tour…
The Uluru Discovery tour with Topdeck runs for 5 days (4 nights). You start and finish in Alice Springs.
Around 10 of the 18 people on our tour had already spent two weeks together exploring the East Coast, so this 5-day trip in the outback concluded their 20-day 'Beach and Bush' experience together. If you're keen to experience the East Coast too, this extended trip may be something to consider.
See all of Topdeck's Australia tour options here.
Exploring the outback requires a tolerance to hot desert heat, long monotonous driving and very early starts.
I think the outback is the one location in Australia in which I would personally choose a group tour over a self navigated adventure. The points of interest are pretty specific out here, the inclusion of an air-conditioned bus and a driver means the drives are done for you, snoozes en route to sunrise destinations are totally okay and upon arrival back from the day hikes, the A/C will be running and ready for you.
You simply have to turn up, keep yourself hydrated and enjoy the ride! Dreamy, honestly.
What to expect on the 'Uluru Discovery' tour with Topdeck…
Located in the Outback, the Red Centre is considered the 'real experience' of Australia. It's here that all your wildest spider, insect and desert heat dreams come true.
Joking, it's not that bad. But, you will definitely notice the difference between being in the outback and the likes of Sydney or the East Coast.
The biggest difference and most important thing I found to adjust to was the temperature. From the moment I landed in Alice Springs until the moment I left, the daytime temperature averaged a good 42 degrees C. (I visited 22-27th Jan 2018).
There's no doubt about it. It's freaking hot in the Northern Territory. At times there's no breeze in sight so you seriously need to make sure you drink water continuously, eat well and avoid the midday heat.
Luckily on the 'Uluru Discovery' Topdeck tour, the bus is stocked with water and all the hikes are planned early in the morning to avoid those unbearable midday conditions. The sweat is real.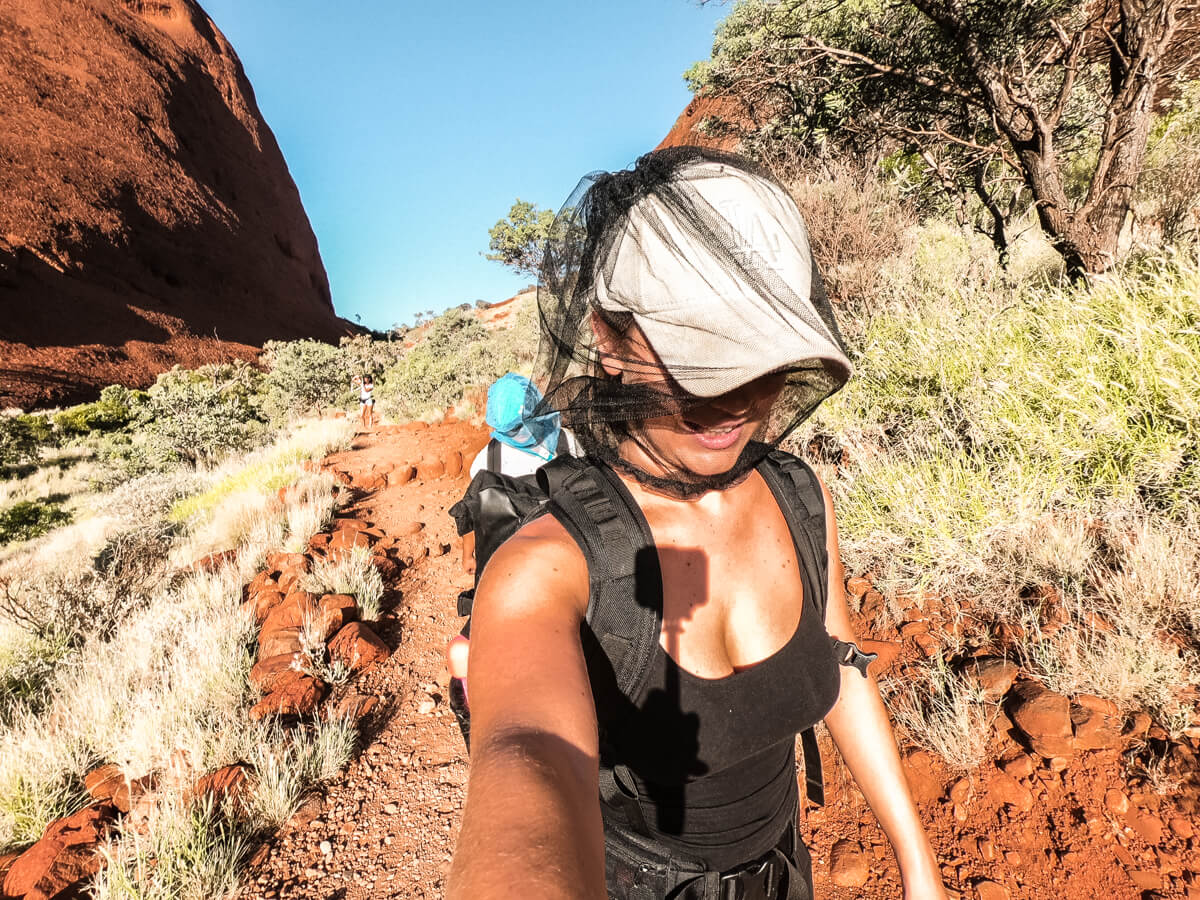 The 'Uluru Discovery' Topdeck itinerary…
Day 1
You will meet your Topdeck tour squad and your tour leader for 7am at the Ibis Styles Hotel in Alice Springs. Because of the early start and limited availability of flights into Alice Springs, you'll need to book a night's accommodation for the night before the trip. Doing so also means you can head to Woolworths in the town to get yourself some food and any last minutes supplies the night before.
On Day 1 you'll drive 5 hours into the desert to place yourselves at a closer proximity to the beautiful rock formations that are about to grace your adventure.
I think we arrived around 1/2pm at the Pioneer Outback Lodge. We had time to check out the pool before meeting the group again at sunset for dips, nibbles and sparking wine over looking our first sighting of Uluru.
Day 2
Adventures in the Outback are all about the sunrises, sunsets and making the most of the light and low temperatures before the sun blinds you (and cooks you).
On day 2 we rose at 5am to arrive at Uluru for the 6.20am sunrise before continuing closer to the sacred rock. There we completed a mini base walk where we weaved in and out of the rock caves as our tour guide & driver, Ronald, told us of the aboriginal history.
This evening we had dinner included at the Outback Pioneer lodge, which was definitely the best (and only) substantial meal included in the trip. Choose your meat or veggie stir fry and DIY BBQ it on their cookers with a buffet of salads, veggies and roasties!
After our group dinner, Ronald then took us out on an optional sunset mission this evening to one of his favorite spots.
Every new perspective we got of the vast landscapes and Uluru combined seemed simply more magical than the last.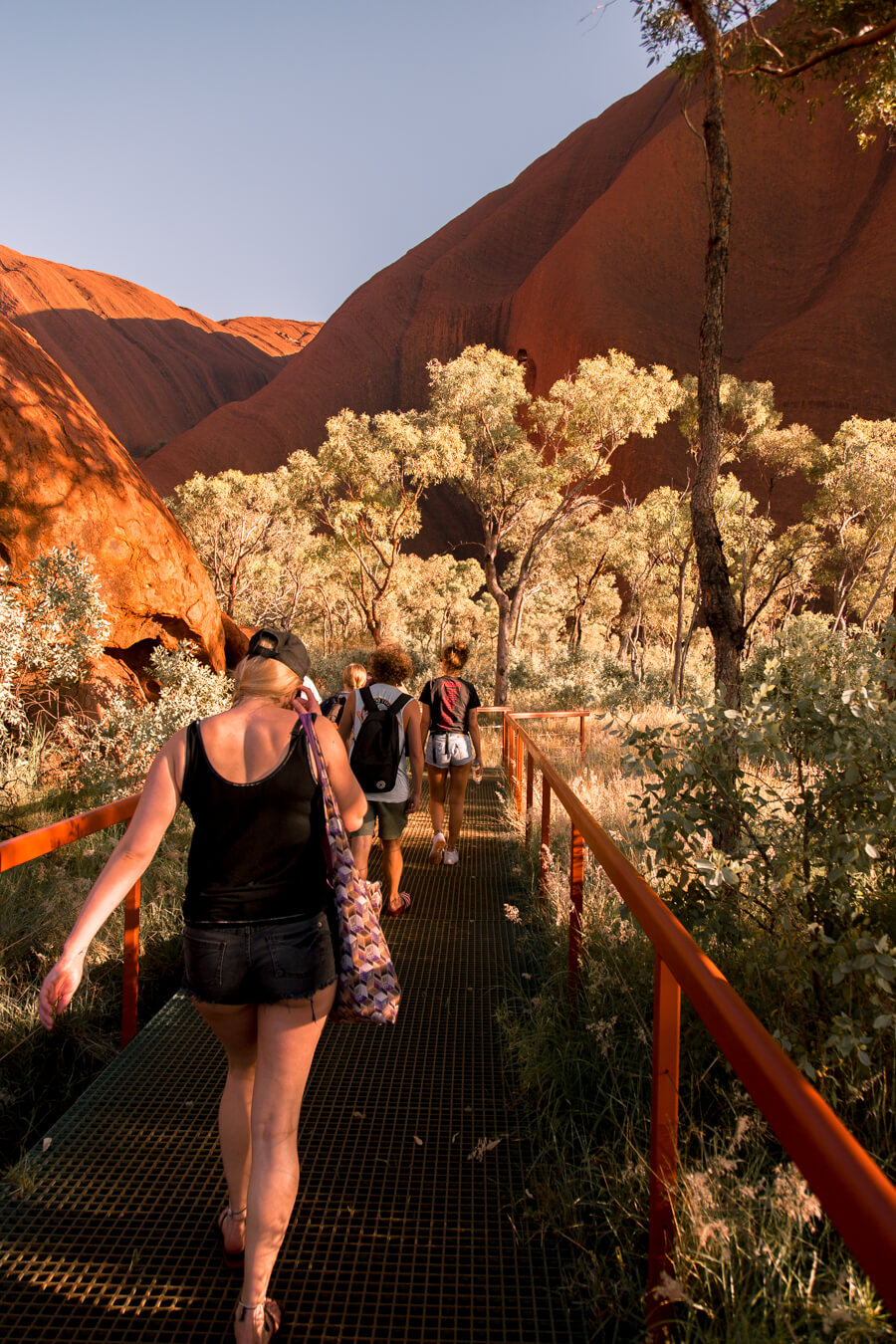 Day 3
If you want to make the most of the insane sunrises on your doorstep, you'll want to agree to the sunrise option this morning. You'll see the sun peer above the horizon and another new perspective of Uluru. Despite the spotlight Uluru gets worldwide, it's not the only rock formation out here.
My favourite, I've decided, is the Kata Tjuta (The Olga's). A collection of 36 'sandstone giants', it reminds me of the Chocolate Hills in Bohol, Philippines. When lit by the sunrise or sunset, you're in for a viewing and a half!
You'll catch sight of both Uluru and Kata Tjuta on day 3's sunrise mission. Straight after breakfast (back at the bus) you'll head over to complete the 'Valley of the winds' 7.4km hike, which will take you on an adventure through Kata Tjuta.
Here it is in all its glory…
After a midday shower and check out you'll pass through Watarrka National Park and arrive to your milky way experience, which perhaps sounds more exotic than it is. Regardless, you're here for an adventure, right? An adventure it most certainly is!
Time to tuck up in a swag for the night, right after you build a fire and toast some marshmallows on it!
Day 4
It feels so good to get the extra hour in bed this morning! Awake at 6am for a breakfast with the team before leaving at 6.30am for Kings Canyon.
Today there's another incredible hike on the agenda (6km), which starts with 'heart attack hill'. It doesn't take a genius to work out that this part is going to leave you a little breathless, but don't let the initial sight of it put you off taking the longer trail.
I think there's a short option that goes for around 1.5-2km, but honestly once you're up the 'heart attack hill' you'll be at the top of the canyon and the rest is a walk in the park canyon.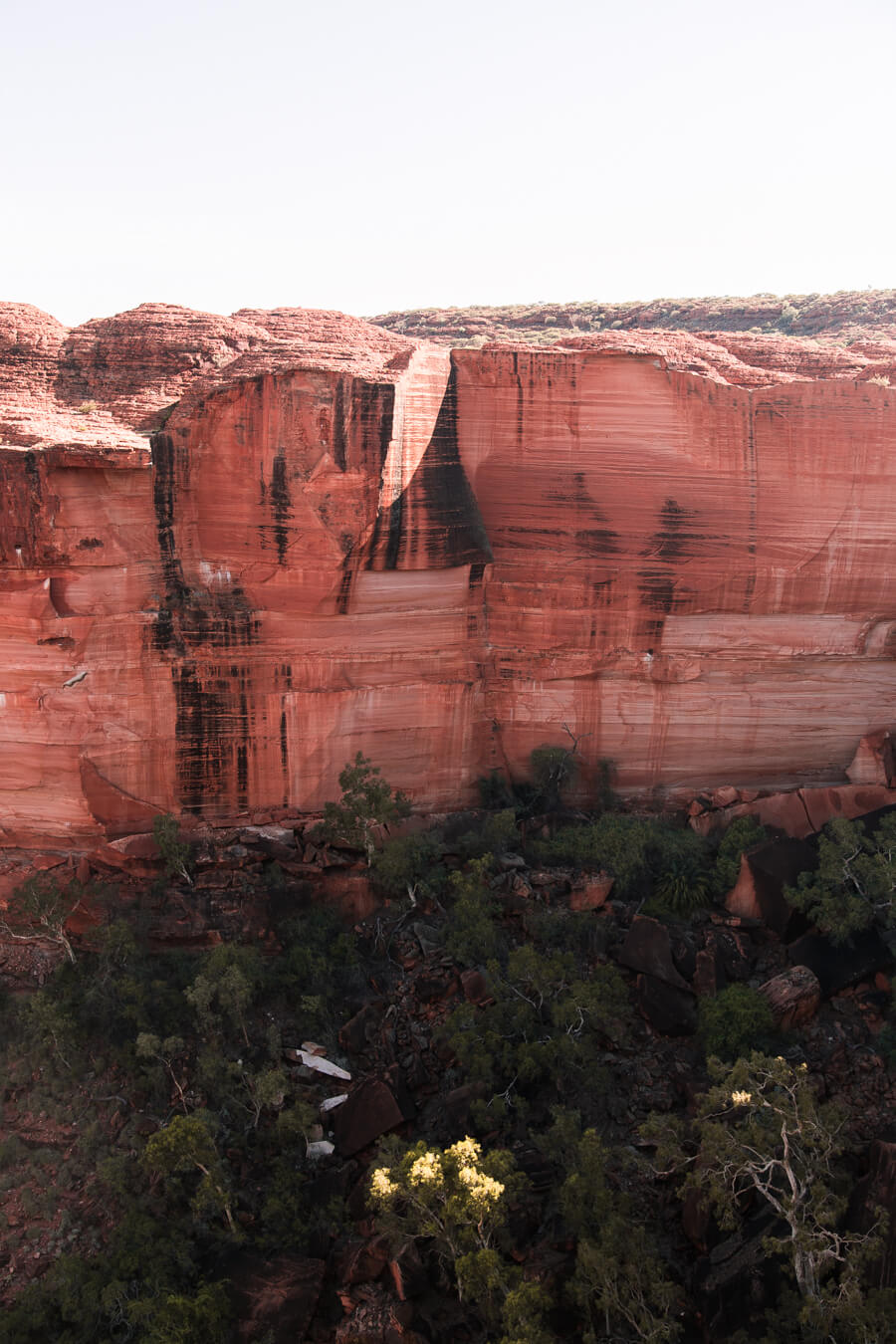 After completing the hike it will be time for a picnic lunch of wraps (provided by Topdeck) before you have a chance to shower and pack up the bus.
The afternoon will be taken up by the 5-hour drive back to Alice Springs where you'll check into the Ibis Styles.
Day 5
If you can dig deep and muster the energy for one last sunrise wake up call, this morning's schedule has been left free, giving you the option to book onto a sunrise hot air balloon with Outback Ballooning.
I took up the opportunity. We rose for the 4.55am pick up and watched the golden sun peer over the horizon in a perfect manner one last time.
Should you opt for the balloon flight, you'll arrive back in time for the breakfast included in your overnight stay at Ibis Styles (6-9am). Then you'll have an hour to shower and change before you head off on one last Topdeck adventure at 10am.
To finish up the Uluru Discovery Topdeck adventure, you have the opportunity to soak up views of the West Macdonald ranges, Simpsons Gap and Stanley Chasm. Get your cameras at the ready for the final snaps…
Your Uluru Discovery Topdeck tour is now complete!
The tour concludes around 4pm. As as there are minimal flights heading out of Alice Springs (it's a small airport) everyone on our tour booked an extra night. This allowed for an evening of drinks before we went our separate ways.
Watch my Uluru Discovery Topdeck adventure come to life here…
Things to note before booking the Uluru Discovery Topdeck tour…
Everything mentioned above is included in the price of the Uluru Discovery tour, bar the Hot Air Balloon flight. Throughout the itinerary there are gaps for you to either kick back and relax by one of the hotel pools OR you can opt and pay for an additional adventure.
These additional adventures include the likes of:
Skydive over the Red Centre
Field of Lights tour
Quad biking
Camel riding
…and so much more.
Your tour guide will give you all the options and information when you start the tour!
The accommodation included is basic, a pretty standard set up if you're used to hostel life. You have what you need, and not too much more (in terms of the rooms anyway). You can always choose the option to upgrade your room on booking. For the first two nights you'll stay at the Outback Pioneer lodge in shared rooms. Our room was super small with four of us in it but great news: there's air-conditioning! Honestly, this is all you need and you'll be SO grateful for it.
Bathrooms and showers are separate, and there's a communal kitchen to cook meals yourself with food from the supermarket.
On top of that there's a swimming pool to use and a really lovely bar area where they have live music and BBQ food options.
The third night is even more basic, as mentioned in the itinerary. You sleep in 'swags' which are pretty much sleeping bags on the floor. But great news, the stars are worth every single second and if you find yourself unable to sleep… you've got a great view of the milky way to keep you company.
The last night brings a welcome bed to sleep in back at the Ibis Style Hotel. The perfect last night's sleep before you continue off on your next adventure.
The food again was basic. The only significant meal included was the BBQ night at the Pioneer Lodge. We got a good piece of meat (tofu stir fry available too) and all the buffet salads and sides you wish.
Unfortunately I have to say this was the downfall of the trip for me. The breakfasts were minimal. Three of them were set up besides the bus after sunrise missions and consisted of bread, spreads (peanut butter, jam, nutella etc) and then 3-4 types of cereal and milk. Coffee and tea also, but again nothing special. We had a couple of lunches included which were basic wraps with salads and cold meats.
I guess the main reason it is this way is because of the heat. Transporting food in these temperatures and for these distances can become tricky.
I think as a backpacker on this trip you wouldn't mind, but as I've spent my life on the road, I have developed a preference for something a little more substantial. Call me fussy, but I have to be honest. I think fuelling yourself right when exercising and in this kind of heat is essential and so important. So, I would definitely suggest picking up some bananas, nuts and extra snacks from the supermarket to keep you going throughout the trip.
For the duration of your trip you will have a bus driver that doubles up as a tour guide. I totally appreciate how much work this was for our guide Ronald, who took on 5-6 hour drives at a time whilst talking through the Red Centre history with us.
It's so great to have someone with experience to show you around the sites and walks during the trip. Having a guide takes the adventure to a deeper level and the knowledge shared allows for a greater appreciation of the sacred sites you visit.
Have you been to the Australian Outback?
What are your top tips? I'd love to know!
Love as always + happy adventuring,
Did you find this post helpful? I'd love you to share it for me.
I can't do this without you.
Pin and save this blog post for later…