First we landed in Tirana, had lunch in Vlöre, and drove through the insane Llogara National Park. Now, after spending a few days in Dhërmi for Kala Festival and exploring the Albanian coast, it was time to continue our road trip and see what else Albania had to offer. Let's explore The Blue Eye, Butrint National Park, Gjirokaster & Berat…
DAY 5 (CONTINUED)
As we sat in Sarandë watching the storm roll in, we ate breakfast on our incredibly beautiful balcony. We were all slightly hesitant about how our day was going to pan out. Cruising out (after a rather long lie in, don't judge) at 2pm we jumped back in our Jeeps. It was half an hour to the next point on the list: The Blue Eye.
No matter what the attraction, when it's chucking it down with rain and you've been holding the soft, broken roof of the Jeep in place to avoid a waterfall coming in, there's only so much enthusiasm you're going to have for whatever's next on the itinerary.
But seriously, this natural spring is actually legendary and well worth checking out. The clear blue water bubbles from a 50-metre+ pool (well, that's the furthest divers have explored so far). It's also the original water source of the Bistricë River.
The opportunity to observe the pools stands at around a 30 second walk from the car park, so no excuses, not even a torrential downpour. Afterwards? Of course there's the Blue Eye restaurant to retire to for a Kosovan beer.
Full from some yummy home made chips and beers (with a cheeky World Cup viewing to go with it) we were ready to get to our next destination, Hotel Luxury (You can imagine how eager we were considering we were soaked).
Here's where the adventure began.
One of the three Jeeps we had in our convoy refused to start. We tried and failed five times over with the engine circuit seeming to cut out every time. We took the other two Jeeps to fetch some petrol, thinking that it could have run out (the dials were slightly dodgy) but no luck. It was time to call the car rental company.
By 10pm we had all finally made it to Hotel Luxury in Ksamil, unconvinced that the use of a 'wet key' (according to the car rental company) was the real reason the Jeep wouldn't start. Nonetheless, we happily continued on to tuck into fresh grilled octopus with courgette, pepper and £2.40 gin and tonics before sliding beneath the bed sheets for the night.
DAY 6
Hallelujah. What a view to wake up to.
Albania you pulled it out of the bag yet again…
After our night in Ksamil, we headed down into the town with the jeeps to explore this little village that is quickly becoming known as one of the hottest beach destinations in Europe. 'Really?' I hear you ask.
Yes.
White sands, crystal clear waters, world class seafood, views over the islands and £0.78 beers from the supermarket. What's not to love?
If I had longer here I would definitely have loved to check out some of the islands that sit just off the coast. Do it for me, won't you?
About a 20-minute drive from the centre of Ksamil is Butrint National Park, an ancient city and UNESCO World Heritage Site.
It was so funny parking up. Out the corner of my eye I saw landscape movement even though the handbrake was on. Yes, I was tired. But not that tired, surely…
Looking closer, I noticed that to get to the other side of the water, there was a pulley bridge in operation to take both passengers and cars across. I couldn't help but laugh at how simple this was and how ridiculous it seemed in this day and age.
This right here is an accurate picture of Albania's state of development.
Beautiful. Years behind, but do you know what? It works. It totally works and there's no need to over complicate it. If it ain't broke, don't fix it.
We spent the next hour with a map of the National Park wandering the ruins and the views within it.
Time had slipped away from us again in Ksamil. It was already time to get going and head out on the two hour drive to our next stop – Gjirokaster.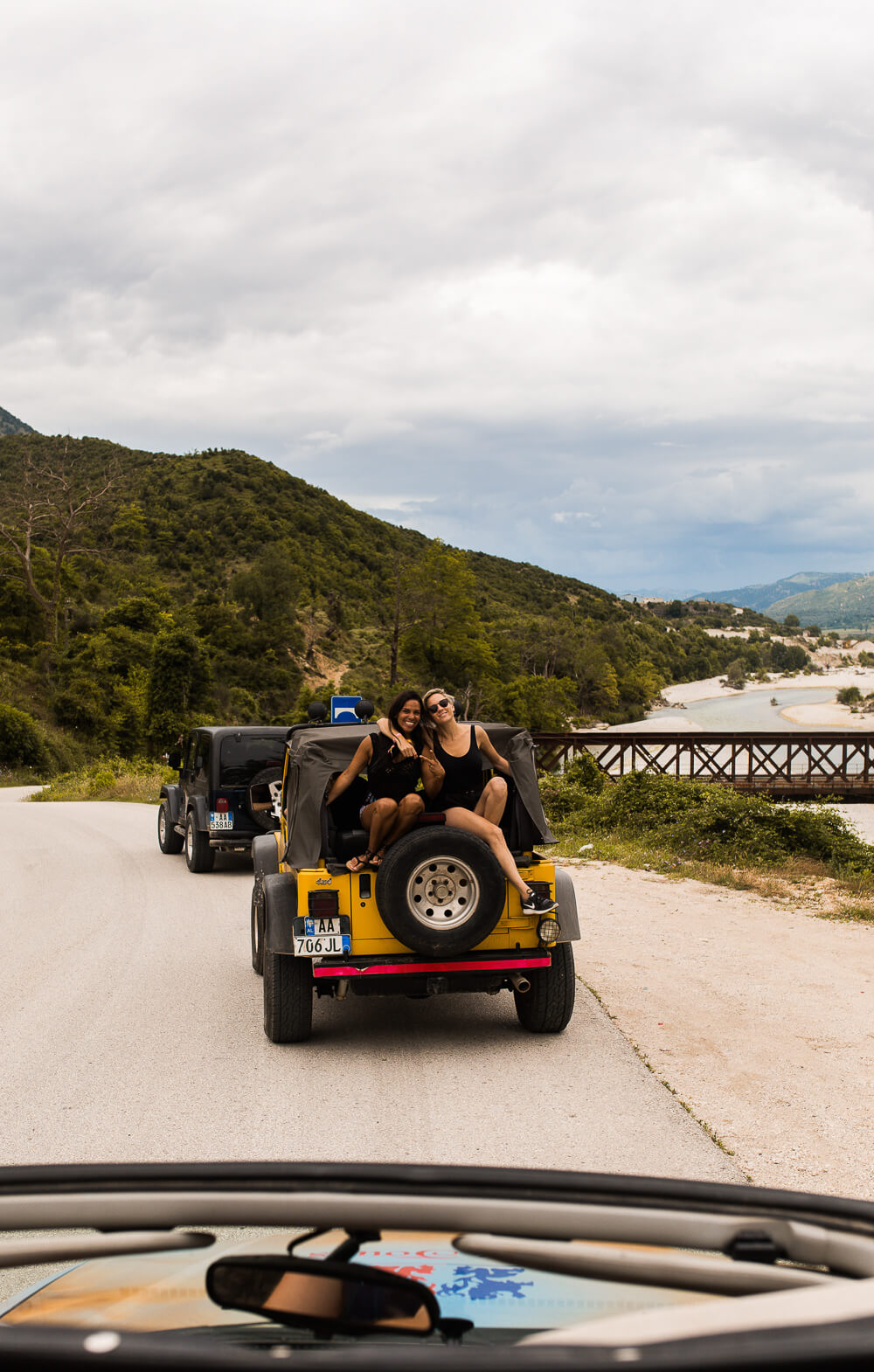 DAY 7
Gjirokaster, 'the city of stone' was possibly my favourite location of all.
This magical hillside town only revealed its undeniable charm and cobbled walkways to us the morning after we arrived as we sat devouring an Albanian breakfast on our quaint hotel balcony. We had arrived in Gjirokaster in the dark and I for one was completely amazed by the mountain view when I peeked out the curtains the following morning. With the castle out of one window and the street vendors setting up in the village out the other… I fell in love.
Everything about Gjirokaster seemed so humble. Pop this anywhere else in the world and you'd not be able to move through the crowds. But here they have it all and they don't even know it.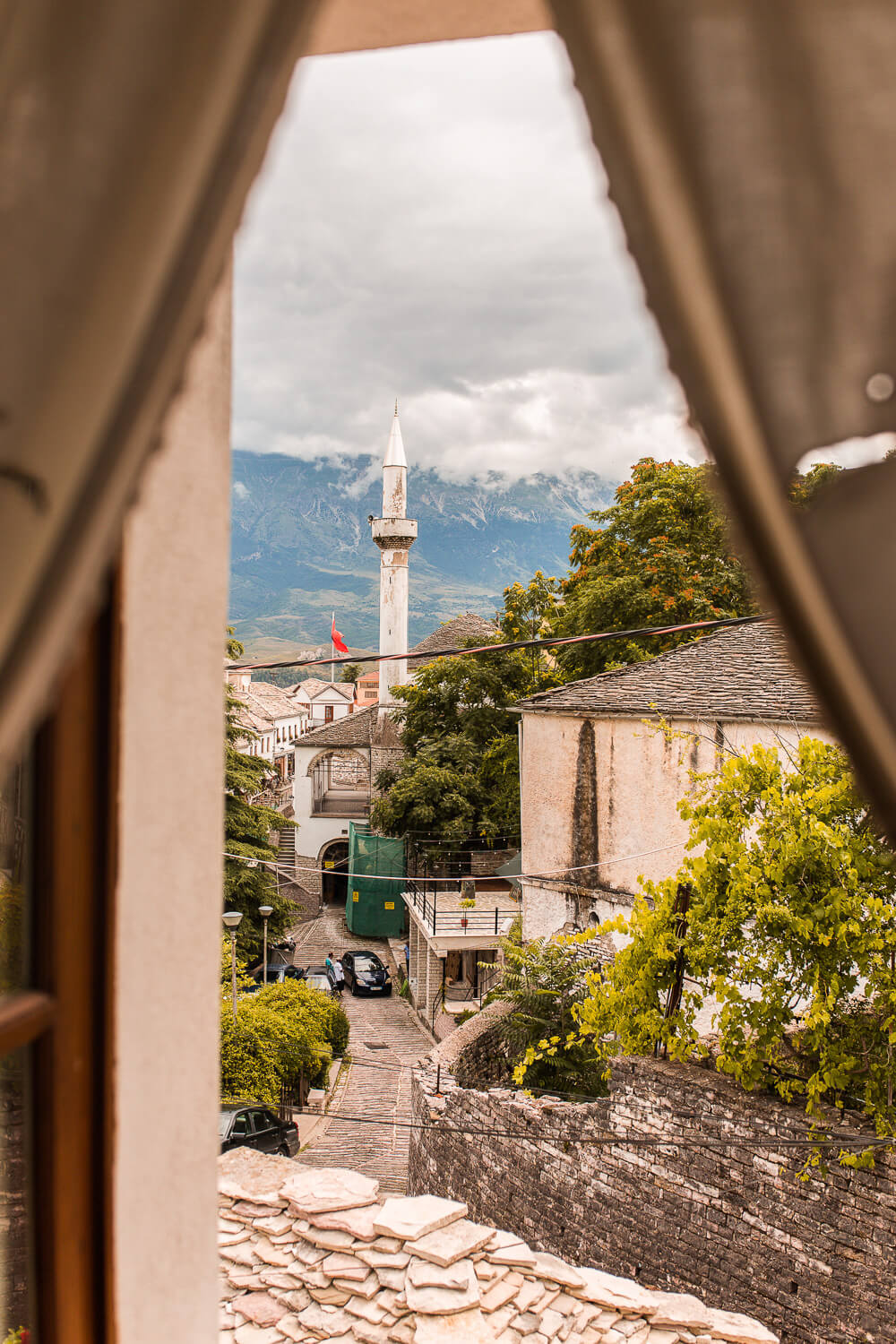 We had a half an hour walk around Gjirokaster with a coffee before our strict departure time of 10am took us to Osumi Canyon for rafting. Or we intended to, anyway, before we got one of the Jeeps royally stuck in the mud half way up the mountain.
I kid you not. In the mountains between Gjirokaster and the Osumi Canyon, with the low cloud and the rain that had now arrived, problems struck again. The tyre tread wasn't sufficient on one of the Jeeps. We just couldn't get it to the top of the mountain.
I wish I had thought between fits of laughter and Instagram stories to take some photos. It was hilarious. Well I thought so anyway…
We admitting defeat after about an hour of tree twig car wash and getting our hands dirty. We gave up both the mountains and the rafting, sulked a little, and went to the nearest bar for a beverage.
I truly believe you can make any situation fun and I this ordeal was up there with the very best. I laughed so much it actually hurt.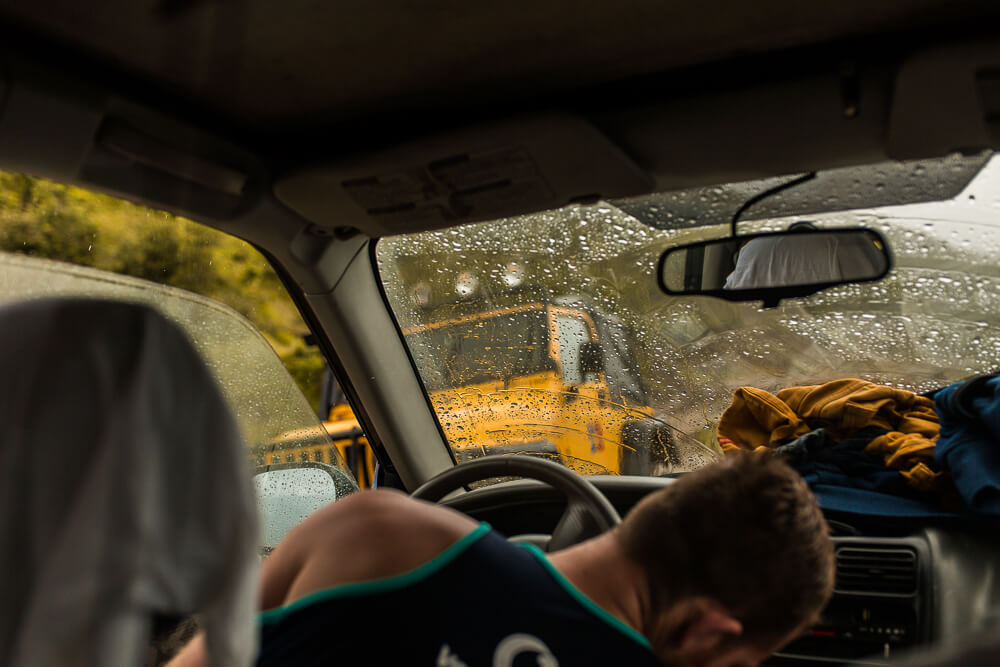 Having (sadly) aborted the rafting mission and faffed around meant we were already hungry and ready to get to our night's accommodation. So off we went. Three hours later we arrived at our final destination of the trip. Welcome to Berat…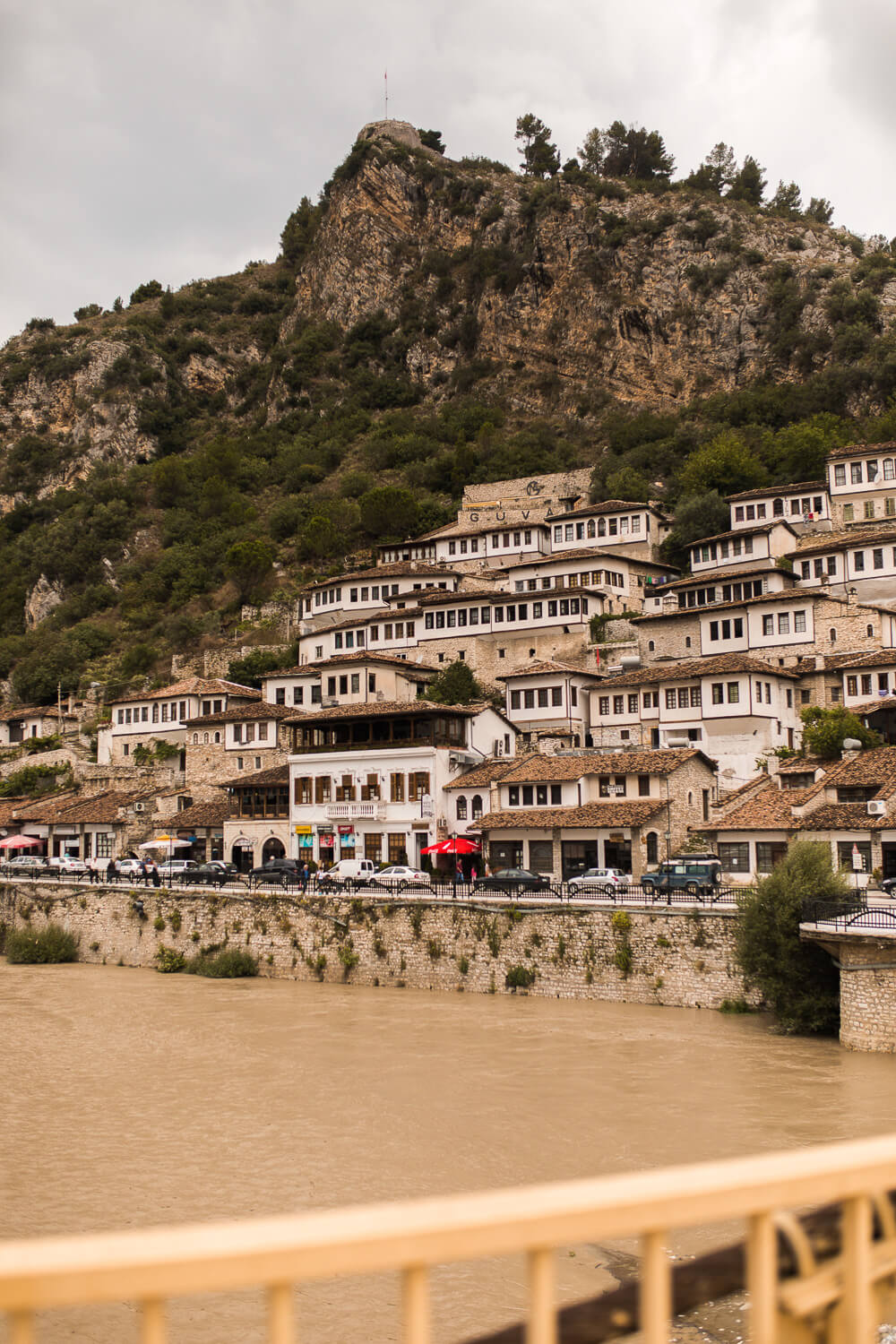 One night in another ridiculous location, a few Raki shots at a local Albanian restaurant Antigoni, and my love for Albania was stronger than ever.
Day 8
This love grew stronger with the 'instagram goals' breakfast view at Arben Elezi.
How did I have no idea how beautiful Albania was until now?
It's honestly my idea of heaven. The kinda place that ticks all the happy boxes and our brief time in each location was just not enough.
Unfortunately, it wasn't long before we had to return ourselves and the cars to Tirana.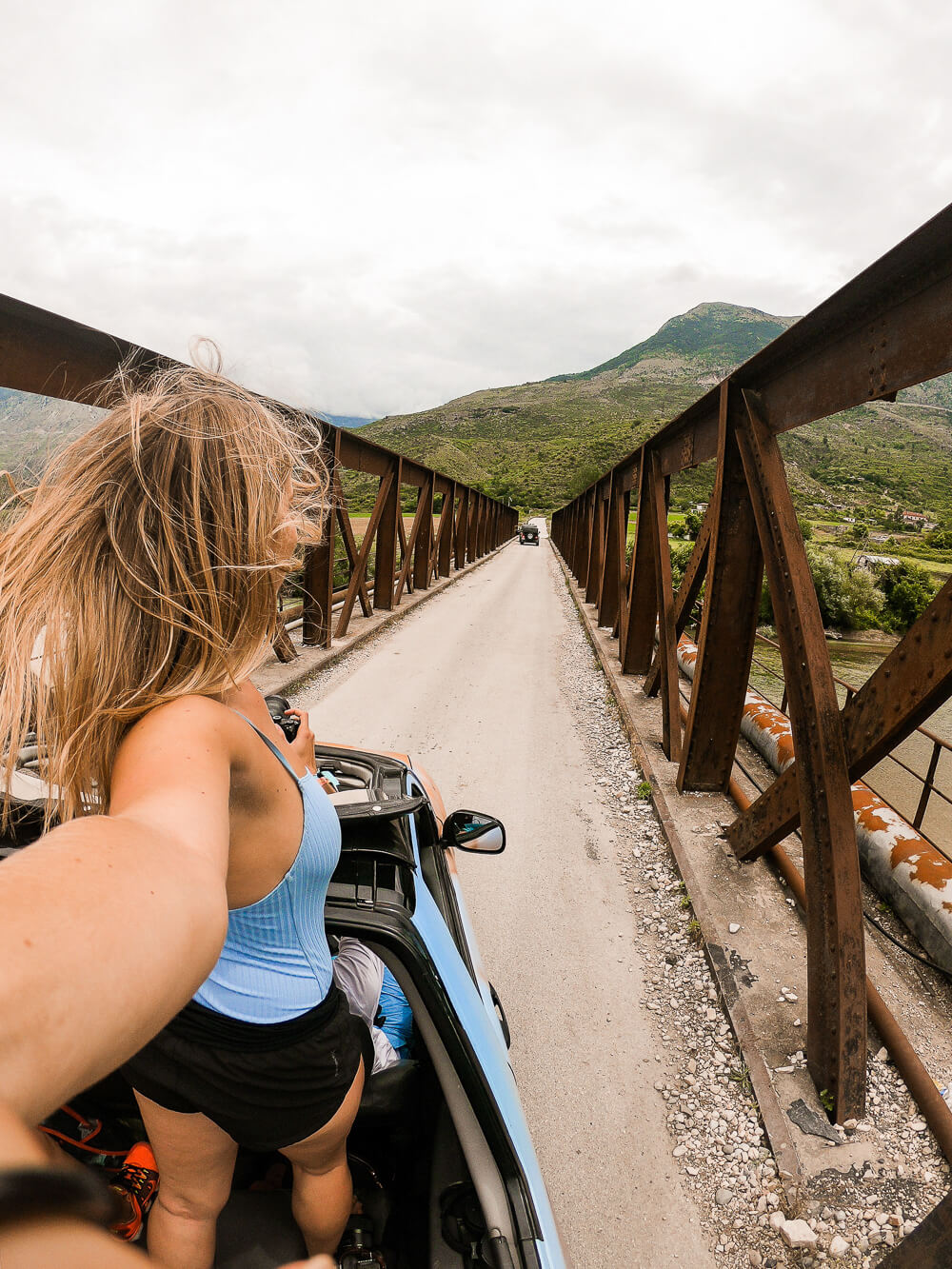 If there's one thing for sure after my trip to Albania, it's that, I will be back.
I really hope you've enjoyed joining me on my Albanian adventure; it's certainly been a pleasure sharing it with you. It goes down as one of my favourite adventures to date.
Thank you so much to Oh So Albania for having me along on this epic 8-day itinerary. If you like what you've seen and would like to get on board with something similar, keep and eye on the Oh So! official website for tickets on their Oh So Albania tours!
Check out my top tips for travelling in Albania here. See the video of my road trip here.
Have You Been To Albania?
What were your favourite spots? I'd love to know!
Love as always + happy adventuring,
Did you find this post helpful? I'd love you to share it for me.
I can't do this without you.
Pin and save this blog post for later…