With Europe being right on the doorstep for those of us that live in the UK, it's the perfect destination for a road trip. Take the 1-hour ferry from Dover to Calais and you're in! Crazy easy. In June we did exactly that and drove from England to France and the carried on with an incredible Switzerland road trip.
In this blog post, I'm going to share with you the Switzerland part of our trip where we ventured through the Swiss Alps. If you missed the first half of the road trip, check out our 4 days in France here. You can also watch our 8-day adventure come to life here and see my 4-day itinerary in Northern France here.
During the road trip to Switzerland, I think my daily happiness levels averaged higher than ever before. The mountain presence here in Switzerland was overwhelming my emotions in a way that I didn't even know possible.
You can tell already how this post is going to go, right? Mountain mountains and more mountains. If mountains aren't your thing, this road trip probably isn't the one for you. And if they are? You're in for a treat. I lost count of the number of times during this trip that I was left physically unable to voice any words.
My journey through Switzerland, albeit only a couple of days, left me speechless for probably the first time in my life…
A Swiss Alps road trip: Montreux, Evolene, Saint-Luc and Veyonnaz
The drive-in from France had us pass through many a tunnel carved through the mountains, as we watched the landscape shift to something a little more uneven.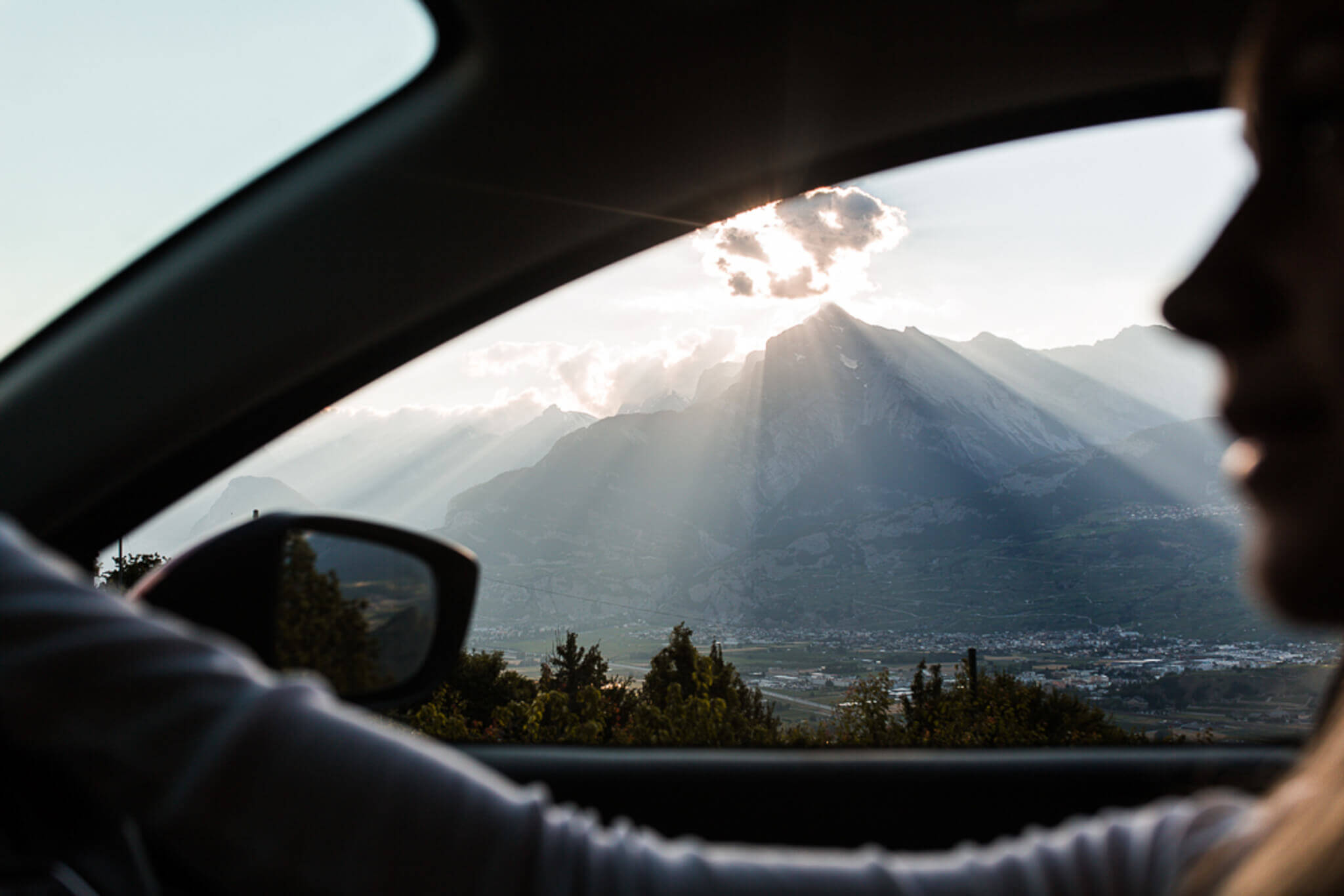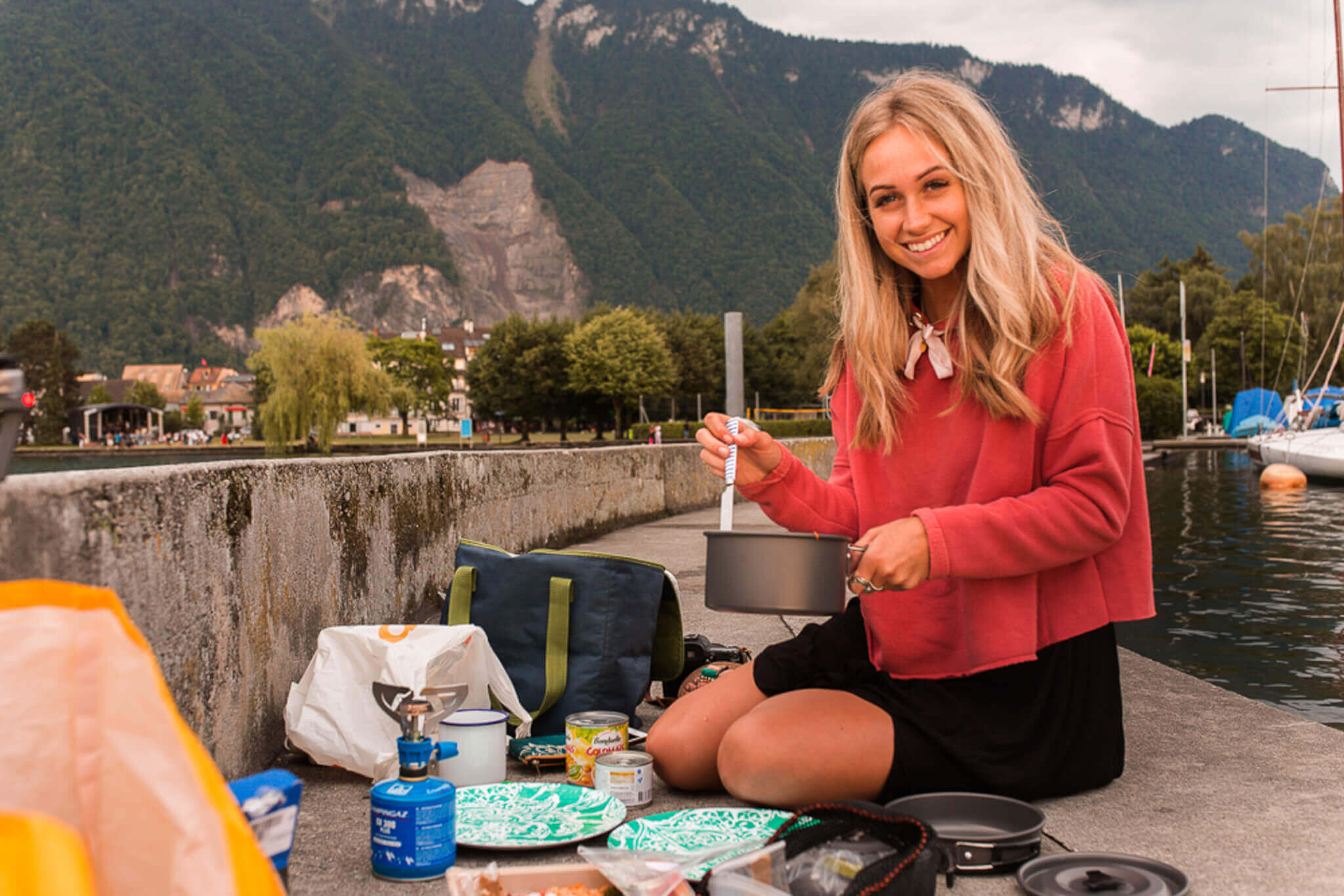 We drove 3.5 hours straight through Lausanne and along Geneva Lake down to Montreux where their annual Jazz festival was taking place. Hoping to join the buzz in the town for a drink before crashing at a local Airbnb, we relised we had come to visit on one of the busiest weekends of the year. After trying to book last minute, it became clear that all the Airbnbs left had a minimum 2-night stay, so we decided to pick up some groceries and head out of town instead for a chilled one.
We also then decided that the following day was to be a hike day and with our chosen hike starting from Saint-Luc, we booked up an AirBnb near there and cooked up dinner on a jetty just outside of Montreux to enjoy the sunset before driving onward.
A fresh healthy spread whilst snapping away at the ever changing light that was lighting the mountains in the most mesmerising of ways made each minute more beautiful than the next.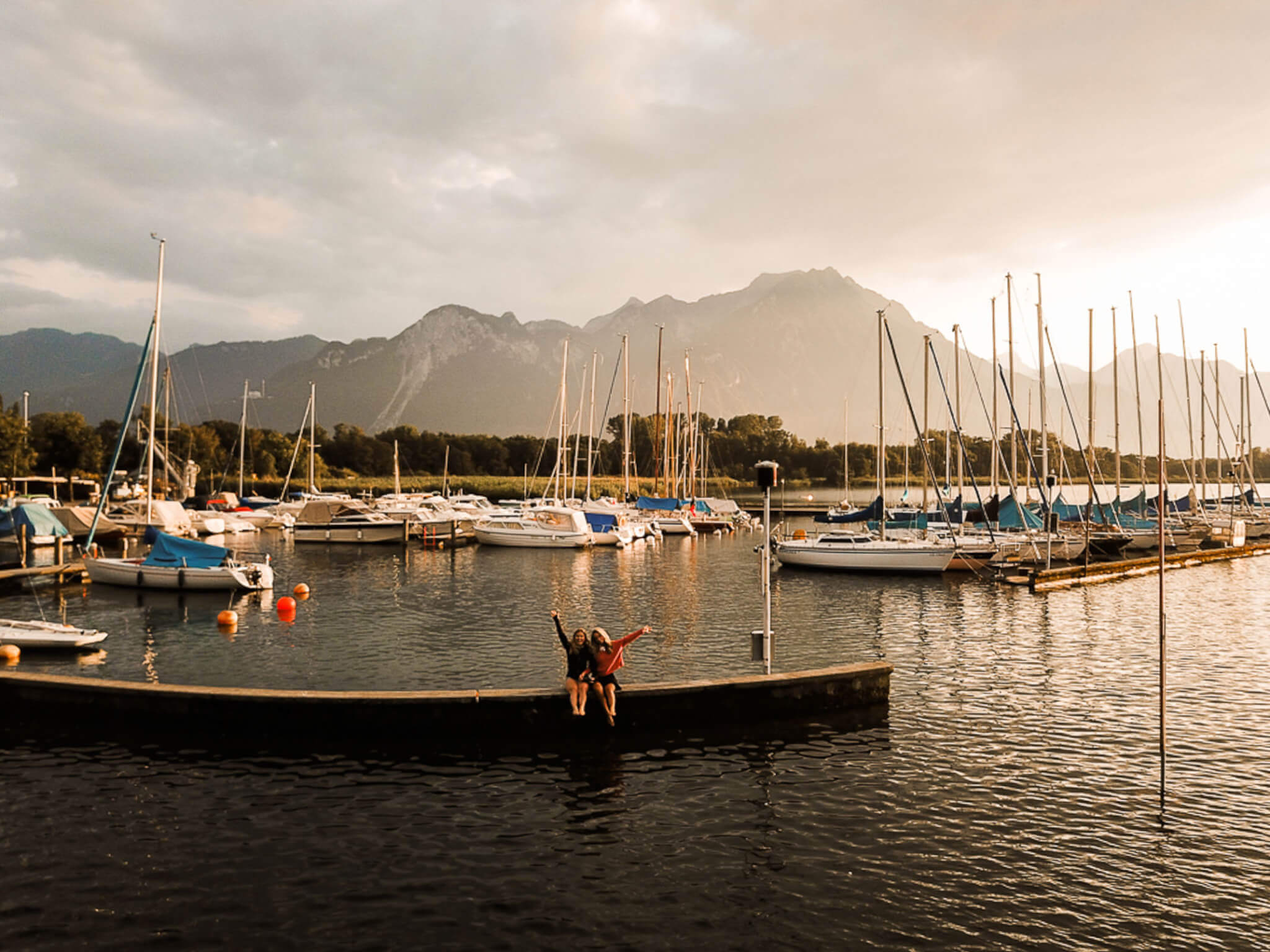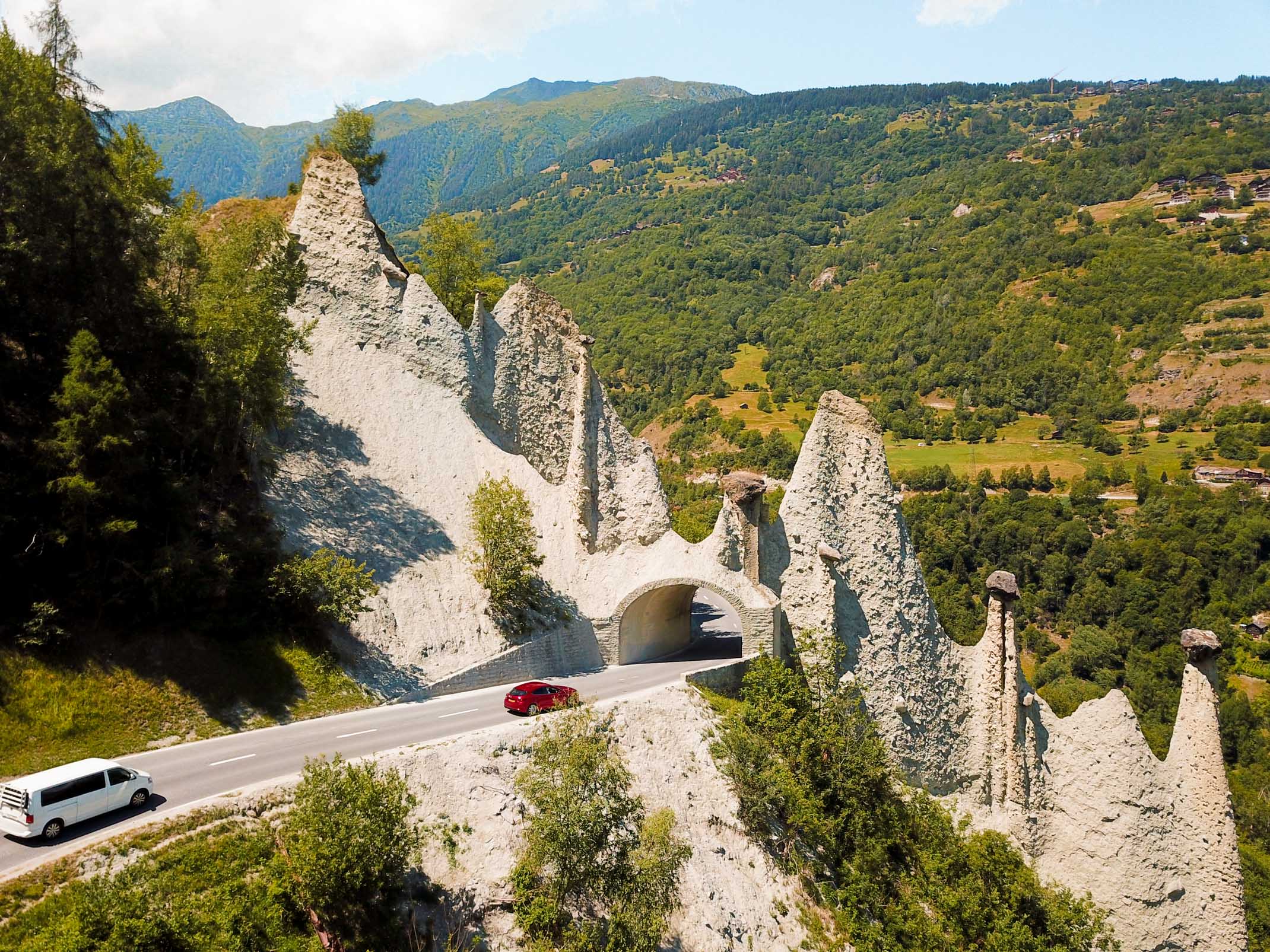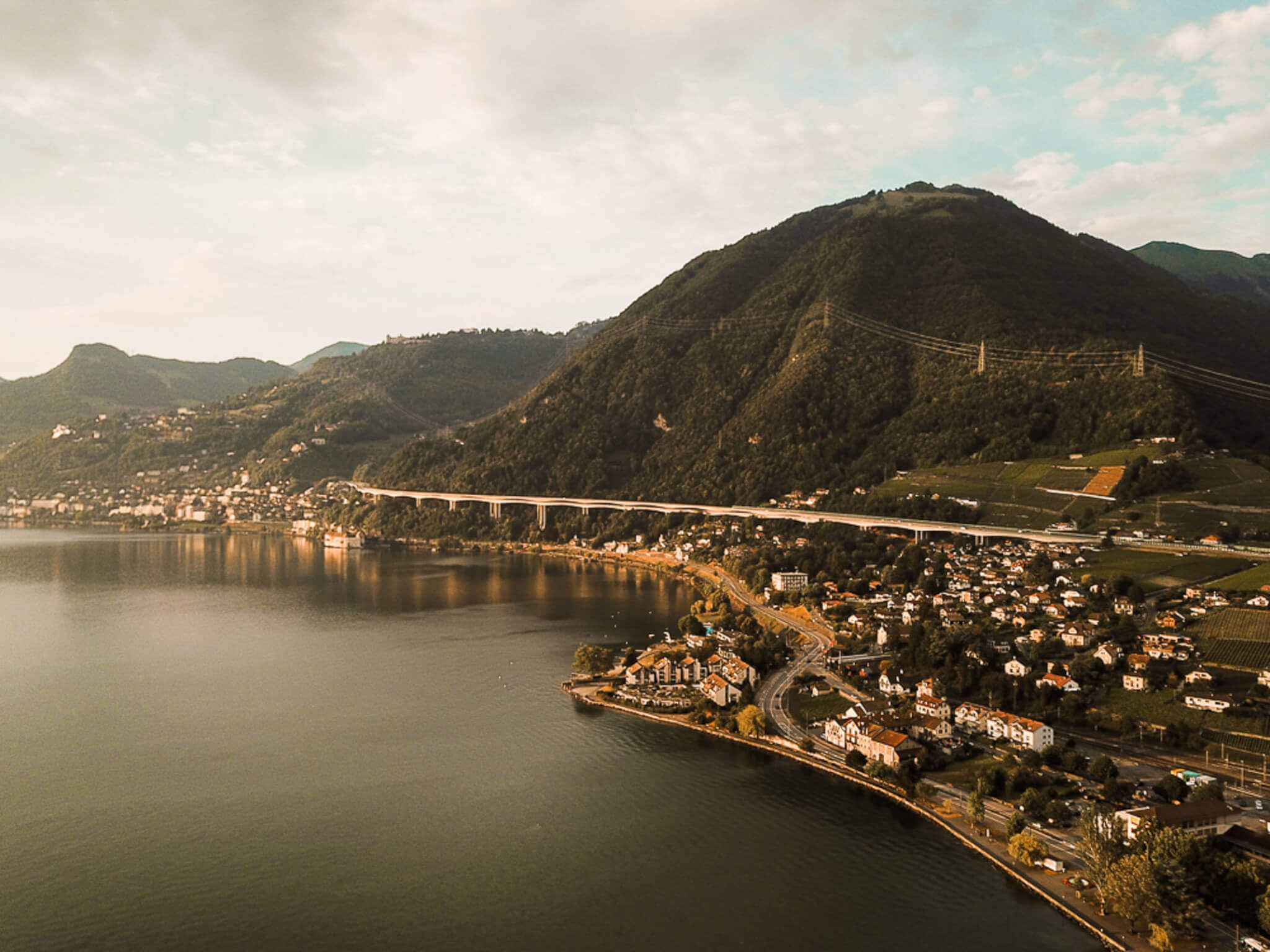 We vowed to bring our boyfriends back here one days and bookmarked this spot as a very special one. Just us and the mountains. Lydia and I looked at each other and smiled, some how knowing this was just the beginning.
At this point we were searching the Airbnb app to locate some accommodation close to where we wanted to hike the following day in Saint-Luc.
There weren't many options left last minute but we still seemed to strike gold. We found a room in this boutique hotel in a little mountain town called Evoléne which cost us £40 each for the night.
Having watched the sun set in Montreux, we drove the remaining 40 minutes in the darkness. Saying that, the little we could see had us giddy with excitement for the sun to come up. We passed through clusters of Swiss and French houses that made up little villages as we weaved in out and around the mountain roads toward Evoléne. We could see the silhouettes of the mountains all around us. Everywhere we looked.
We drove with the stereo off and the windows down; all we could hear was the sound of flowing water. The anticipation to see where on earth we had driven to and what surrounded us was overwhelming.
I'll never be able to explain the way that that drive from Montreaux to Evoléne made me feel. The fact I had my best friend by my side feeling the exact same way, reduced me to tears. One of the most beautiful feelings I've ever felt. I was totally present and consumed in the environment around me.
It's safe to say that Lydia and I both sprung out of bed earlier than a 5-year-old would on Christmas morning to see the view from out the window of our hotel…
Day 2, waking up in Evoléne…
We had planned to get up early and seize the day with a hike but after seeing the above view we decided not to give ourselves a strict agenda. We got the camping stove out the back of the car again, made breakfast and coffee and stared into the valley that stood before us encased with snow-topped mountains. A perfect morning if ever I had one.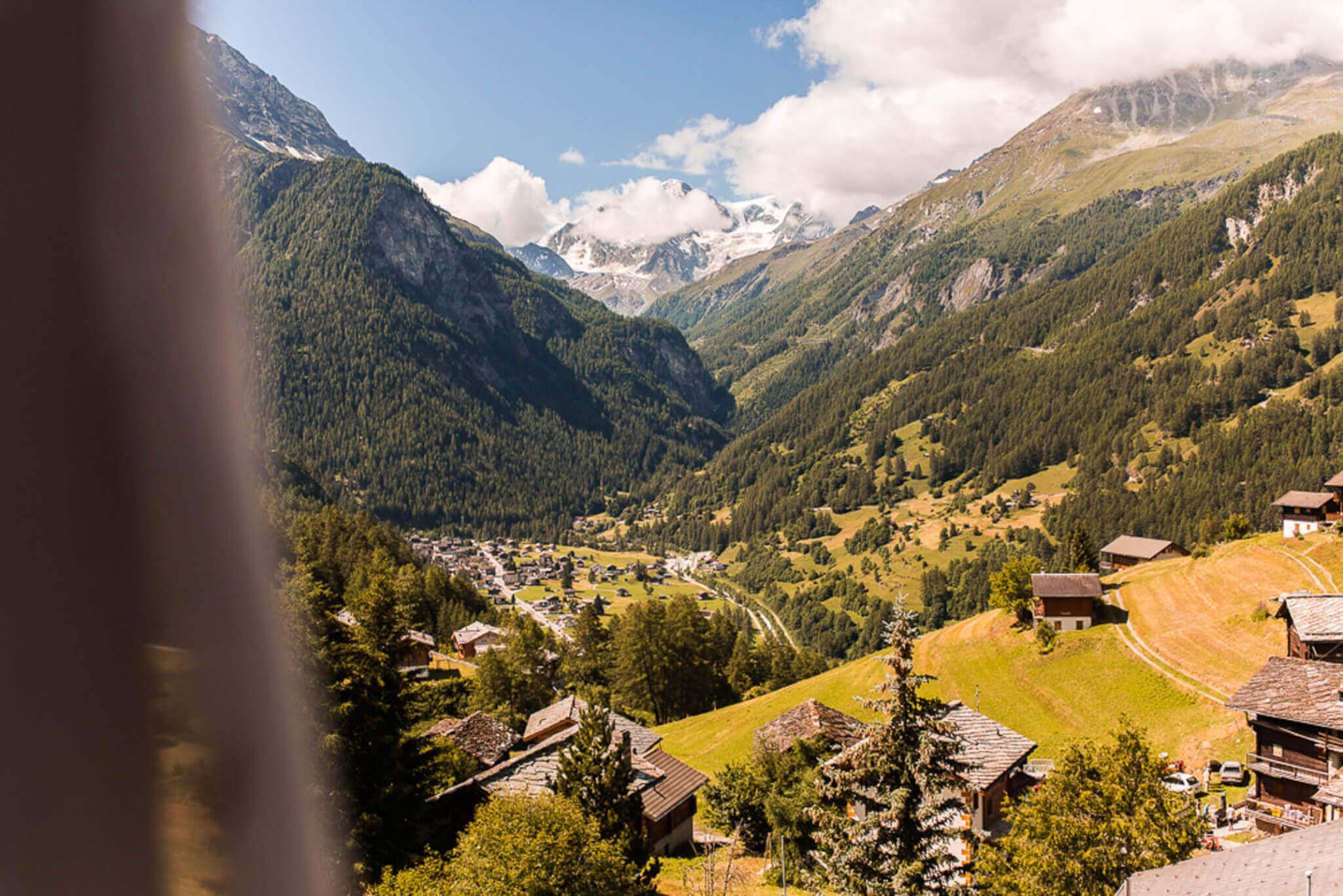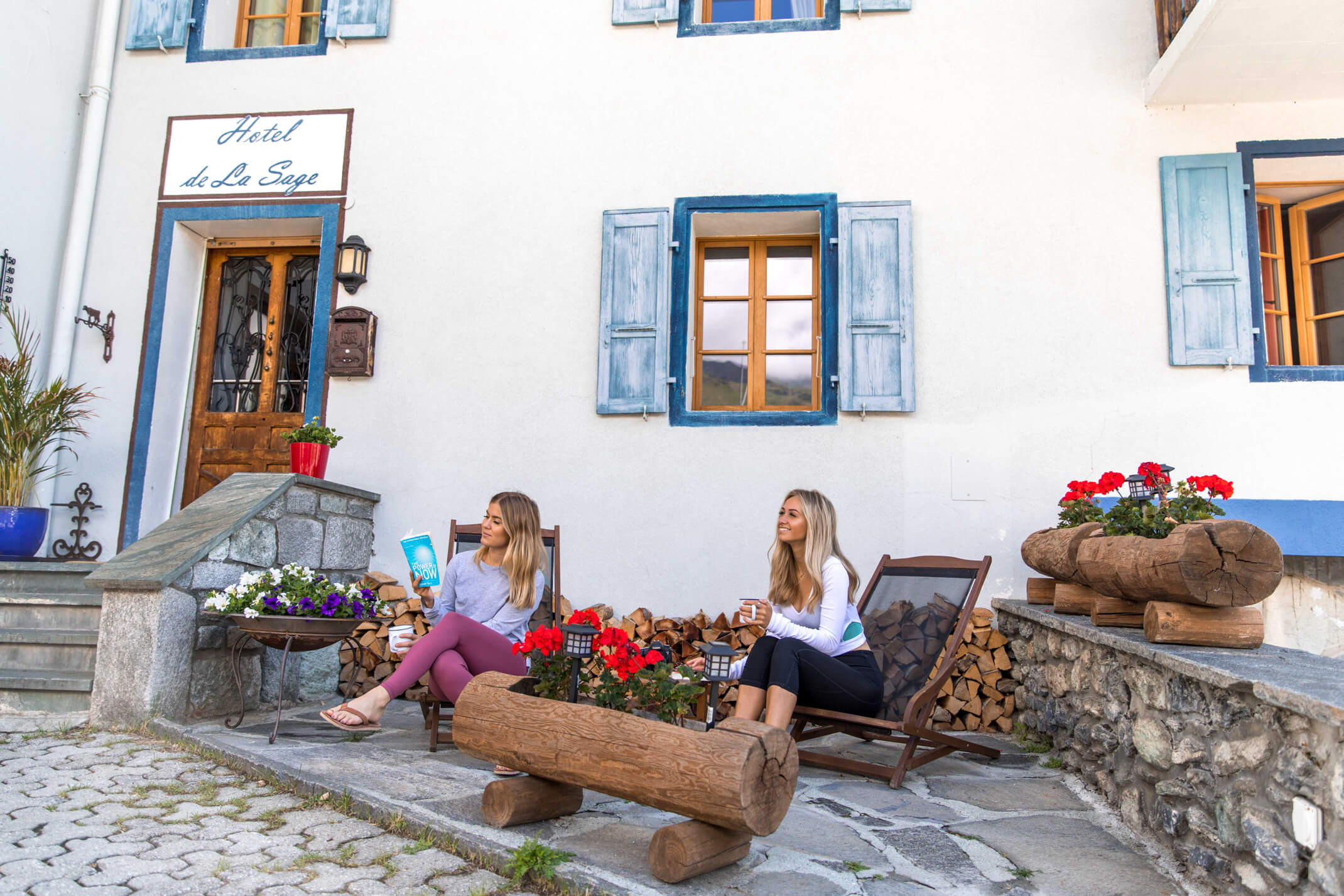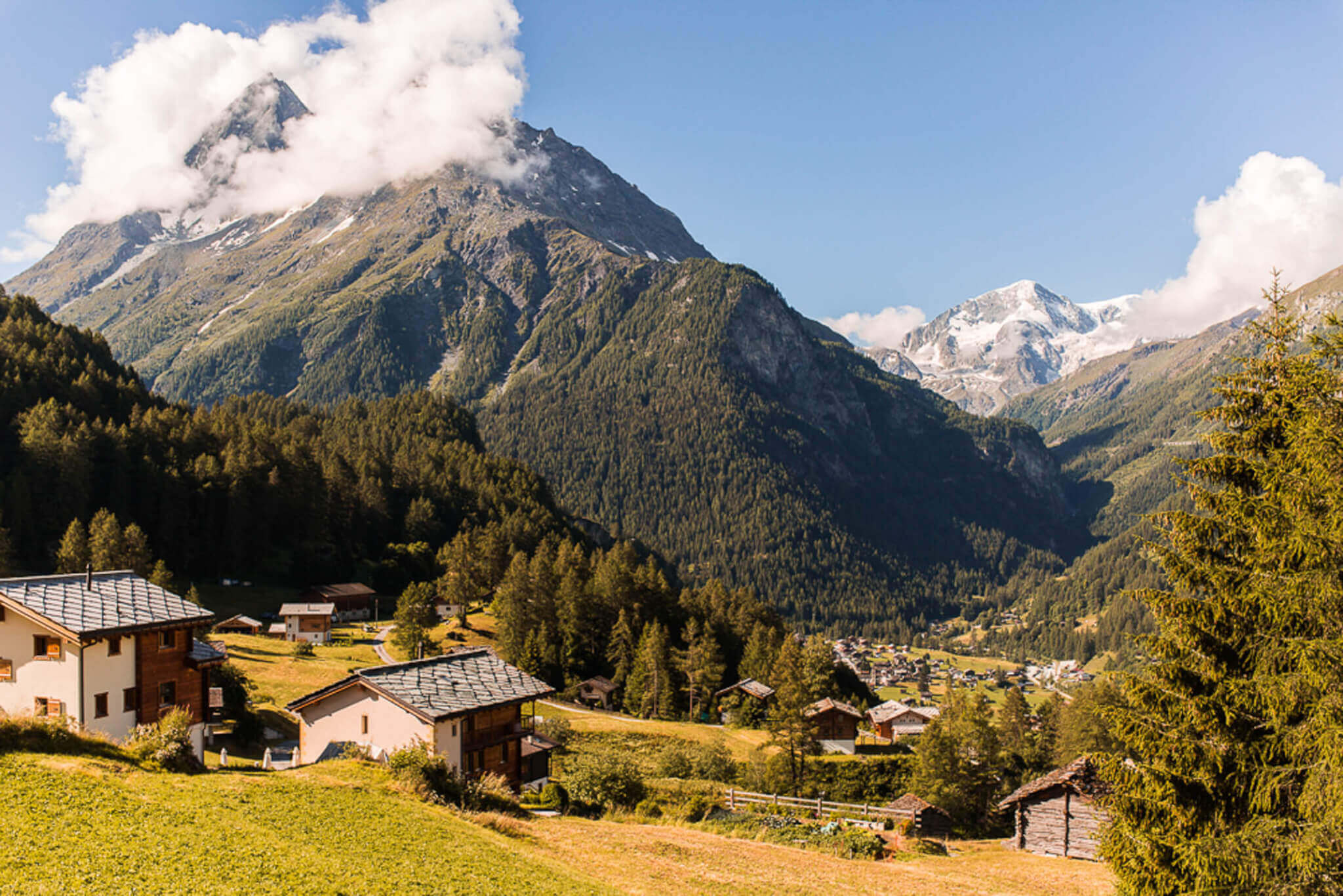 In the afternoon we drove over to Saint-Luc to catch the gondola up to Tignousa – the starting point for a number of insanely reviewed hikes.
We walked for about two hours from the top of the gondola before turning round and getting the last cable car down at 6pm. We did just part of the walk from Tignousa to Zinal which, if you have time, is apparently one of the best day hikes in the area. If you park at one end you can get the bus back to your car from Zinal. Grab a bus timetable from the gondola when you catch it.
I would also highly recommend checking out or at least driving by Lac bleu and Pyramides D'Euseigne.
For our second night in paradise on our road trip in Switzerland we made another last minute booking at THE most ridiculous B&B in Veysonnaz – Iglusaq apartments.
You thought our first night was unable to be topped? Look at the view as we drove up to the property in Veysonnaz…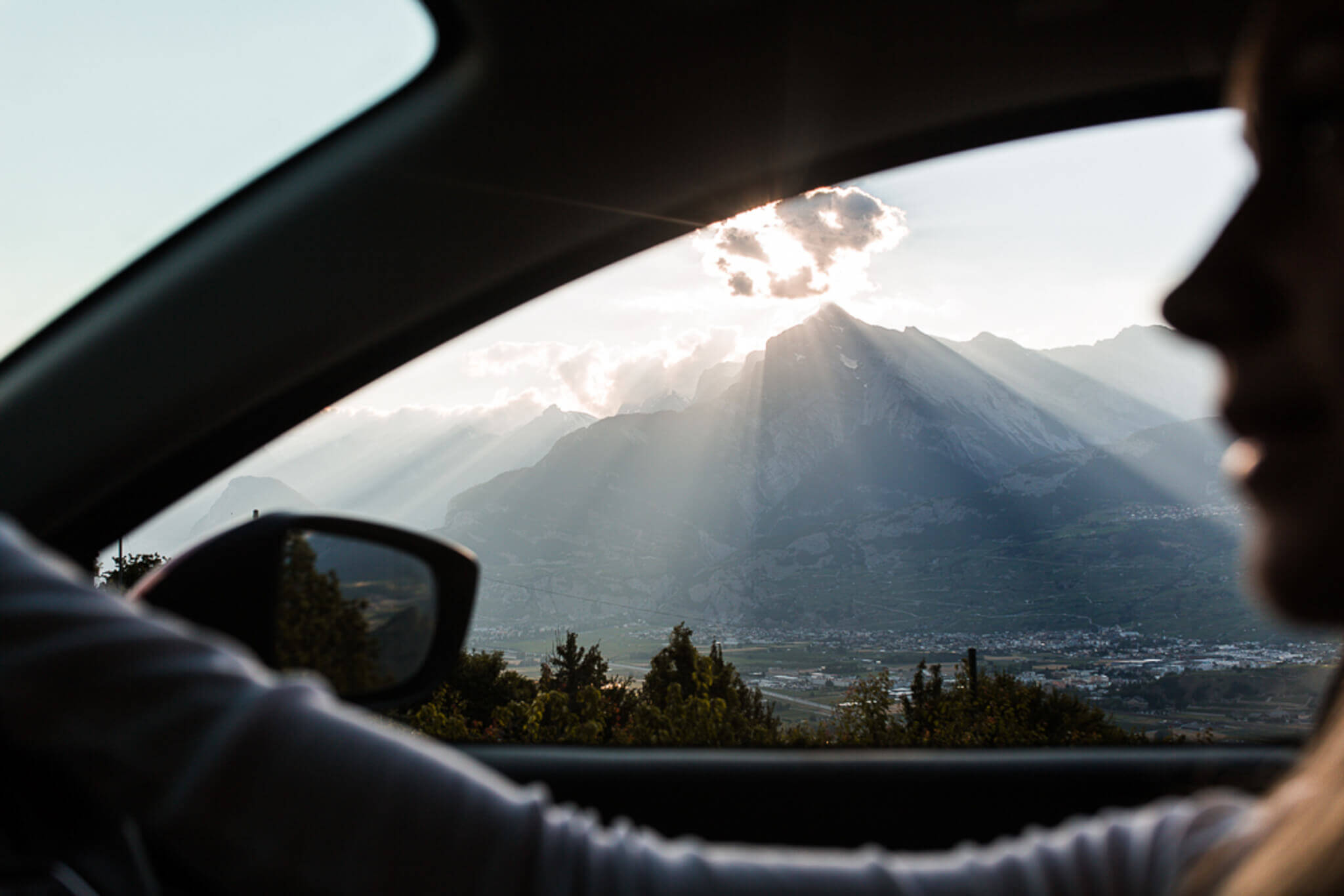 Day 3, waking up to the mountains…
Switzerland, the gift that just keeps on giving. Take a look at this view from the communal kitchen…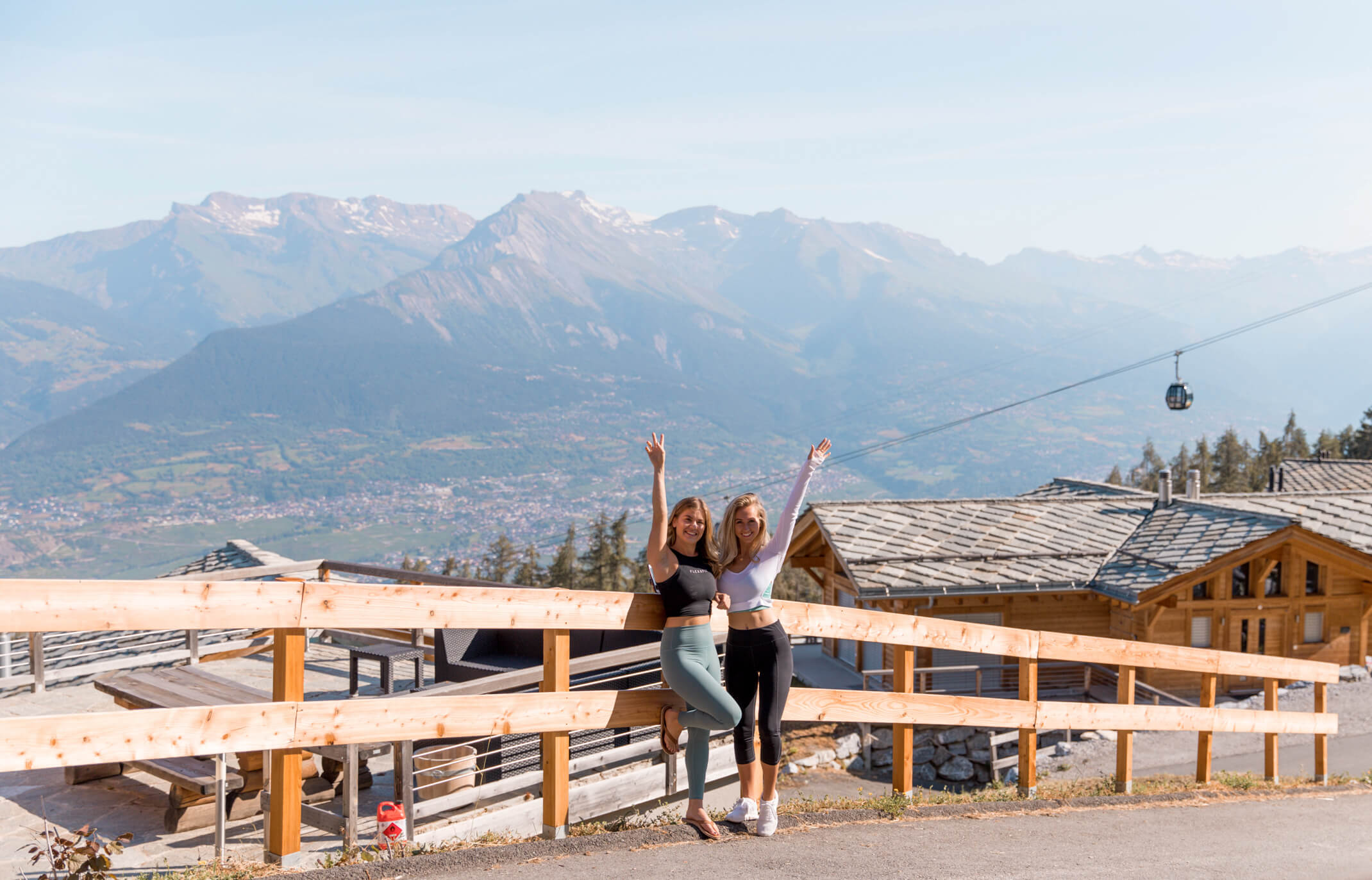 Holy scha-molies. I'm dead. What is this. How does this place even exist.
Book your stay at Iglusaq Apartments here.
We stayed here for £80 all together which included a private kitchen, bathroom and balcony plus that insane shared kitchen and also breakfast. This is a very very decent price for Switzerland.
Considering the quality of the building and possibly the most surreal view I've ever witnessed – we had bagged ourselves an absolute slice of double chocolate fudge cake here. On top of that, there were Toblerone bedtime treats waiting on our pillows.
Once again we cooked up our own feast in the kitchen (saving those pennies) and worked away on the WIFI until our clocks showed 1am.
P.s. Opposite our B&B I found my DREAM home. I will be showing this to the architect that builds my future house in the mountains. Universe, I just planted the seed – thank you.
Day 4, a stunning hotel after the best climb I've ever done!
Click here to continue the Switzerland road trip for day 3 and 4 as we head over to Nax and I take on my first ever Via Ferrata before moving on to Geneva and checking out Hotel D'Angleterre, right on the waterfront. See a taste of the views from the climb below!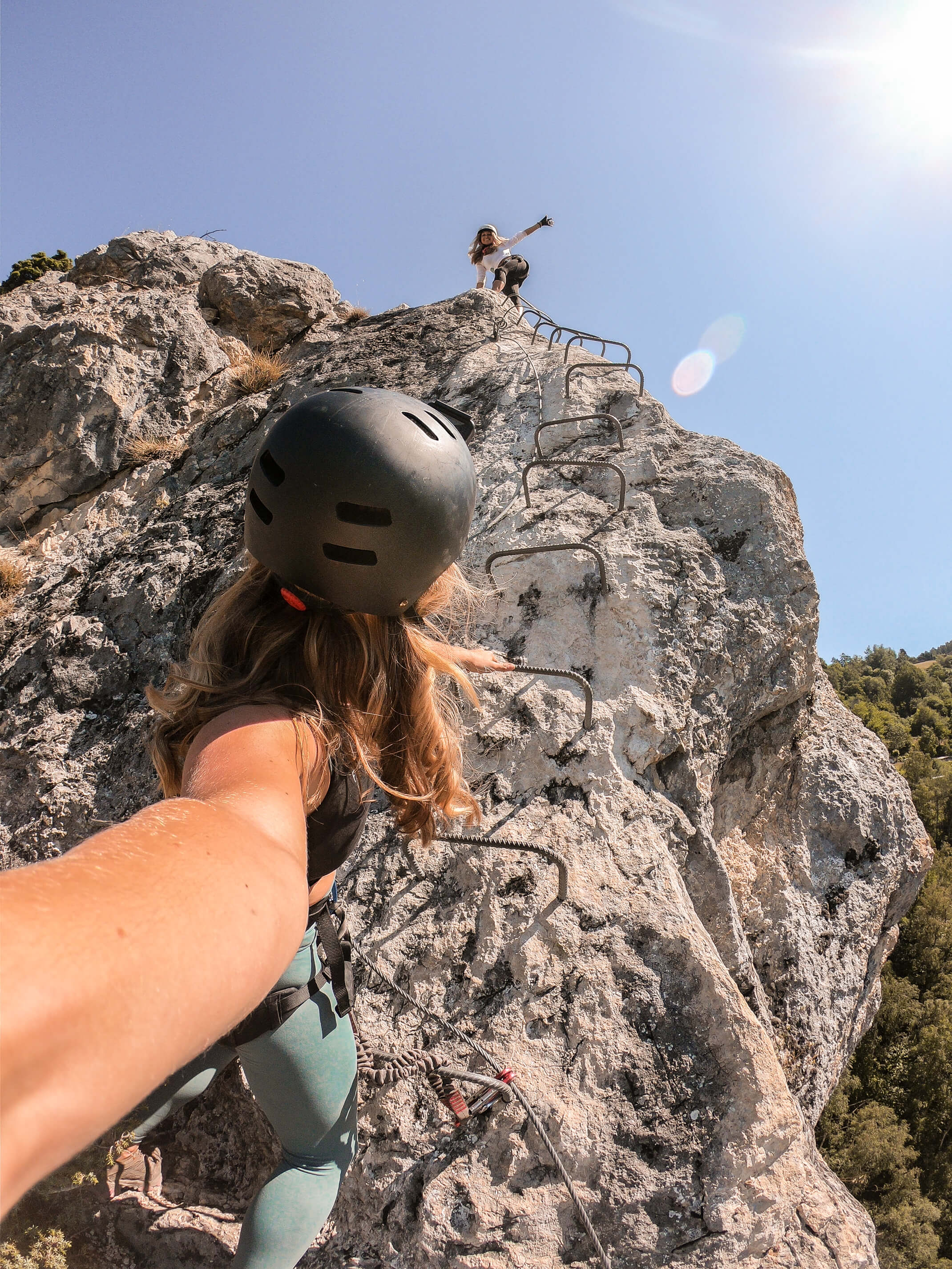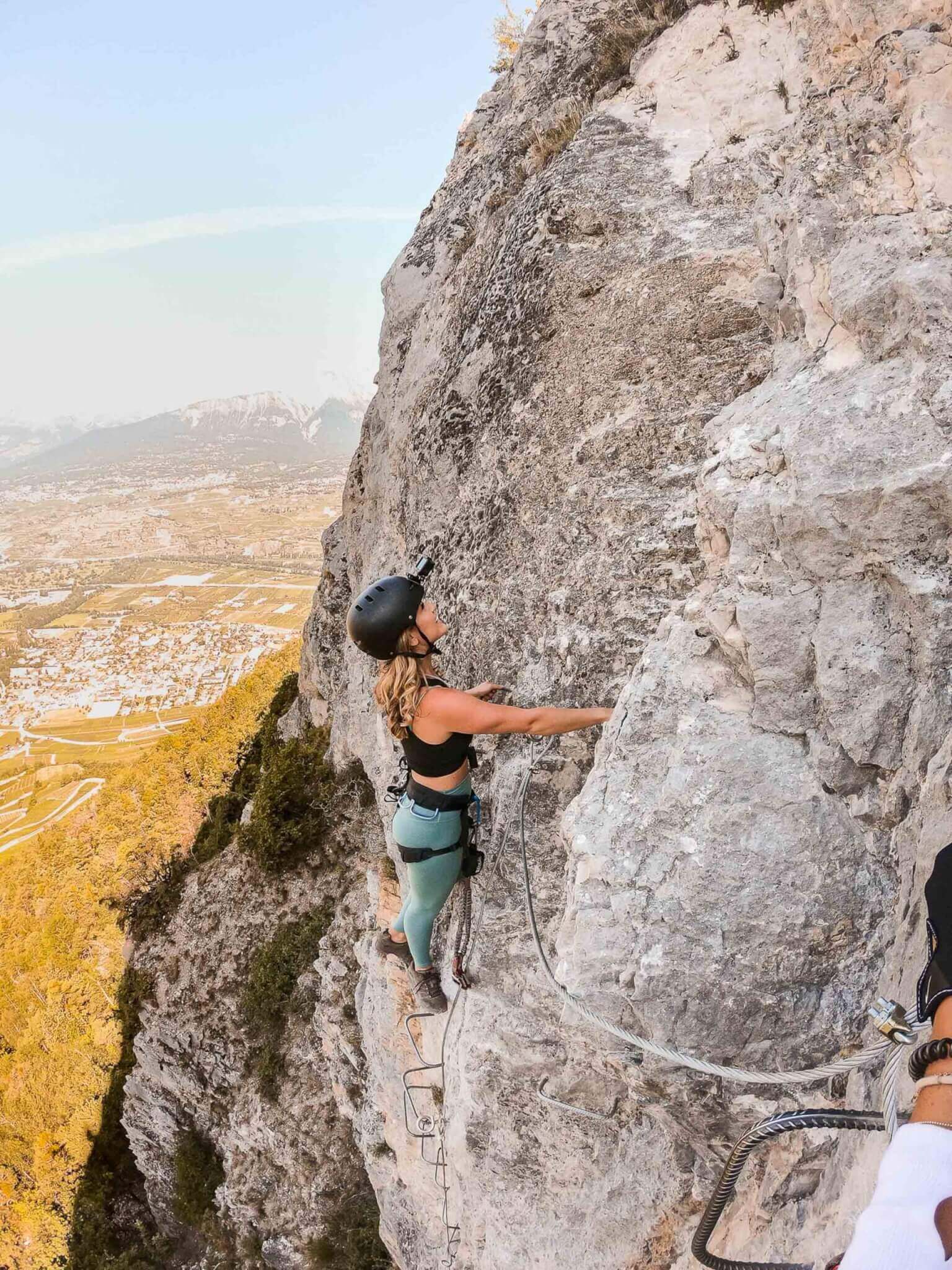 Have you been on a road trip in Switzlerland?
What were your favourite spots? I'd love to know!
Love as always and happy adventuring,
Did you find this post helpful? I'd love you to share it for me.
I can't do this without you.
Pin and save this blog post for later…