The more time I spend at home, the more time I have to play in the kitchen.
This year i've had so much fun getting creative in the kitchen and i've grown a real love for cooking and baking.
Get some home inspiration here as I show you around my London apartment.
I never really share recipes because I guess I'm not a 'food blogger' and well, there's not much method to my madness. I usually go with the 'make it up as I go along and hope for the best' approach but seeing as you guys are more frequently requesting the recipes behind my instagram stories – I figured I'd give putting them down on paper a go.
These Vegan chickpea cookie bites are just so yummy. Again I haven't the knowledge to tell you their true nutritional value but I know chickpeas are high in protein, as is protein powder so… I guess I can say these are high protein chickpea cookies?
They are also Vegan if you take out the dark choc chips / add in dairy free choc chips.
Regardless they are really great, easy to make and I think you should prepare them for the next guests that arrive at your doorstep.
I've made them a few times now and they've gone down a treat every single time…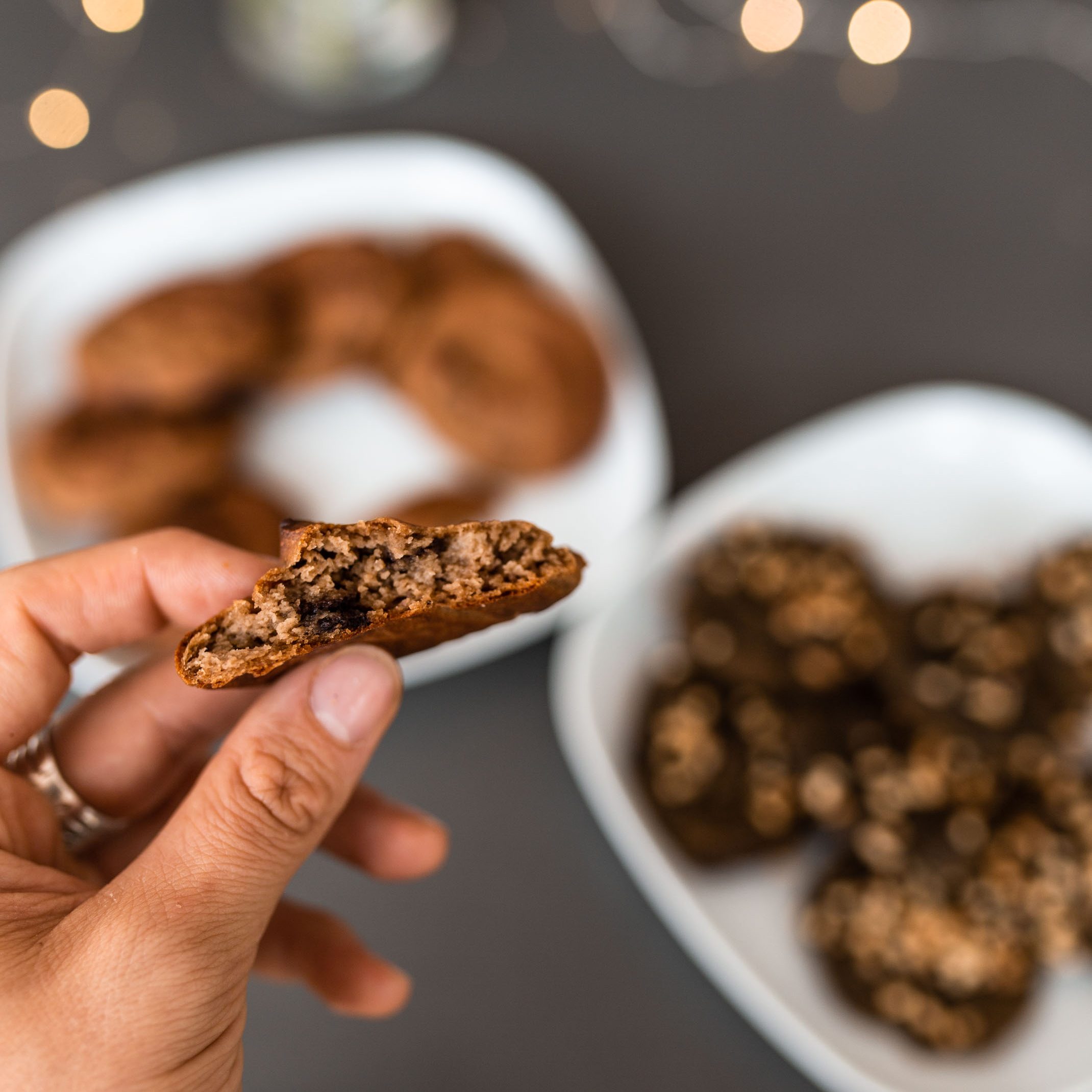 A Chickpea Cookie Bites Recipe…
Basic ingredients:
1 tin of chickpeas drained and rinsed
30g vanilla vegan / normal protein (shop protein here). I used my Vegan Form Nutrition protein
1 tsp vanilla essence
1/2 tsp baking powder
3 tbsp liquid sweetener. I used date syrup. You could also use agave / honey.
Nut milk to hand for consistency if you need it. I used coconut almond.
Handful of Vegan / dairy choc chips.
Ingredients needed to take your cookies to the next level:
Below are the measures I used when I split the above basic ingredients in to two to make a mixed batch of cookies. If you'd prefer to just make one flavour from the below options, double the measures and proceed to add it to the above mixture.
PB and banana cookie bites:
Matcha and banana cookie bites:
1 banana
3 tsp of Matcha Powder (I used Matcha Blaze, my favourite matcha at the moment!)
Sprinkle of chopped hazelnuts before going in the oven
How to bake the chickpea cookie bites:
Preheat the oven to 180 degrees.
In a food processor blitz together the chickpeas, liquid sweetener, protein, vanilla essence, and baking powder together to form a thick paste type consistency (just until its all evenly mixed ya know).
If you're doing a mixed batch like I did, split the mixture now and put half to the side.
Add the additional ingredients (aside from choc chips) to make your chosen cookies, blend and use the nut milk for consistency if needed.
5. Add in the choc chips and mix until evenly spread.
6. Line a baking tray with baking paper and spoon the mixture onto the tray.
7. Pop them in the oven for 15-20 minutes until they start to go golden on the top!
Voila! Your Vegan chickpea cookie bites are ready for you to devour!
What's your favourite recipe to bake?
I'd love to know your go-to recipes? So keen to be in the kitchen cooking more!
Love as always + happy adventuring,
Did you find this post helpful? I'd love you to share it for me.
I can't do this without you.
Pin and save this blog post for later…