Devon is full of fun things to do and beautiful places to visit. Often overlooked for its neighbour Cornwall, Devon is home to stunning coastline, rolling hills, and heaps of adventure.
In this blog post, I am going to entice you into travelling to Devon to explore. I am going to share the best things to do in Devon, the best things to see in Devon and my favourite adventures so far.
If you've never experienced summer in southwest England, it is glorious. You'd mistake some of the beaches for the tropics. It's insanely beautiful down here.
I've been exploring this summer with my van and Ollie, my pup, and there hasn't been a dull moment. Devon is the only county in England with two coastlines, and while they're different, I can confirm that the English Riviera (Torbay) is just as beautiful as the North Coast, home to Woolacombe and Ilfracombe. In fact, having also seen some beautiful beaches in Cornwall, I promise you that the beaches in England during summer are as good as the beaches abroad.
Hoping to inspire you to explore another beautiful corner of the UK, this list of the best things to do in Devon will all add to an epic UK staycation.
Other travel guides and blog posts that you may like:
The best things to do and see in Devon, England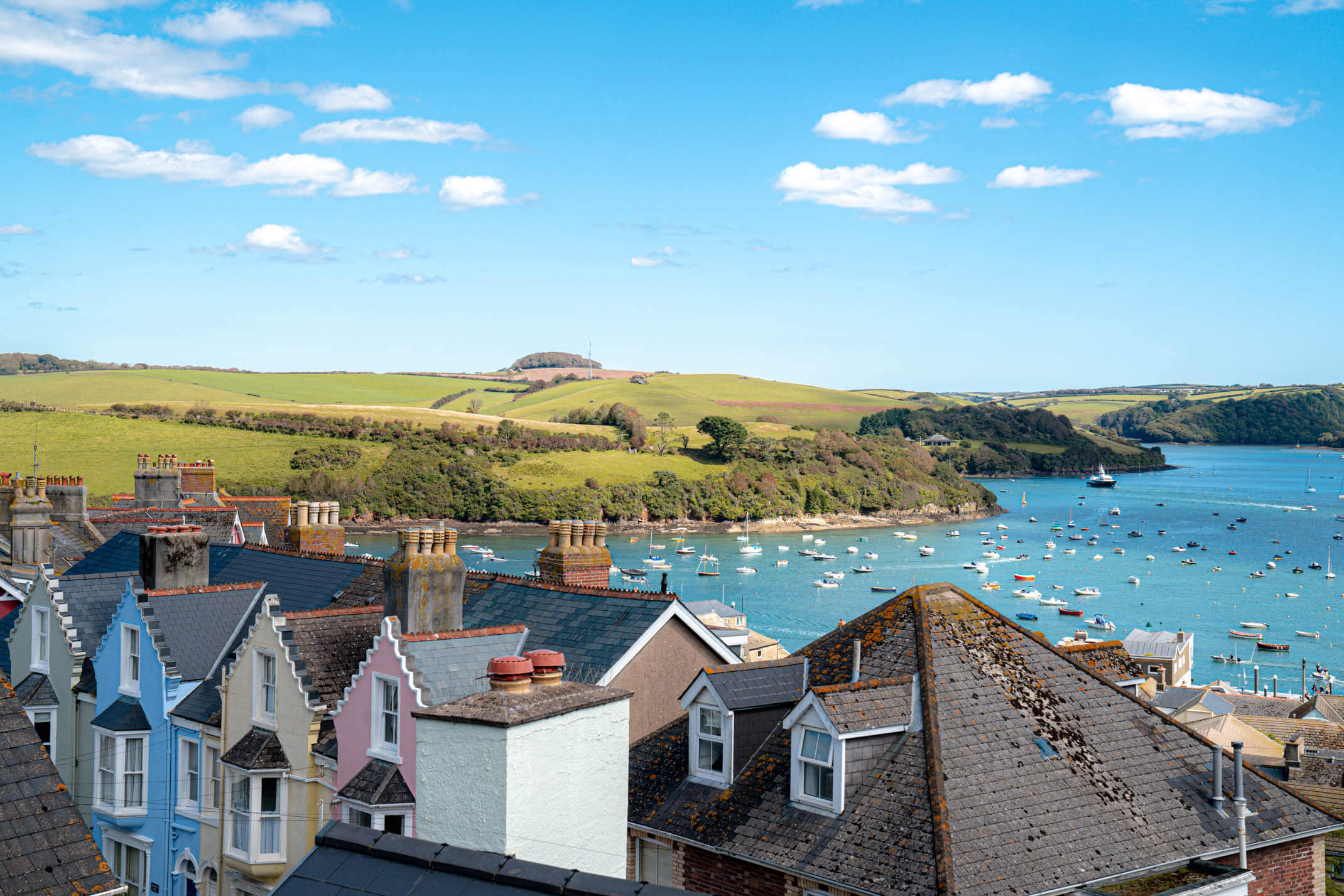 1. Hike part of (or all of!) the South West Coastal Path.
First up on the best things to do in Devon is… of course the South West Coastal Path. This is the longest National Trail in the UK, starting in Minehead in Somerset, going along the North Devon coast (past the famous Valley of the Rocks), right the way round the coast of Cornwall, continuing along the South Devon coast and finishing in Poole Harbour, Dorset.
Choose a section for a day hike or make a few days of it and get your backpacks on! So many people have the same idea, you'll never be far from company.
2. Enjoy the green space and fresh air in the AONBs.
Devon is home to 5 Areas of Outstanding Natural Beauty (AONB): South Devon AONB, North Devon Coast AONB, East Devon AONB, Tamar Valley AONB and Blackdown Hills AONB. One of the best things to do in Devon is to grab a pair of walking boots and enjoy the rolling hills and stunning views.
3. Try an extreme outdoor adventure.
One of the best things to do in Devon is to get an adrenaline kick in the beautiful outdoors! All across Devon, in areas such as Exmoor, Salcombe, Torquay, Paignton and Dartmouth, there are outdoor adventure companies that promise an active day out! Whether you want to try climbing, abseiling, a Via Ferrata, gorge walking or caving, there's plenty of adventure to be had in Devon!
5. Rent bikes and explore Devon's countryside.
Devon really is beautiful and there are bike rental companies across the county. Popular cycling trails in Devon include the Tarka Trail, Exe Estuary Trail, Drake's trail, and East Prawle Cycling Route.
One of the best things to do in Devon is to get active so if hiking isn't your thing, grab a bike!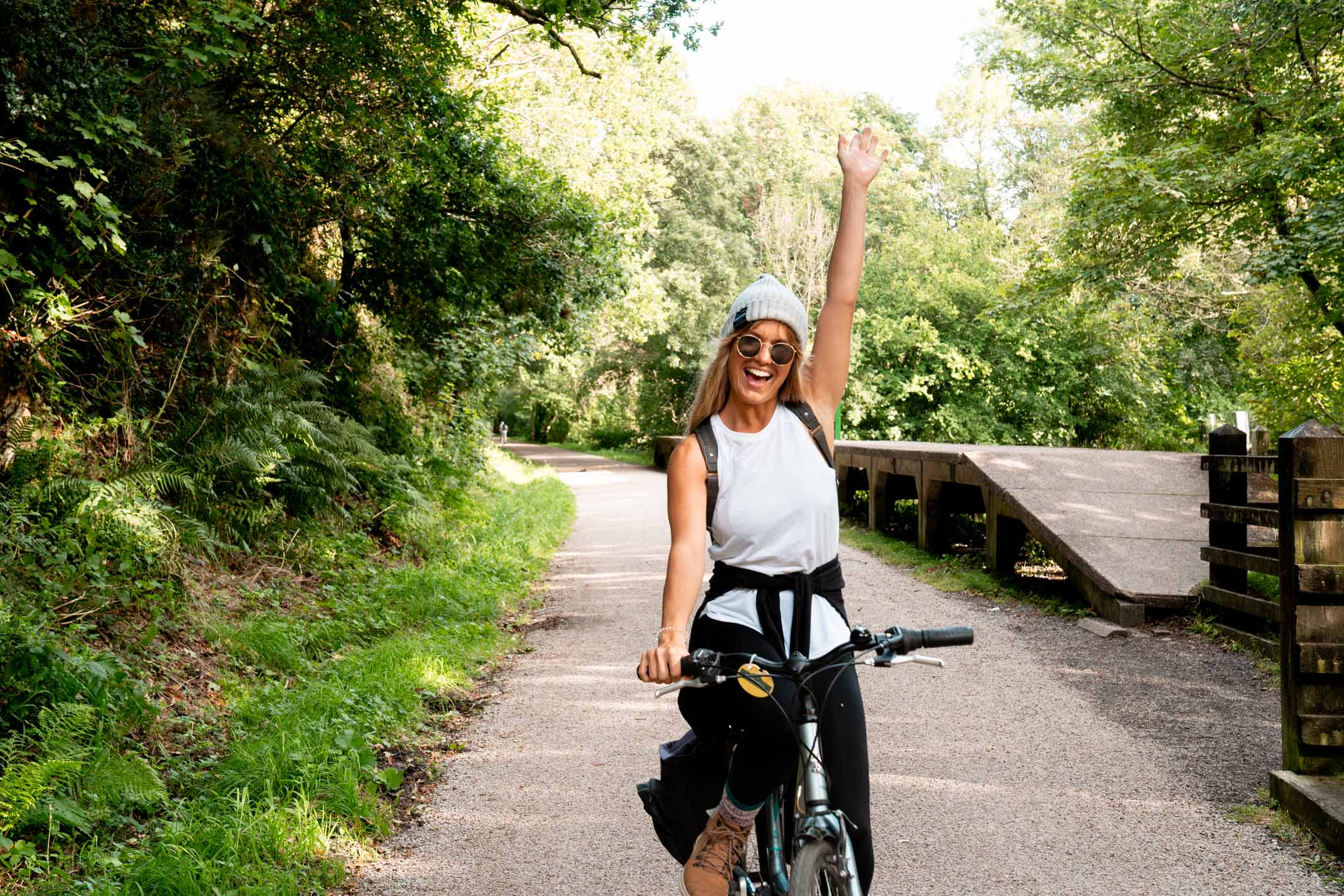 6. Explore the beautiful Dartmoor National Park.
Spanning across South, East and West Devon, Dartmoor is huge. As well as seeing the famous Bowerman's Nose and Brentor Church, take some time to see the waterfalls at Lydford Gorge, Cadover Lakes and the fairytale Wistman's Wood. Dartmoor is also a great places for cycling, hiking, climbing, abseiling, and even horse riding and white water canoeing!
There are also many areas of Dartmoor where you're allowed to wild camp with a light tent (of a size that you can carry). See where you can wild camp on Dartmoor here.
Watch this space for my guide to exploring Dartmoor National Park.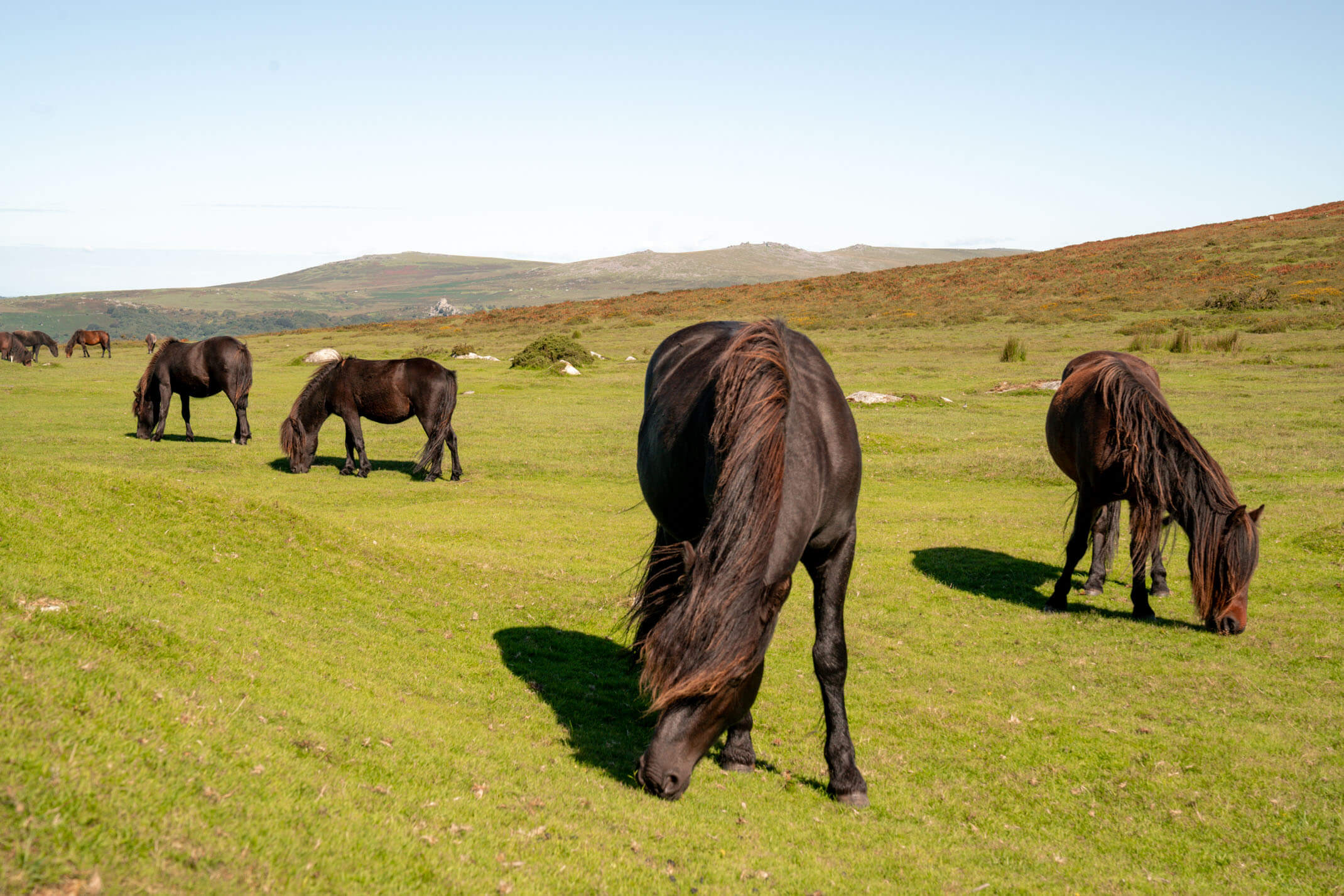 7. Enjoy cream tea the Devonshire way!
In Devon you cut the scone in half, put the clotted cream on and then the jam on top (in Cornwall they put the jam on first!).
I wasn't going to do a best things to do in Devon list without cream tea now, was i?
8. Learn to surf in Croyde Bay.
Croyde is one of the most popular places to learn to surf in Devon and so of course, grabbing a board and jumping in the ocean is one of best things to do in Devon. It's got a great (but busy) vibe come summer. Despite this, it's the perfect spot to socialise and get outdoors.
We camped at Surfers' Paradise, which is right on the beach and in the most ideal location. Once you've arrived and set up camp, you don't need to drive anywhere for the rest of your weekend. The beach and the town (where you can hire wetsuits and boards) are all within a 5-minute walk.
Grab the best coffee in Croyde at The Stores and if the suns out, grab a rooftop cocktail at Hang Loose Bar and BBQ.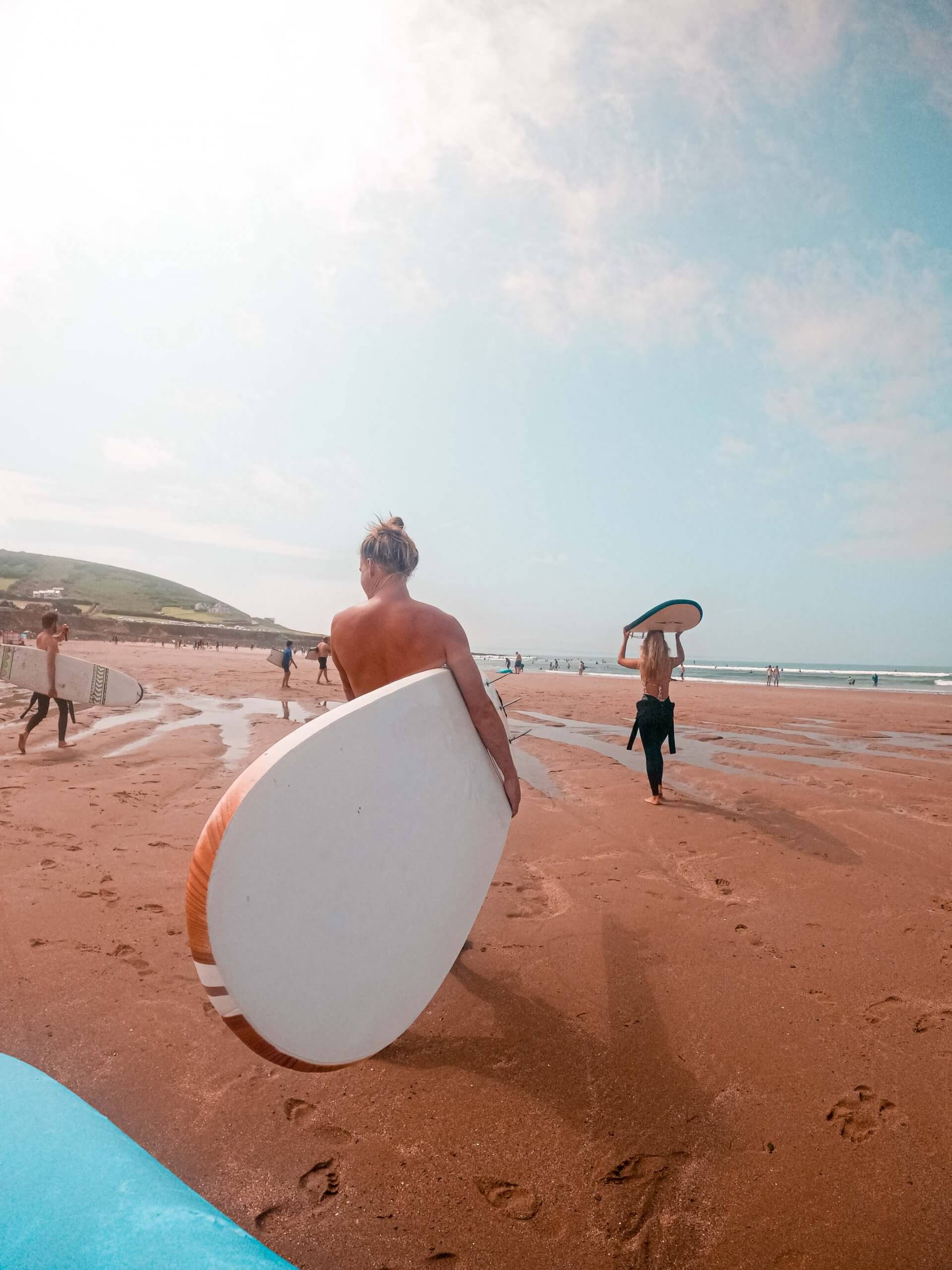 9. Take a yoga class on Saunton Sands
Saunton Sands is another popular place to surf in Devon. But, that's not all you can do there! Surf Saunton, a surf school, also offer yoga classes on the beach. Check them out here.
10. Explore the North Devon coast around Ilfracombe.
This beautiful fishing village is one of the towns in Devon you must visit. Rent a boat (or book a tour) around the coast, exploring secret coves and bays such as Brandy Cove, Breakneck Point and Smuggler's Cove, as well as the famous Lundy Island.
Keep an eye out when you're at sea, as you might see the seals, dolphins and porpoises that live in the area. If you really want to see the dolphins in Devon it might be worth booking an Ilfracombe 'sea safari'.
Devon's north coast also has plenty of opportunity for adrenaline rushes, with plenty of companies offering activities such as coasteering and sea kayaking. Add something active to your best things to do in Devon bucket list!
11. Be a beekeeper for a day on Quince Honey Farm.
60,000 bees, a big orange suit and lots of honey makes for a fun day out! One of the best things to do in Devon is to take a guided tour of the hives.
Tours at Quince Honey Farm are currently unavailable due to Covid-19, but I'm absolutely 'buzzing' to give it a go once they're back on! See more information on the website here.
12. Stargaze in Exmoor National Park.
Exmoor National Park was Europe's first dark sky reserve, and remains the perfect for snuggling up under the thousands of stars! Good places to watch the stars from include Holdstone Hill, County Gate, Brendon Two Gates, Webbers Post, Anstey Gate, Haddon Hill, and Wimbleball Lake.
Exmoor is also a great place for hiking, since it includes parts of the SW Coastal Path and many more trails. Make sure you see the Valley of the Rocks and the Tarr Steps. In terms of wildlife, keep an eye out for the local wild ponies and red deer.
13. Camp on a working farm.
Incledon Farm, near Georgeham Village, has camping pitches on the working farm for the perfect countryside escape. See more on their website here.
14. Visit Hartland Abbey.
Once of the most important ancestral homes in North Devon, this building and its surrounding gardens are beautiful and well worth a visit if you like architecture and the countryside!
15. Ride the Lynton-Lynmouth cliff railway.
Ride the world's highest and steepest water-powered railway! The coastal views from the top station are incredible! See the website here.
16. Enjoy the English seaside at Woolacombe.
Woolacombe Beach and the nearby, lesser-known Barricane Beach are great places for feeling the sand between your toes, enjoying a swim and catching some rays. It's hard to believe you're still in England during the midsummer in Woolacombe, as the beaches look so beautiful!
In the summer, there's a guy that serves his Sri Lankan curry out of the hut at Barricane Beach… it recently got some news coverage and so it sells out every night. Keep an eye out and grab yourself a portion for sunset! Hands down one of the best things to do in Devon with your friends!
17. Enjoy a Hocking's Ice Cream on Westward Ho! beach.
Westward Ho!, a seaside village near Bideford, is famous for its surfing beach and extended grasslands. After a hike and a surf, kick back and relax with a local North Devon ice-cream from the ice cream van.
18. Spend the weekend in Salcombe
Tucked away on the South Coast, Salcombe is without a doubt one of the most loved holiday destinations in the county. A weekend is calling your name if you like rolling countryside, pastel-coloured houses, golden sand beaches and watersports. Salcombe does watersports well. Sit on the Salcombe Estuary in one of the many seafood shacks overlooking the water, grab a croissant from the bakery or take the ferry over to Mill Bay and take this circular walk around to Gara Rock. Just a few of the things you can get up to here.
A friend has also recommended Salcombe Gin Distillery, The Winking Prawn for food and a day trip to nearby Banham beach when the surfs up!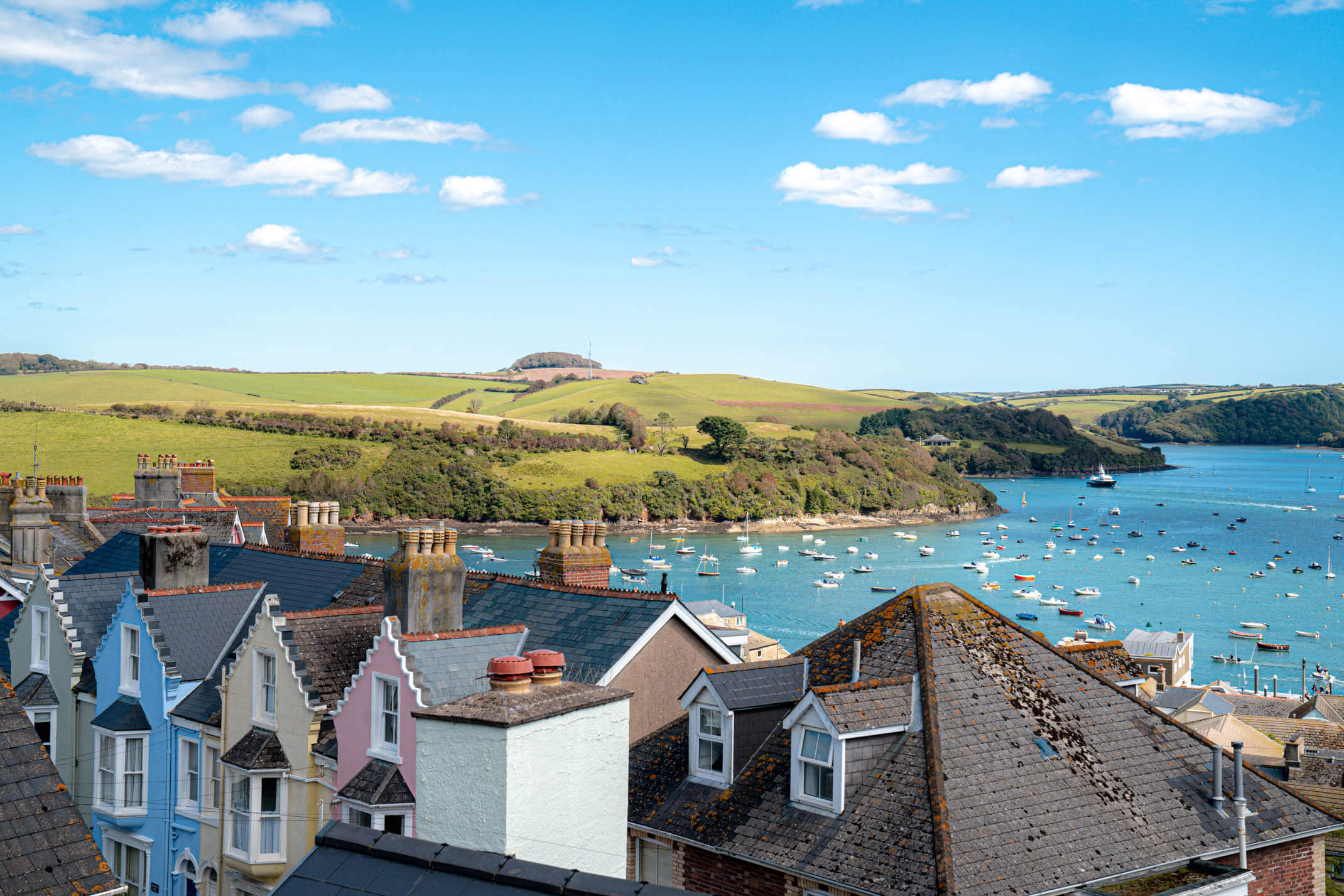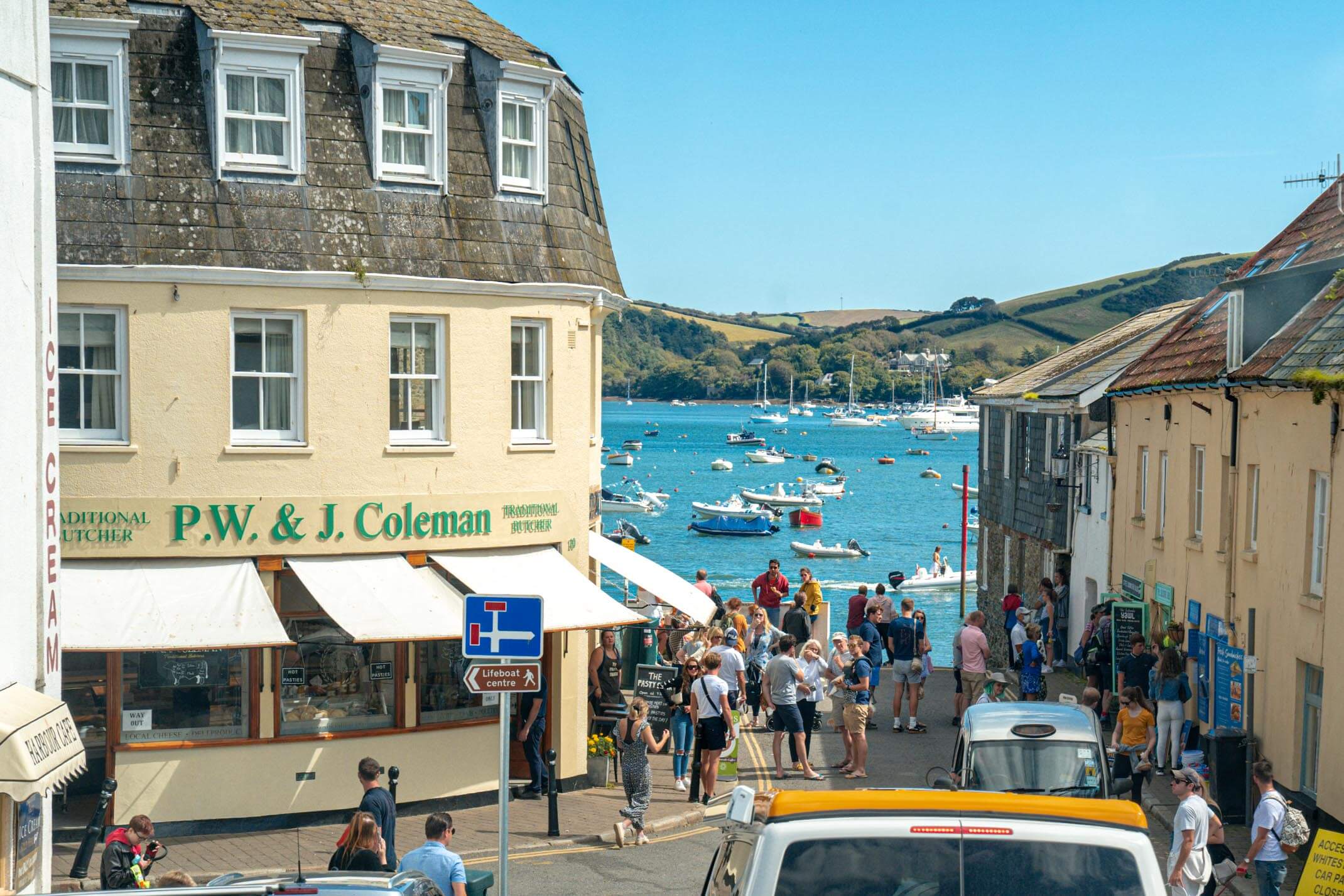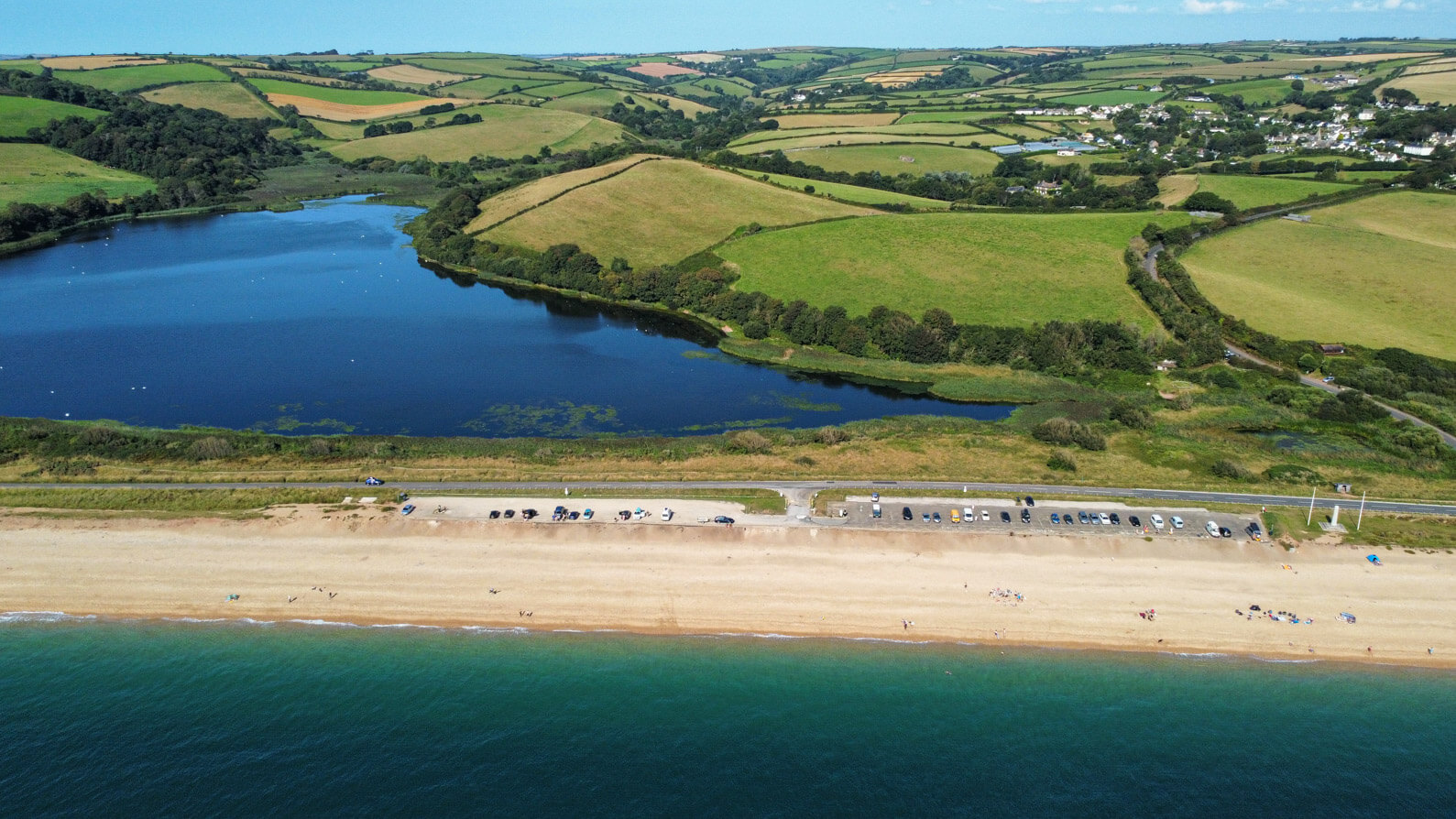 19. Take a hot air balloon flight across South Devon.
Enjoy views of the rolling hills of Dartmoor and the beautiful Torbay coastline as you get a new perspective of Devon from the air. Find out more here.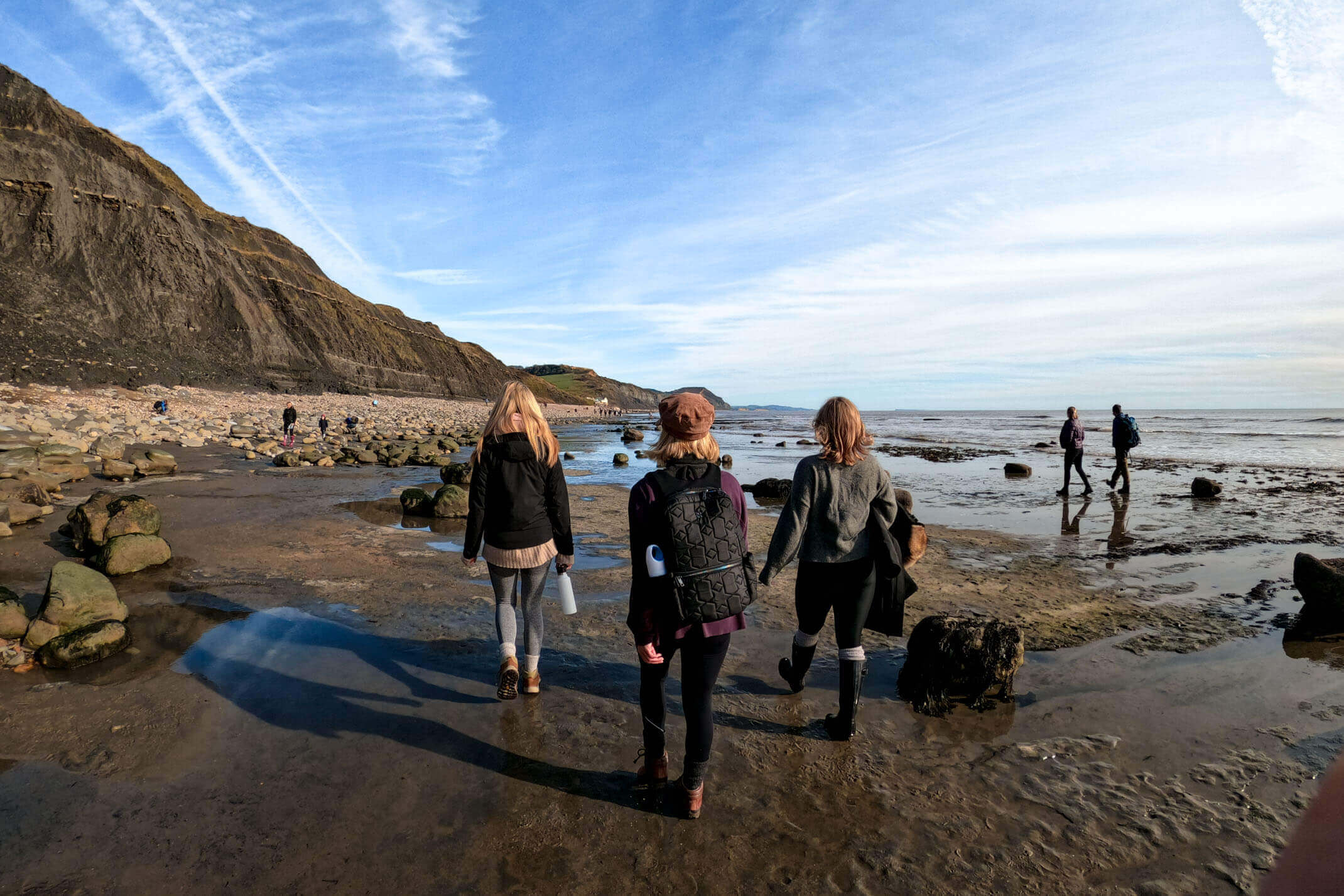 21. Fill your belly at the Dartmouth Food Festival.
Dartmouth is a cute fishing town on the south coast, that not only has a beautiful harbour, stunning coastal views and a steam train, but an epic food festival every year! Expect the best food of the South West as you wander round the stalls. And what's more, it's free to explore! See more on the website here.
22. Visit the red cliffs in Teignmouth.
Teignmouth is one of Devon's cutest seaside towns. Marvel at the stunning beaches, red cliffs, while enjoying your takeaway coffee from the sustainable and dog-friendly Cafe ODE.
23. Soak up the sun in Torbay, the English Riviera.
This borough in Devon first got its nickname as the English Riviera in the Victorian times, with it's similarities to the South of France. With stunning beaches, fabulous eateries and independent boutiques, Torquay, Paignton and Brixham are great places to visit in Devon and perfect bases for exploring the rest of the county.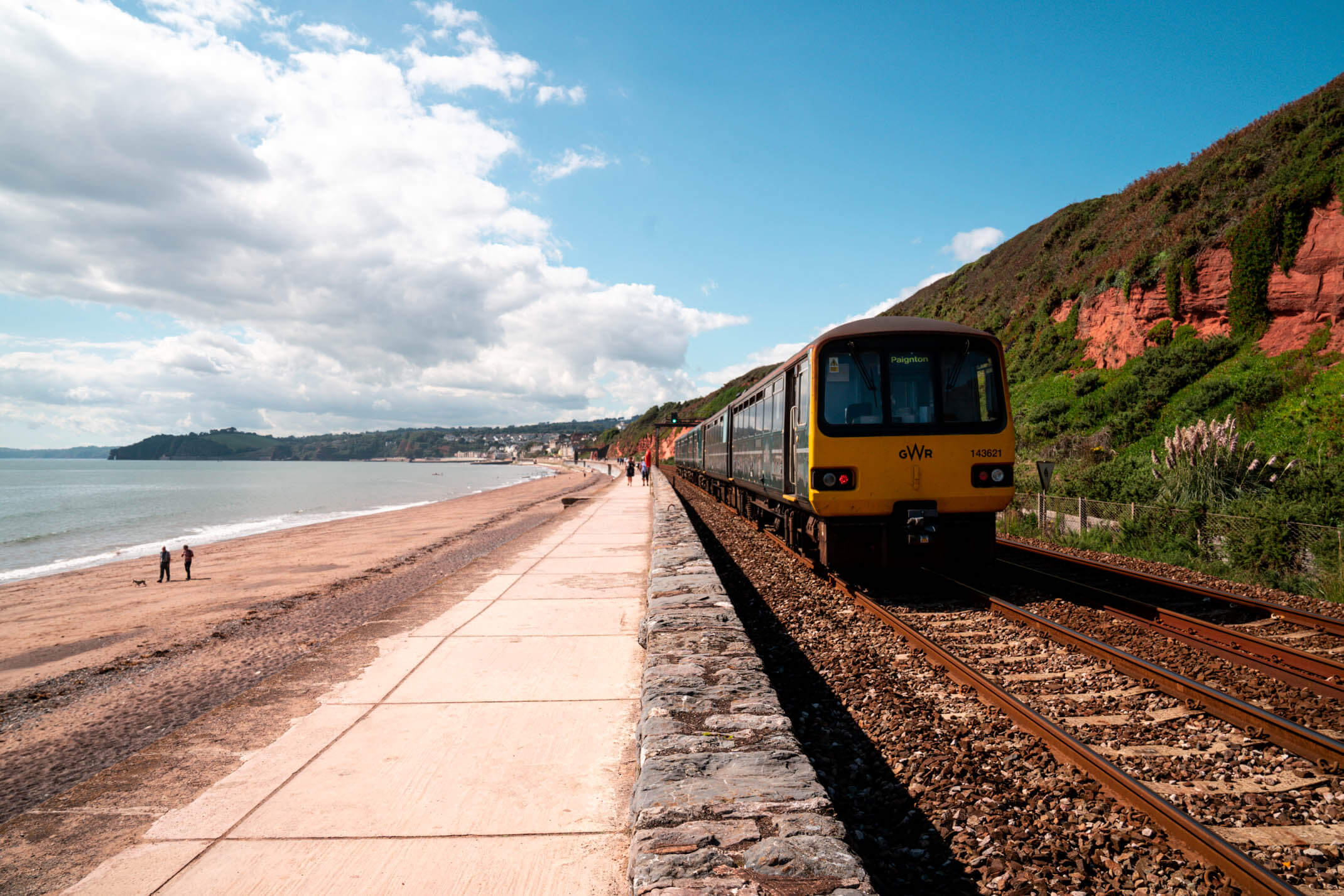 24. Explore the Otter Valley.
Nestled within the East Devon AONB, the Otter Valley is a beautiful area for walking and hiking. There's also Otter Vale Wild Camping, a site for "wild camping". Since you're camping in woodland and meadows, it feels like wild camping, but it's actually a registered campsite and working dairy farm, so you can camp with large tents and vans too! Check out the Otter Vale Wild Camping website here.
25. Walk an alpaca.
Little Orchard Alpaca Farm in Axminster offer this bucket list experience, and it's one of the most fun things to do in Devon! Walk an alpaca and then stay in a bell tent on the orchard grounds. Don't forget to pick up some alpaca goodies from the gift shop before you leave! See more on the website here.
I walked alpacas during my weekend in South Downs National Park, and I had the best time! See my guide to the South Downs National Park here.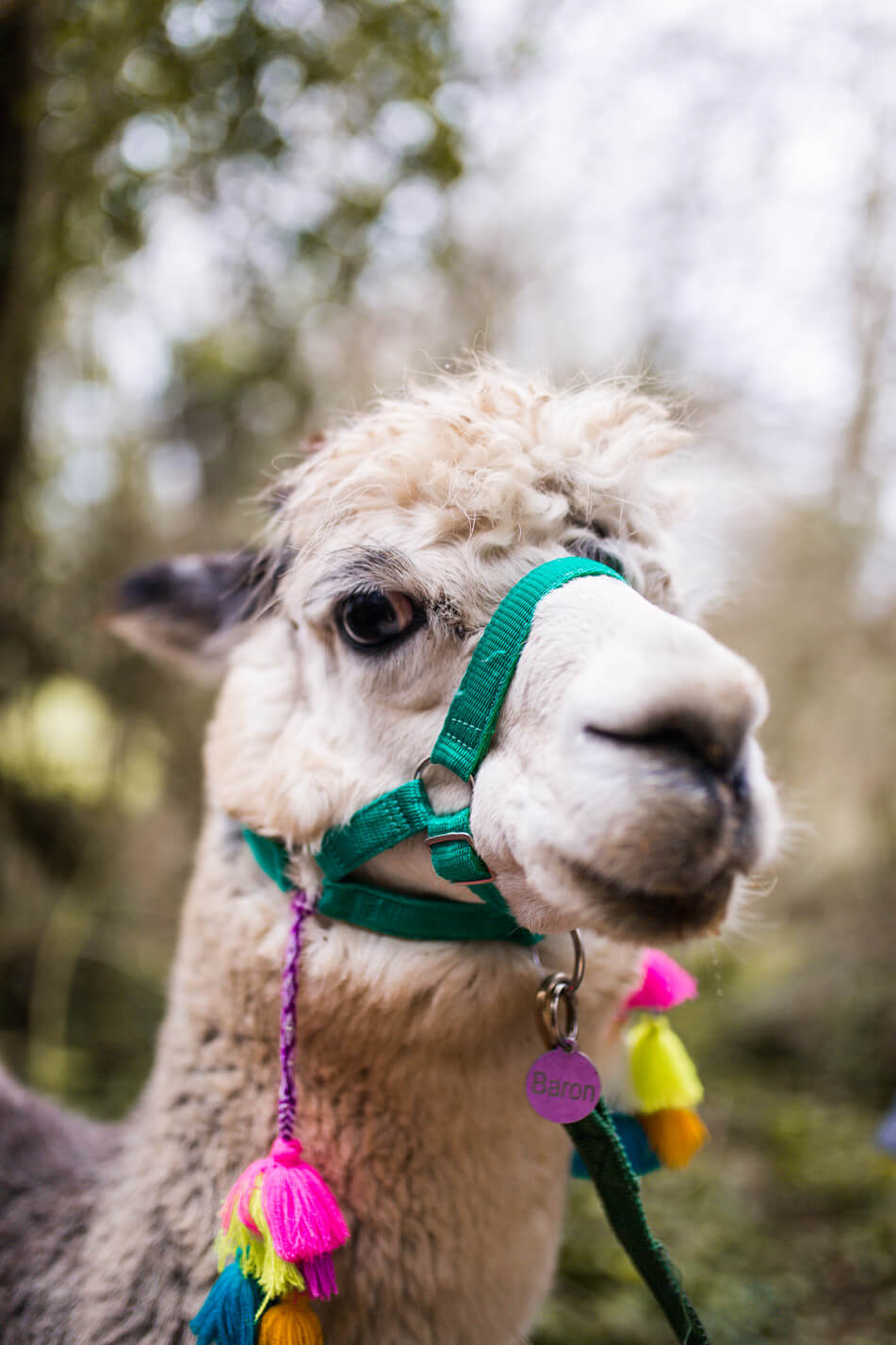 26. Eat at the River Exe Café.
This floating restaurant in the middle of the Exe Estuary is on a barge, and serves fresh, local food. Delicious! Check out the menu here.
28. Explore the city of Exeter.
Exeter Cathedral and Exeter Quay are two places to visit in Devon that you cannot miss. Exeter offers the hustle and bustle that you may have missed after a countryside adventure, and it's perfect for a bit of shopping and a mooch around before you head back to the rolling hills.
Exeter is a great dose of city life and one of the best things to do in Devon if you're a city-loving human.
29. Visit Plymouth Gin Distillery.
Plymouth itself is a great city to explore, but as a fan of gin in general, Plymouth Gin is what stands out for me here! The Plymouth Gin journey began in 1793 and you can learn all about it as well as taste the gin on a tour of the distillery. Find out more on the website here.
30. Go wine-tasting in Okehampton.
I had no idea that Devon produced wine until I got here! Okehampton, on the edge of Dartmoor, is home to miles upon miles of vineyards and several wineries. Alder Vineyard offer tours of the vineyards, winery and teach you how to wine taste! Book your tour here.
31. Meander around the cute village of Totnes.
This quaint little village is the perfect place to stop and relax for a cup of tea! The Curator Cafe combines great coffee and vintage style, so it's a great place to stop and relax. If you want something more active, try kayaking on the River Dart!
Have you been to Devon?
What are your favourite things to do in Devon? I'd love to know!
Love as always and happy adventuring,
Did you find this post helpful? I'd love you to share it for me.
I can't do this without you.
Pin and save this blog post for later…