Dartmoor National Park is one of the UK's most beautiful national parks. Famous for its wide open spaces, byelaws that allow wild camping, ponies and the tors, exploring this National Park in Devon with my van in summer was a delight.
This vast moorland is riddled with walking and hiking trails, home to cute villages, and even inspiration behind the Sherlock Holmes story, 'Hound of the Baskervilles'. There are many beautiful places to visit in Dartmoor; here you can see England's highest waterfall, beautiful churches and fairytale woods. As much as I love being near the beach in nearby Cornwall, a few days in the green rolling hills of Devon was a welcome change. And especially so in Dartmoor, as I love a good active adventure. Visiting Dartmoor National Park is definitely one of the best things to do in Devon.
In this blog post, I am going to share everything I learned about visiting Dartmoor National Park in Devon, including all the fun things to do on Dartmoor. From alpaca walking and hiking to country pub recommendations, kayaking and extreme sports… there are plenty of outdoor adventures to be had!
Get ready to be inspired by yet another beautiful area in the UK!
Other blog posts you might be interested in…
Dartmoor National Park, Devon: my guide and the best things to do…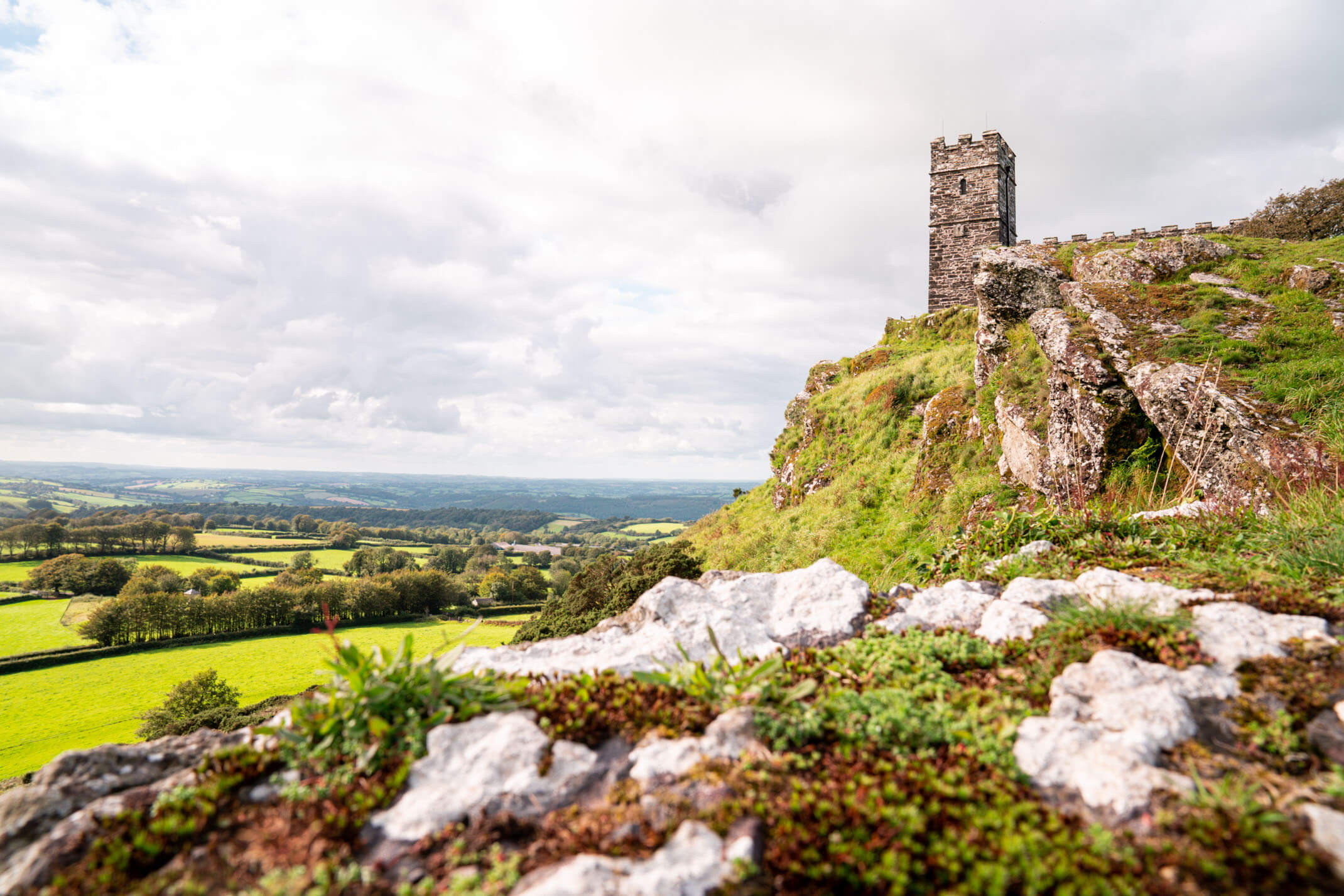 Where is Dartmoor National Park?
Dartmoor National Park is a vast moorland located in Devon, south west England. This upland area has held National Park status since 1951 and covers 368 square miles (954 km2).
33,000 people live within the park boundaries, so not only are there stunning countryside landscapes, but there are plenty of beautiful towns and villages to explore.
How do you get to Dartmoor National Park?
Public transport:
Getting to Dartmoor by public transport is more difficult than you think. The main nearby cities (for national train and bus links) are Exeter and Plymouth, and then there are a few bus links to local towns within Dartmoor, such as Moretonhampstead, Okehampton and Tavistock. For a current list of transport links, check out Dartmoor Walks website.
Driving:
It's much easier to drive to Dartmoor, if you can! Dartmoor is within easy reach from the M5 motorway in Devon, from the A30 or the A38. Journey times from Exeter or Plymouth are 30 minutes. Some of the roads within Dartmoor are quite narrow, so please be careful!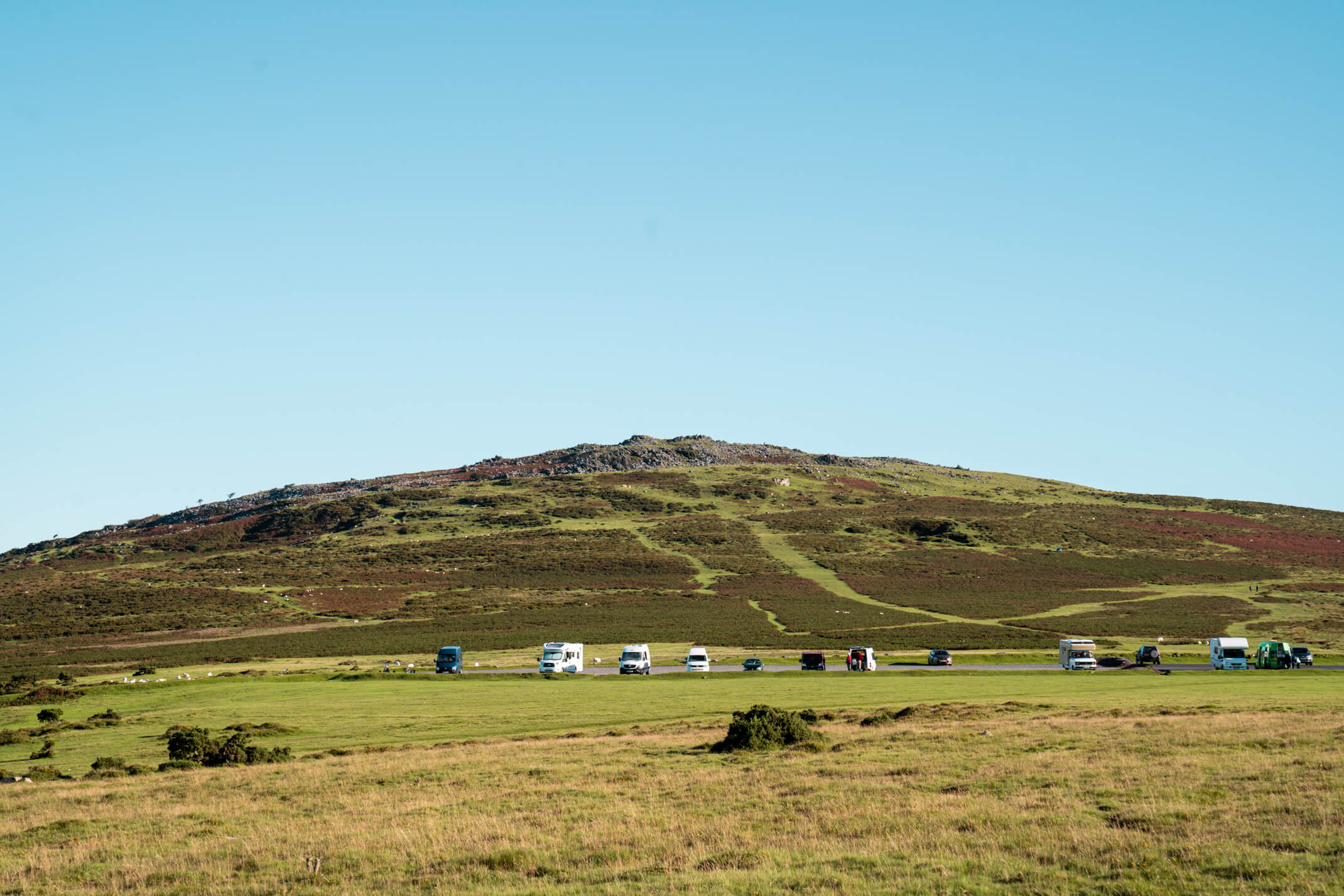 Where can you stay in Dartmoor National Park?
Wild camping is allowed on a lot of Dartmoor, so I'd 100% recommend camping if you can!
Dartmoor is famous for its byelaws that allow you to 'backpack camp'. This means that in certain areas you can wild camp in a small tent that you can carry (backpack size), at least 100m away from the road, for one or two nights. You cannot wild camp in a large tent or vehicle, and you must leave no trace. See the areas you can camp in here.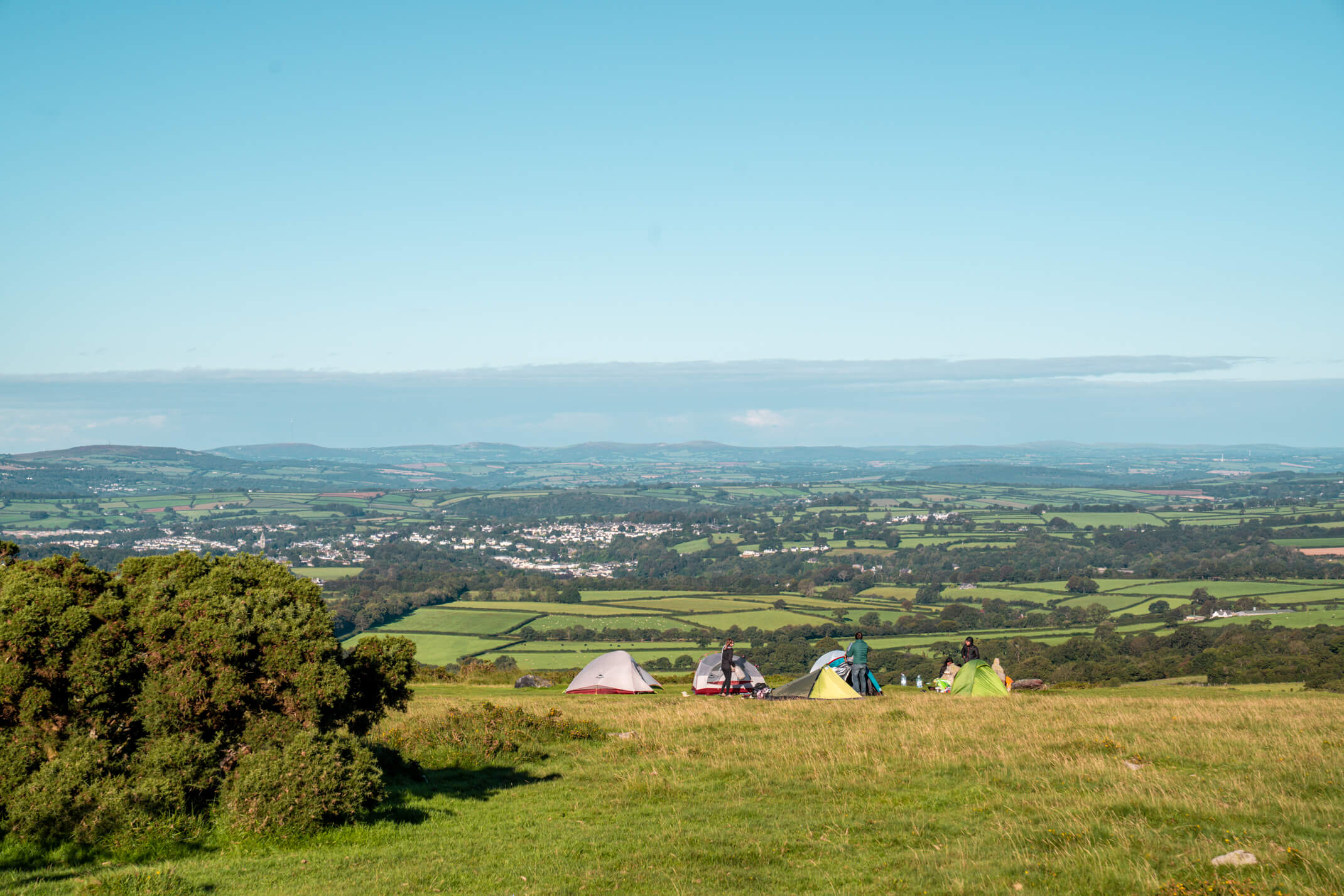 When I visited Dartmoor National Park, I was in my van and fully embraced van life! I would choose van life over a car and hotel every time. Wild camping in a van isn't allowed on Dartmoor, but there are plenty of campsites that you can park up at, even ones that are so big and spacious that it feels like you're wild camping!
If you're looking for a campsite, try…
There are also lots of cute towns and villages on Dartmoor to stay in, if you prefer staying a little closer to civilisation. Try Okehampton, Tavistock, Moretonhampsted, Yelverton, or Princetown.
If you're looking for something more luxurious for a special occasion in Dartmoor, Bovey Castle is a 5-star resort nestled within the National Park.
Dartmoor National Park guidelines and rules…
Close gates behind you.
Do not approach or feed the ponies.
Only walk on private land if you've agreed with the landowner. But, there are over 47,000 hectares of public access land on Dartmoor.
Only wild camp with small tents, away from the roadside. If you have a large tent or a camper van, please use a campsite.
Don't light any fires or leave any litter.
Don't drive over 40mph. This is to minimise car accidents involving animals, and because many of the roads and windy and narrow.
Keep dogs on the lead during the lambing and ground nesting bird season (1 March – 31 July), when near livestock, or during warm weather when there is a risk of adders in the undergrowth.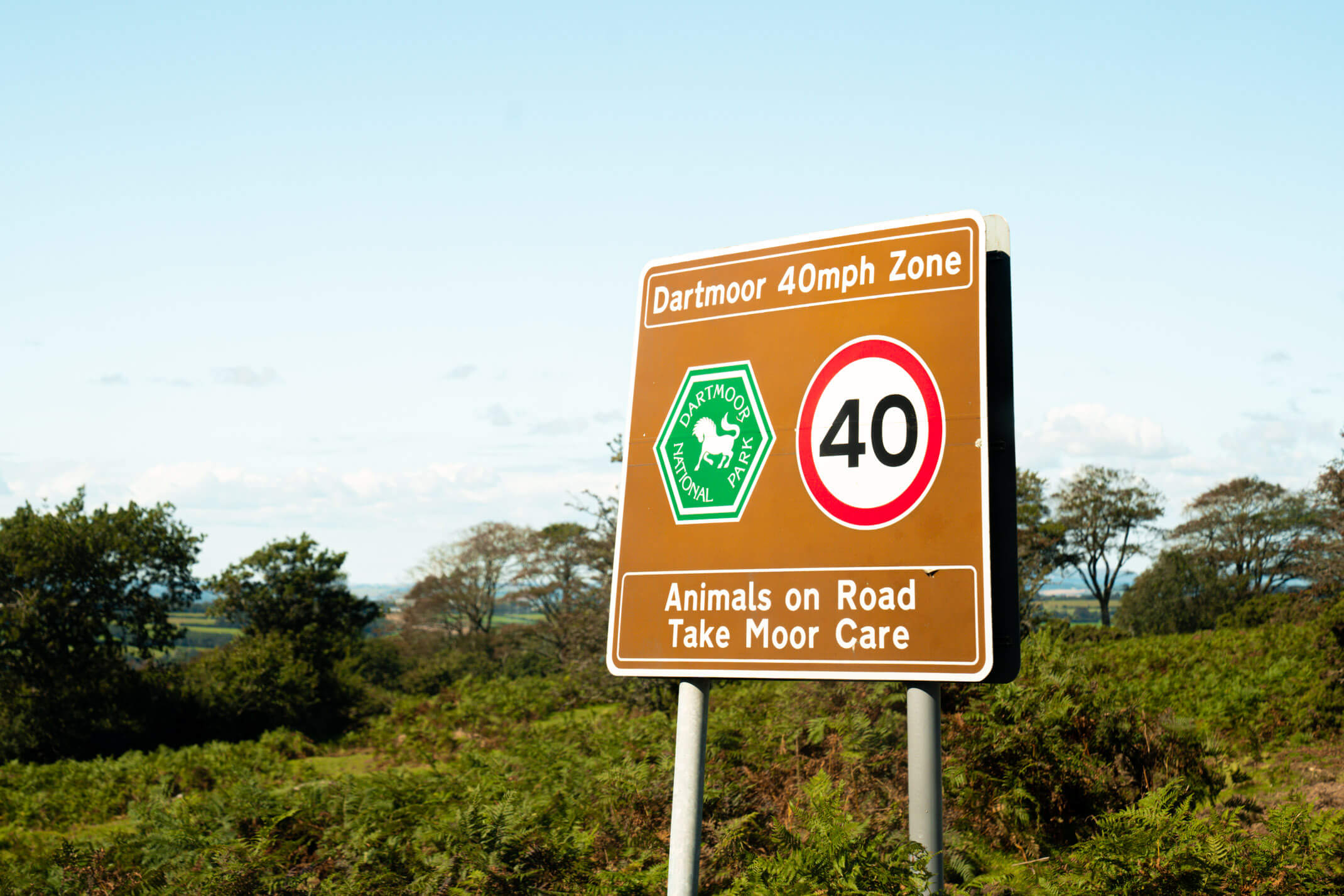 The best things to do in Dartmoor National Park…
1. Go hiking or walking.
Time off work doesn't have to be expensive! Treat yourself to a big old dose of fresh air and a long walk, exploring the fairytale woodlands and ancient tors. There are endless miles of trails on Dartmoor, and you probably want walking boots so you don't get stuck in the mud.
Popular areas for walking and hiking on Dartmoor include Hound Tor, Wind Tor, Lydford, Okehampton to Bellever, the Dartmoor Way loop around the whole park, and the Templer Way.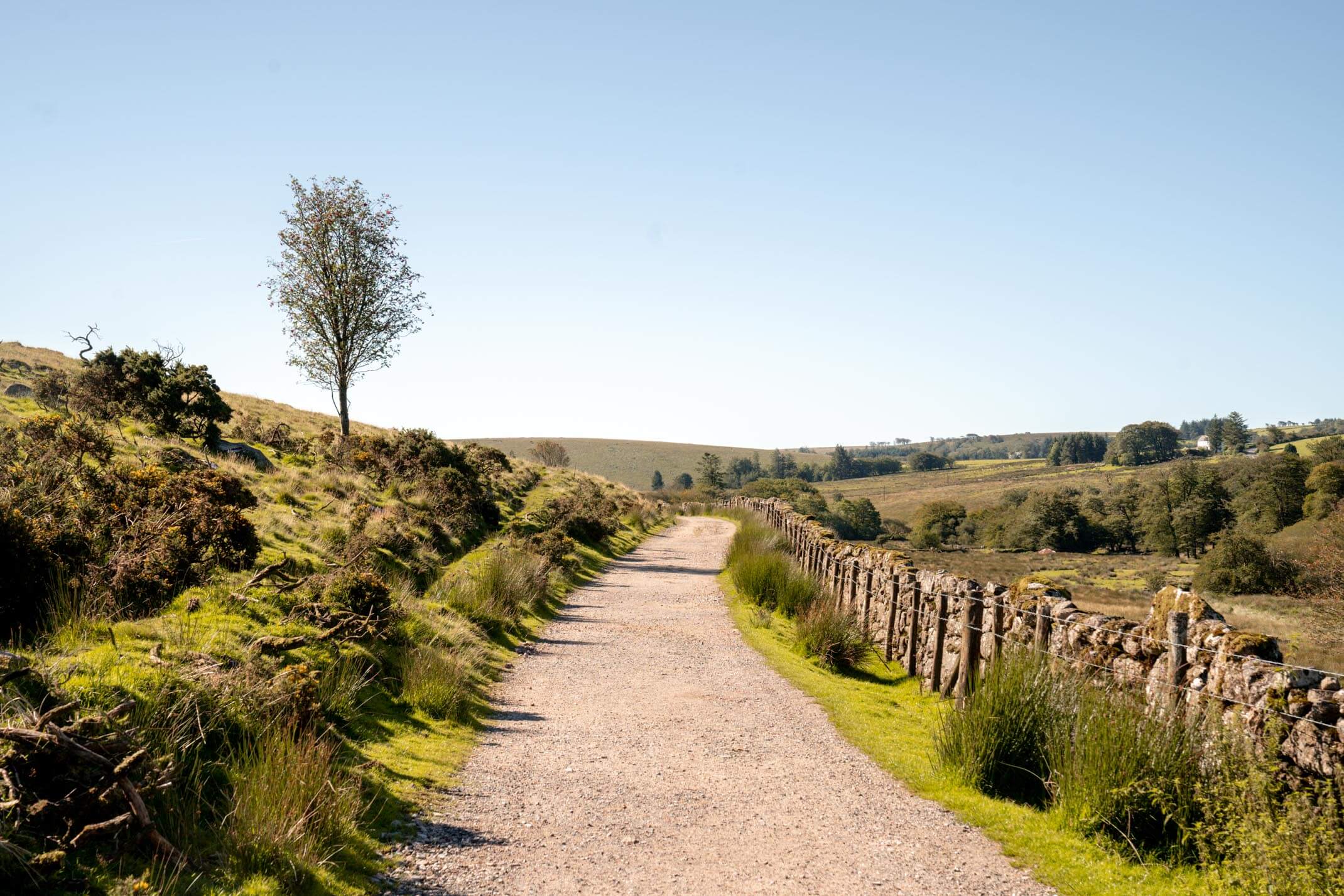 2. Climb Brent Tor and explore the views from St Michael's Church.
Brent Tor is one of the most popular tors on Dartmoor, and with the stunning views from the church that perches on it, it's easy to see why. This tor is unique as it was made from lava, rather than the typical granite. The unique Church of St Michel de Rupe, the Brentor village chruch, makes for a unique landmark in the Dartmoor skyline. To walk up Brent Tor, start from the church car park (PL19 0NP) and follow the footpath to the top.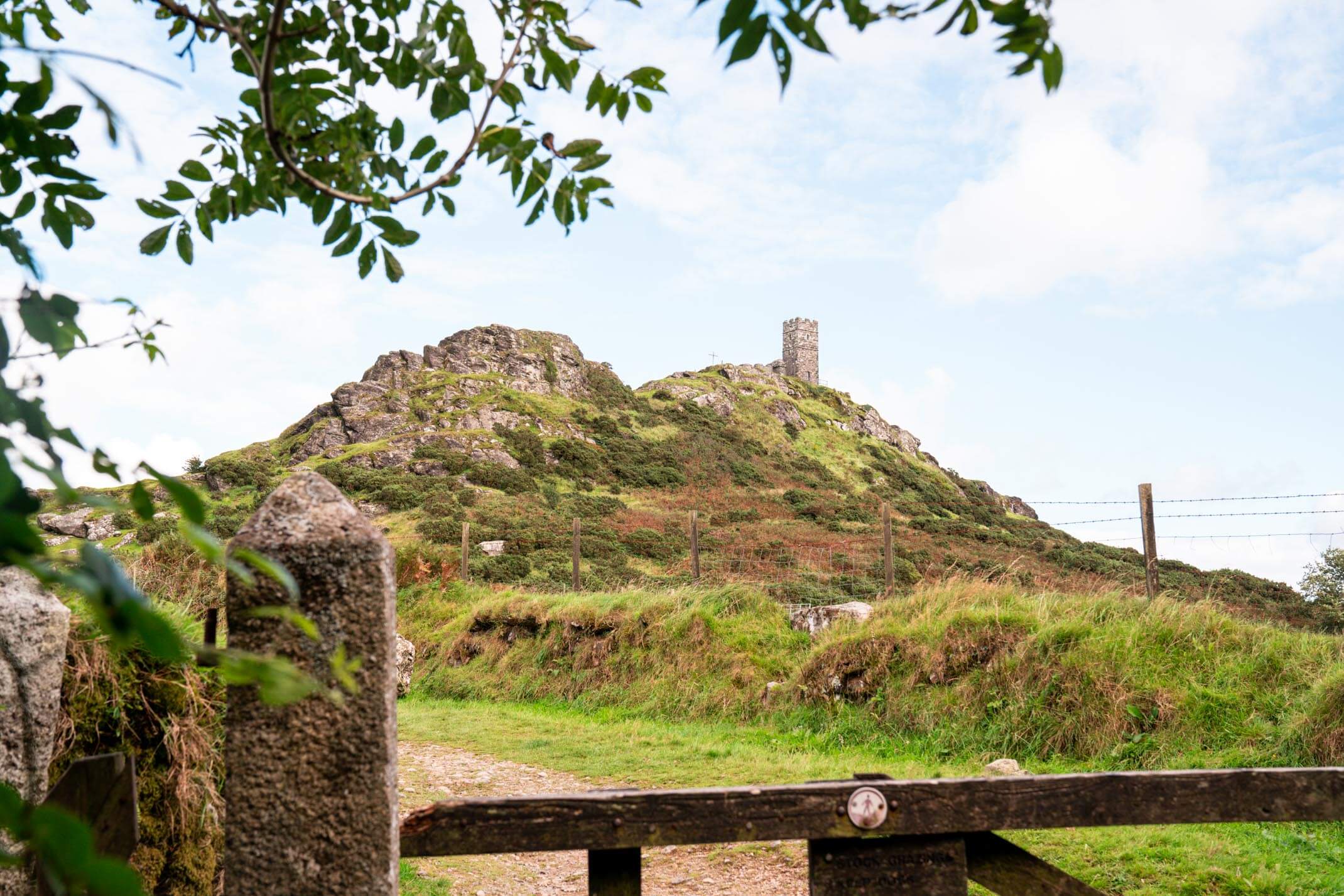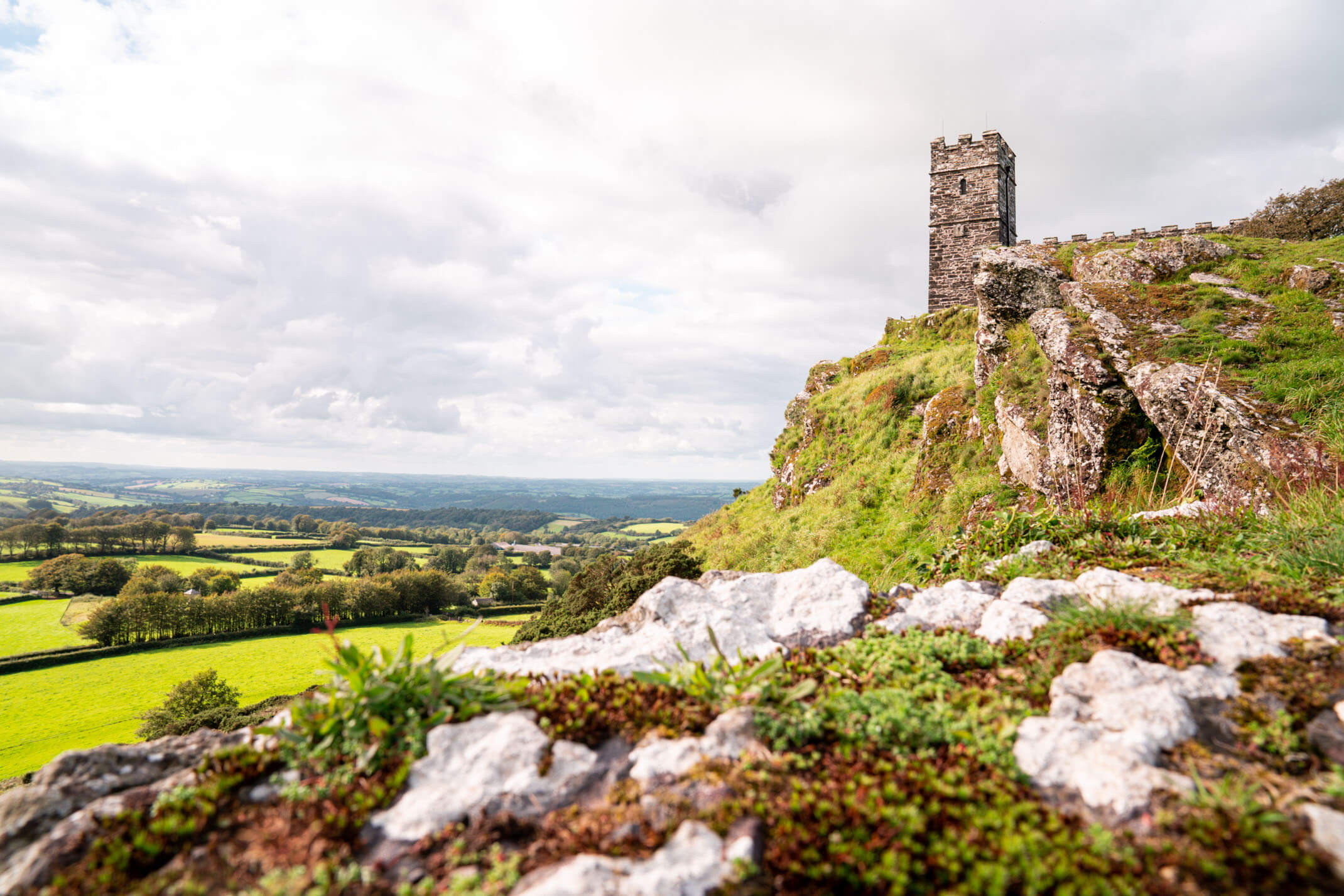 3. See the bluebells at Holwell Lawn in spring.
The bluebells create a carpet of blue for about a week in late spring, usually in May. If you're on Dartmoor in spring, head to Holwell Lawn, between Haytor Quarry and Hound Tor. It can be quite a popular spot, so it's advised that you park in the Hound Tor car park and take the 30-40 minute walk to Holwell.
4. Visit Whitelady Waterfall in Lydford Gorge and enjoy an afternoon tea.
Descend into Lydford Gorge to see the magnificent Whitelady waterfall. It's too dangerous to swim in the gorge because the river moves too fast, but it's beautiful to see. The circular walking trail from the National Trust Car Park (EX20 4BL) takes about an hour, and then enjoy afternoon tea in the waterfall tea rooms afterwards.
Other trails in the Lydford Gorge area include the Lydford Gorge trail and the Devil's Cauldron trail. Note: these two trails are currently closed due to Covid-19. For more tips for travelling during Covid-19, check out this blog post.
While you're in the area, check out Lydford Castle and the village too.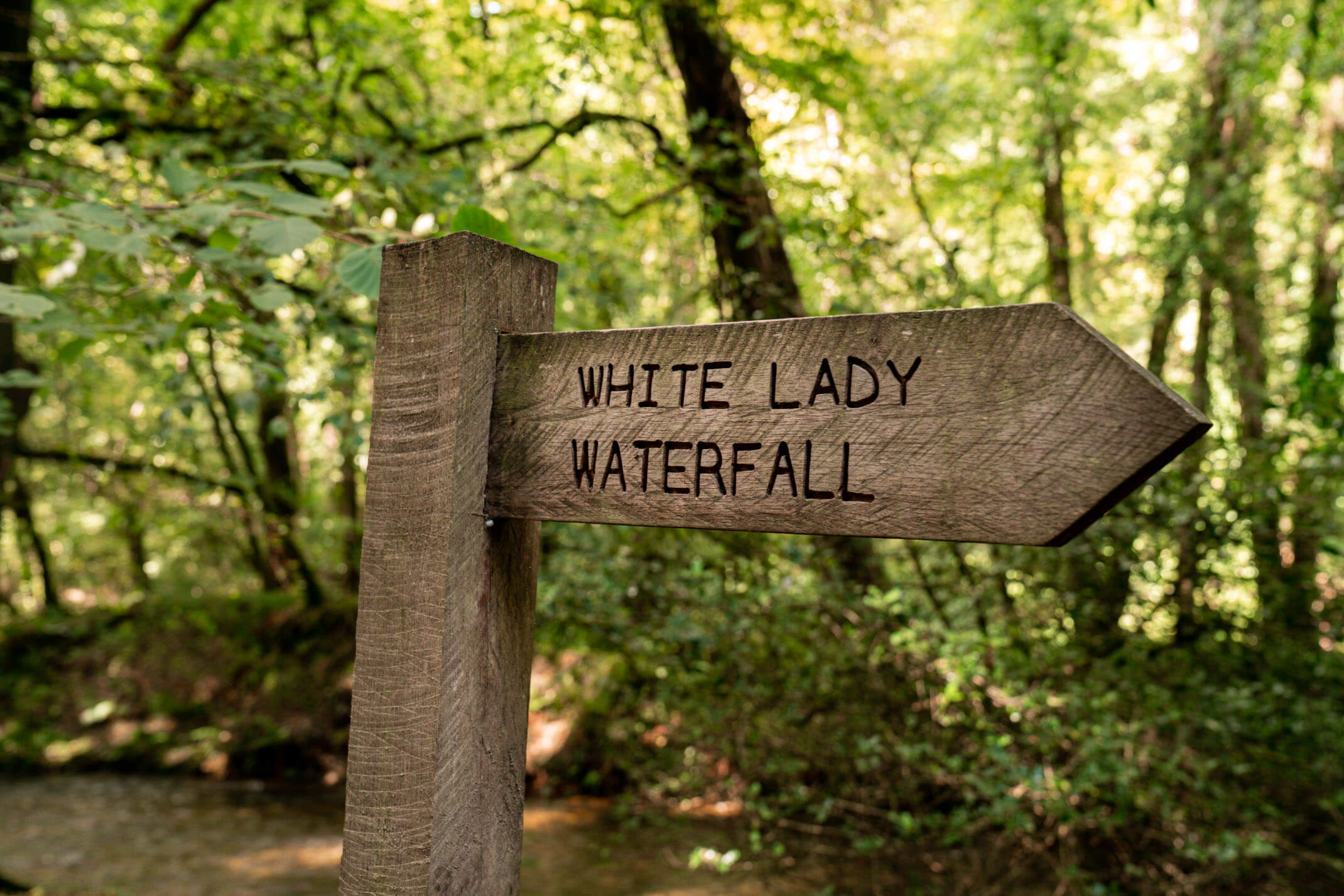 5. Marvel at more of Dartmoor's waterfalls.
Dartmoor is full of beautiful waterfalls to admire. As well as Whitelady waterfall, consider visiting Venford Falls, Canonteign Falls and Becky Falls.
6. Look out for wild ponies.
Dartmoor ponies have lived on Dartmoor since prehistoric times. The ponies are an important part of Dartmoor's history, heritage, culture and landscape. Nowadays the ponies are all 'owned' by pony farmers, but they aren't tamed so don't approach them. It's also illegal to feed the ponies.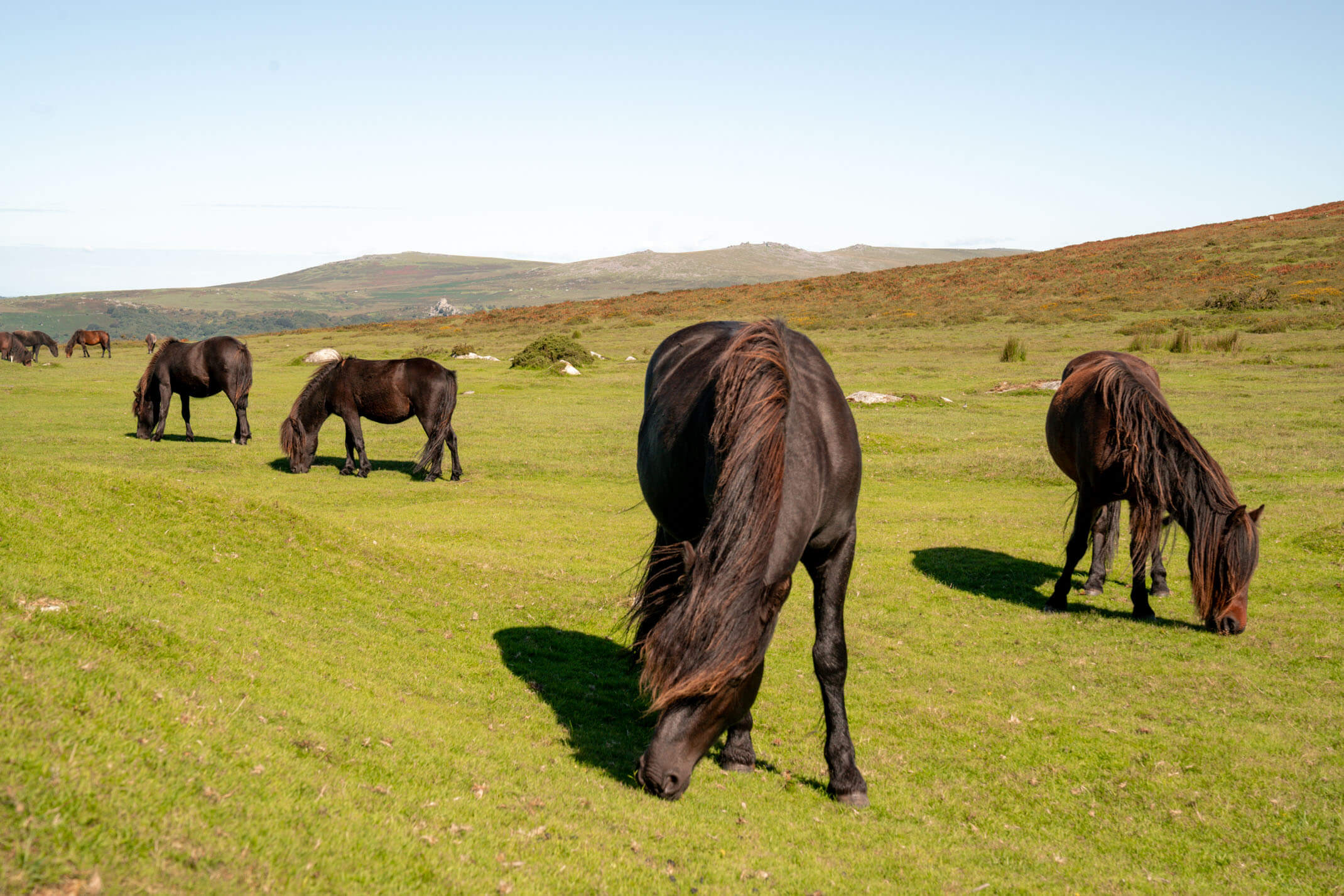 7. Enjoy some peace and quiet at the lake at Haytor Quarry.
Haytor is one of the most popular tors on Dartmoor. Once you've climbed it, at the base you'll notice a secret lake where you can enjoy a moment of tranquility. Bliss.
8. Take your bikes around Burrator Reservoir.
Cycling is one of the best ways to see Dartmoor, and the Princetown loop, which goes along the old railway line to Yelverton and Burrator Reservoir is a popular one and great to do in summer.
Other cycling trails on Dartmoor include:
Dartmoor Way, a 95-mile loop around the National Park featuring pretty villages, stunning views, and on and off road cycling (it is steep in places)
Granite Way
North Bovey loop (25-miles and hilly)
Another stunning reservoir worth visiting in Dartmoor is Meldon Reservoir.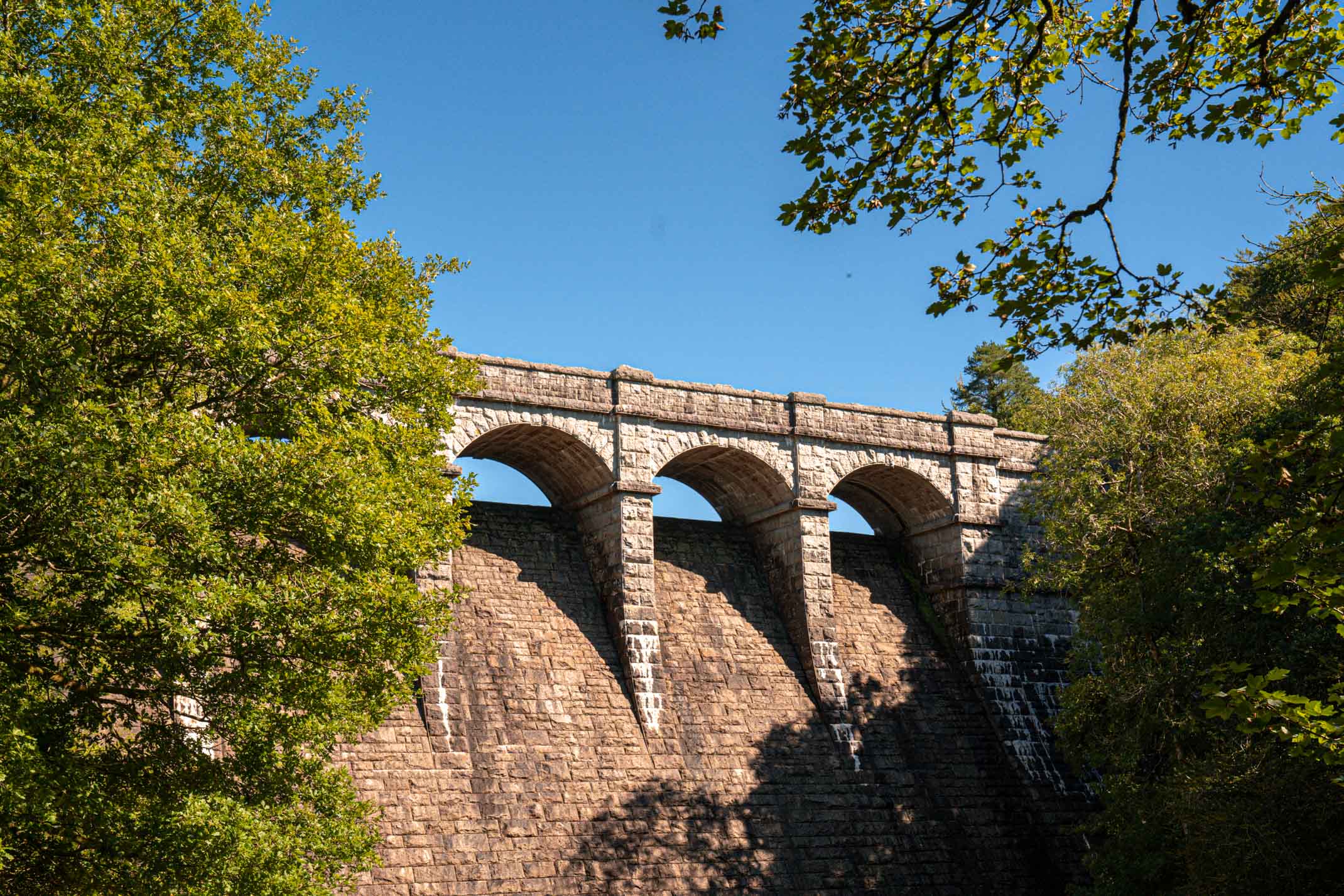 9. Take a picnic down to Cadover Bridge on the River Plym.
There are lots of places for the perfect picnic on Dartmoor, and this is one of them! Pack your basket and head to the River Plym riverbank at Cadover Bridge.
Another good spot for picnics on Dartmoor is Spitchwick Common, on the banks of the River Dart. Remember to take all your rubbish with you and leave no trace.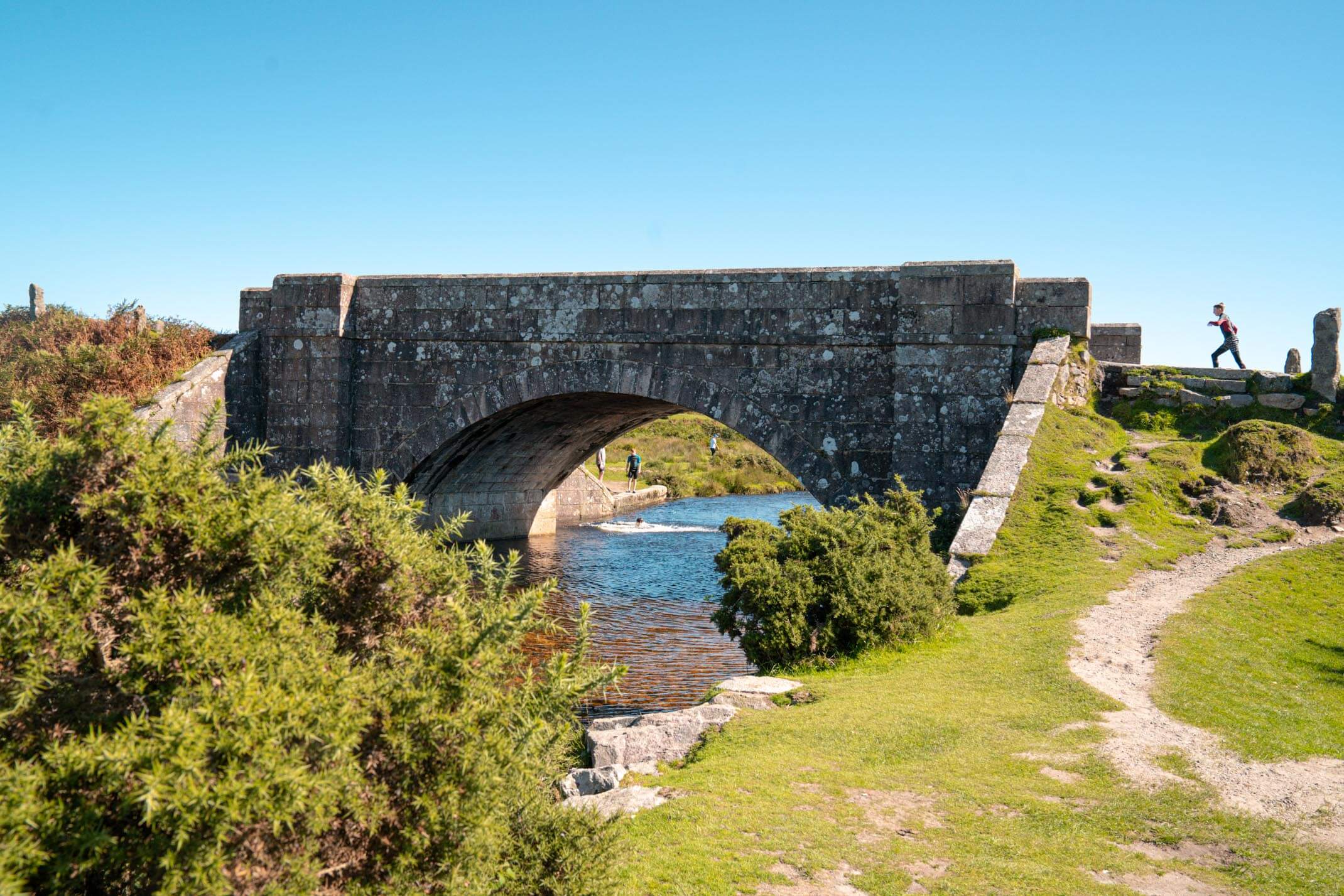 10. Get an adrenaline rush with Adventure Okehampton.
Adventure Okehampton can meet every adrenaline lovers needs in Dartmoor National Park. Dartmoor has some of the best whitewater in the UK, so why not give canoeing, kayaking, canyoning (gorge scrambling) or rafting a try! If you prefer to be on the rocks, they also offer abseiling and climbing.
11. Go wild camping and hiking for the weekend!
Dartmoor's byelaws allow for you to take a small tent and backpack wild camp for one or two nights. Go wild camping in Dartmoor and get up close and personal with nature and enjoy the fresh air! Check out the ultimate camping packing list here.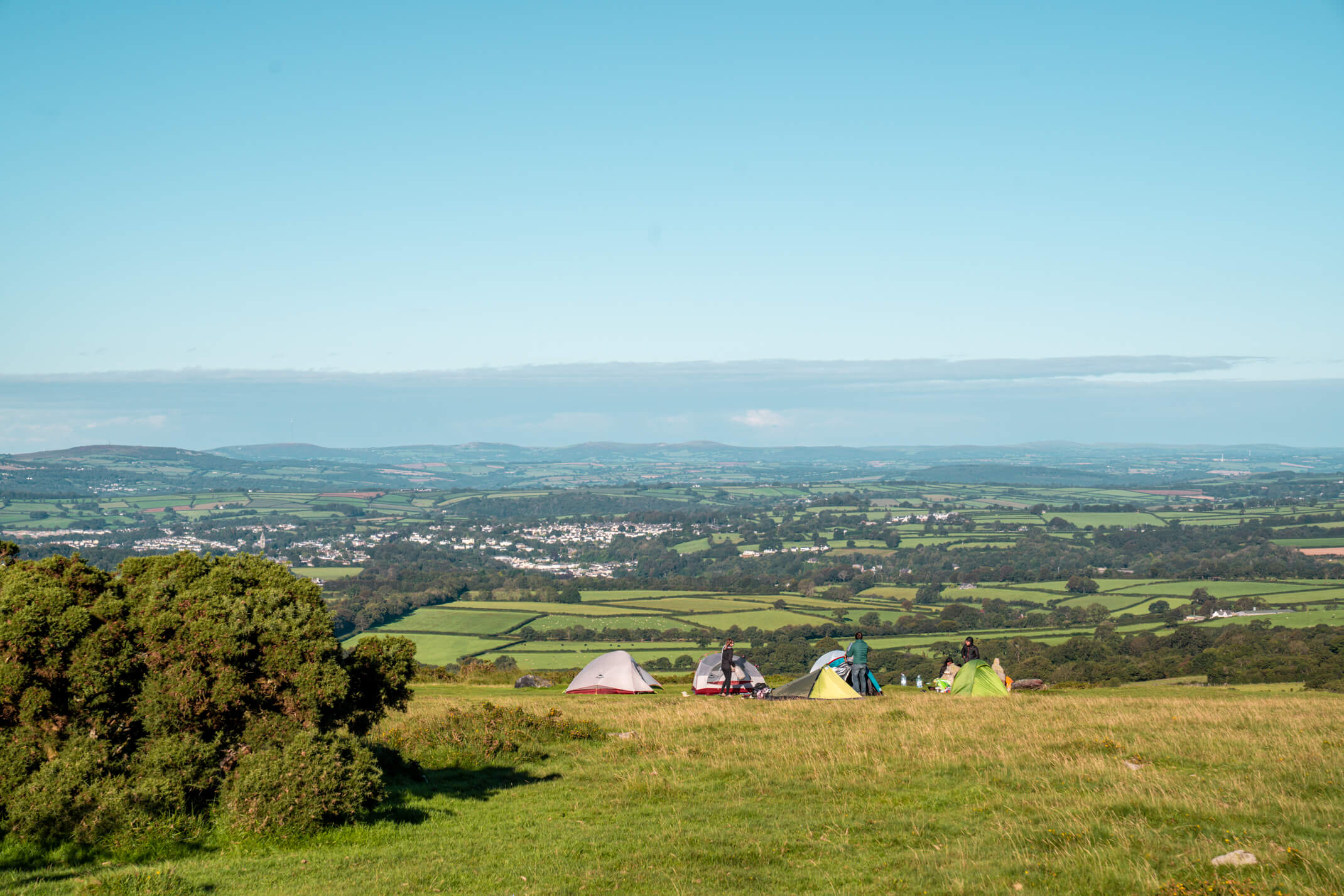 12. Wild swimming at Spitchwick Common.
It might be a bit chilly, but Spitchwick Common is one of the best places for wild swimming on Dartmoor. The fresh mountain water in the River Dart is perfect for a quick dip. Another good spot on the Dart for wild swimming is Sharrah Pool.
13. Go for cream tea and a wander in a Dartmoor market town or village.
Dartmoor is full of cute towns and villages worth exploring. Wander around the markets and buy a local souvenir, and then stop for cream tea.
Towns and villages worth exploring in Dartmoor include Ashburton, Widdecombe-in-the-Moor, Bovey Tracey, Lustleigh and Tavistock.
14. Go climbing or bouldering on the tors.
Dartmoor is a great place for anyone who loves rock climbing! The Haytor area is popular with all levels of climbers, with rocks such as Bonehill, Hound Tor and Saddle Tor. Bovey Woods, Black Hill Boulders, Combeshead and Easdon are also popular places to go climbing in Dartmoor.
15. A circular walk to Wistman's Wood to see the ancient trees.
This tangled web of trees and the mystical web of moss is said to be haunted by supernatural creatures, and was previously a sacred area for Druids to perform magical rituals. You can feel the magic in the air as you wander through this magical area of woodland filled with dwarf oak trees. It's one of the most beautiful places to visit in Dartmoor.
There's a small car park opposite Two Bridges Hotel which fits 10-15 cars at the start of the trail. Otherwise, the hotel charges £5 parking for the day. The walk is is 1.5-2 hours there and back, and I'd say that you need walking boots. It was pretty muddy when I went and my dog got a little bit stuck!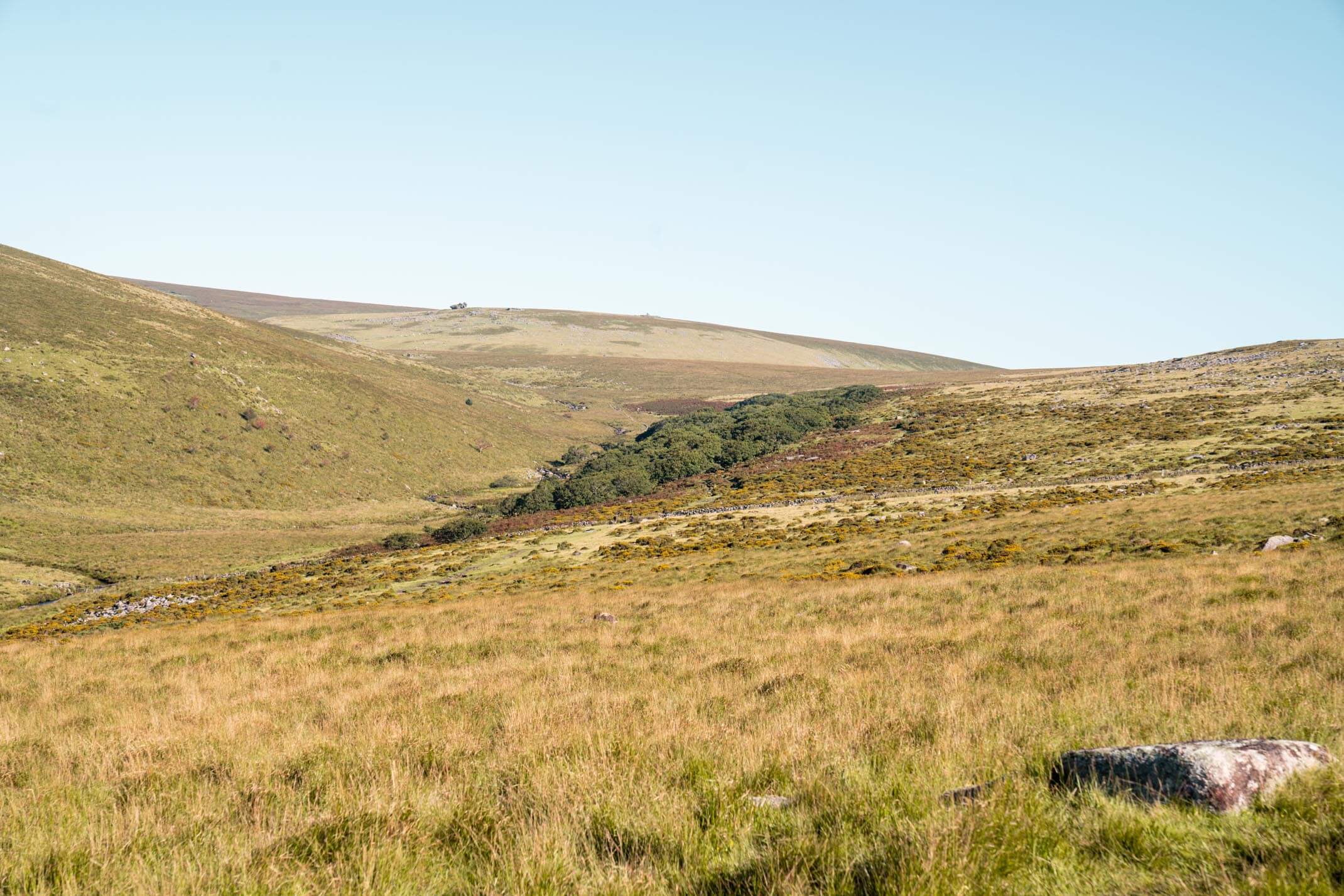 16. Visit Castle Drogo, the last castle to be built in England.
This dramatic castle overlooks the Teign Gorge, which is another great area for hiking in Dartmoor.
17. Look for the man in Bowerman's Nose.
If you look carefully at this rock formation, you can see the outline of a man! It's one of the most iconic places to visit in Dartmoor National Park.
18. Go horse-riding in the wilderness.
This is one of the most popular things to do in Dartmoor National Park. Not on the wild Dartmoor ponies, of course, but there are several riding schools that allow horse riders of all levels to enjoy the wind in their hair as you ride across the moors. Adventure Clydesdale, Cholwell and Dartmoor Riding and Trekking are all reputable stables on Dartmoor.
19. Explore Fingle Woods.
Home to thousands of plants and animals, this 825 acre ancient woodland site is located in the Teign Valley, a beautiful area for walking in Dartmoor. The early morning sun in this area is particularly beautiful. Park at Fingle Bridge and explore!
Only 2% of the UK's woodland is ancient woodland, so the National Trust are working hard to restore this area, which could take over 200 years. Get your National Trust membership here.
20. See Dartmoor from above on a hot air balloon ride.
One of the best things to do in Dartmoor is to see everything from above as you embark on a once in a lifetime flight. Marvel at the open spaces, dramatic valleys, rugged rivers, and granite tors. The awe-inspiring views are even better on a clear day where you can see as far as Yes Tor, the highest point in Dartmoor, or even as far as the Brecon Beacons in Wales. Book your Dartmoor balloon flight here.