Are you planning a trip to the stunning south-west coast of England? Are you heading to St Ives and wondering what the best things to do in St Ives are?
You've arrived at the right place and you're making a wonderful choice. Cornwall is one of the most beautiful places to visit in the UK. There are so many fun things to do in Cornwall, and visiting St Ives is one of them!
In this blog post, I am going to share the best things to do in St Ives, the best things to see in St Ives and the best places to eat in St Ives.
If you're planning a trip to St Ives, after this blog post, you are going to have a St Ives bucket list as long as your arm and you might want to even consider extending the duration of your trip. St Ives is 100% a stop off you should make on your UK road trip, if you love ocean time, lively crowds, and coastal walks, and it's a must-see on any Cornwall road trip itinerary. St Ives is without a doubt one of my 28 places you should visit in England.
Like @wheresmolliesvan, I took my converted VW camper van down to Cornwall for some fun adventures. I visited some of the most beautiful Cornish villages and Cornwall beaches you'd think were from a tropical island. I spent a fair amount of time in St Ives, Cornwall's most popular destination! I instantly fell in love with its charm and authenticity which has been maintained whilst still welcoming modernity throughout, creating a unique atmosphere.
St Ives is for all types of holiday goers, whether you're the book reader on the beach, the wave catcher, the avid foodie, art admirer or sun worshipper (although you can't always count on the weather in the UK, as I'm sure for anyone who's from or been to the UK knows all too well), St. Ives will not disappoint. I have to admit, I didn't expect St Ives to offer as much as it did, and this is everything that I wish I had known before I headed down there!
Other Cornwall travel guides and blog posts that you may like:


When should you visit Cornwall?
Let's talk weather. In Cornwall, temperatures vary and you will likely experience microclimates in different parts. For example, The Roseland Peninsula has its own micro-climate that allows palm trees, agave plants and other subtropical flowers to flourish! Generally speaking though, as with the rest of the UK, July is the hottest month in Cornwall with an average temperature of 16°C and the coldest month is February. You'll find your longest days in August when the average sea temperature is 17°C. In the winter, you'll most certainly be needing a thick wetsuit in the ocean!
As with anywhere popular, expect to see St Ives easily get crowded in the summer months, so if you can, September is a great option once the kids are back at school, so you miss the crowds, but the sun still has a chance of making an appearance. And when you get the weather in Cornwall, you really can be anywhere in the world!
Getting to St Ives…
I'd fully recommend driving down to Cornwall and enjoying a Cornwall road trip like I did, so that you can see as much of this beautiful area of England as possible! St. Ives is an amazing base, which is within easy access to other popular destinations if you're able to drive, some being Gwithian, Penzance, Newquay and Watergate Bay, all within an hour's drive from here.
If not driving down another great option is flying, with daily flights to Newquay airport from over the UK, Ireland and parts of Europe. Train services from London and Bristol are also frequent.
Where to stay in St Ives…
If you're lucky enough, like I was, to take a van down to Cornwall and keep your trip spontaneous (including where to park up for the night), do it! Being in Cornwall, you're in the best place for camping and the community that comes with it. Cornwall is one of the best places to go camping in the UK.
We traveled in the peak of summer, so we booked our campsite in advance to know we had something booked when we arrived. But if traveling in low season, you could turn up at campsites to check availability on the day, but I wouldn't rely on this.
Places to stay in St Ives that I can recommend include:
Treglisson Campsite, a 20 minute drive from St. Ives, a welcoming family-run campsite with an on-site shop selling freshly baked croissants in the morning.
Magor Farm campsite, just shy of 30 minutes drive, starting from £12 a night in low season, and just £14 a night in peak months! Started in the 60's, this campsite celebrates how 'camping used to be.' It has very basic facilities but for the location and the price, you really can't complain.
Ayr holiday park, overlooking Porthmeor beach.
We found the app Park4Night really helpful, where you can find other's recommendations and experiences, sharing camping spots within your area, which is particularly helpful if you perhaps feel up to any off-grid wild camping!
If you're not looking to camp however, there are gorgeous fisherman cottages dotted around St. Ives available as holiday homes for a cosy British getaway. Those seeking a more luxurious getaway however, Carbis Bay Hotel & Estate definitely needs to be at the top of your list. You can also check Airbnb and booking.com for places to stay in St Ives.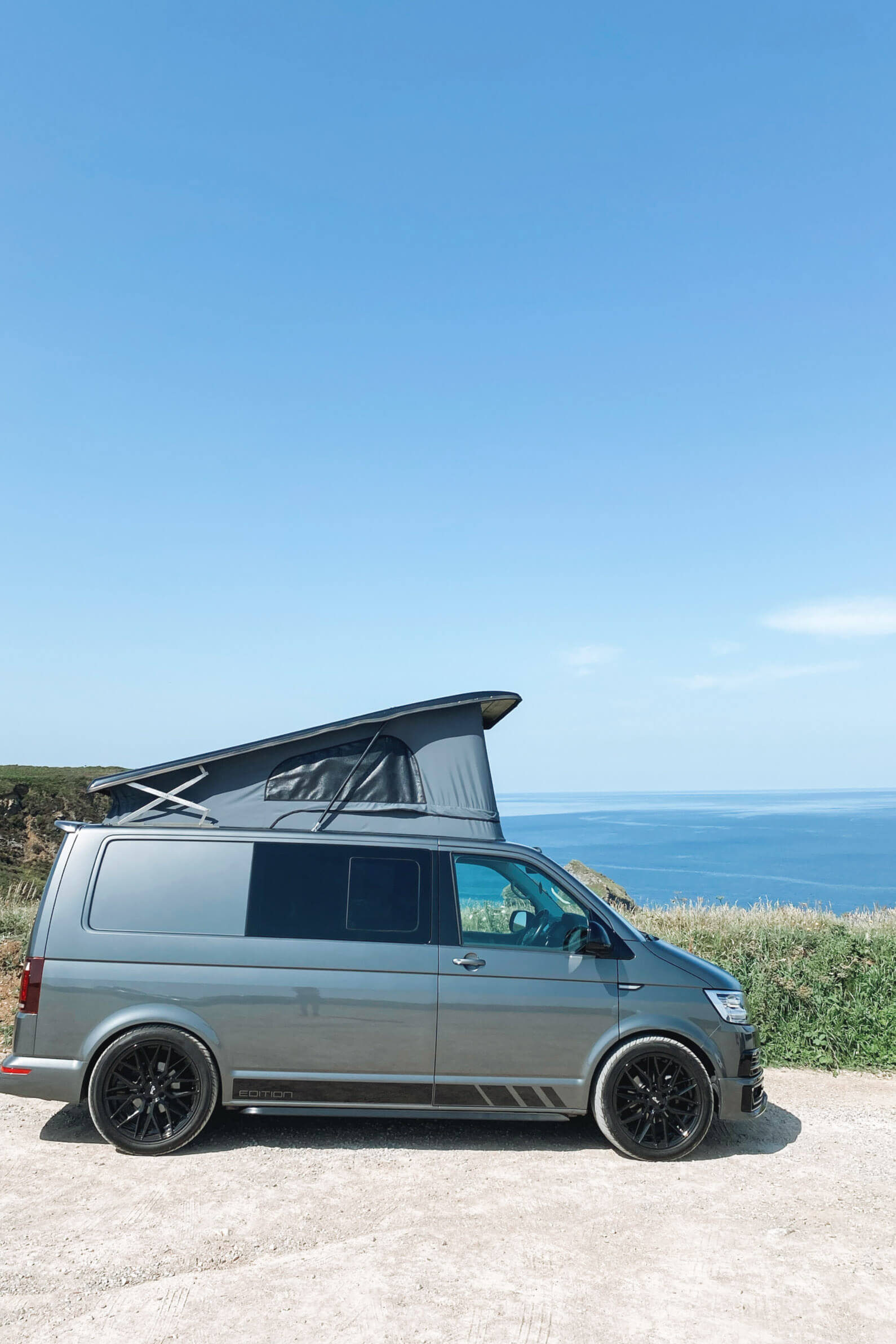 The best things to do in St Ives, Cornwall...
1. Start your mornings with coffee and sea views.
For me, eating out and trying local food is the highlight of any trip I go on. Whether that be trying a freshly baked treat accompanied with a coffee from a local artisan cafe or an evening meal sipping wine, you'll find me doing one or the other! This is also one of the best things to do in St Ives, where there are loads of lovely cafes and restaurants waiting for your custom.
First stop for us was the highly recommended Yallah cafe and I instantly saw why. We got the toasted banana bread, which was INCREDIBLE, the best banana bread I have ever had! You'll have to try it to see for yourself. They also serve amazing sustainable coffee, roasted right here in Cornwall. We took ours out to have it on the beach but their upstairs seating, overlooking the harbour, offers amazing views, perfect for your morning coffee. This is a place to visit in St Ives that you must head to!
2. Enjoy an alfresco meal on St Ives harbour.
One of the best things to do in St Ives is to spend the evening watching it completely slow down. There is an array of restaurants to choose from, all right on the harbour, so if you're looking for places to eat in St Ives, you're spoilt for choice!
We chose Caffe Pasta Pizzeria, a modern Italian restaurant overlooking the harbour, perfect for an alfresco evening meal. I would strongly recommend booking in advance, especially in peak times like when we visited. Outdoor seating here was first come first serve, so get out there if you can; it is certainly worth the wait (even if we weren't seated until 9pm!).
If you're not feeling Italian then there are plenty more places to eat in St Ives. Some being:
Harbour Fish & Chips: a must when by the sea. It would simply be rude not to! One of the best things to do in St Ives is to get yours to take out and stroll along the front. Just watch out for the seagulls, always close by waiting for a falling chip… or any other food for that matter!
Beach Restaurant: everything from seafood dishes and burgers. Oh and did I mention the sea and harbour views?!
Stoned: a converted van serving up amazing stone baked pizzas. Perfect for a post-surf lunch or a casual evening dinner!
Porthmeor Cafe: you can't really get any closer to the beach. From what I've heard about it, it's a must! Perfect for breakfast, lunch, tapas or dinner…yep, pretty much everything!
3. Grab an obligatory Cornish pasty or cream tea!
I don't think it is actually possible to visit Cornwall without having a pasty and/or a cream tea! It's a must on your list of best things to do in St Ives. We visited Yellow Canary Cafe: perfect to grab a pasty on the go or a pit stop if exploring the historic cobbled streets.
But when in Cornwall, of course, somewhere to grab your pasty is never too far away. I'd also recommend St Ives Bakery or The Allotment Deli.
And those with a sweet tooth, don't forget to grab your fresh Cornish fudge from Roly's Fudge St Ives, I always grab the maple and pecan!
4. Have a go at making your own gin.
For the gin-lovers this is one of the best things to do in St Ives, and even the best things to do in Cornwall! Tarquins, a Cornish gin company, offers Gin Schools, allowing you to make your very own bottle of gin to take home!
It's £85 per person for a 2 and a half hour masterclass, on Wednesdays-Fridays 12pm.
Or if you're just passing by, you can still grab yourself a bottle, perfect as a gift or for yourself, to pretend you're still in Cornwall once home! My personal favourite is the blood orange gin!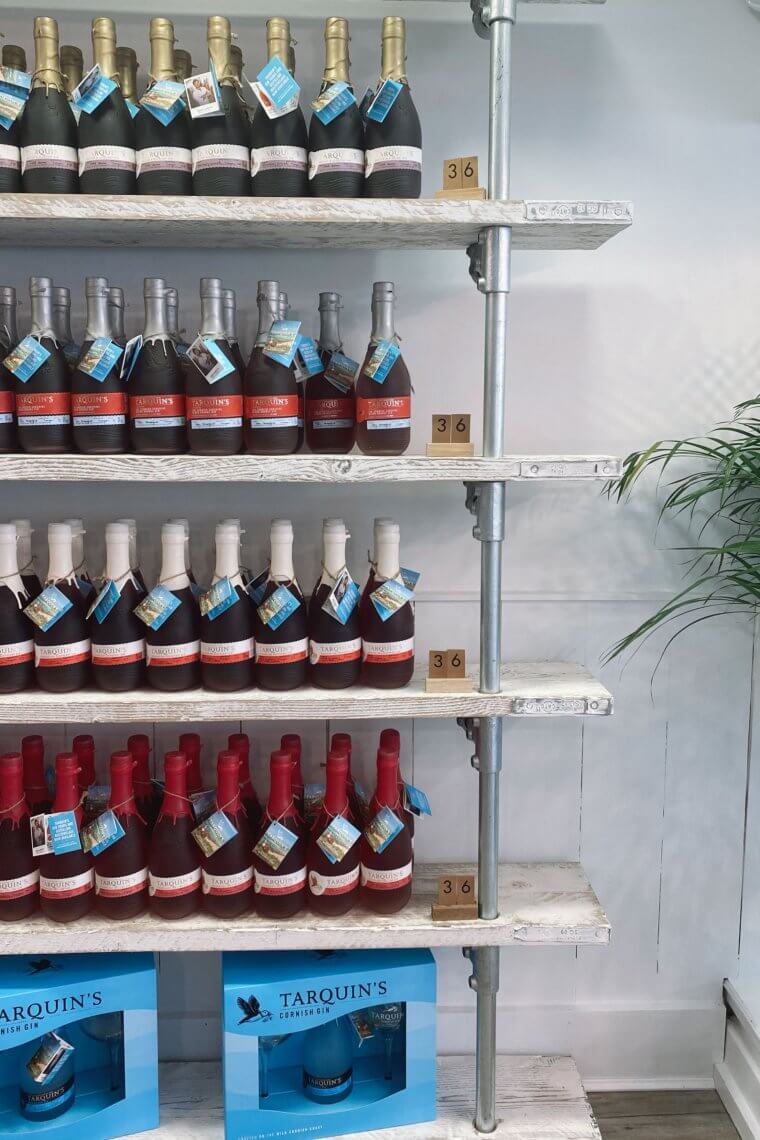 5. Visit the art galleries in St Ives.
St Ives is dotted with an array of galleries, and one of the best things to do in St Ives is to spend a day or even just an afternoon admiring the work within them. I personally didn't visit any during my short trip to St. Ives because of the gorgeous weather we had, but when I'm next visiting I'll certainly visit the award winning museum, The Tate Gallery, whih offers a continuously changing exhibition and showcases British modern and contemporary art. Open every day of the week, 10-17:20.
6. Browse the shops in St Ives.
All of my holidays to Cornwall growing up were all about browsing the quirky 'knicky knacky' shops as I call them! Have you even been to Cornwall without strolling its unique cobbled streets and browsing its array of independent stores?
One that stood out to me as one of the best places to visit in St Ives for souvenirs was Cream Cornwall. Here you'll find absolutely stunning coastal home decor, inspired entirely by Cornwall. All I can say is, good luck trying to walk out empty handed!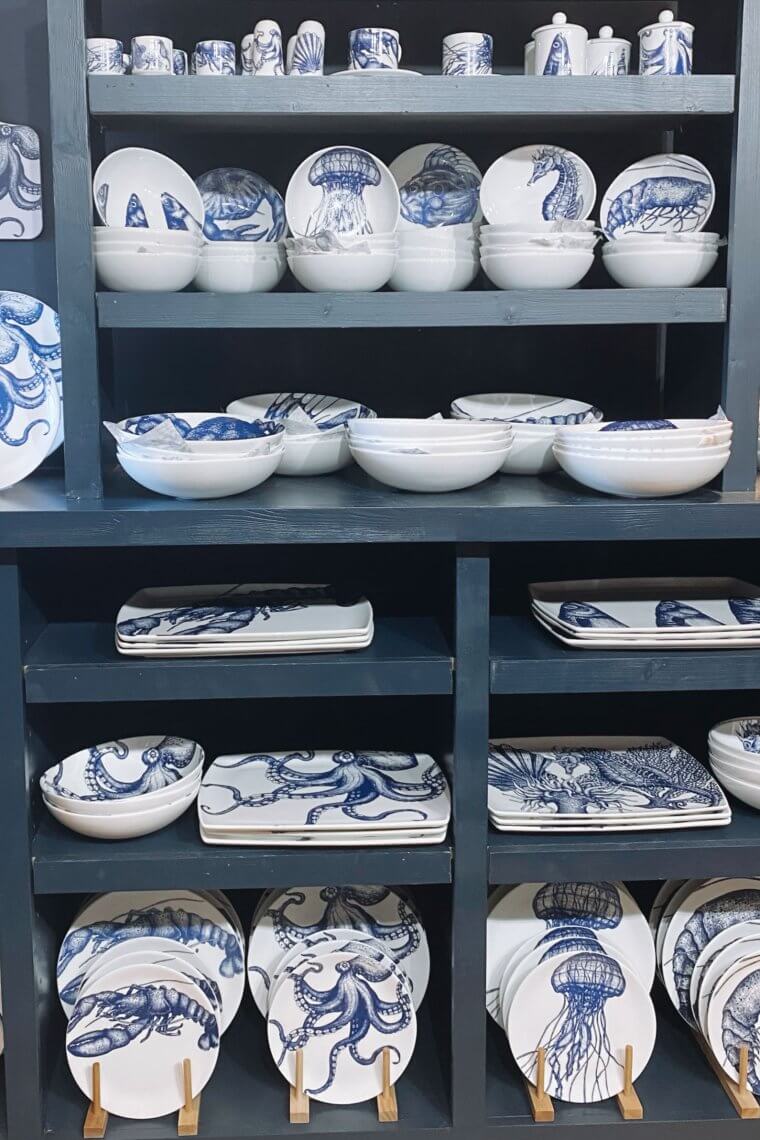 7. Go paddle boarding in St Ives.
If you're a complete beginner or total pro, I definitely recommend paddle boarding as one of the most fun things to do in St Ives, even if you do stayed sat down the whole time like I did!
Porthmeor Beach, just a short walk from St. Ives harbour, a much larger stretch of beach is perfect for some body boarding or paddle boarding, allowing you to escape the hustle that can build up in St Ives in the busier months.
You've also got Porthgwidden and Bamaluz beach, giving you a choice of beaches and coves which is what I also love about St.Ives.
8. Explore St Ives on the water.
As well as paddleboarding, there are loads of things to do in St Ives if you love the water!
Right on the harbour there's a choice of water activities for you to choose from to see St.Ives from a different view. We went out on the self-drive boat where we saw Portminster Beach, Carbis Bay and were even lucky enough to spot a seal lurking around! Make sure you stick to the rules and don't go too far out.
You can also get a boat trip further out, to Seal Island for example to see the Seal Colony and other wildlife.
9. Watch the stone balancers of St Ives.
This is definitely one of the best things to do in St Ives and one of the most unique things to do in Cornwall!
Right along Wharf Road you'll find the Stone balancers of St. Ives, considered an art here and it truly is, you can't quite believe it's possible! If you get tired of watching the stone balancers, have a go at balancing them yourself!
10. Enjoy a scenic walk in St Ives along the South West Coast Path.
If you still haven't filled your list of best things to do in St Ives, grab your walking boots and walk along Cornwall's famous South-West Coast Path, a must for the breathtaking views and fresh sea air. A popular route is to walk to Zennor from St Ives, which is about an hour and a half walk, unless you can't help yourself keep stopping for photos like I did, then maybe a bit longer!


We spent two days at St. Ives at the beginning of our Cornwall road trip, but we could have easily dedicated our whole trip to this beautiful coastal town, one of the best towns to visit in Cornwall. I'm already planning our next trip down there, come rain or shine! There really is something for everyone here and I really hope this list of best things to do in St Ives has helped anyone planning on visiting this gorgeous coastal town and maybe even inspire you to try vanlife in Cornwall if you haven't before!


What are your best things to do in St Ives, Cornwall?
Did I cover all the best places to visit in St Ives? Anything you'd add?
Love as always and happy adventuring,
Did you find this post helpful? I'd love you to share it for me.
Pin and save this blog post for later…