Are you going to Italy and looking for the best things to do in the Dolomites? Are you embarking on a Dolomites road trip itinerary and you're looking for the best places to visit? Then you're in luck, because these are the 8 best things to do and places to visit in the Dolomites.
In this blog post, I'm going to highlight the best things to do in Dolomites, the best places to visit in the Dolomites and the best adventures to go on. This is the blog post for you whether or not you are looking for the best hikes in Italy, the best places to visit in Italy, or the next destination for your Italy road trip. Although the nature and the tranquility of the Dolomites couldn't be further from the hustle and bustle that is Rome, it is still one of the best places to visit in Italy, even for a short weekend break. It's somewhere that should definitely be on your Europe bucket list!
Travellers come from near and far to visit the Dolomites. Best known for its iconic hikes, crystal-clear emerald lakes, and epic drives, the Dolomites is the perfect place to visit if you want a proper outdoor trip!
You can visit the Dolomites all year round but it is increasingly a popular destination during the autumn, when the colours burst into life, and the iconic pine forests are painted in their iconic warm, golden tones. If you've never visited the Dolomites, then this is when you need to go, and this blog post will tell you everything you need to know to plan your Dolomites road trip.
Other travel guides you might find useful…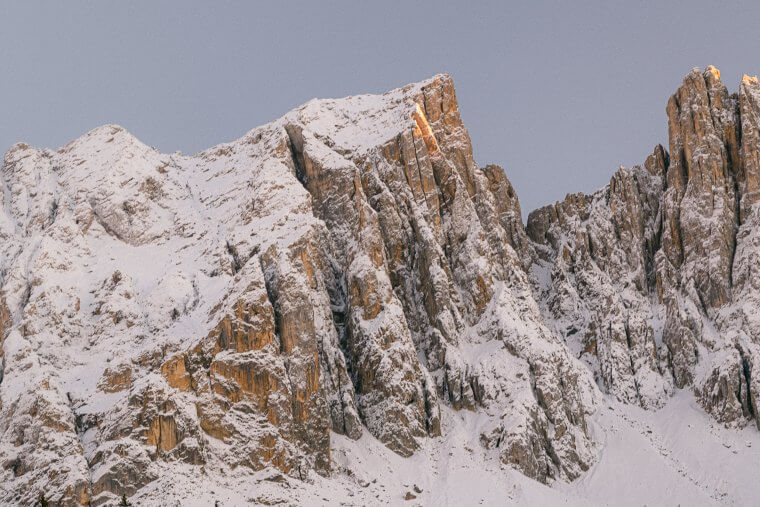 Where are the Dolomites?
This UNESCO World Heritage site is a beautiful mountainous region spread across Italy, Austria, Germany, and Switzerland. The Dolomites are in the region of South Tyrol in Northern Italy, but as it's wedged in-between Italy and Austria, their influence can also be felt. So much so that I encountered more German-speaking locals than Italian-speaking during my 7-day stay.
As a result, most of the places that you'll visit in the Dolomites will have both an Italian and a German name – both of which I will reference throughout this blog.
How to get to the Dolomites…
The Dolomites borders 4 different countries, so you could opt for a long drive to reach this famous mountain range and add it to the ultimate Europe road trip, or fly into one of many smaller airports in the region, such as Treviso, Verona and Innsbruck (Austria). However, the main international airport closest to the Dolomites is Venice, Marco Polo, so that is where I recommend flying into if you can.
The added bonus of flying into Venice is the opportunity for a short city-break to finish your trip, where you can replace the hiking boots with something a little more glamorous.
At only 3.5hrs away, the Dolomites is easily accessible via public transport, with a fantastic bus service, but I would still recommend hiring a car to make the most of this vast region, especially during the golden hours of the day. Car hire is relatively cheap, but it's still worth shopping around for a good deal. I rented a small car from Rentalcars.com and paid €130 for 7-days. You can expect to pay anywhere between €100-250, before insurance.
When to visit the Dolomites…
Being a UNESCO Heritage site, the Dolomites is surrounded by so much natural beauty that it's worth visiting at any time of the year really. It just depends on what you want to do and what season you'd like to explore it in.
However, it is argued that the best time to visit the Dolomites is in September & early October, bang in the middle of Autumn. This is when the summer crowds have died down, but also when the beautiful autumnal colours emerge and envelop the landscapes over the lakes, the meadows, and alpine forests. This is truly a destination for mountain lovers.
Most hiking trails will remain open at this time of year during your Dolomites road trip, but I'd still recommend visiting either late-summer or early-autumn, as early snowfall in October can lead to peaks being closed, and with it a whole network of hiking trails that access the most incredible views. It would be a shame to miss out!
As a photographer, I wanted to experience the iconic glow of the Dolomites in autumn bloom, so I visited in early October. However… as luck would have it, the Dolomites had the earliest snowfall in years, and the orange peaks of the trees were quickly blanketed in soft, white snow. Not what I had hoped for, but equally as magical.
Where to stay in the Dolomites…
There are many small towns dotted around the Dolomites, with their own character and access to popular spots, but the most popular area to stay in is Val Gardena, which consists of three villages: Ortisei, Santa Cristina and Selva di Val Gardena.
Out of those three, Ortisei is the most popular and vibrant town, nestled in the valley between Seceda and Alpe di Siusi. It has a few shops, a public pool, and a variety of cozy restaurants – my favourite being Ristorante Cascade, where the risotto was delicious.
Ortisei may also be the most convenient place to stay for your Dolomites road trip itinerary as it is connected to many of the popular attractions, in some cases without the need of a car. Two of the most iconic hikes on the aforementioned mountains are accessible by cable car from Ortisei.
Cortina d'Ampezzo is another popular town, a little more lively than Ortisei but also located close to popular hiking destinations like Tre Crime Laveredo, Lago di Sorapiss, and Lago di Braies – one of the most Instagrammable locations in Europe.
Brixen and Bolzano are two other great options of towns to stay in.


Without further ado… Below are some of the best things to do in the Dolomites and the best places to visit during your Dolomites road trip itinerary.
The best things to do in the Dolomites, Italy...
1. Row, row, row your boat on Lago di Braies (Pragser Wildsee).
Probably the most famous spot in the Dolomites (and for good reason), is the postcard-perfect lake, Lago di Braies. This emerald blue oasis is high on everyone's list of top places to visit in the Dolomites, so I recommend getting there early in the morning (before sunrise) to get the best experience. Don't worry, I'll be sharing some lesser-known places as well, that don't require the early alarm.
Whatever time of year you visit, early mornings at Lago di Braies will undoubtedly include a row of photographers lining the banks with their tripods at the ready. Don't let this phase you as there is still plenty of space for everyone to appreciate this magical spot. It's an easy walk around the base of the lake as well, where you'll encounter fewer and fewer people. The circuit won't take more than an hour, and it's a must-do on your Dolomites road trip itinerary.
During summer and late autumn (basically before the lake freezes over), one of the best things to do in the Dolomites is to hire the classic wooden rowboats, to explore the lake from the water. They cost €18 for 30 mins which is a little pricey, but worth it to feel totally immersed by the surroundings. Besides, they are not strict on how long you're in the boat for anyway.
Note: you cannot swim in the Lago di Braies.
2. Capture the sunset at Lago di Carezza (Karersee).
Lago di Carezza, also known as the Rainbow lake, is another stunning alpine attraction you must visit during your Dolomites road trip. Even though Lago di Braies is the most famous, Lago di Carezza can be more impressive. With a backdrop of jagged peaks and rows of alpine forest, the impossibly still waters of Lago di Carezza create a perfect mirror reflection which is a sight not to be missed.
For the best chance of clear conditions, I recommend visiting at sunrise or at sunset. I photographed this place at sunset all the way through to blue hour, where the sky played canvas to an array of rich colours.
You might think after one lake you've seen them all, but that really doesn't apply to the Dolomites! One of the best things to do in the Dolomites is to see as many lakes as possible, and when the weather is warmer (and the rules allow it), to take a dip. There are so many more lakes in the Dolomites to see, and I've listed the best ones below:
Lago di Dobbaico
Lago d'Antorno
Lago di Fie
Lago di Sorapis (note: you cannot swim here)
Lago di Landro
3. Hike to Lago di Sorapis.
Although I have yet to visit Lago di Sorapis, and I've mentioned on my list of the best lakes in the Dolomites, it's definitely worth a special mention.
This alpine lake really is a hidden gem in the Dolomites as it is one of the few lakes where you can't simply park up and walk to. So if you're drawn in by the postcard pictures, one of the best things to do on your Dolomites road trip is to throw on your hiking boots and head out for a 2-hour hike that is mostly uphill.
Note: it's illegal to swim in Lago di Sorapis.
4. Take the cable car up to Alpe di Siusi (Seiser Elm).
Alpe di Siusi is a UNESCO Heritage Site and the largest alpine meadow in Europe. It's one of the most iconic places to visit in the Dolomites, to say the least!
Known for its rolling hills dotted with cute wooden cabins and the famous rocky peaks in the background, Alpe di Siusi is incredibly popular amongst photographers. There's something for everyone though, whether that be photography, skiing or hiking.
However, the main thing people seem to struggle with is getting to the plateau in the first place. Alpe Di Siusi is not accessible by car unless you're staying at one of the hotels or cabins in the area.
So, to visit Alpe di Siusi, you have a few options:
drive to the popular parking spot in Compatsch (€18 per day), and make your way on foot from there. It's a 30-minute walk, and you can only park your car there before 9 am. After that, the road is not accessible one-way.
take the 170 bus from Bolzano that stops at Compatsch, and then walk.
take the Mont Seuc cable car up from Ortisei.
Taking the cable car to Alpe di Siusi is, in my opinion, the best option and one of the best things to do in the Dolomites. This is the easiest way to reach Alpe di Siusi, and avoids any uphill walking… something of a luxury in the Dolomites!
Since Alpe di Siusi is on a mountain plateau, the walks are fairly easy but can be made harder by taking the longer circuits – some of which are up to 6 hours long. However, I recommend simply following the main path from the cable car down through the alpine forest and into the "hotel region", where you'll get a real taste of this beautiful landscape.
One of the most popular views is just after hotel Malga Sanon, as the road bends to the left where a viewpoint overlooks the whole landscape and the famous cabins that line the foreground.
In a rush? Another fun thing to do on your Dolomites road trip itinerary is to hire some e-bikes. You can pick these up in Ortisei before taking the cable car up, and I've heard they are so much fun and a great way to explore Alpe di Siusi. My friend recommended Sport Hans, so check them out.
I was hoping for green hills, but very happily settled for untouched fresh white snow!
5. Go hiking in the historical Tre Cime di Lavaredo (Drei Zinnen).
This three-peaked rocky pinnacle is one of the most famous places to visit in the Dolomites and it's easily accessible. For the hardcore mountaineers, it's a half-day hike up the mountain to reach Tre Cime; definitely one of the best things to do in the Dolomites if you're an active traveller!
Don't panic if you're looking for something more gentle as part of your Dolomites road trip itinerary, though… for the rest of us there's a car park right at the top, alongside a restaurant (Rifugio Auronzo) and the start of a much easier trailhead. The parking is free, but to enter the national park (at the bottom of the mountain) there's a €30 day fee. Worth it if you ask me.
The main trail from the car park is a relatively flat 10km loop circuit around Tre Cime that takes roughly 4 hours to complete, although it's totally acceptable to walk up to the first rifugio (resthouse) and back. Either way, you're in for some incredible views.
Trail 101 wraps around the mountain in an anticlockwise direction, while Trail 105 takes you the other way. It technically doesn't matter which you take, unless you're up there for sunrise or sunset. Trail 101 is your sunrise trail and 105 is the best for sunset.
While you're up there, soak up the views but also keep an eye out for WW1 artifacts. This region has so much history and was part of the front line, so there are still remnants of trenches carved into the rock.
6. Feel on top of the world in Seceda.
Seceda is another jaw-dropping mountain ridge, reminiscent of a dinosaur's back. Seceda is known for the many Geisley peaks that line its ridge, causing hysteria with many landscape photographers, especially when the clouds and fog pour over the summit and tumble away into the valley below. Hiking the Seceda Ridge is one of the best things to do in the Dolomites in summer and late spring/early autumn.
It is much less accessible than most however, with the Seceda cable car from Ortisei providing the only real way up. That's assuming you don't want to hike a near-vertical 2 hours. Much like everything else, the cable car costs €30 and takes just under 20 mins to reach the top.
Sadly, due to the aforementioned early snowfall, Seceda was off-limits. In autumn it is supposed to be spectacular, however. Something to bear in mind if you are looking for things to do in the Dolomites in winter!
7. Take in the views on one of the most scenic drives in the Dolomites: Val Gardena Pass (Gröden).
For road-trippers and landscape lovers, this is not a road to be missed. There's nothing quite like driving in this mountain range, putting a playlist on, and just winding along, enveloped by a seemingly never-ending vista of beauty. For me, it was one of the best things to do in the Dolomites and a highlight of my Dolomites road trip itinerary.
Val Gardena Pass is one of the best (if not the best) drives in the Dolomites. At the top, there are so many cute cabins that you can walk up to and imagine yourself living in, and the view of the road that falls away behind you is stunning. The cabins might convince you to drop everything, leave your city life behind and become a full-time mountain girl (or boy). I found one that was perfect for my 5'2″ self.
Other beautiful scenic drives you can take in the Dolomites:
Passo Sella
Passo Giau
Passo Pordoi
8. Go swimming in Lake Fie (Völser Weiher).
One of the lesser-known places to visit in the Dolomites, but I was so pleasantly surprised with this one!
After 2 days of chasing my photographer partner around the snowy mountain tops, I was finally rewarded with some warm autumnal colours at this lake. It was so peaceful and surprisingly warm…. the weather, not the water. Although, Völsher Weiher is one of only a few swimmable lakes in the Dolomites, so if you feel like going for a dip, you totally can, and it's one of the best things to do in the Dolomites! Just brace yourself for chilly mountain water, and check which lakes you can swim in before you go.
Otherwise, just take a mindful walk around the lake and surrounding forest area, then grab a hot drink and put your feet up… on one of their sunbeds, can you believe it! It can be easy to spend 7 days chasing sunsets on a Dolomites road trip itinerary, so moments like these where you can relax in nature are always well spent.
And that's it! Those are what I believe to be the best things to do in the Dolomites, especially during a Dolomites road trip itinerary in autumn.
For anyone planning a visit to the Dolomites in summer, you can actually stay in the rifugios located in the most epic spots along the mountains – like the one at Tre Cime di Lavaredo. I expect they book up fast though, so you'll want to plan in advance.
I would also add the following to your list of places to visit in the Dolomites in summer:
Alta Badia

Marmolada

Cinque Torri


What are your favourite things to do in the Dolomites?
Where are your top tips for planning a Dolomites road trip itinerary? Anything you'd add?
Love as always and happy adventuring…
Did you find this post helpful? I'd love you to share it for me.
Pin and save this blog post for later…