This chickpea and sweet potato coconut curry dish is my absolute favourite thing to whip up when I return home from my travels. It's a flexible recipe which can be adapted to suit any seasonal vegetables you have to hand. It's wholesome, it's easy to whip up a big batch for freezer meals and it's ridiculously yummy.
So long as you have the basic ingredients backed up in your cupboard, you can customise this dish with all the goodness, pulses and veggies that you wish.
If you love sweet potatoes but don't fancy a curry, check out my vegan lentil and sweet potato pie recipe here.
Now I'm certainly no food blogger (in fact I'm a chuck it in, make it up as you go along and hope for the best kinda gal) but I've popped this recipe on my Instagram stories a few times now and had so many requests to share it. So here it is…
My sweet potato, chickpea and coconut curry recipe…
To make this sweet potato, chickpea and coconut curry, you'll need…
A tablespoon of olive oil or coconut oil
1 large sweet potato (or two medium). If you don't have or don't like sweet potato you could sub in butternut squash, okra, aubergine or similar veg.
1 large handful of spinach
2 cans of chickpeas. If you don't have or don't like chickpeas, substitute in butter beans, lentils or mixed pulses.
2 cans of chopped tomatoes
1 can of coconut milk
1/2 an onion
1 tablespoon of Massaman curry paste
Quinoa, rice and/or naan, to serve.
How make my sweet potato, chickpea and coconut curry:
Prep time: 10 minutes
Total cook time: 45 minutes – 1 hour
1. Chop up your onion and dice your sweet potatoes or chosen vegetables. The larger they are cut, the longer they will take to cook.
2. Splash some olive oil into a pan and turn on the heat. Add in the onions and sweet potato and cook until the onions go clear. The sweet potato will be part cooked at this point and will continue to cook and soften when the rest of the curry is added.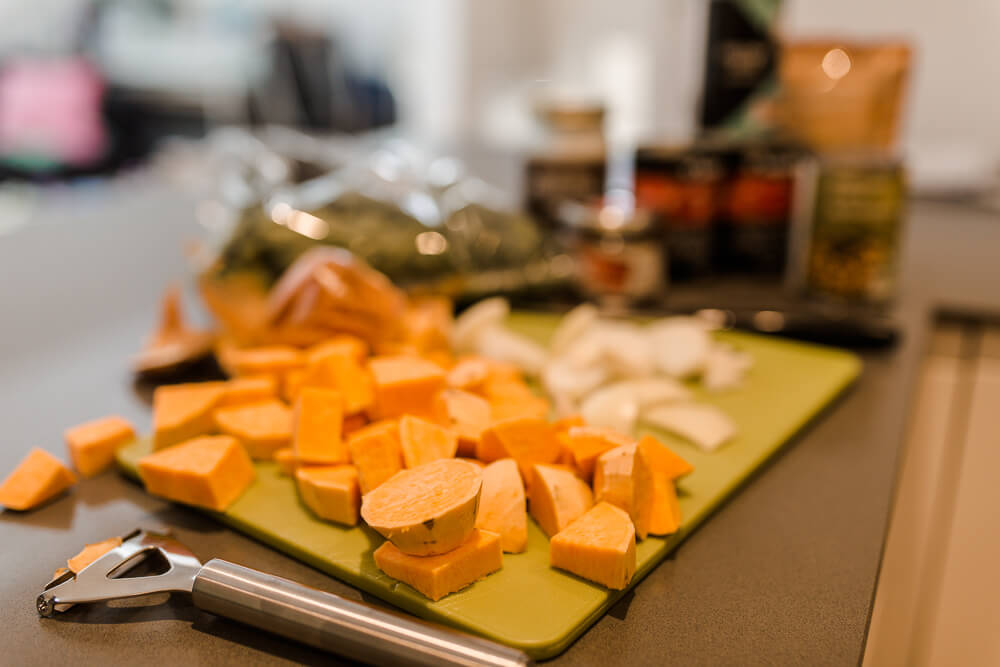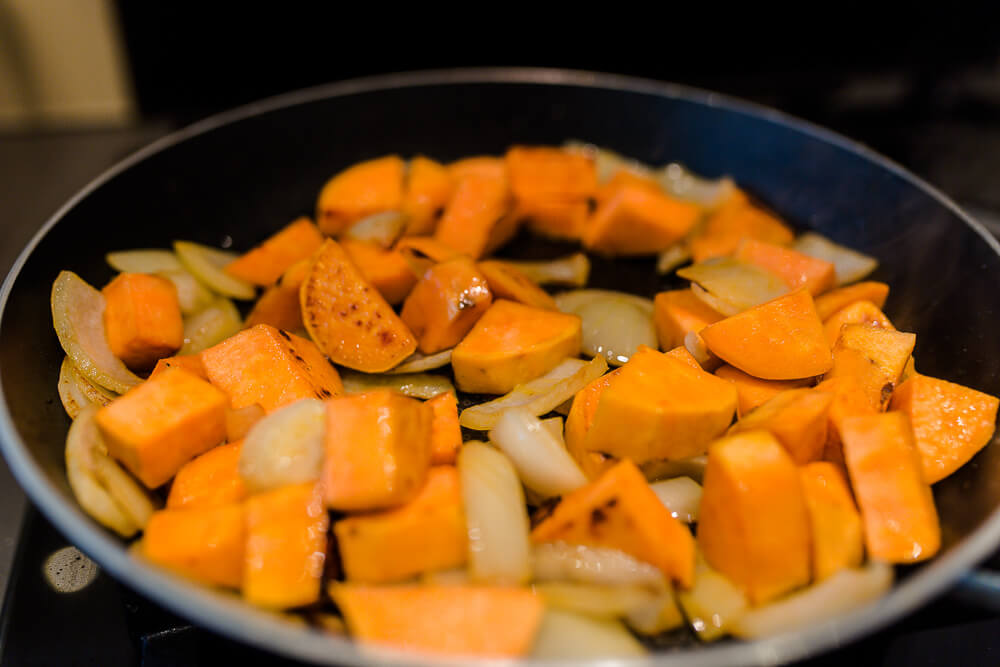 3. Drain the chickpeas and/or pulses and rinse them before adding them to the pan. Sometimes I leave them to cook for 5 minutes, sometimes I don't. It doesn't really matter, whatever you fancy!
4. Next add in the two cans of chopped tomatoes, the can of coconut milk and the tablespoon of massaman curry paste.
5. Give everything a good stir and reduce the heat. If you're cooking quinoa or rice from scratch (not a packet), now's the time to get it cooking!
6. Leave for 20-25 minutes stirring every 5 minutes until the liquid reduces to a creamy curry consistency.
7. Test the vegetables with a fork to check they are soft through. When cooked, add the large handful of spinach on top until it wilts with the heat and then season with some salt and pepper to taste.
8. If you're serving up with naan bread, pitta pockets or packet rice or quinoa, pop them in the microwave now and add to your finished dish.