Winter is here and that means it's officially 'consume everything that makes you feel warm' season.
Whether for you that's indulging in all the love, hot chocolates, roast dinners or mulled wine – I hope you're having a wonderful time doing so.
Seriously though, I love it when the temperature drops because it means the ingredients in my fridge get a lot more wholesome and I'm encouraged to experiment with the currys, the pies and the soups.
It's all about winter vegetables and the hearty dishes now. See ya next summer salads (joking obv, kinda).
Anyway, I had my dad up this weekend to visit me in London and he bought my gorgeous little pup with him so that we could all wrap up and go for a nice long walk.
Before he arrived, I got to cooking a soup so that we could tuck in before we headed out…
Oh gosh, one of the best I've had. Am I allowed to say that about my own cooking?
Other recipes on my blog you might love:
This soup recipe is super fresh, light and filling.
It took 5-10 minutes to prepare and 20 minutes to cook.
Make a batch when you next have a free evening and pop a load in the freezer for super quick ready meals!
This recipe makes 4 great portions.
A Broccoli, spinach and mint soup recipe…
Ingredients:
1 clove of garlic
1 white onion
3 sticks of celery
1 large handful of fresh mint
500g broccoli
splash of oil (I used coconut)
1200ml vegetable stock (I used a Kallo cube)
1 large handful of spinach
Toppings and sides:
Feta cheese to top
and a splash of single cream (if ya feelin' fancy)
Some yummy bread (pop it in the oven for 10 so it's nice and warm)
How to cook the Broccoli, spinach and mint soup…
1. Peel and finely chop the clove of Garlic. Trim the celery, and chop the celery, onion and broccoli into small-ish pieces.
2. Pick off the mint leaves from the stem and pop to one side.
3. Heat up a splash of oil in the pan and then chuck in the garlic, onion and celery to cook for a couple of minutes.
4. Boil the kettle and mix a vegetable stock cube with 1200ml of hot water to make a stock.
5. After the celery, onion and garlic has softened, add the chopped broccoli and stock to the pan. Pop the lid on and let simmer on medium heat for 15-20 minutes (until you can pop a fork through the broccoli with ease).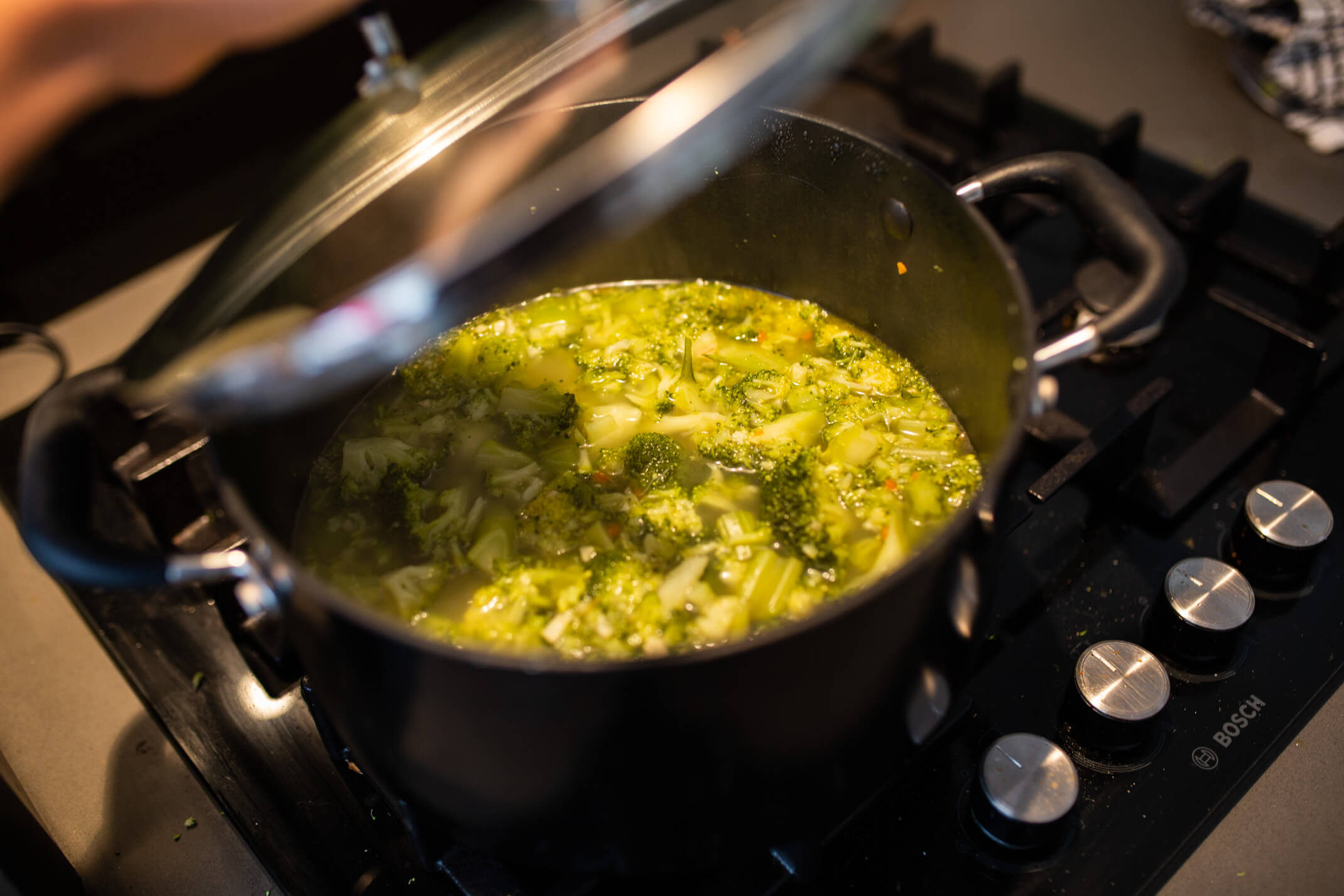 6. In a food processor, blitz the saucepan ingredients and check consistency.
Tip: My soup at this stage wasn't as thick as i'd have liked it so I added a large handful of spinach to thicken it up. If yours is already thick, you could add some more water or just leave out the spinach.
8. Add a handful of mint to the final blitz and then season with pepper and salt to your preferred taste.
9. Serve up in bowls and top with a sprig of mint, a splash of single cream and a sprinkling of feta for a delightful tang!
Enjoy!