Whether you are travelling around Central Europe, following the Danube from elegant Vienna to majestic Budapest or you simply fancy a weekend trip in a less mainstream European capital; Bratislava is definitely a great city to visit. In this blog post, I'm going to do my very best to tempt you into planning a trip to Bratislava Slovakia. I am going to share the best time to visit and the best things to do in Bratislava.
It may be one of the smallest capitals of Europe, but it's a fast-growing city that has changed significantly over the last 10 years, transforming its appearance, but keeping its traditions. Bratislava is one of Europe's hidden gems and I'm here to tell you why.
Undoubtedly, the city is a melting pot of culture, historical buildings, beer, wine and art. Also, many large companies have their headquarters in Bratislava and so this city has attracted a vibrant international crowd. Consequently, a night out in this city is extremely fun and diverse.
If you're planning a trip to Bratislava, this is your 48-hour travel guide. Are you ready?
A 48-hour guide to exploring Bratislava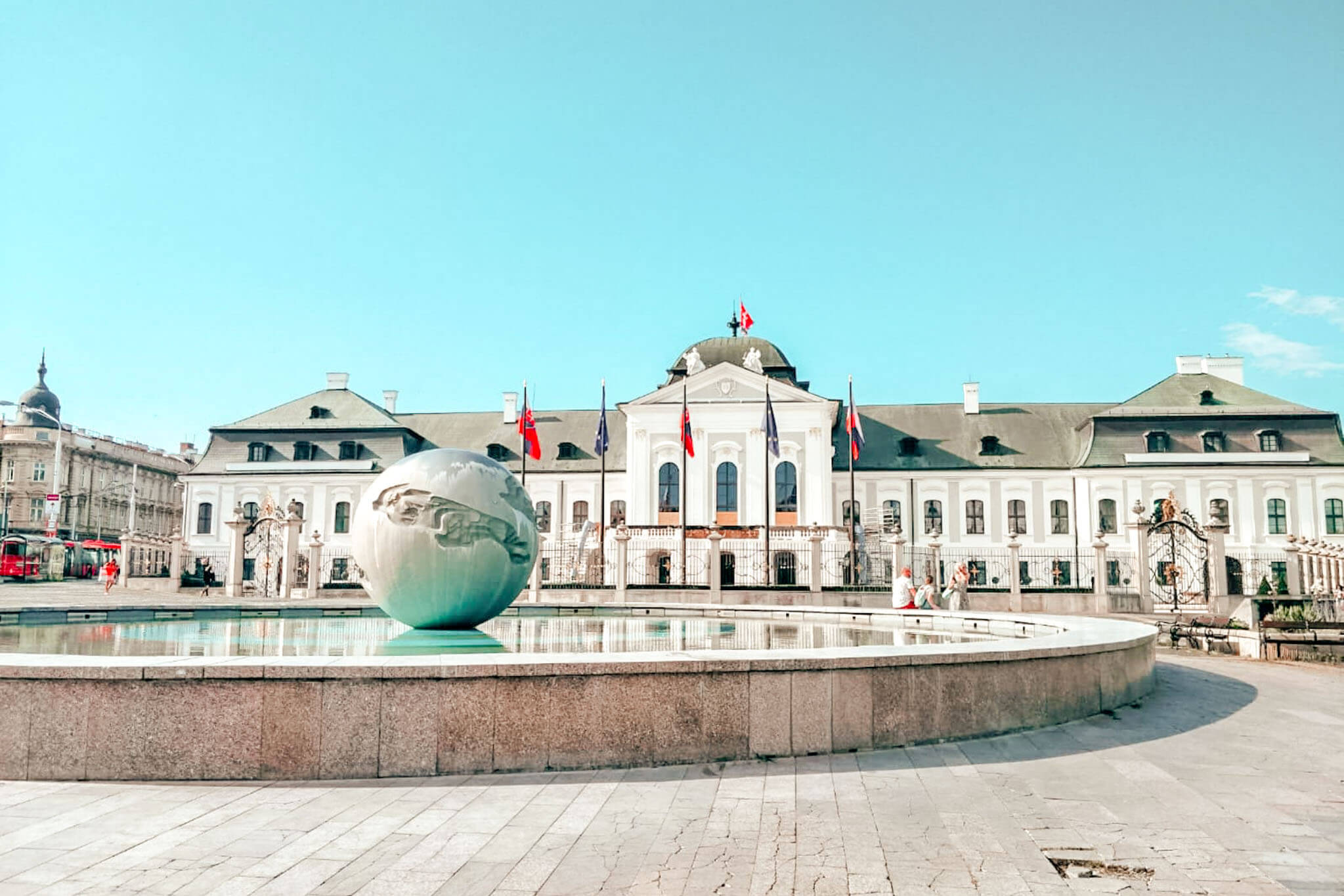 When should you visit Bratislava?
Bratislava is a perfect getaway no matter the time of the year. However, the temperature changes significantly from winter to summer. If you want to see a white-snowed city, visit from December to February where temperatures could go below -5 °C. Although, in the summer months it's a different story, with temperatures reaching over 30 °C.
Getting to the city of Bratislava:
By plane: Slovakia's main airport is

Airport Bratislava

(BTS)

Train: The main city train station is Bratislava Hlavna Stanica
Bus: The main bus station is Autobusova Stanica Nivy
Tip: You can fly into Vienna's airport and catch a bus with Slovak Lines or Regio Jet to Bratislava. It's just a 1-hour journey and costs €6-8.
Getting from the airport into Bratislava city centre:
Download the HOPIN app. Since 2012, it's the easiest and cheapest way to get a taxi. From the airport, train or bus station use HOPIN to get anywhere and you can pay by cash or by card via the app.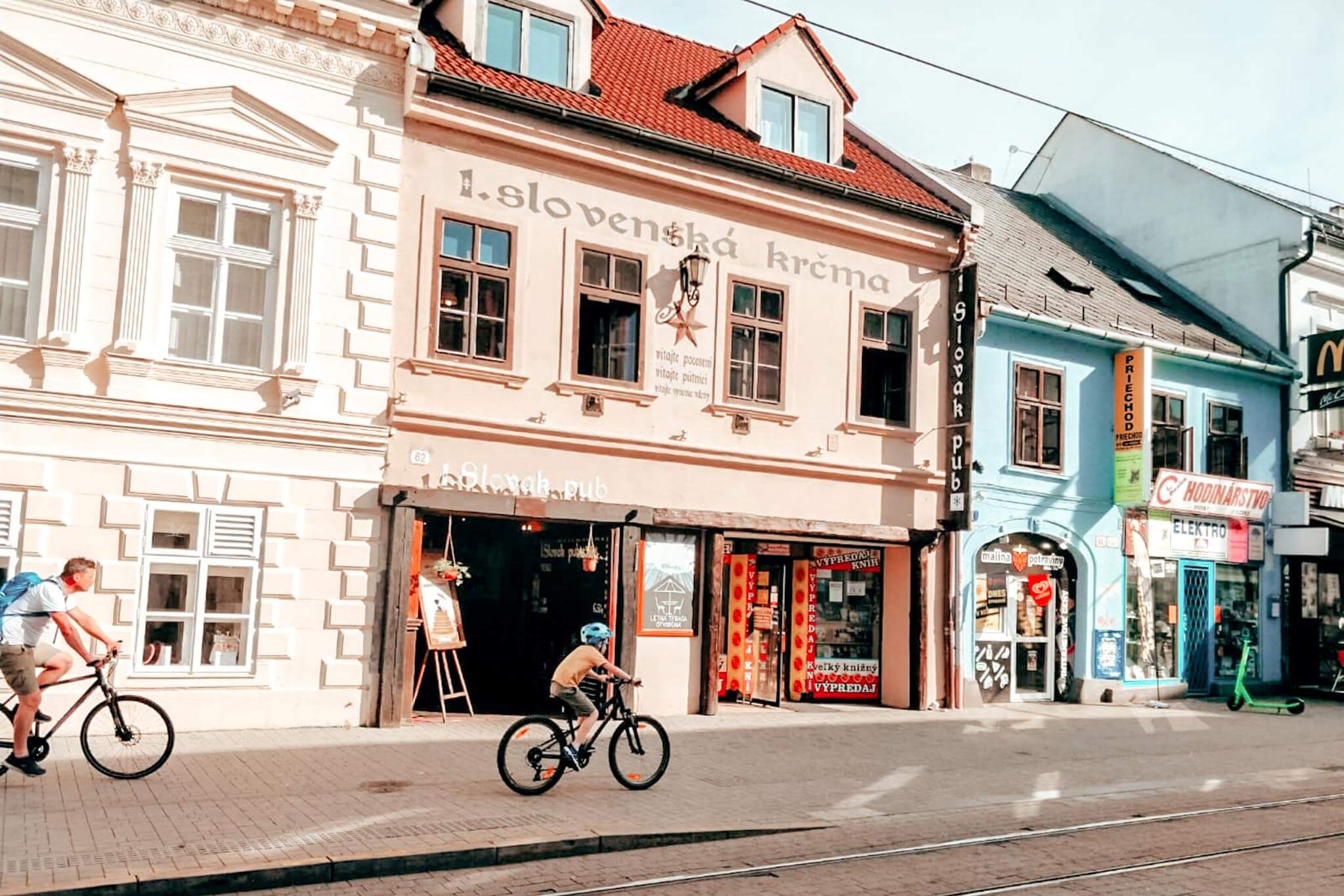 Getting around Bratislava:
If you stay in the Old Town you can go everywhere on foot. It's extremely easy to get around which is why Bratislava is perfect for a 48-hour trip. Don't worry if you're not though because there is a well-connected bus route and a modern tramline.
Accommodation in Bratislava:
Undeniably, the best destination to stay is in the Old Town 'Stare Mesto'. The area is small, which means you can walk everywhere. However, if you decide to stay in another district, ensure you stay on the north side of the Danube, as it is better connected.
You have some options to consider:
Hotel: The most expensive option. For a double room, the price is from

€40-100 a night

Airbnb: The average cost for 2 people per night is around

€

20-30 Euros

Hostel: Stay at Wild Elephant Hostel for

€

10 a night for a mixed dorm bed. Particularly good for socialising and meeting others and it has great reviews on

Hostelworld

.
However, there are many fabulous hostels in Bratislava, so check out which one is the right vibe and price for you. Exciting!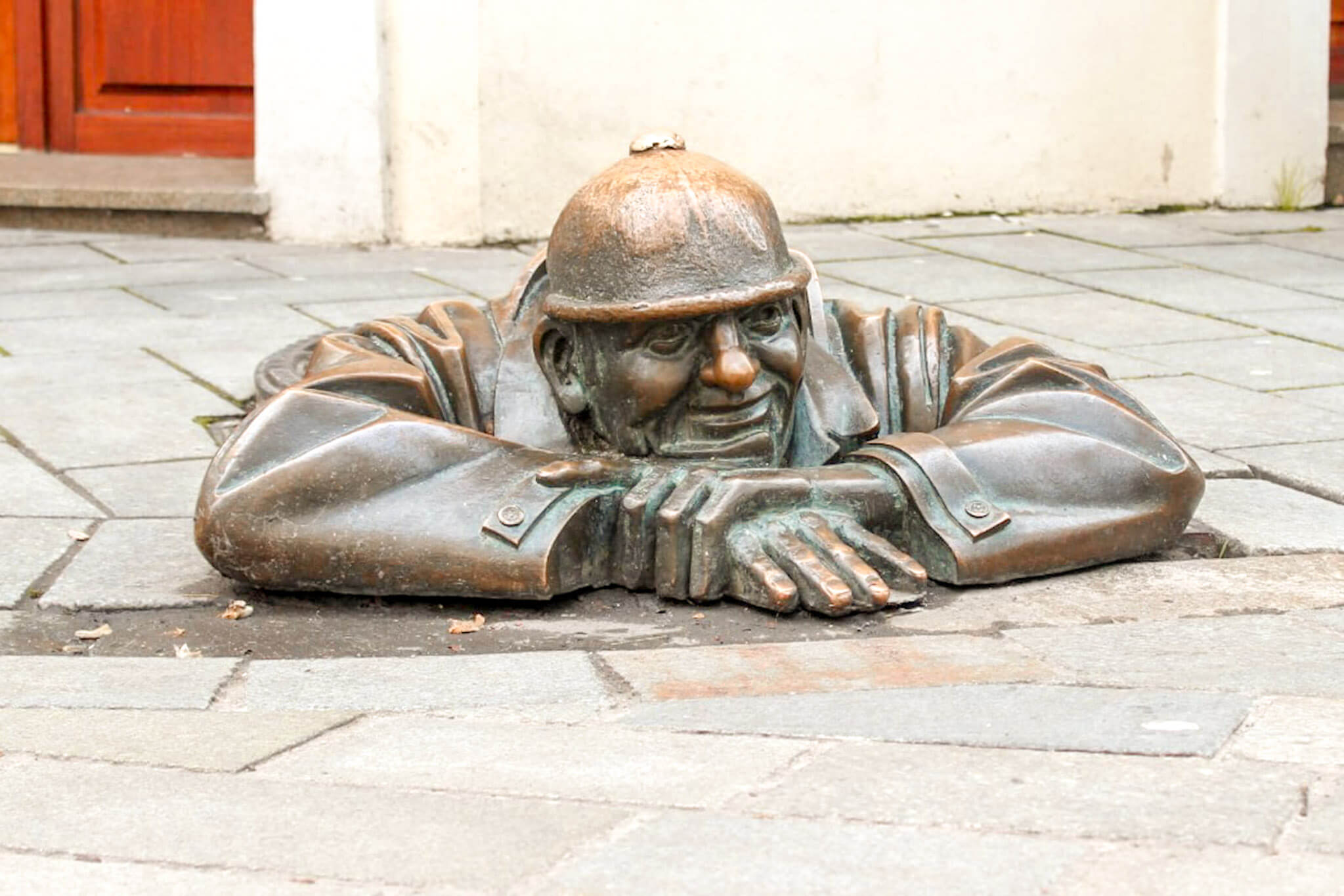 Budgeting for Bratislava
In the last 5 years prices in Bratislava have increased consistently due to the significant developments the country and city went through. However, Bratislava is still a very cheap capital to visit and should be definitely on every budget traveller's bucket list. The currency is the Euro.
Example prices:
€

10 to get a HOPIN taxi from Airport Bratislava to the city

€

20-30 a night for 2-3 people in an Airbnb in the city centre

Average

€

10-15 for a meal in a restaurant with drinks.

Average

€

2-3 for a pint of beer or a glass of wine.
For a 48 hour trip, you can easily have a €80-120 budget with accommodation, meals, drinks and a return HOPIN airport taxi.
Places to eat and drink while in Bratislava:
Places to eat:
Slovak Pub –

Rustic and woody, this pub is the perfect place to try the best Slovak dishes. Try the "Slovenská misa pre osoby" where you get a long, wooden 3-plate dish. This includes 3 traditional Slovak meals: Halusky, Pirohy and Kapustove Strapacky for less than

€

15. Great portion, great taste, great value. Don't forget to try the local cola 'Kofola' for a real Slovak experience.

Be About and Minerva –

If you are a burger lover then you should consider getting one of the best burgers in town from one of these two places.

Equally tasty but different experiences, depending on your vibe.

Primo Amore –

I don't know about you, but I can't stop eating pizza even when I'm travelling. Primo Amore is basically what I always look for: a real Italian owned pizzeria, with affordable prices and just a 5 min walk from the Old Town. Perfect.
Places to drink:
Stupavar –

A vibrant microbrewery in one of the lovely narrow side alleys of the Old town. Stupavar is the perfect stop for beer lovers and old school taste. Best IPA and APA in town.

KC Dunaj –

A very hipster-ish rooftop bar in the Old Town where you can definitely find the best vibe for a night out. There is great music with local DJs playing almost every night.

Grand Cru Wine Gallery – There's a reason this little gem is number 1 on Tripadvisor. It is an extraordinary wine gallery that has a large variety of local wines with very friendly staff. Try to go there in the afternoon because it is small and popular. Don't miss out!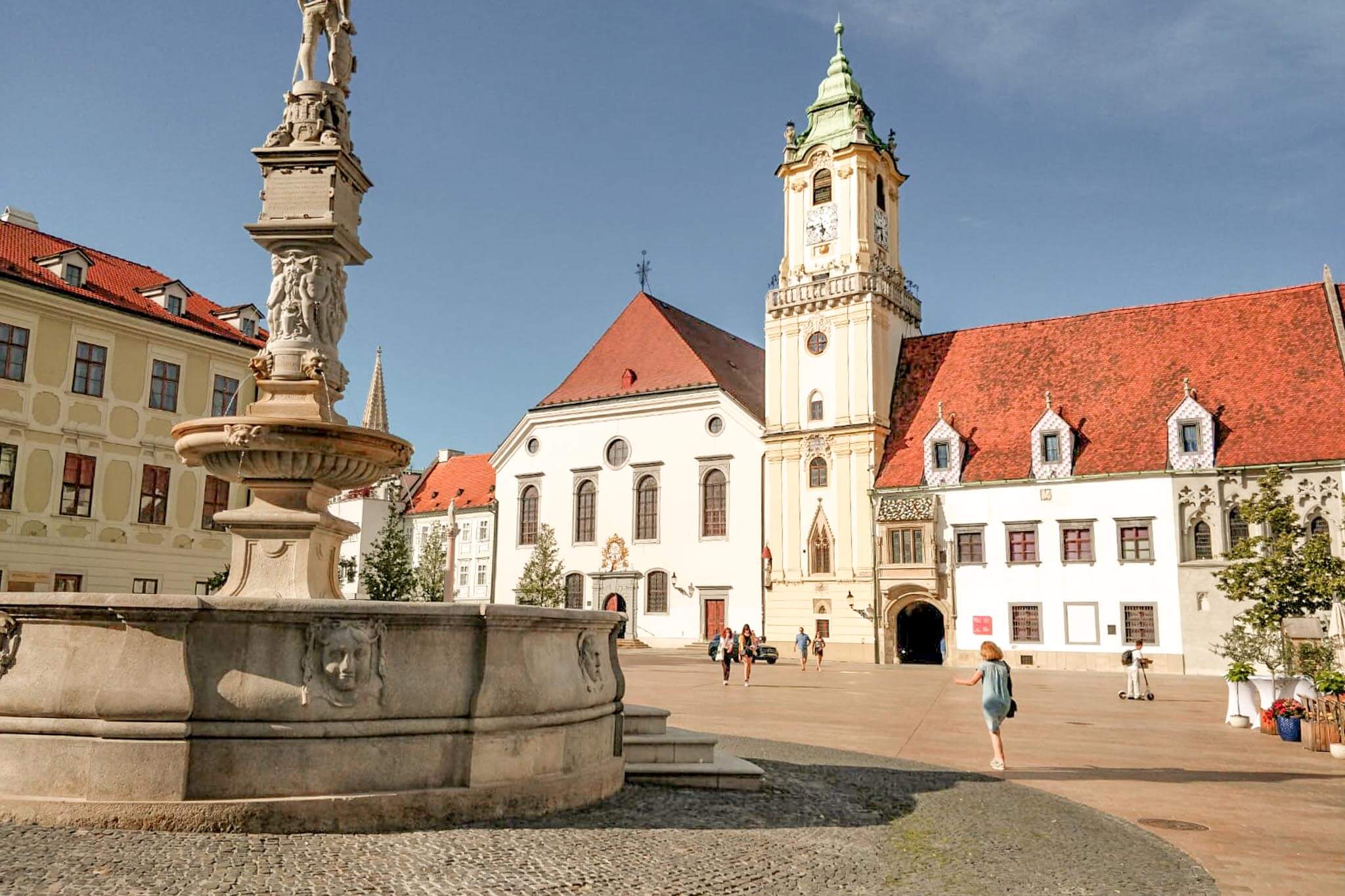 The best things to do in Bratislava
1.
Explore the Old Town and statues:
Wander around the little "Stare Mesto", the Old Town. You can find old classic architecture with modern, fun, man-size statues. Get your camera out and don't forget to get a shot with each of them.
2.
Go up the UFO Bridge:

If you liked the statues in the Old Town, then you cannot miss the final one, which was moved out of the city into the UFO restaurant. Go to the UFO Bridge and get the elevator to the restaurant. This is a great opportunity to have a fresh drink whilst watching the city from above for only €7.
3. President Palace:

The Grassalkovich Palace needs to be in your Bratislava bucket list. Besides its official purpose, it is one of the most elegant buildings in the city. Located behind are the Presidential Gardens, which are beautiful parks where you can take a stroll or have a rest.
4. Admire the Blue Church:

The church of St Elizabeth is a Catholic Church that makes you feel like you are in a fairy tale, even if just for a moment. Thanks to its unique and picturesque blue colour this little church is definitely one of the treasures of the city.
5. Visit the Castle:

Walk up the hill from the Old Town and explore this marvellous white castle. From here you can enjoy a free view of Bratislava from above and the Danube. Also, it is possible to go inside for €10. Pretty cool, right?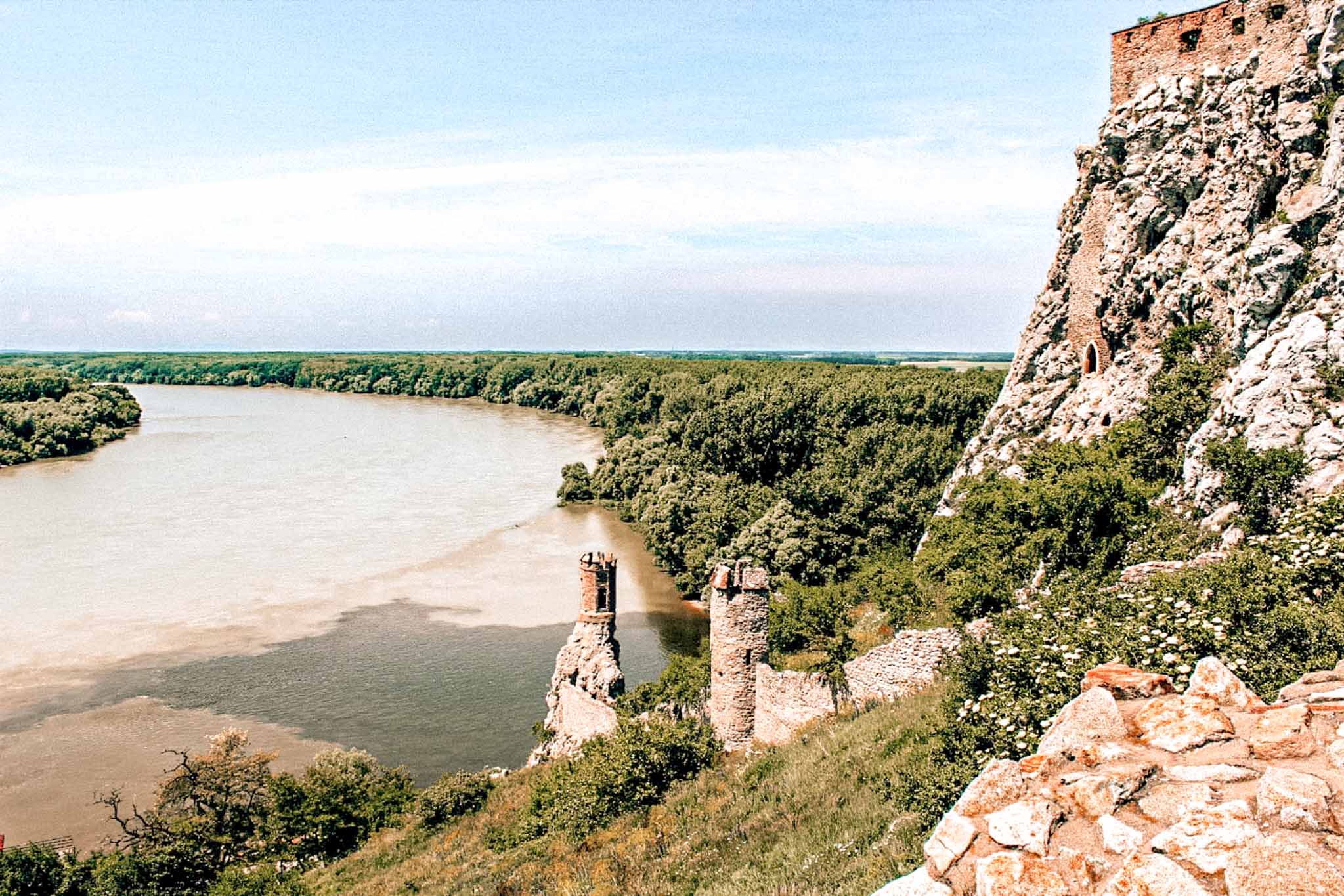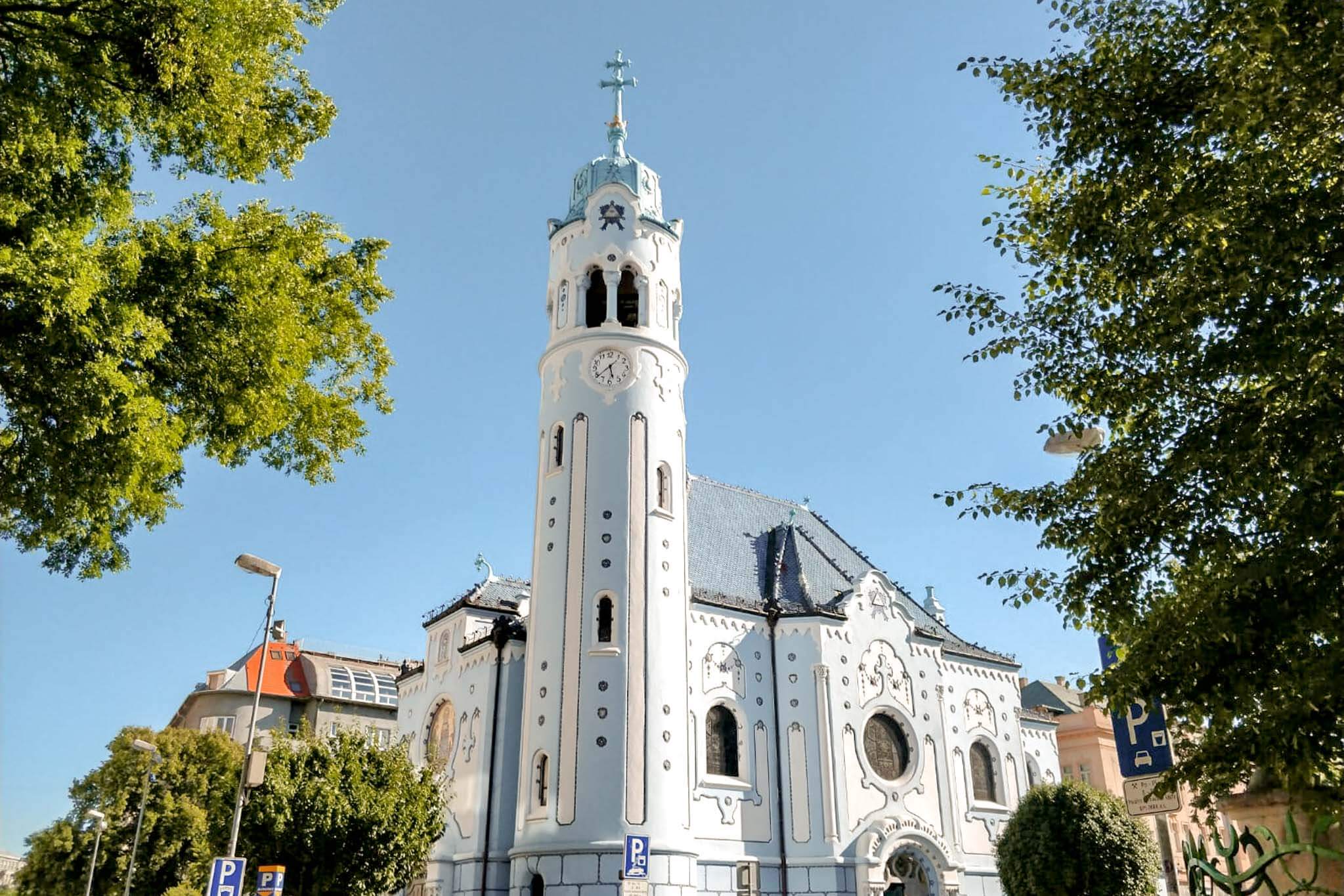 6.
Climb up to Slavin:

Slavin is a magnificent Obelisk, which is a monument to remember the fallen soldiers from the Second World War. There are many hills in Bratislava and Slavin is one the highest of those hills. Therefore, the walk to get there is not the easiest. However, it is certainly worth it for the monument and views. Remember, there is always the option to get in a HOPIN taxi, which will only set you back a few euros.
7. Venture out to Devin:

If you find yourself with some extra time and you don't mind heading out of the city then you won't be disappointed with a trip to the ruins of Devin's Castle. It is a 30 mins bus ride from the city centre but definitely worth it. Here you can enjoy both the view of the castle and the Danube with its surrounding forest.
8. Walk along the Danube:

You've probably heard of the Danube, which is the second-longest river in Europe. It goes through other important European cities, like Vienna and Budapest. Therefore, a superb option for an enjoyable walk in Bratislava is walking down the river. You can leave from the Old Town and end up in Eurovea. Here you can find a shopping centre and numerous river bars to enjoy a beer looking over the Danube. Pure bliss!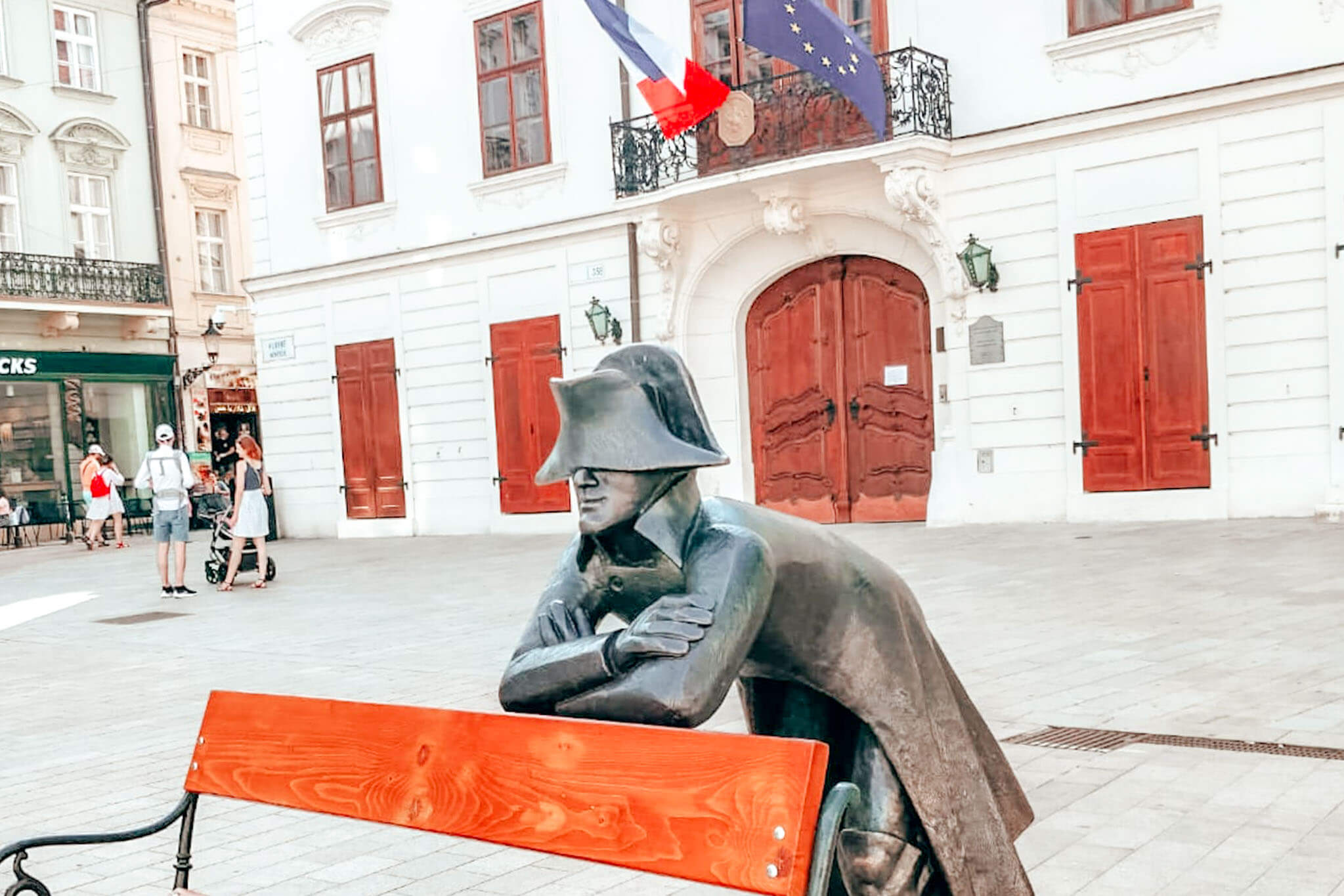 Have you been to Bratislava, Slovakia?
What were your favourite spots? We'd love to know!?
Love Nicola from Average Lives
You can see more of Nic's adventures on her Instagram here.
Did you find this post helpful? I'd love you to share it for me.
I can't do this without you.
Pin and save this blog post for later…