If you're planning a trip to Dorset and are wondering what your Dorset road trip could look like or what you should do with your time there, you've arrived at the right blog post. In this blog post, I am going to share a 1-week Dorset road trip itinerary with you, going from east to west, jam-packed with all the best adventure on offer in this beautiful place to visit in England.
I will be taking adventures from my best things to do in Dorset blog post and plotting them on a route that will take you on an epic Dorset road trip. It will encompass all of the adventures I've been on in Dorset and more: exploring the Jurassic Coast and seeing Durdle Door, marvelling at Corfe Castle, seeing the squirrels on Brownsea Island, having a day at the beach at Lyme Regis, and more!
Dorset is so much more than the impressive Jurassic Coast and its famous landmarks such as the awe inspiring Durdle Door. Dorset has rolling hills that offer miles upon miles of views, including one of England's National Parks (the New Forest). It offers a crisscrossed landscape of picturesque farmland and countryside and dozens of quintessential English villages tucked away in the nooks and crannies of this county full of rural beauty.
If you're planning a road trip in Dorset, I advise you to enjoy both the coast and countryside because I assure you, you will not be disappointed!
Of course, this Dorset road trip itinerary is going to assume you have a car with you. I'm not sure it would be of any use for me to write an itinerary for you whilst staying at your hotel lol. However, if you have booked to stay in one place during your time in Dorset, you may want to use this post to inspire a day trip in Dorset or to add an extension to your existing booking.
Make sure you check out my UK road trip planning guide and my UK road trip checklist so that you are fully prepared for this Dorset road trip itinerary! After all, road trips are the best!
Other blog posts you might find useful…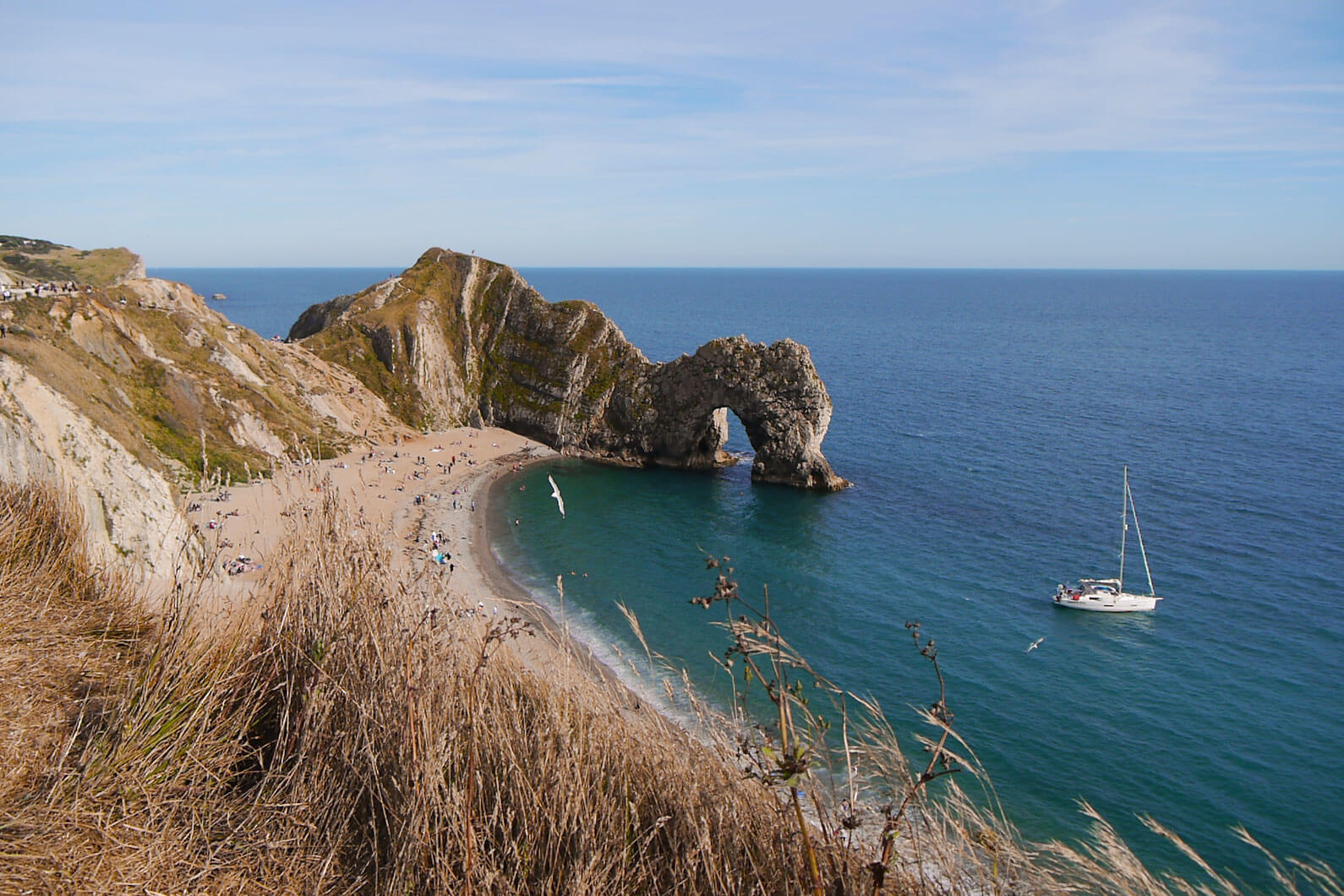 A 1-week road trip itinerary for Dorset...
I'm going to begin this Dorset road trip itinerary in Lyme Regis, one of the best places to visit in Dorest, and then finish in Wimborne. I'm going round Dorset from east to west, but there's no reason why you can't do it the other way around! The driving time for each day indicates the total time spent in your car or van that day, so you can factor this into your exploring.
This is a 1-week Dorest road trip itinerary, but there's no reason why you can't adapt it to be longer, taking your time to spend 10 days or even two weeks completing this route! On days where you want to take it slower in this 1-week itinerary and I've suggested a couple of activities or places to visit, you might like to prioritise and choose one so that you can take it all in. Another way to slow it down would be to skip a couple of stops and spend longer in your favourite, must-see places to visit in Dorset.
For more ideas on how to extend this Dorset road trip itinerary, check out my best day trips in Dorset.
Luckily, if you're wondering 'how to get to Dorset' or 'where is Dorset', you'll find it is a pretty accessible county. Dorset is located on the south coast of England, shares its borders with 4 other counties (Devon, Somerset, Wiltshire and Hampshire) and has 9 A roads leading in, around and out of Dorset. It also has an airport, 2 ports and 23 train stations so however you plan on getting to Dorset, it shouldn't be too much trouble!
Bournemouth airport (BOH)
There are direct flight connections to over 30 destinations from Bournemouth airport. On arrival at the airport, there is a bus service operating between BOH and Bournemouth train station. The yellow bus service 737 runs 5 days a week Monday – Friday from 6am – 1:30pm connecting passengers to Bournemouth centre and the train station. If you are planning on hiring a run-around car for this Dorset road trip itinerary then you can hire a car from the airport from Hertz car rental. Click here for more information on transport from Bournemout airport.
Check out the best things to do in Bournemouth in this blog post.
Ports
There are 2 ports in Dorset, one being Poole port and the other Portland port.
Poole has ferry arrivals from France and the Channel Islands with rail, bus, road and cycle links.
Portland is popular with cruise ships and has shuttle buses to Weymouth for train and bus links.
Train
There are 23 train stations within Dorset and 3 main train lines that operate including Southern Western Railway, Great Western Railway and Cross Country Trains. These train lines connect Dorset to London and then almost all other areas of the UK. Book your train tickets online on thetrainline.com.
Van hire
If you don't arrive in Dorset with four wheels of your own, there are many companies that offer vans for hire. A few options include: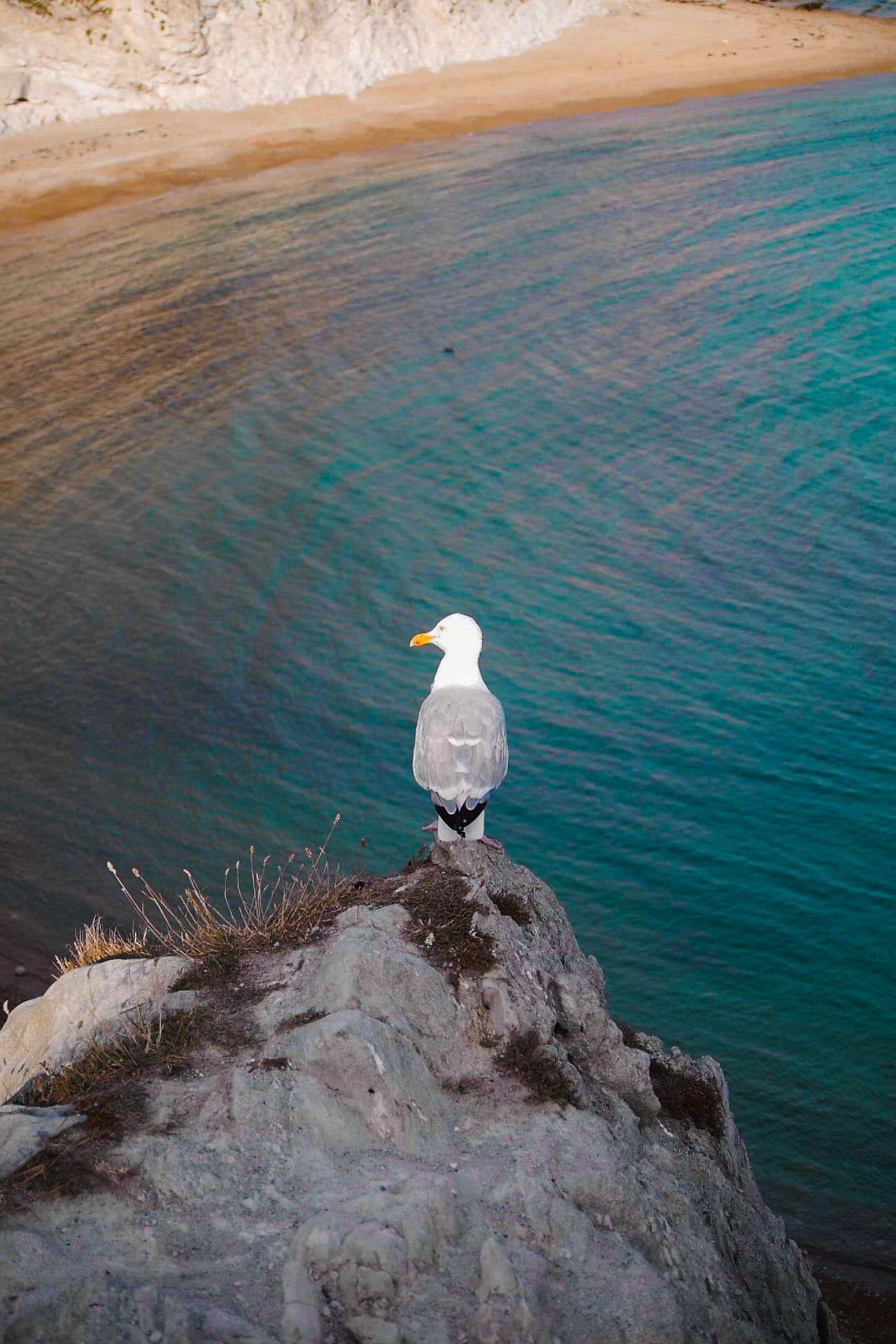 Where to stay on your Dorset road trip...
If you're wondering where to stay in Dorset or your looking for places to stay in Dorset, it's certainly one of the best places to England to bring your van. There are dozens of campsites dotted across Dorset and plenty of places to park up. Luckily Dorset is small enough that you could choose one place as a base, but varied enough that you could also spend one night in each town!
If van life isn't your cup of tea, I'd recommend you check out Airbnb, booking.com or Dorset hideaways for unique stays.


Day 1: Home - Lyme Regis/Weymouth
A lot of day 1 of our Dorset road trip itinerary is likely to be spent getting to Dorset. The drive down is beautiful, so if you have time I recommend coming off the motorway earlier than your navigation suggests and exploring some of the countryside in this area.
Once you're in Dorset, I recommend parking up and basing yourself in either of the Weymouth or Lyme Regis areas. We are starting this Dorset road trip itinerary in Lyme Regis with the main adventures tomorrow, but you're likely to come off the motorway in Weymouth, so it could be a good place to visit in Dorset for a couple of hours. Check into your accommodation or campsite and relax for the afternoon before you get to know the surrounding area, grab a bite to eat and go for a coastal walk.
We're going to spend more time exploring Lyme Regis tomorrow, but if you're looking for things to do in Weymouth and you have time to spare, consider exploring Weymouth Harbour, enjoying a swim and fish and chips on Weymouth Beach, walking along some of the South West Coast Path, or enjoying the panoramic views from the Jurassic Skyline or the Portland Bill Lighthouse.


Day 2: Lyme Regis, Seatown and the Golden Cap
In my opinion, Lyme Regis is exactly what pops into my mind when someone asks me to picture a typical British seaside town. The sea front is lined with bright and colourful houses, dotted with numerous ice cream shacks and the classic scent of fish and chips is always in the air begging you to go and buy a bag of one of the nation's most popular dishes. The white, sandy beach is the perfect spot to soak up some sun and in the summer is enjoyed by laughing children building sand castles and families splashing around in the sea. It's one of the most popular places to visit in Dorset and it's easy to see why.
But unlike most other seaside retreats, this particular town in Dorset is graced with beautiful views down the very famous Jurassic coastline. Lyme Regis is the starting point of the South West Coast Path in Dorset and from here you can see the sea cliffs that hundreds of people ramble upon each year.
As well as the very popular sandy beaches in Lyme Regis (Lyme Regis beach and Monmouth beach), there is also an ammonite pavement that is ideal for fossil hunting and one of the best places to visit in Dorset for beginners to try their hand at finding some real ancient treasures. Remember though to check the tide times and wear plenty of sun cream, as patience is key when finding prehistoric treasures.
After enjoying a morning and a spot of lunch in Lyme Regis, we're going to take a short drive down the coast to Seatown, another of the amazing places to visit in Dorset, and take a hike (at your own pace) to Golden Cap, which is the highest point along the Dorset coast. Standing at 191 meters, the views are truly breathtaking and on a clear day you can see for miles and miles.
Where to eat in Lyme Regis…
Lyme Rigis is plentiful with cafes, restaurants and takeaways so finding a bite to eat should not be hard! You could enjoy some pub grub at The Cobb Arms or you could even grab yourself a take away from The Cornish Bakehouse and go and have a beach picnic. Other great options all within close proximity to Seatown and Lyme Regis which will keep the whole family happy are The Anchor Inn, The George Inn and The Clock House Inn.
More things to do in Lyme Regis:
Take a fossil hunting tour
Visit Lyme Regis Museum and/or The Dinasourland Museum
Go for a stroll along The Cobb
See who could go pro at the Lister Gardens mini golf
Get excited in the Marine Aquarium
Hold on a tight on a boat ride


Day 3: Dorchester and Hardy's cottage
Dorchester is Dorset's county town and is one of the best places to visit in Dorset. This is a town rich in history and there are so many places just waiting for you to go and have a nosy! Among the modern and the new, you can find real classic, old buildings from the Victorian era. If you are into art deco, you have to stop at the Old Plaza Cinema that has proudly carried its art deco style through to modern day. If you are a history buff, you can learn more about Dorsets history in the Dorset museum, where artifacts date back to as far as the iron age period. Or for a more family friendly scene, visit the Dinosaur museum and the Teddy bear museum.
If you are crazy about literature, then you will probably already know that this is the birthplace of the famous writer and poet, Thomas Hardy. Just a short drive out of Dorchester, in Thorncombe Woods, you can find Hardy's cottage, the place where the acclaimed writer produced his best work. If you'd like to get to know the writer even more, you can step back in time and follow "Hardy's trail" and witness the surroundings that awed and inspired the writer to put pen to paper and stop at places that he often referred to in his work.
Where to eat in Dorchester…
There are many family favourites found in Dorchester including a Nandos, Pizza Express and a Vivo Lounge. But if you fancy something a bit different from these restaurant chains, you can get messy at The Cow and Apple Burger and Cider Bar, or for something a bit more refined try the french inspired Cote Brasserie. Or if you're simply stopping somewhere for a spot of lunch try the quirky cafe, The Horse with the Red Umbrella, for a selection of homemade cakes, light bites and cafe classics.
More things to do in Dorchester:
Wander around the gardens at Kingston Maurward and say hi to the animals at the animal park
Browse the shops along Dorchester's high street
Take a walk to Maiden Castle
Visit Poundbury and its array of shops and cafes
Jump on a Purbeck breezer (number 30) and enjoy a ride through the Isle of Purbeck


Day 4: Ringstead Bay, Bat's Head, Durdle Door & Lulworth Cove
Avid hikers say that hiking along the coastline is one of the best things to do in Dorset. Tourists who visit the coastline say it's one of the best places to visit in Dorset, and I am now inviting you to experience the Dorset's beautiful coastline and also go on about the coastline long after your trip to Dorset has ended!
The Jurassic Coastline is by far one of the best places to visit in Dorset. Immense cliffs jut up from the sea offering miles of stunning coastal walks and views that no one could ever get bored of. One of the best things to do in Dorset is to put on your walking boots and enjoy nature and the sea breeze. In fact, the Jurassic Coast is one of the best places to go walking in England. On day 4 of this Dorset road trip itinerary we are going to go for a long walk along the South West Coast Path!
There are so many famous spots and hidden gems situated along this stretch of coast, it can be hard to fathom where to begin or visit first. So let me decide for you!
Ringstead Bay, in my opinion, offers some of the best views that I've seen along the South West Coast Path. Standing in the top car park (which is National Trust owned) you are met with beautiful views out over Weymouth and Portland Bill. As you walk, you really get to appreciate the scale of this rugged coastline.
The South West Coast Path then continues to take you towards Durdle Door. This is one of the most famous places to visit in Dorset, visited by thousands of people each year. Some even say, have you ever even been to Dorset if you didn't get a picture of the Door?
Along the way to this natural arch, there are a few places worth a mention. The first is White Nothe. As well as this being the first point in the walk from which you can just about see Durdle Door hiding round the coastline, there is also a 'secret' smugglers' path that takes you to the beach below. But be warned, this was a path used by the sneaky back in the day and is not a path for the faint hearted (or possibly for children) as it really is on the cliffs' edge.
The second place I want to mention is Bat's Head. A very well photographed part of the coastline in its own right, due to its little mini arch that can be seen when the tides low, this is the perfect spot to take a break and look down over at Durdle Door before attempting the last short but steep climb up and over to the famous location.
If you started your day early and are feeling energized, after Durdle Door you may wish to extend your walk an extra mile or two and visit Lulworth Cove, another of the most popular places to visit in Dorset. Don't miss the views across Man O'War beach on the way.
Lulworth Cove is a sheltered cove and the perfect place for a dip and a cool down. Here you can also find plenty of yummy options for lunch before making your way back along the coast path to Ringstead Bay and the car. The loop walk from Ringstead Bay to Lulworth Cove should take 4-5 hours in total, or longer if you stop to swim!
Once you've got back to your van, I'd recommend driving down towards Lulworth Cove for dinner and the sunset, as well as to stay the night. If you don't want to stay in a campsite in Lulworth Cove, another option would be to check out Lulworth Holiday Cottages where you can find quirky cottages, luxury houses and glamping pods all situated within the lovely Lulworth estate.
Where to eat near Lulworth Cove:
Lulworth Cove has a few options if you fancy dining by the sea.
The Boat Shed is open till 5pm (4pm in the winter) and serves a selection of cakes, cream teas and seasonal specials.
Just a little way up the road is The Weld Arms which offers dishes made with local and wild ingredients and they are focused on using local, seasonal and sustainable produce.


Day 5: Corfe Castle and Old Harry Rocks
Corfe Castle is a place of mystery and ruin, and one of the highlights of this Dorset road trip. Quite literally a ruin as the castle that stood 21 metres tall in its prime was sanctioned to be demolished by an act of parliament in the 1700's. Commissioned for King Henry I in the 12th century, it was built upon the top of a 55 metre hill and was designed to be impressive and imposing. It withstood many uprisings, battles and scandals and is one of the best places to visit in Dorset if you want to walk amongst ghosts and learn more about this formidable ruin.
The village of Corfe is the complete contrast of its famous tourist spot. A place dotted with cute tearooms and pubs and lanes of pretty cottages made from purbeck stone; before leaving Corfe, you really must have a walk around!
Once you've visited the castle, you have plenty of options of what to do next on day 5 of your Dorset road trip itinerary. You could drive to Studland and enjoy an afternoon wandering the trails across the nature reserve and then catch some rays on the pristine beach. Or you could drive to Swanage where there are plenty of independent shops to browse and visit the beach there instead.
Whichever direction you choose to take, these 2 spots are the perfect starting points to walk up to another of the best places to visit in Dorset and visit Old Harry Rocks.
Sat at the end of The Isle of Purbecks on the Jurassic Coast, Old Harry Rocks is in a prime spot to see just what Dorset's Area of Outstanding Natural Beauty is all about. Sculpted and shaped by the waves over hundreds of years, Old Harry Rocks used to be attached to The Needles on the Isle of Wight and on a clear day, you can see these rock formations in the distance across the sea.
The chalk and limestone hills of the Isle of Purbeck offer a spectacular chance to lookout for some of England's finest wildlife. Birds of prey such as Kestrels, Buzzards and Red Kites are quite often spotted here as well as smaller birds like the Song Thrush, Meadow Pipits and Skylarks (season dependent). Butterflies are also found here in abundance due to the wide variety of lime-loving plants that flourish along the Purbeck Hills. So when visiting Old Harry Rocks and the surrounding area, don't forget your binoculars and cameras!
Where to eat in Swanage and Studland…
If you choose to dine on the Swanage side there are plenty of options to suit everyone's needs. You could try the Gee Whites Seafood Bar and admire views across Swanage beach, The 1859 Pier Cafe and Bistro or one of the many pubs dotted around this small seaside town.
Over on the Studland side there aren't as many places to choose from however that doesn't mean they should be overlooked! The Bankes Arms, located down by South Beach, has a huge outdoor seating area so you can dine alfresco. If you fancy something a little more up market, The Pig on the Beach is renowned for its use of local produced and is situated in a stunning location with views over Studland and Old Harry Rocks.
More things to do in Swanage and Studland:
Visit the castle ruins
Pop into Margaret Green's Animal Rescue and Rehoming Centre in Church Knowle and visit the animals
Go for a walk along the Purbeck hills
Wander around Swanage
Go sunbathing at Studland Bay
Have fun at Dorset water park
Hire paddle boards, kayaks and more at Studland's Knoll Beach


Day 6: Brownsea Island and the Red Squirrels
Brownsea Island is one of the most unique places to visit in Dorset and is a true treasure. This is a must see spot on your Dorset road trip if you are a nature and wildlife lover because there are some true diamonds to be found here!
Measuring at only 101 hectares, this small island is home to one of the rarest mammals in the UK, the very cute Red Squirrel. Roughly 250 Red Squirrels currently call Brownsea Island their home and they are quite often seen scurrying around, always on the lookout for food. The best time to visit the Red Squirrels is in autumn as they are busy storing food for winter, but chances are you will catch a glimpse of them during the other seasons as well.
As well as Red Squirrels, this nature reserve is also home to plenty of different bird life. Year round, birds flock here for the safety of the lagoon and reed beds so whatever time of year you choose to visit, there is always something feathery to see. In summer you have the chance to see Kingfishers and Sandwich Terns whereas during the winter months you can watch Avocets and Spoonbills sift for food in the shallow waters.
Good to know: Brownsea Island is usually open from April to October. To get to Brownsea Island, you will need to catch the ferry from Poole Quay. As well as admissions for the ferry, you have to pay to enter the island so if you are a National Trust member, don't forget your card! You cannot stay on Brownsea Island, so it's best to stay the night in the Poole area on your way back.
Where to eat in Poole
Depending on whether you make a day out of Brownsea Island or just make it a morning trip will influence the choices you have for food as there are no food options available on the island. However, a great option if you are planning on spending the day there is to pack a picnic, which you can enjoy whilst observing the wildlife or looking out over views of Poole Harbour.
Otherwise Poole has an abundance of options for you to enjoy. Along Poole Quay there's La Lupa, Dorset's oldest Italian restaurant, or the Rockfish Seafood Cafe that has its own boat that goes out and catches fish to serve daily. Or if you want something a little more homely, there's The Rope and Anchor pub that serves a selection of great ales and traditional, tasty pub meals.
More things to do in Poole:
Jump on a City Cruise boat ride and take a tour out to Old Harry Rocks and see this popular spot from the water
Hope on a River cruise boat and sail up the Wareham river
Browse the shops down Poole High Street
Catch the chain ferry over to Shell Beach
Have a stroll along the quay and over to Whitecliff
Visit Poole park and hire a pedalo, paddle board or kayak on the lake or play a game of mini golf


Day 7: Wimborne and Kingston Lacy
This historic market town nestled within east Dorset's amazing countryside offers plenty of fun things to do in Dorset to keep you busy for the entire day! There is so much to see and do here you really are spoilt for choice.
The most obvious place to start your exploring is in the Wimborne Minster as it stands out loud and proud from the rest of town dominating the skyline. Within the Church there is a chained library that contains handwritten books dating back to the 1300s and even books that once upon a time belonged to Catherine of Aragon. There's also a fascinating astronomical clock that will delight the young as well as the old.
Another place to visit in Dorset when you are in the Wimborne area is the National Trust owned, Kingston Lacy. If you love wandering around celebrated estate gardens, parklands and peering through grand houses, then a stop here is just for you.
Kingston Lacy was the former lavish family home of the Bankes family (who also owned Corfe Castle before its demolition) and has seen many changes over the years. But it was William John Bankes who made the changes that you see today. Before he inherited the home, it was constructed out of red brick but William soon changed that and had it cladded with chilmark stone, giving the house its very regal and grand appearance. Heavily inspired by Venetian palaces and with a keen eye for art, he collected many pieces and precious artifacts over the years and had them sent back to Kingston Lacy to be displayed in specific rooms. The many halls and rooms of the house hold some of the most important art collections the National Trust own and include works from Rubens and Sebastiano.
Where to eat in Wimborne…
There are many, many, cafes dotted around wimborne that finding a place to fill your bellies will not be hard! If you are fancying a light lunch and a good cuppa, there's Cloisters, The Riverside Cafe or The Short and Sweet Co. Or if you want something a bit different and "trendy" with freshly baked bread and pastries there's the Le Petit Prince Patisserie which I personally can highly recommend.
More things to do in Wimborne:
Go and browse the art collections and treasures at Walford Mill
Step back in time and visit the Museum of East Dorset
Become a giant at Wimborne's model village
Hire a dreamboat and try not to fall in the River Stour
Visit the ancient iron age rings at Badbury Rings
Search for goodies in the shops of Wimborne
Take a stroll along the River Stour at Ibridge
Have a picnic at Pamphill Green


And just like that, our 1-week Dorset road trip itinerary has come to an end! I really don't think you will be disappointed and I hope you love the scenery, places and history that Dorset has to offer as much as I do!
If you want to extend your Dorset road trip further west, check out my favourite things to do in Bournemouth here.
Have you been on a Dorset road trip?
Where are your favourite places to visit in Dorset? Anything you'd add?
Love as always and happy adventuring,


Did you find this post helpful? I'd love you to share it for me.
Pin and save this blog post for later…