If you're looking for a fantastic road trip destination, look no further than Morocco! This fascinating country is home to various landscapes and cultures, making it the perfect place to explore on a road trip. I will share a 10-day Morrocan road trip itinerary with you, going from Marrakech to Merzouga, jam-packed with all the best places to visit and the best things to do along the way. I'm talking rugged canyons, spectacular mountains, seemingly endless winding roads, and seas of sand dunes. Morocco is a road-trippers dream come true!
While Morocco is an African country, its close connection to Europe (it's only a short ferry ride from Spain) means that it's easy to get to and feels somewhat 'European' and more accessible than other African countries. Many travellers choose to travel to Morocco because it's a safe and stable country, as well as being vibrant and colourful, with a rich history and culture and blessed with some epic landscapes. This makes it a perfect country for a road trip!
Road trips are my favourite way to travel as it allows you to have freedom, flexibility and control over your trip. You're following your own schedule, timeline and travel desires, so you are bound to have an amazing trip.
While driving in Morocco may seem a little bit daunting when you learn more about the chaotic traffic in cities, Morrocan driving habits that are different to yours, and the winding roads, it's actually really not as bad as it seems. My experience driving in Morocco was a breeze. And the views you'll see from behind the wheel are worth it!
This Morrocan road trip itinerary will take you from the hustle and bustle of Marrakech to the ancient cities turned Hollywood sets of Aït Benhaddou & Ouarzazate through the gorges of the Atlas mountains and down to the Sahara Desert. You'll have plenty of time to explore all of these incredible places while on your road trip. Keep reading for all the details!
Other travel guides you might find useful…


How to get to Morocco…
To begin this road trip in Morocco, you'll need to fly into Marrakech. Marrakech has one airport, Marrakech Menara Airport. There are almost daily flights from London Gatwick or London Heathrow Airport. British Airways, Easyjet and Ryan Air are the only airlines that fly directly from London to Marrakech. To find the best deal, I always recommend firstly switching to an incognito tab on your internet browser and using sky scanner or google flights to search for the best deals. The flight is only 3.5 hrs and costs between £85-£180 depending on the season you choose to travel.
The best time to travel to Morocco is in the shoulder season, from March to May and September to November. This is when the weather is warm but not too extreme. If you want to be able to explore the country without having to compromise due to extreme weather, then stick to Spring or Autumn for your Moroccan road trip.
Where to rent a car in Morocco…
The best way to get around Morocco is by renting a car, as public transport can be quite unreliable and isn't an effective way to freely move around the country, especially if you don't have too much time.
The roads in Morocco are mostly in good condition for this itinerary and are easy to navigate as long as you plan your route and give yourself plenty of extra time for any unforeseeable events, but mostly because of the many 'stop and take a picture' spots you'll encounter along the way.
The best place to rent a car is from Marrakech, at Menara Airport. You can use websites such as Rentalcars.com or Sixt to find the best deals on car rentals. We found ours via Booking.com's Rent a Car website, and we were very pleased with our experience! We rented our car through Select Rent a Car.
After reading quite a few reviews and blog horror stories about renting in Morocco, I expected our experience to possibly be complicated, but to a much-delighted surprise, it wasn't!
We were given the exact car we booked. It was in almost mint condition, with only a couple thousand miles on the meter and the rental company was super honest and easy to deal with.
Things I heard about renting a car in Morocco to be mindful of:
not being given the car you actually booked and being given a lower class tier one (one that might not be suited for the road trip as it is advised to take a 4×4)
being given a car that is all banged up and not in good condition
scams and tricks by omitting information or mistranslating parts of the contract (and blaming it on language barriers)
hidden fees like car cleaning fees
All of which should be able to be avoided if you go for the right rental company and ask the right questions!
Tips for driving in Morocco
Right, after actually managing to securely and confidently rent a car for your road trip in Morocco, there's still the actual driving that needs to be done. This is, again, something to be wary of, and I'd recommend reading these tips for driving in Morocco carefully.
Hire your car with a trustworthy rental company and ensure you know what's included in the contract. Make sure this includes insurance or that yours covers this. Take pictures and videos of the inside and outside of the car before hitting the road.

Plan your route in advance. Like in any foreign country, it's best to get to know the roads beforehand. Read up on blogs, create a google map route and save it to your phone so you can access it easily.

Allow plenty of time for your journey, especially when driving long distances. The roads may be in good condition, but there is still a lot of construction work going on and a lot of police checkpoints on the road that can slow you down. Not to mention the slow-paced truck drivers that you often encounter on winding roads where it's almost impossible to overtake.

Avoid driving at night and inside the Medina. When you arrive in the Medina in Marrakech, it'll become very clear very fast why you want to avoid driving here. There is basically no driving etiquette whatsoever, and it's very easy to get lost and stuck in traffic, so this is an absolute no-go. Driving at night is also something to be avoided as roads aren't well lit, Moroccan drivers don't use their lights, and many pedestrians simply walk on the road without any fear of being run over.

Keep your eyes on the speed limits and stay well within them. There are a lot of policemen on the roads and several police checkpoints along the major highways who are monitoring the road profusely. If they catch you speeding or trying to take over a car when you're not meant to, they will fine you. It's not a massive fine, but if you accumulate these, it can add up to a big extra expense. There are also several radars on the road that are not signalled, so just stay within the limit! In case you're wondering, speed limits in Morocco are 50km/h in towns and cities, 80km/h on open roads and 100km/h on motorways.

Be a cautious driver. As Moroccan road etiquette isn't the best, you'll need to be extra cautious. Keep a good distance between your car and others, keep your eyes out for any sudden movements, and use your horn on tight bends.
I know all these tips for driving in Morocco might seem like driving in Morocco is stressful and not worth it, but I promise you, it is. Once you get used to the road conditions and the driving style, it's pretty straightforward. These tips for driving in Morocco are here to educate and help you so you can drive confidently on your road trip in Morocco.
Now that all the important tips, pointers and information have been shared on what you need to know before getting on the road, it's time to get to the juicy stuff. Time to share all the best places to visit in Morocco and the best things to do in Morocco during an epic road trip across the country.
So, without further ado, let's dive into this Morrocan road trip itinerary.


A 10-day Morocco road trip itinerary...
This Moroccan road trip itinerary starts in Marrakech, the capital city of Morocco.
Marrakech is a city that's rich in culture, history, and traditions. It's also one of the busiest cities in Morocco, so it can be quite overwhelming for first-time visitors. But don't worry, this road trip itinerary will guide you to the best places to visit and the best things to do in Marrakech!
On your first day, I'd recommend ticking off four of the best things to do in Marrakech:
Get lost in the Medina and the souks
Explore and wander the stalls at Djemaa el-Fna Square
Visit the Koutoubia, the largest mosque in Morocco
Watch the sunset from Cafe du France in Djemaa el-Fna Square (This is an absolute must-do in Marrakech!)
Over the next two days, you have plenty of options on places to visit and things to do in Marrakech! You could:
visit the gardens of Le Jardim Secret as well as Jardim du Majorelle
catch a sunrise on the rooftop of the House of Photography Museum
explore the New City neighbourhood of Gueliz
visit some of the many palaces in Marrakech, like Bahia Palace and El Badi Palace
visit the newly renovated Ben Youssef Madrassa
take a walk through Palmarie and admire the massive palm trees or visit the giant cacti farm, Cactus Thiemann
If you want to explore Marrakech to the fullest, stay tuned for…
A 3-day itinerary for Marrakech
The best things to do in Marrakech
These blog posts are full of recommendations on where to stay and where to eat in Marrakech too.


Day 4: Marrakech & Aït Benhaddou
After a few days of exploring Marrakech, it's finally time to hit the road and head to the next destination on this Morrocan road trip itinerary: Aït Benhaddou!
A reminder from what was mentioned at the beginning of the blog post: getting out of the city is probably the trickiest part of this road trip, so make sure you've got your GPS or maps app set with your route out of the city that avoids going anywhere near the Medina. This is probably one of the best tips for driving in Morocco: stay out of the Medina in Marrakech at all costs.
Your first stop on the road trip is the historic city of Ait Ben Haddou, home to the UNESCO Heritage Site of Ksar Aït Benhaddou. (And for the Game of Thrones fans, this is also known as Yunkai).
To get to Ait Ben Haddou from Marrakech it's about a four-hour drive. I would recommend leaving early morning so you can arrive in time to explore the ancient city and give yourself enough time to find the perfect sunset spot.
Route tip: Take the 'slower' but much more scenic route down to Ait Ben Haddou via Telouet. It's an easy road to miss, so keep your eyes peeled on the road for that left turn down a dirt road. This road is only a tad bit slower, but it's super winding, so drive carefully and don't attempt this at night.
As you can see from the photos, Aït Benhaddou is a sight for sore eyes. The historic city is made up of Ksars (fortified cities), which were once used as homes and defensive strongholds for the Berber people.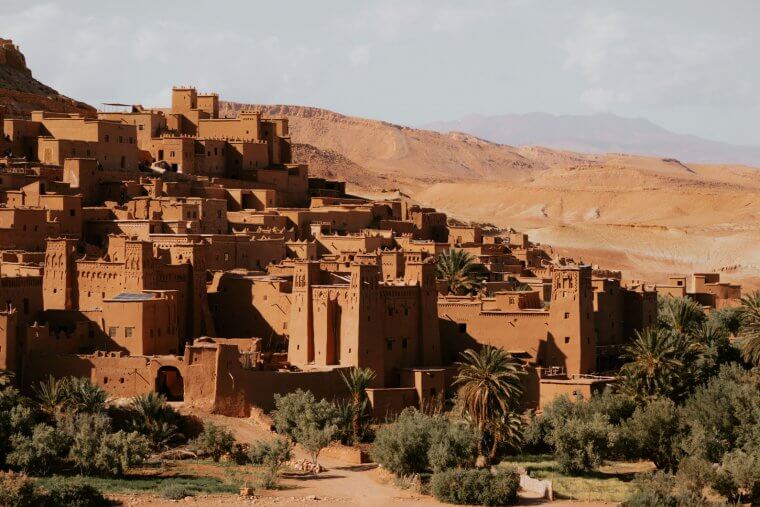 These days, it's a popular spot for film crews (it was even featured in Game of Thrones!) and tourists alike.
The city is made up of red-earth buildings that have been there for centuries, and it's one of the best places to visit in Morocco. Somewhat still overshadowed by neighbouring town Ouarzazate, Aït Benhaddou needs to be on your Morrocan road trip itinerary as visiting this ancient city is one the best things to do in Morocco.
There are a few guided tours available, but I would recommend just taking your time to explore the site by yourself. It should only take you an hour or two to walk around and there. There are small shops and cafes dotted around inside the Kasbah, but the highlight of your visit is heading all the way to the top and enjoying panoramic views of the landscape. It feels like you are on another planet.
Top tip: To visit the ancient city, there are two entrances: one that's paid and one that's free. The free entrance is through a little dirt track with a sign at the right of the pillar entrance. There's a sign by the road, it's not hard to miss!
The rest of the town (if you could even call it that!) is made up of a row of buildings on each side of the highway, and most of these are guest houses and hotels to stay in when you visit. I stayed at Guest House Bagdad Cafe, which was perfect for a one-night stay. There are several similar accommodations in town, and almost all of them have similar ratings and reviews on Booking.com, so you really can't go wrong here.
In terms of restaurants, again, there are a handful of restaurants that are there to cater to travellers, and all have pretty good reviews. I had lunch and dinner at La Terrazza, a little Italian down by the banks of the river and at Chez Brahim, which serves a traditional Morrocan tagine.


Day 5: Aït Benhaddou, Ourzazate & Dadés Gorge
Pack up your car, and hit the road. The drive to Dadés Gorge isn't that long, so to break your day up on this Morocco road trip, stop by Ouarzazate.
Ouarzazate is the first city that brought in tourists to this region of Morocco as this is where the big film production companies (that also filmed in Aït Benhaddou) set up their studios. There are two production studios in Ouarzazate: Atlas Studios and CLA Studios.
Despite most of these studios being responsible for some amazing films, like Gladiator, Game of Thrones, and Prison Break, the studios are a bit underwhelming, especially if you've got your expectations set quite high. If you've got the time and are a big fan of movies, it's still definitely worth a visit and still earns its place on this Morocco travel guide!
If I had to pick one studio, I'd visit Atlas Studios. Atlas Studios is just off the main highway when you enter Ouarzazate. Atlas Studios is open from 8 am to 6:30 pm, and the entrance fee costs 40 dirhams (£3).
After a morning of wandering around 'Morocco's Hollywood', grab a bite to eat at one of the quaint restaurants in town. I'd recommend any of these three: The Full Sun, Restaurant Kasbah Des Sables or Dimitri. The last two offer a more traditional Moroccan menu, whereas The Full Sun has more Western options like sandwiches and pasta.
Before setting off, stock up on snacks and food at Carrefour in town, as this will be the last big 'big' supermarket to stock up before heading into the mountains and the desert (Address: Mall, Av. Mohammed V, Ouarzazate 45000, Morocco).
The drive to Dadés Gorge is short compared to most of the drive on this Morocco road trip. It's only 2.5 hours. But like all the drives on this road trip in Morocco, the views are epic, so you'll need to factor in quite a few stops to simply admire the scenery. Especially when you drive up the serpentine road and park up at Cafe Restaurant Timzzillite. Driving up to this viewpoint in Dadés Gorge is a must on a road trip in Morocco and is why most travellers choose to stop here on their way to the Desert.
You can keep driving up the road from the viewpoint, but we headed back down to have some delicious traditional Beber Pizza at Riad Restaurant Pizzeria Marhaba. It's only a 1-minute drive from the Cafe viewpoint. It may not seem like much when you see it from the outside, but this is one of the most delicious meals I had on the trip, and I'd highly recommend it.
If you're looking for something a tad bit fancy, Auberge Chez Pierre is a very popular and highly recommended restaurant (and hotel). If you're visiting in the hotter months, they have a very charming terrace where you can sit and enjoy a late summer evening meal.
This Morocco road trip itinerary only has one night in Dadés Gorge, but as it's also a very popular hiking spot, there is space on this road trip for you to spend an extra night or two here. A popular hiking trail is to the Monkey Fingers mountain formations.
For this one night in Dadés Gorge, we booked into Labyrinth Kasbah Dades, which is in the small town of Ait Ben Ali, a little further down the from Dadés Gorge, as it was a little easier to set off from for the next drive.


Day 6: Dadés Gorge to Merzouga
Another day, another drive. And this one is a fairly long stretch but an exciting one as you're finally going to make your way to the desert. Next stop on this Moroccan road trip itinerary: is Merzouga.
Merzouga is the furthest point you'll reach on this road trip in Morocco and basically what this Morrocan road trip itinerary has been structured around. Let's be honest, visiting the Sahara Desert is one of the best things to do in Morocco and is an absolute highlight of any trip to Morocco.
There are two routes you can take to the desert from Dades Gorge. One is the route via Tinejdad, and the other is the route via Alnif. Both have very similar travel times, but we opted for the route via Alnif as I'd read that the landscapes for this drive were particularly more dramatic. And the reviews did not disappoint! Driving down to Merzouga was definitely a highlight on this road trip in Morocco, as that is when I got that 'road trip feeling'; when we were driving down the seemingly never-ending one-way road to the desert.
After three and a quarter hours of driving through some of the most remote roads in Morocco, you'll reach the last of the small desert towns in Morocco, one of them being Merzouga.
The whole point of driving all this way out to be in the desert is to stay in a traditional Moroccan Desert Camp, and there are plenty of options to choose from.
I stayed at Golden Desert Camp and at their sister camp, Riad Kasbah Aiour. Both are great, and the major difference between these two is location. Golden Desert Camp is located in the Erg Chebbi dunes, which are the taller and more 'picturesque' sand dunes. Whereas Riad Kasbah Aiour is just off the main road, tucked away at the edge of the desert. As suggested by its name, it also has a Riad with rooms which you can stay in. I really enjoyed being able to experience both. Obviously, if you want to get the full-on experience of life in the Desert, then staying in a desert camp in the literal middle of the sand dunes is the way to go.
But there is one thing you can't escape in a desert camp, and that is the heat! I was there at the beginning of May, and it was already scorching hot during the day (the high 30s and low 40s!). However, you'll be glad to know that most camps have air-conditioning in the tents (hallelujah!) and fully functioning showers with cold water.
Before heading into the desert, you'll need to leave your rental car at the Riad's car park. Most desert camps have a car park or designated parking lot where you can leave your rental car. Take all your belongings with you and try to find a shaded area to park your car. You can't really escape the heat here, but I'd say it makes a difference. Your car will be safe.
Once you've checked into your tent and wandered around the camp, take the afternoon to have the first desert adventure of your choice: sunset camel ride, quad biking, 4×4 sand dune bashing, or just a simple desert walking tour. There are so many options to explore the desert in Merzouga, catering to all types of travellers.
But there's one thing you need to be sure not to miss on whatever desert adventure you opt for on this day: watching the sunset in the sand dunes. It truly is a magical experience. The sky lights up in oranges, pinks and reds as the sand dunes start to change colour too. It's not hard to see why this is one of the best things to do in Morocco.
After catching your first (of many!) desert sunsets, you'll be greeted back at your camp by a campfire, a delicious warm-cooked meal and drums! Yes, drums. The Saharawi people that live in this part of Morocco are known for their music, and most camps host these campfire sessions every night. It's a great way to end your first day in the Sahara Desert.


Many travellers opt to have just one night in a desert camp, but I would highly recommend two. I think one night is a bit of a tease, and you'll find that there's so much to do in the desert that one night just isn't enough.
So use this day on your Morocco road trip to experience more of what the Sahara has to offer: starting with a sunrise camel ride! I know sunrises can be a bit daunting, but sunrise and sunset are the best times to enjoy the desert as it's just way too hot in the middle of the day, so the early start is worth it. Especially when the reward is watching the sunrise over the sand dunes while all you can hear is a light breeze and the sound of your camel's footsteps. A camel ride is a must-do in Merzouga and one of the best things to do in Morroco.
Once it gets to about 10 am and you are back at the camp, things start to get hot. And when I say things, I mean everything. Despite having air-conditioning in the tents, you don't really want to spend your time inside a tent. Don't get me wrong, they're lovely and all, but it's just too hot to stay in one place. So what do you do? Go for a swim, of course!
That's right; there's a pool in the desert. I was as surprised as you are reading this right now when our hosts offered to take us to the pool.
Next door to Riad Kasbah Aiour is another Riad called Kasbah Mohayut, and despite being a place for travellers to stay, they have a pool that is open to everyone! It's the perfect place to cool down during the day, take a break from the heat and have a swim.
After your refreshing dip in the pool, it'll be time for another desert adventure! This time try something different like sand boarding, a sand buggy or a 4×4 tour.


This is the last full day in the desert on this Morocco road trip! But if I'm being completely honest, this third day isn't really needed at this point as it'll be a similar set-up to the day before. Unless you want to try every desert tour available in Merzouga, then you could start making your way back towards Marrakech via Todra Gorge or Ourzazate.
I stayed another night as I was staying in Riad Kasbah Aiour, in a different part of the desert, and it was for my birthday celebration.
Similar set up to the day before: wake up early to catch the sunrise, go for a swim in the desert pool, try a different desert activity and watch the sunset.
As it was my birthday, we decided to go on a quad bike tour, and this was my favourite way to explore the desert! We got much further into the desert than we did on the camels and saw some absolutely breathtaking scenery.
I would recommend hiring a guide as they know the desert like the back of their hand and will be able to take you to all the best spots! A quad bike tour can cost anywhere between 250-500 dirhams (£30-50) per bike for a two-hour tour. You can have two people on a bike, but they will add on a cost for the second person.
If you had to choose one activity to splash out in the desert, I would really add quad biking to the top of your list!
After one last sunset amongst the sand dunes of the Sahara Desert, it's time to get back for an early night as you'll be up early for a long drive, heading back where you came from.
Day 9: Merzouga to Ourzazate or Merzouga to Todra Gorge
After your time in the Sahara, it'll be time to start making your way back up to Marrakech. As we spent three days in the desert, it was a better decision for us to come back the same way we came via Ouarzazate.
If you want to explore a different part of Morocco on your way back, you can take the route back to Marrakech with a stopover at Todra Gorge. Todra Gorge is a stunning canyon located in the High Atlas Mountains and is one of the best places to visit in Morocco. From then on, you can follow onto Marrakech.
The road from Merzouga to Marrakech via Ouarzazate will take around eight hours, so leave Merzouga early to give yourself enough time to arrive while it's still daylight. Another top tip for driving in Morocco: avoid driving at night at all costs. It's not dangerous per see, but because of the Moroccan etiquette on the roads, where they treat tarmac as pedestrian pathways, and not many people have their lights on, you feel more on edge driving at night.
Even though your longest drive in this Morocco road trip lies ahead, there is one big thing to look forward to on your route back: stopping to smell the roses at Rose Valley! Rose Valley is quite literally named after the roses that are grown there.
In the spring (April + May), the valley is blanketed in a beautiful sea of pink and red roses. It's one of the best places to visit in Morocco and an often overlooked region in Morocco, but if you're visiting in spring, it's an absolute must.
There are two villages you can stop at to explore the valley: Hdida or Taberkhachte. Hdida is the more touristy of the two, with plenty of places to buy rose-scented products and souvenirs. Taberkhachte, on the other hand, is a lot more lowkey but just as beautiful.
After your time in Rose Valley, it'll be onwards to Ouarzazate, where you can finally rest after the longest driving stint of the trip so far.
As Ourzazate is just a layover at this point, we opted to stay in a Riad just outside of town called Riad Tama & Spa where we could have both breakfast and dinner at the hotel. The priority was rest!


Day 10: Ouarzazate to Marrakech
The tenth and final day of this road trip in Morocco will see you driving back to Marrakech, where your road trip will come to an end.
This drive is pretty uneventful compared to the others, as your focus is simply getting back into Marrakech to return your car and catch your flight home.
You could always add another day or two on this trip so you can hit more places to visit on the road trip or simply have a few more days to enjoy Marrakech. We gave ourselves one more night in Marrakech to enjoy a meal at Le Jardin and get the traditional Moroccan spa experience: getting a Hammam. A must-do in Marrakech and the perfect way to unwind after a hell of a road trip!
I hope you enjoyed this road trip itinerary for Morocco and that it's inspired you to visit this beautiful country.


What are your favourite things to do in Morocco?
Where are your favourite places to visit in Morocco? Anything you'd add to this Morocco road trip itinerary?
Love as always and happy adventuring…
Did you find this post helpful? I'd love you to share it for me.
Pin and save this blog post for later…