Are you planning a road trip through Europe? Or perhaps you're planning a holiday to Spain and are looking to get some inspiration and direction as to the best things to do in Spain?
Well, my friend, welcome!
In this post, I am going to share with you some of the best things to do in Spain, some of which I have done and some that are high on my Spain bucket list. With 50 provinces, 17 regions, and at least 5 languages, Spain is a super diverse country, so it's one of the best places to travel with your best friend if you're looking for some variety in your adventure!
From exploring one of Spain's National Parks, partying in Marbella, volcanic wine tasting in Lanzarote and walking the infamous Camino di Santiago, all the way to walking across the Maspalomas Dunes, skiing in the Pyrenees, a city break in Barcelona, and a road trip through Mallorca, you aren't short of things to do in this diverse European country.
I've loved my road trips through Spain over the years and as you can tell by the latter list, your trip to Spain can include so many incredible types of adventure. I forgot to mention visiting Spain's capital, Madrid, marvelling at the Alhambra in Granada and exploring the Basque Country! Gosh, Spain is amazing!
If you're based in the UK, getting the ferry over to France and then driving to Spain is such an easy option. The crossing takes around an hour and it means you don't have to worry about going to the airport / hiring a car when you get there. I did this when I drove from England to Portugal! There are also ferries from Portsmouth to Santander.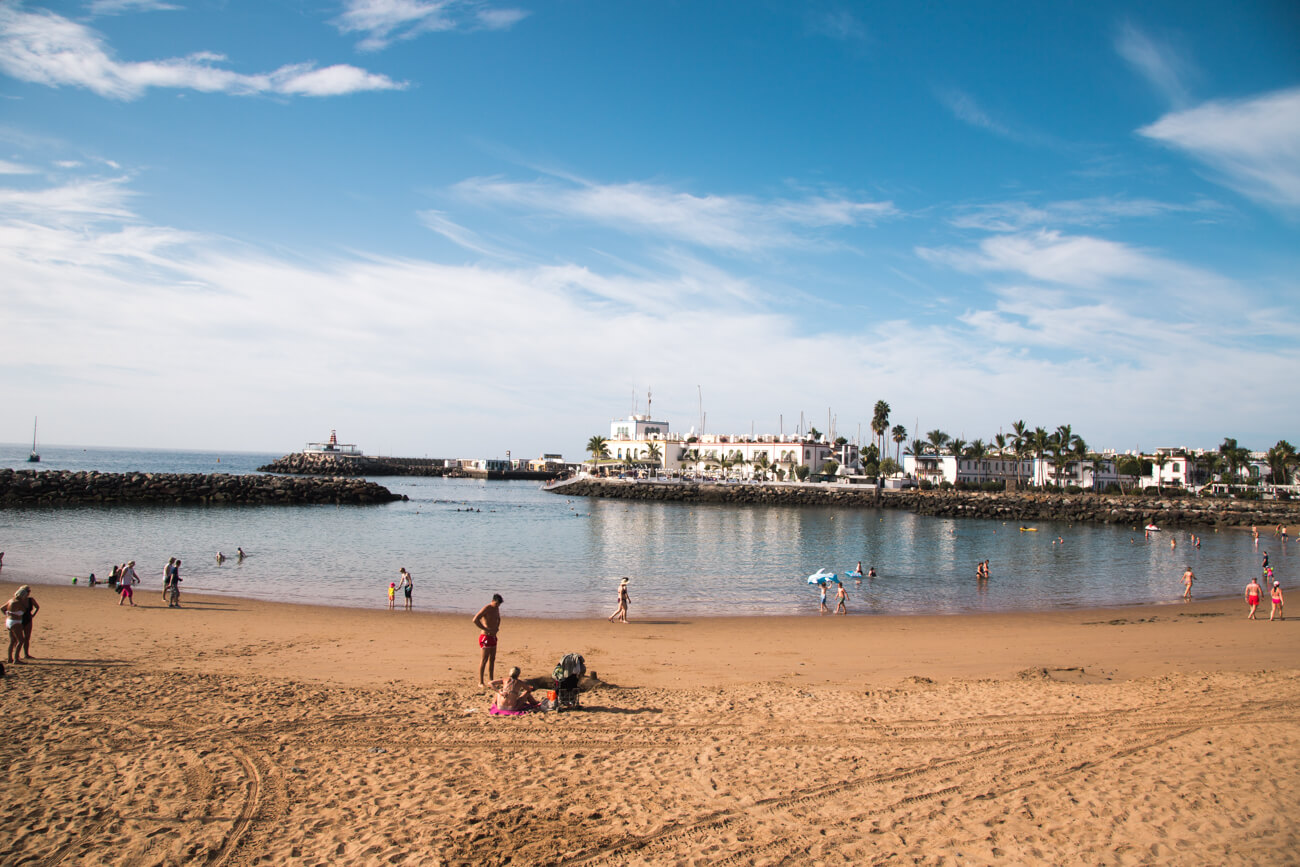 Other blog posts you might be interested in...


The best things to do in Spain...
1. Enjoy a city break in Barcelona.
Barcelona is one of my favourite cities in Spain, as well as one of my favourite city breaks in Europe, and for good reason. Barcelona as a travel destination offers so much for every kind of traveller. From afternoon strolls through the colourful Las Ramblas and admiring Gaudi's impeccable design of La Sagrada Familia, to diving into some fine Spanish cuisine and enjoying a sangria filled afternoon at the beach – you're going to love it here. Don't forget the incredible panoramic view you get from 'the bunker' – one of the best things to do in Spain is to see how stunning the view is at sunset!
2. Marvel at the street art in Madrid.
One of the best things to do in Spain is visiting Madrid. Madrid is the capital of Spain, and it's a vibrant city, full of life and things to see and do. One of the best things to do in Madrid is a street art walking tour. The most popular place for this is the Malasaña district, one of the most up-and-coming, hipster and unique neighbourhoods in Madrid. There are many instagrammable and beautiful murals in this area, such as the one full of blue eyes on La Palma 18. Other must-see murals in Madrid include:
The Monkey by Okuda San Miguel with Bordal (geometric graffiti made with recycled materials) – the corner of Embajadores with Travesía.
The walls of the CSA Tabacalera located at the Embajadores 53 street
Paco de Lucía metro station, the largest suburban graffiti in Madrid
Check out the best capital cities to visit in Europe in this blog post.
3. Take on the Camino de Santiago.
Every year hundreds of thousands of people walk across Spain to complete the Camino de Santiago, a pilgrimage route. One of the best things to do in Spain is to take on this walking challenge, whether that be for religious reasons, some time to self-reflect and detox from technology, or to complete the physical challenge. To walk the full camino usually takes just over a month, but obviously this depends on where you start and how much you walk each day!
Other walking challenges for your Spain bucket list include the Caminito del Rey and El Saltillo.
4. Walk through Maspalomas Dunes in Gran Canaria.
If you're looking for the perfect balance between desert and oasis, one of the best things to do in Spain is to visit the Maspalomas Dunes.
The Maspalomas Dune system is a unique place to visit in Spain. It's located in Gran Canaria, one of the Canary Islands, and it's full of beauty and a range of ecosystems. Its 400 hectares, protected by the Canarian government as a Nature Reserve of special value, include a stunning beach, a dramatic sand dune system, palm grove and a lagoon.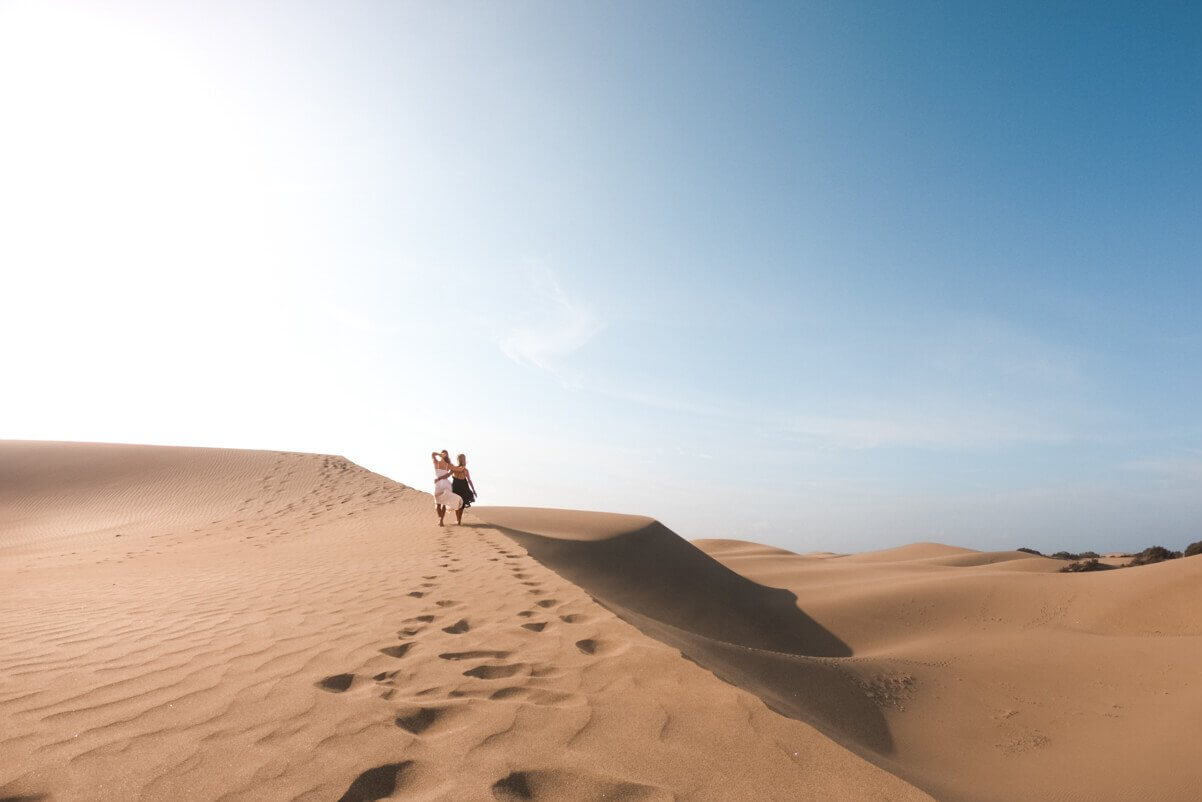 5. Drink rioja in La Rioja.
Rioja is one of my favourite red wines, and where better to drink it than in La Rioja itself! One of the best things to do in Spain is to try some of the Spanish wines, which are among the best in the world, and La Rioja is world famous for its vineyards and wine production. Not only will you be able to enjoy the wine in the sunshine, but it'll be much cheaper to drink it locally than it will at home!
6. Admire the Alhambra in Granada.
Visiting the Alhambra in Granada is the best thing to do in Spain. It's one of the most unique experiences, not only in Spain or in Europe, but anywhere in the world. The Alhambra of Granada, one of the most important pieces of Islamic architecture, dates back to the 13th century and has been extremely well conserved and protected. The building itself is stunning, not to mention the surrounding gardens. If visiting the Alhambra is on your Spain bucket list, book in advance as it can get busy (but trust me, it's worth the crowds).
7. Watch the most amazing sunset in Formentor, Mallorca.
8. Eat paella in Valencia, where it was invented.
Most of you have probably eaten paella, a rice and fish or chicken-based dish, sold at Spanish restaurants all over the world. Take it one step further by eating it where it was invented! Just south of Valencia you'll find Albufera, the largest lake in Spain, and it is here that the paella is originally from. Once you've finished exploring the city of Valencia itself, head towards the lake area for beautiful sunsets, boat trips, and of course, fresh paella.
9. Go whale or dolphin watching in Tenerife.
One of the best things to do in Spain is to hit the water and say hello to the wildlife. Whale and dolphin watching in Tenerife is one of the best things to do in the Canary Islands, Spain. Since you're almost guaranteed to see these beautiful creatures on the Adeje Coast, this activity is very popular in Tenerife. You can join a boat trip from Los Cristianos or Los Gigantes to find Pilot Whales and Bottlenose Dolphins any day of the year! During winter, if you are lucky, you might even spot migratory species such as humpbacks or blue whales.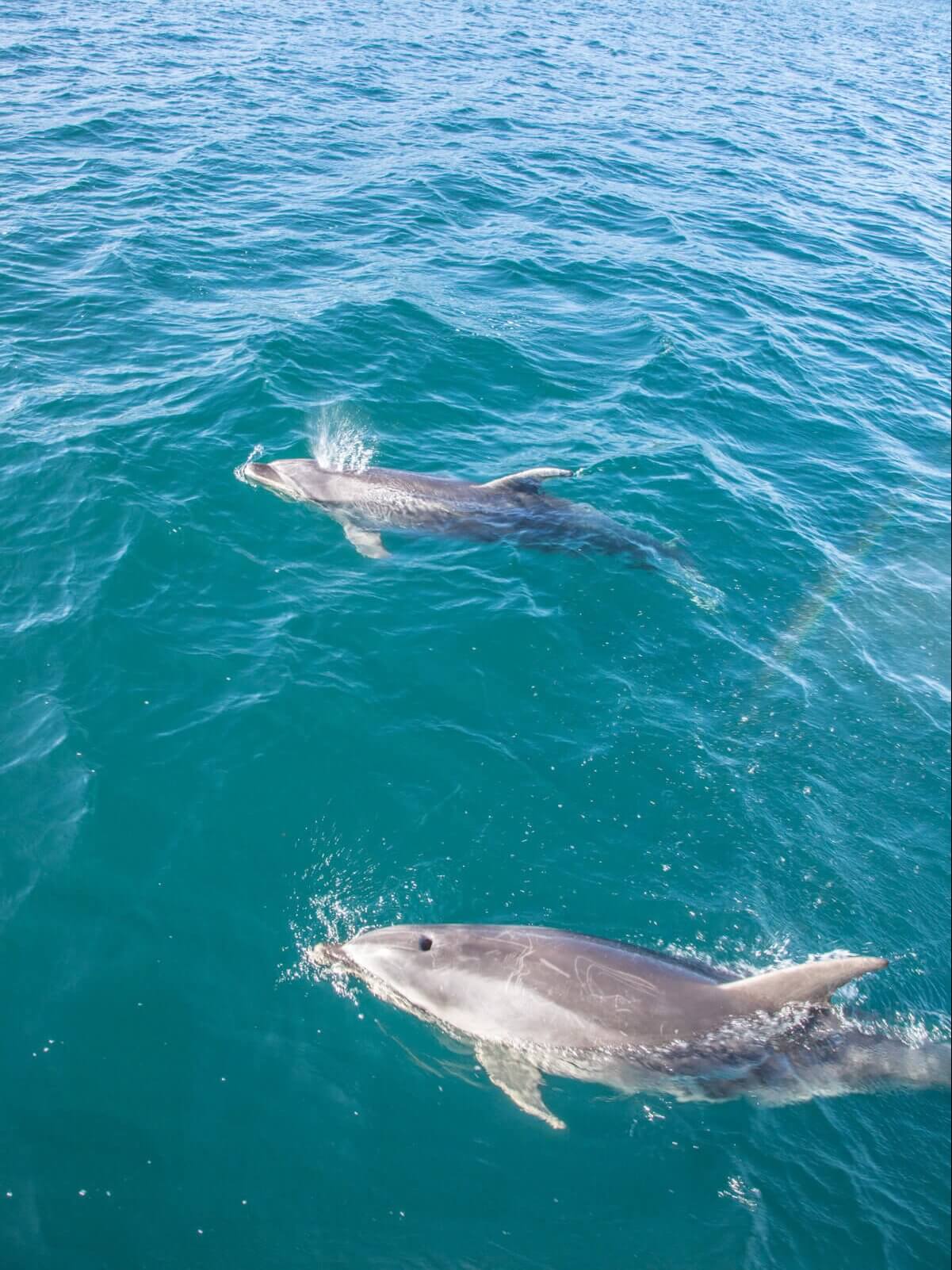 10. Walk along the coastal cliffs in the Basque Country.
When you think of the Basque Country, your brain probably immediately goes to you eating 'pintxos' in San Sebastián, spending some time at the Playa de la Concha, or admiring the art at the Guggenheim museum. These are among the best things to do in Spain, but for something a little more off the tourist track, try hiking the Ruta del Flysch. This hiking route stretches along 10km of cliffs between Zumaia, Deba and Mutriku, in Gipuzkoa. Expect awe-inspiring, jaw-dropping views!
11. Attend a flamenco festival in Seville.
Seville is home to all the things you think of when you think of Spain: oranges, abundant sunshine, narrow streets to explore, wonderful food, flamenco… but perhaps without the huge crowds that are attracted to Barcelona and Madrid. One of the best things to do in Seville is to attend the Flamenco Biennial, a flamenco festival that takes place every two years (on even numbered years) or the festival 'Septiembre es flamenco', which happens on the odd-numbered years. If learning about flamenco culture is on your Spain bucket list, this is a must-do experience for you!
12. Go kayaking around the coast of Menorca.
I absolutely love hitting the water, and so for me, one of the best things to do in Spain is to kayak around the coast of Menorca! With Menorca En Kayak there are loads of kayaking options for you, including exploring Colom Island & Sa Torreta, watching sunset in Es Grau, snorkelling in the Natural Park and more. You can even take on a 4-day or an 8-day kayaking tour around the whole island if you'er feeling more adventurous!
13. Learn to kitesurf in Tarifa.
Tarifa is the kitesurfing capital of Europe, so one of the best things to do in Spain is to give it a go yourself! Whether you're just getting started and need beginner lessons, or if you've done it before and want to join an advanced gruop or have private lessons, Tarifa is full of kitesurfing schools in multiple languages that will help you master this sport!
14. Attend one (or more!) of the amazing music festivals in Spain.
If you're planning a holiday to Spain, you're expecting sun, good food and wine, and a heavy dose of culture. Another reason to visit Spain is the abundance of world-famous music festivals it hosts every year! From Primavera Sound in Barcelona to Mad Cool Festival in Madrid or Festival Internacional de Benicàssim, one of the best things to do in Spain is to plan your trip to coincide with one of these awesome line ups!
15. Go volcanic wine tasting in Lanzarote.
The wine is good all over Spain, but the vineyards in Lanzarote are unique. One of the best things to do in Spain is to head to La Geria and explore the vineyards that are on the edge of the lava fields. The contrast of the green vines against the black soil make for a wonderful backdrop as you sip on some of the most unique wine. Make the most of it while you're there as it's hard to find this wine outside of Lanzarote!
16. Visit the white villages (Pueblos Blancos) in Andalusia.
Another area for your Spain bucket list and one of the best places to visit in Spain is the area of los pueblos blancos (the white villages) in Andalusia. The white washed buildings look stunning against the local backdrop and are a must-see if you go to Spain! One of the most beautiful is Ronda, home to the famous bridge (Puente Nuevo), the views from the top of which are absolutely gorgeous!
17. Have a girls weekend in Marbella or Ibiza.
Marbella and Ibiza are well known for their party lifestyles, and so one of the best things to do in Spain is to let off some steam with your girls (or guys!) and enjoy it for yourself! Spain is definitely a great place to travel with your best friend.
If you're not into the party life or you don't want to be constantly drinking and dancing on your trip away, don't be put off Marbella or Ibiza! If you come away from the main party areas, both are home to some beautiful nature and stunning old towns that are worth exploring.
18. Check out Praia das Catedrais in Galicia.
Praia das Catedrais, or Cathedral Beach, is located in Galicia in north-west Spain. One of the best things to do in Spain is to visit this natural wonder and see the maze of rock formations, arches, and caves. While you need to book your visit (as the beach is very popular) and you need to time your visit for low tide so that you can explore safely, it's well worth this small amount of organisation for this Spain bucket list experience. If you can time low tide and sunset, you're onto a winner for the best travel photography! Make sure you explore all the caves as each one is unique and well worth a visit.
19. Visit the Pablo Picasso museum in Malaga.
For many Malaga is simply the airport that you fly in and out of to travel in Spain, but don't overlook this gorgeous town! Malaga in Andalusia is actually the home of the famous Pablo Picasso, so one fo the best things to do here is to visit the Pablo Picasso museum and his house to learn moer about his life and his art.
20. Explore Extremadura during cherry blossom season.
You don't need to go all the way to Japan to see the cherry blossoms! I've seen them in Stockholm and you can also see them in Extramadura's Valle del Jerte in Spain. If you can time your visit for late March/early April, one of the best things to do in Spain is to marevl at the beautful pink blossoms in this area.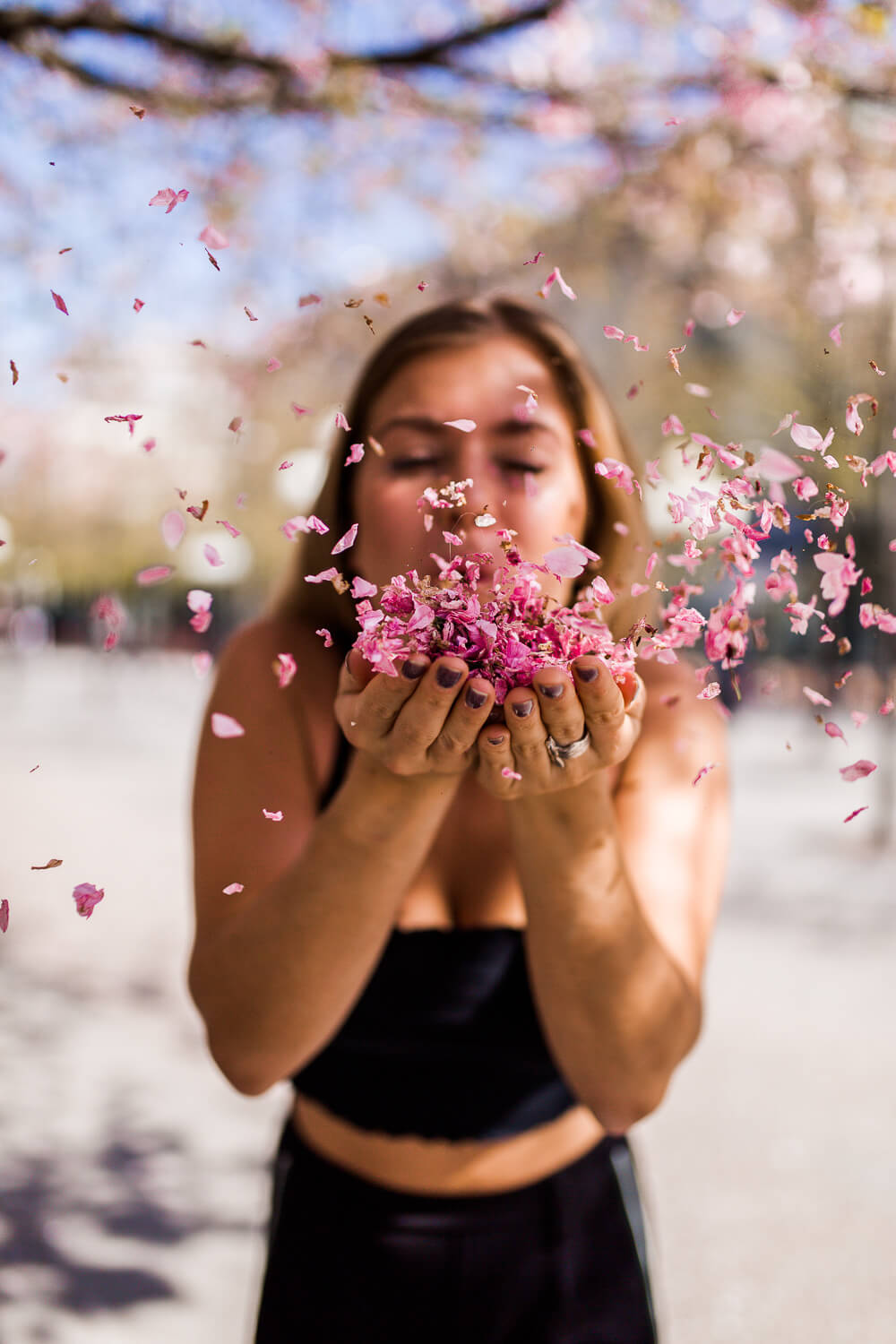 21. Go skiing in the Pyrenees.
The Pyrenees are frequently pushed aside on people's Europe bucket lists for skiing experiences in the Alps. Yes, the Alps are higher and bigger, but the Pyrenees are well worth a visit too. The Pyrynees are known for being a great place for beginner skiiers, and the blend of French, Spanish and Andorran culture you'll find here makes for a unique ski trip. Some of the best ski resorts in the Spanish part of the Pyrenees include Baqueira – Beret, La Molina, and Formigal.
Check out everything you need to pack for your next ski trip in this blog post.
22. Road trip through Spain.
One of the best things to do in Spain is… road trip! If you've been here a while you'll know that I love a good road trip, and plan to do plenty of them now that I have my fully converted van! Part of the appeal of a road trip in Spain is the variety of landscapes on offer here… from the lush, green north to the beaches on the coast and the mountainous inland areas… you can make a Spain road trip itinerary with a little bit of everything!
I went on a road trip through Mallorca, and absolutely loved exploring the little island at my own pace. The freedom of a road trip in Spain means you can go where you want, when you want, and really dig deep and explore the area.
23. Go hiking in Doñana Natural Park.
Doñana is one of Spain's most unspoilt national parks, located in Andalusia, and is a UNESCO World Heritage site. It's home to an abundance of flora and fauna (including the endangered Iberian lynx), as well as landscapes that include sand dunes, marshes, lagoons, forests, and endless beaches. One of the best things to do in Spain is to put on your hiking boots and explore the miles upon miles of trails you'll find here!
24. Hit the surf in Mundaka.
Mundaka, close to Bilbao in northern Spain, is world-famous for some of the best surf swells in Europe. A great spot for intermediate or advanced surfers, the waves which come off the Atlantic can reach up to 12 feets! Mundaka is a fishing village that attracts surfers year round, and one of the best things to do in Spain is to check it out and hit the waves yourself.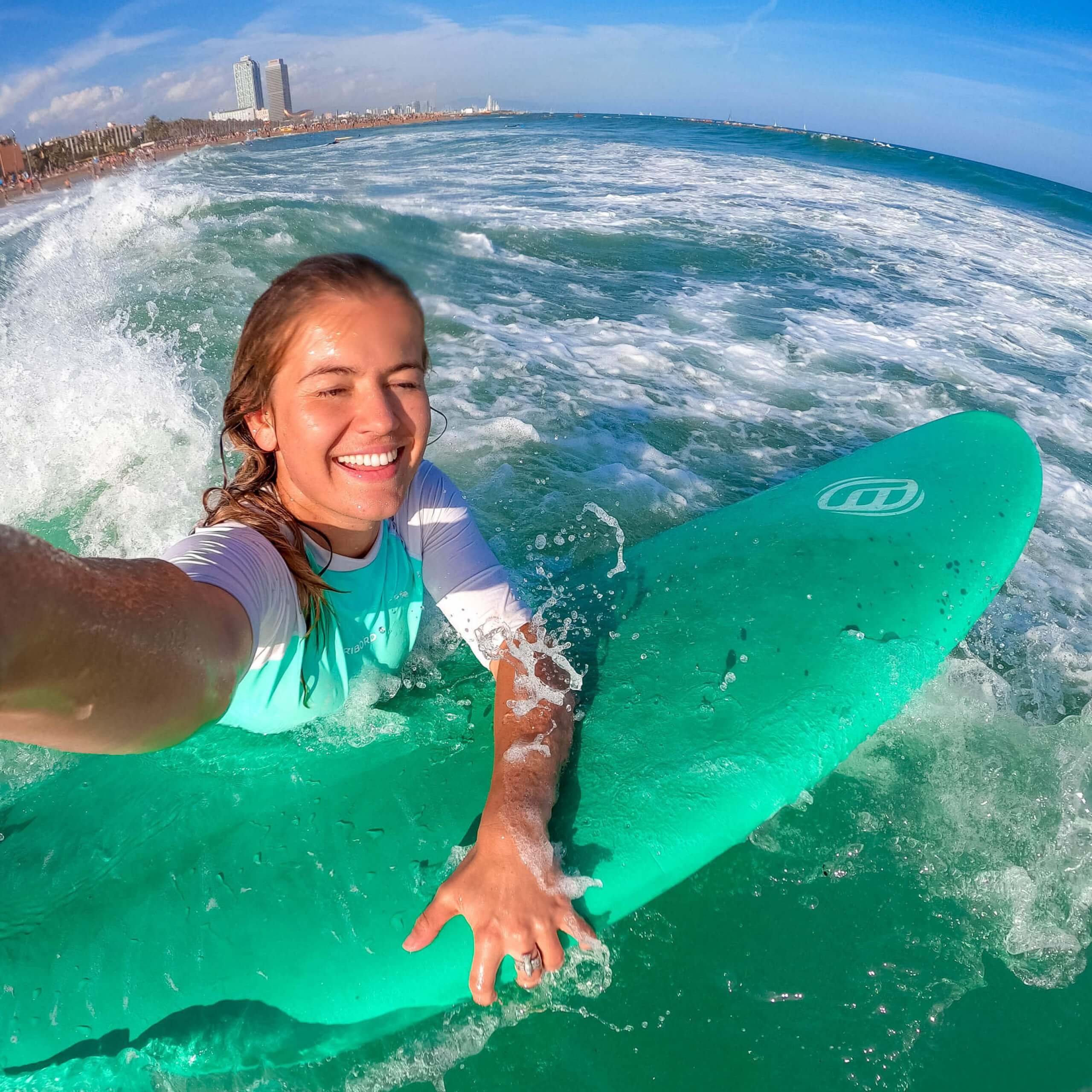 What are the best things to do in Spain?
Where are your favourite places to visit in Spain? Anything you'd add to this Spain bucket list?
Love as always and happy adventuring,


Did you find this post helpful? I'd love you to share it for me.
Pin and save this blog post for later…