It's no news that Fraser Island is a highlight when travelling the East Coast of Australia.
Fraser Island remains in the top 3 highlights of all the adventures I've been on down under, and I've been on a lot. Check out the ultimate east coast bucket list here.
When booking onto a group trip, Fraser Island is an opportunity to road trip the largest sand island in the world in 4x4s whilst get up close and personal with a group of new friends under stars, in lakes and on beaches.
There's something so magical about being on K'gari (secondary island name which translates to 'paradise' in Butchulla terms) and the bonds you make there, but you really can't take my word for it.
You must experience it for yourself.
For a guide to solo travel in Australia, click here.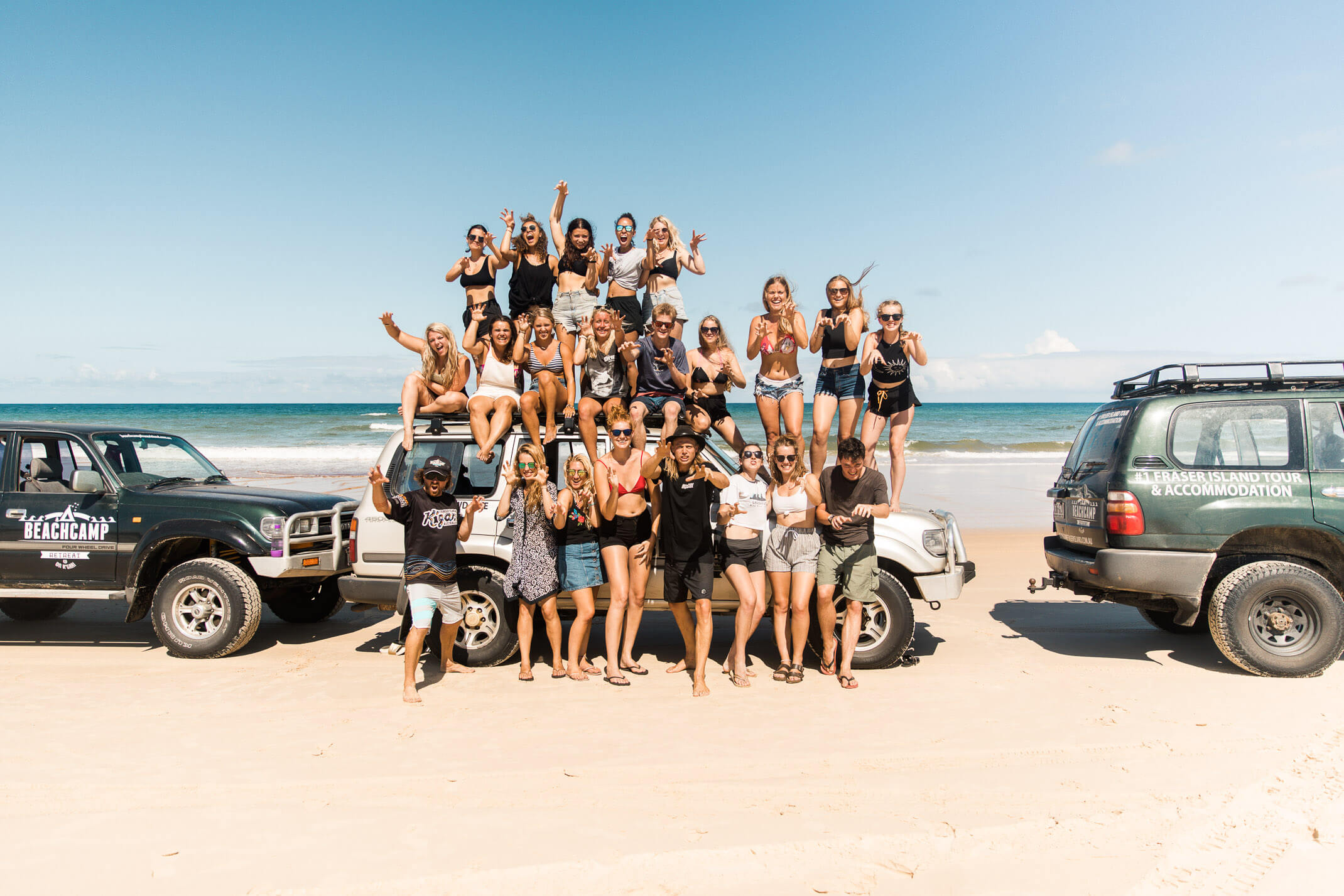 Here's my guide to exploring Fraser Island with Drop Bear Adventures…
About Drop Bear Adventures…
Drop Bear Adventures are one of the leading tour operators that run adventures on Fraser Island and in my opinion, the best. If you're a traveller looking for a hands-on, social adventure, the tours they offer are the perfect combination and will have you leaving the island filled to the brim with Aboriginal knowledge, adventure and memories.
You can book onto either their 3D, 2N tour or their 2D, 1N tour. See more information here about the differences between the two tours and what's included.
Drop Bear Adventures are powered by the pure passion of the owners, Hana and Mark (Mumma and Poppa Bear), both of whom are still very hands on with the operations and the running of the Drop Bear camps. Their love and respect for the land is so evident in the way they design the itineraries and the way they talk about it. The energy and love they pour into these trips is seriously infectious and will have you falling just as in love. You wait.
Drop Bear Adventures actually have a property on the island offering, less campy, Wilderness rooms with private toilet and shower facilities as well as the Beach House hostel (where you stay on the 2D, 1N adventure).
In January 2019, I teamed up with Drop Bear Adventures to bring you an exclusive WMGT Noosa and Fraser Island itinerary.
I'd heard about Drop Bear Adventures from my friend Sammy at Ratpack Travel and I couldn't help but think how epic it would be to get the WMGT fam out there to experience it.
So we did. On 21st Jan 2019 we all gathered in Noosa for 2 days of exploring before taking to K'gari for 3 additional days on the Island with Drop Bear Adventures. See my guide to Noosa here.
Our Fraser Island itinerary…
No matter which tour operator you choose to explore Fraser Island with, all will cover the 'main' spots and attractions, including: various tea tree lakes, the iconic Lake Mackenzie, the Maheno shipwreck, Indian Head (best views on the island), Champagne Pools, a natural lazy river at Eli Creek, rainforest drives and the famous beach highway.
When choosing a trip it's more about choosing how you want to experience the island.
With Drop Bear Adventures, on the 3-day, 2-night tour, it's an experience completely immersed in nature.
Think star-gazing, watching the moon rise with your squad on the dunes, learning the didgeridoo and trying to master the boomerang on the beach. Set safely within a dingo fence, the camp kitchen is where you will be enjoying your breakfast and dinners, all cooked fresh for you by the camp host.
It's no hotel set up but it's definitely comfortable and, well, camping always makes for the best memories and stories. Right?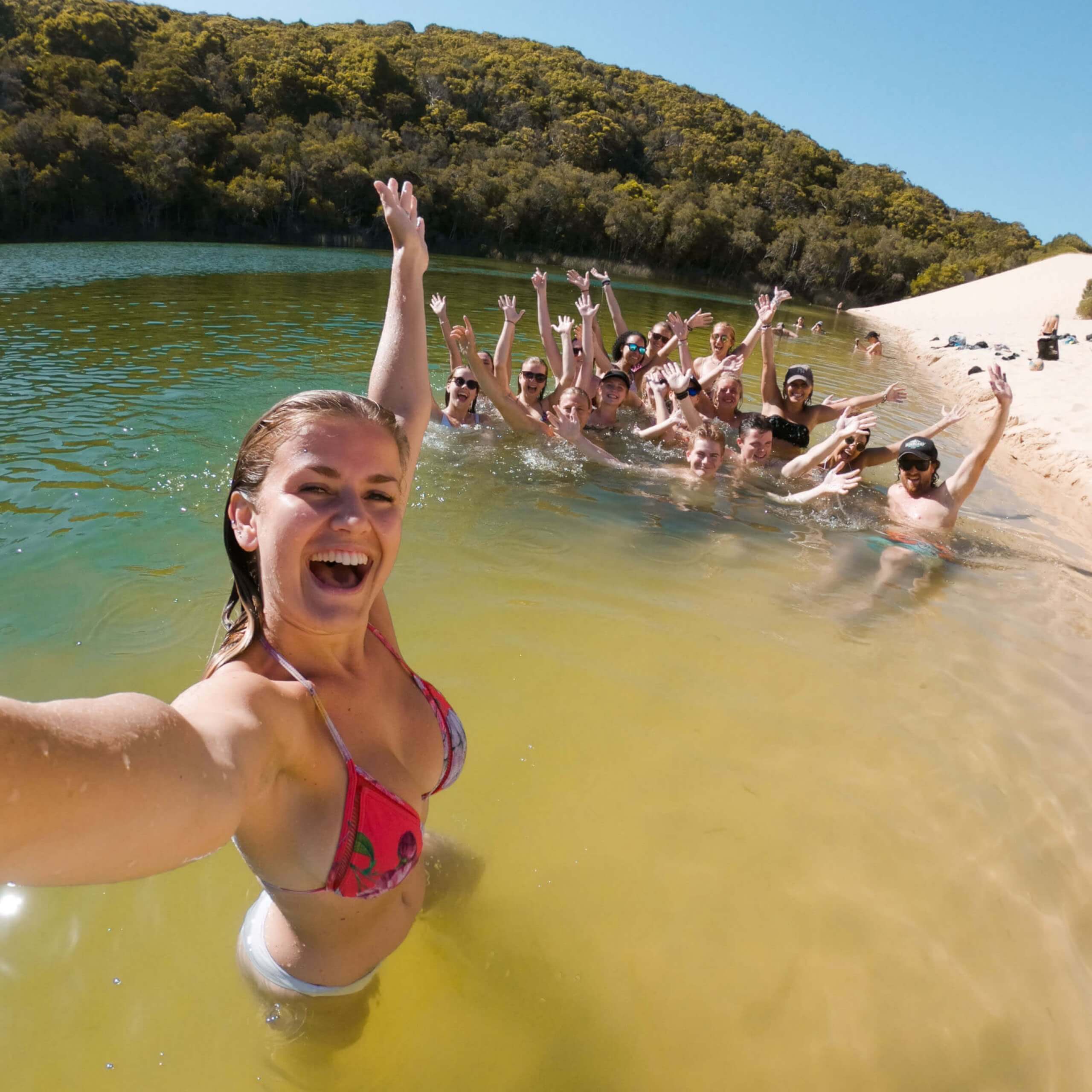 What's included in the Drop Bear Adventures Fraser Island tour?
Pretty much everything is included once you depart for K'gari… Meals, transport, fuel, activities.
I think the only additional money I spent was at the shop whilst (if) you wait for the ferry across to the island and then when I fancied an ice cream (there's a couple of shops on the island that you pass).
Oh and I brought alcohol over to the island with me to enjoy so I bought that prior to the trip. Avoid bringing glass bottles.
Aside from that, you're all good to go! See a taster of the itinerary below…
Things you should pack for your trip to Fraser Island…
Baby wipes, always.
Portable speaker, ALWAYS. Shop my favourite Ultimate Ears speakers here.
Sleeping mask for the camping, though you'd be silly to sleep through the sunrises.
Mosquito spray for the bugs. Shop natural mosquito repellent here.
Long baggy trousers and tops for the evening. There are lots of harmless flies but also mosquitos. You don't want to overheat with layers but it's very nice to be covered up.
Bring sun cream as you're out in the sun all day long. Shop reef-safe suncream here.
Bring your driving license if you'd like the chance to drive on the island (it's SO fun).
Buy alcohol and snacks before you get to the island as they are very expensive and in limited supply when you are there.
More questions? See the FAQ's on the Drop Bear Adventures website here.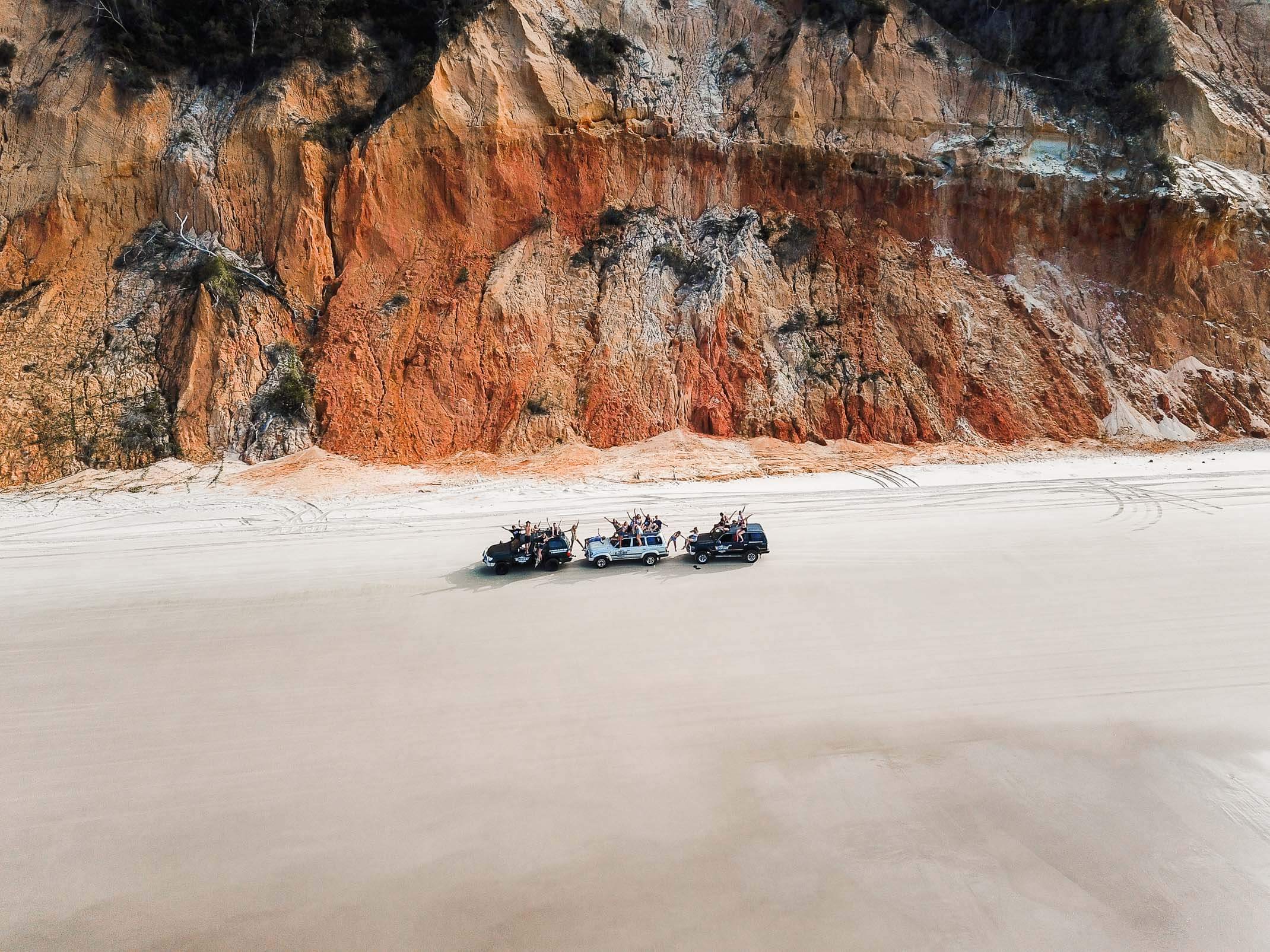 Watch the adventure come to life in this video…