Exmoor National Park is without a doubt one of the best places to visit in England, it's even a strong contender for the best places to visit in the UK There are so many fun things to do and places to visit in Exmoor National Park, and in this blog post I'm going to share some of my favourites with you!
Exmoor is a charming area of south-west England, and easily one of the most stunning corners of the UK if you're searching for a countryside getaway! Exmoor National Park is one of ten National Parks in England and one of 15 in the UK. It covers approximately 693 km2 (268 sq mi) of stunning landscapes in south west England. It's centred on the area of the former ancient royal hunting forest and spread across Somerset and Devon, and includes the River Exe, the Brendon Hills, the East Lyn Valley and more.
Exmoor is often overshadowed by its bigger neighbour Dartmoor, also in Devon, which although is equally as beautiful, can steal the limelight from some of the spectacular natural gems that Exmoor has to offer.
This magical national park is a haven for winding country lanes, ancient woodlands, long walks over vast moorlands and quaint British villages hidden in valleys, so it's a great place to go walking in England. Exmoor National Park is also really special in that it is home to some of the most beautiful coastline in the whole of the UK. If you're the kind of person who enjoys a long hike through woodlands, across moorland and down rivers whilst being a stone's throw away from the seashore, Exmoor might just be somewhere you need to tick off your England bucket list.
What's more, it's home to the starting point for the South West Coast Path; the UK's longest National Trail carving its way around the beaches and clifftops of Somerset, Devon, Cornwall and Dorset. If you're searching for a stopover on your next Cornwall road trip or a weekend getaway to escape the bustle of everyday life, then this post is most definitely for you.
In this Exmoor National Park travel guide I am going to share with you the best places to stay in Exmoor, the best things to do in Exmoor National Park, the best places to visit in Exmoor National Park and my favourite adventures so far. I'm going to take you on a journey across Exmoor, delving into the best places to visit in this wonderful national park.
From going on challenging day hikes to leisurely coastal walks, from seeing the wild ponies in Exmoor to exploring some of the picturesque villages in the park, my time in England has been nothing short of adventurous!


Exmoor National Park: my complete guide
Where is Exmoor National Park?
If you came here wondering 'where is Exmoor National Park', 'where is Exmoor', or 'what does a map of Exmoor National Park look like' you're in the right place. Exmoor National Park is in southern England, spread across Somerset and Devon.
To drive to Exmoor National Park, it's about 3.5 hours from London, 1.5 hours from Bristol, 2 hours from Cornwall or 4.5 hours from Leeds. If you're using a Sat Nav, pop in the postcode of your accommodation or one of these car parks. Exmoor is the ideal UK road trip destination, with scenic roads and plenty of campsites for overnight stays. It's best accessed by the major A roads which enter at all directions: if you're coming via the M5 your best bet is to leave the motorway at Junction 25 and head west along the A361, before heading north at Tiverton along the A396, which will take you into the most southern tip of the national park.
If you want to take public transport to New Forest National Park, you can get a train or bus to one of the main towns near Exmoor, such as Taunton or Exeter. Book your train tickets online on thetrainline.com. For non-drivers Exmoor is connected by various bus routes as well, and one I'd recommend if you are visiting between May and October is the Exmoor Coaster (operated by First Bus). An open top bus taking you from Doniford to Lynton and Lynmouth, it's the perfect way to explore the coastline of Exmoor and fully appreciate the scenery. Find out more about exploring Exmoor car free here.
Check out this map of Exmoor National Park to see where in England it is:
Where to stay in Exmoor National Park:
Deciding on where to stay in Exmoor completely depends on the type of stay you are after. Are you looking for a weekend staycation in a traditional country bed and breakfast? Or are you hiking your way across the national park and spending each night in a new location?
For example, if you want to stay in a hostel in Exmoor National Park, YHA have their YHA Minehead and YHA Exford hostels. This is the the perfect option for budget accommodation with close access to places to visit in Exmoor. Book your YHA Exford or YHA Minehead stay here.
In my opinion, to make the most of the natural beauty that Exmoor has to offer, camping in Exmoor is the best way to spend the night. Not only is it affordable, there are some beautiful campsites dotted around with local pubs nearby. Unfortunately, wild camping is not allowed however there are plenty of wonderful campsites to choose from. I stayed at Lynmouth Holiday Retreat, just outside of Lynton, which has everything you need including a neighbouring pub, and in the evening catches a gorgeous sunset too.
However, if you'd like a little more luxury there are plenty of quintessentially British bed and breakfasts in the many villages that Exmoor is home to. I can recommend The Rest and Be Thankful Inn at Wheddon Cross, which serves wonderful pub food and is a ten minute drive from Exmoor's highest point, Dunkery Beacon. Check out booking.com or Airbnb for more hotels or apartments in the area, or get inspiration and recommendations directly from the Exmoor National Park website here.


The best places to visit in Exmoor National Park...
Exmoor's highest point is Dunkery Beacon, which boasts incredible 360 degree views of surrounding hills and woodland and of course the Bristol Channel. One of the best things to do in Exmoor is to hike to the top! Be sure to spot the many Exmoor ponies that live on the moor as you walk to the top of the trig point to admire the view, before continuing along the circular walk which will take you back down to the car park. And for the extra keen hikers, why not follow the path from Dunkery to the nearby town of Exford (another of the best places to visit in Exmoor) for a yummy pub lunch?
Close to Porlock, Horner Wood is one of the biggest ancient oak woodlands in the country and one of the best places to visit in Exmoor National Park. This magical woodland is like something out of a fairy tale, and well worth a walk along the River Horner. This is a wonderfully peaceful spot, and certainly somewhere if you want to tune out of the business of everyday life and enjoy your natural surroundings.
Don't forget to stop by for a cream tea at the Horner Tea Gardens!
If you're searching for the perfect place in Exmoor to watch the sunset, look no further. Selworthy Beacon hosts the first stretch of the South West Coast Path with stunning views over the Bristol Channel. There are relatively flat walks along the clifftops, with the option to take the "rugged path", leading you on a more adventurous hike along the coast. One of the best things to do in Exmoor is to walk along the South West Path in time for a gorgeous clifftop sunset!
Tarr Steps is a one of the most popular places to visit in Exmoor for both locals and tourists, and it's no surprise as the river and its memorable stone bridge are beautiful in all seasons. My favourite time of year to head there is the end of summer into autumn, as the trees begin to turn red and orange meanwhile the sun is (hopefully!) still shining.
During the summer it can get quite busy, especially with a small car park, however this shouldn't put you off visiting for the day; doing the circular walk along the River Barle and crossing the ancient clapper bridge on the way back makes a wonderful afternoon and is one of my favourite things to do in Exmoor National Park.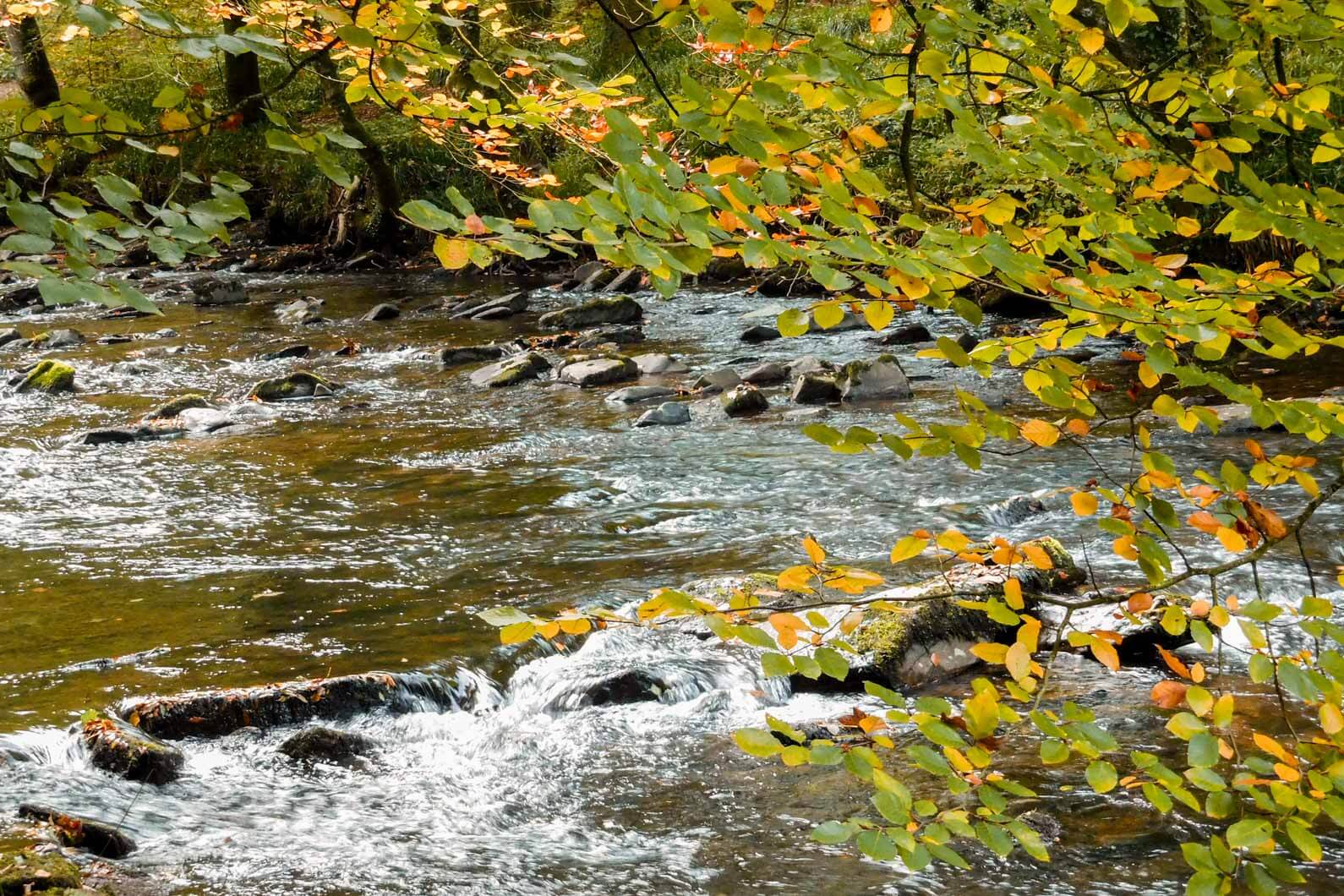 For a slightly less tourist-filled place to visit in Exmoor National Park that's just as magical, head to the East Lyn River, which is further north. I'd suggest heading further west from Doone Valley (another bonus destination!) towards the village of Brendon, which sits peacefully along the East Lyn River. It's incredibly small and quaint, and has a community car park where you can begin your journey along the river path. Another fun thing to do in Exmoor is to walk all the way to Watersmeet, a popular National Trust location, which has a café and is usually bustling with families and walkers.
Another river walk in Exmoor, the route down to Heddon's Mouth takes you through ancient woodland only to arrive at a spectacular cove with gorgeous sea views. As an alternative and longer route, you can bypass Heddon's Mouth and veer east towards Woody Bay. Following a circular route of about 6 miles, your journey will have a wonderful mixture of woodland scenery and seascapes to keep you in awe along the way. This is one of my favourite walks in Exmoor National Park!
7. Haddon Hill and Wimbleball Lake
Wimbleball Lake (and its neighbouring Haddon Hill) is easily one of my favourite places to visit in Exmoor. Spend the day on the reservoir, as the activity centre offers canoe, kayak and paddle board hire, or even stay over at the campsite which onlooks the beautiful lake. Alternatively you could park at Haddon Hill, and walk to the top to admire the landscape of surrounding areas, before making your way down to the dam to walk along the lakeside.
My personal favourite place to spend the day or evening is by Bessom Bridge, along the north-easterly edge of the reservoir. With a free car park and no hills to hike up or down, lay down your rug and sunbathe all afternoon right by the water's edge – this location offers the best of the afternoon light.
One of the more westerly locations on Exmoor, Combe Martin is often missed out by travellers who steer towards the busier holiday destinations of Woolacombe, Saunton and Croyde. Combe Martin is home to some of the best things to do in Exmoor, as the secluded cove at the bottom of the village is great for kayakers paddleboarders, and is surrounded by picturesque cliffs. It's also a wonderful spot for wildlife lovers, as both seals and even dolphins have been known to visit the waters!
Visiting the quaint village of Dunster takes you back in time as you walk past the historic yarn market towards the castle directly opposite. Dunster Castle is now a National Trust site, and is fascinating to look around before walking out into the gardens and down to the old watermill. It's one of the most popular places to visit in Exmoor, and a must-do on your Exmoor bucket list!
If you're nearby in November/ December, the medieval village hosts an incredible Christmas event called "Dunster by Candlelight". Get ready as the whole town is lit by candles, and a parade of medieval villagers roam the streets with stalls, performers, music and good food. I'd really recommend coming for this spectacular event that will completely immerse you in Christmas spirit!
For a fantastic coastal walk in Exmoor with dramatic cliff edges and freely roaming goats along the way, head down to the Valley of Rocks, a U-shaped valley running parallel to the sea. This destination offers fascinating rock formations and is perfect for any appreciators of the wonders of nature, as you feel like you are escaping to the mountains for a moment. It's also very close to the town of Lynton and Lynmouth, with the option to hike to this neighbouring town and browse around the local art studios and coffee shops.


Where are your favourite places to visit in Exmoor National Park?
What are your favourite things to do in Exmoor? Anything you'd add?
Love as always and happy adventuring,


Did you find this post helpful? I'd love you to share it for me.
Pin and save this blog post for later…